Slow roasted and wrapped in a layer of bacon with an herbed butter underneath, this juicy Thanksgiving roast will truly shine at your holiday table!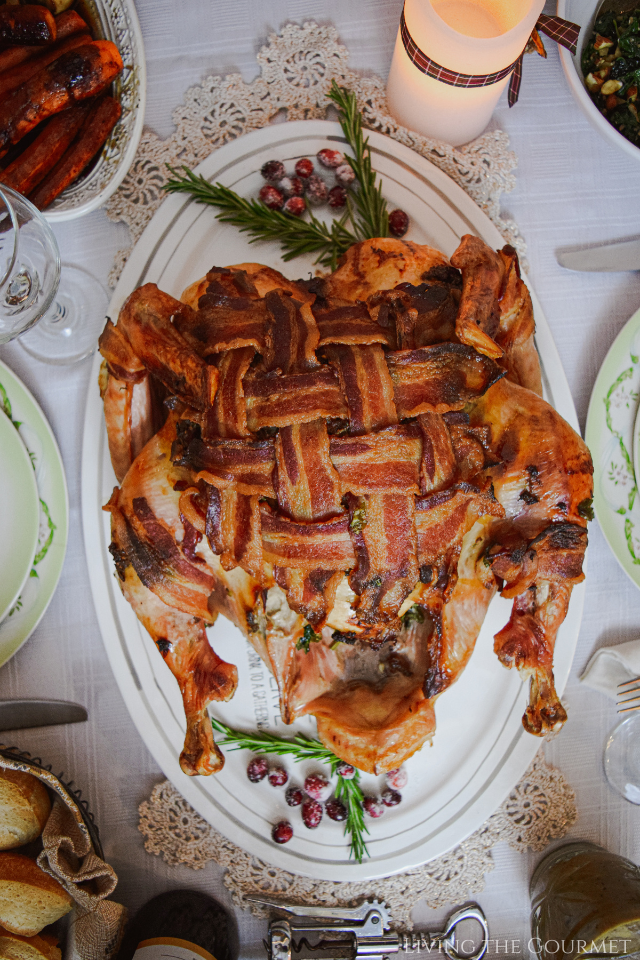 Bacon. Everything is better with bacon. Aside from butter and money, what else can we really say "makes everything better" simply by its presence? And please, spare me the purple verse hoke and cheese of "love and laughter," I'm keeping this strictly literal.
And yes, as you might have guessed from today's title – your Thanksgiving turkey is no exception the 'bacon rule.'
Before you role your eyes, hear me out. This isn't actually 'just' about added flavor. What if I told you that wrapping your turkey in bacon not only enhances the flavor of your turkey, but also served as 'insulation' for the white meat, allowing it to remain moist and tender during cooking? That's right, 'insulation made of flavor.'
So, enhance the flavor, enhance the texture, and fill your guests' eyes with joy at the sight of a Thanksgiving bird swathed in layers of bacon. Really, why would you 'not' try this?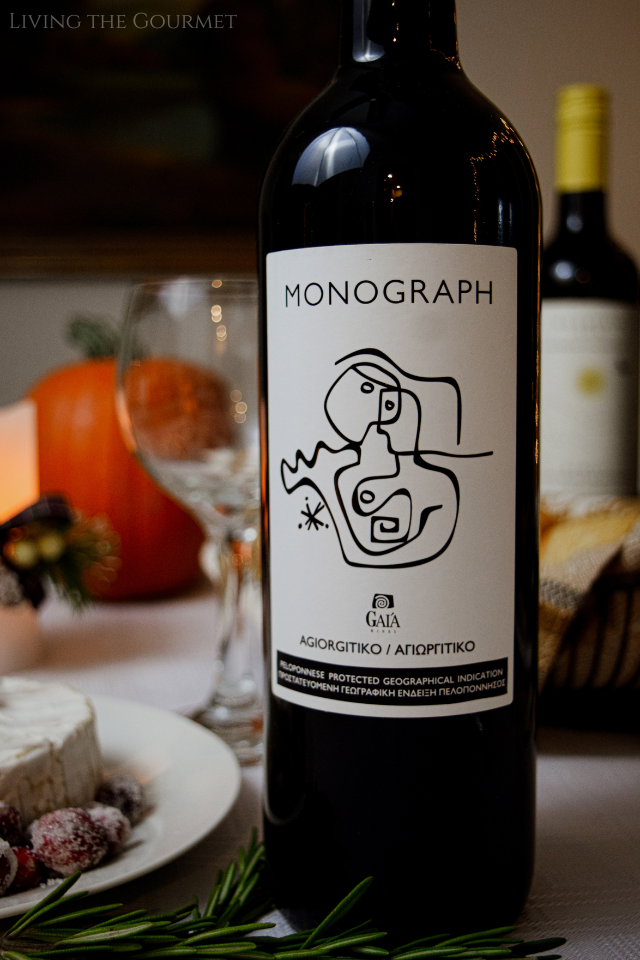 Now, I'm going to be honest, I myself had actually planned on posting this particular recipe for Christmas, since in my family, growing up, we typically prepared a turkey for Christmas Day – amongst a table-full of other main course worthy centerpieces, and I wanted to try to carry on that tradition with this recipe.
However, when I was talking about our December menu with my son and daughter, and my son heard my idea for a turkey wrapped in bacon, he sort of just 'paused' for a moment. Then he looked at me from where he was sitting and said "An entire turkey…wrapped in bacon? And you're saving it for the holiday 'after' the Turkey Holiday?" To which I replied this would be the first time I was trying this recipe, and I wanted to test it out first. "It's a turkey wrapped in bacon, any mistakes will be delicious mistakes," was his response, which I probably should have predicted.
As if on cue, my brother called me that night, and invited himself over for Thanksgiving, his previous plans having been canceled – and that more or less settled it, since this particular recipe will be right up his alley.
Now, before we move on to the recipe itself, let's go over some pairings.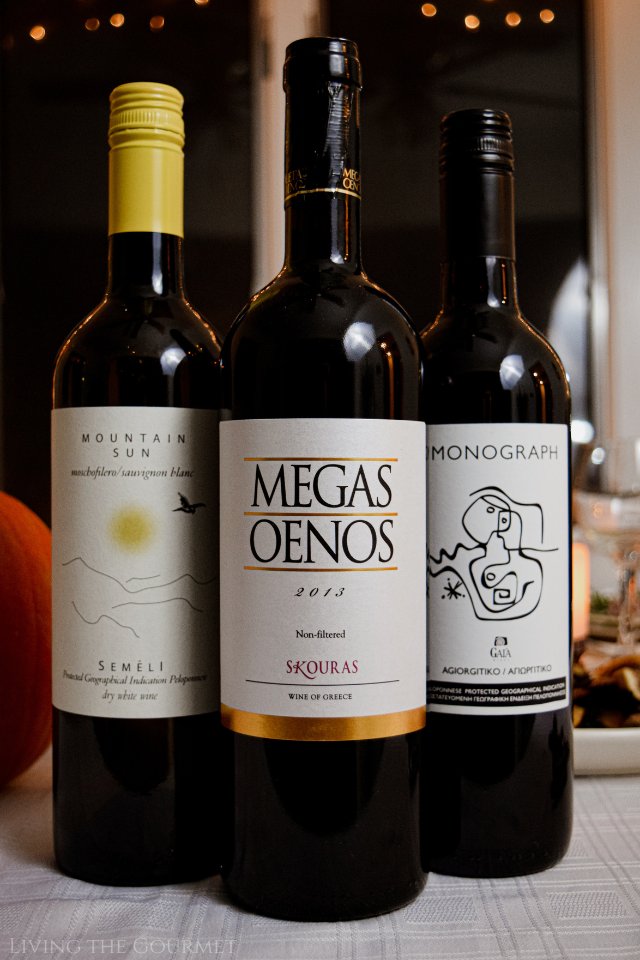 Pairing Suggestions
Here's what to serve alongside, before, and after a Bacon Wrapped Turkey, the full recipe for which is in the 'card' below.
1) The Wine. While the bacon might sound like a bit of a curve ball when it comes to a wine pairing, this is actually super simple. A nice pinot noir or burgundy, or even a nice cabernet sauvignon would serve excellently. Basically, you want something with medium tannins and a solid but not overpowering body and texture.
To that purpose, I decided to pair today's turkey with an agiorgitiko, which is Greek for "St. George's Grape." In particular, a 2013 Skouras from Megas Oenos. This is an agiorgitiko led blend, which includes twenty-percent cabernet sauvignon. Off the top of the glass, you can expect dark fruit essences, but these notes are swathed in hints of spice and earth, and what I'll describe either as toasted oak or dusty cigar box. Characteristic of the varietal, this is a medium bodied wine, that I can best describe as quite smooth and very crisp on the palate.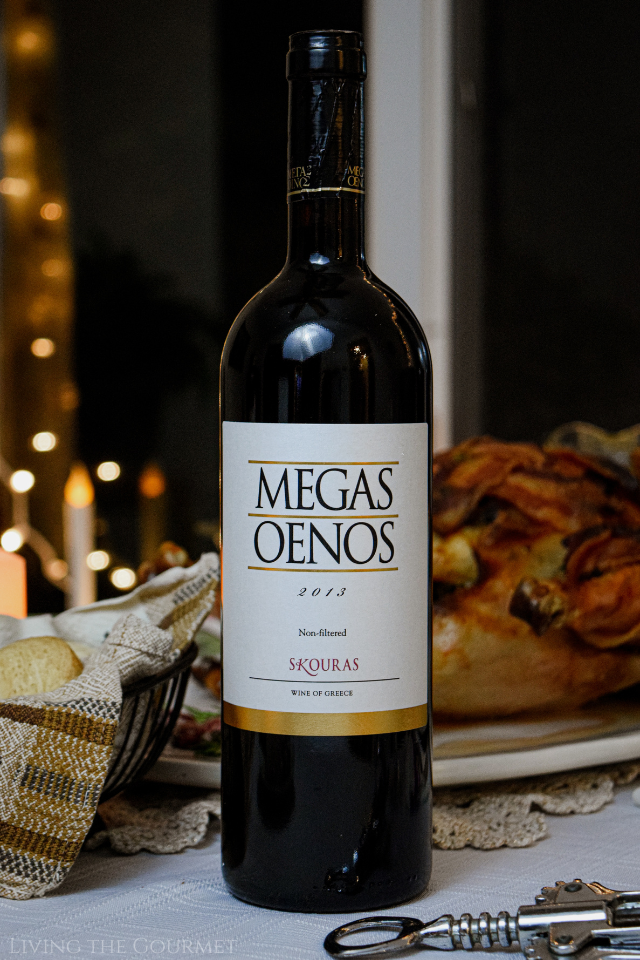 2) The Bread. While dinner rolls, in all varieties, are the tried and true Thanksgiving staple, this year I decided to do something a little different and prepared a tray of Parmesan Popovers, which would go excellently alongside a bacon-wrapped turkey.
3) The Soup. If you've ever hard a proper, hardy split pea soup, you've probably had it topped with bacon, or with bacon cooked into the soup itself. From dive diners to the New York Times, this is a super standard flavor pairing. So, naturally, I'd recommend a split pea soup as a side to the bacon turkey or as first course. For my take on Split Pea Soup, head this way. If you would prefer something a bit more traditional, this Yam and Tomato Soup would pair quite nicely.
4) The Potato. Honestly, the potatoes are always the first thing to disappear at my family's Thanksgiving table, and here are the two recipes I use year in and year out to achieve that. Oldies, yes, but still good. Baked Mashed Potatoes with Cheddar and Basic Creamy Mashed Potatoes.
5) The Obligatory 'Pudding.' – Alongside the stuffing and the potatoes, I almost always serve some sort of 'dinner pudding.' Usually, it's some variation of the Cornbread Pudding I posted earlier this year. Feel free to sub in frozen or canned corn for the fresh I used in the post.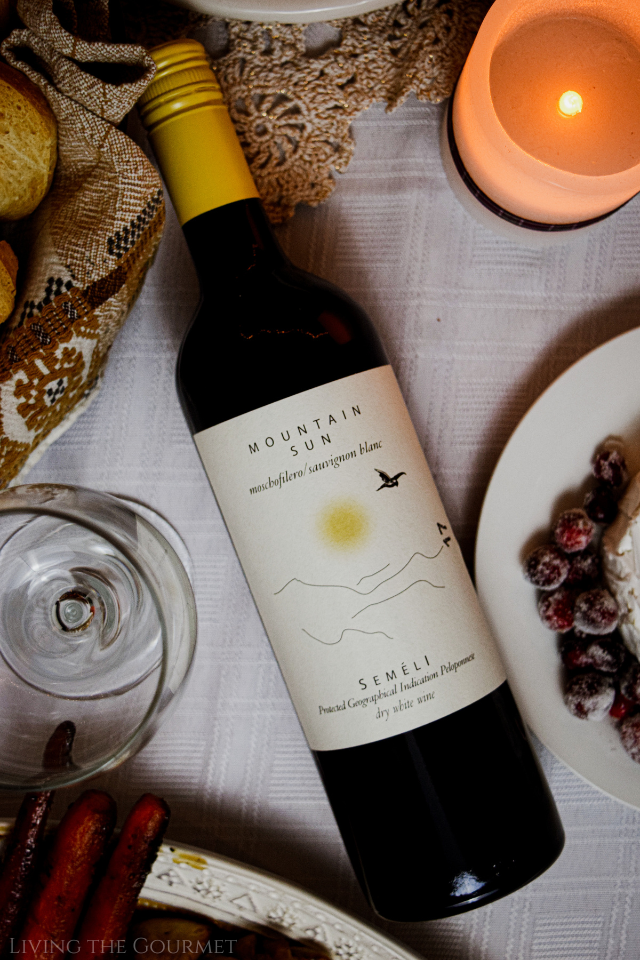 6) The Appetizers. This year, I put together a sort of 'all-in-one' holiday starter spread, with a few unconventional suggestions. However, for more 'traditional' antipasto type spreads, check out my Italian Antipasto Board or my humbly named 'Perfect Charcuterie Board'. For something 'elegant,' that you can also serve at the main course as 'spread' for the bread, consider our Truffle Goat Cheese and Pignoli Crostini.
For these sorts of starters, you can go one of two ways for a wine pairing. Traditional 'hardy white' or 'soft red.' For the 'hardy white,' consider a Peloponnesian Moschofilero, such as today's Semeli, courtesy of Mountain Sun. The wine greets with hints of acidic citrus and bright floral notes, which creates a dry, mineral palate boasting a medium-light body, which allows this white wine to pair nicely with the sort of appetizers suggested above without being overpowered.
For the 'soft red,' consider Gaia Wines Monograph Agiorgitiko, which features peppery aromatics lacing dark fruit essences, which carry over to a smooth, very forgiving, very 'easy' palate and texture, to create a 'relaxed' wine perfect for savory appetizers such as those suggested above.
7) The Orange-Colored Pie. Given that I suggested pumpkin ravioli and pumpkin flan in my holiday starter spread linked in the above suggestions, consider a Classic Sweet Potato Pie this year.
8) Dessert. For Thanksgiving, I always love putting together a proper 'spread' for dessert. This might include something like Spiced Apple Hand Pies, set alongside a 'dipping' cookie for coffee, such as my Sicilian Sesame Cookies, with something like my Junior's Copycat Cheesecake or Butter Cake with Citrus Rum Syrup and White Chocolate Mascarpone Frosting forming the centerpiece.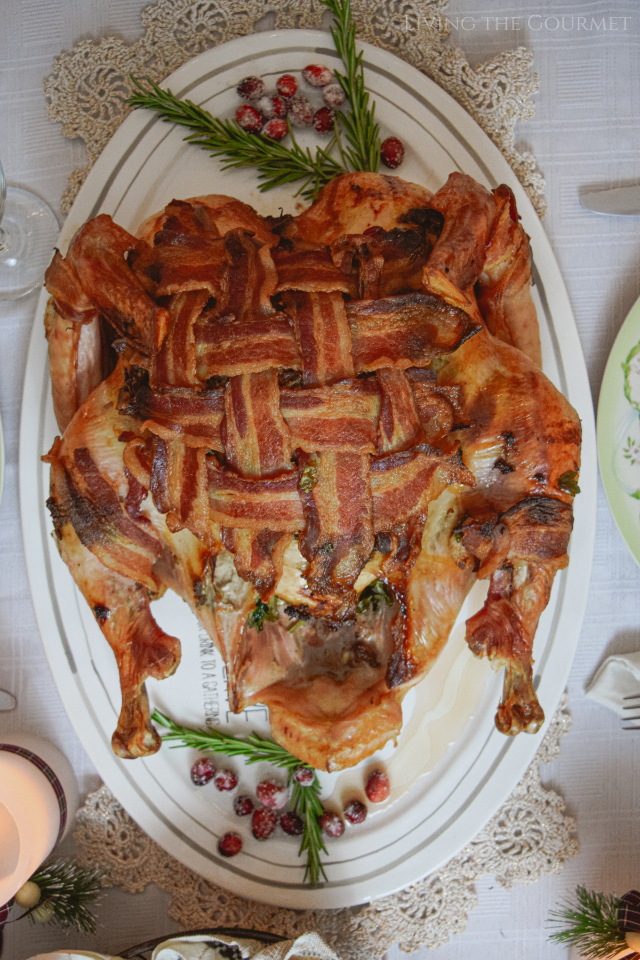 What You'll Need
Preparing the Bacon Turkey – some basics.
1) Bacon Lacing Technique. Okay, this isn't so much a 'thing' as it is…proper technique, that is, if you want the 'lattice' effect in my photos, this is what you have to do. Using a piece of parchment paper, set down about five strips of bacon (more or less depending on the size of your turkey) to form a square, leaving about a quarter of an inch of space between them – however, the tighter you can get them the better. Then fold backward every second strip of bacon to roughly the width of a strip of bacon. In other words, bacon width folds, and then working from right to left, set a strip of bacon over the unfolded pieces of bacon, and then unfold the folded bacon. Repeat this process until you have 'Achieved The Lattice.'
2) The Baking Device. For this post, I used a roughly 18inx12in nonstick baking tray with roughly four inch high sides, the bottom of which I covered in aluminum, over which I set a carrot and celery 'rack.' However, I have used disposable aluminum baking trays, which are readily available in most supermarkets with some success. I will say that I would recommend doubling or even tripling those.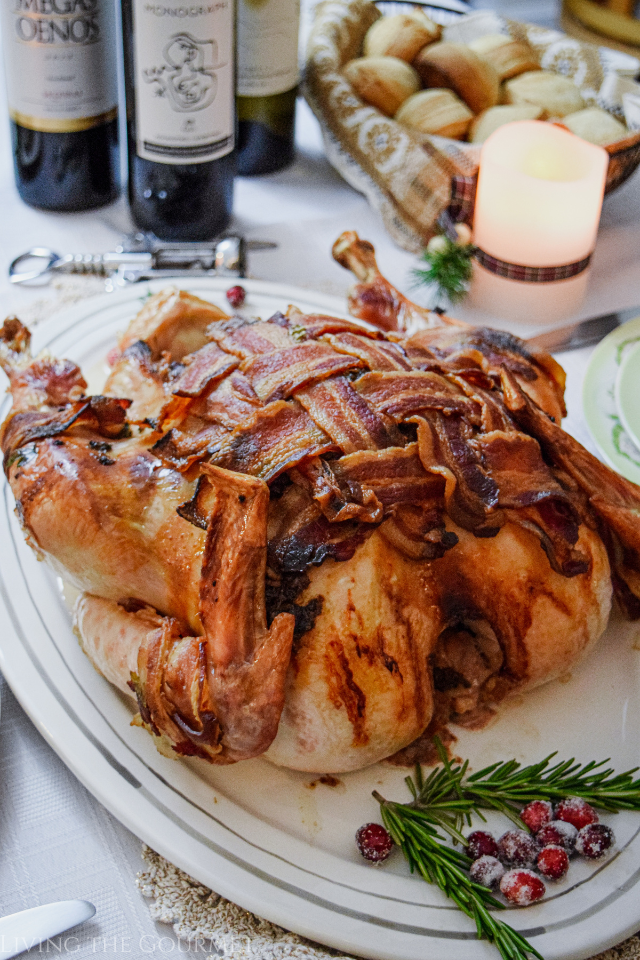 Print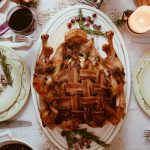 Bacon Wrapped Herbed Turkey
---
Author:

Total Time:

3 hours 15 minutes

Yield:

1

whole turkey

1

x
For the Bacon Butter:
4

slices of bacon

8 tablespoons

of unsalted butter

4

fresh sage leaves

3

cloves of garlic

1/2 tsp

. ground black pepper

1

tbs. molasses

1/4

cup

of fresh Italian parsley
For the Turkey:
1

(10 - 14)

lb

. turkey - thawed, cleaned and pat dry

1

lb

. of sliced bacon

1

bunch of fresh Italian parsley

4

whole carrots

4

whole stalks of celery
---
Instructions
For the Bacon Butter:
Combine the above ingredients in a food processor and process until smooth.
For the Turkey:
Preheat Oven 425 degrees F.
Place the carrots and celery at the bottom of the roasting pan.
Place the turkey on the carrots and celery in the roasting pan, breast side up. Be sure the turkey is patted dry with paper towels after cleaning the turkey, so the bacon butter both will sit nicely on the turkey.
Rub the turkey with the bacon butter both inside and out. Place the fresh parsley in the cavity of the turkey.
Wrap each leg with the bacon and each wing with the bacon.
Now to weave the bacon to create a blanket for the top of the turkey.
Place 6 - 8 slices of bacon next to each other on a piece of wax paper, then weave another 6 – 8 slices into those slices. Keep the bacon close to each other to make as tight a weave as possible.
Lift the wax paper with the woven bacon and place on the breast of the turkey that has been rubbed with the bacon butter.
Tuck the bacon blanket nicely into the turkey.
Add two cups of water to the bottom of the pan.
Roast the turkey at 425 degrees F. for 30 minutes then reduce the heat to 325 degrees for the remainder of the cooking time.
The recommended cooking time is 13 to 15 minutes per pound or until the temperature reaches 165 degrees F. at these three places: the breast, outer thigh, and between the breast and the thigh and until the juices run clear.
Let the turkey rest for at least 30 minutes before the carving begins.
Prep Time:

15 minutes

Cook Time:

3 hours
Recipe Card powered by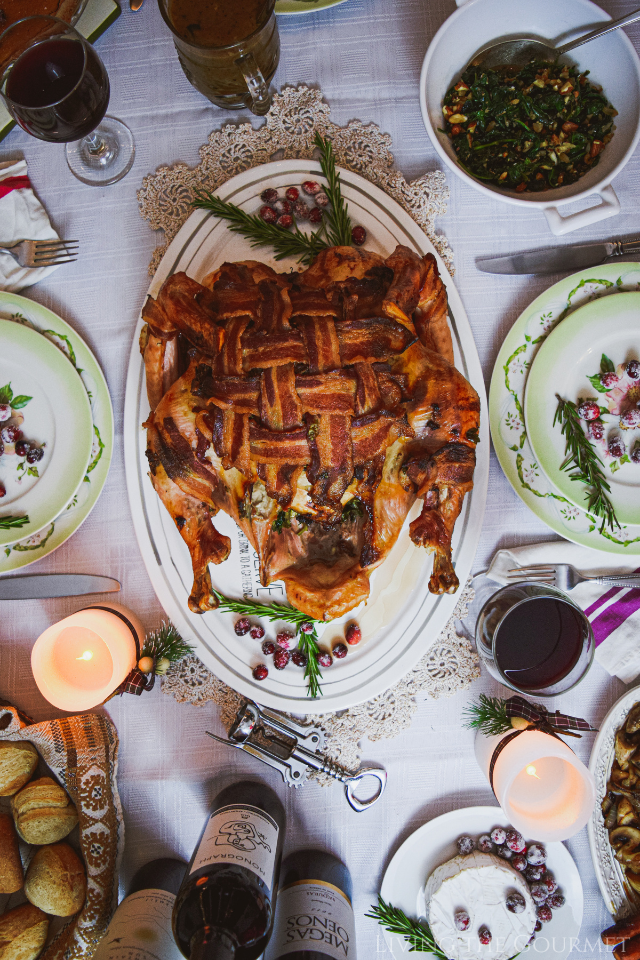 And that's a wrap. Have a beautiful Thanksgiving!
4