Popovers are deceptively easy to make and versatile as well. Today, we're sharing a sweet and savory combination with our Parmesan Popovers and Blackberry Preserves – perfect for the holiday season!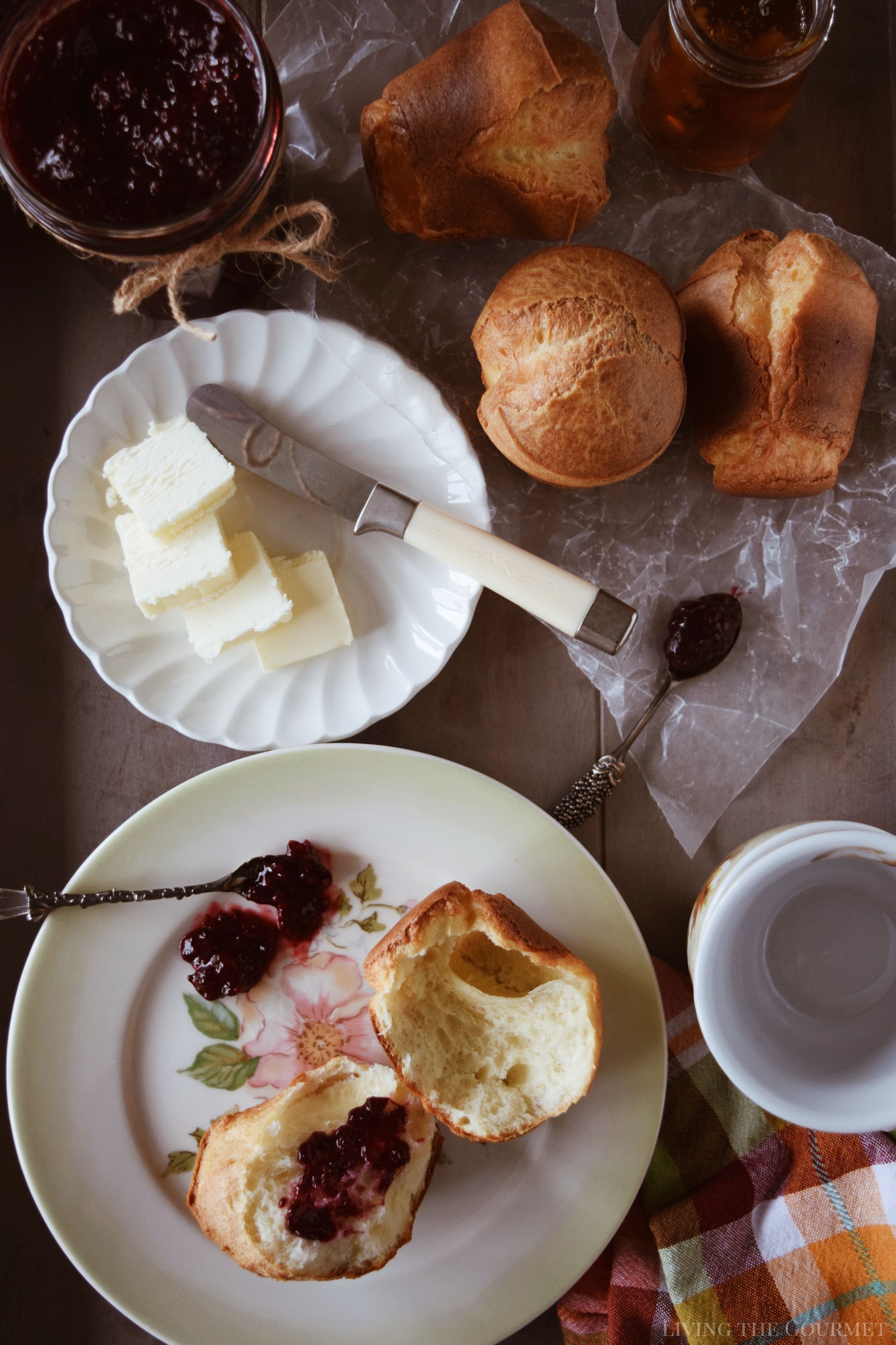 Last I posted, we were in the process of putting together a Thanksgiving starters spread, and I gave some wine pairing suggestions courtesy of Decoy wines. Our starter spread was intentionally unconventional. I put an autumn spin on my family's generations' old ravioli recipe, and prepared them fried with a savory pumpkin filling, and served those alongside a platter of cream cheese filo bites.
Now, if my family is anything to go by, you'll likely want bread from the start of the meal through to the finish. However, I'm not a terribly big fan of serving the same bread with the starters or with soup as I do with the main course. Naturally, some variety is nice, but just the way there are wine pairings, there are also bread pairings, and the hardy loaves or rolls that you serve with turkey and gravy are likely a bit too 'much' alongside your starters. You might want something a little softer, a little lighter, or just a bit less overpowering.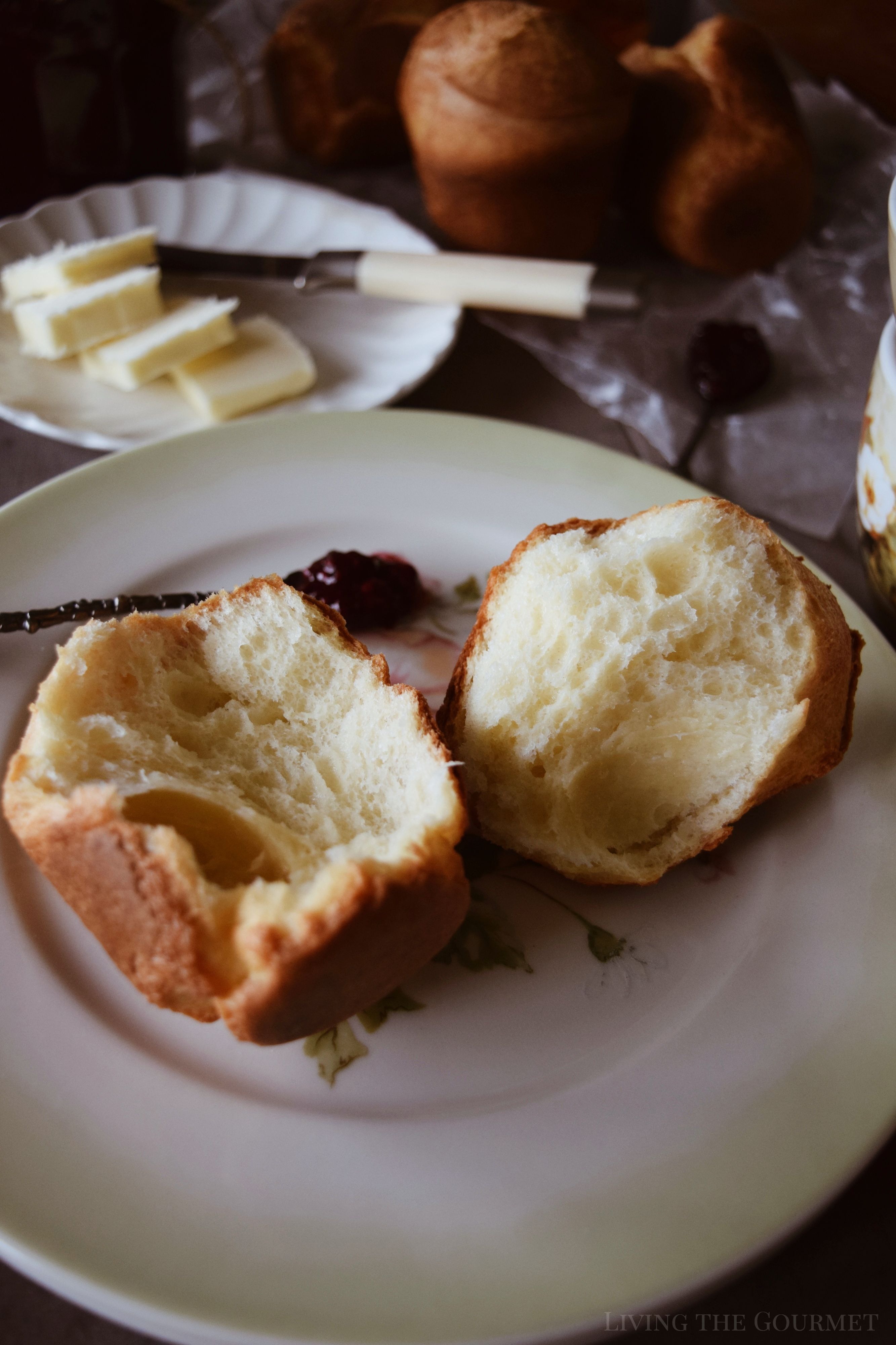 Naturally, that's where today's recipe comes in – Parmesan Popovers paired with Blackberry Preserves.
If I'm to be honest, popovers, despite being an 'old-timey' sort of roll, whose airy consistency pairs excellently with lighter dishes, are something that I only first tired my hand at a few years ago after my brother gifted me a popover tray. After my first batch, I was hooked – albeit these are still a relatively rare sight in my home, which I prepare more for 'occasions' or with specific meals as opposed to 'just because.'
So, without further ado, let's make some popovers.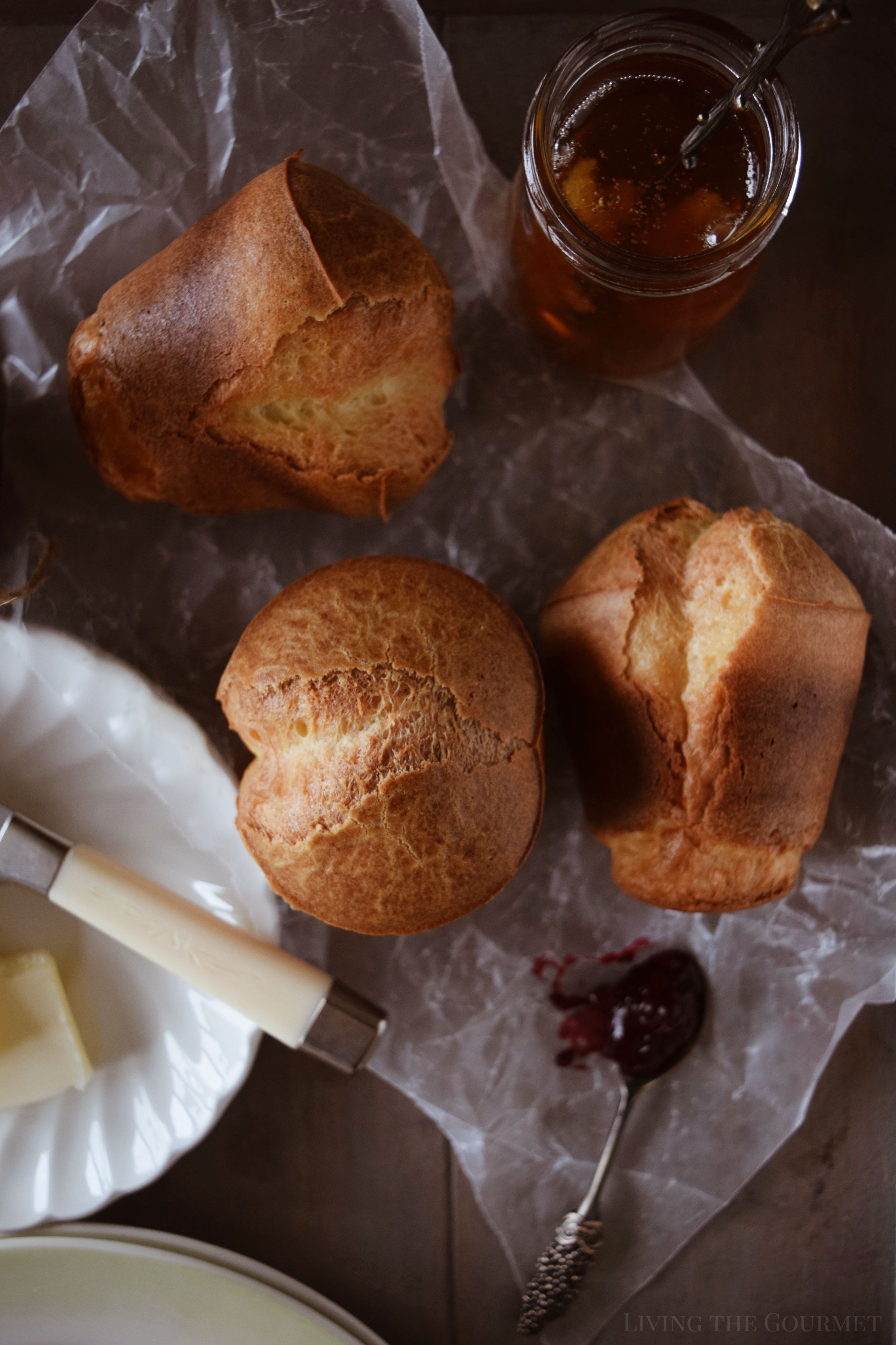 To start things off, begin by thoroughly greasing your popover molds with some butter. Yes, you can use nonstick spray but…please don't.
Then, in a medium bowl, whisk together about six ounces of milk and two eggs until it's nice and smooth. Be careful not to over whisk, otherwise, you'll beat too much air into the eggs and you know what happens when you overbeat eggs. Bad things, very bad things. Once the batter is smooth, add in salt, a cup of flour, and about two ounces of grated parmesan cheese, and whisk the batter again until all of the ingredients are thoroughly combined.
After that's done, divide the batter into the popover molds, filling each until it's about three-quarters of the way full. Do 'not' fill them to the top, otherwise, you will have a big mess on your hands after they start cooking.
Finally, bake them for about twenty-five to thirty minutes. You want them to reach a nice golden color as pictured below. Now, here's where things get a little controversial.
No, I'm not joking.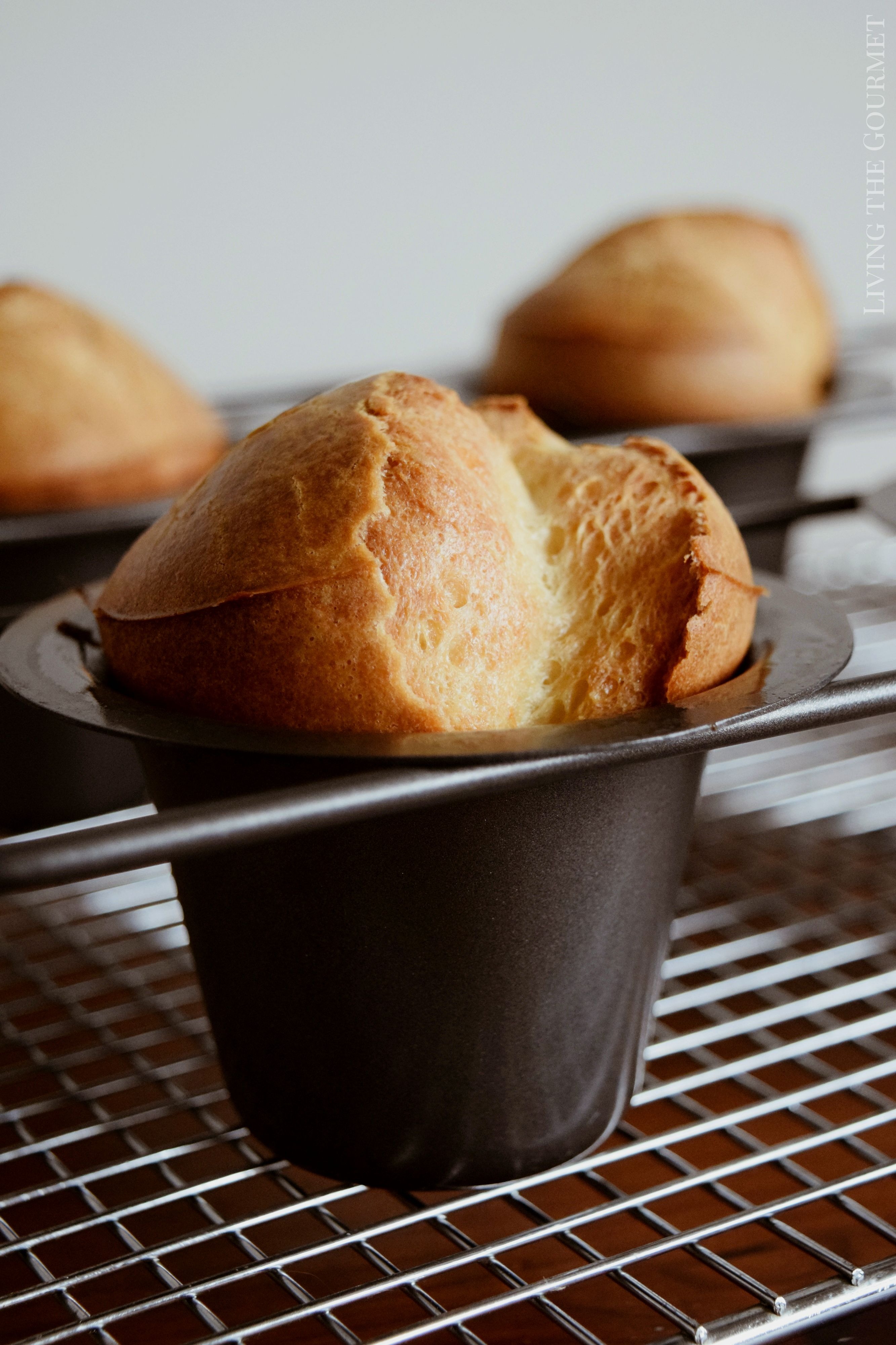 There are two ways to cook popovers. When cooked 'properly,' which is for about twenty-five minutes, this maximizes their airiness. However, when cooked like this the popovers will 'deflate' slightly after cooking. Naturally, this isn't a problem if you serve warm, as they'll be on the table – and in your guests' plates – before they cool down enough to noticeably deflate, and since the allure of popovers is their airy texture – deflated or not – this is considered the most 'palatable' way to serve them. However, if they 'do' deflate…they just simply aren't as pretty to look at. That said, to achieve this 'maximum airiness,' cook them for no more than twenty-five minutes, or 'just' until they become slightly golden.
However, when preparing a Thanksgiving style meal, you don't always have time to prepare them last minute in order to serve them warm, and if you want them to 'look' their best…well, that's where Cooking Option Two comes in. To 'force' the popovers to hold their shape, you need to deliberately overcook them, but only slightly so – meaning cook them for about thirty minutes. This will give their outer shell a slight stiffness or 'crunch,' and naturally, that will clash with some of their airiness, but it will ensure they look their best, and around the holidays a pretty looking table is a joy in and of itself.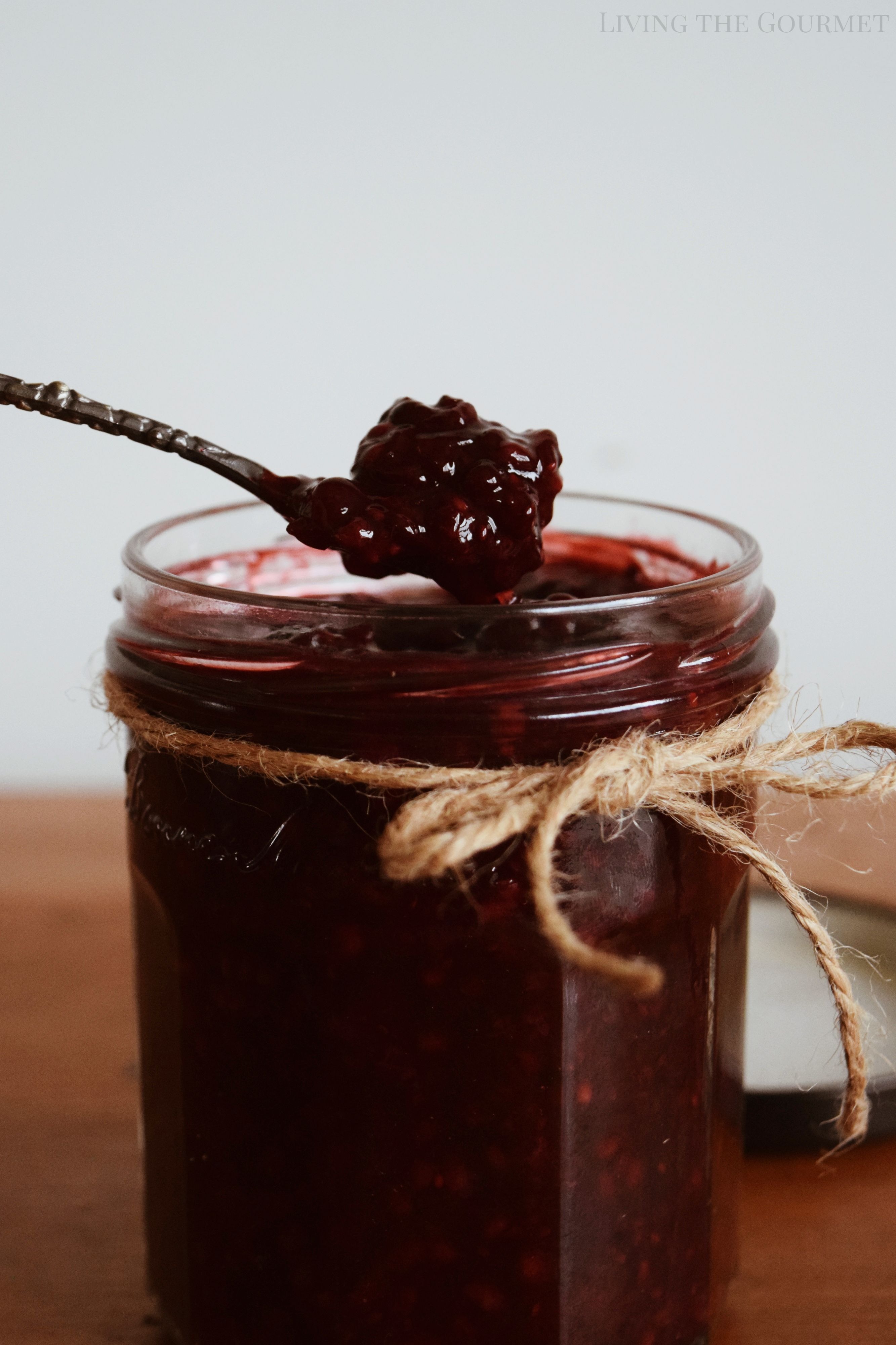 For the Blackberry Preserve, simply combine the ingredients listed below in a small saucepan and boil the mixture down until the blackberries have cooked down and the mixture has thickened, then remove it from the heat, pour the mix into a bowl and let it cool completely before serving.
Print
Parmesan Popovers and Blackberry Preserves
Author:
Prep Time:

5 minutes

Cook Time:

25 minutes

Total Time:

30 minutes

Yield:

6

popovers

1

x
For the Popovers:
3 tablespoons

butter, melted and cooled to room temperature

3/4

cup

whole milk

2

eggs

1/2 teaspoon

salt

1/4

cup

grated Parmesan cheese

1

cup

AP flour
For the Blackberry Preserves:
2

pints

fresh blackberries

2 tablespoons

honey

1 teaspoon

chia seeds

1/2 teaspoon

cinnamon

1 tablespoon

cornstarch

1 teaspoon

vanilla extract
Zest of

1/2

orange
Instructions
For the Popovers:
Preheat oven to 400 degrees F. and grease a popover pan. Set aside.
In a medium bowl, whisk together milk and eggs until smooth. Add salt, flour, and cheese. Whisk again until the batter is smooth. Finally, whisk in the melted butter. Divide the batter between the popover molds and fill each about 3/4 full.
Bake for about 25 minutes or until the popovers have reached a deep golden color. If you want the popovers to hold their shape, bake an additional 5 minutes or so but be careful not to burn them!
Remove and serve immediately if desired.
For the Blackberry Preserves:
Combine all the ingredients in a small saucepan and down until the blackberries have cooked down and the mixture has thickened.
Remove from the heat and transfer to a glass dish to let cool completely. Serve with the fresh popovers and enjoy!
Recipe Card powered by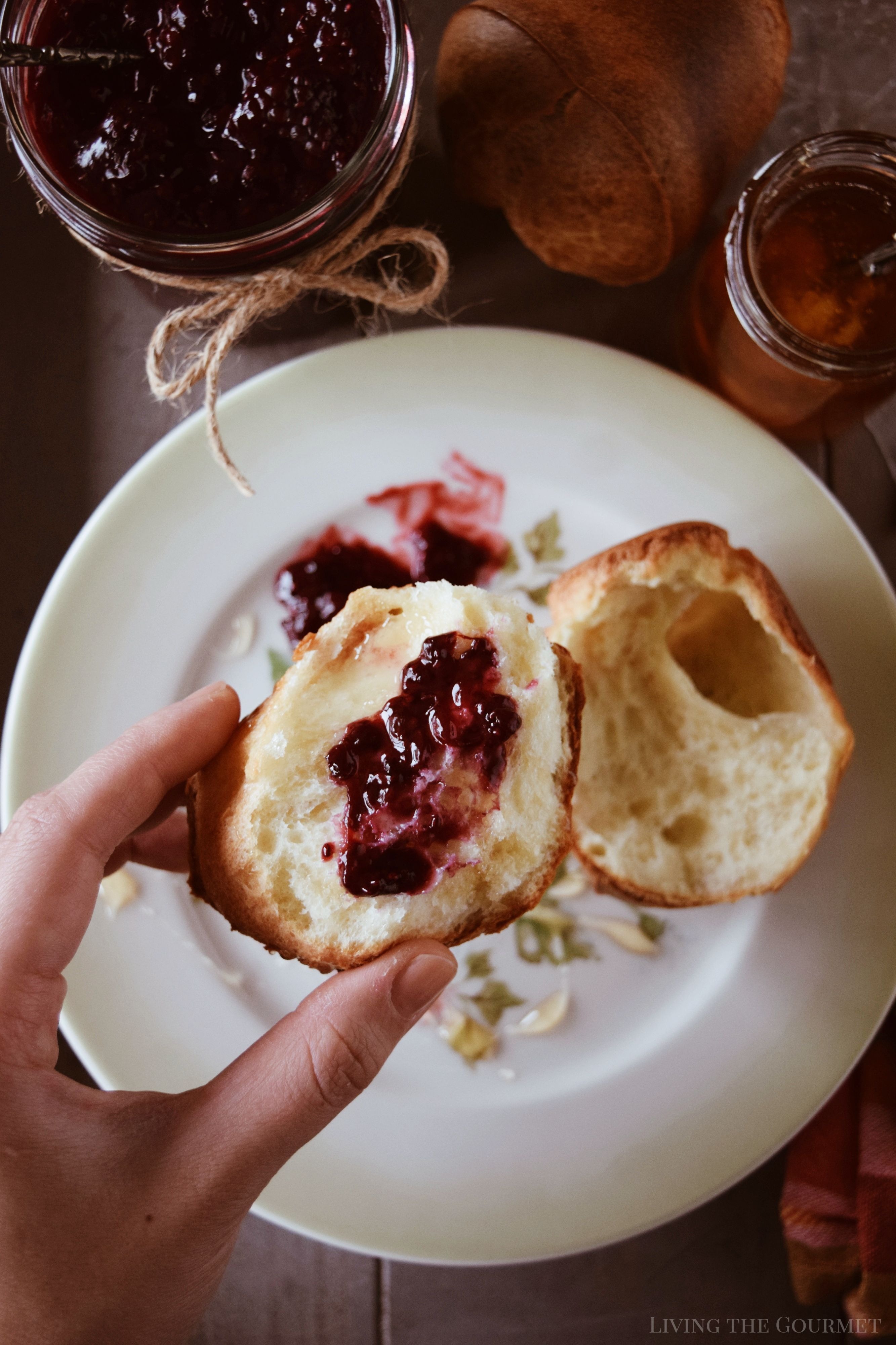 And that's that, you've got the perfect roll to serve alongside your Thanksgiving menu.
Enjoy with Love!
0