Balmy summer evenings are best spent at home with close company and good food. We're getting the party started with this assorted charcuterie board.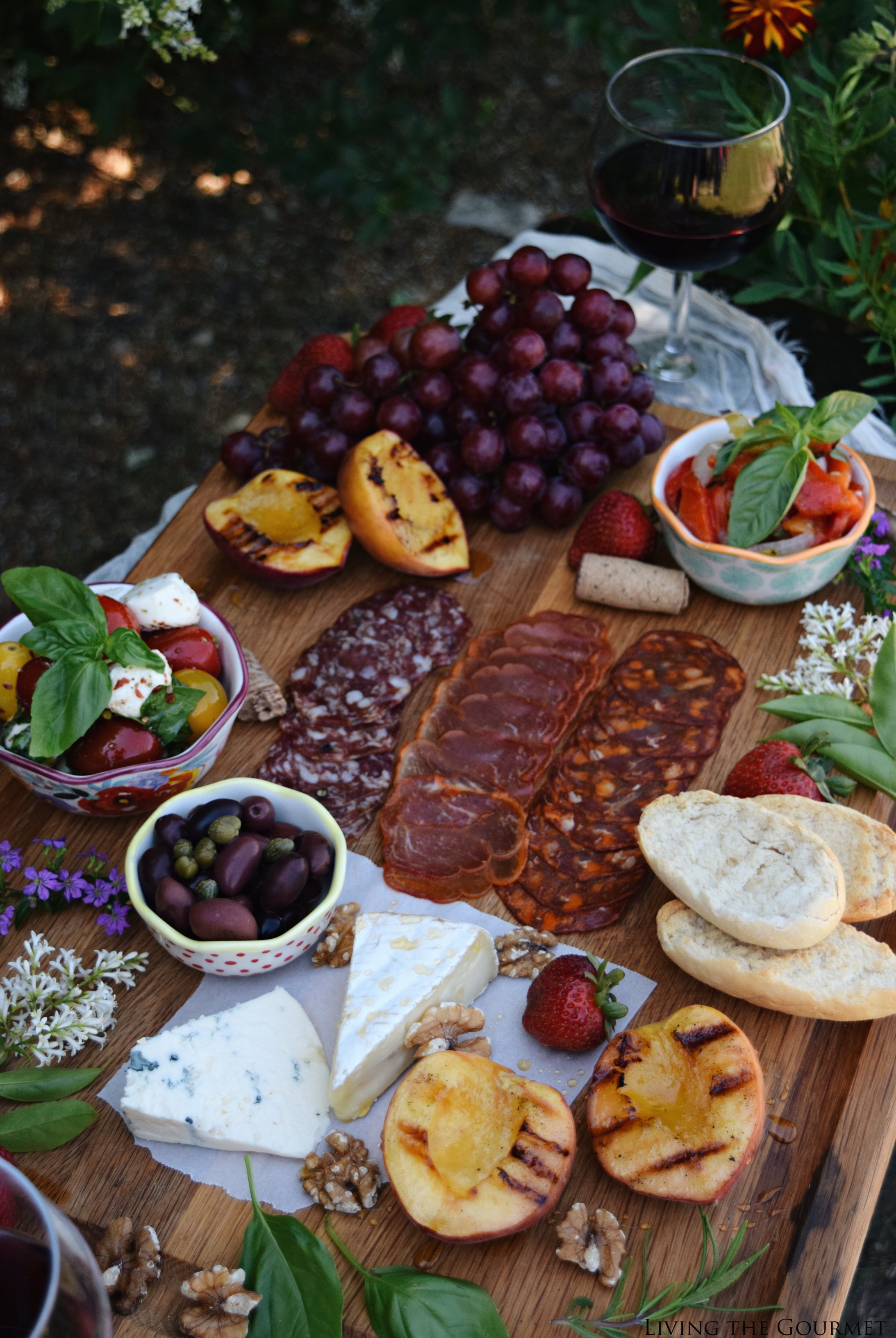 First impressions are a bit of a strange thing. A bad first impression can turn gold into lead, while a good first impression can wipe away all flaws – at least for a time. In other words, they are often illusory rather than material, setting a tone and shaping perception as opposed to anything qualitative. In the food industry, 'presentation' is essentially a chef's 'first impression.' Before anything is tasted, the palette is 'prepared' by vision, aroma, and general atmosphere – this is why how a dish 'looks' is almost as important as how it actually 'tastes.' After all, there's a reason Cervantes remarked "That which costs little is less valued"; the illusion of the presentation and perception.
For example, how many times have we been 'shocked' that a pricey wine just isn't that great, or that the cheap bottle from some 'upstart' vineyard won a gold prize? It begins with out perception of both bottles.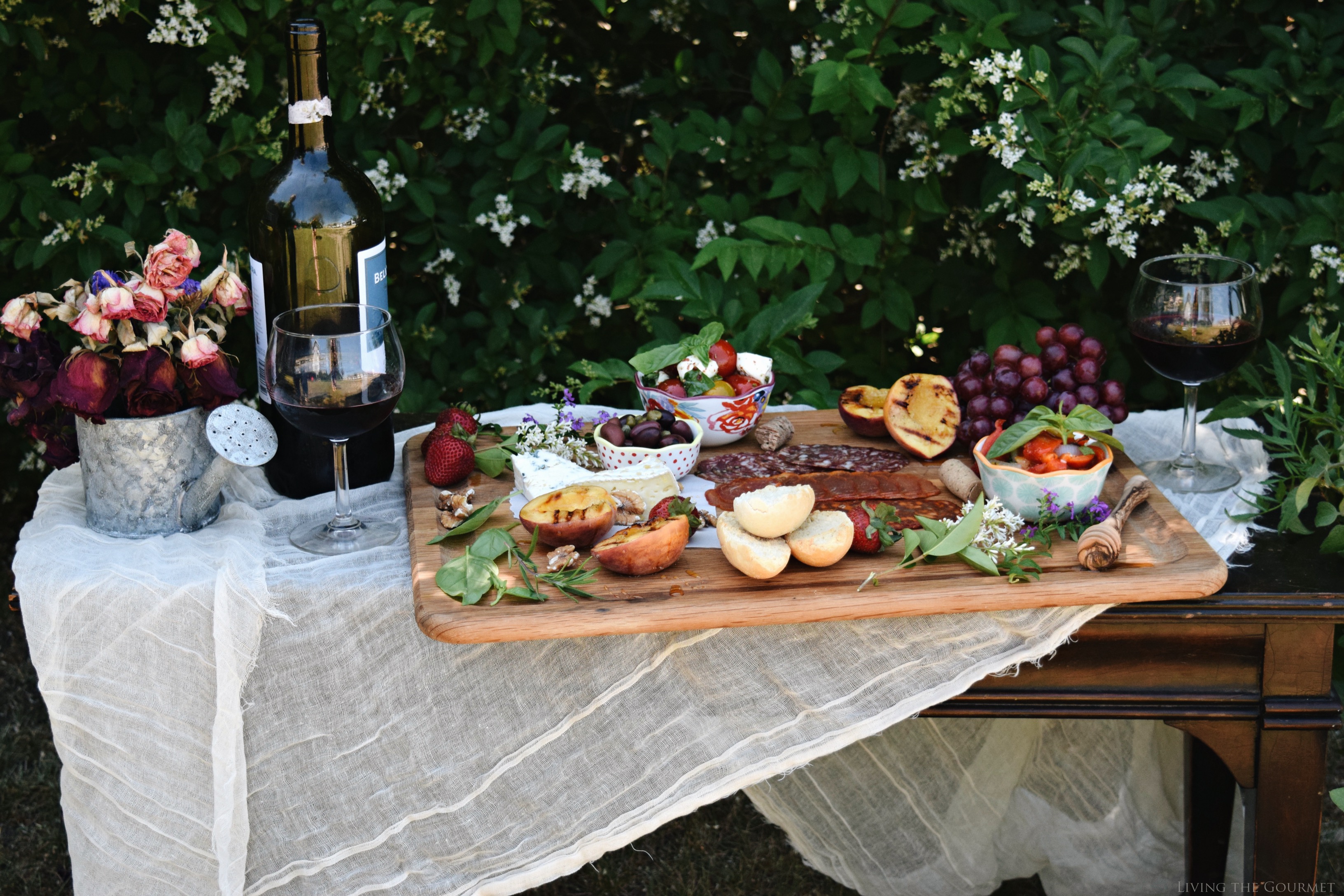 Whether for a Michelin dining room, or our own get-togethers, presentation, that all important first impression, remains key to impressing the guests. For that reason, my first bit of advice, whether for hosting a formal dinner party or a casual summer barbecue, always goes back to your guests' first experience – the antipasto. Paired to the meal, a good antipasto will set the tone for the evening, allowing your guests to enjoy both one another and good food from the moment they arrive.
Personally, and I'm entering heresy territory here given the culinary world's penchant for all things new and vogue, but I've always been a bit old fashioned when it comes to my appetizer platters. Wine, cheese, cured meats, olives, a bit of infused olive oil, and a good loaf of crusty bread, are hard to go wrong with, and pair well with virtually any Mediterranean dish you can put together.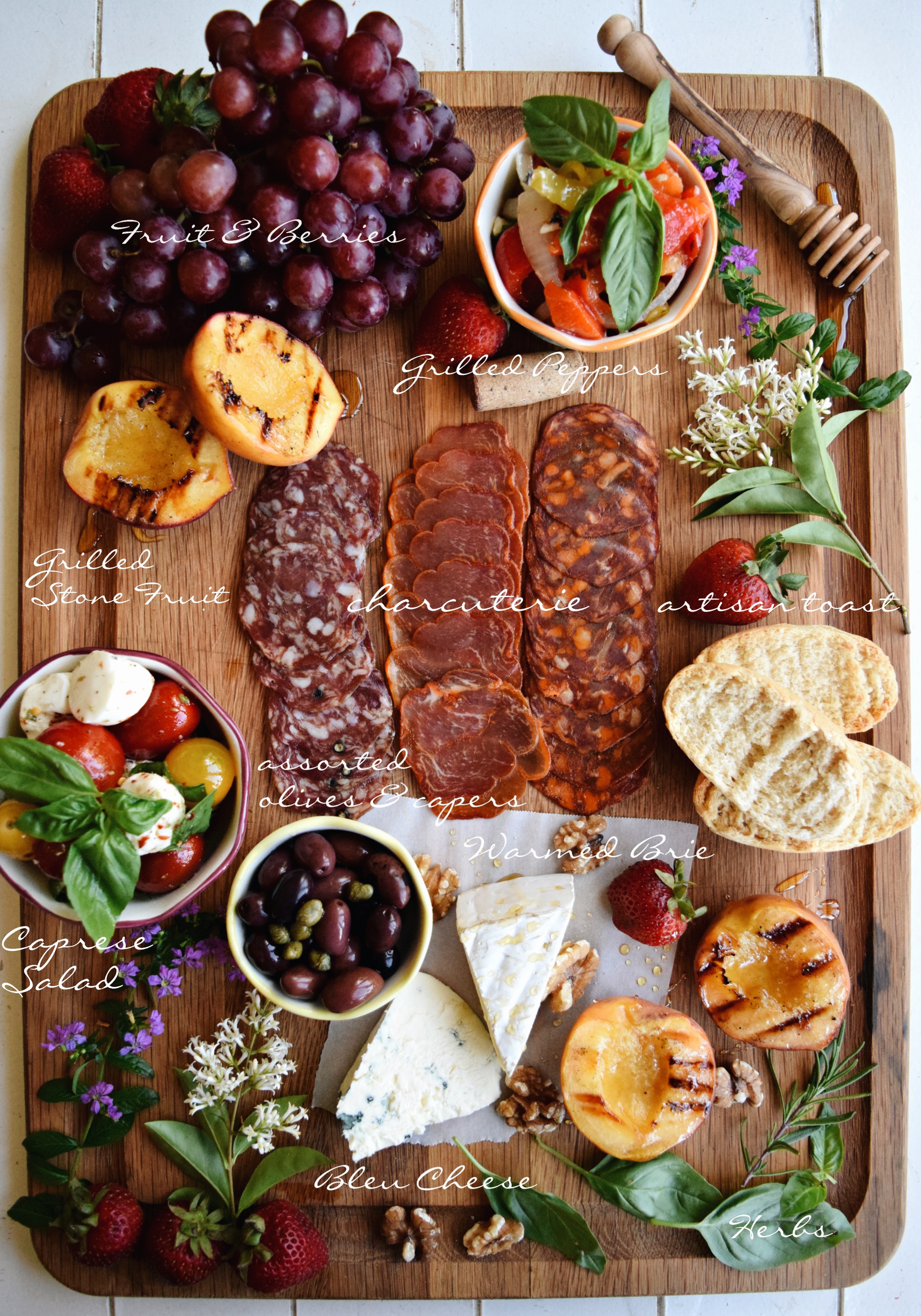 For example, if I'm preparing a red wine sauce, or a piece of full-bodied herbed fish, I'll default to my favorite charcuterie board, and enhance it with some of my homemade crisped Italian bread slices, which I cut super thin and then brush with olive oil and seasonings – a sure way to impress even the most discerning of guests.
Now, what do I actually put on this complexly named board?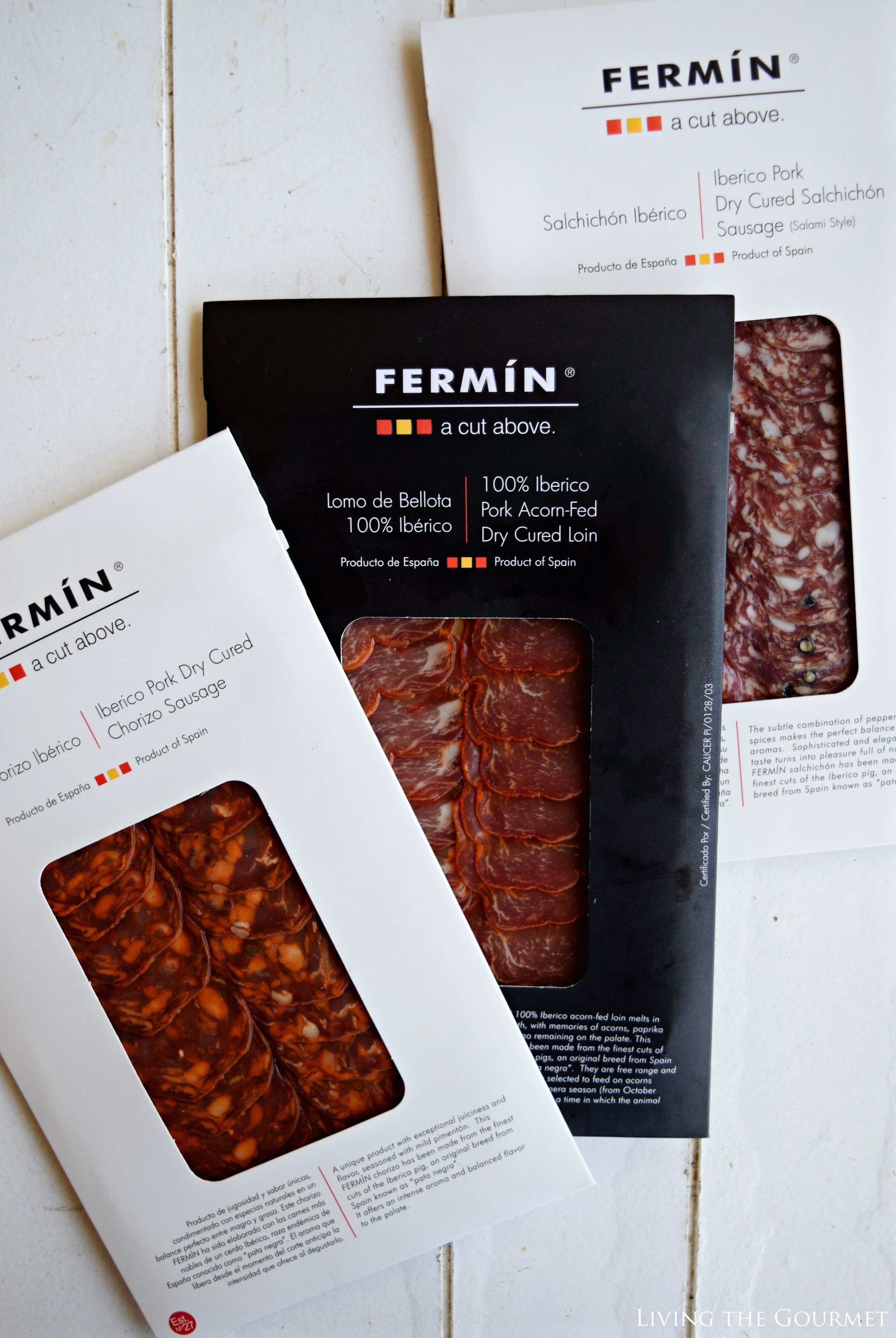 That's where today's recipe comes in. After talking with a few recently made friends, Love Iberico was brought to my attention, a company that specializes in Iberian cured meats, which they describe as being "A Cut Above." Having never tried Iberian cured meats before, I naturally couldn't resist, and ordered several of Love Iberico's products.
Now, believe me when I say that there are few things in life so exciting for a self-made gourmet as receiving a box of meat in the mail – life's gastronomic joys. I assembled the platter with Iberico Pork Dry Cured Salchichon Sausage, which is a salami-style cured meat, and included slices of Iberico Pork Dry Cured Chorizo Sausage for a bit of subtle spice, and paired that with a few slices of warmed Brie and Blue cheese. Finally, 100% Iberico Pork Acorn-Fed Dry Cured Loin and olives rounded out the board, which I assembled.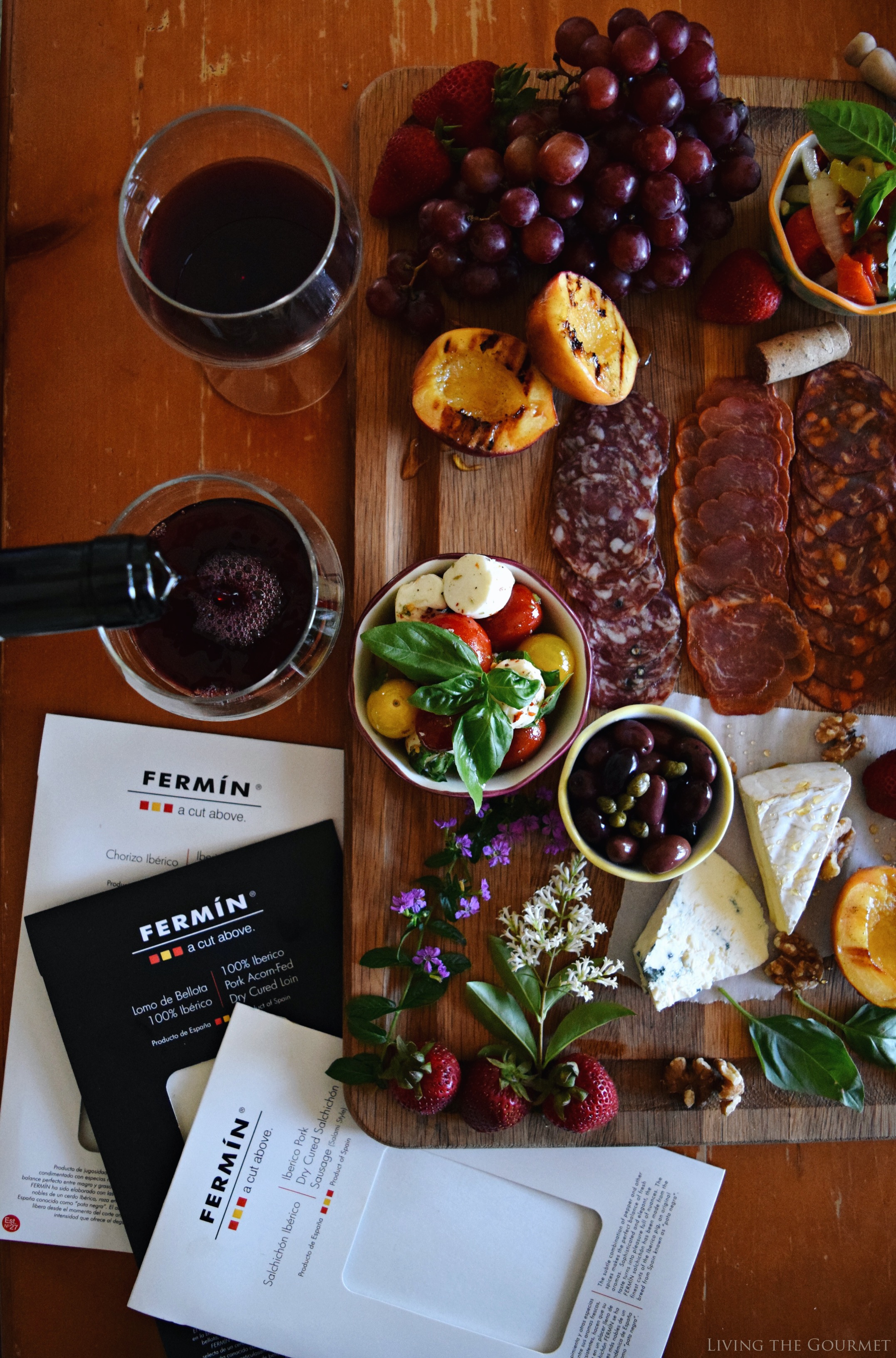 However, no antipasto is complete without an assortment of grilled peppers to pair with the bread crisps. To keep things seasonal, I added in a few stone fruits and a light Caprese salad on the side; and that evening's 'First Impression' was ready to serve.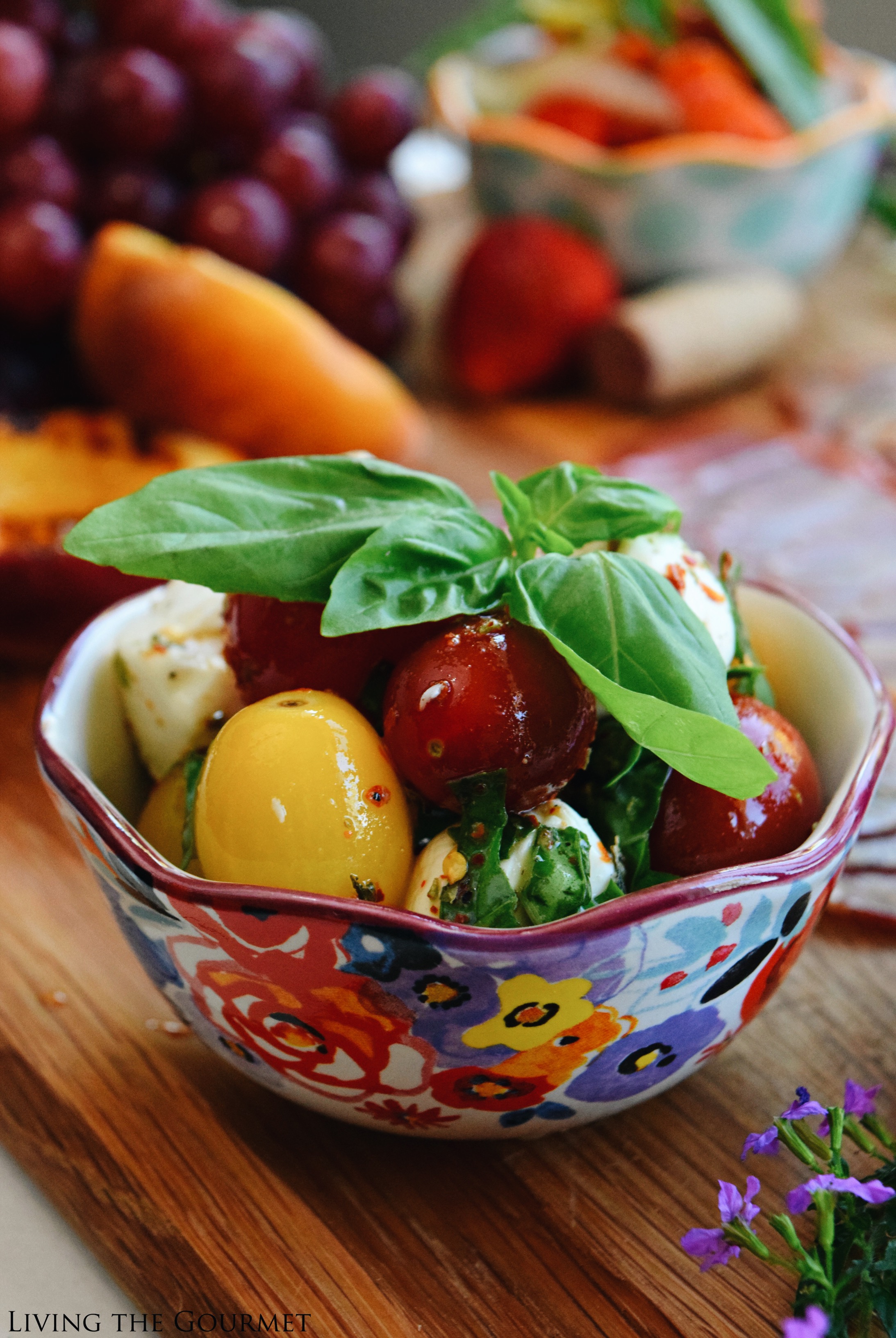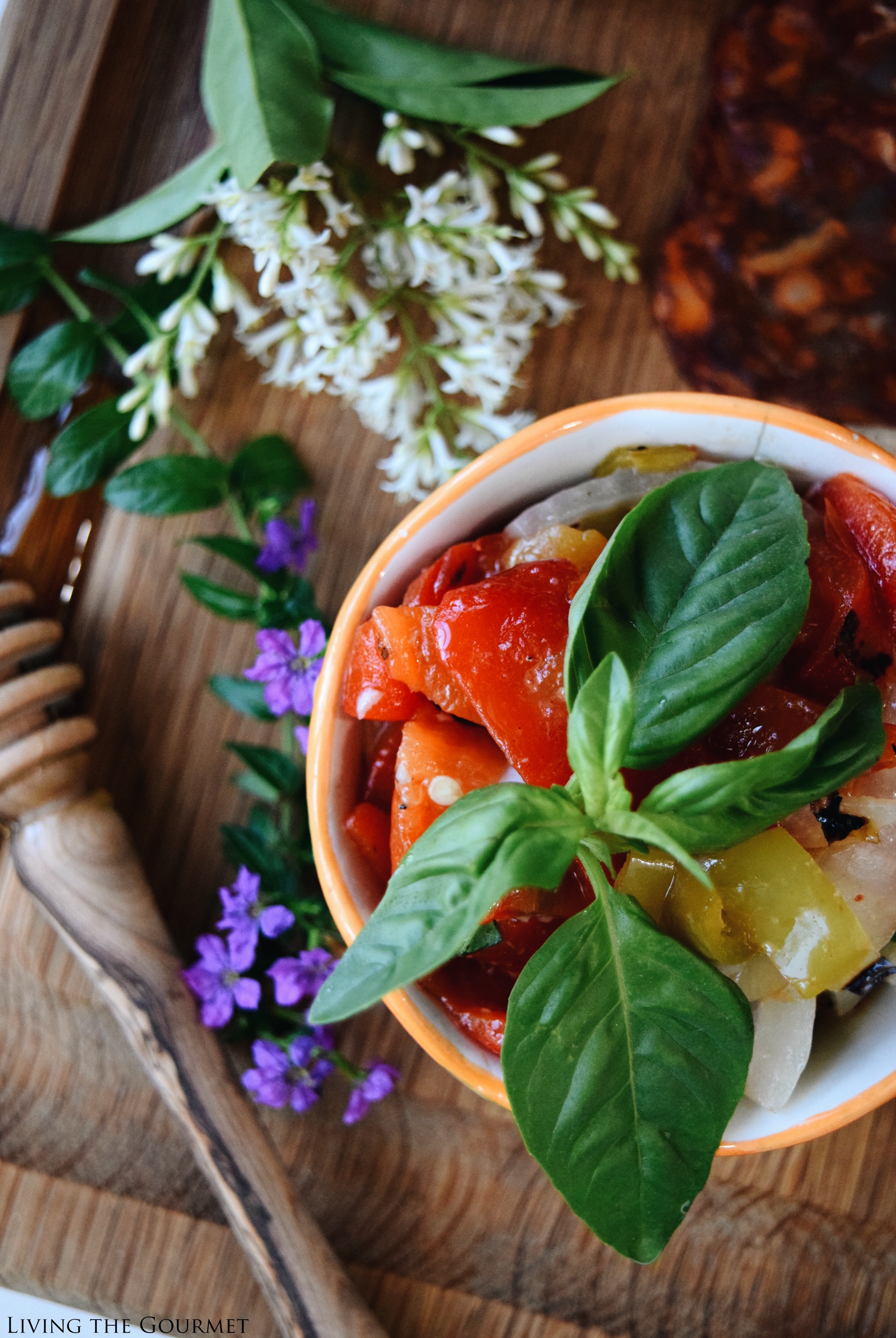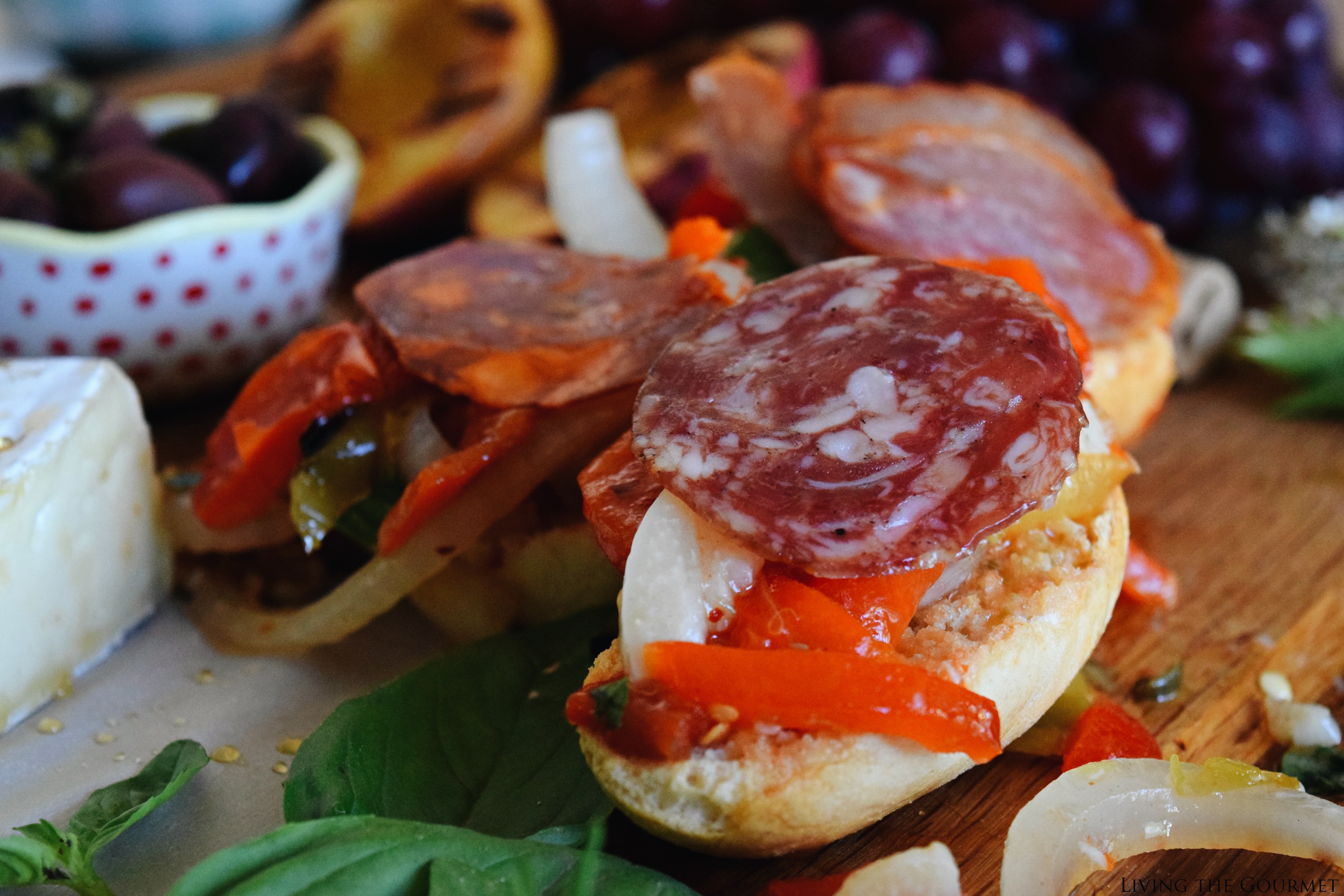 Living the Gourmet
Yields 4-6
The Perfect Charcuterie Board
PTHMPrep Time
PTHMCook Time
PTHMTotal Time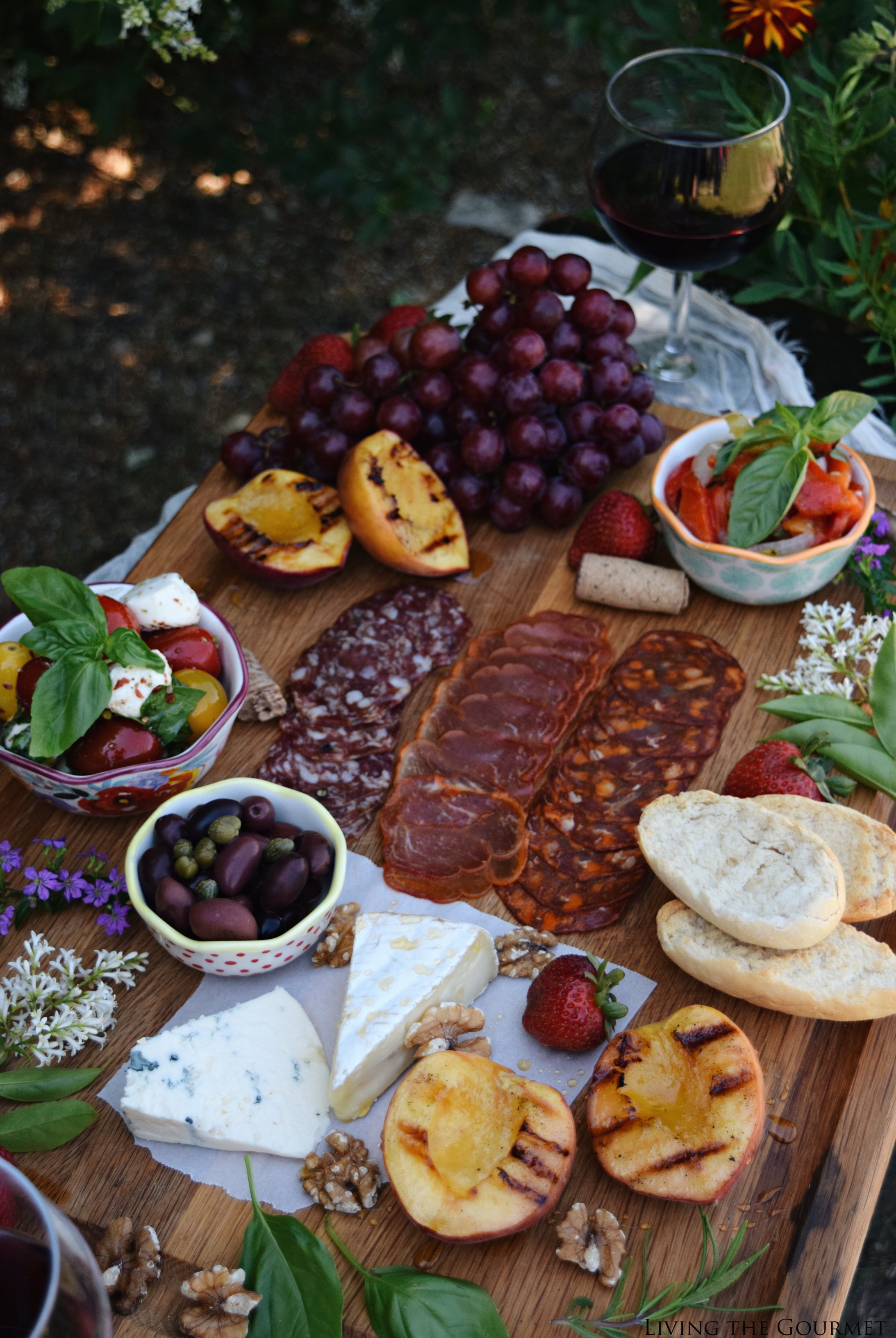 Ingredients
Roasted Peppers:

4 – 5 large bell peppers – grilled, scraped and sliced
1 large sweet onion – grilled and sliced
½ head of garlic – grilled whole in its skin
2 long hot peppers or jalapeno peppers – grilled, scraped and sliced
6 – 8 fresh basil leaves - chopped
1 tbs. of capers – chopped
2 tbs. of caper juice
½ tsp. salt
½ tsp. black pepper
½ tsp. dried oregano
¼ tsp. red pepper flakes
4 tbs. olive oil

Caprese Salad:

16 oz. mozzarella balls
1 pint cherry tomatoes
6 – 8 fresh basil leaves – ripped
¼ - ½ tsp. sea salt
½ tsp. fresh ground black pepper
½ tsp. red pepper flakes
1 tsp. dries oregano
4 – 5 tbs. olive oil

Charcuterie Board:

Iberico Pork Dry Cured Salchichon Sausage, for serving
Iberico Pork Dry Cured Chorizo Sausage, for serving
100% Iberico Pork Acorn-Fed Dry Cured Loin, for serving
Honey, for drizzling
Fresh Strawberries
Grapes
1/4 cup Kalamata Olives mixed with 1/2 teaspoon capers
2 Grilled Peaches
Artisan bread crisps or crackers
Walnuts, for serving (optional)
Instructions
Roasted Peppers:

Heat a large cast iron frying pan.
Place the peppers, onion and garlic. Grill until the skin is well charred.
Allow to cool; then scrape the charred skin off, remove the seeds and slice.
Chop the basil and add the seasonings to taste and the olive oil; toss.
Place in the refrigerator until ready to serve.

Caprese Salad:

Combine all of the ingredients in a bowl; toss and refrigerate until ready to serve.

Charcuterie Board:

Assemble your board with the grilled peppers and Caprese salad.
Arrange the fruits and cheese all around.
Place the dried meats in the center of the board.
Drizzle honey over the grilled peaches, warmed brie and nuts.
Decorate the platter with flowers and herbs.
Serve alongside toasted bread and wine.
7.8.1.2
414
https://livingthegourmet.com/2016/06/perfect-charcuterie-board.html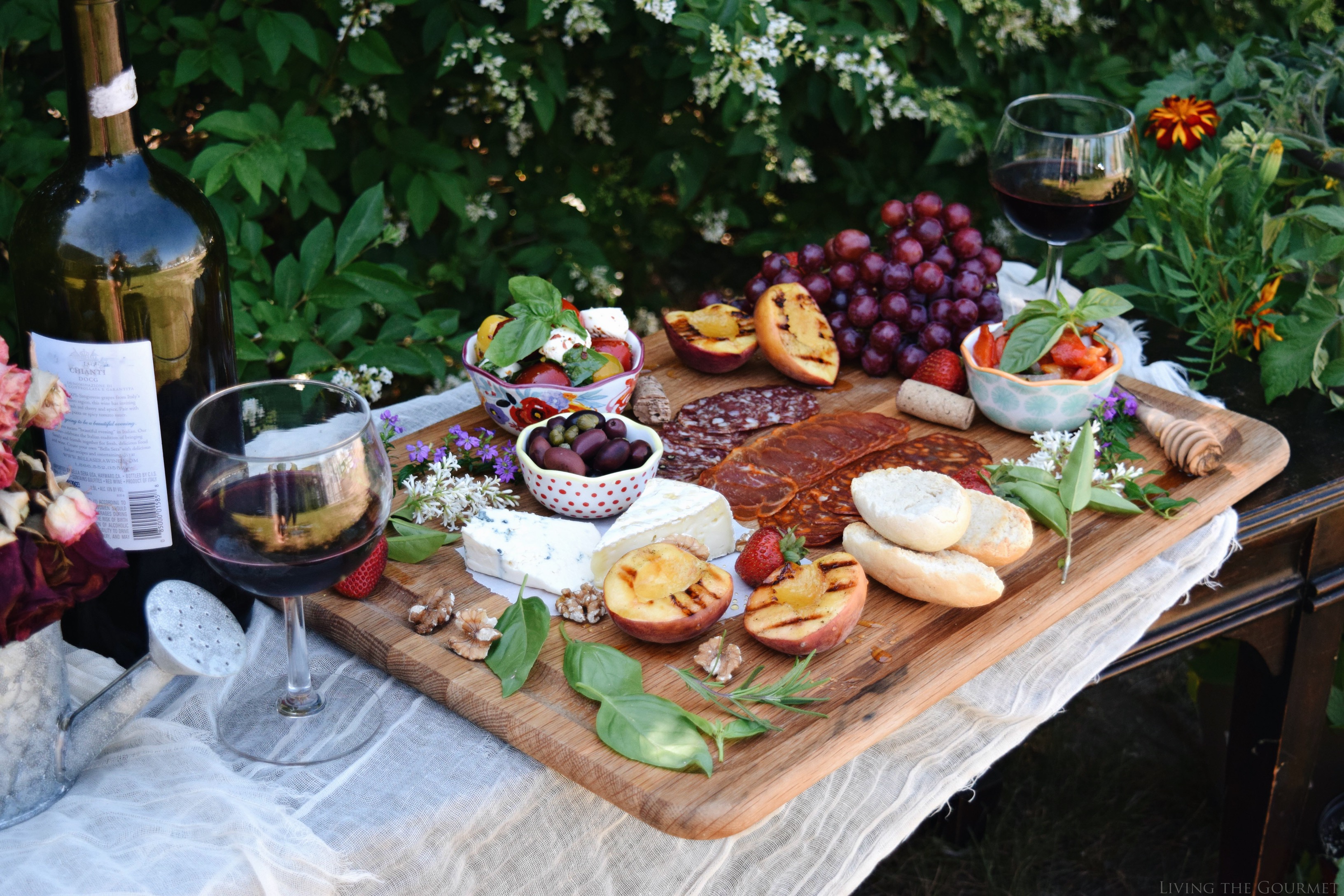 Needless to say, I was very pleased with products from Love Iberico, which were simply delicious, and of excellent quality. I certainly intend on serving them again.
What are some of your favorite recipes for putting together an antipasto? Or what are some of your ways for starting a dinner party off right? We would love to hear from you.
Enjoy!
3