Before we officially bid summer farewell, we're hosting one last hurrah this season with an Italian Antipasto Board featuring some of our favorite appetizers, mini pizzas, and preferred wines.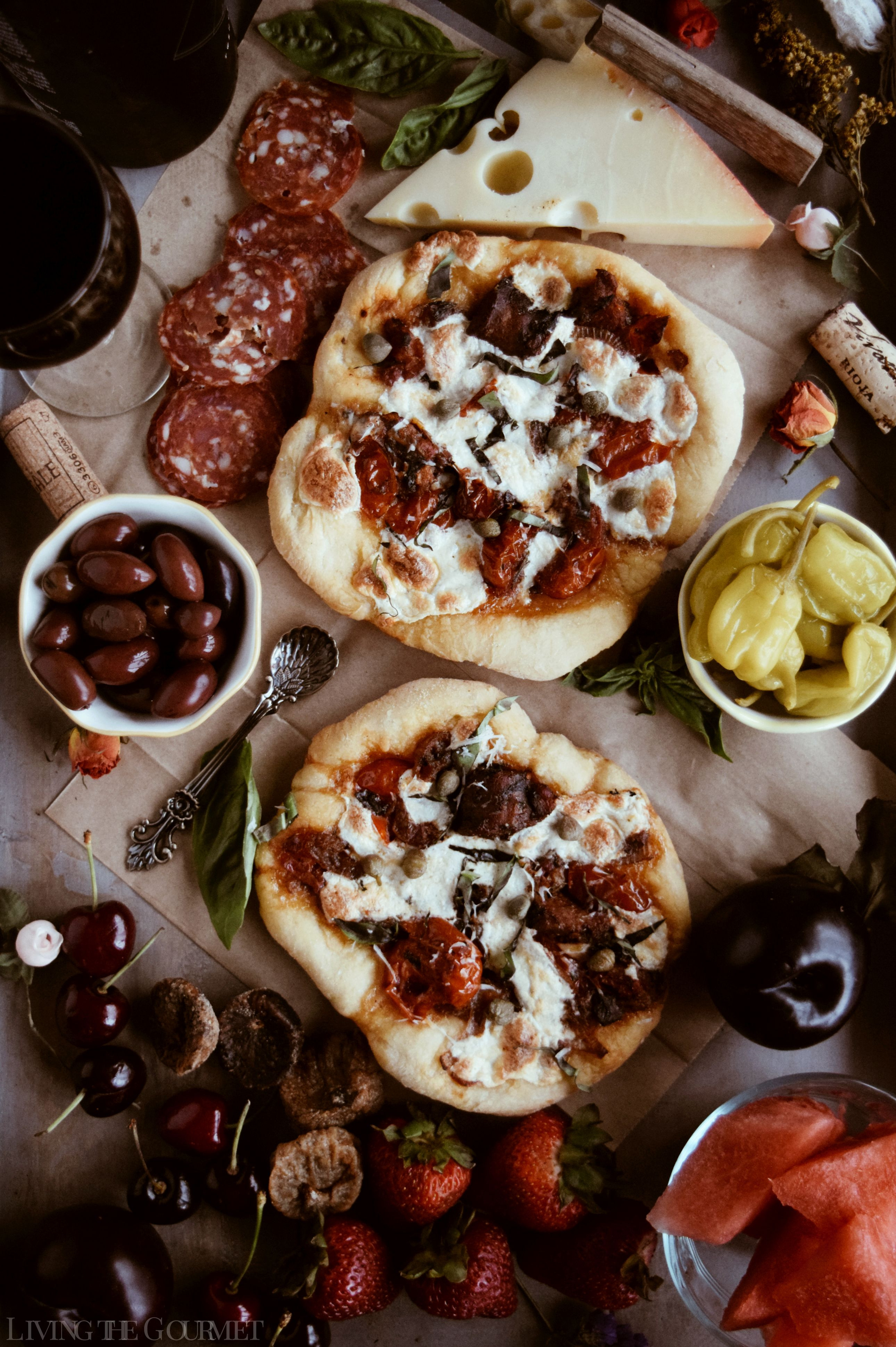 I've touched lightly in the past about appetizer boards that I like to serve at dinner parties but rarely elaborate on this intricate detail of entertaining.
On occasion, I myself like to 'indulge' in a nice platter of small pickings and finger foods alongside a nice wine. Many enjoy a dry Riesling, or if you prefer a dry red, like I do myself, opt for Pinot Noir.
The antipasto platter has always played an important role at my dinner parties and it's a step I rarely skip, if at all. However, when the temperatures heat up, it's nice to simplify things and keep the menu to a minimum. So instead of foregoing the starters, I drop the main course and focus solely on the antipasto.
It keeps the atmosphere casual, but the bountiful board boasting of various colors, flavors and accompanying aromas, makes the spread elegant and unforgettable.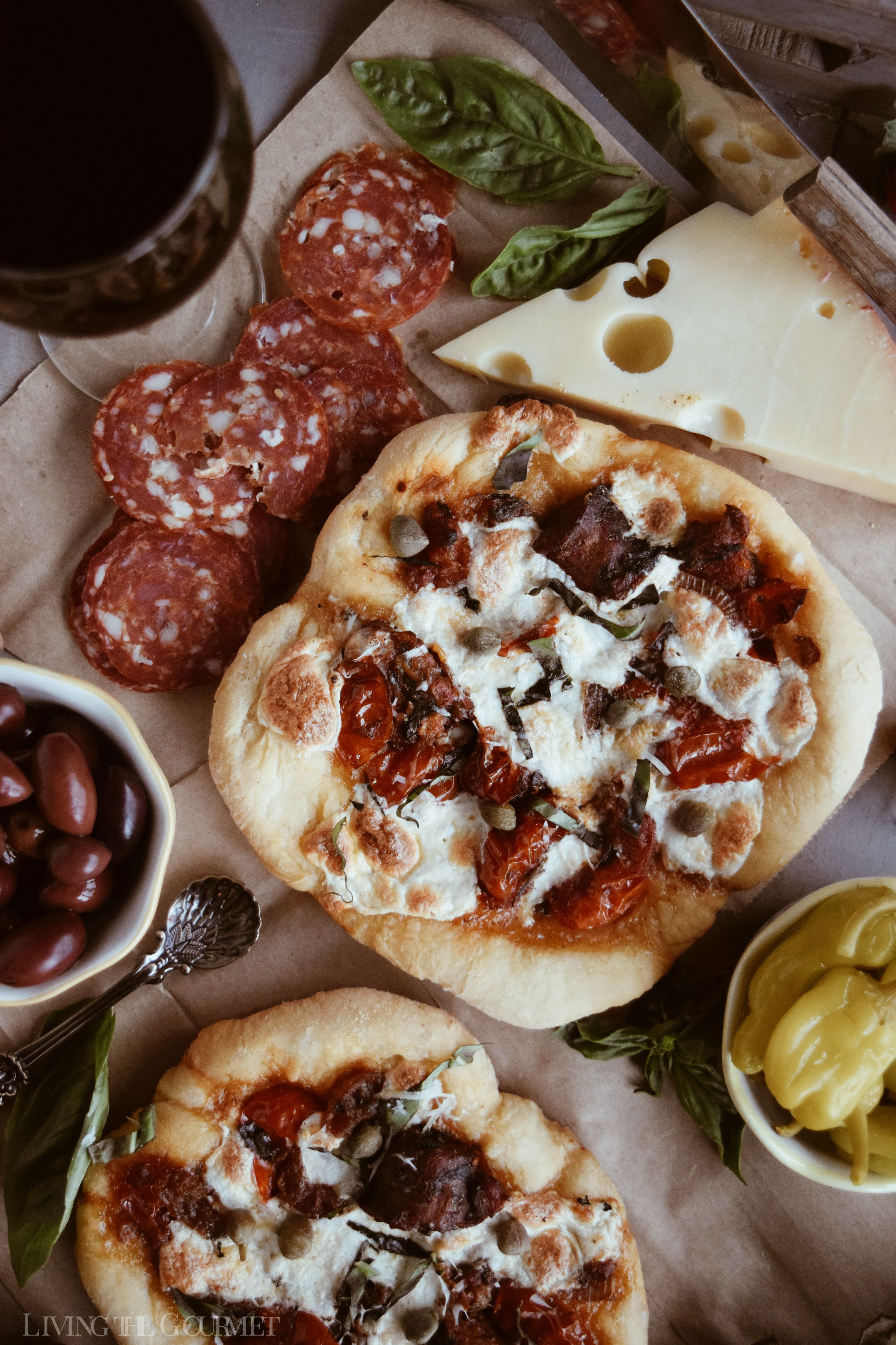 An appetizer board sounds fun and easy until you start planning one out. Then it can seem very detailed (which it is) and soon complicated when you don't know which direction to take. Soon your mind begins racing- "How much is too much? Is that even a question?"…"Tapas, Antipasto, or Charcuterie?", "To wine or to dine? Why not both? Don't get me started on pairings! …Maybe I should have just stuck with a good old-fashioned pasta…"
Yes, yes, it all seems very confusing now, doesn't it? I jest. It's really quite simple. So allow me break it down for you and put your worries at ease.
The type of board you want to create is based solely on what you are craving.
Tapas are always wonderful if you are in the mood for serving up a board with Latin/Mediterranean flair. The trendy Charcuterie is great if you are more focused on the cured meats. Nowadays, the hipsters like to add in equal parts cheese to the mix, various fruits, and yes, I've even seen chocolate on this board as well. Don't get me wrong, I love a good charcuterie and I get the flavor variety some are trying to achieve, but please, keep the desserts off this board. That is my only request.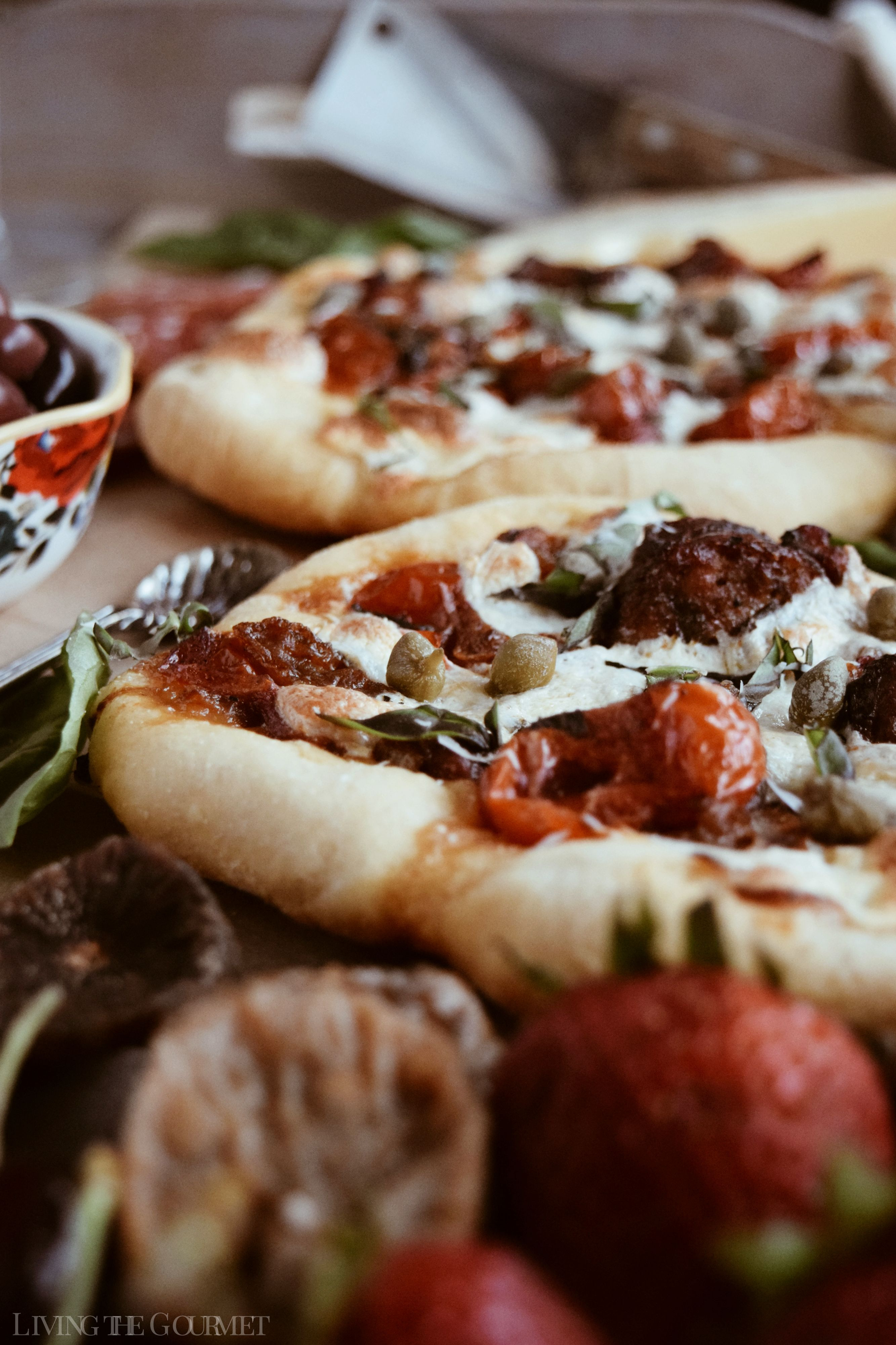 Today, I've decided upon an Antipasto Board influenced by the classic charcuterie with an Italian twist.
There are four key components to the ultimate Antipasto Board that rate on a scale from 1-10 based on the 'heft' they bring to the spread.
– One core component (think of it as the 'main course' of the board then play around that)
– One meat
– One dairy
– One sweet
The star of the show here is the pizza. I chose to make mini pizzas because I wanted bread on the board but rather than just serving up rolls and having my guests make themselves salami sandwiches, I went for something with a little more style. The pizzas are individually served and topped with some of the featured components on the board to compliment all the flavors. Another reason is that the crust of the pizza can be dipped in warmed, seasoned olive oil. The infused oil is probably the most popular aspect with the crowd. Check out our Garlic & Herb Infused Dipping Oil if you need an idea.
Meat is necessary to have, but when you have a core component you don't necessarily need a large variety. I liked the dry spiced Italian salami but whichever you prefer is fine, hot Sopressata, herbed salami and the uncured peppered salami, make a nice appearance on this board as well.
Cheese and meat goes hand-in-hand. You really can't have one without the other in my opinion. I like a nice variety when it comes to cheeses. I have freshly sliced mozzarella baked on top of the pizzas but on the board I chose Jarlsberg, certainly not of the Italian variety, but currently it has been a favorite of mine for appetizers; mainly because it's mild and firm but still holds a level of creaminess. There are plenty of other options of course. Some personal favorites include Gorgonzola, Ricotta Salata, Burrata, and shaved Pecorino.
Now, when I say sweet, don't go thinking I mean chocolate, candy, or cookies like some might. I mean fruit; dried fruit, stone fruit, or berries. Something sweet, but not really sweet. You just need a balancing agent. Some dried figs pair nicely here, even slightly tart cherries.
Other ideas to spruce up the board are Kalamata and Leccino olives, peperoncini, and of course, wine.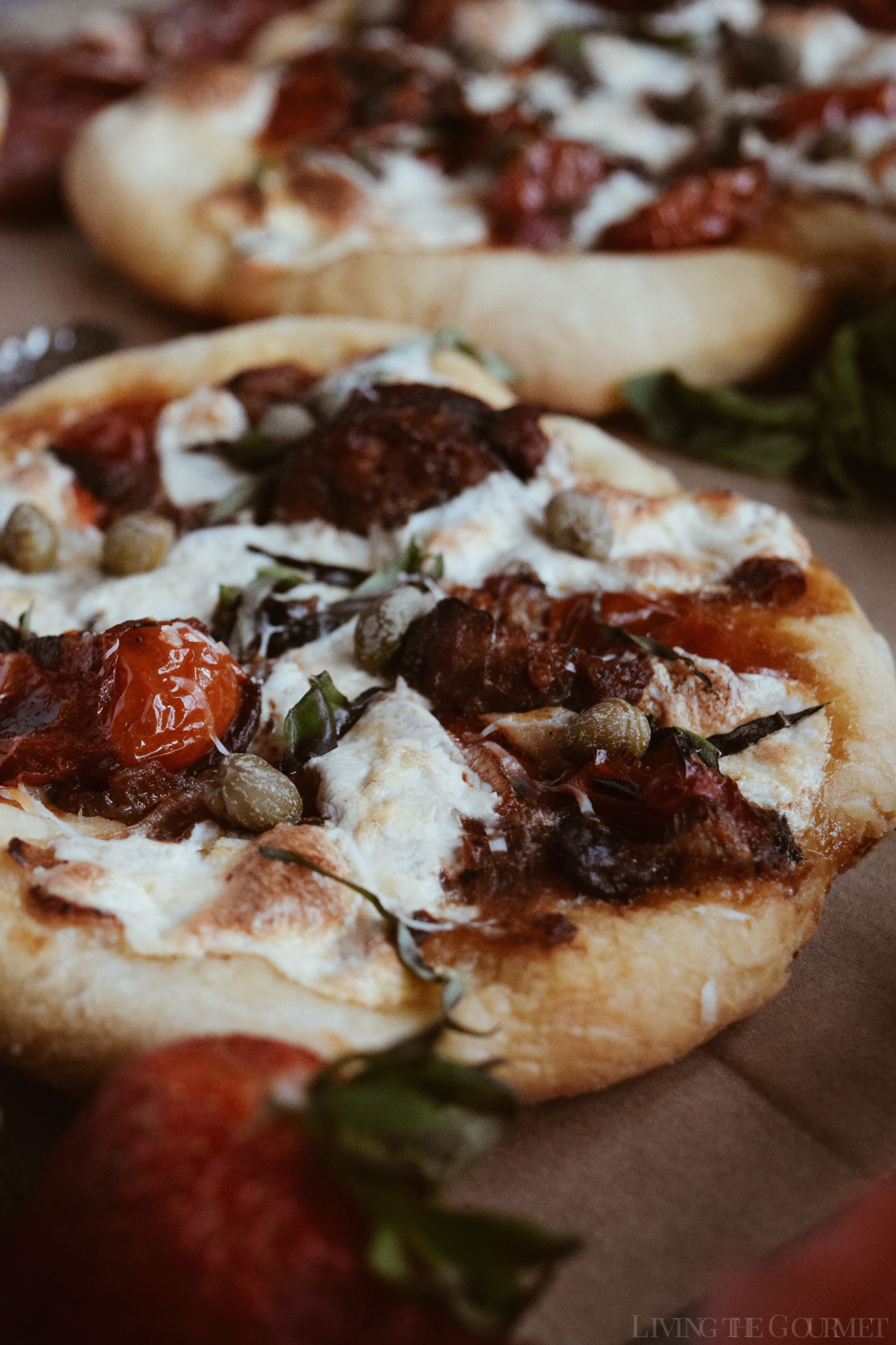 Print
Italian Antipasto Board
Author:
Prep Time:

10 minutes

Cook Time:

25 minutes

Total Time:

35 minutes

Yield:

6

individual pizzas

1

x
For the individual pizzas:
1

pizza dough, divided
Homemade Garden Sauce or your favorite jarred sauce

1

cup

Chorizo, chopped

1 tablespoons

capers
Fresh Mozzarella, shredded
Olive oil, for drizzling
Fresh grated Parmesan
Fresh basil, finely chopped
For the Antipasto Board:
Kalamata Olives
Leccino Olives
Cheese (I used Jarlsberg but swap with whichever you prefer. See notes in post)
Peperoncini
Italian Salami
Dried figs
Melon
Cherries
Plums
Strawberries
Infused Olive Oil for dipping (see our Garlic & Herb Infused Dipping Oil recipe)
Instructions
For the individual pizzas:
Follow the directions for the pizza dough but divide the dough to make individual pies. You should get about 6 individual pies from that recipe.
Preheat oven to 400 degrees F. and sprinkled your pizza pan with cornmeal. Shape each pie dough and top with the Homemade Garden Sauce, fresh shredded mozzarella, capers and chorizo. Drizzle with olive oil and cook the pizzas for about 25 minutes or until golden and bubbly.
When the pizzas are still hot, top with fresh basil and grated Parmesan
Assembly of the Antipasto Board:
Once the pizzas have cooled slightly, place them in the center of the board and arrange the rest of the antipasto around each pie as pictured. Serve alongside your favorite wine or spirit, if desired.
Recipe Card powered by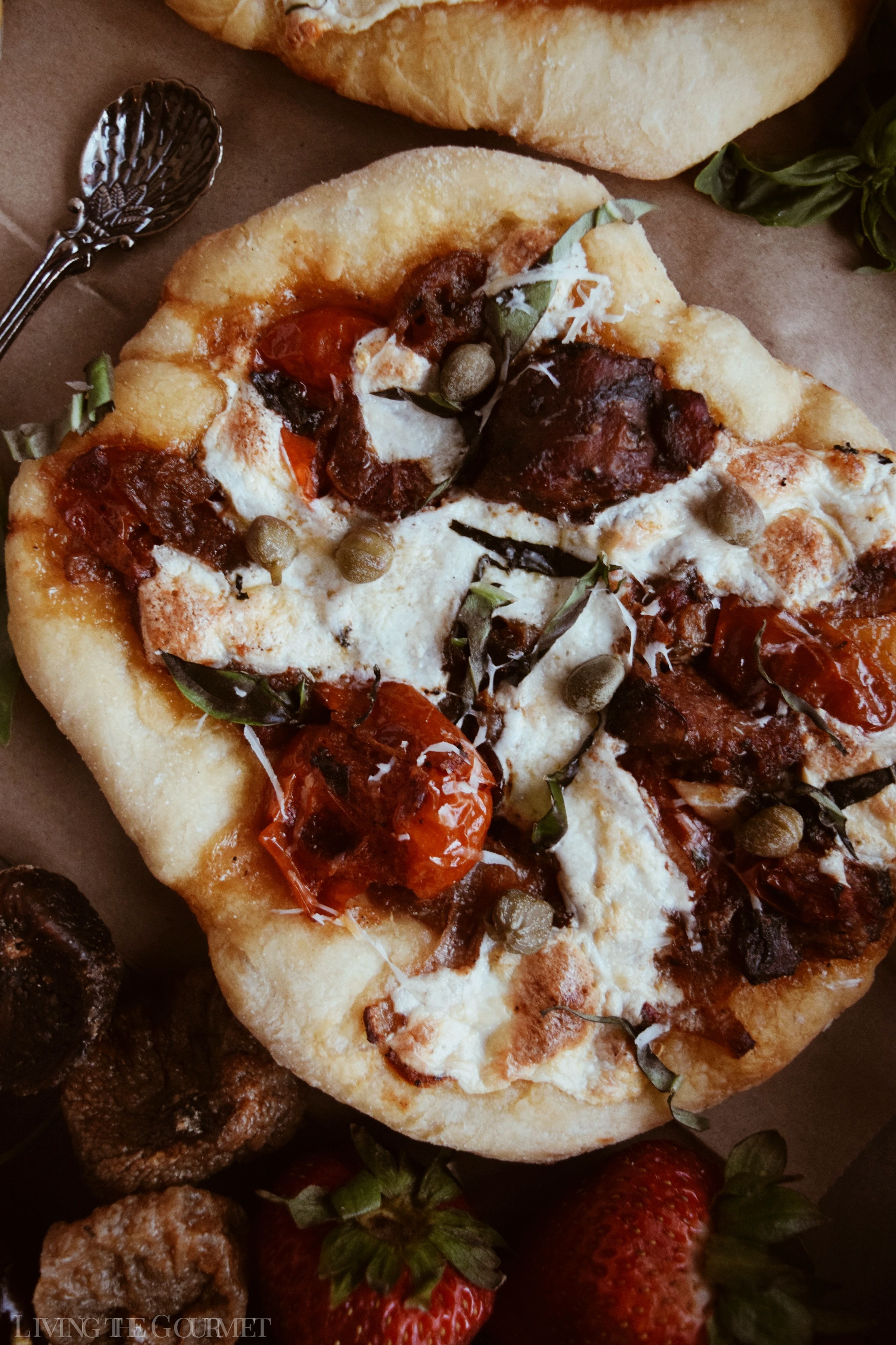 As mentioned earlier, the popular go-to when it comes to antipasto is a dry white. Personally, I like a smooth red usually something that transitions from starter to main course because I'm not too fond of drinking different wines with one meal. Since this board acts as both the antipasto and dinner, I like something that covers both bases.
Whichever you prefer, we have plenty of suggestions HERE for your viewing pleasure. Most posts include both an aperitif and a digestif. So, enjoy perusing the wine cellar of Living the Gourmet.
Enjoy with love!
0