Some of the best comfort foods are those that come in a bowl. Warm, creamy and filled with veggies, this Split Pea Soup will become your seasonal go-to!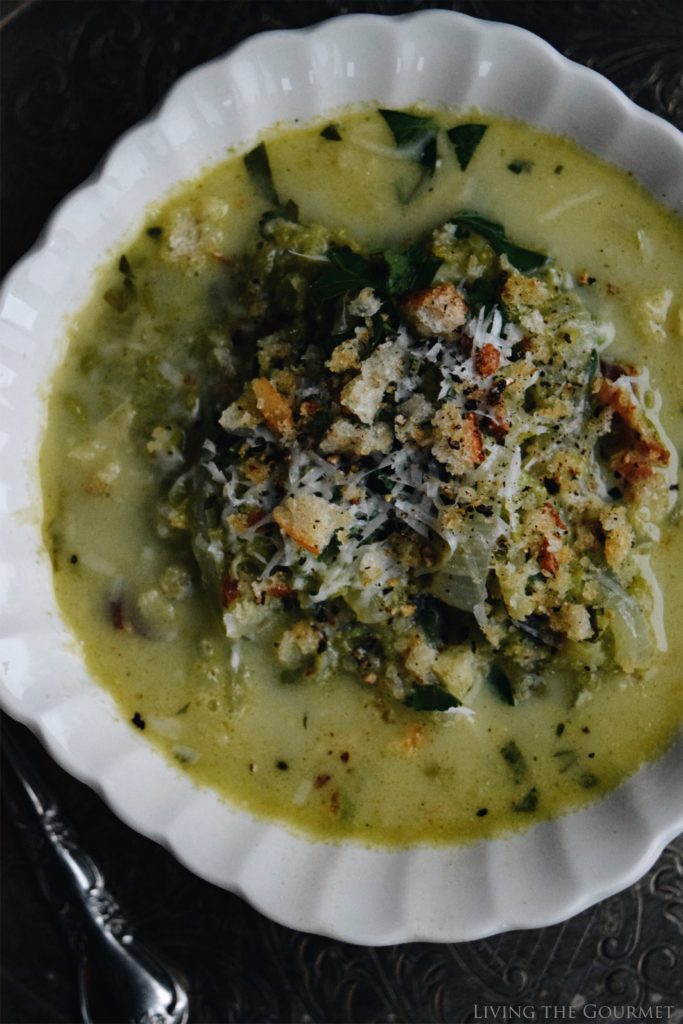 There's a scene in the Matrix where Neo and Morpheus discuss the definition of 'Reality,' and whether or not the computer world of the Matrix itself is, in fact, 'real.' Morpheus replies, perhaps much to the audience's surprise that the Matrix world is actually, in a sense, quite real, explaining "If you're talking about what you can feel, what you can smell, what you can taste and see, then real is simply electrical signals interpreted by your brain." In other words, our perception becomes our reality, since that is the prism through which we interface with the world around us.
In other words, perception not only frames all, it is all.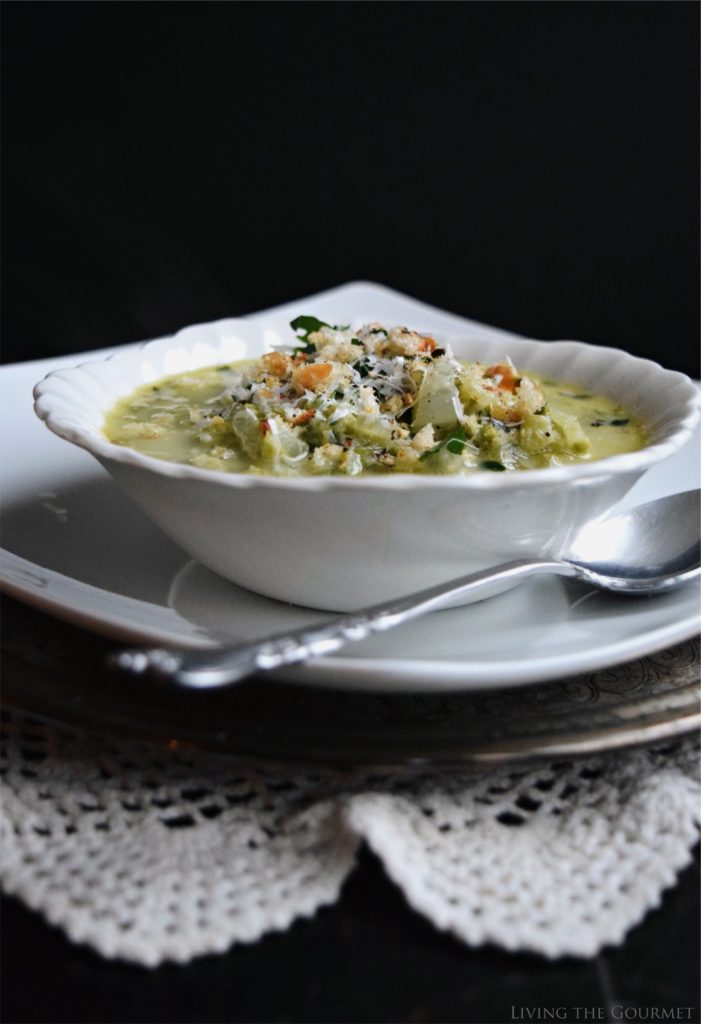 To that point, I've spoken a fair bit about how presentation, setting, and a good wine pairing are all key ingredients to one's dining experience, not so much because they effect flavor, texture or aroma – although a good wine pairing can – but rather because these effect one's perception of the meal, and likely do so before you've even taken your first bite. The setting for a meal is basically a classic 'portrait and frame' thought experiment. If you've ever had the great misfortune of sitting through a philosophy seminar, then you're likely familiar with the 'portrait and frame' thought exercise in which two separate sets of art students are asked to, unknowingly, assess the same painting, one in a gold frame inside an art museum, the other in a humble home setting. I'll let you imagine the very different conclusions the art students drew of the painting.
With that in mind, I'd ask you to imagine a well-worn New York river, flanked and hemmed in by piers and piles, and draped in the haze of a fog thick with the caw of gulls and the chime of nautical bells. Now imagine that river swelling with rain just as the tide is coming in as a northern winter wind lashes white crested waves across the burgeoning waters.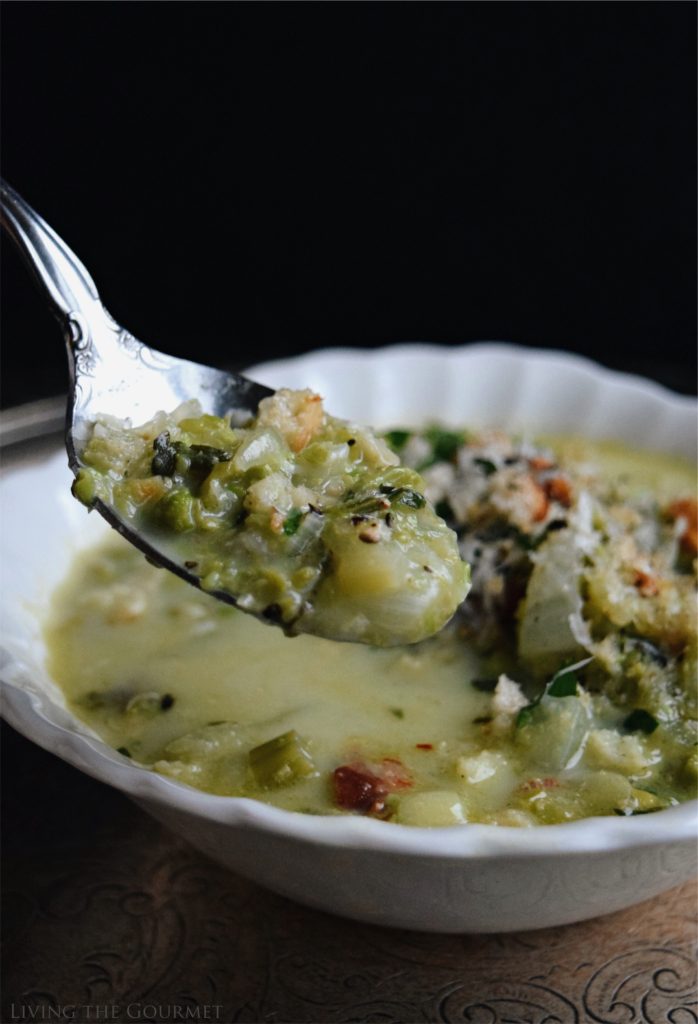 Naturally, I wanted to pair a meal to the storm that lay beyond my backdoor. Somehow, a 'light bite' just wasn't going to do this trick, which is precisely where today's recipe comes in – Pea Soup. I suppose it fits the Northeast cliché of a wintery drear accompanied by soup, biscuits and coffee, and, honestly, that's one cliché I don't quite mind.
To start things off, I'll begin with one of the first culinary maxims I ever learned, and if you take anything away from Living the Gourmet, it should be this. "Like butter, all things are better with bacon." That said, we begin this recipe with some bacon, about eight slices…though I'll scarcely fault you if you add in more. Crisp the bacon, and then set it aside. All great chefs copiously 'taste' from this set-aside share of bacon.
Print
Split Pea Soup
Author:
Prep Time:

10 minutes

Cook Time:

25 minutes

Total Time:

35 minutes

Yield:

4

-6

1

x
Category:

Soup
1

large sweet onion - sliced thin

3

cloves of garlic - chopped

1

bunch of scallions (about 5) - chopped

2

stalks of celery - chopped

1/4

cup

of fresh parsley - chopped

16 oz

. bag of frozen peas 9plus 2 cups of water)

2

cups

of water

1

tbs. butter

3

tbs. olive oil

4

cups

of chicken broth

1

bay leaf

1 tsp

. ground coriander

1 tsp

. salt

1 tsp

. black pepper

2 tsp

. lemon juice

2

cups

milk

6

-

8

slices of bacon
Fresh croutons (crushed) - for garnish
Grated Parmesan
Instructions
Cook the bacon to a nice crispness and set aside.
Gently heat a heavy soup pot, cast iron works best, with the butter and the olive oil.
Add the garlic, scallions, celery, sweet onion and parsley. Gently sauté until the garlic is fragrant and the onion is softened.
Add the chicken broth, bay leaf, coriander, salt and pepper and gently simmer.
Place the frozen peas in a food processor add the two cups of water, one cup at a time, and process until smooth.
Carefully, add the processed peas to the soup and continue to simmer on a gentle heat for about 20 – 25 minutes, then add the lemon juice.
Chop the bacon and to the soup continue to simmer on low, heat.
While gently stirring add the milk and continue to gently simmer for about another five or so minutes.
Ladle into a soup bowl and serve with crushed croutons and grated Parmesan cheese.
Recipe Card powered by
After prepping a soup pot as described below, and sautéing your garlic, scallions, celery, onions, and parsley, add in chicken broth as described below and let that come to simmer. In the meantime, you are going to process the pea side of this soup equation as shown below, and then add that to the soup, and let that heat for about twenty or so minutes. After that, stir in the milk, chop in the bacon, and then let it simmer for another five or so minutes.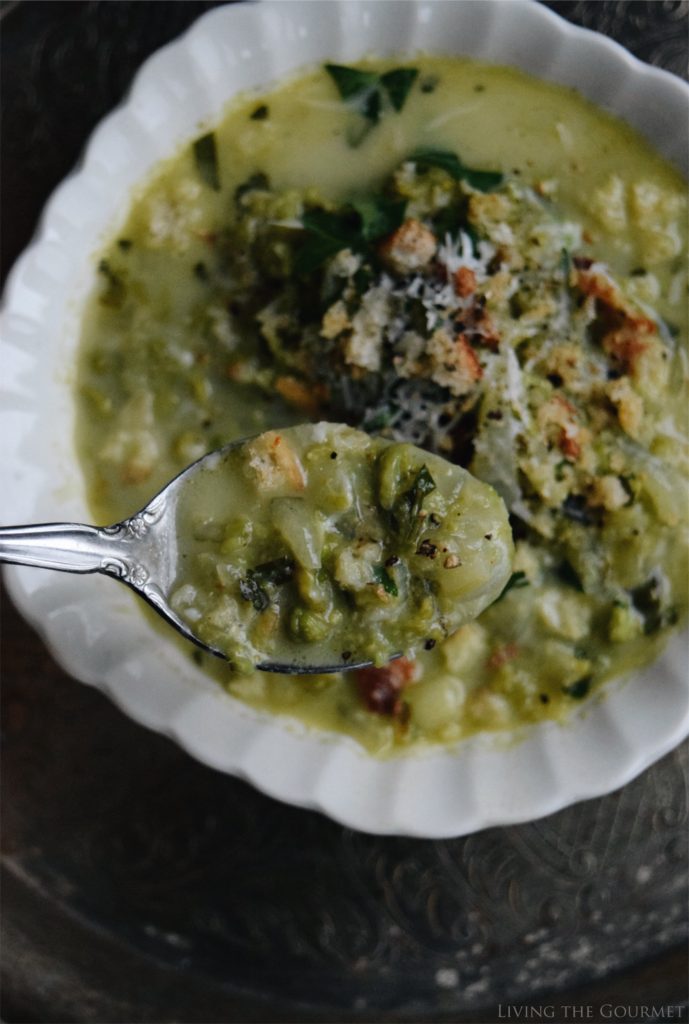 Then simply ladle it into a bowl, garnish with crushed croutons and parmesan cheese, and it's ready to serve.
Enjoy with Love!
0