Thank you Decoy for sponsoring this post. Complete your own tablescapes with Decoy this holiday season.
We're celebrating Thanksgiving a little differently today by upping the ante with a delicate tablescape featuring mini goat cheese bites, pumpkin ravioli in an orange and sage sauce, then finishing it off with a melt-in-your-mouth Caramel Pumpkin Flan.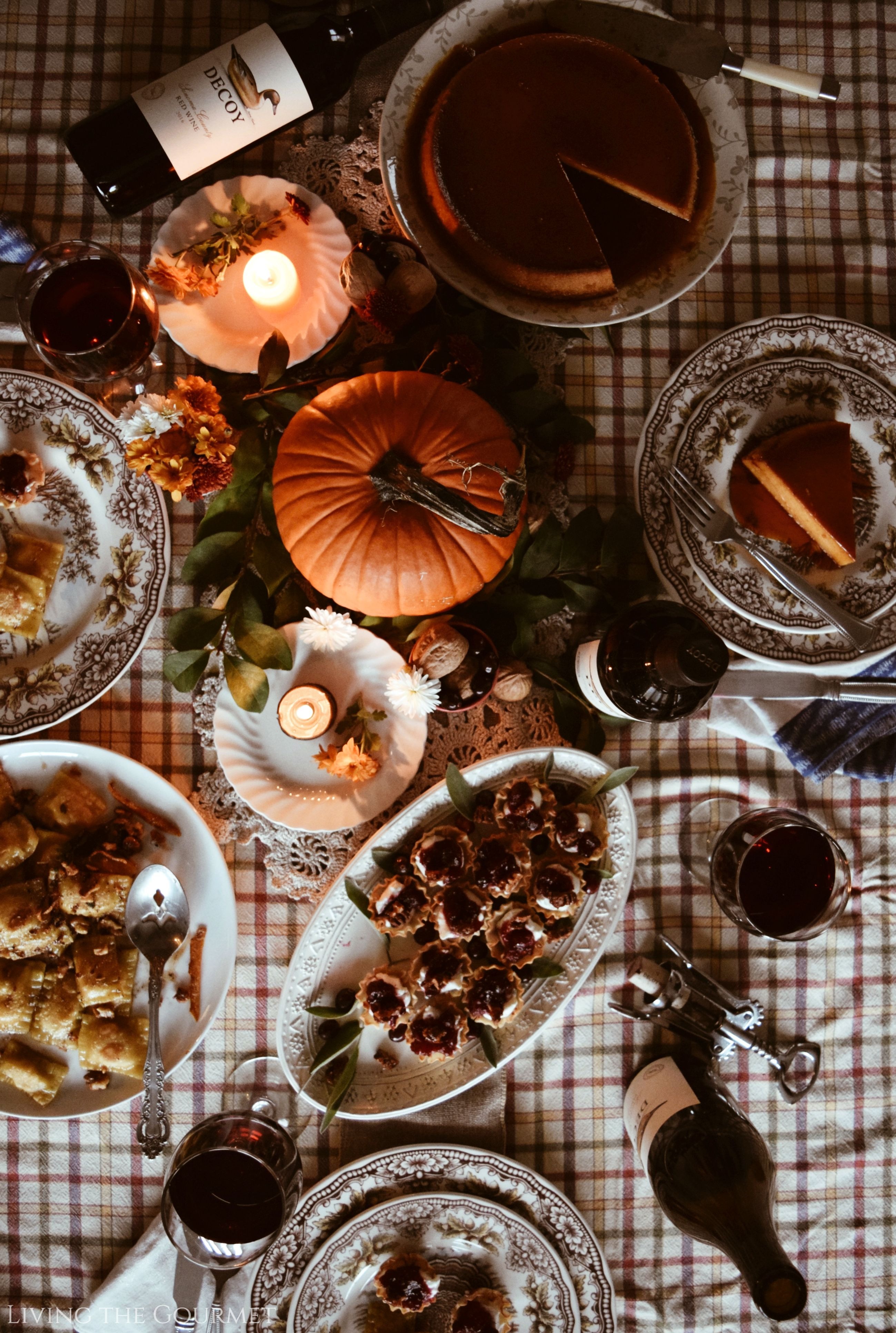 Sometimes what we perceive as 'perfect' is simply what we have become 'accustomed' to, or what we regard subconsciously as 'pleasant enough.' Add on fond memories, a touch of 'good old times syndrome,' and suddenly the 'strife' or 'unpleasantness' of coming up with something new and better simply doesn't appear to be worth the trouble. The adage "Why fix what isn't broken?" comes to mind.
To that point, I recall a professor of mine remarking, and I paraphrase from memory, that "If mankind were offered perfection, the whole of humanity would be united for a brief instant behind a single cause – to escape and destroy their collective perfection. The evolution of life, at its core," he continued, "is the constant overcoming, and adapting to, the strife that is inherent in an ever-changing planet. Unchanging perfection, therefore, invariably destroys itself via a slow descent into decay. Change cannot be escaped."
Now, why am I talking about this? Because I myself had brush with 'change' recently, and the 'change' involved what I had considered to be my 'perfect' ravioli recipe.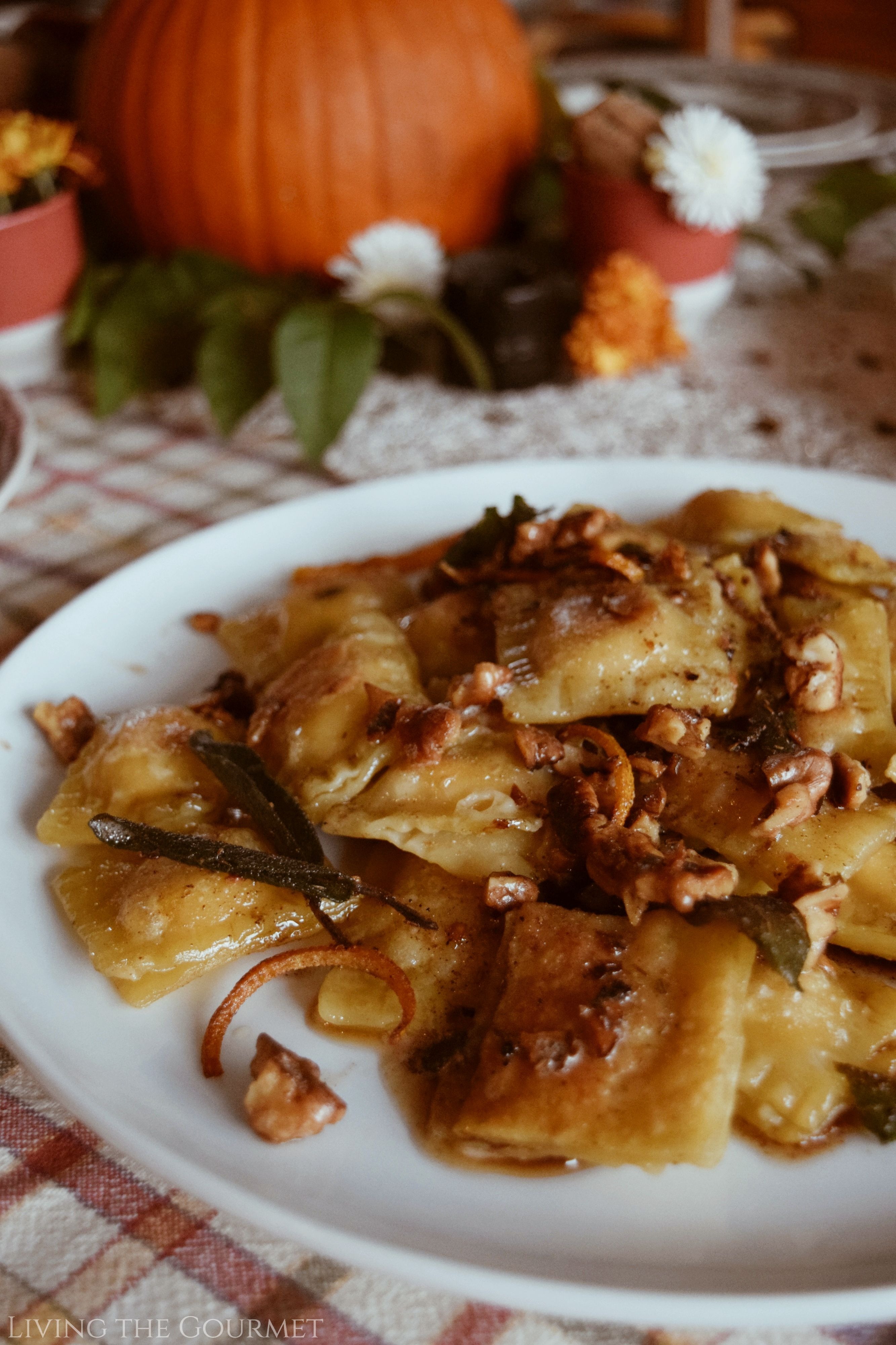 To begin, my standard ravioli recipe is, of course, my mother's, and has more fond memories attached to it than I can possibly recount. Growing up, we had two types of ravioli, sweet and spicy, both of which were basically the same batch of ingredients, but with one having a dash of sugar and orange zest, and the other a generous helping of red pepper and, if we were feeling particularly adventurous, some diced friggitello with the seeds left in. Nevertheless, the base recipe remained the same, and is the one that I have, invariably, prepared over the years.
These 'perfect' ravioli could be served at virtually any large family gathering, but especially during the holidays. Naturally, when we were coming up with today's Thanksgiving spread, my daughter suggested that we do something a little different for the holiday, and her idea was to use ravioli as the centerpiece of the starter spread.
My initial reaction was something along the lines of "Are you nuts? That isn't Thanksgiving!" But the more I thought about it, the more it made sense…in a blissfully nonsensical way. It's unconventional, but it can work – so why not try?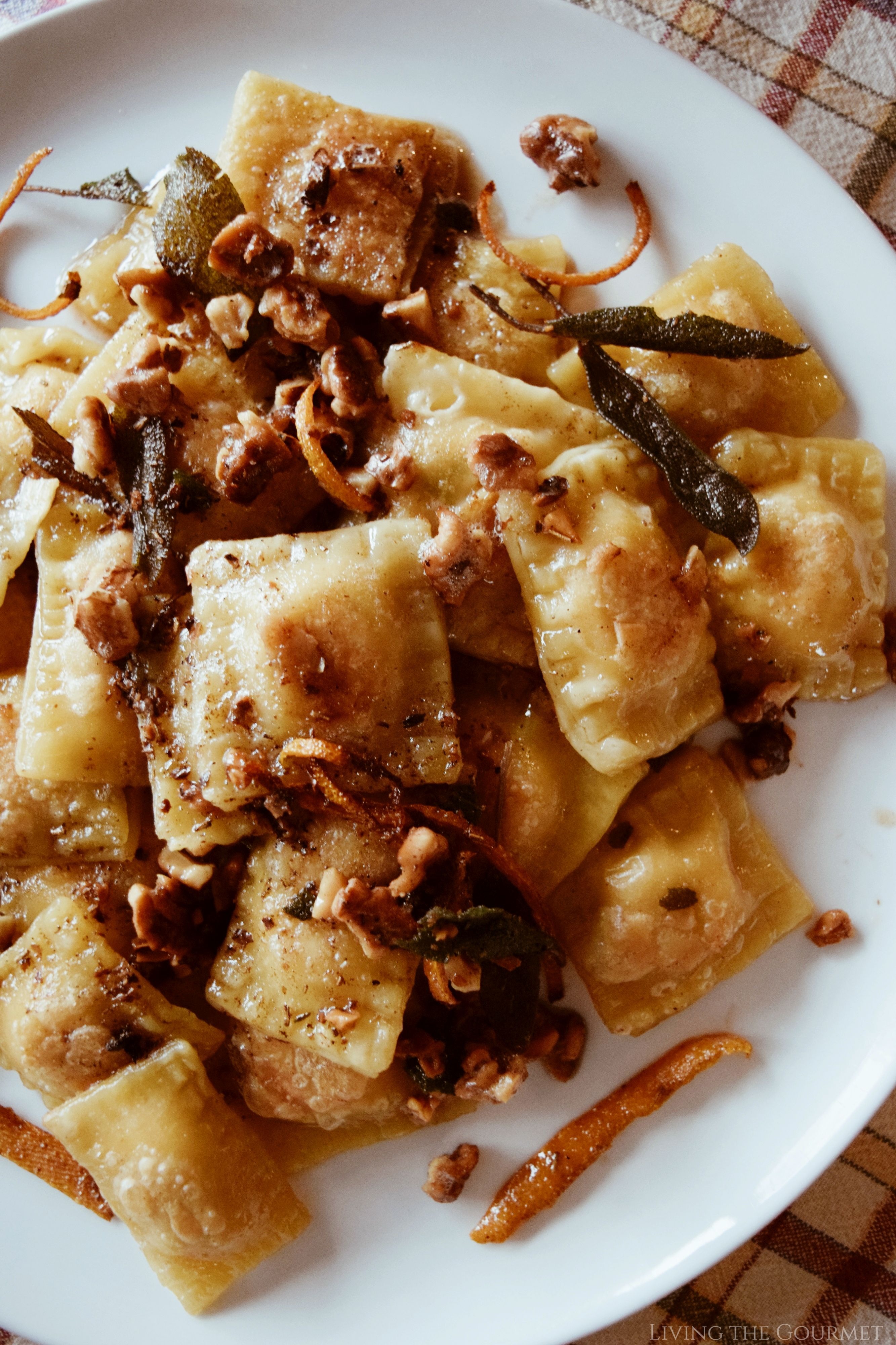 Print
Pumpkin Ravioli with Orange & Sage Sauce
Author:
Prep Time:

20 minutes

Cook Time:

15 minutes

Total Time:

35 minutes

Yield:

2

dozen ravioli

1

x
For the Ravioli:
3

cups

AP flour

4

eggs

1/2

cup

water*

2

–

3

tablespoons olive oil
For the Pumpkin Filling:
1

cup

canned pumpkin

1

cup

ricotta cheese

1/4

cup

parmesan cheese

2

cloves garlic, grated

1

egg
Salt an Pepper to taste
Pinch of finely grated nutmeg

3 tablespoons

finely chopped parsley

1 teaspoon

orange zest
For the Orange & Sage Sauce:
4 tablespoons

butter

1 tablespoon

extra virgin olive oil

1/4

cup

chopped walnuts

4

–

6

leaves fresh sage

1 teaspoon

orange zest or rind of 1/4 orange
Salt and Pepper to taste
Instructions
For the Ravioli:
Make a well in the middle of the flour and crack your eggs into the center. Add olive oil and whisk carefully with a fork. As you incorporate the flour, gradually add water one spoonful at a time until a soft dough comes together. Note you may need to add more water and that is fine.
Form the dough into a disk and rub a little oil over it. Wrap in clingfilm and set aside to rest while preparing the pumpkin filling.
For the Pumpkin Filling & Orange & Sage Sauce:
In the bowl of your food processor, combine all the ingredients for the pumpkin filling and blend until smooth and creamy.
Divide your ravioli dough into quarters, and then in half. Shape each piece of divided dough into a ball. NOTE: as you work one dough, make sure to keep the others covered in the oiled clingfilm to keep the dough from drying.
Roll out the dough onto a well-floured surface until about 1/8-inch thick. You should be able to see your hands through it. Using a ravioli cutter or pasta wheel, slive your dough into squares about 1.5 inches. If you want your ravioli a little larger, you can cut them to fit your preference.
Drop about 1/4 pumpkin filling into the center of each square then fold over and cover. Press the edges of each ravioli then pinch with a fork to ensure they are sealed. Transfer your ravioli to a lightly floured baking tray.
Once you are finished, bring a large pot of well-salted water to a boil. Drop in your ravioli and wait until they float to the top. Once they are done, carefully transfer them to a plate.
For the sauce, simply melt the butter with the oil. Add in the walnuts, salt, and pepper. As the butter begins to bubble and brown add in the sage leaves and orange rind. Then give your ravioli a quick fry until they get a little golden, about 2 minutes each side.
Serve immediately and enjoy!
Recipe Card powered by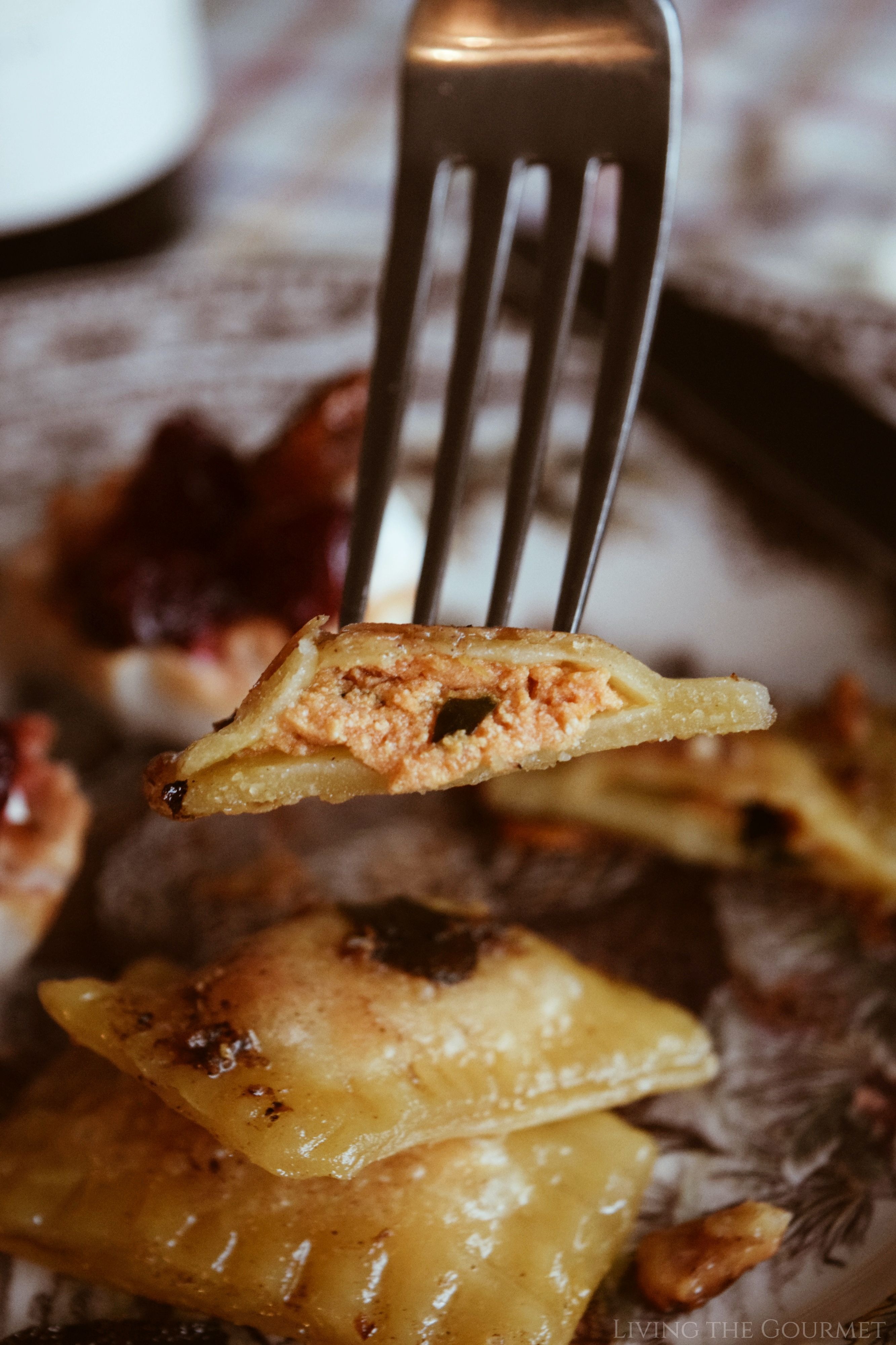 However, she had another surprise in store for me – changing my 'perfect' ravioli recipe to something nigh unrecognizable. We would, instead, be preparing 'Thanksgiving Themed' ravioli, and that brings us to today's core recipe 'Pumpkin Ravioli,' prepared with an Orange and Sage Sauce. To keep the Fall and Thanksgiving theme going, we would surround them with Goat Cheese and Cranberry Filo Bites, and end off with a Caramel Pumpkin Flan, to create a Thanksgiving starter spread that's equal parts elegance and approachability, while being tasteful and also classic in its flavors, but 'different' and 'refreshing' in its interpretation of those flavors.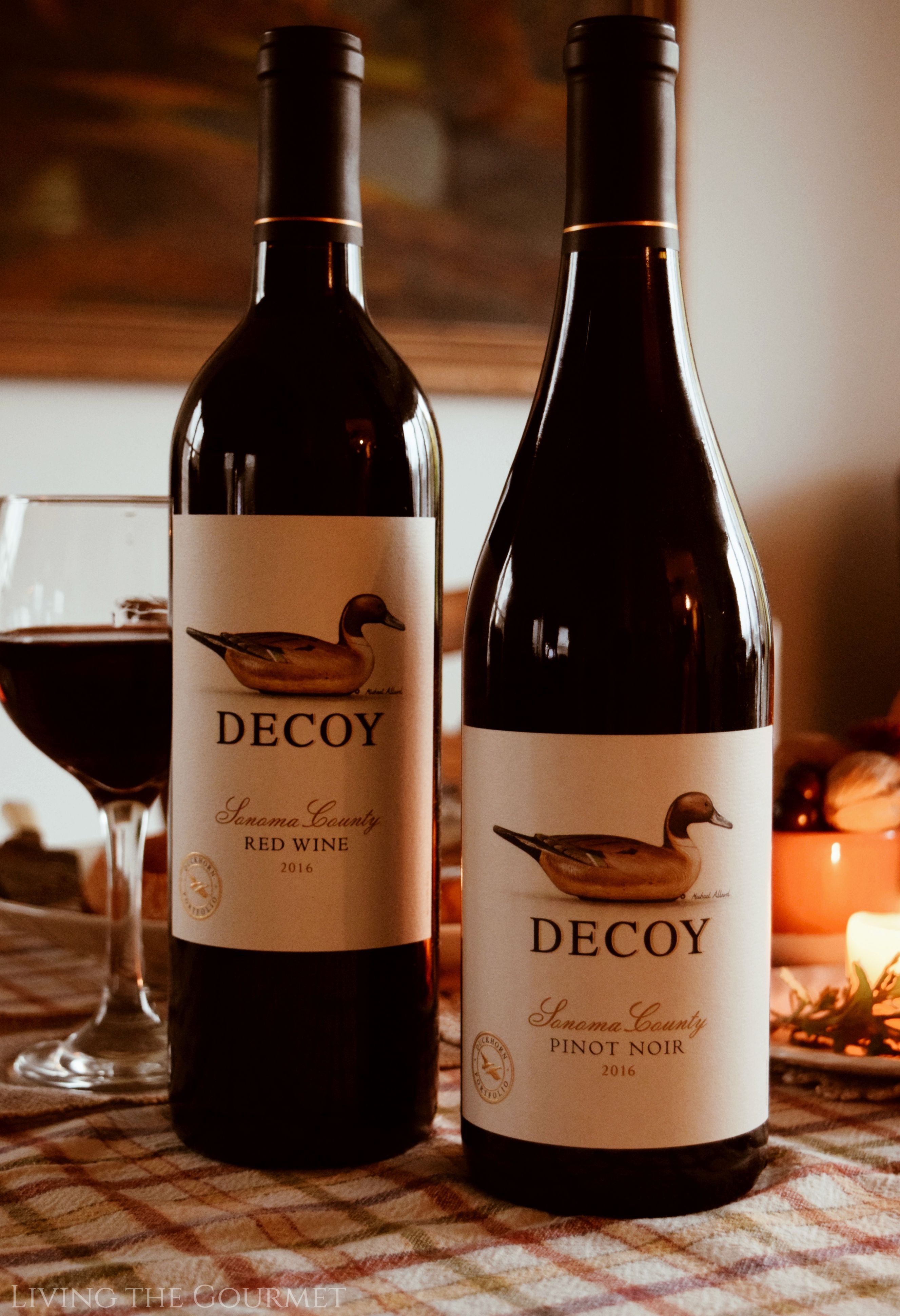 Naturally, this 'Perfectly Autumn' spread almost demands that you find your perfect wine pairing, and a particular label came to mind almost immediately, and if you're a regular here you'll likely recognize them from last month's Beef Bourgeon – Decoy by Duckhorn.
As I've said many times before in my wine reviews and pairings, the 'perfect pairing' is one that elevates and complements the occasion and the meal, rather than overpower or dominate it, and that's precisely what we're looking to do here today.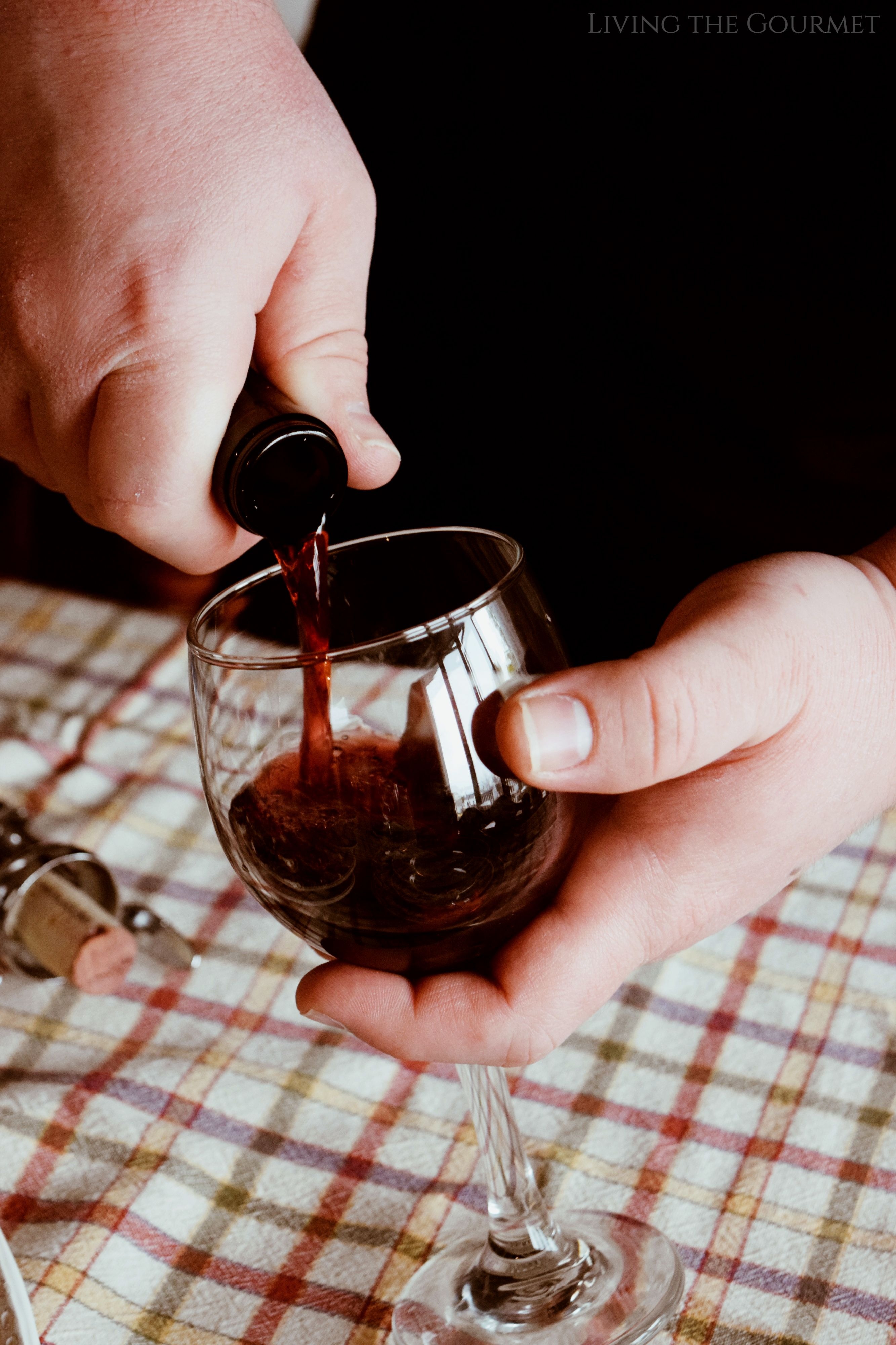 First up, we have a 2016 Decoy Sonoma County Red Wine, which is a merlot led blend of zinfandel, cabernet sauvignon, petite sirah, and petit verdot. The wine introduces itself with toasted oak dominated aromatics laced with blackberry and cherry essences, with hints of cassis deeper into the glass. On the palate, the profile is a patchwork of ripe dark fruits, laced in spiced caramel, which are carried on lush tannins, ending off on a pleasantly textured, lasting finish.
For pairing, the phrase that came to mind on sampling this was 'easy drinking' – even though I honestly hate that phrase, but it nevertheless is an apt description. Herbal notes will excellently complement the oak notes in the wine's aromatics, while deep, savory, and substantial dishes will pair well with the dark fruit flavors off the palate. In other words, think herbed roasts, pasta entrees, or even a decent burger. Today's fried ravioli plated with a sage and butter sauce, play to each of the wine's strengths in turn, and makes for a natural pairing.
Next up, we have a 2016 Pinot Noir. The wine greets with currant and ripe cherry essences, set against a backdrop of what I'll describe either as earthy dried leaves or antique cedar. It's a surprisingly, and pleasantly, clashing aromatic profile. On the palate, blackberry and red fruit essences dominate, tempered by a notable acidity, and a very pleasantly textured finish.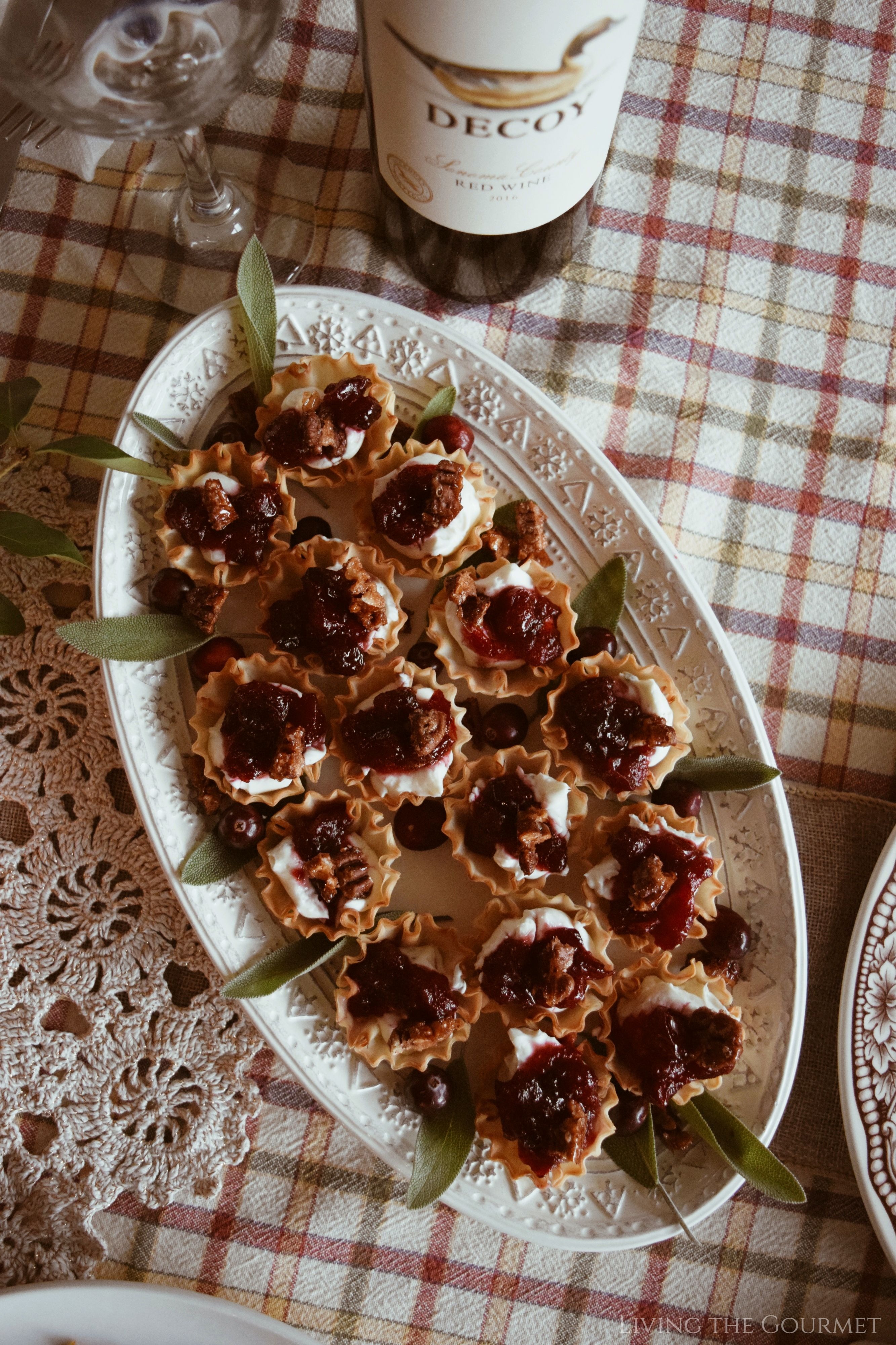 While the textbook pinot noir pairings, such as braised duck, fatty fish or salmon, or game fowl would serve excellently, I personally think that this particular bottle is all but pleading to paired with savory, substantial starters – simply because of how 'accessible' or 'easy' this particular wine feels and tastes on drinking. Cured meats, caponata on crusty bread and savory phyllo pastries would be heightened immensely by this wine. Naturally, that makes today's phyllo bites, in my opinion, a go-to starter to pair with this wine.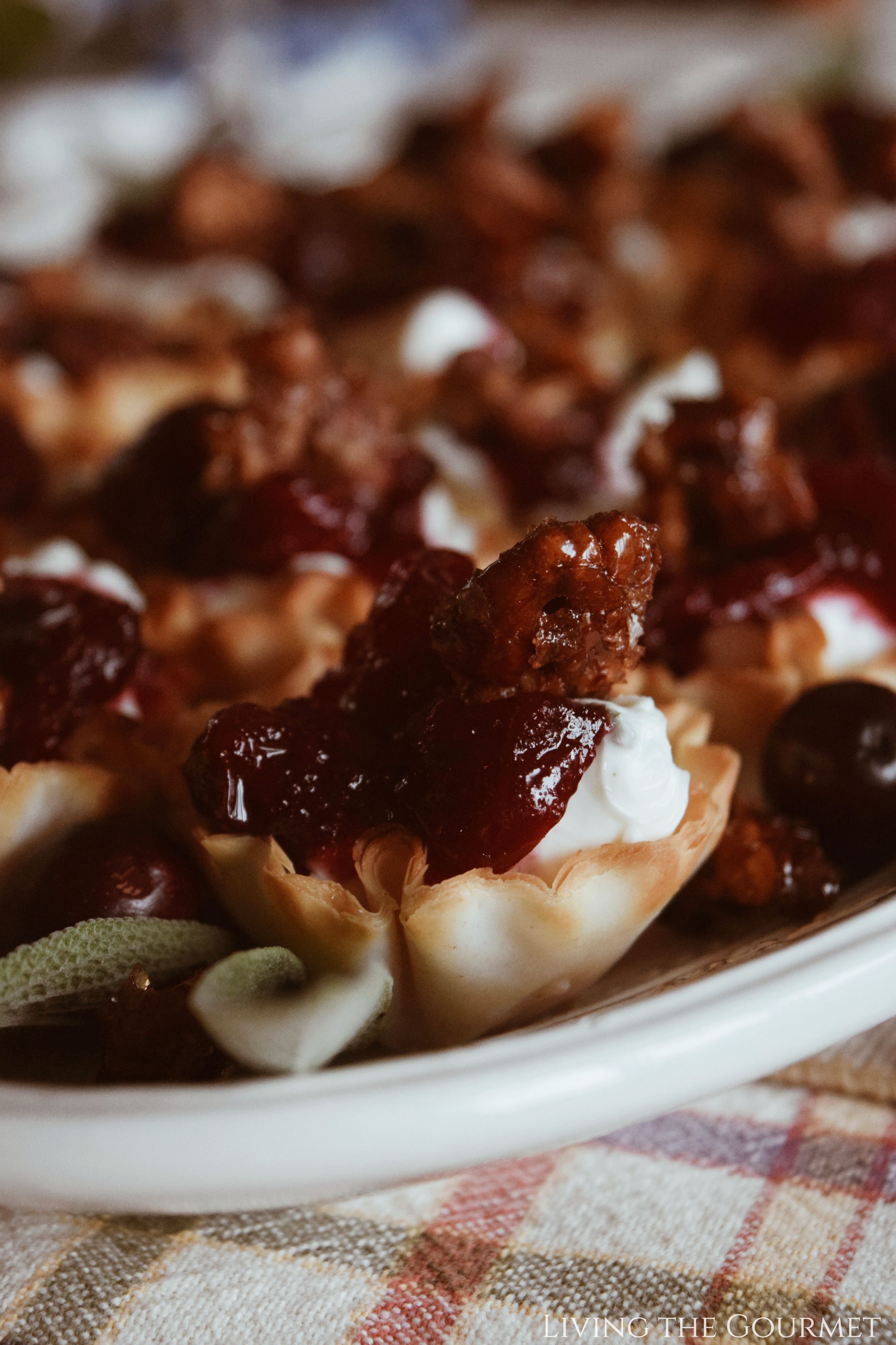 Goat Cheese & Cranberry Filo Bites
For the Fresh Cranberry:
12 oz. bag of fresh cranberries
1 cup of sugar
1 cup of water
2 – 3 slices of orange with skin
Place cranberries, orange slices, water and sugar in a saucepan; cover and bring to a boil for a minute or two; uncover and let sit to thicken.
For the Goat Cheese Filling:
4 oz. goat cheese plus 4 oz of cream cheese or you may substitute 8 oz. of cream cheese for the goat cheese
3 fresh sage leaves – stems removed
¼ tsp. salt
¼ tsp. fresh ground black pepper
4 tbs. heavy cream
In a food processor place the goat cheese, cream cheese, sage leaves, salt, black pepper and heavy cream and process to a smooth and creamy consistency.
Fill each fillo cup with a teaspoon of the goat cheese mixture.
Top with a small dollop of fresh cranberry sauce and place a candied pecan on top.
Serve immediately or refrigerate until ready to serve.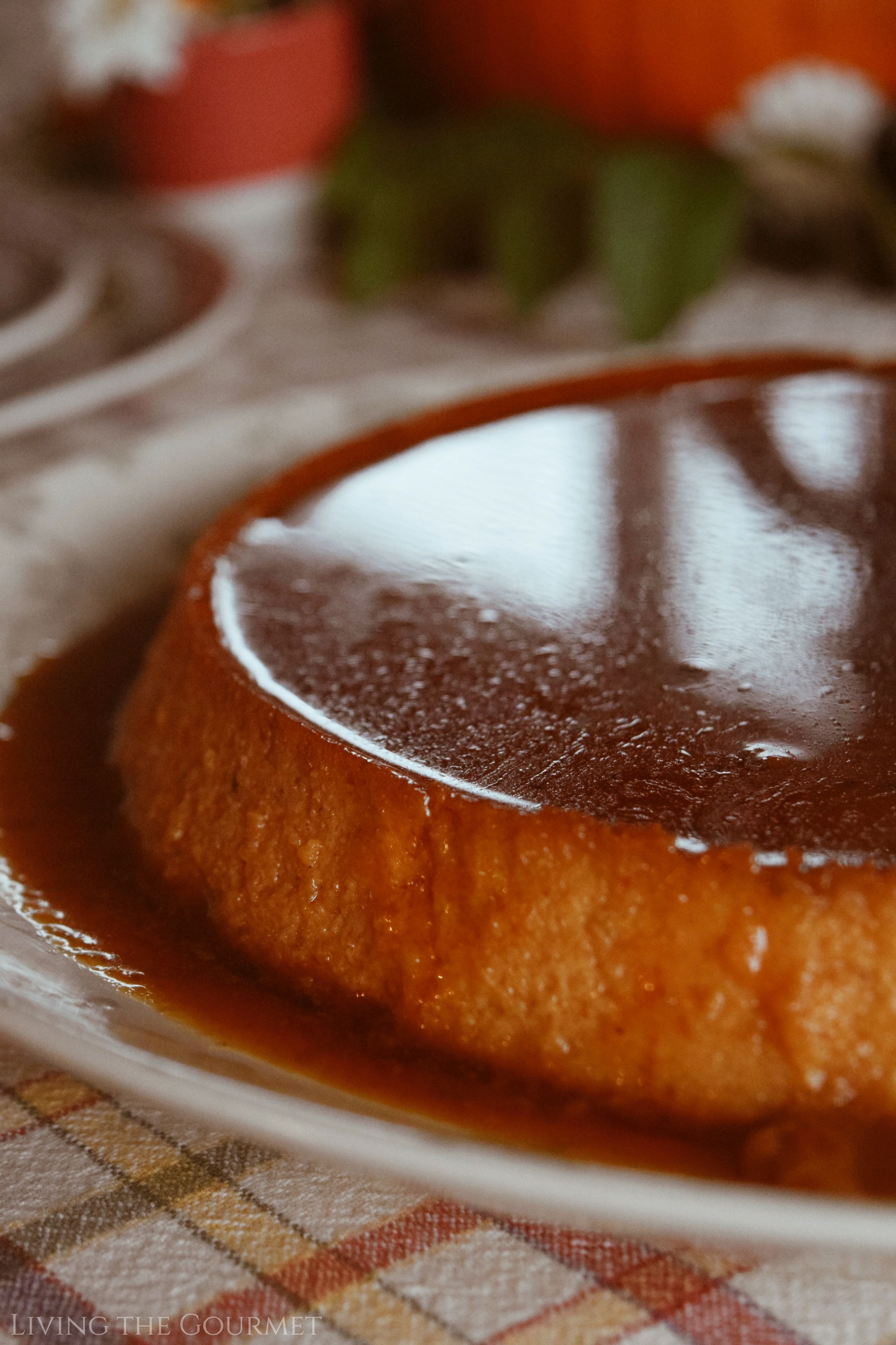 We end the evening off with a creamy, melt-in-your-mouth flan, only with a seasonal twist- Caramel Pumpkin Flan. It's light but just sweet enough with a golden caramel sauce soaked into it. Bringing all the flavors of the holiday together one last time.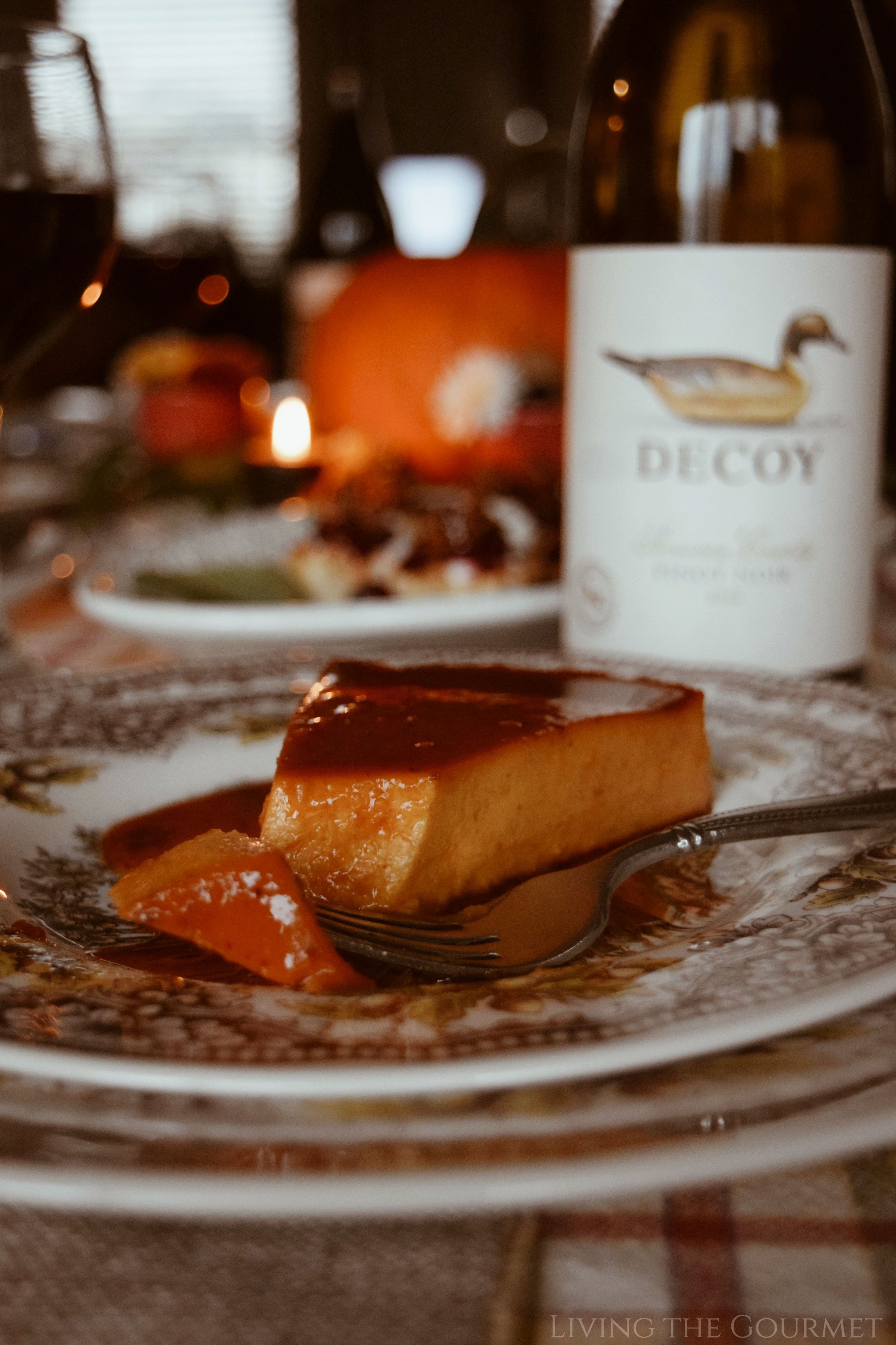 Caramel Pumpkin Flan
Ingredients:
3/4 cup sugar
1 cup canned pumpkin (not pumpkin pie filling)
4 eggs
(1) 12 oz. can evaporated milk
(1) 14 oz. can sweetened condensed milk
1 tablespoons vanilla
1 teaspoon cinnamon
1/4 teaspoon nutmeg
1/4 teaspoon cloves
1/2 teaspoon ginger
Instructions:
Preheat oven to 350 degrees F. and butter a 9-inch cake pan and set aside.
In a small saucepan, melt down the sugar until it liquefies into a deep, golden caramel. NOTE: as your sugar begins to melt, brush the sides of the saucepan with a little water to ensure the sugar doesn't crystalize.
Pour the caramel sauce into the prepared cake pan and set aside again while you prepare the flan.
In the bowl of your food processor, combine pumpkin, evaporated milk, condensed milk, and spices. Pour the filling into the prepared cake pan over the caramel (which should have hardened by now).
You're going to bake your flan in a water bath. To do so, place the cake pan in a glass baking pan and fill with water until it's halfway up the sides. Carefully transfer to a preheated oven and let bake for about 1 hour until the top of the flan is golden and it has just about set.
Remove from the water bath and transfer to a wire rack. Let it cool to room temperature before transferring over to a cake plate. Once the flan has cooled, carefully loosen the sides with a think sharp knife. Place your cake plate over the pan and in one swift movement, flip over onto the cake plate. The flan should release easily and the caramel will have liquified again, settling on top of the flan.
Serve immediately or store in the fridge until ready to serve.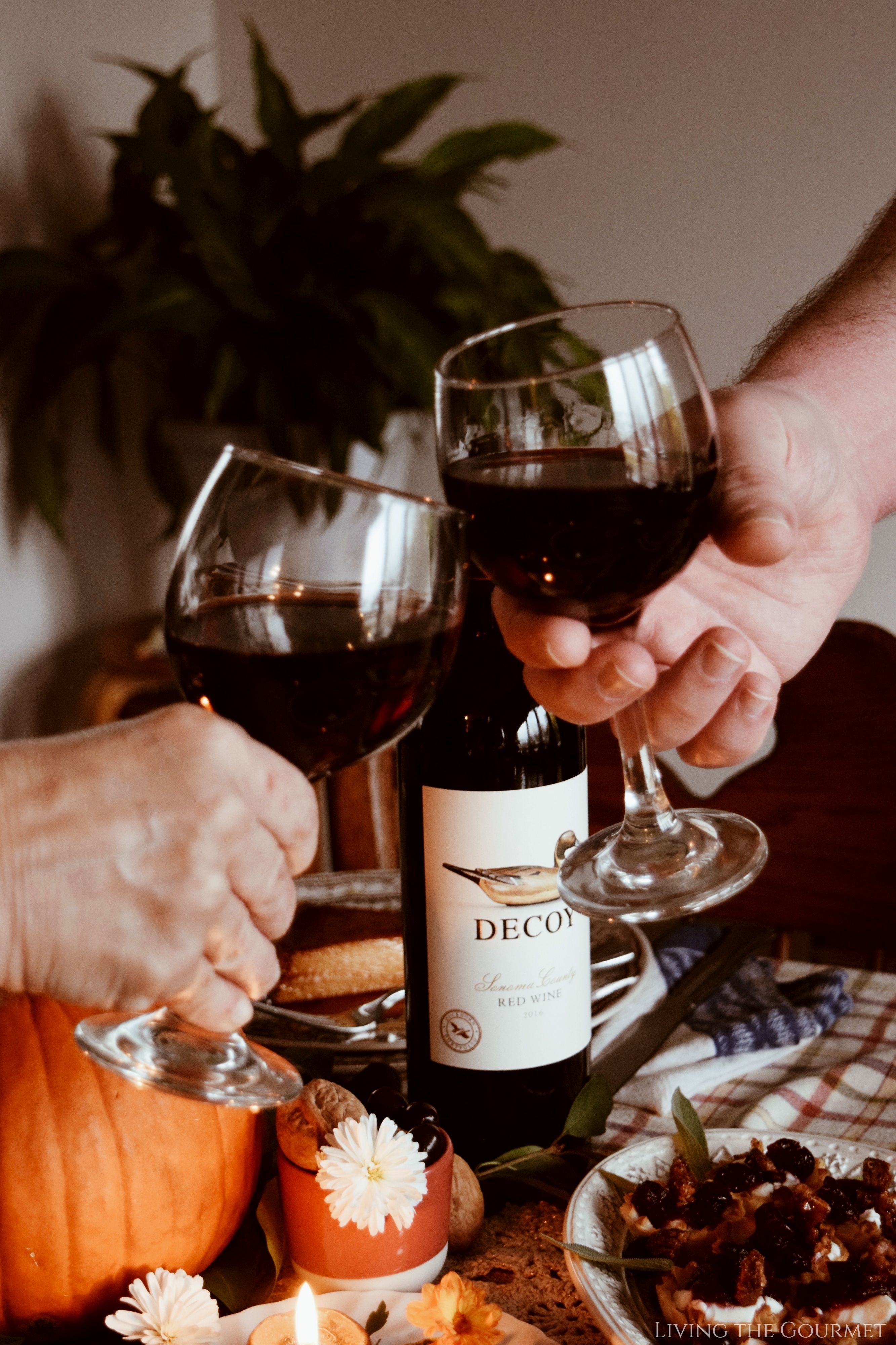 And that, my friends, is our Thanksgiving starter spread. Once again, I was very, very pleased with what I sampled from Decoy by Duckhorn, and if you're looking for accessibly priced, delicious wine to heighten your Thanksgiving, I can wholeheartedly recommend that you give them a try.
Cheers!
I was selected for this opportunity as a member of CLEVER and the content and opinions expressed here are all my own.
2