This buttery moist cake is soaked in an orange and rum syrup then layered with a white chocolate and mascarpone cream. The result is a delightfully airy dessert with a symphony of flavors.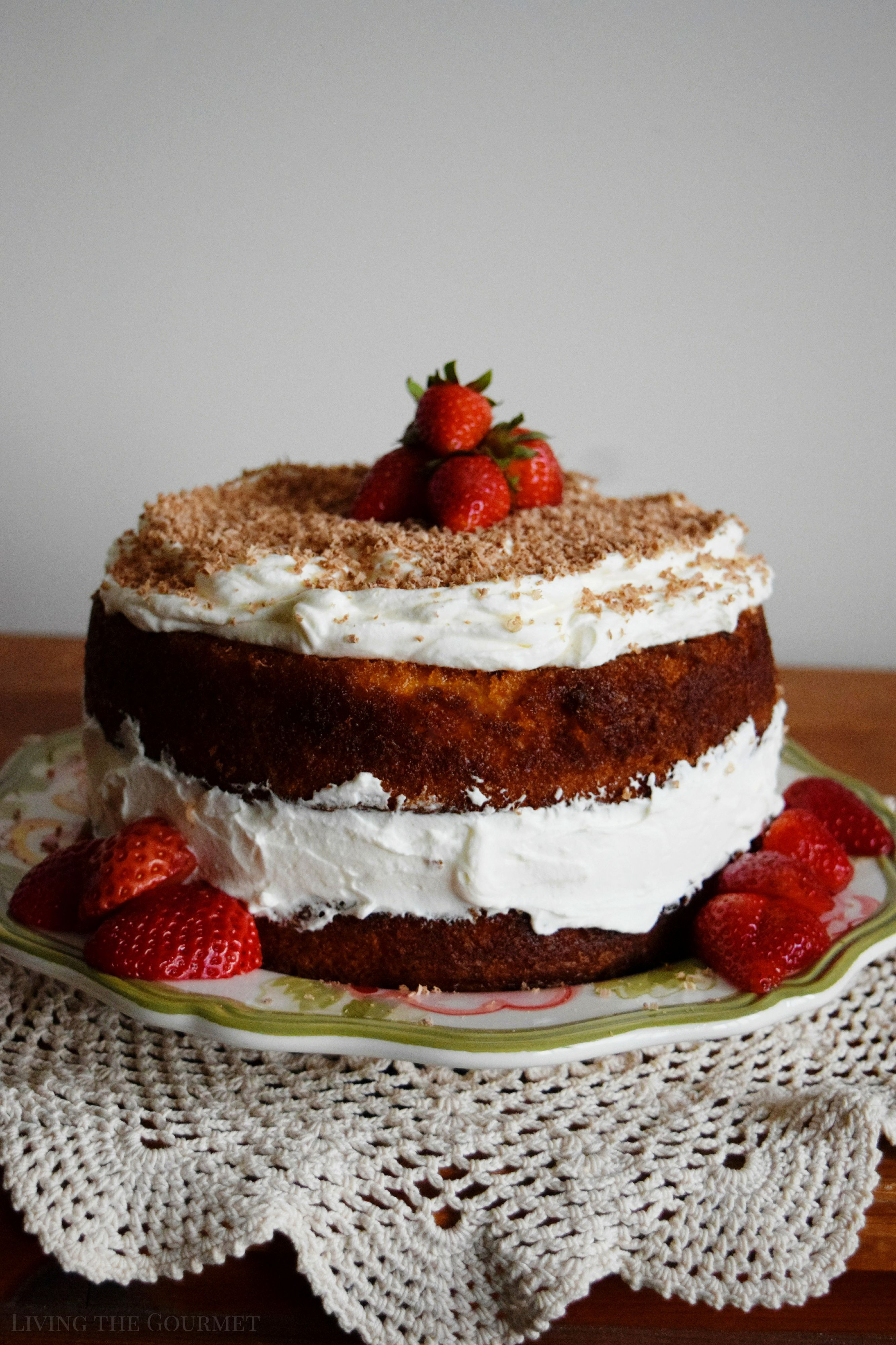 Yesterday was quite the day, and by 'quite the day' of course I mean that essentially nothing went according to plan, expectation, or intent.
To start things off, yesterday was the Birthday of Yours Truly, and of course your self-styled gourmet had some very 'gourmet plans' for herself. In short, I wanted to conduct a regular 'tour de force' for my special day. I had planned out a spread of delicious appetizers, a photogenic 'Living the Gourmet Dinner,' and a of course a cake worthy of my social media channels. Yes, I wanted to fully and thoroughly celebrate my own birthday, because if indeed 'You are your own best advocate,' then I am also my own best party and menu planner.
I even went so far as to save most of the shopping for yesterday morning, because I wanted to be sure that everything on hand was as fresh as possible, and because I also had two errands that needed to be run that morning anyway.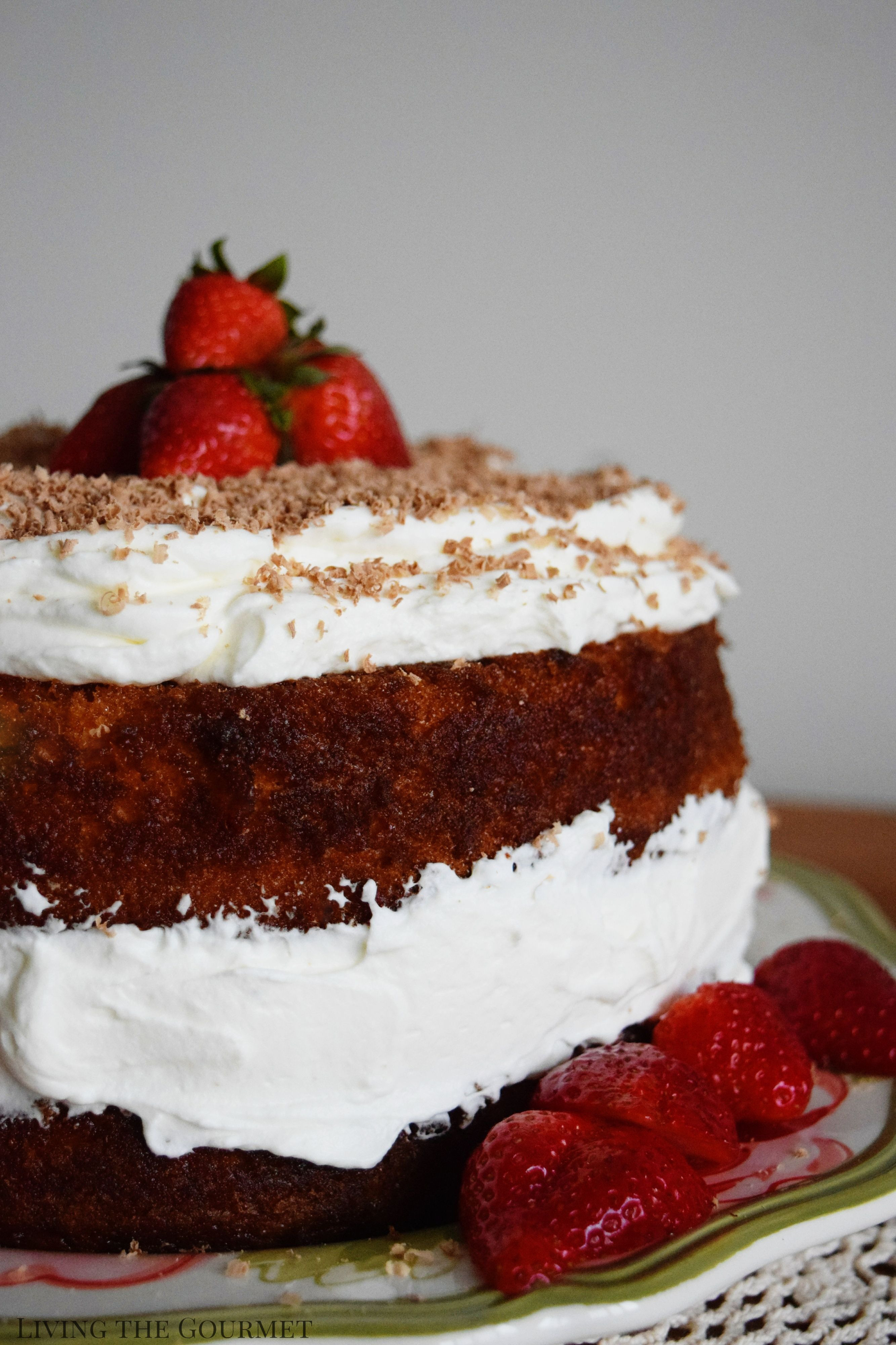 However, the river also had plans for itself. Yes, the river intended on 'celebrating' itself as well in all of its murkily aquatic spitefulness. Granted, I knew about these 'river plans' well in advance, but in true Northeast "I'll be Fine, The Weather Can't Hurt Me" fashion, I left that morning just as the tide was rising, intending to 'beat the flood' back to my home…and of course I was right, nothing was indeed 'hurt,' except my plans.
That said, I'm sure you can guess what happened…or maybe you can't. Cue up two very solid delays during my errands, and very poorly timed chat with a lovely acquaintance, and I ended up being blockaded off by a wall of water from my own home…and by 'my own home' I mean several full residential blocks from my home.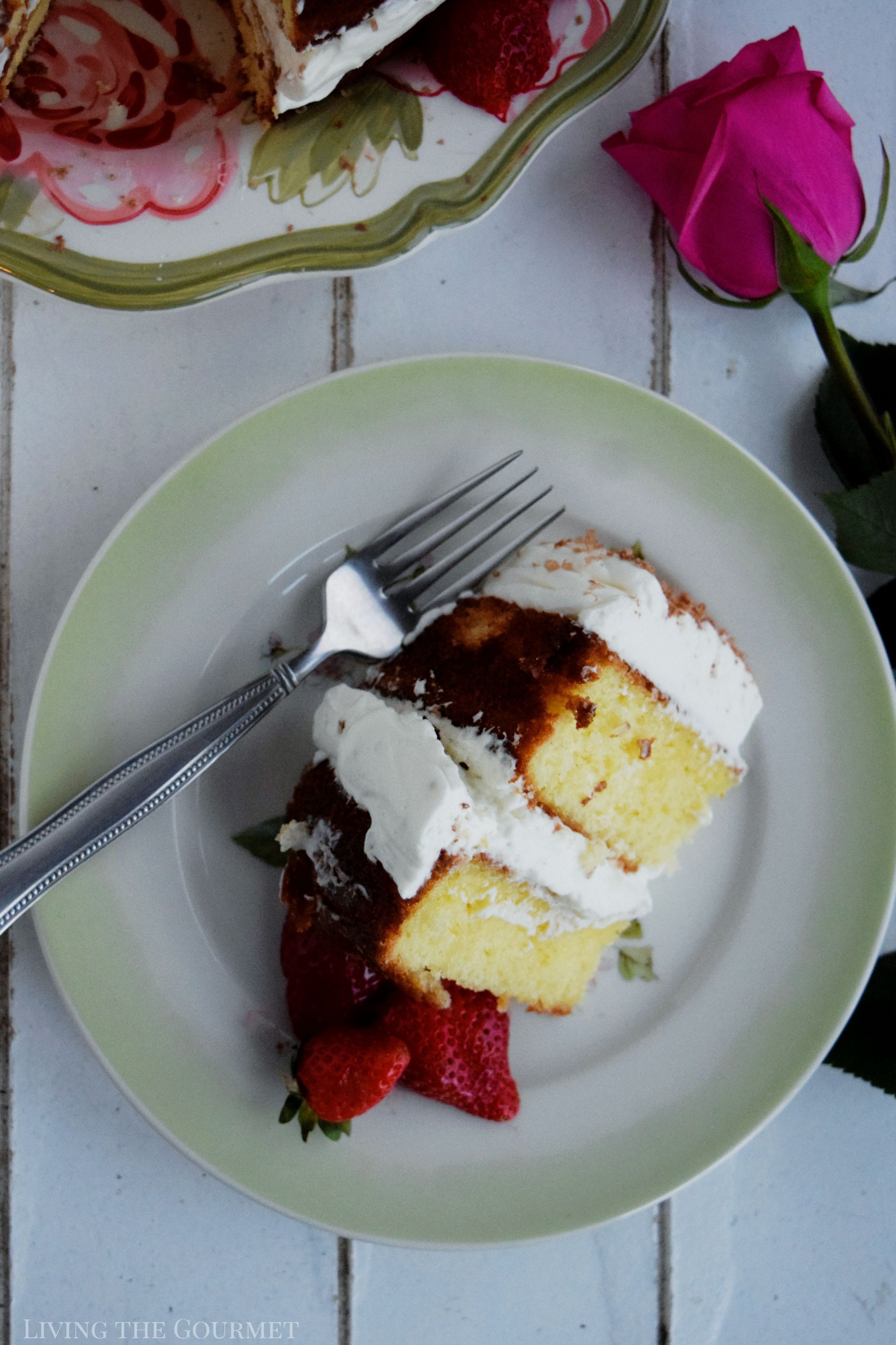 Yes, I ended up riding around aimlessly with a trunk full of perishable food waiting to be able to get back home, helplessly watching the day fade away. Indeed, by the time I was finally able to get home, the perishable food was of questionable quality, my patience were at the precipice of their end, and honestly, I just didn't feel like piecing together a 'tour de force' for myself anymore.
However, cake. There is always room for it, and there is always time for it, and when all else fails, we can eat cake.
Yes, if Bogart will always have Paris, then Lady Gourmet will have cake- Butter Cake soaked in a citrus and rum syrup then layered in a white chocolate mascarpone cream.
Naturally, that brings us to today's recipe...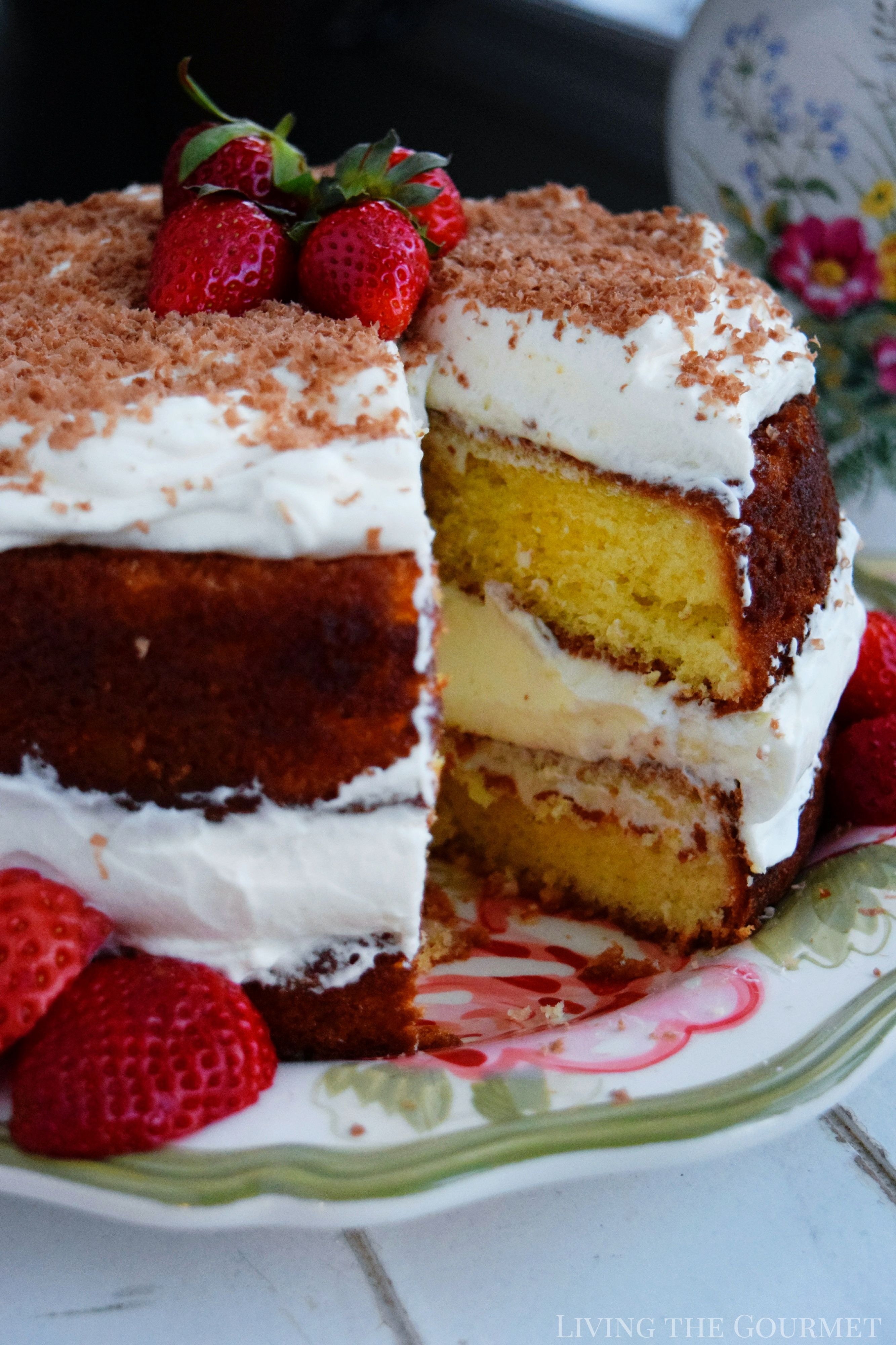 Print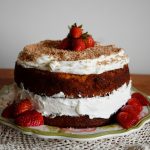 Butter Cake with Citrus Rum Syrup and White Chocolate Mascarpone Frosting
---
Author:

Total Time:

45 minutes

Yield:

8

-

1

0

1

x
For the cake:
1

box butter cake mix

8 tablespoons

unsalted butter, softened

2 tablespoons

mayonnaise

3

eggs

3/4

cup

milk

1 teaspoon

vanilla
Berries for garnish, optional
Dark Chocolate for shaving, optional
Citrus Rum Syrup:
1/3

cup

simple syrup
Juice of

1

orange

2 tablespoons

Rum
White Chocolate Mascarpone Frosting:
1/2

cup

Mascarpone cheese

1/2 teaspoons

almond extract

1/2

cup

confectioner's sugar

1

pint

whipping cream

1

(3.9 oz) package white chocolate pudding mix
---
Instructions
Preheat oven to 350 degrees F. Butter two 8-inch round cake pans.
In the bowl of your stand mixer with the paddle attachment, combine all ingredients for the cake until a thick, smooth batter forms. Divide the batter between the prepared pans. Tap the pans gently before baking to remove any air bubbles.
Bake the cakes for about 30 minutes or until golden and the cake tester comes out clean. Remove and let cool on a cooling rack.
In a small bowl, whisk together ingredients for the Citrus Rum Syrup. Take a thin knife and poke each cake several times, making an 'x' shape then drizzle the syrup over them. Let the cakes absorb the syrup while they cool completely.
As the cakes are cooling, prepare your frosting by first whipping the cream and white chocolate pudding mix in the bowl of your stand mixer with the whisk attachment.
In a separate bowl, whisk together the mascarpone cheese, almond extract, and confectioner's sugar until smooth. Fold into the whipped cream. Store the frosting in an airtight container until you are ready to frost the cakes.
To assemble, turn out one of the cakes onto your cake plate, top side down. Scoop about 1½ cups of frosting onto the cake and smooth out with a spatula. Carefully place the second cake on top. Gently press down to make sure the cakes are level. Use the rest of the frosting to top the cake. If you have any left over you can fill the sides. If you so desire, shave some dark chocolate on top and garnish with a few fresh berries.
Serve and enjoy!
Prep Time:

15 minutes

Cook Time:

30 minutes

Category:

Dessert
Recipe Card powered by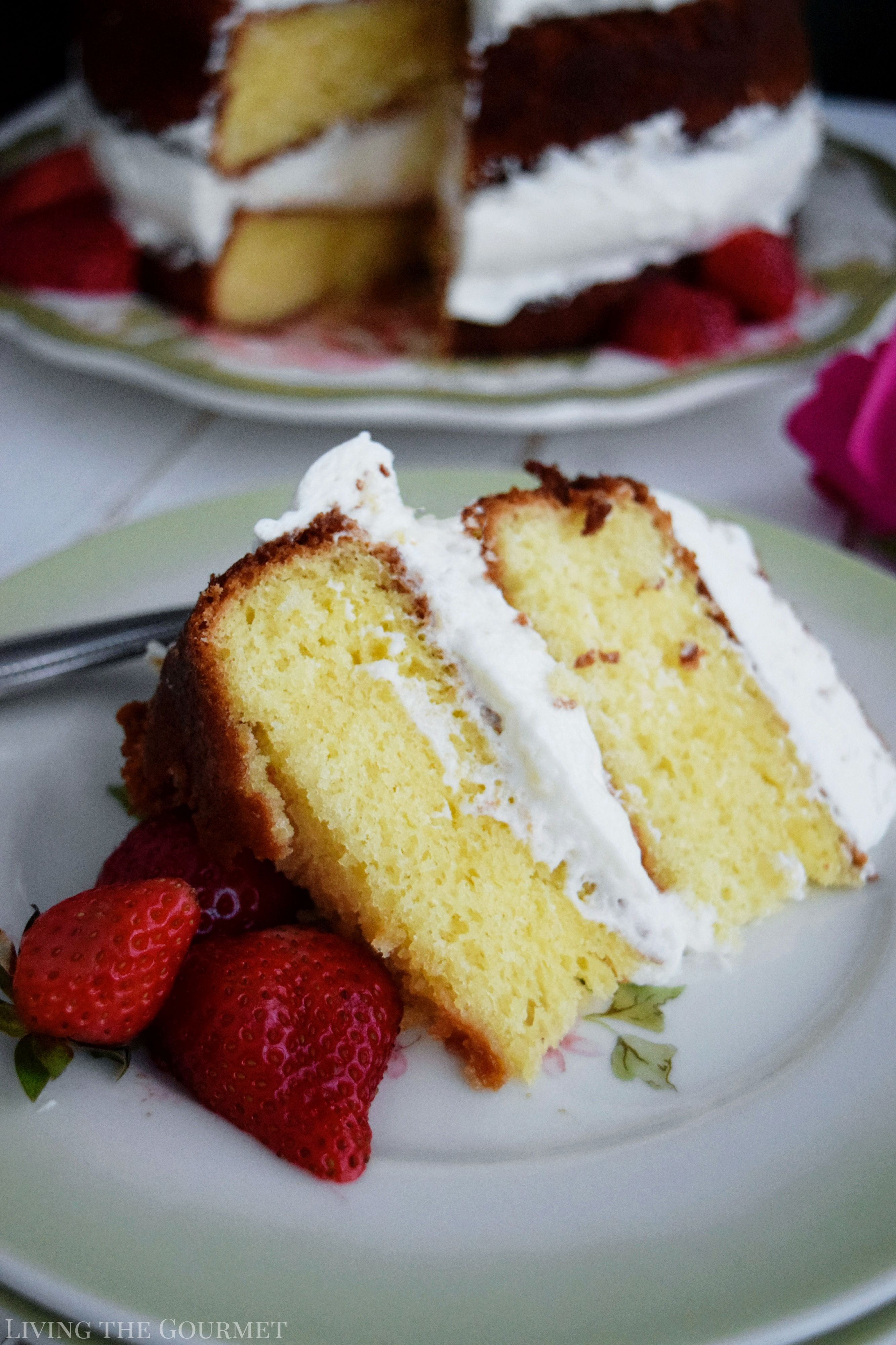 Enjoy with Love!
1