Perhaps one of the best recipes if you're low on ingredients, stuck at home, or looking for something super-simple-yet-fun that the kids can safely help with – or all of the above!
All of that aside, this one of my absolute favorite recipes in the world. Period. Yet, at the same time, I've purposefully avoided posting it here for years – literally years.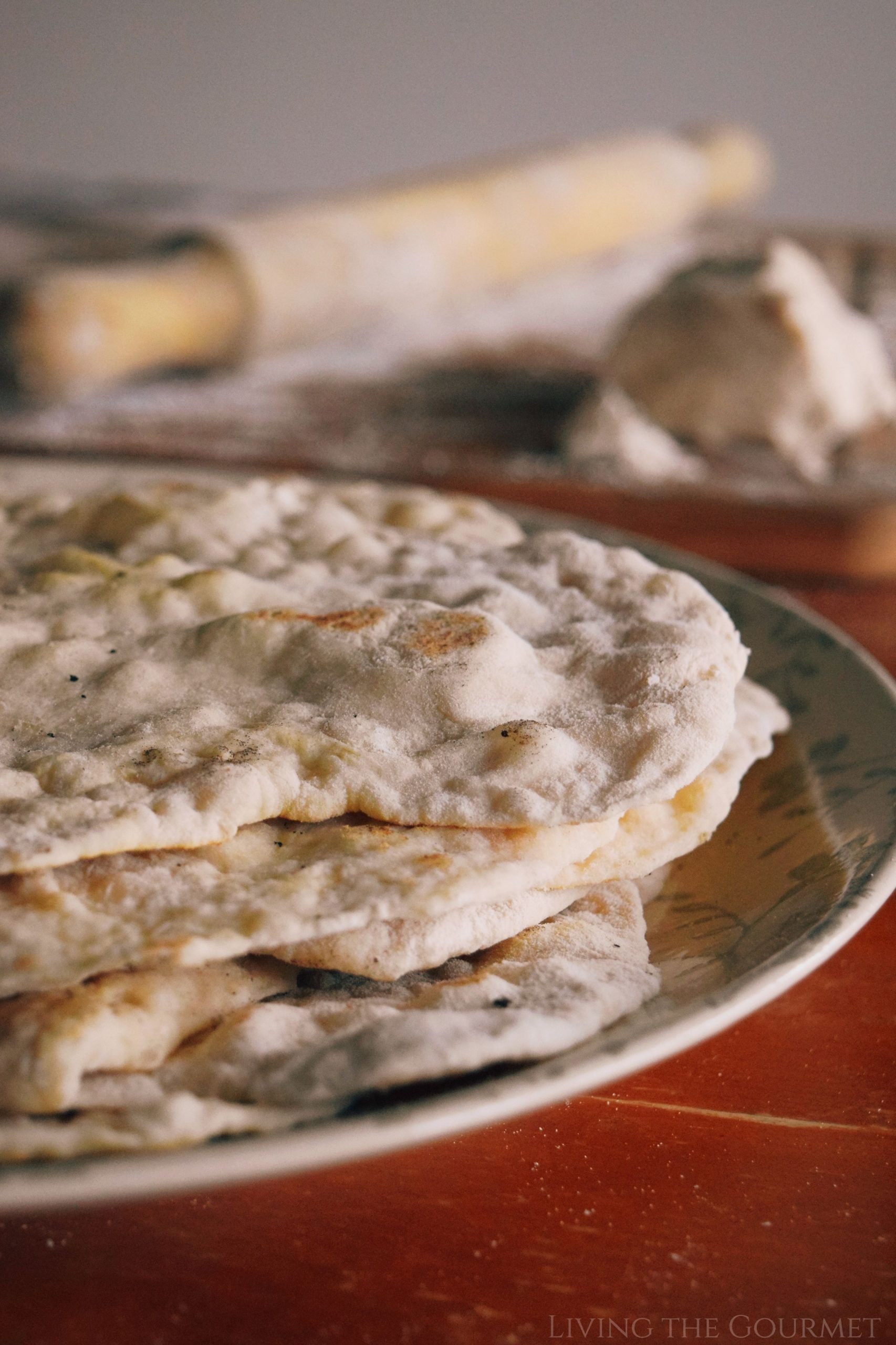 However, before I go any further, let me give you a little background on this particular recipe. First and foremost, I use this recipe on a regular basis – and have done since before I even started Living the Gourmet back in 2007. On the site, you've seen me pair it with sausage, peppers and gremolata, ratatouille, and homemade salsa. I've used them to make fajitas, I've wrapped falafel in them, and pick any of my red wine reviews at random, and there's a pretty good chance that you'll see me mentioning them somewhere as 'a pairing-to-a-pairing.'
Okay, you get the idea, I love these things, I use them all the time, you've seen them in a bunch of my recipes, and yet I've purposefully avoided posting about them – why?
At the risk of being 'too' honest, these things rarely come out 'quite' the same way twice, and there's never any 'real' reason as to 'why.' Sometimes they come out very fluffy, other times they come out quite thin, sometimes they fold super-pliably like a wrap, other times they're more like a pita. Why? The truth is, they are 'very' sensitive to how you make them, to the point where even a slight deviation can result in a 'very' different flatbread. Maybe they were kneaded a touch longer or shorter? Maybe there was a literal 'drop' more or less moisture? Maybe the griddle was a slightly different temperature?
As you might guess, I've been very apprehensive about posting a recipe that's so difficult to replicate with assured uniformity, yet I just couldn't keep this recipe to myself anymore – especially not since I use it in my posts so very often, and especially not since it's so simple, so easy, and so blissfully versatile.
Now, without further introduction, let's dive into making what I consider to be a true kitchen 'staple.'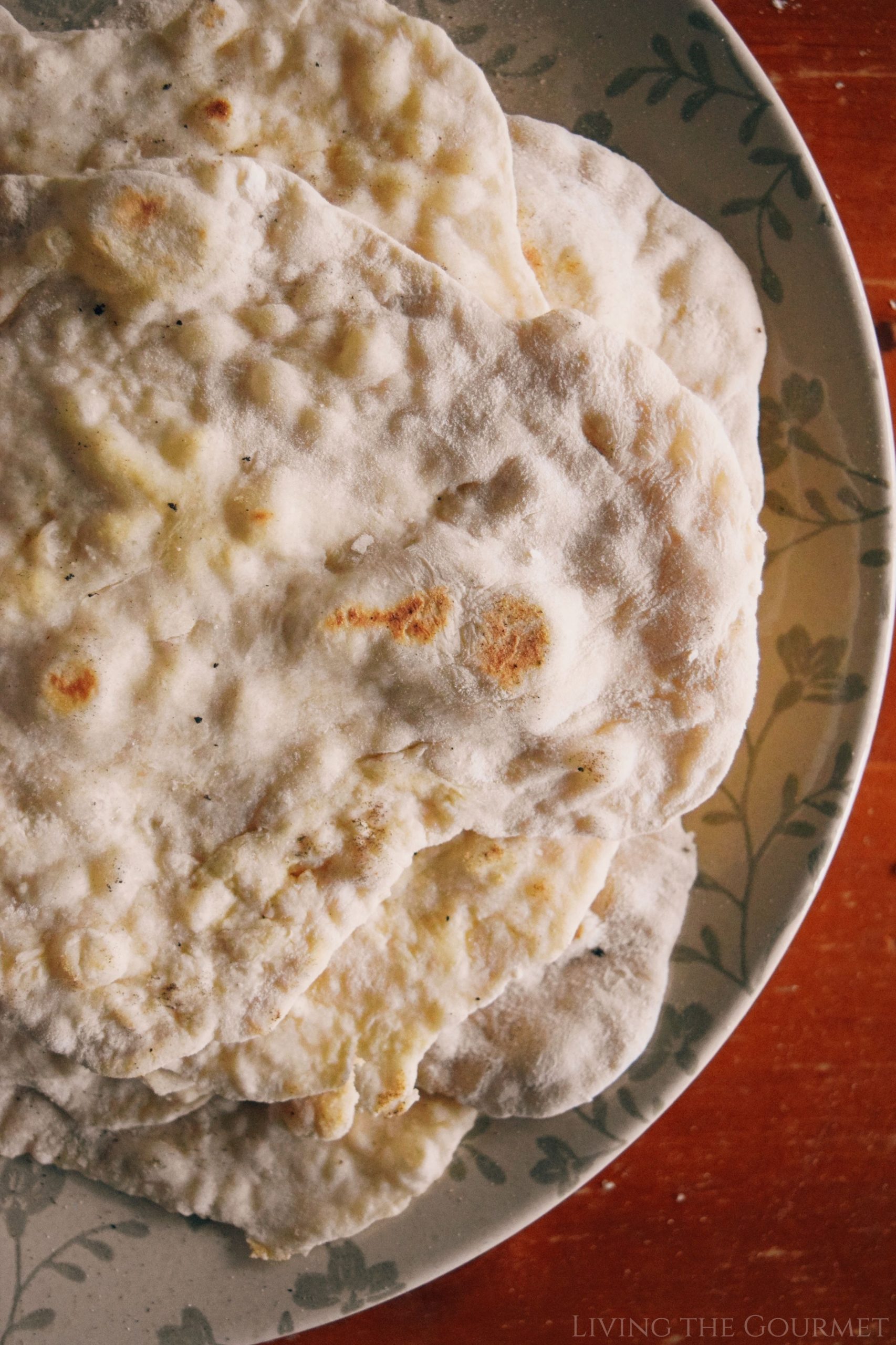 Why You'll Love this Flatbread Recipe
1) They Keep. These keep for up to a week – provided you keep them in a dry, cool place. I usually keep mine tied in a bag right on the counter, where they can sit for several days or more.
2) They Heat Up Beautifully. Pop them in the toaster oven, or simply re-heat them dry on the griddle for a few minutes, and you're good to go.
3) Versatile. I'll touch on this more below, but pretty much your use for flatbreads are limited solely by your imagination. Tacos, wraps, dips, quesadillas, as dinner bread, as the 'plate' for starters…you get the idea, and more on this below.
4) Just a few key ingredients. These take just a few basic, long-lasting ingredients to prepare, as you can see from the recipe card below. Seriously, there are few recipes simpler than this one. Conversely, you can always dress these up by adding herbs like oregano, black pepper, garlic powder, or the such – but today we're keeping it simple.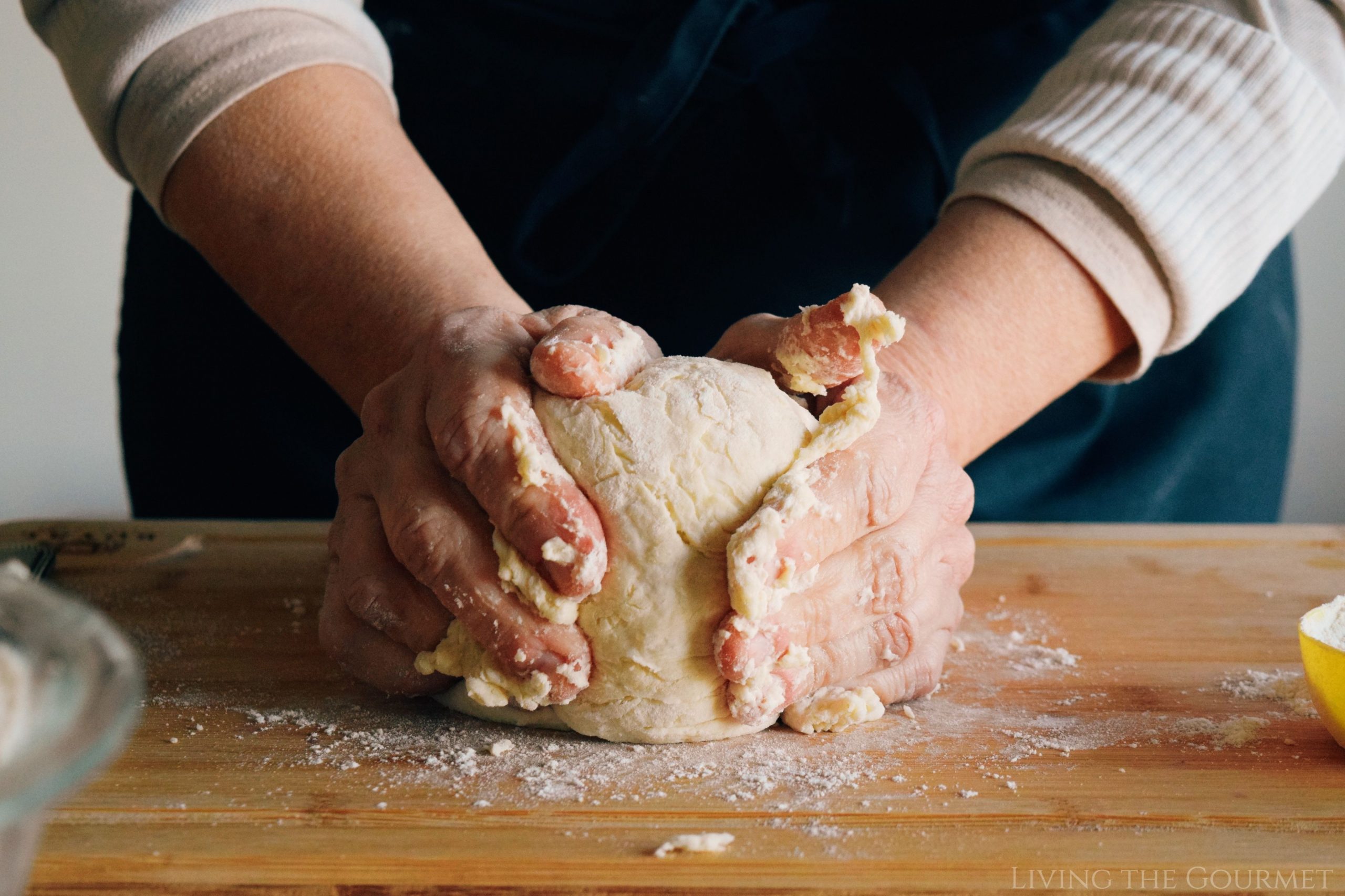 Tips for Preparing the Best Homemade Flatbreads
While I included a basic recipe below, that's actually half the trick to getting these things right.
1) Start with the Recipe Below. To start, begin with the recipe I included bellow in the recipe card. That is, combine the ingredients, mix them into a dough, and then begin kneading.
2) While Kneading. Once you've begun kneading, that's where 'you' need to take over. As you knead, you want the dough to feel 'moist' but not 'wet.' You want it to be slightly sticky, but you don't want it leaving your fingers messy. Conversely, you don't want the dough to be flaking or 'sand-like.' If any of that 'is' happening, you need to begin adjusting by doing the following…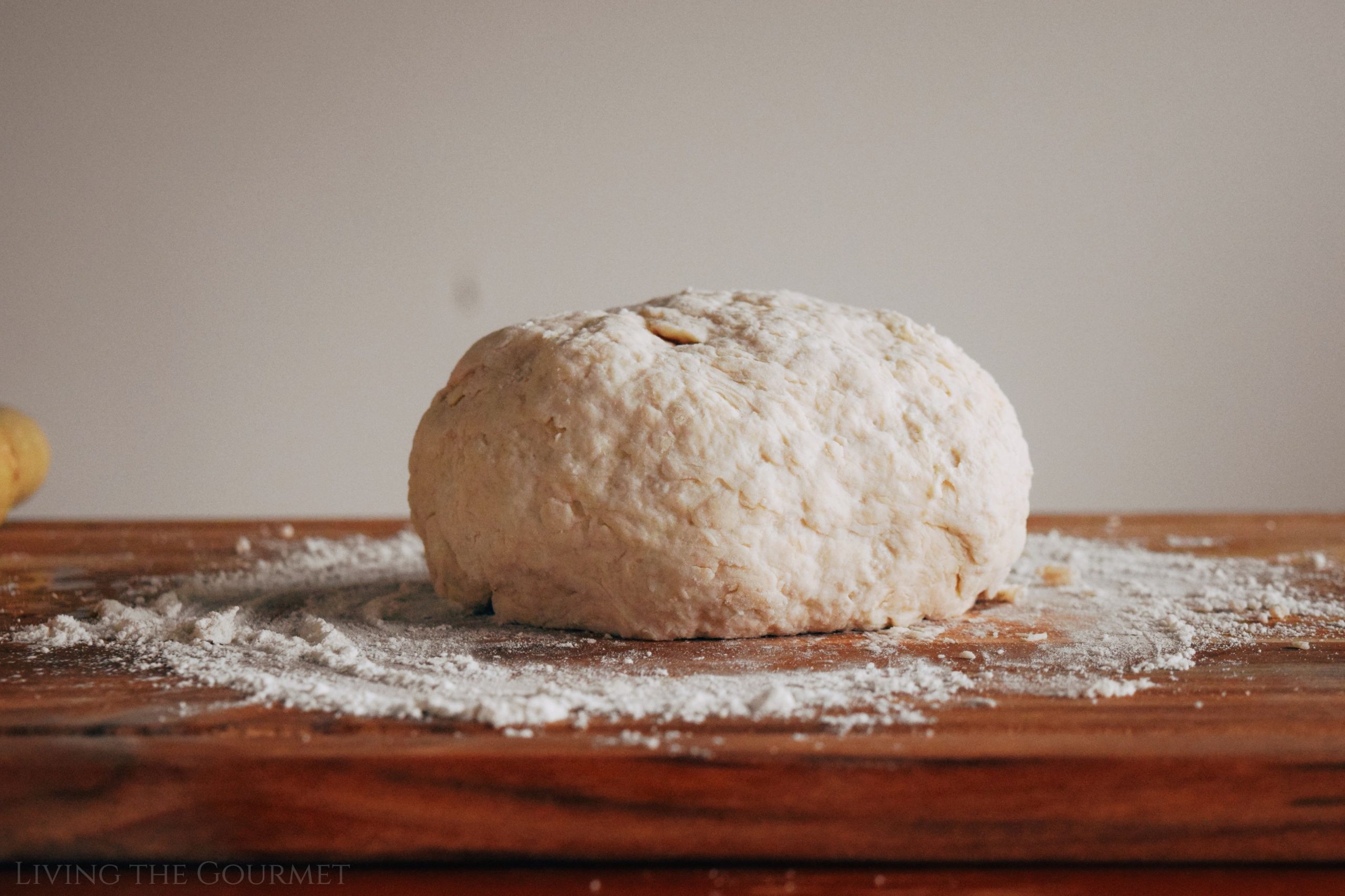 3) Is the dough too dry? If the dough is dry, meaning it isn't moist to the touch, or if it's flaking, simply add water – but only add water in roughly tablespoon intervals or less, kneading as you go until you have achieved a balanced dough.
4) Is the dough too wet or too sticky? If so, simply do the following – dust the surface on which you are kneading the dough with flour, and rub a 'pinch' of flour onto the dough itself, and continue the kneading process. Repeat this until you have achieved a 'balanced' dough.
5) A Hot Griddle or Large Pan. Here again, we are looking for balance. We want a 'moderately' hot, dry griddle or large pan. Preferably cast iron for best results, though stainless still or copper will suffice. Do 'not' use nonstick for this recipe. No oil, no nonstick spray, no butter. Dry.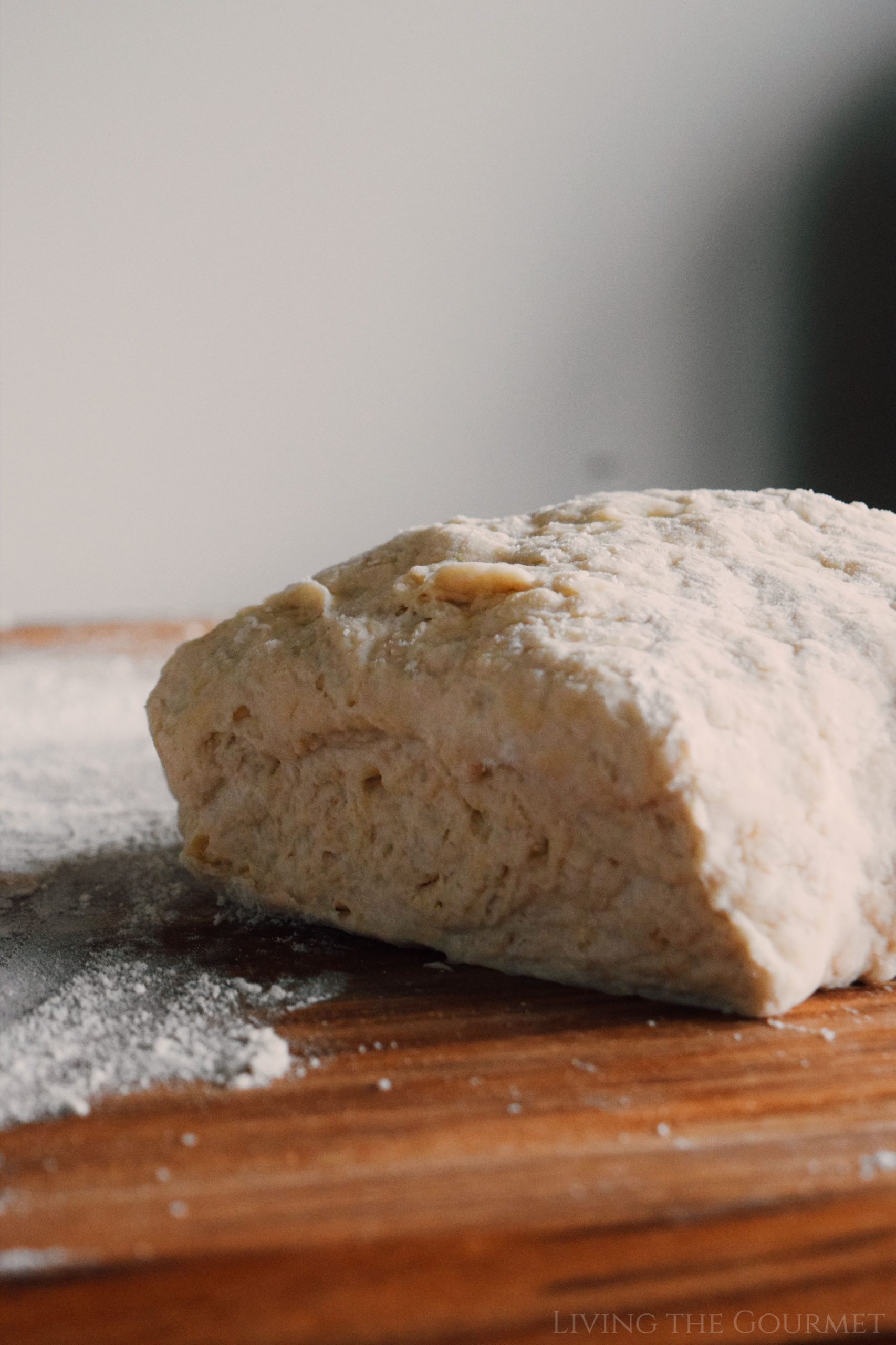 Flatbreads: Naan, Pita, Tortilla…is there 'really' a difference?
1) Tortillas. In truth, today's flatbreads are more or less 'flour tortillas.' That said, while tortillas are typically made with a corn base, flour is an increasingly common substitute – this is especially true in Northern Mexico where flour tortillas are the norm, as well as in El Salvador and Guatemala. That said, many flour tortillas are typically fluffier or thicker than today's flatbreads. For example, Salvadorian 'chengas' or Guatemalan 'baleadas' are both a fair bit larger and thicker than today's flatbreads. Conversely, most corn tortillas are markedly thinner than today's flatbreads. As a result, today's flatbreads are somewhere in between.
2) Naan. While technically a flatbread, naan is prepared using yeast-risen dough. The addition of yogurt 'and' milk creates a thick, moist, flatbread that isn't quite that flat, and which is 'not' typically intended to act as a wrap. Naan is a far more substantial flatbread than today's recipe, and is more typically used for dipping, or as a base for spreads, or as a sort of 'edible plate' onto which food is layered as a meal.
3) Pitas. Take a flour tortilla recipe, add in yeast-leavening, and you've got a pita. That said, unlike flatbreads or flour tortillas, pitas are meant to be 'stuffed' rather than folded, being much more thick and airy than your typical yeast-less flour tortilla or basic flatbread.
4) Interchangeable…except when they're not. To demonstrate what I mean, take a look at my Greek Tuna Salad Pockets. That's a recipe that would be just fine eaten on naan, rolled in a tortilla wrap, or folded into a flatbread, as opposed to being stuffed into a pita. However, while I doubt many would complain if you made a gyro by wrapping sliced lamb in a flatbread as opposed to stuffing it in a pita, a tortilla gyro…while that can certainly be tasty, it more or less ceases to be a gyro at that point, and naan is perhaps a bit to 'substantial' to properly fold 'gyro-style' without tearing. Furthermore, tortilla wraps are simply more pliable than their flatbread, naan, or pita counterparts. Thus, they 'can' be interchanged…except when they can't. In other words, use your own imagination and discretion.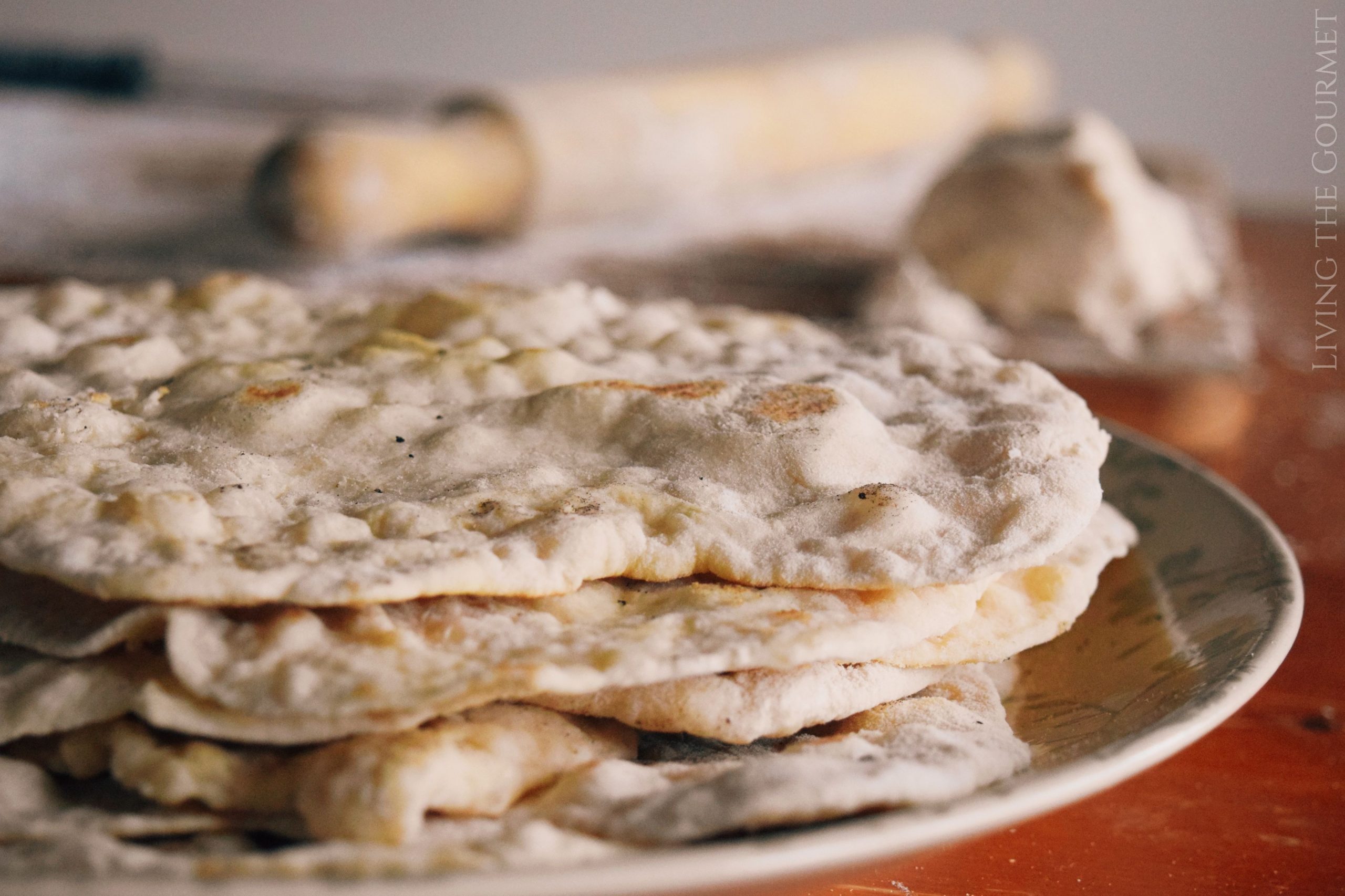 What to do with Flatbreads
1) Tacos. Naturally, since today's flatbreads are quite similar to flour tortillas, these are great for tacos. For example, take a look at my Greek Tacos, which feature a medley of Greek flavors combined with a chop meat and sweet peppers filling, and then topped with a honey, onion, and cilantro 'garnish.' Conversely, you could use these in something like my Blackened Cod Fish Tacos. Naturally, a 'standard' taco of chili, cheese, peppers, and greens would also work beautifully.
2) Spreads. I'm thinking of bean dips, gremolata, salsa, and the like. For example, an Artichoke Heart Dip featuring a coarsely processed combination of artichoke hearts, basil, and parsley, blended with olives, oil, red pepper, and fresh lemon juice, would be great spread on top of today's flatbreads. You might also consider a fresh tomato salsa, or my super simple Cilantro and Cannellini Bean dip.
3) Antipasto. This is where these flatbreads really shine, when you can combine various items on the flatbread like cheeses, oils, peppers, cured meats, olives, and the such, allowing you to really play with the rustic tones of the flatbreads. For inspiration, check out my antipasto boards here and here.
4) Sandwich Wraps and Melts. These are also great for heated sandwich wraps or melts, and here you can think basic or fancy. Things like deli ham, melted cheese, and relish, or basic tuna salad with melted cheese both work fine. Conversely, you could layer on things like grilled peppers with thinly sliced steak or sausage, or prepare an aguachili and greens topped flatbread. Here's a link to my favorite aguachili recipe.
Print
5 Ingredient Flatbreads (no yeast)
---
Author:

Total Time:

20 minutes

Yield:

12

flatbreads

1

x
3

cups

all-purpose flour - plus more for dusting

3 tsp

. baking powder

1 1/2 tsp

. sea salt

4

tbs. olive oil or vegetable oil

1

cup

water - added 4 tablespoons at a time
---
Instructions
Place the flour in a large bowl.
Make a well in the middle of the flour and add the baking powder and salt.
Add the oil and the water and using a fork, stir the flour.
Add the water 4 tablespoons at a time, until you get a nice soft, bouncy dough.
Once the mixture comes together, the dough will be sticky but moist and soft.
Knead the dough for about one minute and pat with flour.
Cut a chunk of dough and form into a ball.
Dust the surface with flour and roll out the dough nice and thin.
Heat a dry, large cast iron frying pan.
Place the flatbread in the pan and when you see bubbles form and rise, turn over and finish cooking.
Serve with your favorite dishes.
Prep Time:

10 minutes

Cook Time:

10 minutes
Recipe Card powered by
If You Enjoyed Today's Recipe…
Be sure to follow us on Instagram to stay up to date with all things Living the Gourmet, and for more great recipes, tips and tricks.
Did you make this recipe?
If so, let me know in the comments down below, or post a picture to Instagram, or to Pinterest, and I'll give you a shoutout on Instagram, or post your pin to one of my Pinterest boards!
16