Today we're preparing Greek Tuna Salad in Pitas, and we'll be doing so with a little help from my friends over at StarKist (who sponsored this post) and their delicious StarKist E.V.O.O.™ Pouches, but more on them in just a second.
Today's salad is my interpretation of the ubiquitous 'dinner-style' Greek Salad, featuring crisp salad greens, and a medley of ingredients that combine to create a thoroughly 'Greek' flavor profile, while keeping the salad accessible and crowd-pleasing. We'll also be adding in Starkist E.V.O.O™ Wild-Caught Yellowfin Tuna in Extra Virgin Olive Oil for added protein and texture.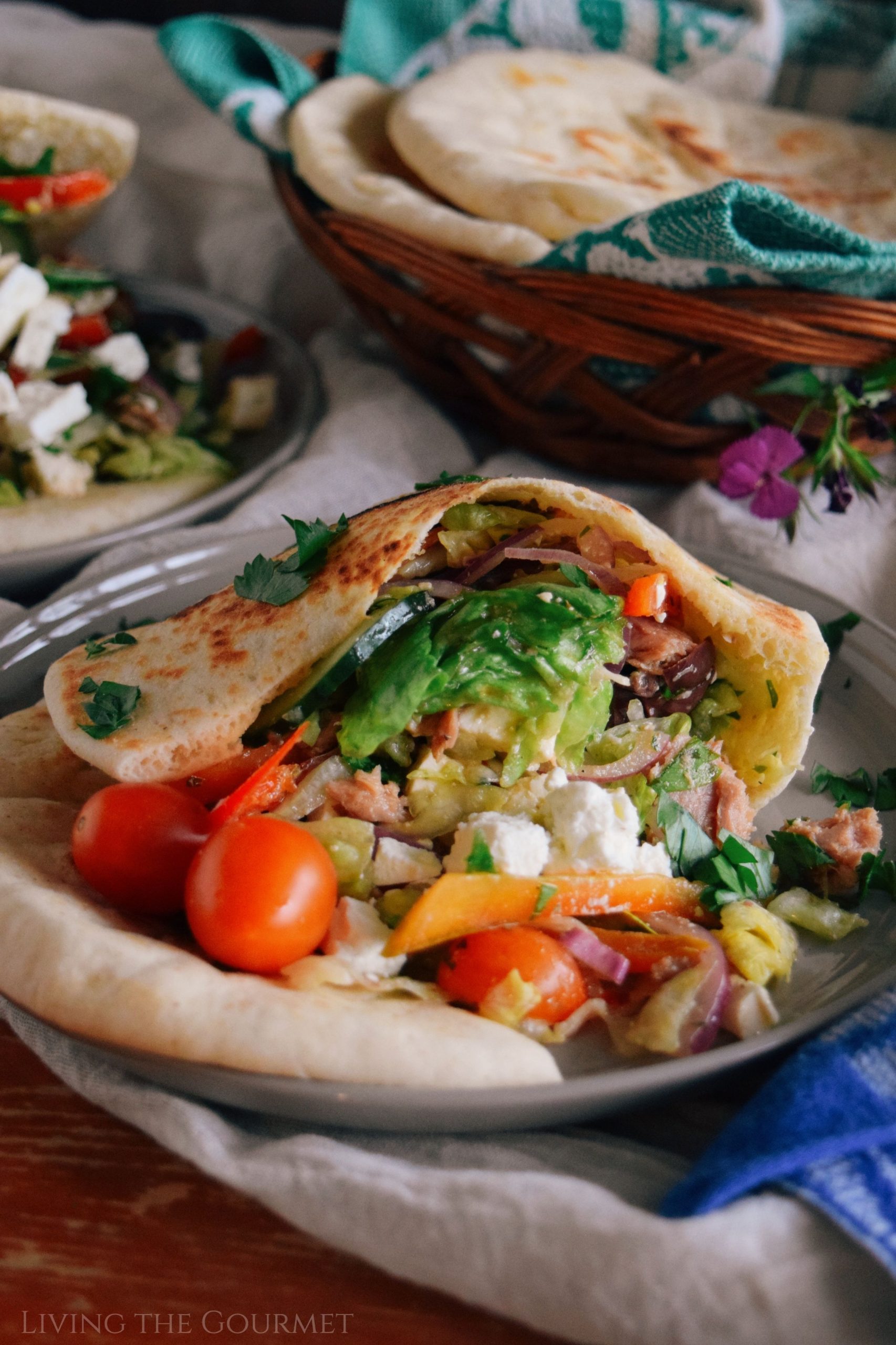 Greek Salad – What is it, really?
From Canada to the United States to Brazil, or really anywhere there are concentrations of Greek immigrant-run diners, the idea of a 'Greek Salad' is shockingly uniform. Such salads typically include halved cherry or grape tomatoes, chunked or thinly sliced cucumber, thickly sliced red onions, feta cheese, and either kalamata, Gaeta, Ligurian or Sicilian olives.
The idea, really, is pretty simple – it's a collection of 'typical' Greek flavors, combined within the universally recognizable form of a 'leafy salad.' However, this is 'dinner food,' as 'Greek' salads can be…well, anything.
From sliced tomatoes tossed with onions and olives in a red wine vinaigrette, to grilled octopus tossed with parsley, olives, and olive oil, to 'blocks' of fried formaela or kefalotyri (semi-hard goat milk cheeses) tossed with marinated tomatoes, roasted garlic, cucumbers, olives, and then drenched in a dense red wine reduction (as opposed to a vinaigrette), 'traditional' Greek salads are often very different from what we usually think of as 'salad' here in the New World.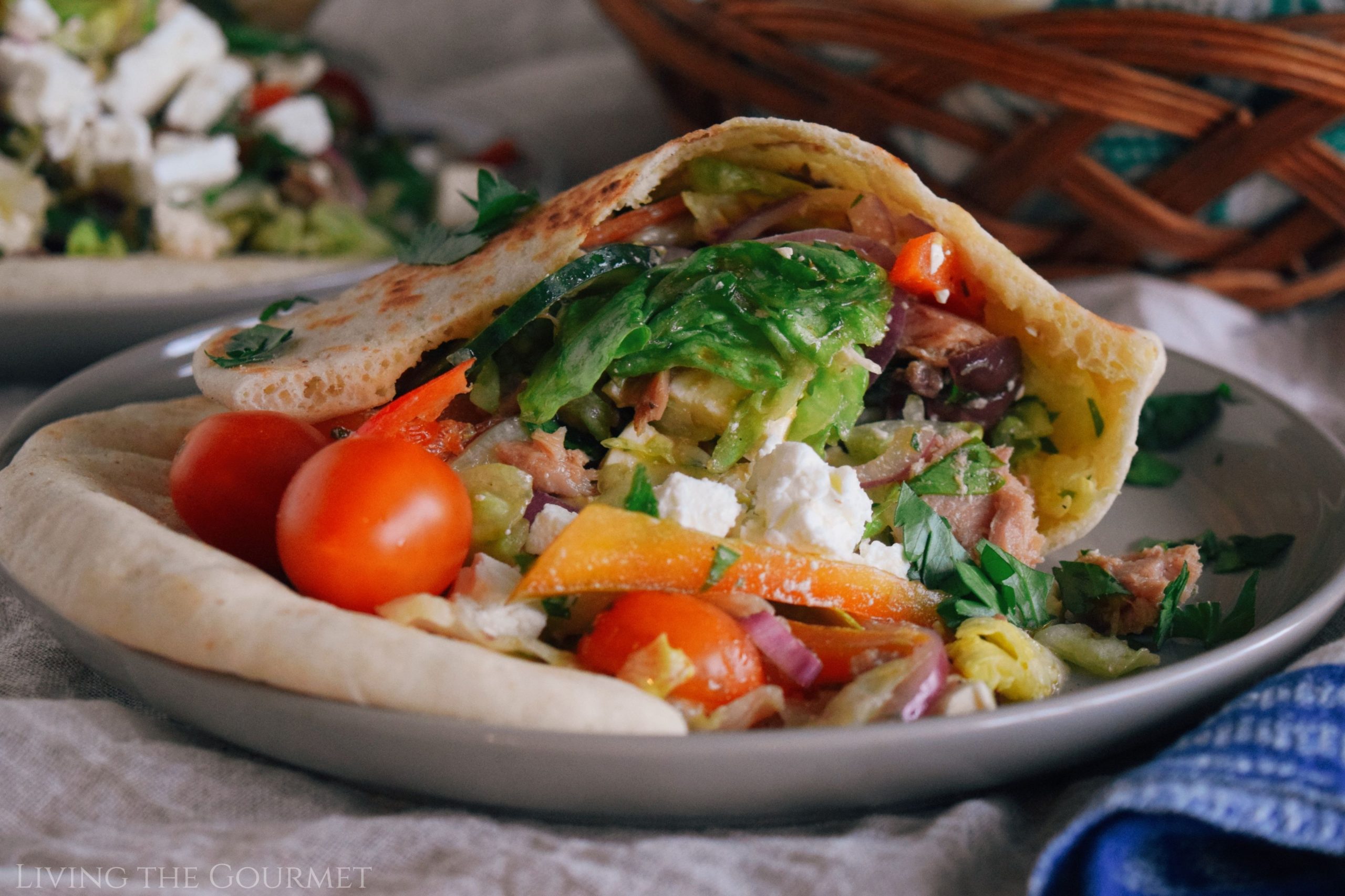 However, the more astute amongst you will have noticed the flavor profiles in those traditional Greek salads are quite similar to those found in the dinner version of the more common 'Greek Salad.'
And that's the answer. 'Greek Salad' can be pretty much anything from fried cheese and red wine to marinated tomatoes, or even simple arrangements of tossed leafy greens.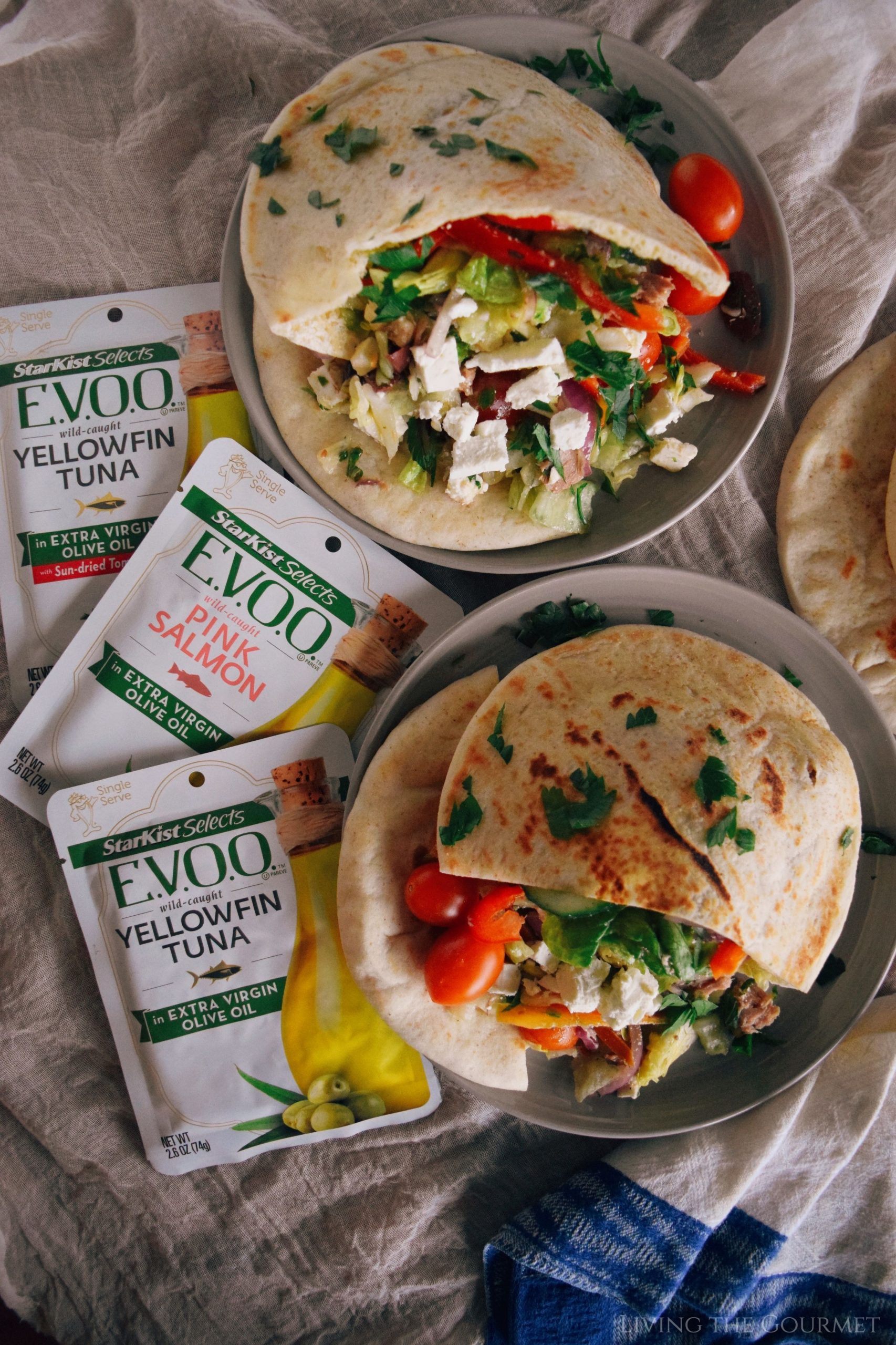 Ingredient Notes and Tips
1) Feta Cheese. Oh boy, where to start? The quality of feta cheese varies wildly between brands. Some brands doctor their feta by adding loads of salt to mask a lack of flavor, while others add so little salt that the cheese has a sour taste. Some brands offer cheese that's so dry it's mouth-parching, while others offer a feta that's so moist it borders on soggy. That said, if possible, buy fresh feta. If not possible, I suggest buying imported feta that's packed in water. If you have a decent deli section at your local market, they often have quality feta behind the counter. LTG Pro-Tip: The best feta I myself have access to is actually the feta my favorite Italian pork store stocks behind the counter for their salads.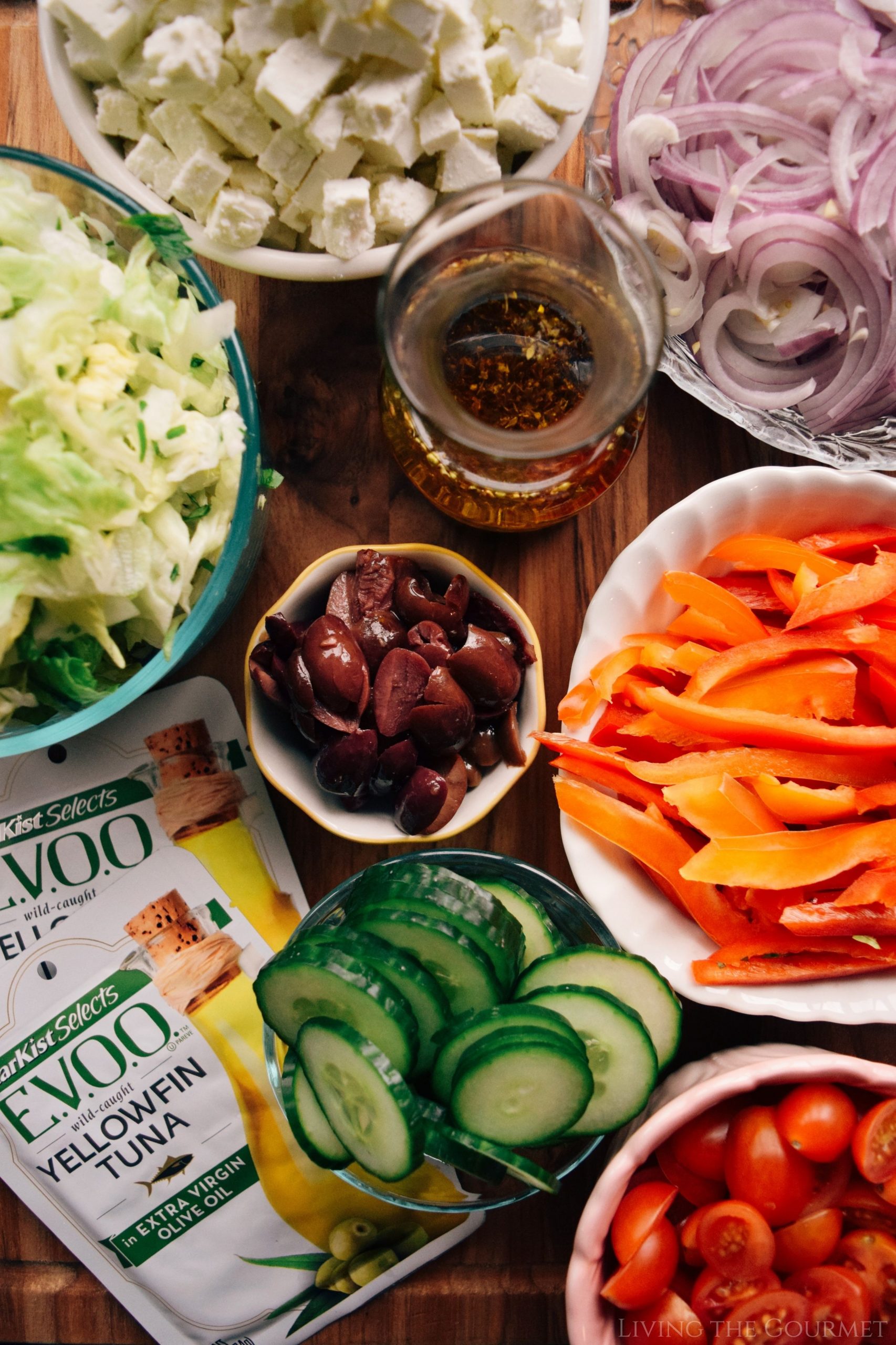 2) StarKist E.V.O.O.™ Wild-Caught Yellowfin Tuna in Extra Virgin Olive Oil. TThe 'meat' of today's recipe, we're using a couple of pouches of StarKist E.V.O.O.™ Wild-Caught Yellowfin Tuna in Extra Virgin Olive Oil, which are wild caught and then packed in cold-pressed extra virgin olive oil, and have a mellow flavor, a moist tender texture, and feature just a few simple ingredients. Since these require no heat or cooking, they are perfect for assembling super-simple recipes like today's Greek Salad in Pitas. As a bonus, they're also keto, paleo, and Mediterranean Diet friendly, and most important of all they're dolphin safe. They're a great choice for a quick protein option when you are trying to cut back on red meat. Using these pouches, I promise you'll taste the difference.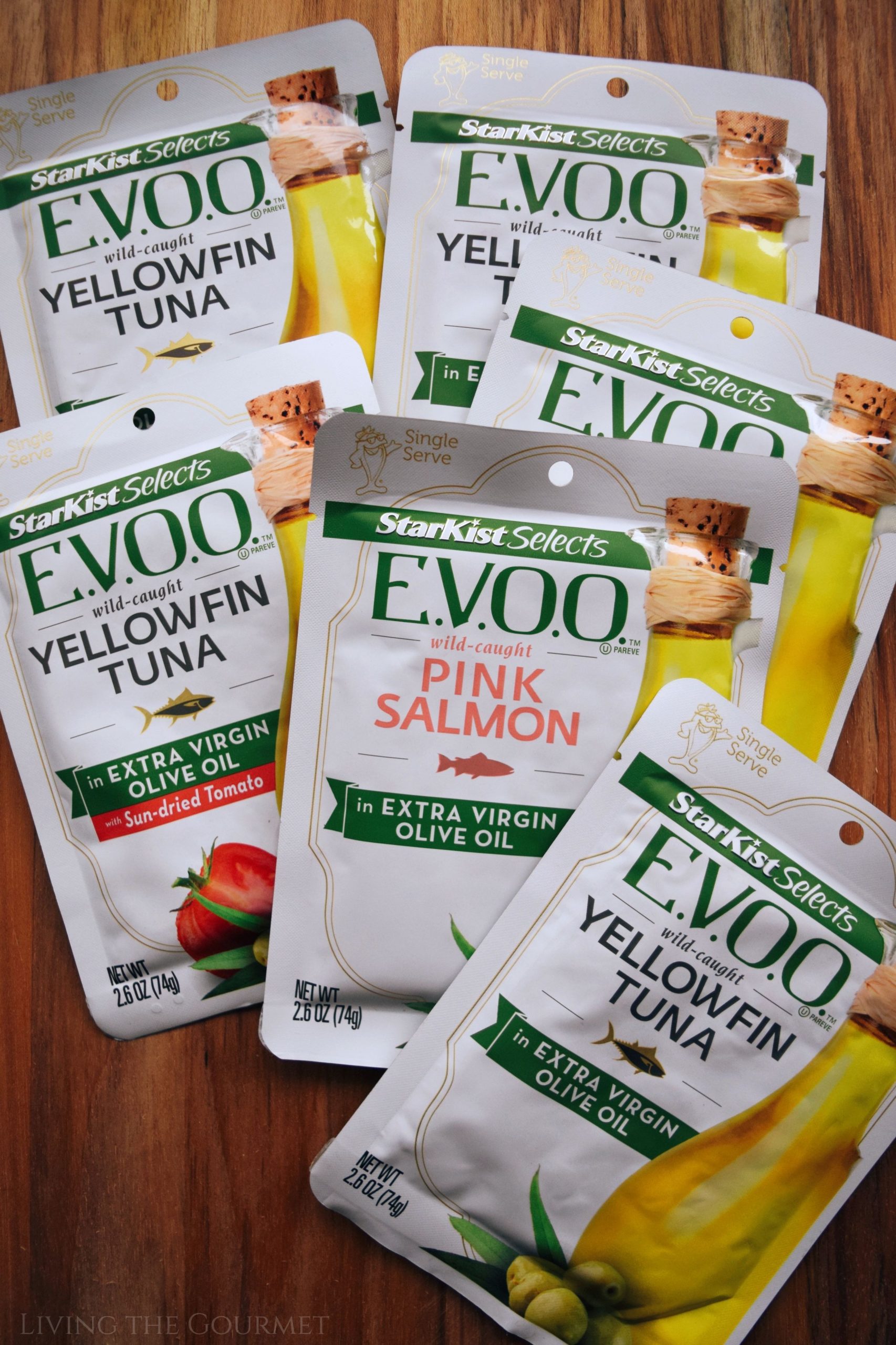 3) The Olives. In true "New World Greek" fashion, I'm going to say, "choose your olives," since Greek Kalamata olives are definitely not a requirement – although I do find them preferable for this recipe. Gaeta olives are probably the closest relative to Kalamata in terms of taste and texture. However, Ligurian olives, also called Taggiasca olives, are also a great substitute, as are pitted Sicilian olives.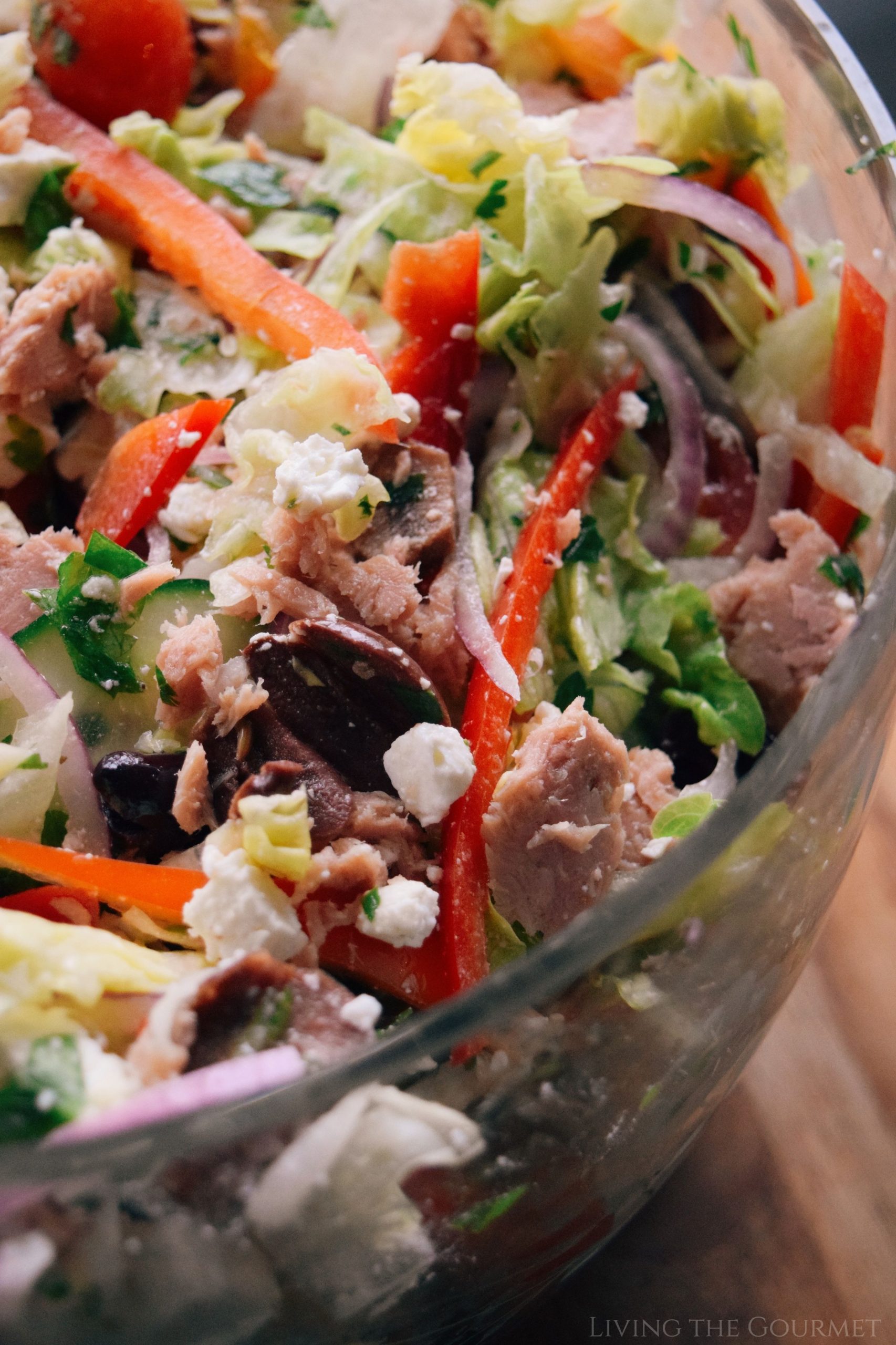 4) Italian Flat Leaf Parsley. Flat leaf parsley often features a drabber green color and 'flat' looking leaves – from which they derive their name. Italian parsley, while drabber, has brighter and more robust flavor, whereas curly parsley is simply for decoration, having a bitter or simply 'bland' flavor despite its greener coloration and frilly leaves.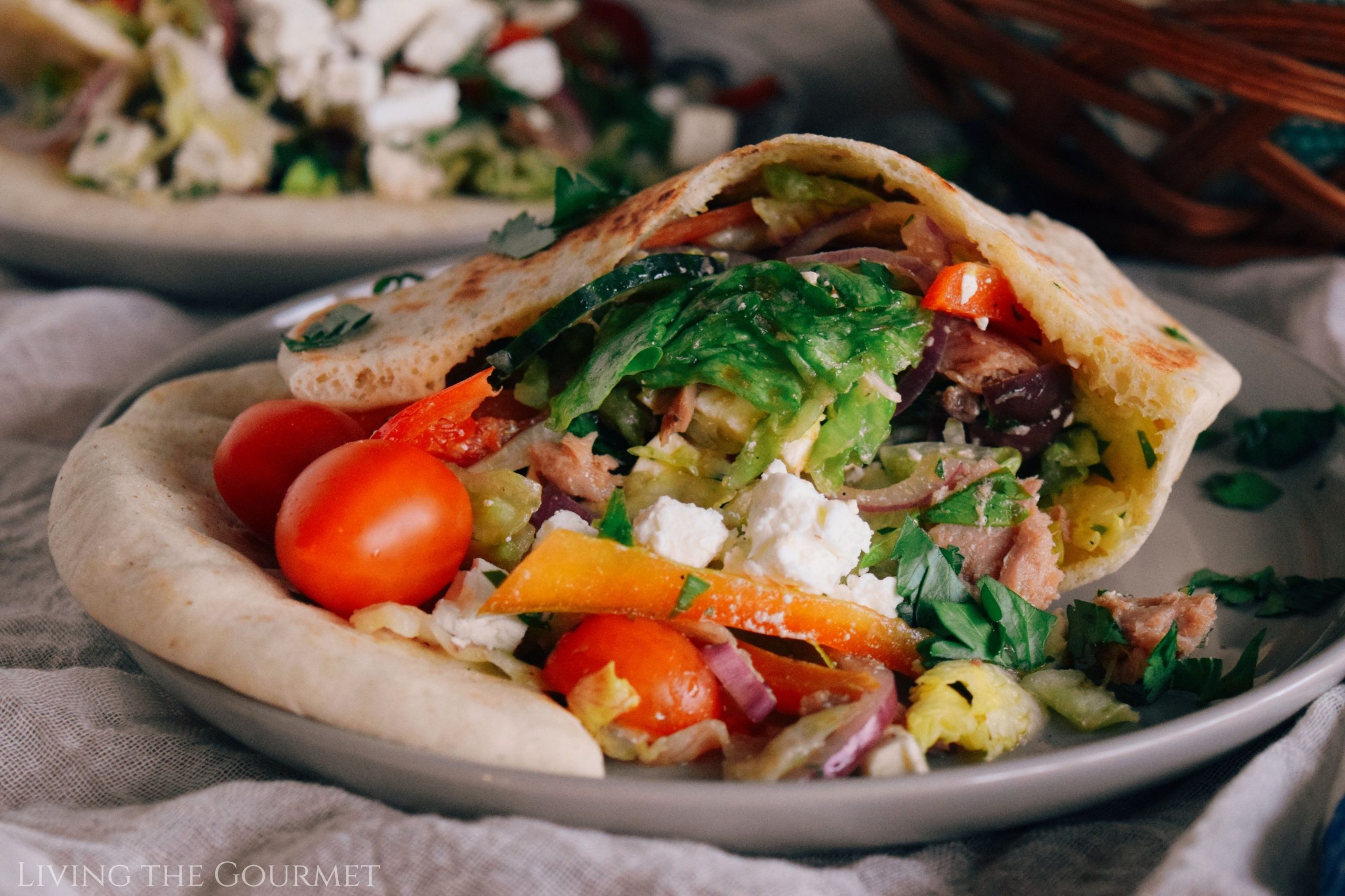 Living the Gourmet
Mediterranean Tuna Pockets
15 minPrep Time
15 minTotal Time
5 based on 15 review(s)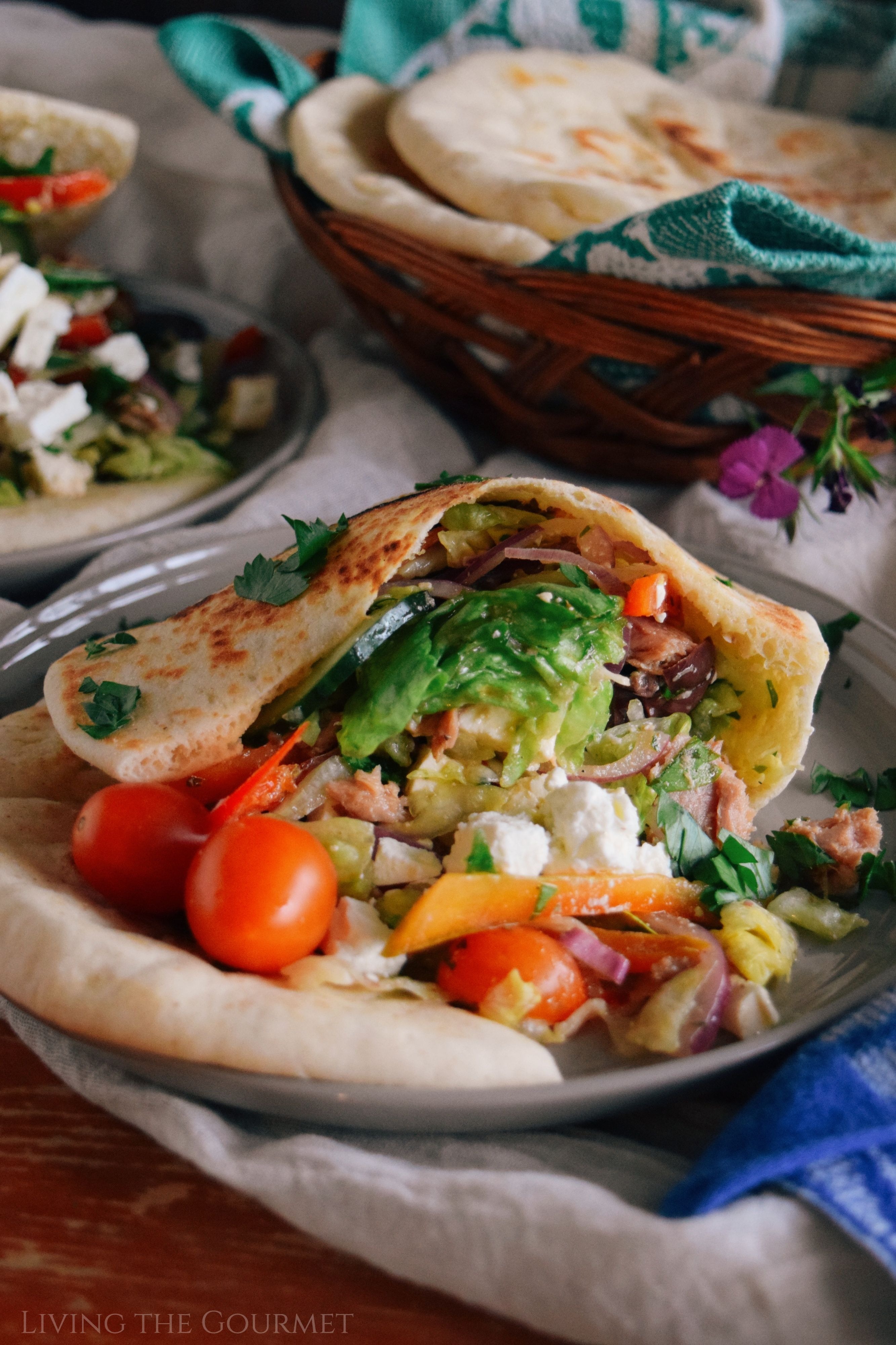 Ingredients
Store-bought Pita pockets - heated

For the Salad:

1 head of iceberg lettuce – sliced thin
1 red bell pepper – sliced thin
1 pint of cherry tomatoes – halved
¼ - ½ red onion – sliced thin
½ cup of pitted Kalamata olives
½ English cucumber – sliced thin
½ cup of Italian parsley – stems removed and chopped
Feta Cheese - crumbled

For the Vinaigrette:

2 tsp. sea salt
½ tsp. fresh ground black pepper
½ tsp. dried oregano
1 ½ tsp. sugar
1 cloves of fresh garlic – grated
¼ cup apple cider vinegar
¼ cup balsamic vinegar
½ cup of olive oil
Instructions
Combine all of the ingredients for the salad in a large bowl and toss.
Add the packages of the StarKist E.V.O.O.™ Wild-Caught Yellowfin Tuna in Extra Virgin Olive Oil and toss.
Combine all of the ingredients for the vinaigrette in a small bowl and stir. Pour the vinaigrette over the salad and toss.

Assembly:

Gently heat the pita pocket.
Open the pita pocket and fill the pita pocket with the salad.
7.8.1.2
1403
https://livingthegourmet.com/2020/02/greek-tuna-salad-pockets.html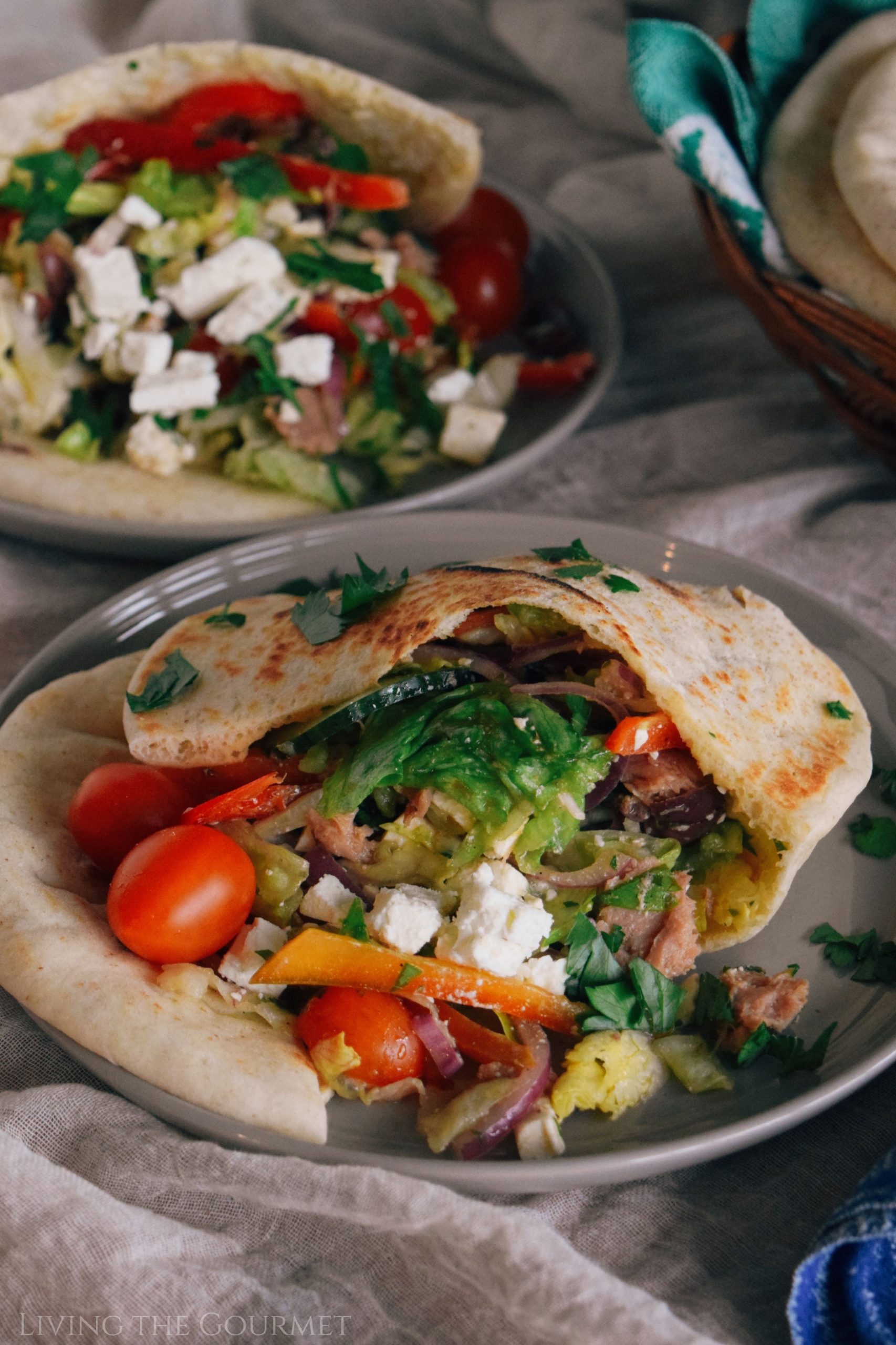 If You Enjoyed Today's Recipe…
Be sure to follow us on Instagram to stay up to date with all things Living the Gourmet, and for more great recipes, tips and tricks.
Did you make this recipe?
If so, let me know in the comments down below, or post a picture to Instagram, or to Pinterest, and I'll give you a shoutout on Instagram, or post your pin to one of my Pinterest boards!
This is a sponsored post written by me on behalf of StarKist E.V.O.O.™.
4