This post has been sponsored by StarKist Selects E.V.O.O.® All opinions expressed are my own.
Cool down with these bright and zesty Summer Tuna Cups served with a drizzle of fresh Aguachili!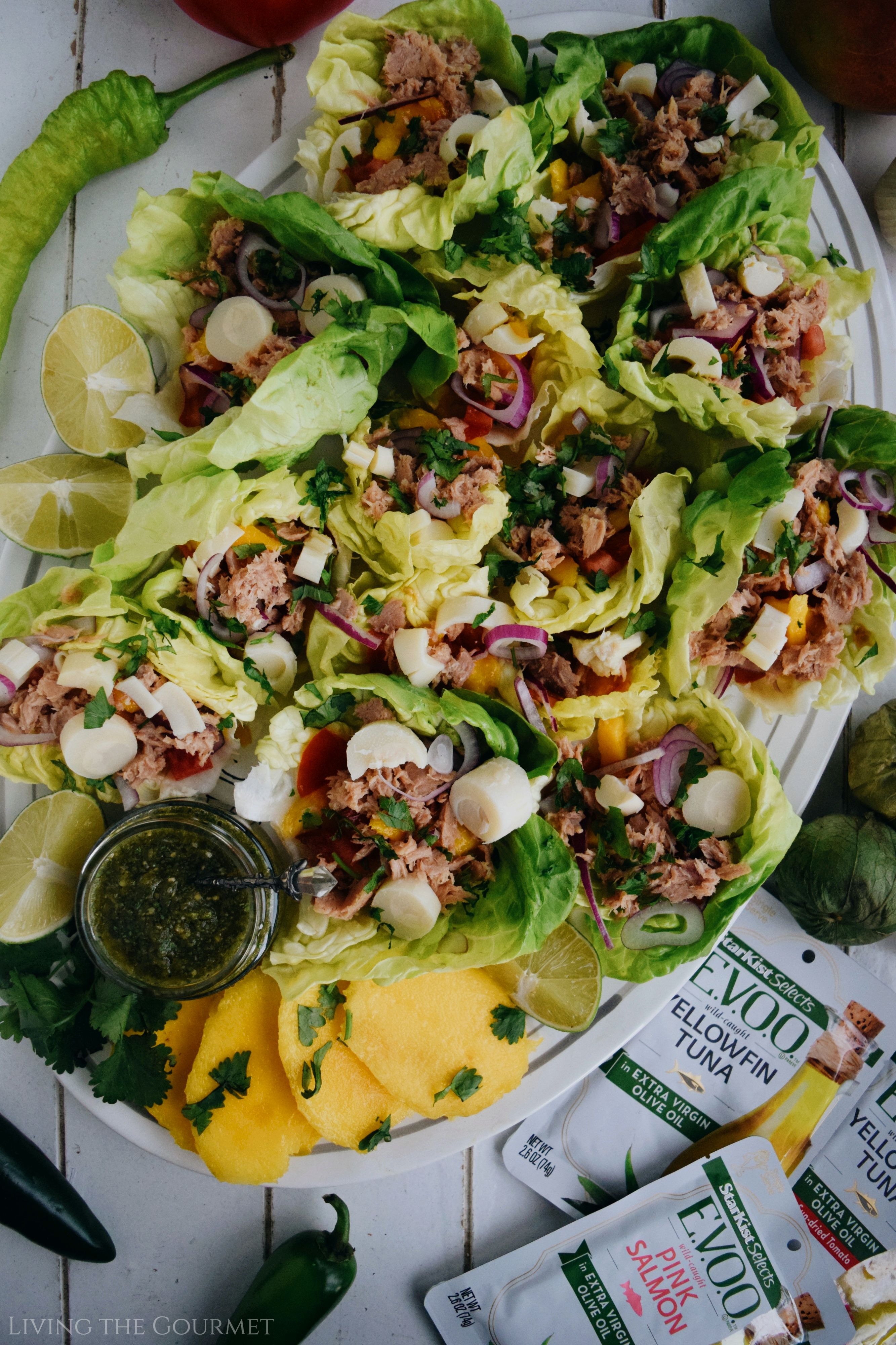 Although typically regarded as "Mexican Ceviche," the 'broth' or 'sauce' of an aguachili is actually much more closely related in form, appearance, and flavor to a spicy gremolata – and is actually is quite delicious and versatile on its own.
Today, we're taking the sauce part of an aguachili, and using it as a topping for butter lettuce stuffed with StarKist Selects E.V.O.O.® Yellowfin Tuna, fresh mango, sliced red onion, diced tomato and hearts of palm. The end result is a dish that's light, refreshing, and just a touch spicy, while surprisingly easy to put together.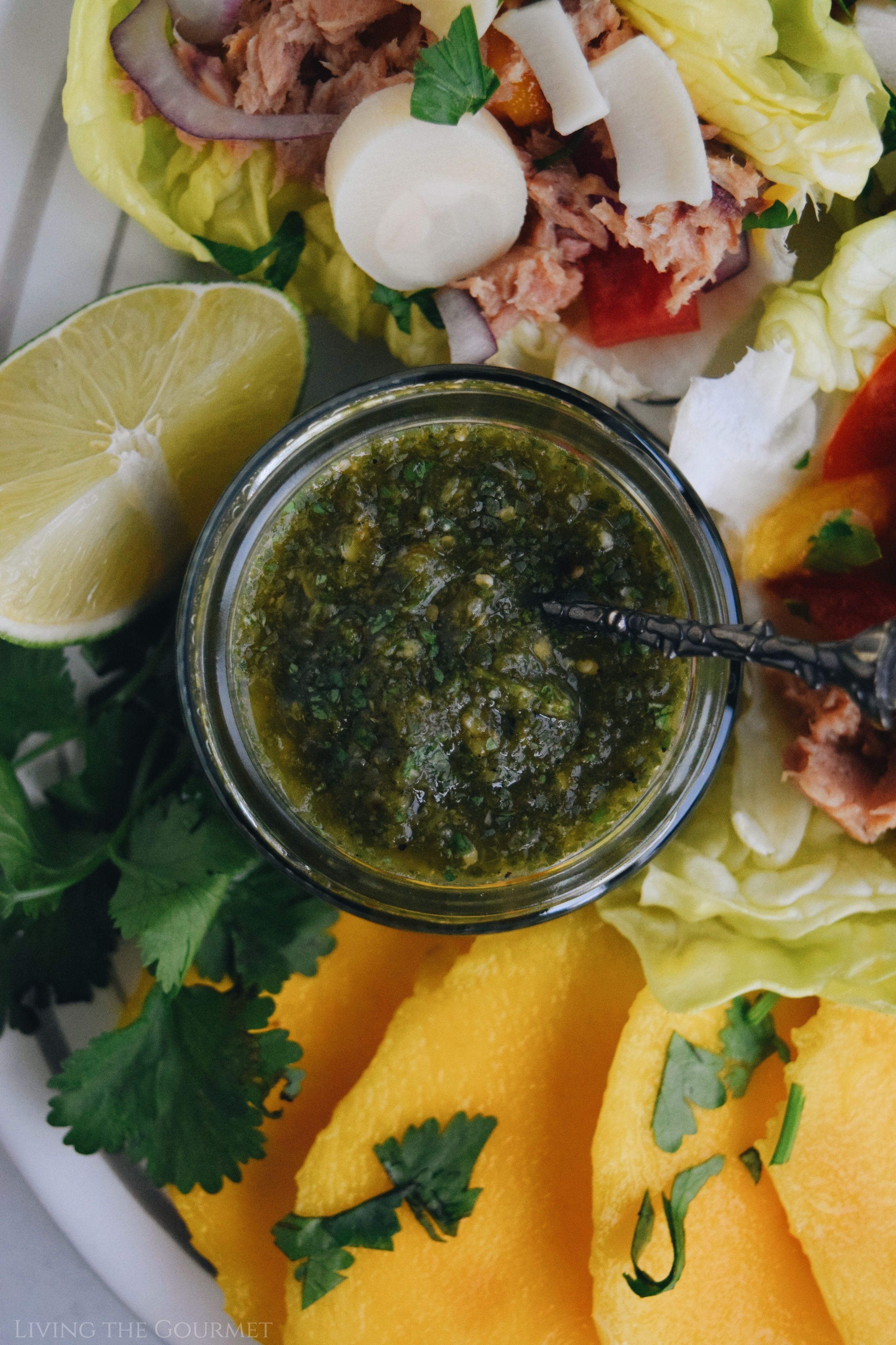 Aguachili Tips
1) Serve Right Away. This is one of those recipes where 'freshness' is a key ingredient, and so letting this sit even just overnight in the fridge before serving is less than ideal – although certainly 'doable.' However, if you're truly aiming to impress your guests – or just yourself! – be sure to prepare this as near to when you intend on serving it as possible, preferably at the last possible minute.
2) How to Prepare Ahead of Time – Sort Of. Now, while I just said that leaving this in the fridge is a no-no, you can cheat just a little bit by grilling the tomatillos, garlic, and jalapenos ahead of time, and then setting them in the fridge until you're ready to prepare the rest of the recipe.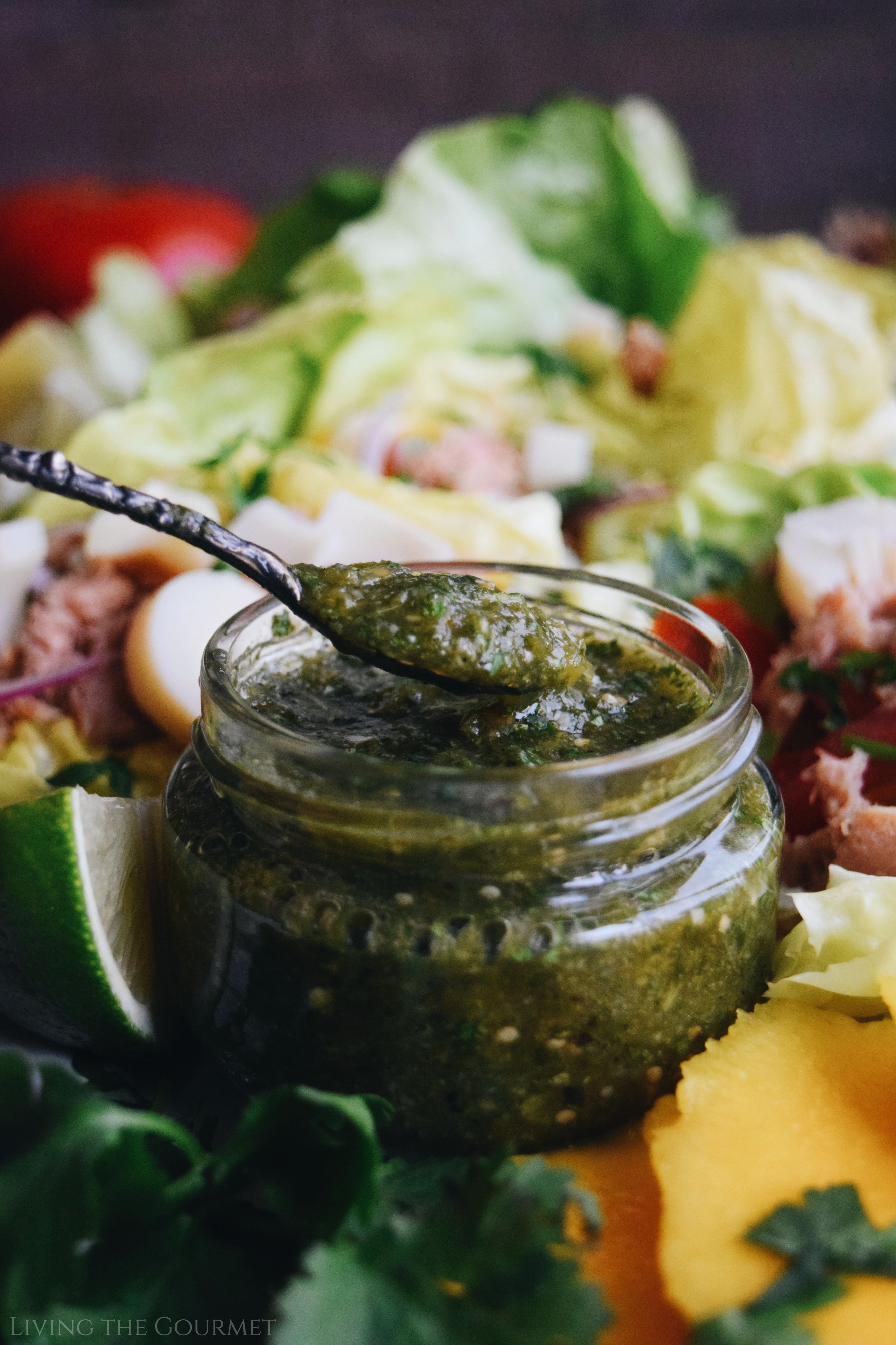 3) The Recipe Scales Up. Doubling today's recipe is truly as simple as multiplying the ingredients by two, and upward. However, if making this for a larger crowd, feel free to start subbing in some bottled lime juice – since even I myself would start to wince at the idea of carrying home more than dozen limes. For reference, one average sized lime equates to about two tablespoons of lime juice. However, be aware that the more bottled lime juice you substitute in, the further down you dial this recipe's enviable zesty-fresh flavor profile.
4) There Is No Substitute For Fresh Cilantro. Despite being able to get away with subbing in bottled lime juice when preparing this recipe in larger quantities, there simply is no substitute for fresh cilantro – since the cilantro is a large part of where this recipe gets its body and texture, alongside the tomatillos.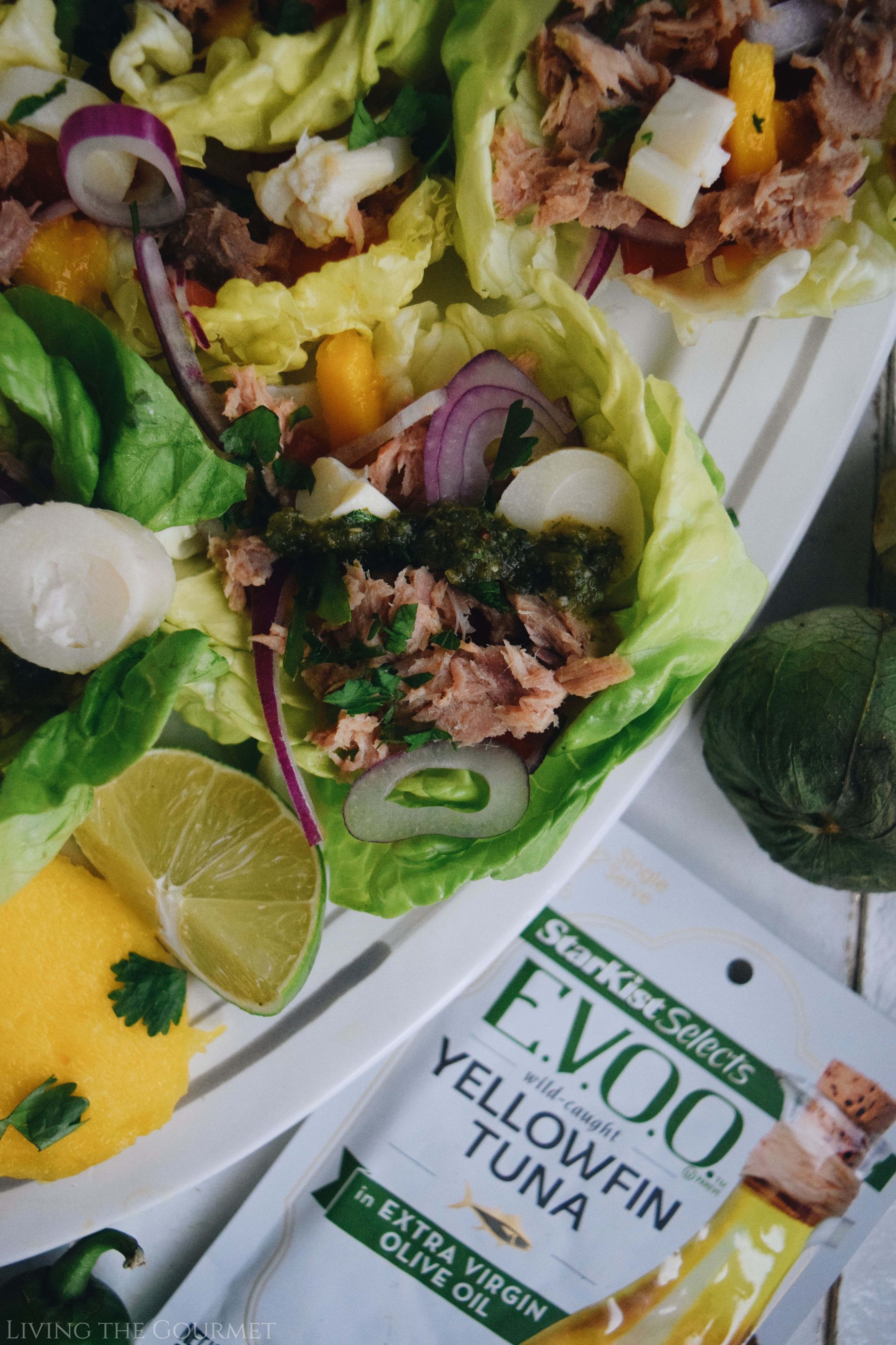 5) Peppers Galore – Do Your Thing. If you're a heat-fanatic like my son, feel free to substitute in hotter peppers in place of the jalapenos, or simply add in an extra jalapeno or two. The true issue here isn't heat but rather 'texture,' since if you increase the amount of 'flesh' from the peppers too greatly you'll start to thicken the aguachili. So be sure that you keep the ratio of 'pepper flesh' to roughly within the same range as is outlined in the recipe.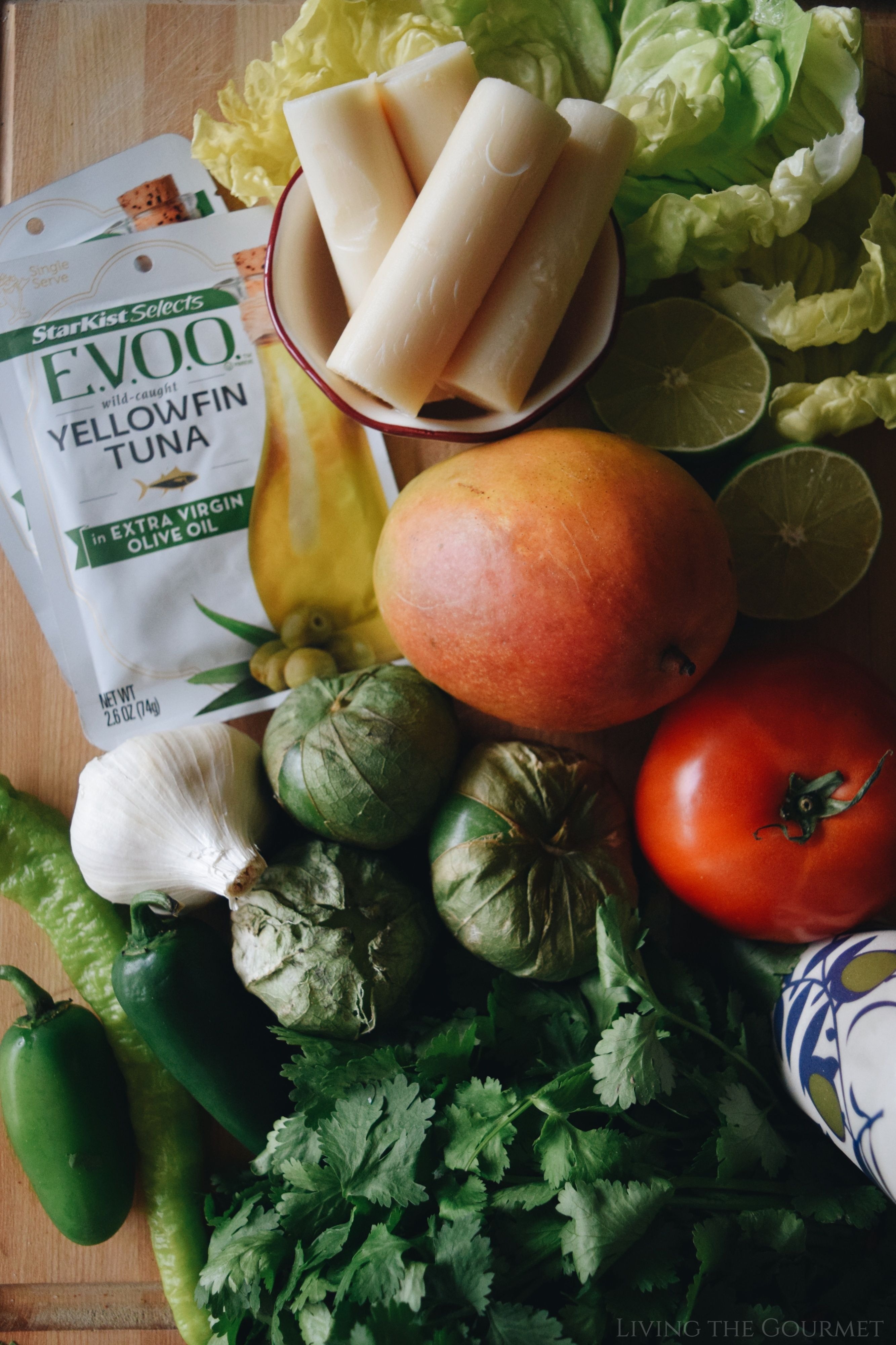 Ingredient Overview
1) StarKist Selects E.V.O.O.® Pouches. The 'meat' of today's recipe, we're using a pair of StarKist Selects E.V.O.O.® pouches, which are Wild Caught and then packed in cold-pressed extra virgin olive oil, and have a mellow flavor, a moist tender texture, and feature just a few simple ingredients. Since these require no heat or cooking, they are perfect for assembling recipes like today's lettuce packs topped with our aguachile. As a bonus, they're also Keto, Paleo, and Mediterranean Diet friendly. Using these pouches, I promise you'll taste the difference.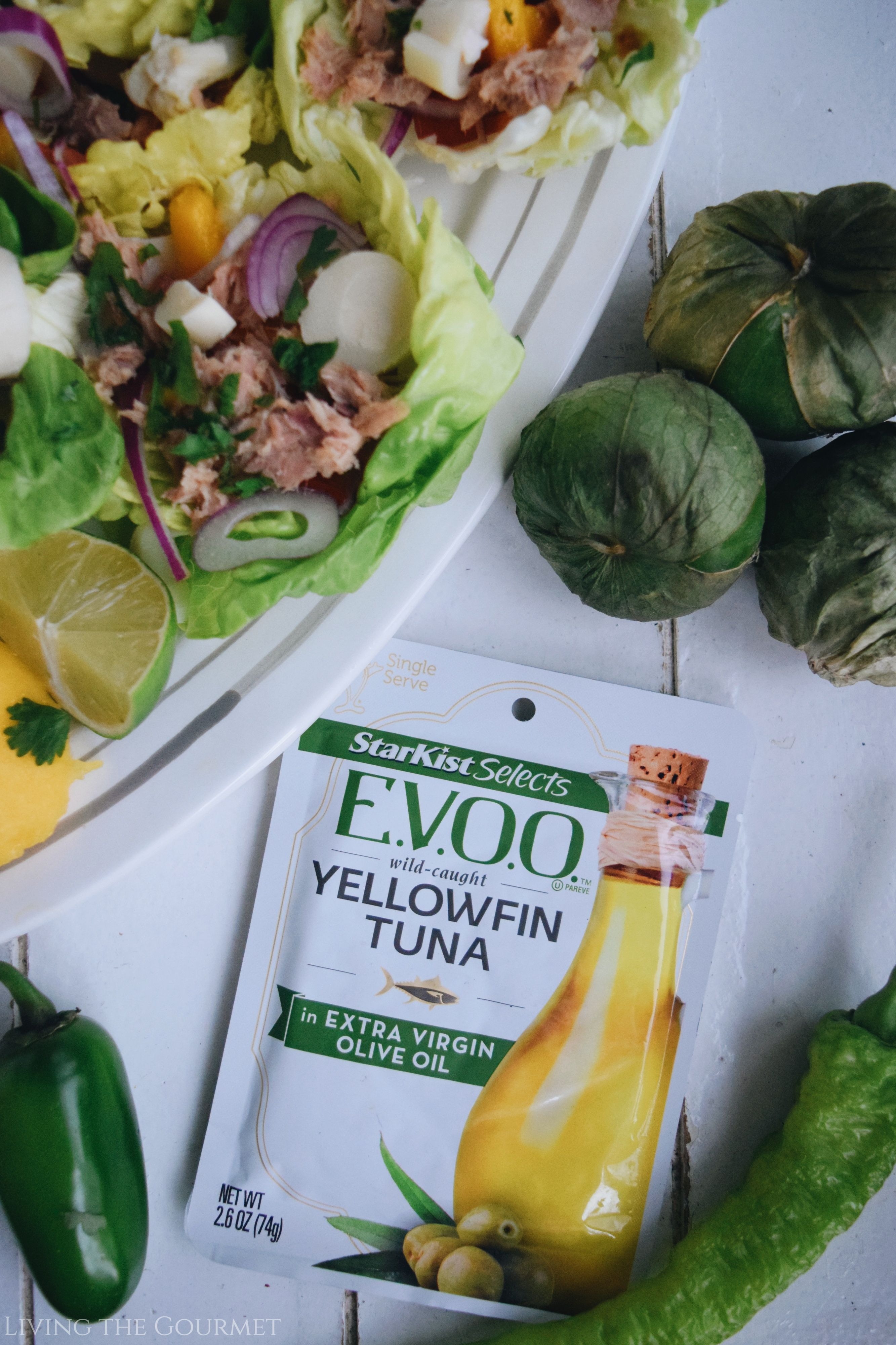 2) Tomatillos. Here in New York, these are becoming more and more popular, and much more widely available than they were even just a few years ago. However, some common misperceptions about these persist, the chief among them being that they are "unripe green tomatoes," which is understandable since they're sometimes called 'husk tomatoes,' or 'Mexican green tomato.' Nevertheless, they are nevertheless the fruit of an entirely different plant, and bear a strikingly dissimilar flavor to red or green tomatoes. Biting into these raw, you'll get a sharp acidic or tart flavor, which is suitable for recipes such as spicy green salsas. However, cooking these 'ripens' the flavor, bringing out certain herbal qualities, and softening the skin, which makes them suitable for recipes such as today's aguachile, or as the base of cooked sauces.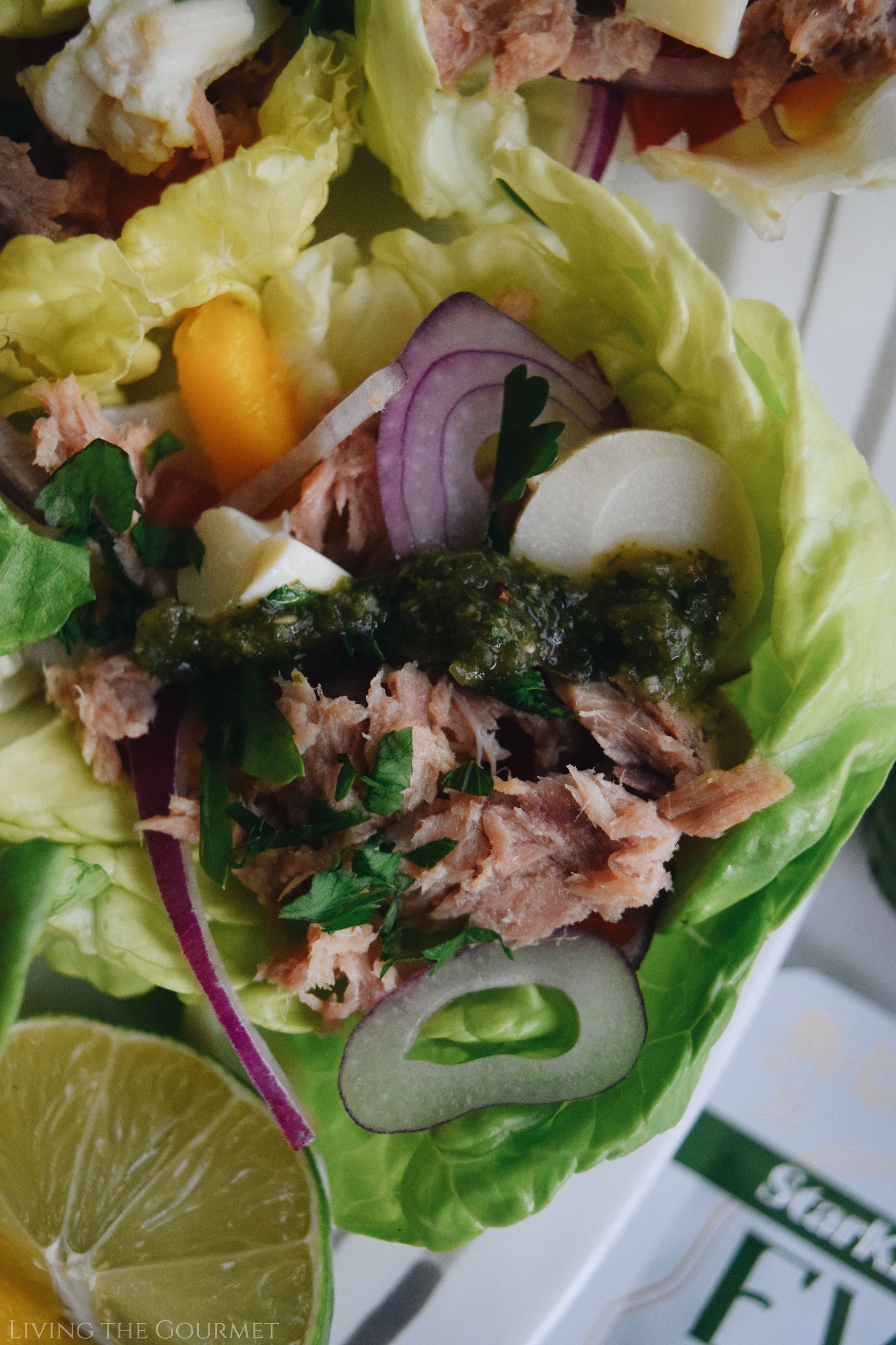 3) Butter Lettuce. While I'm using butter lettuce, you could also wrap these in cabbage, romaine, or iceberg. However, I found the butter lettuce much simpler to work with, a bit more 'flavor neutral,' and just a tad bit more crisp.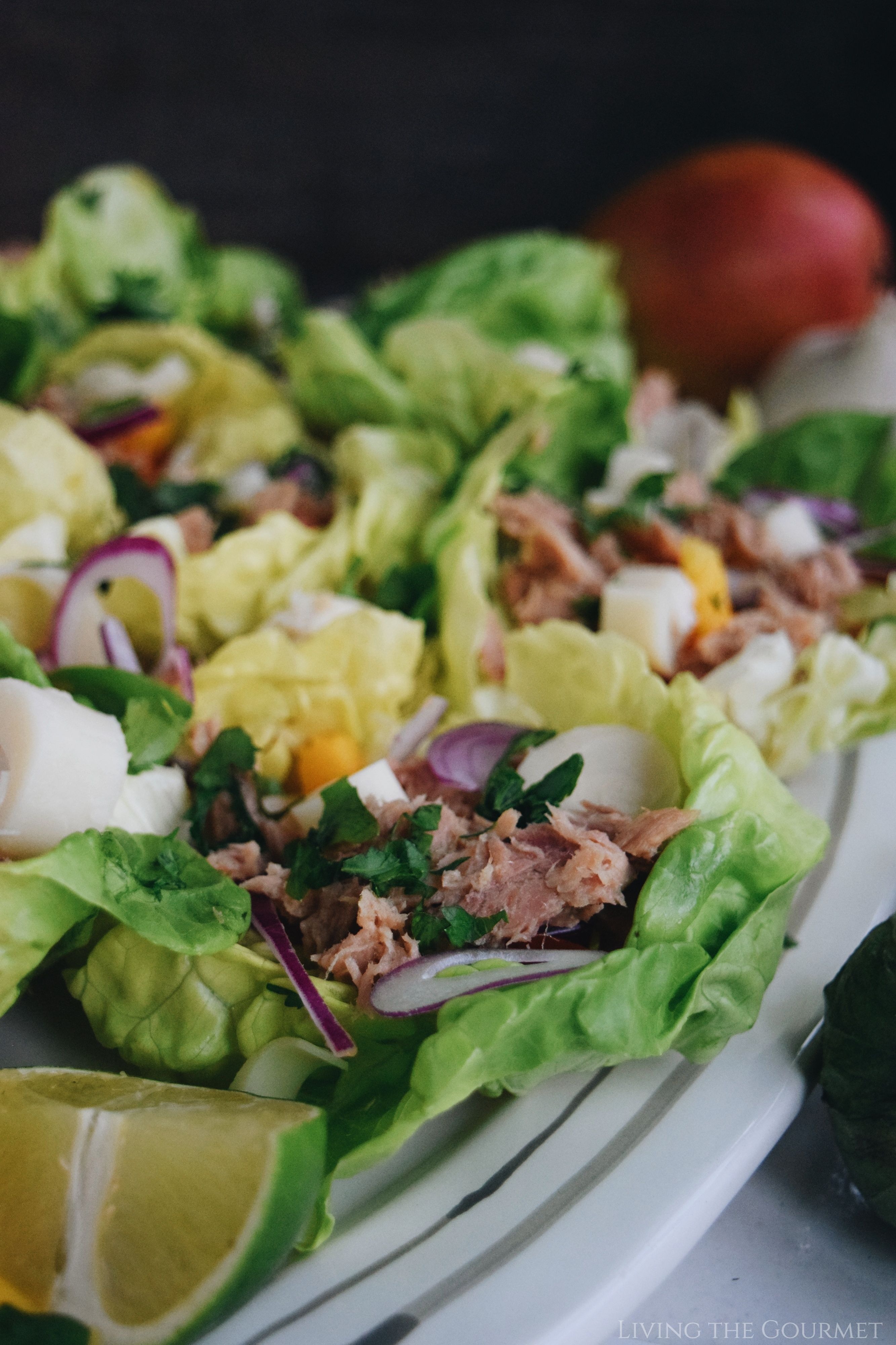 Living the Gourmet
Summer Tuna Cups with Aguachili
10 minPrep Time
10 minCook Time
20 minTotal Time
5 based on 4 review(s)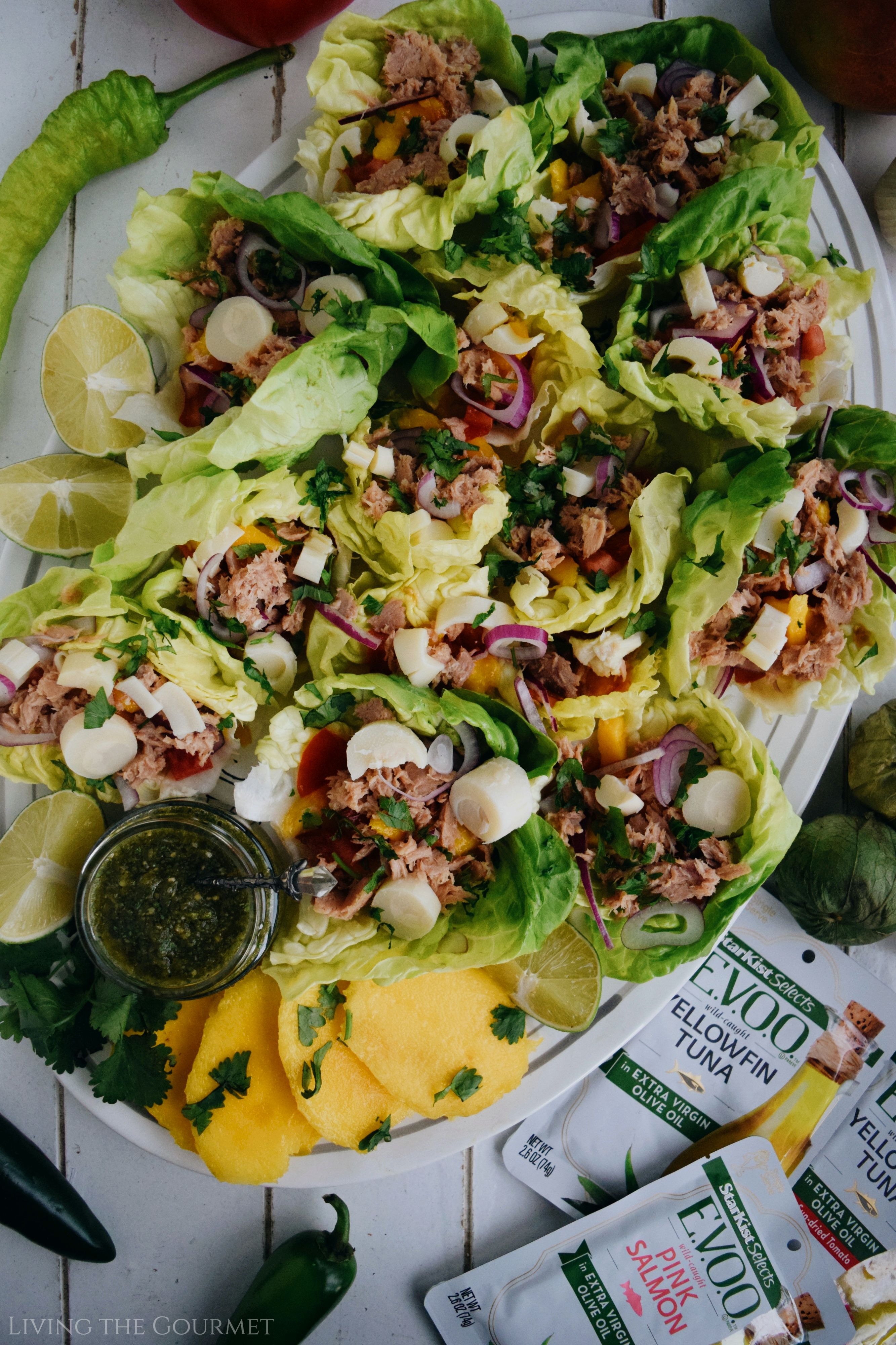 Ingredients
For the Aguachili:

5 cloves of garlic
4 tomatillos – quartered
1 long green chili pepper – stem removed with or without seeds
2 jalapeno's - stems removed with or without seeds
1 ½ tsp. sea salt
2 cups of fresh cilantro
Juice of 4 limes

For the Tuna Cups:

2 packages StarKist Selects E.V.O.O.
Butter lettuce leaves
Mango – sliced
Tomato – sliced
Red onion – sliced
Hearts of Palm – sliced
Instructions
For the Aguachili:

Heat a large cast iron frying pan and place the quartered tomatillos, jalapenos and garlic cloves in the dry pan and let them achieve a nice char.
Set them aside and let cool.
Place the cooled peppers, garlic and tomatillos in a blender, along with the fresh cilantro, sea salt and lime juice and blend for a nice consistency.
Refrigerate until ready to use.

For the Tuna Cups:

Clean, pat dry and open the butter leaves.
Fill each leaf with the mango, tomato, red onion, hearts of palm and the StarKist Selects E.V.O.O. .
Drizzle each cup with the fresh Aguachili.
7.8.1.2
1329
https://livingthegourmet.com/2019/08/summer-tuna-cups-with-aguachili.html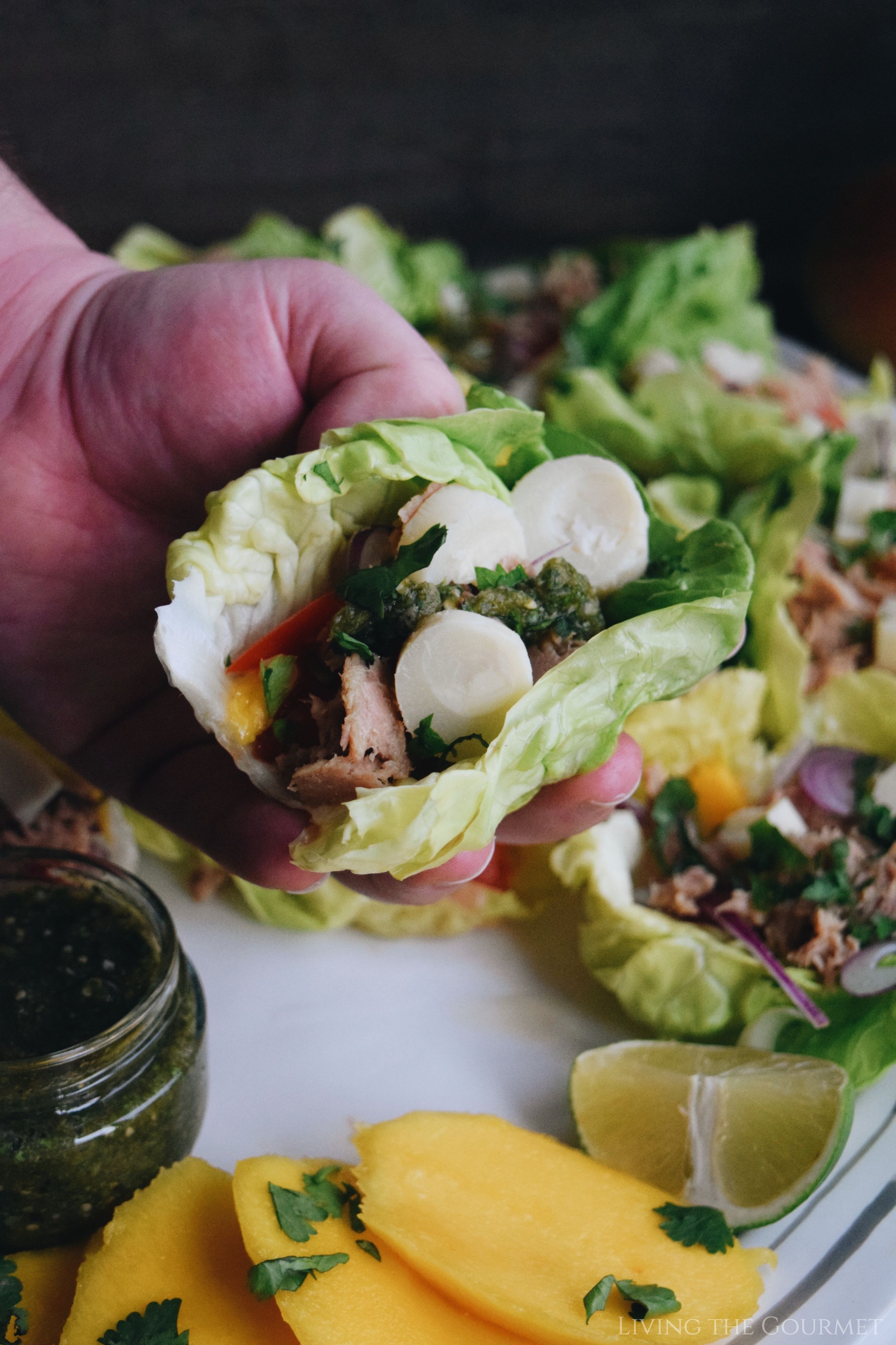 Did you make this recipe?
If so, let me know in the comments down below, or post a picture to Instagram or to Pinterest, and I'll give you a shoutout on Instagram, or post your pin to one of my Pinterest boards!
Enjoy with Love!
This post has been sponsored by StarKist Selects E.V.O.O.®
2