This post has been sponsored by Jarlsberg® Cheese. All opinions expressed are my own.
The word 'antipasto' conjures images of luxurious spreads composed of everything from marinated olives to stuffed grape leaves to mini pizzas, cured meats, phyllo cups, and even marinated steak bites – and I've certainly done my fair share of such spreads here on Living the Gourmet.
However, today we're putting together an antipasto board that's a bit more accessible, the sort of spread that could easily be put together on a weeknight when you just need 'something special' after hours, or for relaxed weekend dinners – and we're doing so with a helping hand from our good friends over at Jarlsberg Cheese, more on them in just a moment.
So, without further delay, let's get started, and hopefully you'll take away a few ideas for 'piecing together' your own perfect antipasto board.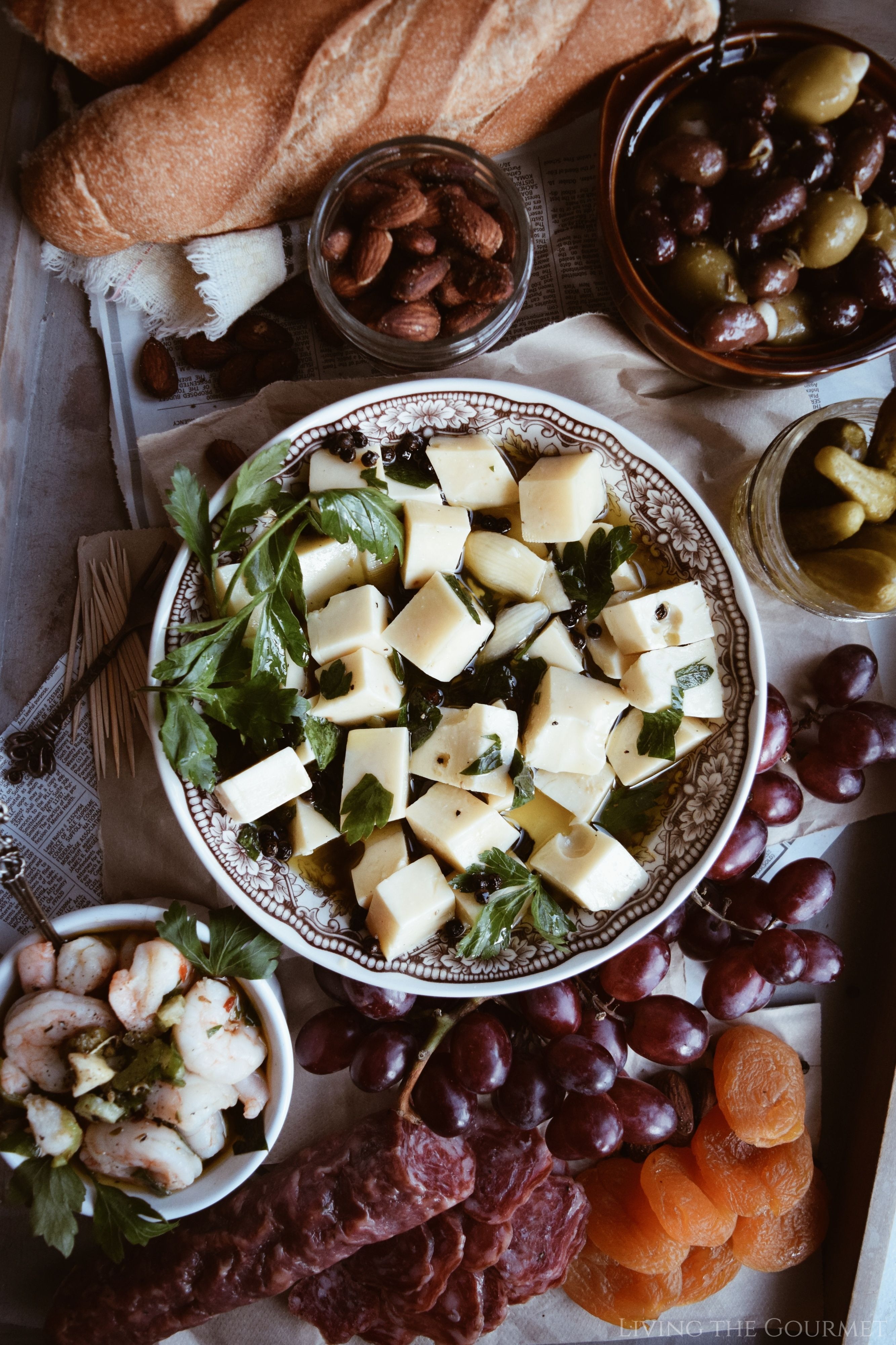 Assembling the Antipasto
1) Olives. For me, plain black olives are for quick salads and cooking, and only rarely are they for eating on their own. Instead, we're using a mix of Kalamata olives and stuffed Sicilian olives, which I've set in a bit of olive oil with a variety of seasonings. Not only does this look great, but more importantly it helps add a few layers of complexity to the spread's overall flavor profile.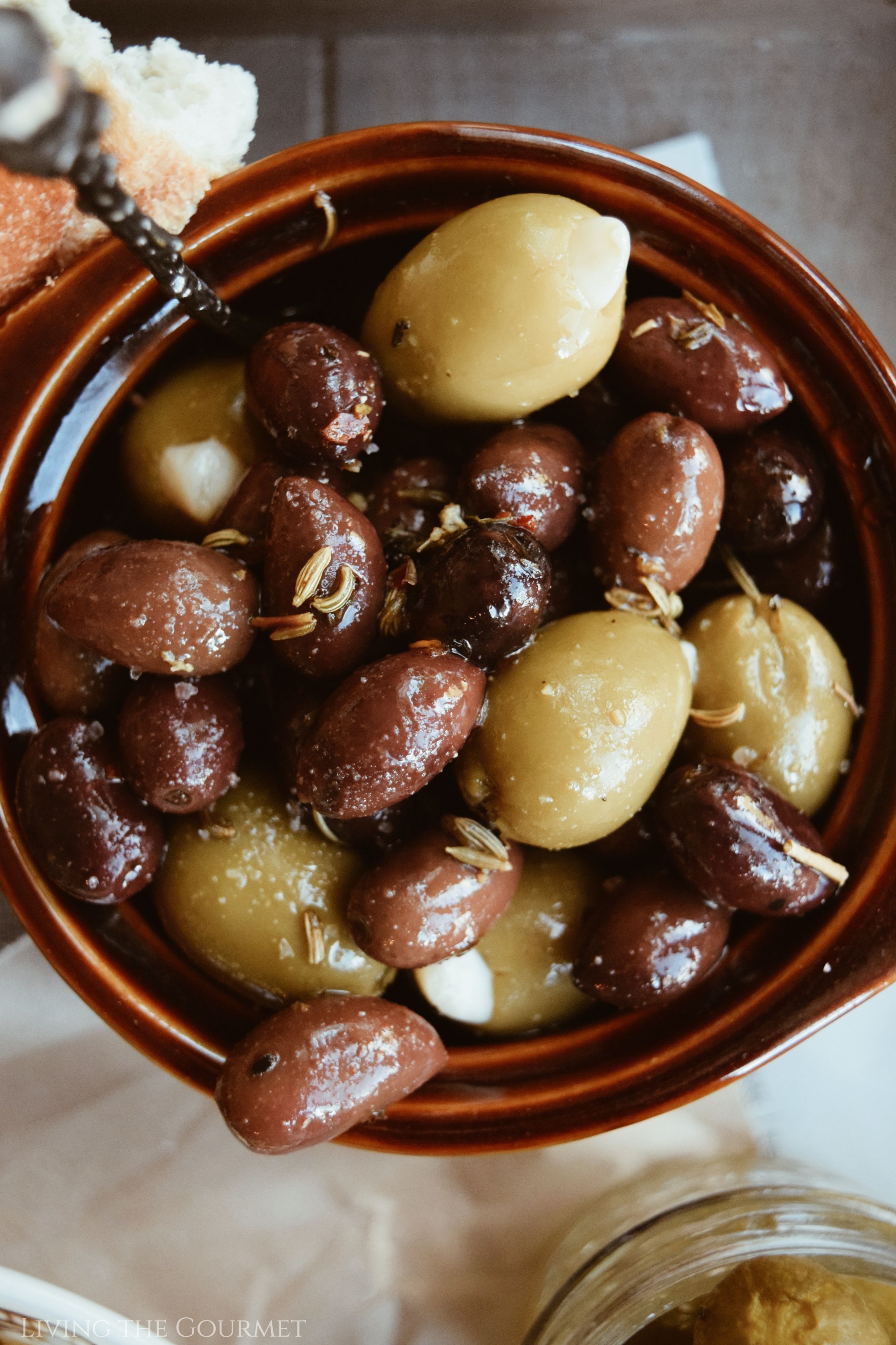 2) Cured Meat. This is largely a matter of preference, but here are a few tips. Things like thinly sliced Genoa Salami, a quality soppresata, rolled prosciutto, thinly sliced salchichón, Lomo de Bellota, or Cherizo Ibérico, would all work excellently here. I would stay away from 'soft' meats, however, such as Salami Cotto, since the texture profile doesn't really 'meld' with the rest of the board. However, that's just my preference – the beauty here is in experimenting and finding your own 'perfect' spread.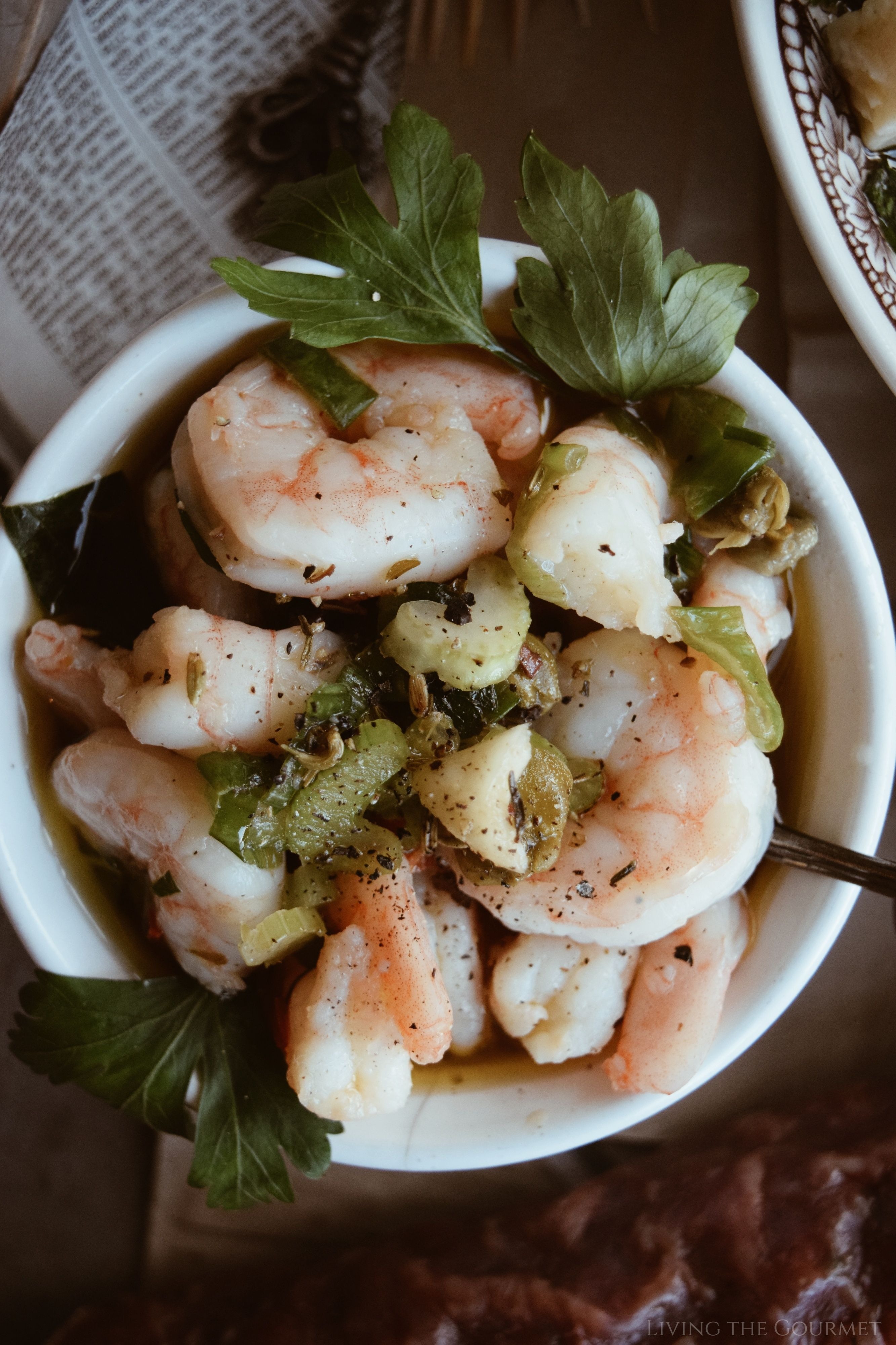 3) The Centerpiece. To my mind, a truly 'good' antipasto is centered around an item that 'anchors' or 'grounds' the entire spread. Today, that centerpiece is a bowl of marinated cheese – more on that below. However, this 'anchor' could be anything from a variety of cured meats, a dip or spread for crostini, really anything that grabs your attention attention, and sets the bar for the rest of the platter.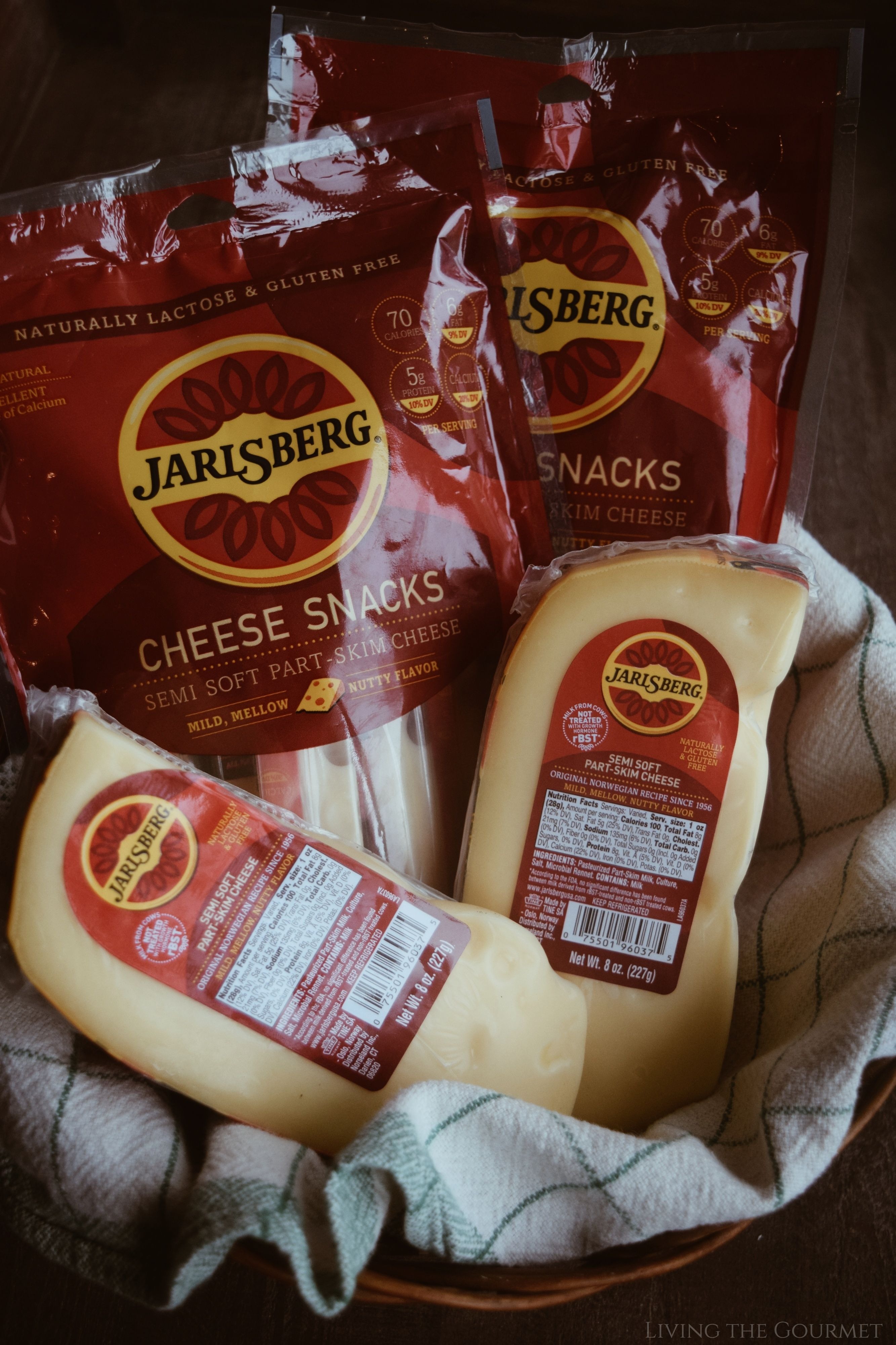 4) Choosing the Cheese. Choosing the right cheese for antipasto is entirely based on context. If you have a 'fresh' tasting antipasto, meaning lots of 'bright' and 'seasonal' flavors, you'll want a light, soft cheese. An example of a 'fresh' antipasto platter would include items such as a tomato salad, crostini with a fresh light pesto or gremolata, or lightly grilled sliced peppers. However, for a more 'rustic' themed spread, you'll want a semi-soft to firm cheese that's mild yet distinctive in its flavor. This is especially true if you're going to be marinating the cheese, since an overly sharp or overly pungent cheese will simply overpower the marinade, while an overly firm cheese will be too dense to absorb any of the marinade.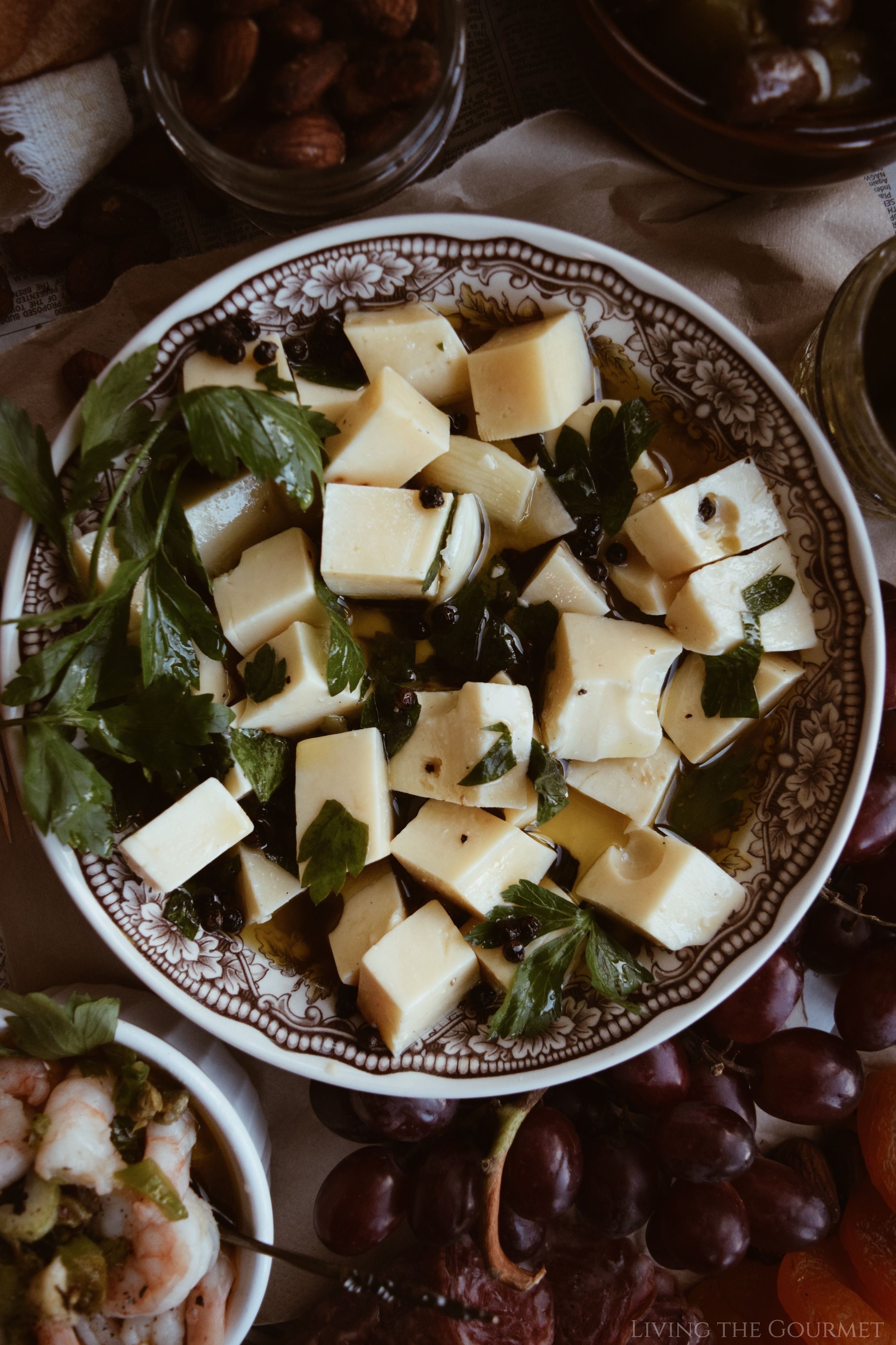 5) Jarlsberg Cheese. Jarslberg fits the bill for today's antipasto perfectly. It's a mild, semi-soft cheese made from cow's milk, and hast just a hint of sweetness with a mild lingering nuttiness, making it perfect for marinating. It's also great to slice up on its own, or for layering or melting on sandwiches, making it a wonderfully versatile cheese for everyday use. For more info, or to order some cheese for yourself, check them out over at www.jarlsberg.com.
6) The Add-Ons. I decided to pair the marinated cheese with a side of shrimp prepared in olive oil and fresh lemon juice with a variety of Mediteranean themed seasonings, and a bowl of roasted spiced almonds. However, the 'sides' to the centerpiece could be anything that you think helps build the larger, cohesive mosaic that you have in mind.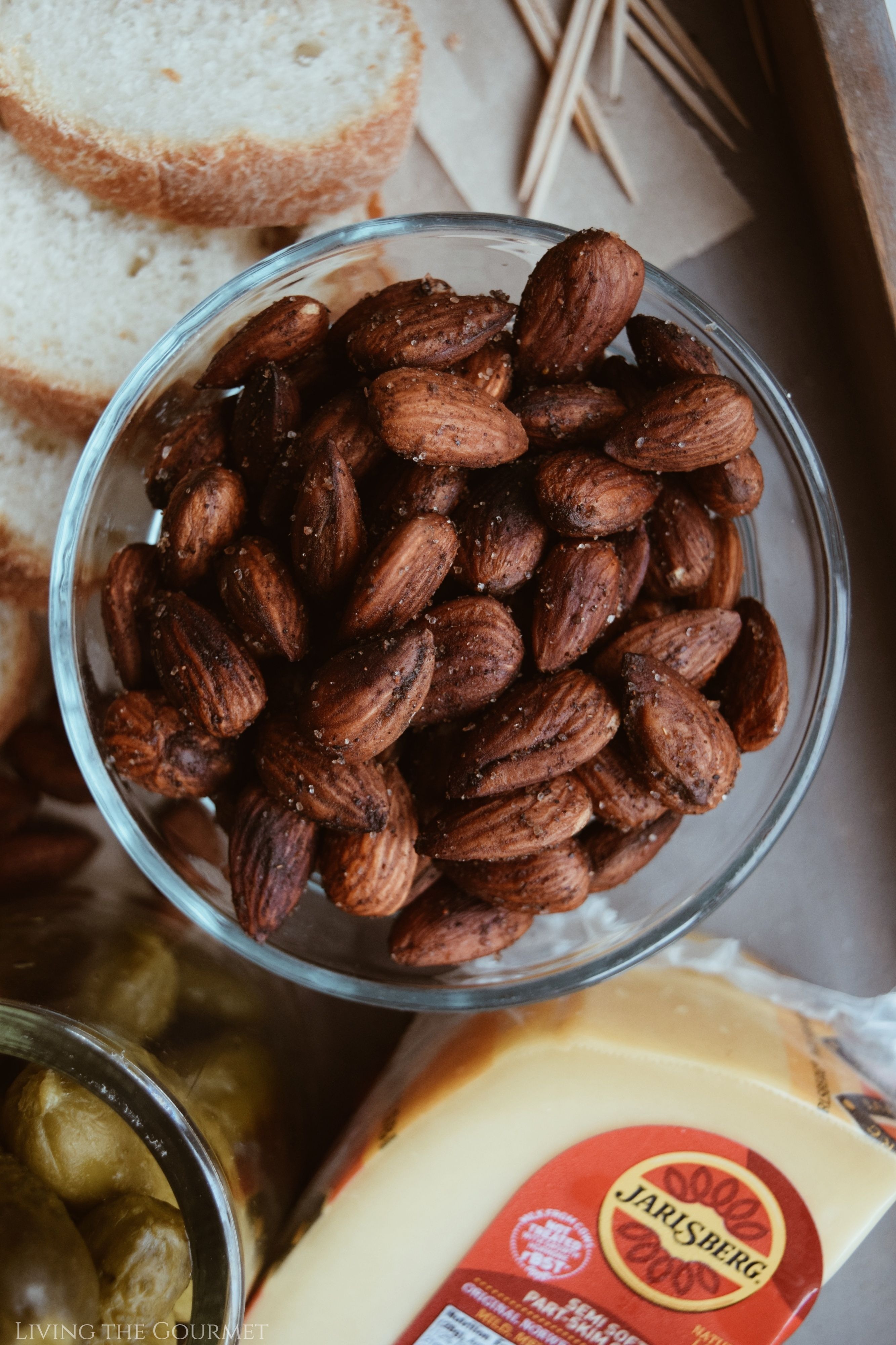 When to Serve Antipasto
1) Don't Wait. Don't wait for the party to start. The best tip I can give on serving antipasto is to have it set out and waiting for your guests before they arrive so that they can begin picking from the minute they say "Hello." Nothing sets the mood better than having your guests picking at their leisure from the moment they arrive.
2) Late Light Lunch. Inviting some friends or family over, and then making a light meal out of an antipasto is one of my favorite things to do, especially when I add in things like homemade individual pizzas. Not only does this make preparing for the get together super simple, but it never fails to set a festive tone for the party.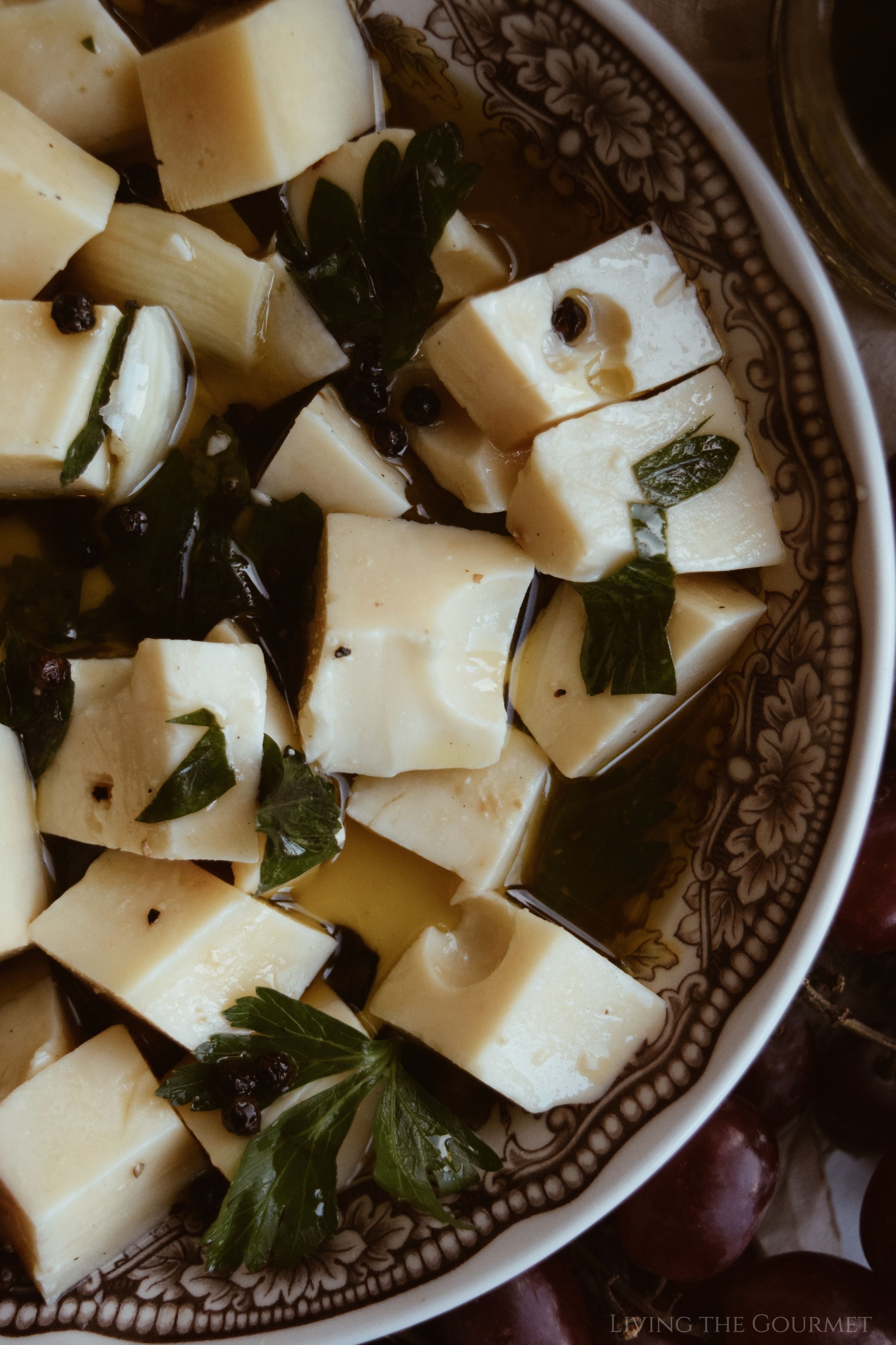 3) Tailored to the Meal. For today's antipasto, I would really suggest 'rustic' themed meals, such as a Beef Bourguignon, or a Mediterranean flavor palate, such as a Butter and Sage Pasta.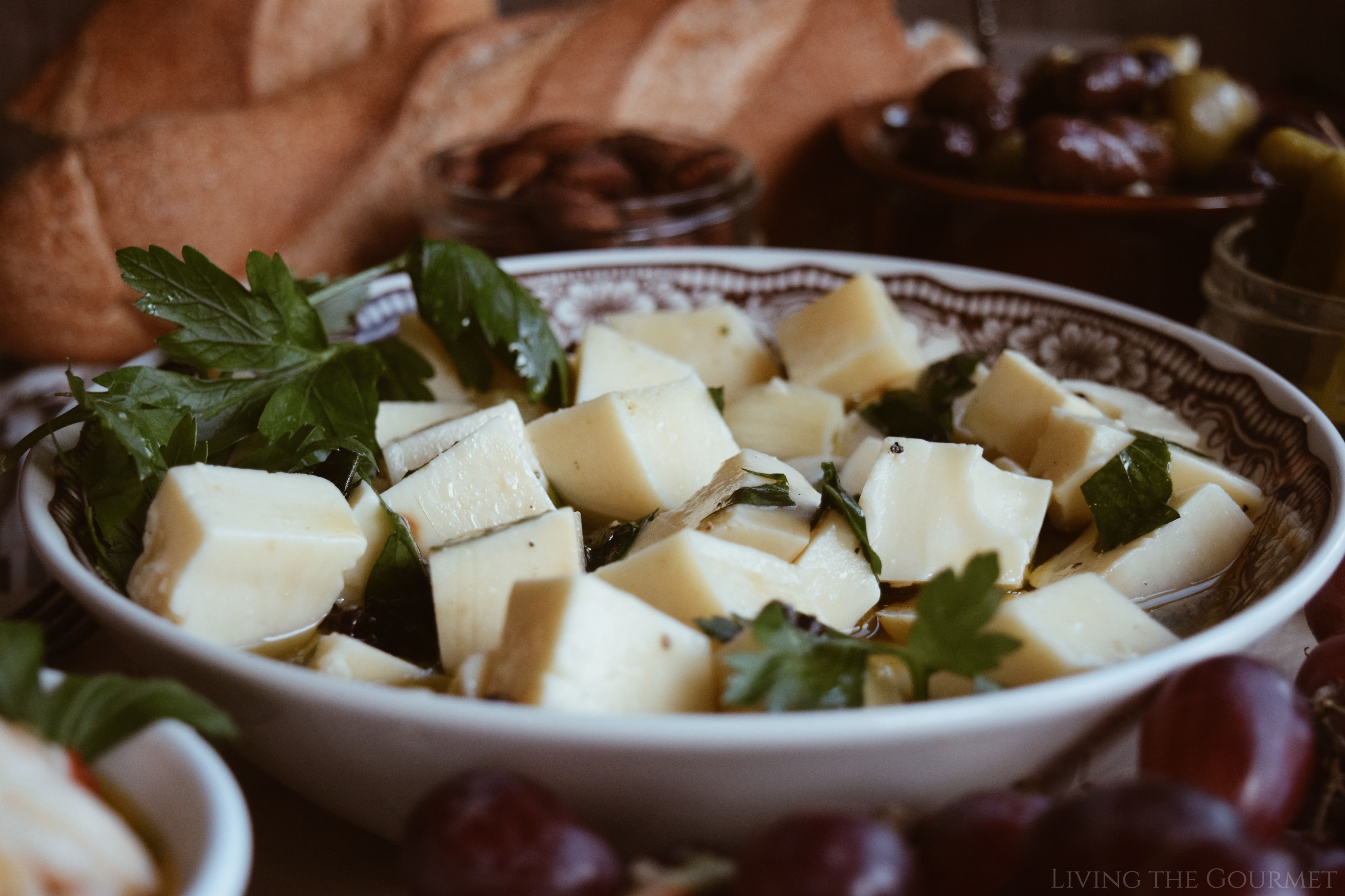 Print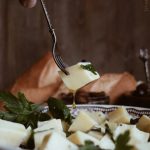 Marinated Jarlsberg Antipasto Board
---
Author:

Total Time:

25 minutes

Yield:

8

-

1

0

1

x
For the Shrimp:
1

lb

. shrimp - steamed

1

tbs. capers - plus a tbs. of caper juice

2

stalks celery - chopped fine

1/4

cup

of fresh Italian parsley - stems removed and chopped

4

-

5

green stems of scallion - sliced thin

1/4 tsp

. red pepper flakes

1 tsp

. fresh ground black pepper

1 tsp

. sea salt

6

tbs. olive oil
Juice of

1

lemon
For the Marinated Jarlsberg:
6

-

8

oz

. of Jarlsberg cheese - cut into cubes

6

-

7

tbs. olive oil

1

tbs. apple cider vinegar

1 1/2 tsp

. black peppercorns

1/2 tsp

. fresh ground black pepper

1/4 tsp

. sea salt

1

large cloves of fresh garlic - crushed
Handful of fresh Italian parsley - chopped
For the Spiced Almonds:
2

cups

blanched almonds

1 tablespoon

sea salt

1/2 teaspoon

cayenne pepper

2 tablespoons

butter, melted
For the Marinated Olives:
1/2

cup

green olives

1/2

cup

black olives

1/4

cup

olive oil

1/2 teaspoon

fennel seeds

1/2 teaspoon

ground corriander

1 teaspoon

ground rosemary

1 teaspoon

ground oregano

1/2 teaspoon

fresh ground black pepper

1/4 teaspoon

red pepper flakes

1/2 teaspoon

sea salt
---
Instructions
For the shrimp:
Place a sauce pot filled half-way with water and bring to a simmer. Place the frozen, cleaned shrimp in a colander to rest on the rim of the pot and cover. Steam the shrimp until they turn pink.
Remove from the pot and place the colander over a bowl to let the shrimp cool down while preparing the marinade.
Place the olive oil, seasonings, lemon juice, sliced scallion stems, chopped parsley, capers and caper juice and toss.
Add the shrimp to the bowl and toss. Taste for seasonings.
Refrigerate until ready to use.
For the Marinated Jarlsberg:
Place the cubed cheese in a bowl.
Combine the oil, vinegar, peppercorns, fresh ground black pepper, sea salt, and fresh Italian parsley in a bowl and stir, then pour over the cheese.
Cover and refrigerate until ready to use.
For the Spiced Almonds:
Coat almonds in melted butter then roast in a large cast iron pan for about 5 minutes or until golden.
Toss the toasted almonds in a large bowl with the salt and cayenne then serve.
The spiced nuts can be stored in an airtight container for up to 1 week.
For the Marinated Olives:
Drain, rinse, and dry olives.
Combine all the spices and herbs for the marinated olives in a bowl with the olive oil. Add the olives and toss to combine. Store in the refrigerator in an airtight container for up to 1 week.
Prep Time:

10 minutes

Cook Time:

15 minutes
Recipe Card powered by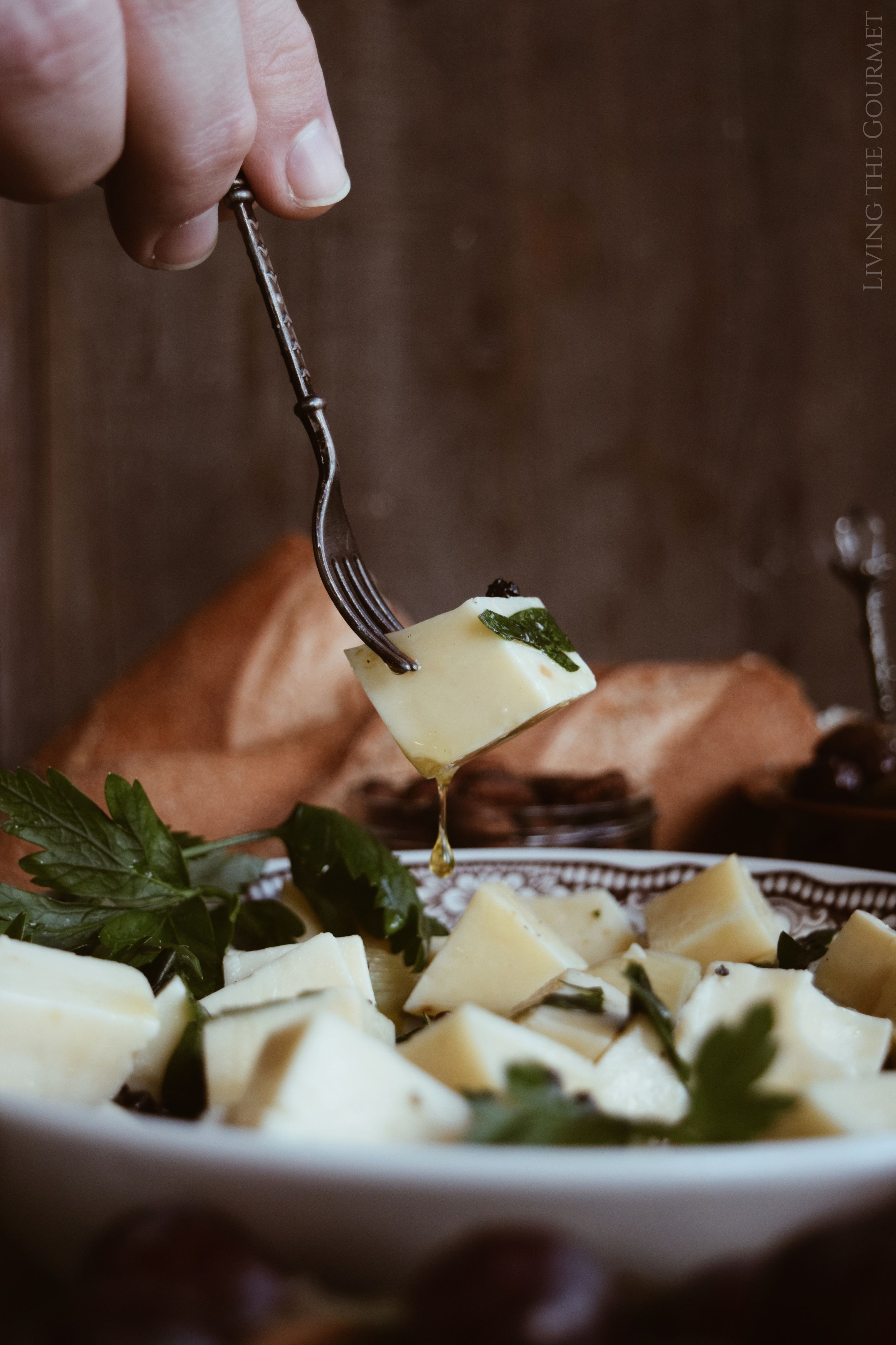 Did you make this recipe?
If so, let me know in the comments down below, or post a picture to Instagram, or to Pinterest, and I'll give you a shoutout on Instagram, or post your pin to one of my Pinterest boards!
0