This post has been sponsored by Five Continent Spices. All opinions expressed are my own.
Hearty and satisfying this seasonal Ratatouille will soon become a fall menu staple.
Today we're preparing one of the most quintessential 'rustic gourmet' recipes there is – ratatouille – and we're doing so with help from our friends over at Five Continent Spices, more on them later. This iconic French 'dip' is typically beloved as an appetizer centerpiece, since it pairs deliciously with a range of rustic flavors such as olives, herbed oil, sardines, crusty French or Italian bread, and various types of gremolata.
Blissfully simple to prepare, this is a dish that home chefs of all skill levels can enjoy – trust me.
Now, without further delay, let's get to it.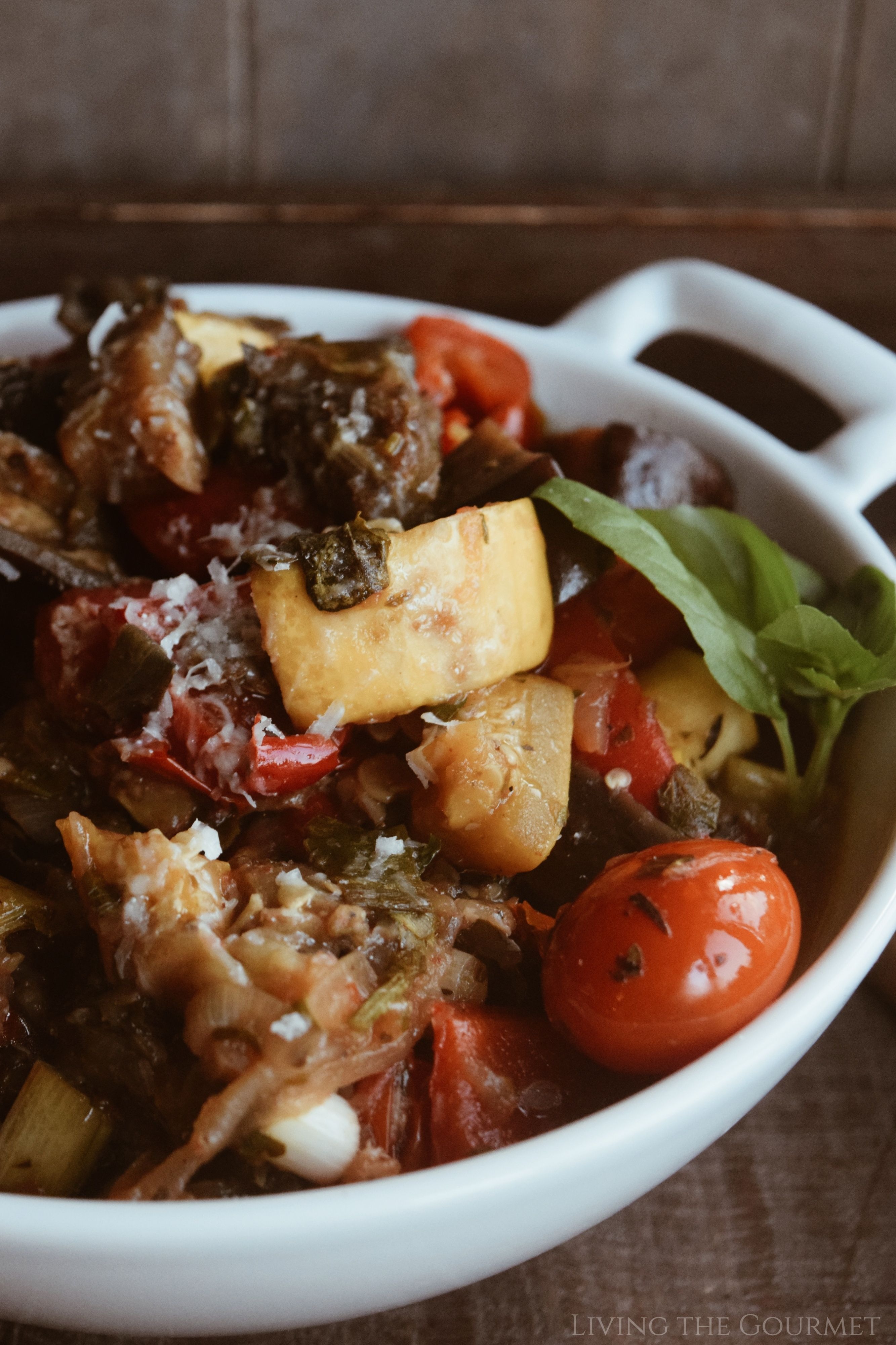 Why You'll Love Today's Ratatouille
1) Simple Gourmet. Ratatouille is one of those dishes that can look and sound intimidating to make. It's long list of ingredients and multi-step preparation process 'can' be intimidating at first glance. However, believe me when I say that this is a dish that home chefs of all skill levels can make. If you can sauté vegetables in oil, and aren't afraid to spend more than thirty or forty minutes in the kitchen, you can make ratatouille.
2) Freezer Friendly. Ratatouille can be safely frozen to eat later, and this is a good thing since ratatouille really only keeps 'nicely' for about four to five days in the fridge. To defrost, set in a cast iron pan with a bit of olive oil on medium-low to low heat for about twenty to twenty five minutes, and then remove the pan from the heat, and allow the ratatouille to continue defrosting on its own – probably about another hour. You don't want to keep it defrosting over the heat, since this will cause the defrosted portions of the ratatouille to overcook.
3) Reheat Friendly – Sort Of. Contrary to popular belief, ratatouille is perfectly reheat friendly if you prefer it warm. Simply cover the bottom of a cast iron pan or saucepan with olive oil (only olive oil will do, not corn or vegetable oil), and set the ratatouille in the pan over low heat for about ten to fifteen minutes, stirring gently on and off to make sure that the ratatouille is evenly heated, and that no portion of it overcooks. Do 'not' let it simmer or boil, since at that point the ratatouille has begun to overcook, and overcooked ratatouille is unpalatable mush.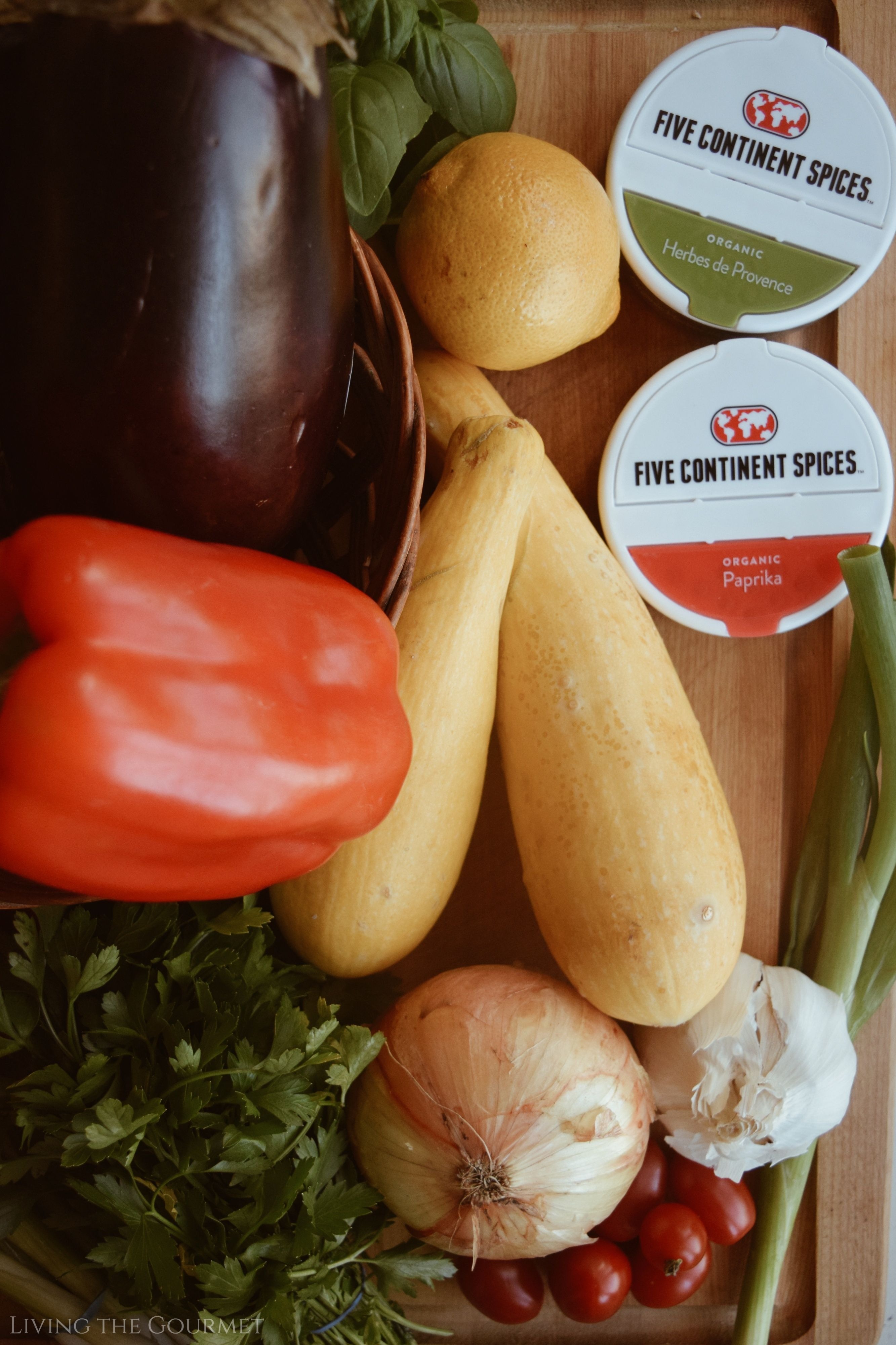 Ingredients – Tips, Notes, and Explanations
1) Fresh Lemon Juice vs Bottled. As a rule, fresher is better, and lemon juice is no exception. Beyond that, let's be real, slicing a lemon into squeezable halves or wedges is practically as easy as opening a bottle and measuring it out. Furthermore, bottled lemon juice simply isn't as flavorful, lacking the full 'zest' or 'brightness' of fresh lemon juice, since the juice begins breaking down chemically almost as soon as it leaves the lemon. Beyond that, the juice's flavor is often times further diluted with preservatives and additives – both of which are used as a precaution against the aforementioned chemical breakdown. As a result, if you want the full flavor and balance intended in today's recipe, use fresh lemon juice.
2) Five Continent Spices. If you want delicious spices that are certified organic and kosher, and that are ecologically produced and sustainably sourced, and that come in a super convenient, minimalist-style spice stand and containers, Five Continents Spices should be your go-to brand. These are quality spices for health-minded eating, that are good for the planet and good for you palate.
3) Five Continents Spice Herbes de Provance. The Herbs de Provance from Five Continents Spice is a mix of savory, thyme, rosemary, basil, tarragon, and lavender. Naturally, it is certified organic and kosher. For the curious, Herbs de Provance is a largely North American phenomenon meant to encapsulate the flavors and spices of South East France, and is used more or less as an all-purpose' spice mix for stews, grilled recipes, and roasts. For those looking to add a 'rustic' flare to their dishes, Herbes de Provance is a great all-purpose spice mix.
4) Five Continents Spice Paprika. The paprika from Five Continents Spice is traditional, unsmoked paprika, and is certified organic and kosher. Today's paprika is on the mild side, with just a hint of spice in the background. For the curious, paprika comes in numerous varieties, but not everyone actually agrees on what those varieties are. The most common way to divide Paprika boils down to "Sweet," "Hot" and "Smoked," and those labels are perfectly self-explanatory. However, others differentiate Paprika into "Basic/Traditional," "Hungarian," and "Spanish." Hungarian paprika is spicier than the others, and tends to be further subdivided according to a 'heat scale,' while Spanish paprika tends to be less intense, but has a deeper, smokier, more 'peppery' flavor, though this can vary somewhat by region, and "Basic/Traditional" paprika tends to be milder, which makes it more versatile in its uses, but can vary dramatically by region.
Uses For Ratatouille
1) Over Pasta. With zero modification to today's recipe, Ratatouille can go over pasta right from the pan to create a delicious eggplant based sauce.
2) Over Rice. Again, there are no modifications needed if you want to set today's recipe over your preferred rice, although I would suggest using wild long grain rice.
3) Appetizer Centerpiece. My favorite way to serve ratatouille is as the centerpiece of a 'proper' antipasto spread, including a charcuterie board. Think sliced hard cheese, cured meats, Sicilian and Kalamata olives, loaves of crusty Italian and French bread, sardines in oil, and herb infused warmed olive oil.
4) On Italian or French Bread. Think of this as a 'Mediterranean Sandwich.' Simply slice a nice portion of Italian or French bread as if you making a sandwich, spoon a hardy portion of today's ratatouille onto the bread, top with some grating cheese, and enjoy.
5) With Flatbreads. Served 'taco' or 'pita pocket' style with your choice of toppings including grilled spicy peppers, melted cheese, fresh greens, sardines or anchovies, and you've got a delicious light meal.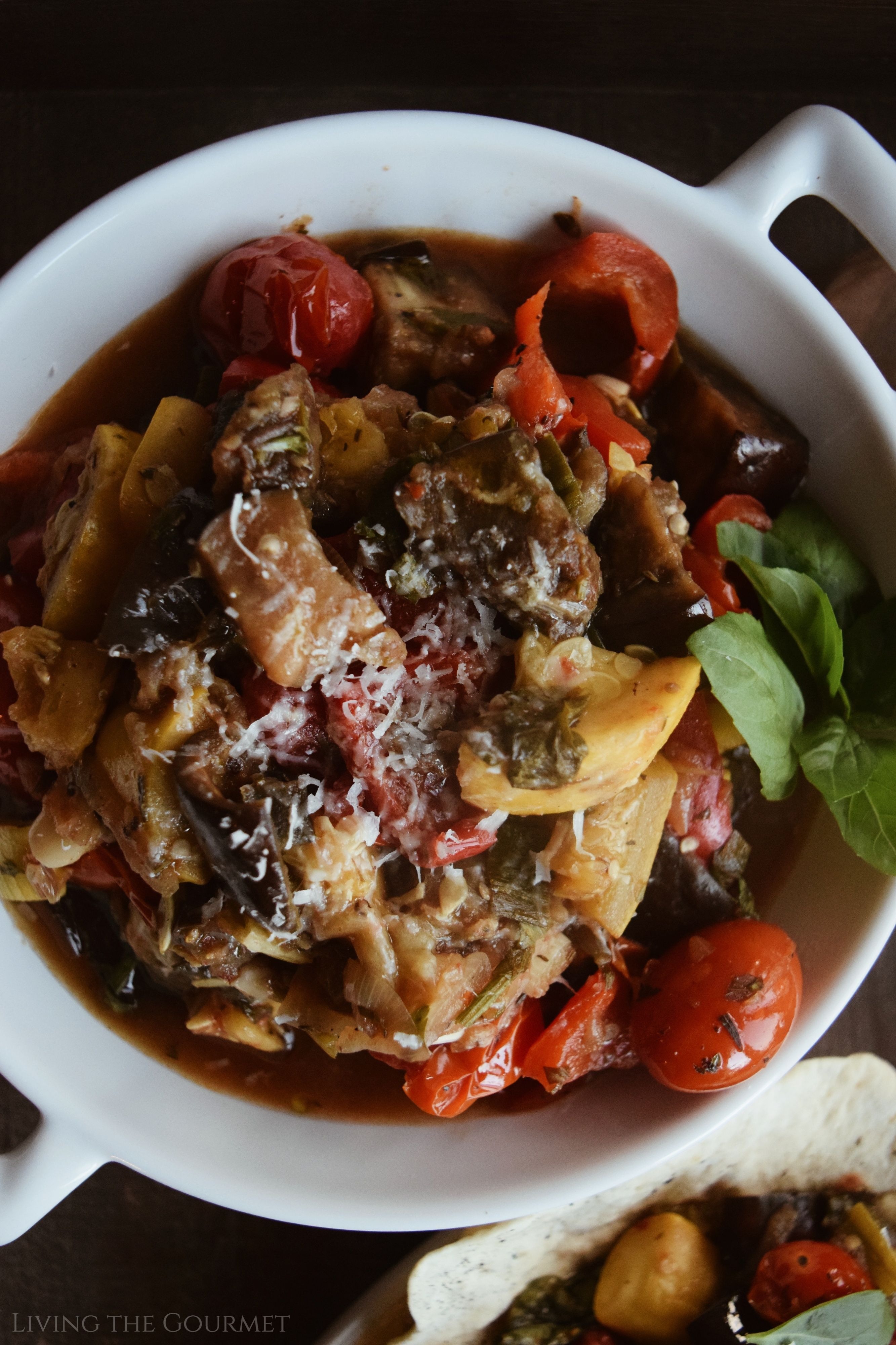 Other Great 'Rustic' Recipes From Living the Gourmet
1) Caponata. More or less the Italian version of ratatouille, I wholeheartedly recommend you try out my Caponata recipe if you liked what you saw here today.
2) Charcuterie Board. The perfect pairing for today's ratatouille is a beautiful charcuterie board.
3) Antipasto. Ratatouille and antipasto is a match made in heaven. For my tips on making the perfect antipasto board.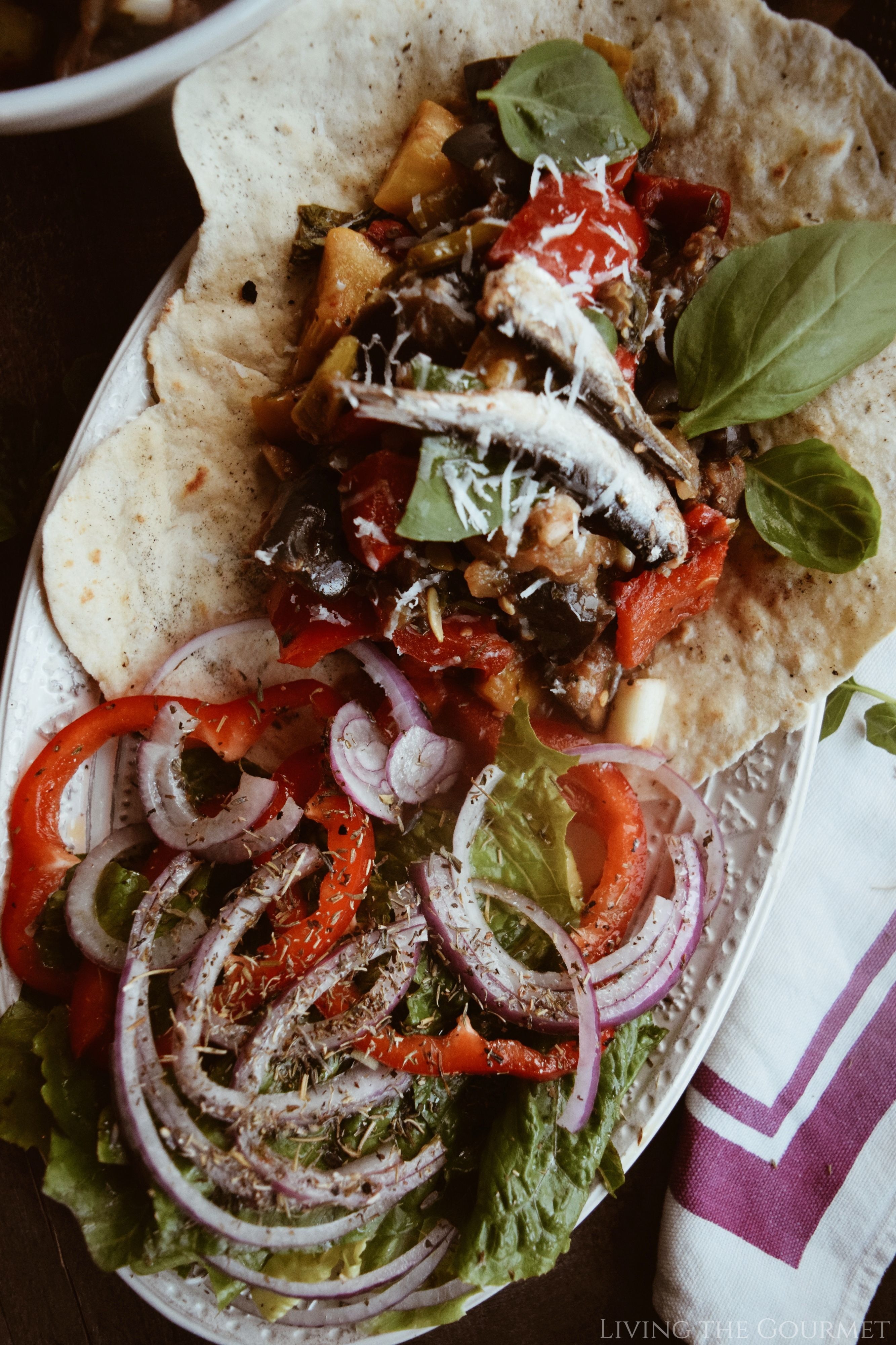 Print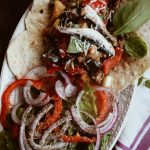 Ratatouille
---
Author:

Total Time:

1 hour

Yield:

4

-6

1

x
2

eggplants - unpeeled and cut into cubes

4

-

5

garlic cloves - chopped

2

yellow squash - unpeeled and cut into cubes

1

large sweet onion - sliced

2

red bell peppers - cut one-inch pieces

1

pint

of grape tomatoes

1/4

cup

of Italian parsley - roughly chopped - large stems removed

10

-

12

fresh basil leaves - roughly chopped

1

bunch of fresh scallions - cut into

one

inch pieces

1

tbs. lemon juice

3

tbs. olive oil

1 1/2 tsp

. sea salt

1 tsp

. fresh ground black pepper

1/4 tsp

. red pepper flakes

1 1/2 tsp

. Five Continents Spices Herb de Provance

1 tsp

. Five Continents Spices Paprika
---
Instructions
Heat a large cast iron frying pan with 2 tbs. olive oil.
Add the sliced onions and sauté until tender. Dust with a teaspoon of the paprika while sautéing.
Add eggplants and garlic and sprinkle with the Herb de Provance and sauté for five minutes or so.
Add the yellow squash, bell peppers and scallions continue to sauté.
In a separate cast iron frying pan add the cherry tomatoes to a dry pan and sprinkle with sea salt. Cook until the tomatoes are soft and slightly charred, gently crush then add to the veggies.
Add the fresh ground black pepper, sea salt and red pepper flakes to the vegetables and continue to sauté over a gentle heat, tossing occasionally. Do Not Boil!!
Cover for about 30 - 35 minutes, cooking on a gentle heat, add in the fresh basil, lemon juice, parsley and toss.
Uncover, turn off heat and toss. Taste for seasoning of salt and pepper.
Lift with a slotted spoon to let drain when placing in the serving bowl.
Drizzle with olive oil before serving.
Notes
Serving Suggestions:
Serve with fresh flat bread
Fresh Italian bread or French bread
Canned sardines in olive oil
Fresh grated Romano or Parmesan cheese
Fresh salad greens with sliced red onions and bell peppers
** Even better served the following day!
Prep Time:

15 minutes

Cook Time:

45 minutes
Recipe Card powered by
If You Enjoyed Today's Recipe…
Be sure to follow us on Instagram to stay up to date with all things Living the Gourmet, and for more great recipes, tips and tricks.
Did you make this recipe?
If so, let me know in the comments down below, or post a picture to Instagram, or to Pinterest, and I'll give you a shoutout on Instagram, or post your pin to one of my Pinterest boards!
Enjoy with Love!
0