Today we're putting together a simple bean dip that's equally at home as the centerpiece for dinner party appetizers as it is relaxing on the couch with a bag of tortilla chips. The best, it takes less than five minutes to make (I'm serious) and uses less than ten ingredients.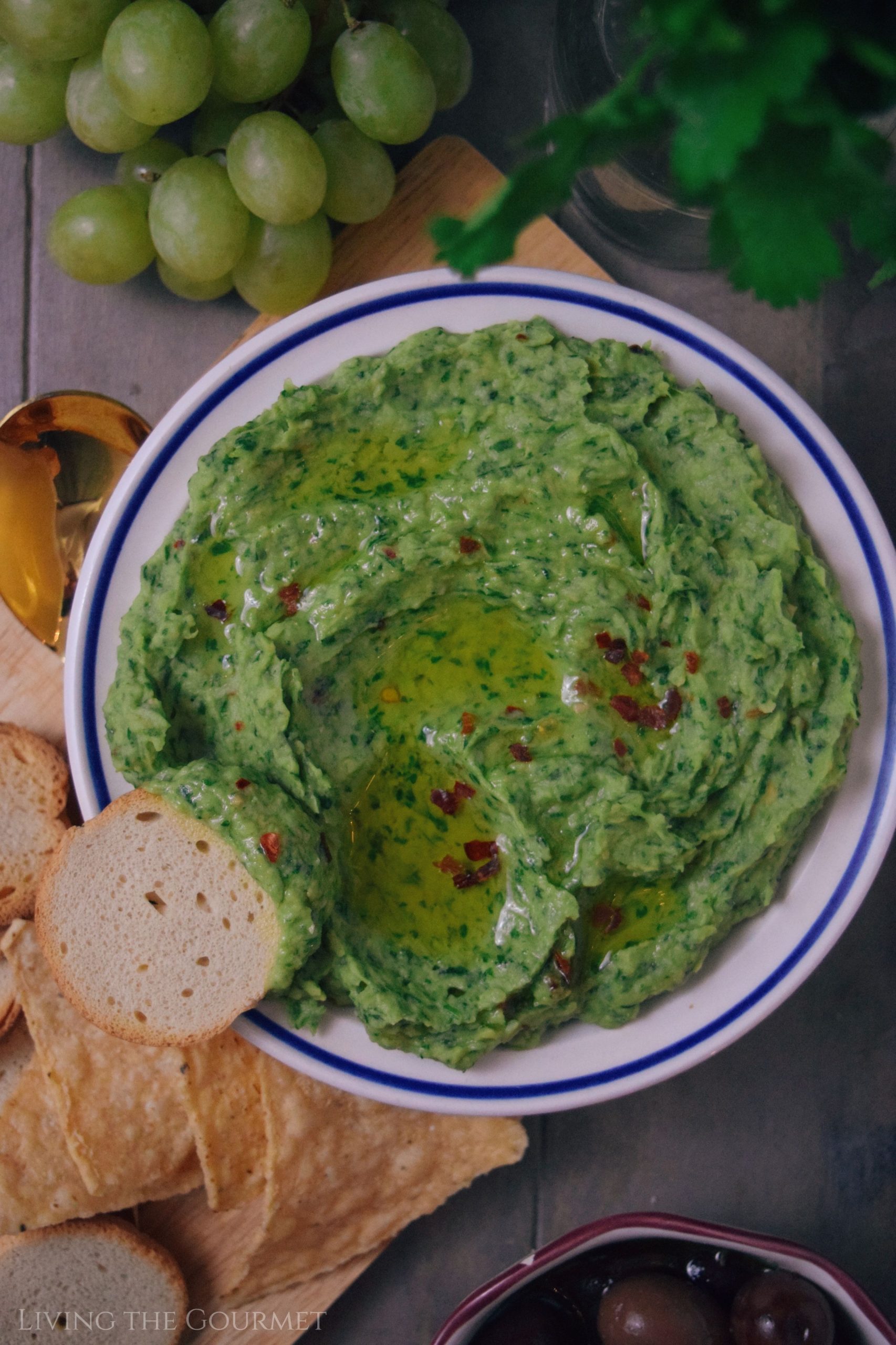 Why You'll Love Today's Dip
1) Just Six Ingredients. Today's dip uses just six readily available ingredients. No searching for exotic items, or learning how to use produce you're unfamiliar with. Just cilantro, cannellini beans, red pepper flakes, olive oil, garlic, and sea salt. That's it.
2) No cooking. We're using all of today's ingredients 'as is,' no dry roasting on the stove, no turning the oven on. Just chop, combine in the food processor, process, and serve.
3) Less than Five Minutes. I'm not kidding when I say today's dip can be whipped up in literally five minutes.
4) It keeps. Today's dip can keep in the fridge for three to four days. Just bear in mind that you might need to drizzle a little olive oil on it and stir to 're-smooth' it, since it tends to 'settle' if it's been left in the fridge for more than twelve hours.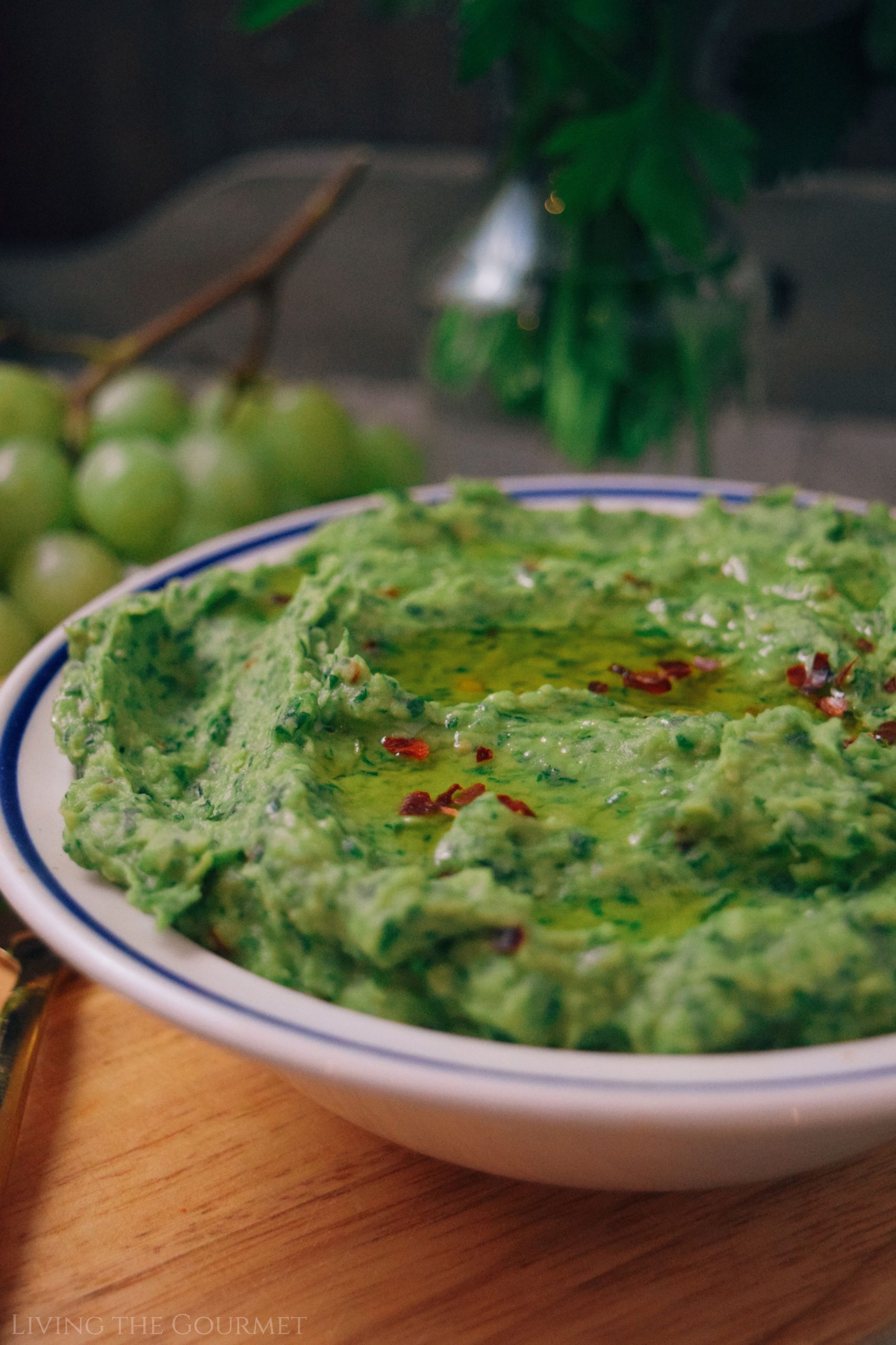 Ingredient Notes and Tips
1) Cilantro rather than parsley. Typically, as a rule of thumb, parsley, being 'brighter' and 'fresher' tasting is used in light recipes, where the 'freshness' of the parsley can really shine through. This also means that parsley is typically the herb of choice when the recipe is being eaten 'raw,' such as in salads or light dips. Today, however, we're opting for cilantro, and this is for a couple of reasons. First, we have a duo of 'fatty' ingredients that will be comprising a large percentage of the recipe's total mass – the beans and the olive oil. Cilantro simply holds up better in those types of recipes. Second, we're using quite a bit of garlic relative to the total mass of the dip, and garlic and cilantro simply 'meld' better, especially when being eaten raw, where the herbal qualities of both ingredients are allowed to complement one another. Finally, today's dip has a bit of 'heat' from the red pepper, and here again this pairs better with the herbal and earthy qualities of the cilantro as opposed to the 'crisp freshness' of parsley.
2) Olive Oil. First and foremost, you'll want to use a good quality olive oil, since a fair bit of the 'olive oil flavor' is going to shine through. As such, you'll want to stick with olive oil rather than vegetable or corn oil. Second, the olive oil is what makes today's dip 'creamy' and 'moist.' As such, for a coarser dip, add less, for a creamier dip, add more.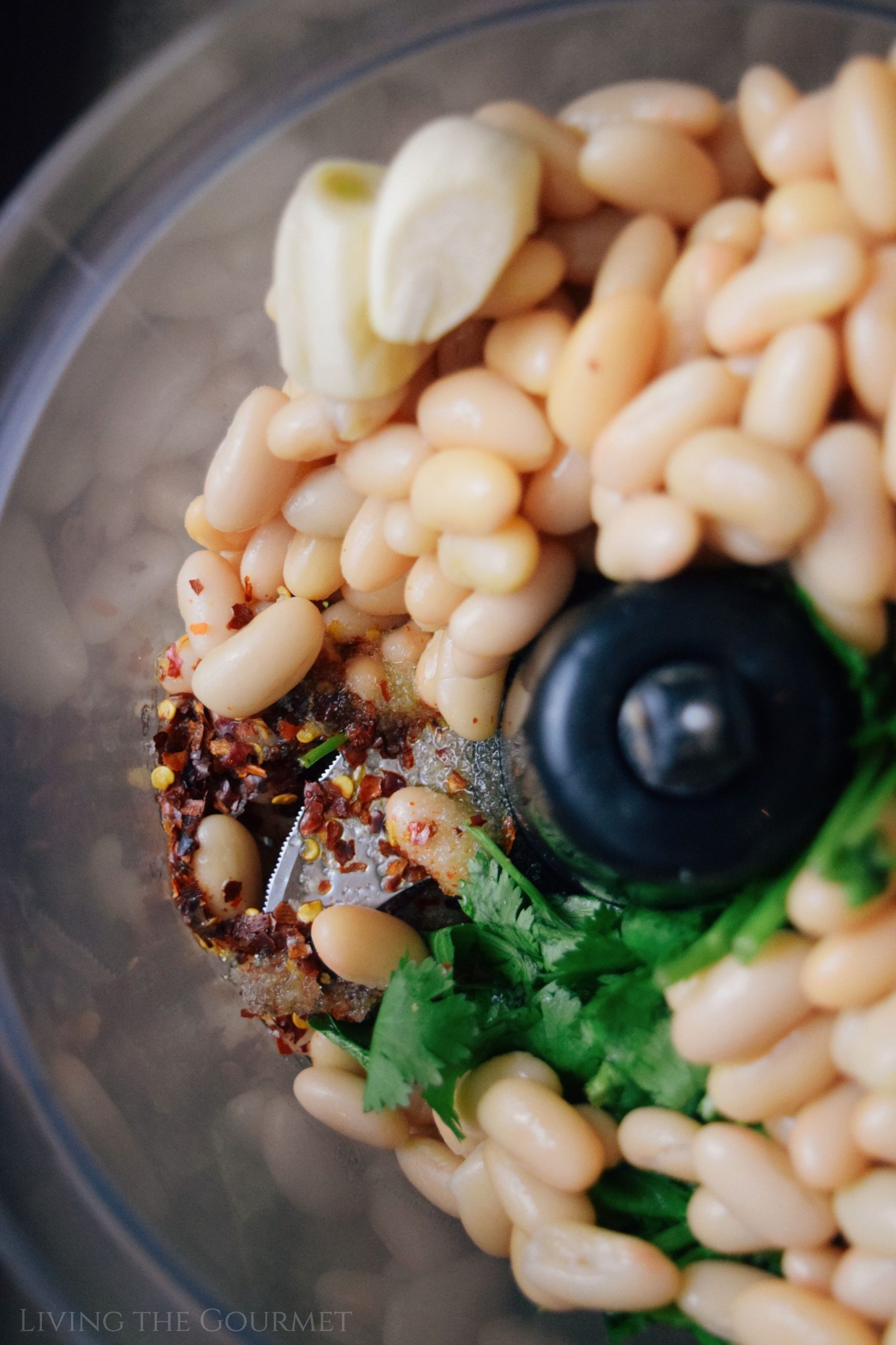 3) Sea Salt. We're using sea salt solely because of the 'minerality' of its flavor. We want this because it melds beautifully with the pungent herbal qualities of the raw garlic and cilantro. Sea salt also adds a bit of 'grindy' texture, which works to add a layer of complexity to the dip's overall feel.
4) Cannellini Beans vs Navy Beans vs Butter Beans. The truth is these three beans are often used interchangeably. However, there are subtle difference that make one or the other better suited to certain recipes than its counterparts. Today we're using Cannellini beans since they are the largest and 'meatiest' of the 'white bean' group. They have a nutty, earthy flavor, and a very tender flesh, making them excellent for chili, minestrone, and dips. By contrast, Butter Beans are much starchier and somewhat smaller, and are popular in soups in stews. These qualities, however, makes them less desirable when you prefer a 'hardier' texture, or where you want the beans to stand on their own – as in today's dip. Finally. Navy Beans are small and pea-like, and have a low cooking point – basically meaning that they become softer faster – and are typically used as a thickening agent for soups and stews. They are also relatively flavor neutral. Naturally, these qualities make them ideal for cooking, but less so for processing into a dip.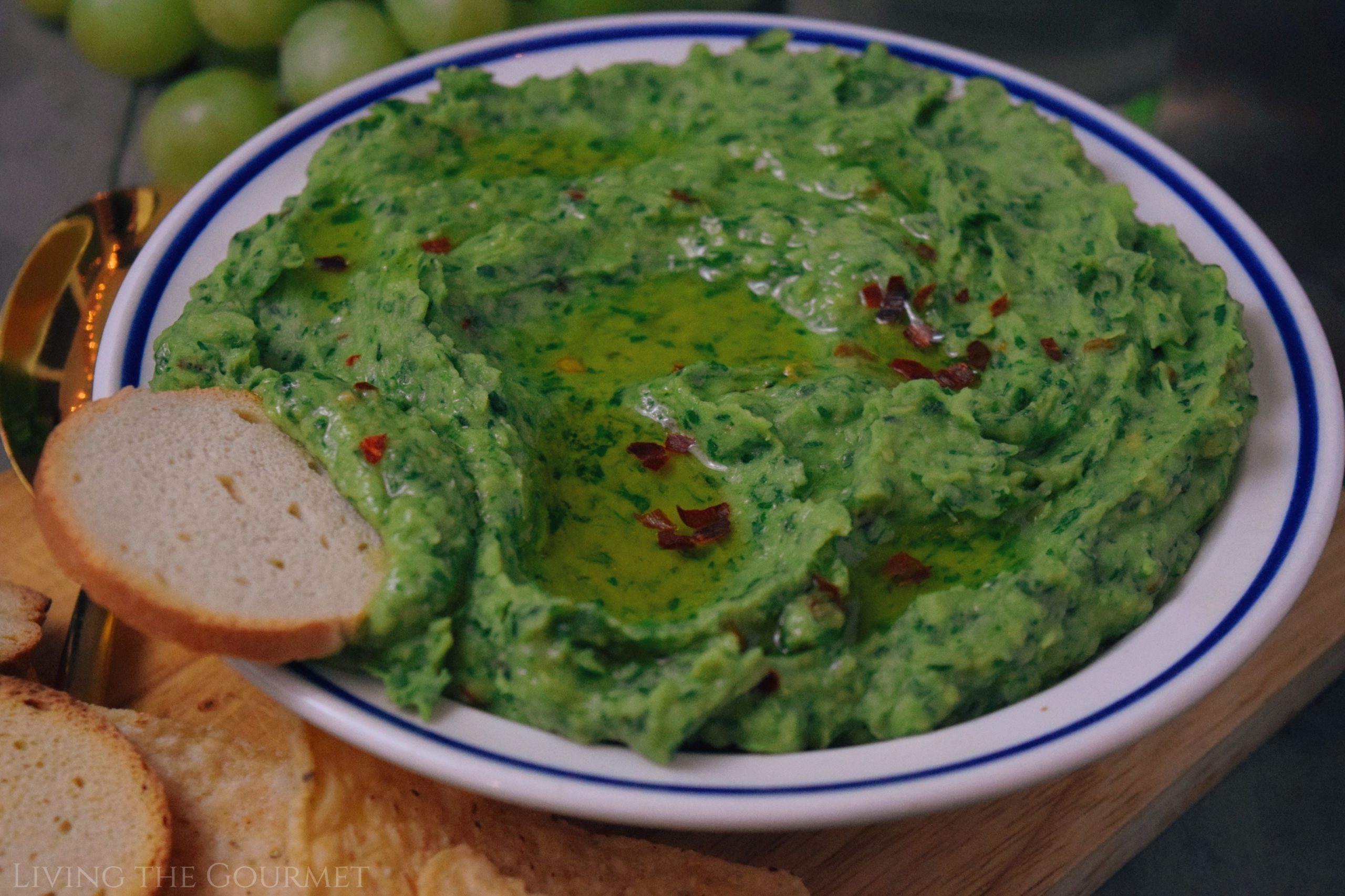 What to Serve with Today's Dip – Beyond Chips
1) Flatbreads. My personal favorite pairing for this dip, and similar dips. Flatbreads are relatively easy and quick to make, and never fail to impress the guests on their own accord. That said, they are also super intuitive to 'dress up' with things like today's dips, infused olive oil, or the various 'items' typical of antipasto boards such as cheeses, fish, olives, and cured meats – more on that below.
2) As Part of a Starter Board. Think marinated olives, soft bodied cheeses, marinated cheeses, gremolata, canned fish, cured meats, and warmed brie. Think of antipasto boards like this one here, or my Greek starter spread, or my charcuterie board. Simply pair today's dip alongside an antipasto board, with some crusty bread, crostini, or flatbreads, and you've got a party.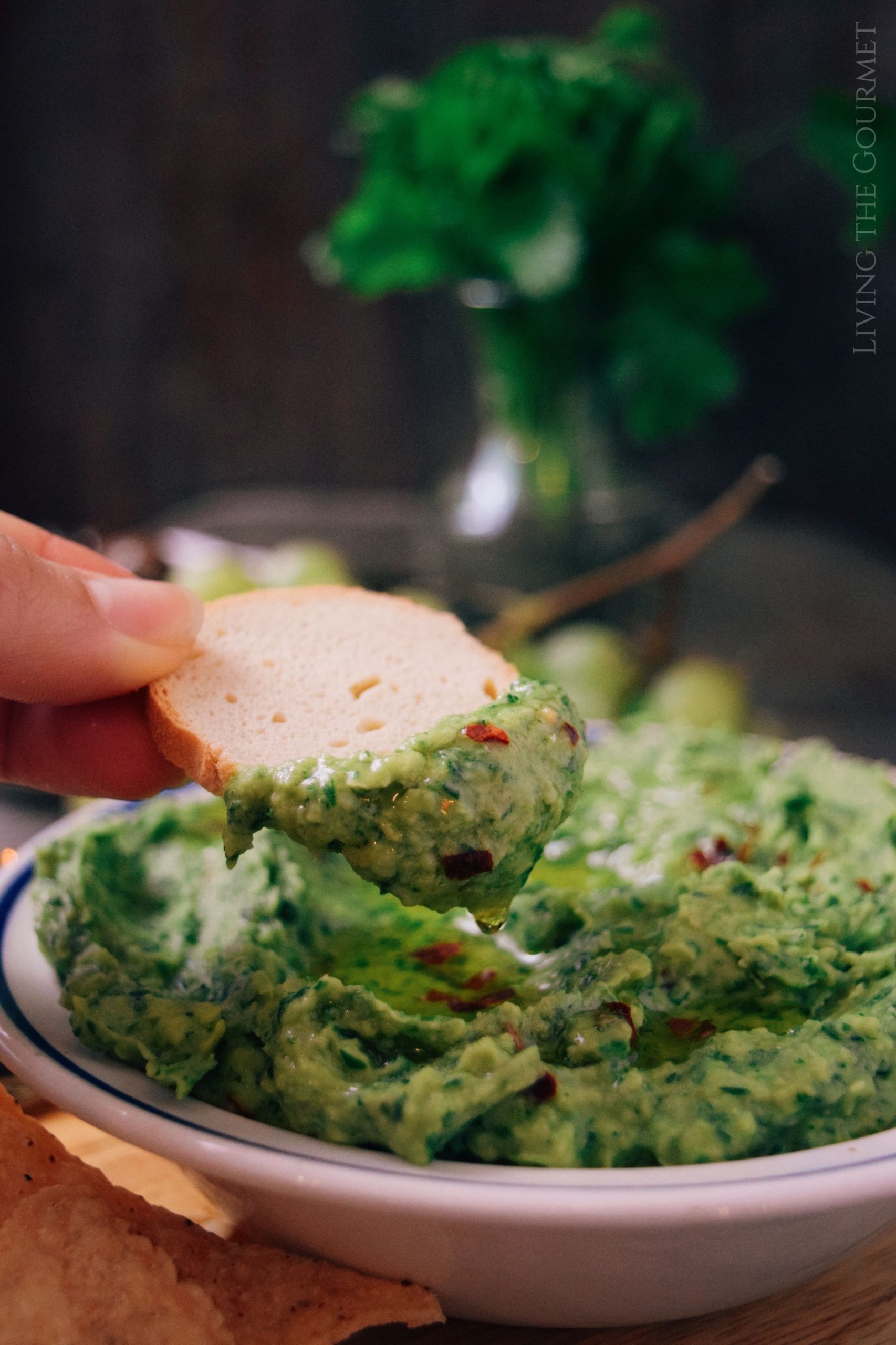 3) Crostini. Topped on plain crostini, with a dusting of grating cheese, a drizzle of olive oil, and you're good to go. For a quick recipe on preparing crostini, see the recipe my Goat Cheese Pignoli Crostini.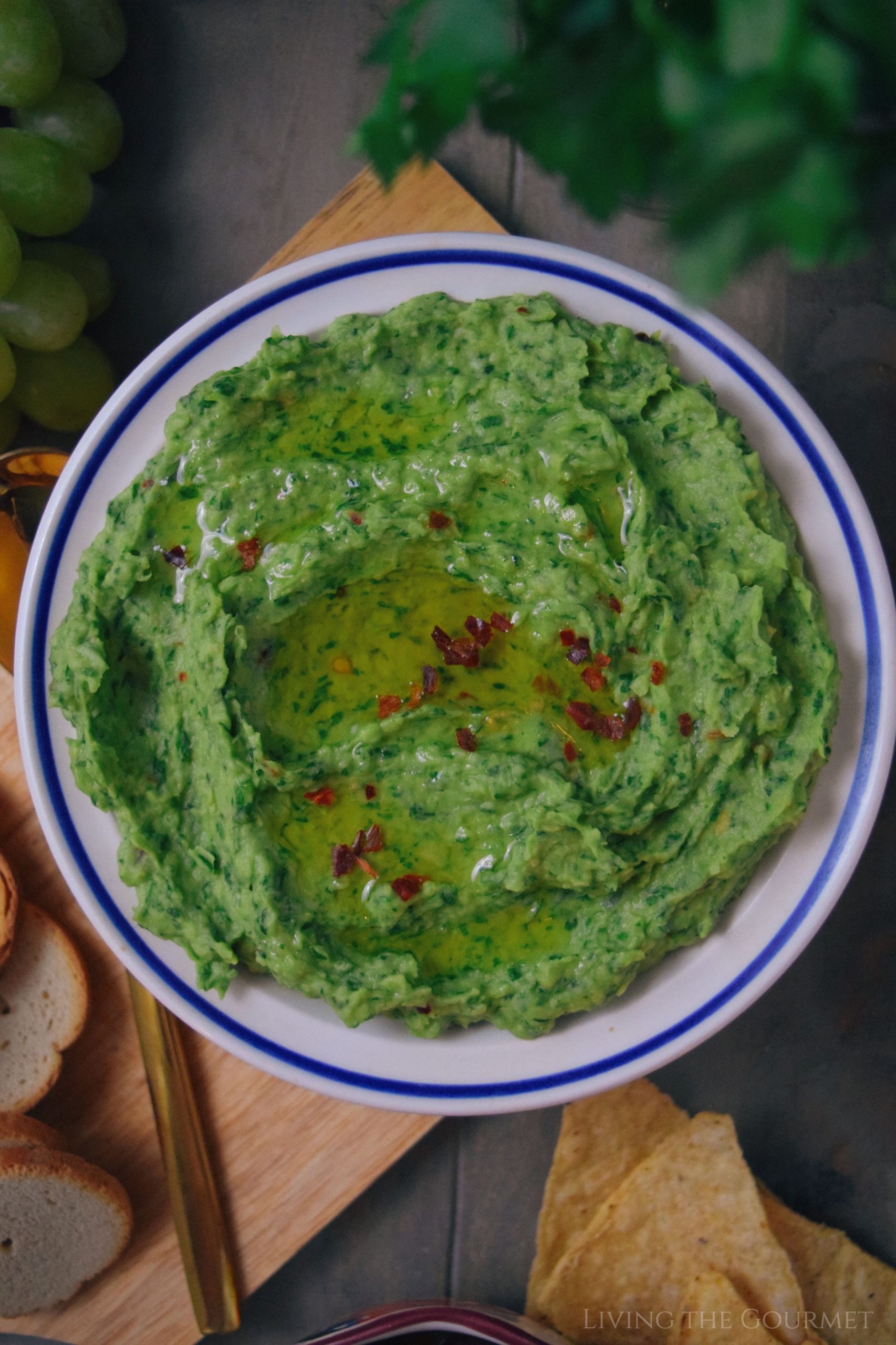 Other Great Dips from Living the Gourmet
1) Cherry Tomato Salsa. A rustic mix of cherry tomatoes, grilled garlic, red pepper, and romano cheese combine to create a warming yet 'fresh' tasting salsa. Trust me when I say this is the perfect accompaniment to any charcuterie board.
2) Artichoke Hearts and Olives. Olives, artichoke hearts, sundried and tomatoes, form the base for this zesty yet earthy dip creates a dip that simply screams "Old World Mediterranean" like few others.
3) Aguachili. If you've never tried aguachili, you're missing out. Similar in appearance and taste to a Sicilian gremolata, aguachili is a spicy mix of garlic, roasted chili peppers, and lime set in a base of tomatillos and cilantro, to create a moist, smooth dip that you'll simply fall in love with.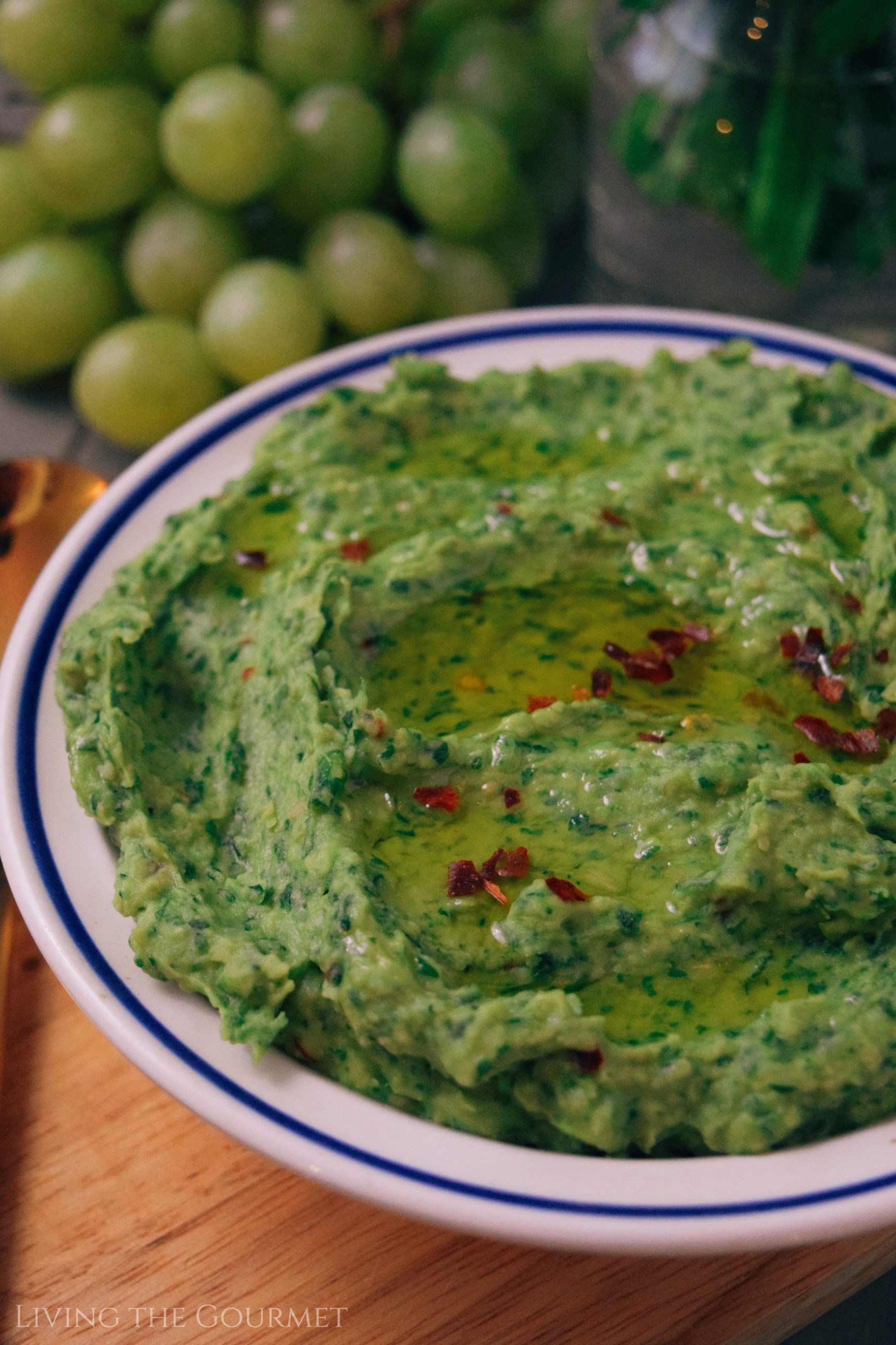 Living the Gourmet
Cilantro & Cannellini Bean Dip
12 minPrep Time
12 minTotal Time
4.9 based on 11 review(s)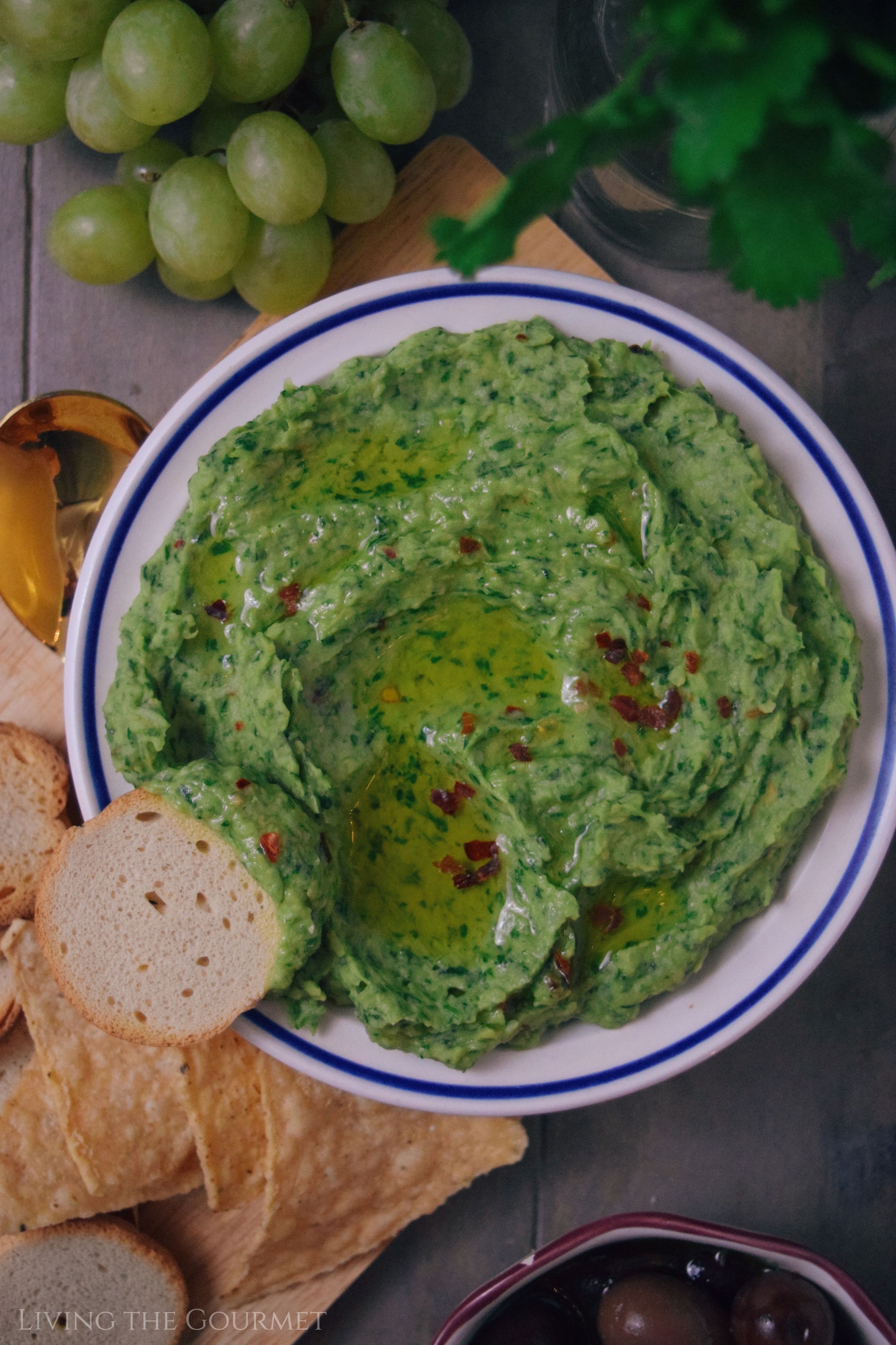 Ingredients
1 large fresh bunch of cilantro
3 cups cannellini beans, rinsed and drained - (I like the Goya brand )
1½ tsps. red pepper flakes
½ - ¾ cup of olive oil – add a drizzle at a time of the last ¼ cup to reach desired creaminess.
4 – 5 cloves garlic
1 ½ tsps. sea salt
Instructions
Combine all of the ingredients in a food processor and process to desired creaminess.
Serve with your favorite crackers, veggies or flat bread.
7.8.1.2
1397
https://livingthegourmet.com/2020/01/cilantro-cannellini-bean-dip.html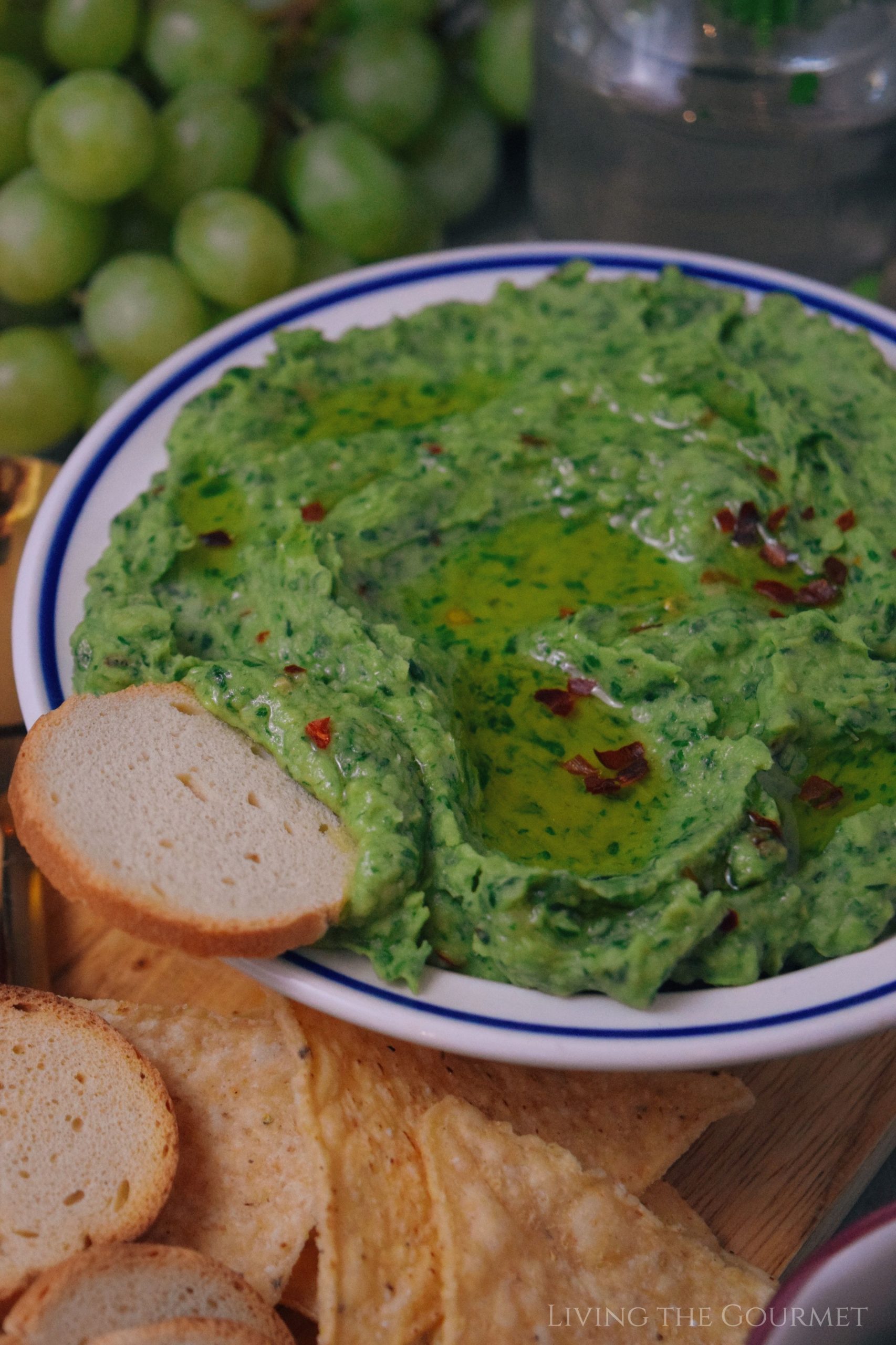 If You Enjoyed Today's Recipe…
Be sure to follow us on Instagram to stay up to date with all things Living the Gourmet, and for more great recipes, tips and tricks.
Did you make this recipe?
If so, let me know in the comments down below, or post a picture to Instagram, or to Pinterest, and I'll give you a shoutout on Instagram, or post your pin to one of my Pinterest boards!
1