Today we're making "Greek Tacos." Or really, I should say "What tacos might taste like had they originated in Greece," or "Tacos if they were made primarily with 'Greek' ingredients." Regardless of specifics, or what we should actually be calling today's recipe, just bear with me, because I promise that by the end of this post you won't care what we're calling these, because they're absolutely delicious.
Now, with that oddly indecisive introduction out of the way, let's dive right in, because we've got a lot to cover.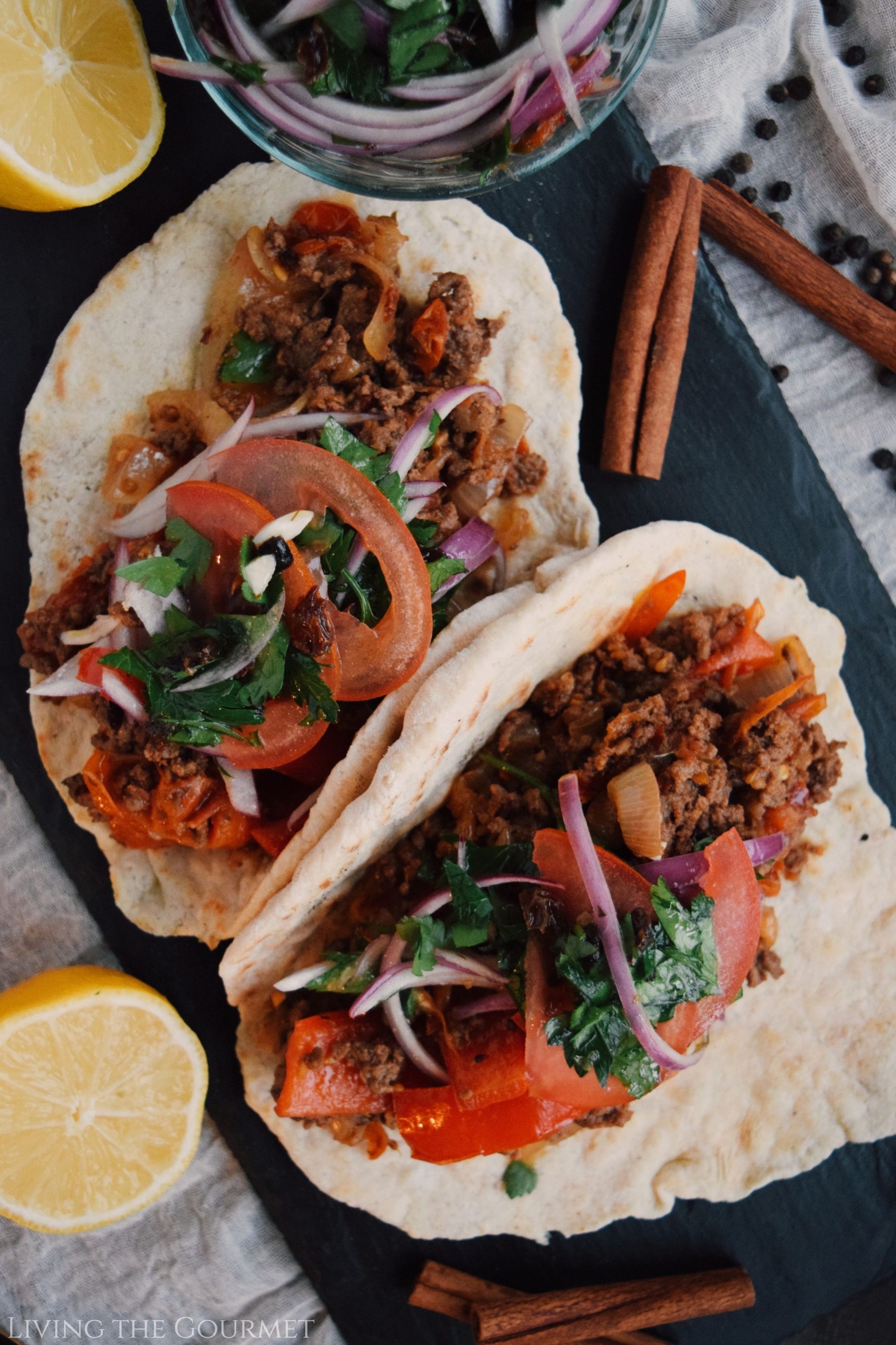 What is a taco, really? And can it be 'Greek?'
1) Primarily, a taco is its 'shell.' Speaking solely from my North American perspective, a 'taco' is defined by its 'shell' – the tortilla. We're all familiar with the tortilla, it's ubiquitous, but it 'can' vary quite a lot by region. Generally speaking, tortilla 'wraps' are made with a modest amount of leavening, typically baking powder, but never 'without' leavening. Tortillas are 'not' classed as unleavened bread, contrary to popular belief. Also, it may surprise 'some' of you, but tortillas are 'not' universally thin and flat. Take for example the 'chenga' tortillas of El Salvador, which better resemble hefty 'pitas' than what most people think of when they imagine tortillas. As to corn or flour…both. Contrary to popular American belief, tortillas 'can' indeed be flour based 'and' be 'traditional' – it just depends on 'where' you're talking about. While wheat was not grown by the Mesoamericans prior to the arrival of the Spanish, flour would later become an increasingly common base for tortillas, and even the 'most common' base in certain areas – in particular in Northern Mexico, and in Honduras where they are used to prepare 'baleadas.' Regardless, whether flour or corn, flat or fluffy, it is the 'shell' or 'wrap' that makes a taco, because…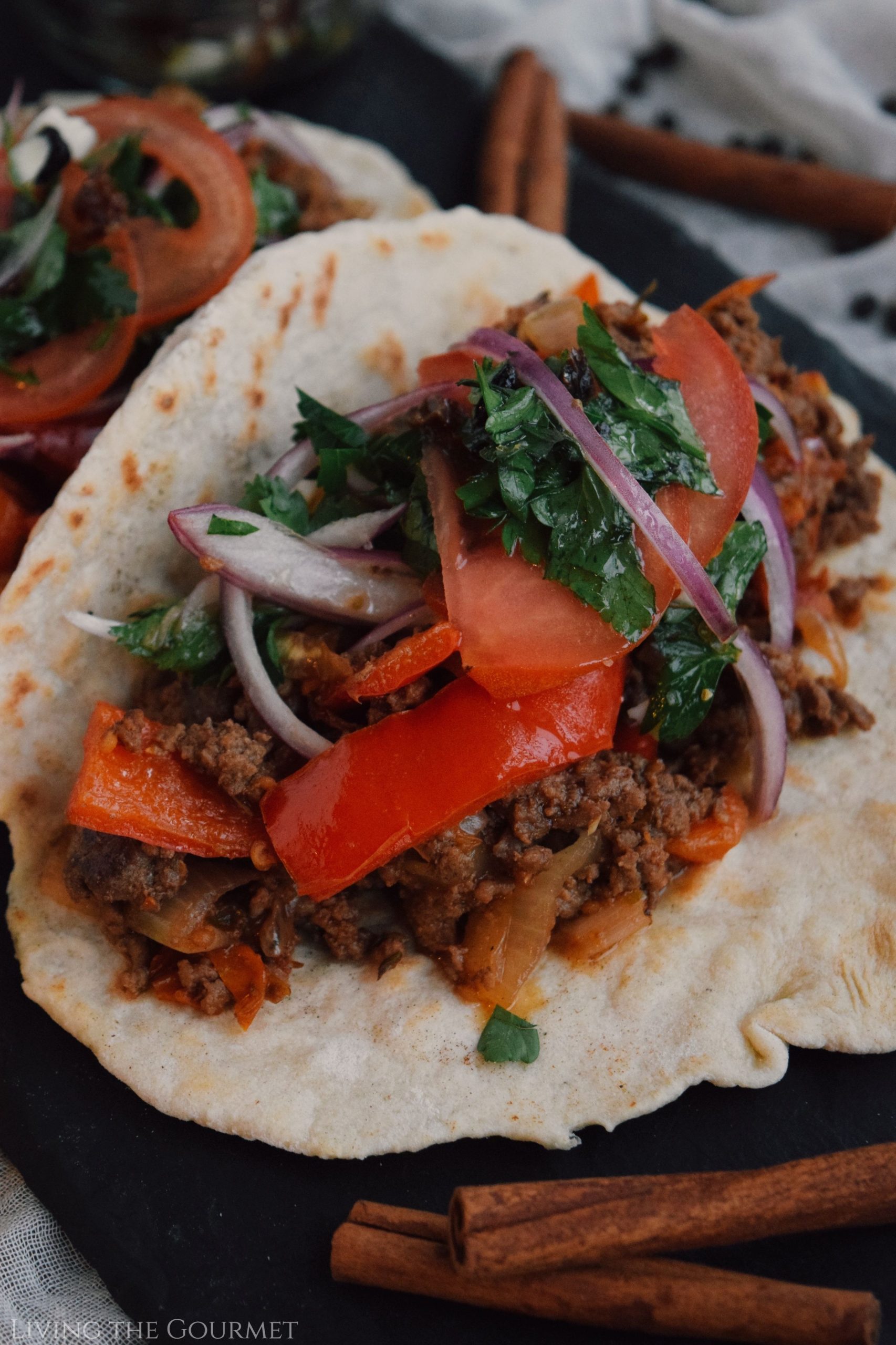 2) These days, the filling is anything you can imagine. Is there a right way to fill a taco? Probably not. Is there a 'traditional' way? Maybe? According to some a taco's filling 'can' be rigidly defined by region, but if we're speaking realistically, when it comes to the 'right way' to fill a taco, your guess is as good as mine. Chili and veggies, stewed meat and cheese, steak strips, pork, fish, veggies, or even creamy pasta (yes, that's a thing now), even lasagna-filled tacos have had their turn in the spotlight (it's exactly what it sounds like, and by God it's on my 'someday list'). This modern 'anything goes' view of taco fillings is doubly true Northern Mexico and the United States. With that in mind, it must therefore be true that…
3) Greek fillings make a 'Greek' taco. This brings us to today's 'Greek Taco.' Now, a 'Greek Taco' is usually represented as gryo-style lamb strips wrapped in a flour tortilla with what amounts to a Greek salad layered on top – think diced cucumber, sliced tomato, lettuce, and pitted olives, and then lathered in either tzatziki or Greek dressing. However, to my quarter-Hellenic mind…honestly, that just sounds a bit too much like a gryo to warrant calling it a 'taco.' Instead, today I decided on starting with a Greek red sauce, which isn't all that different from an Italian marinara, just with the addition of copious amounts of cinnamon and some added sweetness, I then added in ground beef, and paired that with a 'Greek' inspired topping of fresh lemon juice, honey, parsley, onions, and raisins, and then folded all of that into a homemade flour tortilla. To me, that's a 'Greek Taco.'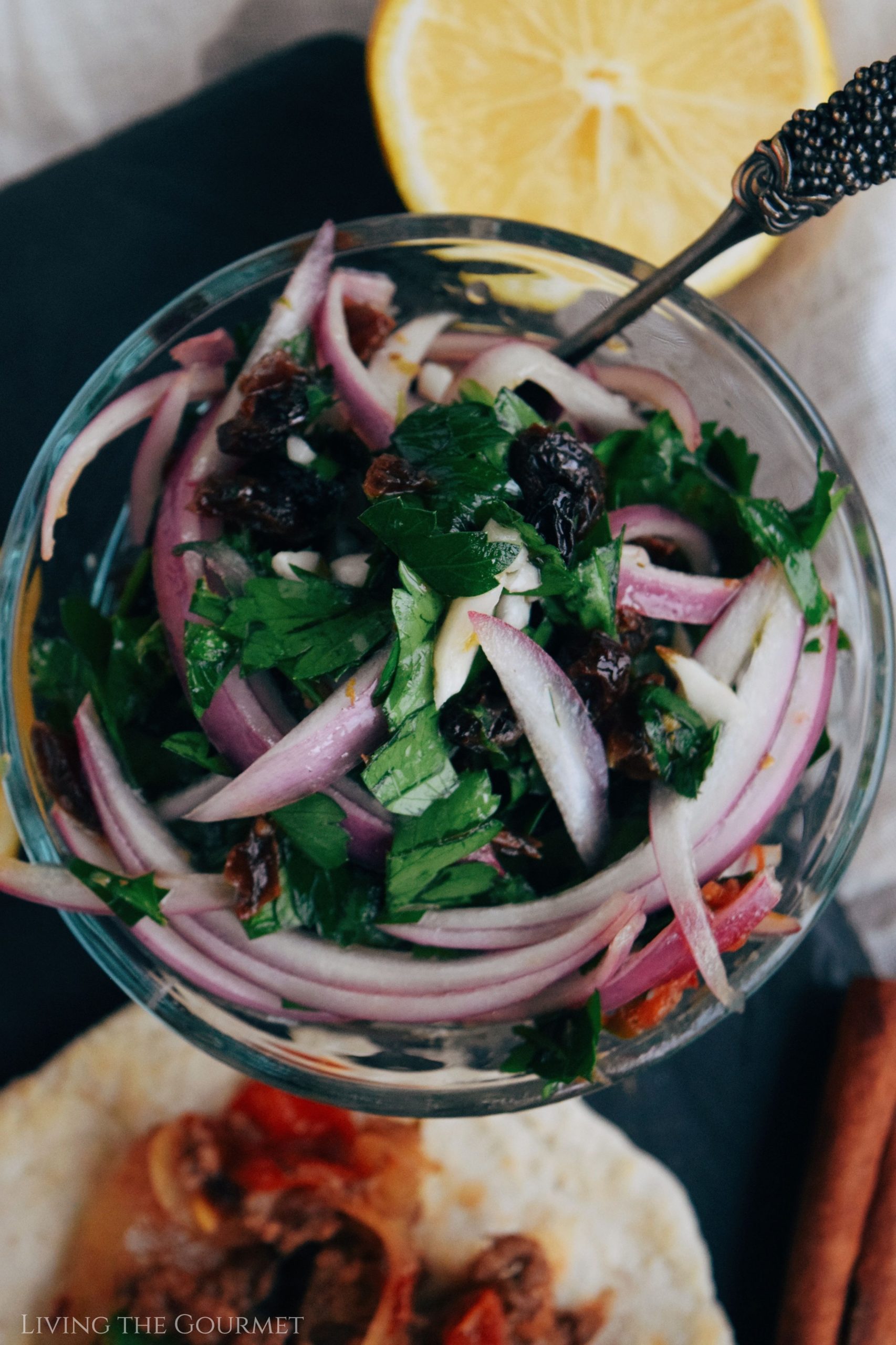 Ingredient Notes and Tips
1) The Ground Beef. Generally speaking, ground beef ranges from around 70-90% lean, with more 'specialty' varieties appearing in either direction. However, general speaking, there are four types of 'standard' ground beef. In order of 'fattiness,' we have 'Regular' ground beef at the top of the fat pyramid, which contains a whopping 20-30% fat. 'Regular' is the cheapest type of ground beef available, which is due to a higher proportion of its total mass being 'fat' rather than 'meat,' and while it will assuredly shrink the most as it cooks (as a large portion of its total mass simply dissolves away or turns to liquid) it is also by far the juiciest and most flavorful type of ground beef available. If you want a textured, juicy sauce, go with 'Regular.' We then have ground chuck, which contains less than 20% fat, but often more than 13% fat. From there, we have ground 'round,' which has between 13% and 10% of its total mass being fat. These numbers are by no means 'concrete,' and can vary according to region, store and brand – and can further vary if you're buying at a private butchery. Now, at the far end of the 'lean' spectrum we have ground sirloin, which contains less than 12%, though rarely less than 10%. Healthier and pricier than its counterparts, yes. Juicy and flavorful? Not in the least. While the ground beef you use is purely a matter of preference, I really don't suggest using ground sirloin for this recipe.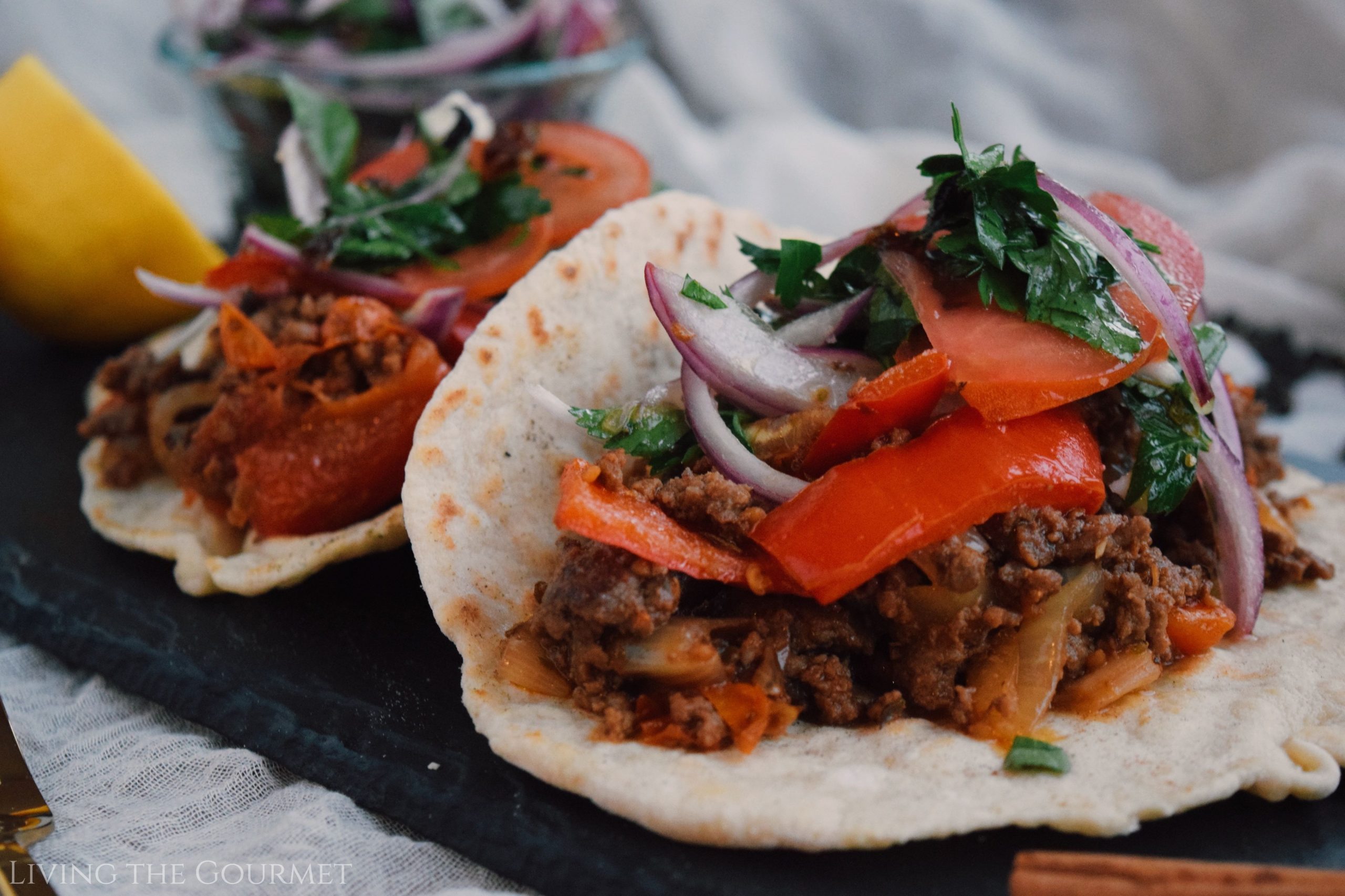 2) The Raisins. If you want this to be 'very Greek,' go with golden raisins. However, I'm using standard black raisins, because that's simply what I had on hand. Golden raisins, being dried in temperature-controlled vats, and treated with antioxidant sulfur dioxide, not only retain more of their nutrients, but also more of their plumpness and flavor. Thus, golden raisins are both healthier and tastier, and will also slightly enhance the texture of the recipe, but honestly the difference is very, very subtle. That said, if you have golden raisins on hand, go for it, if not, black raisins will do just fine.
3) The Honey. I'm almost embarrassed to admit that keep store-brand clover honey in my pantry as a staple, but I do, and the reason is super simple – it's all you need for cooking, especially when you're making recipes like the one we're preparing today. You simply won't taste the difference when using standard clover store brand as compared to, say, organic wild flower honey or delicate acacia honey, and the reason is that you're cooking away any of the honey's more nuanced textures, and masking its more nuanced flavors with the flavors of the sauce. Thus, save yourself a few dollars and opt for store brand clover over pricier alternatives which are best reserved for fruit salads, delicate baked goods, and salad dressings.
4) The Peppers. Put simply, hot peppers don't feature prominently, if at all, in Greek cooking. Bell peppers, or sweet peppers in general, absolutely. As such, we're using basic red bell peppers in today's chop meat mixture. However, if you want to kick things up a little with some spicy peppers, go for it.
Craving more Tacos? Fajitas, perhaps? Check these out!
1) Grilled Cod Tacos. Blackened Cod is served in crisp shells with a few zesty toppings for a delicious and refreshing meal for the seasons.
2) Spicy Shrimp Tacos. Shrimp prepared in a spicy homemade Mexican BBQ, and then swathed in homemade flour tortillas, and then layered with cheese, avocado, and a homemade coleslaw, you've got to try these tacos.
3) Steak Fajitas. Sliced skirt steak prepared with a homemade chimichurri, grilled peppers and onions, and seasoned avocado swathed in homemade flatbreads. Simply delicious, and surprisingly accessible for home cooks.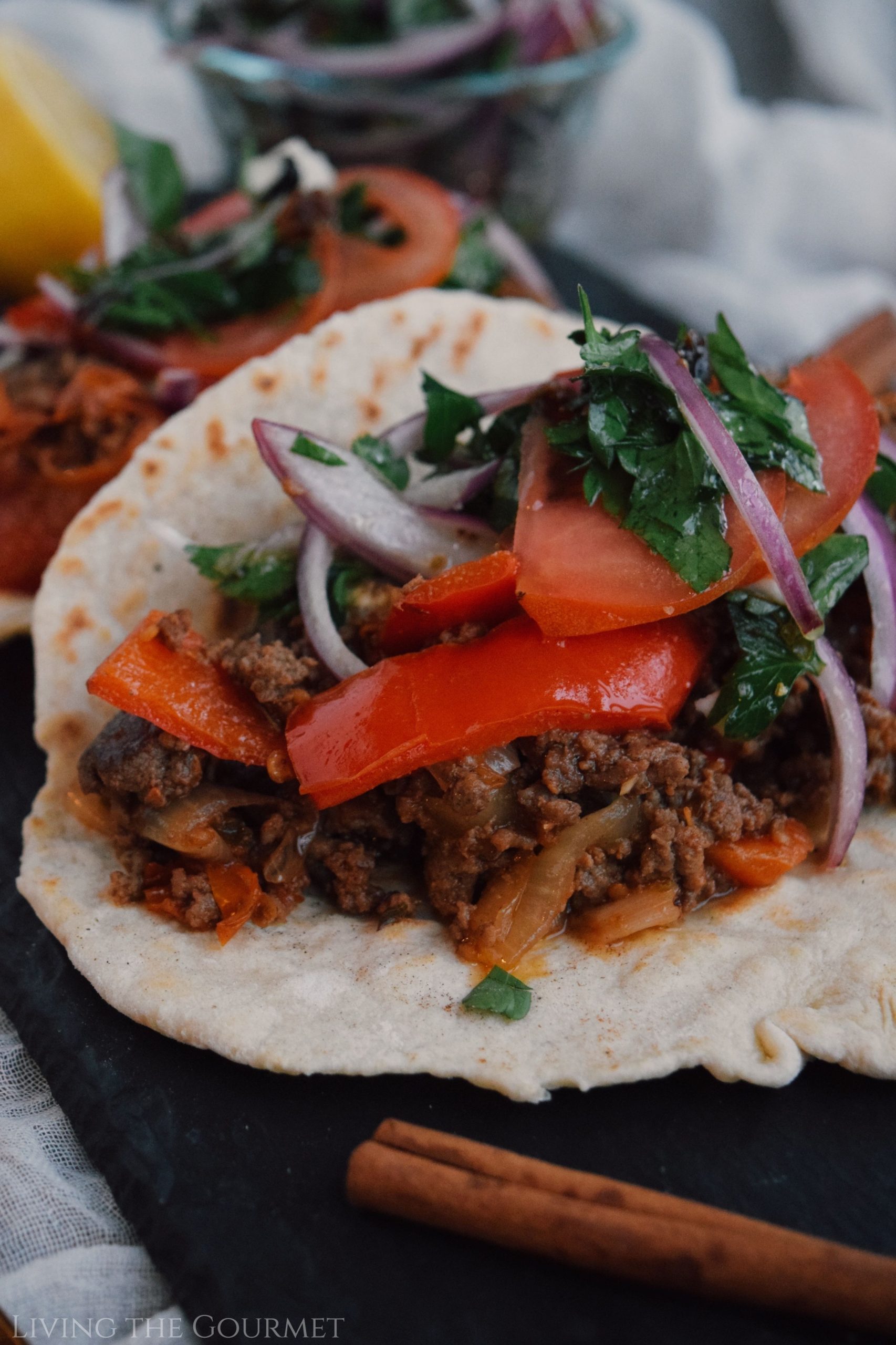 Print
Greek Tacos
Author:
Prep Time:

10 minutes

Cook Time:

20 minutes

Total Time:

30 minutes

Yield:

4

-6

1

x
2

lbs. ground beef

2

pints

grape tomatoes

2

sweet onions - sliced

1

red bell pepper - sliced

5

-

6

cloves of garlic - chopped

2 tsp

. garlic powder

1

tbs. dried oregano

1 1/2 tsp

. salt

1 tsp

. sugar

2 tsp

. red pepper flakes

1/2 tsp

. ground cinnamon
Flat breads for the wraps - homemade or store bought
For the garnish:
1

bunch of Italian parsley (about

1/2 cup

) - stems removed and chopped

1

small red onion - sliced
Juice of

1

lemon

2

cloves of garlic - chopped fine

3

tbs. honey

1/4

cup

of raisins - chopped

1/2 tsp

. salt

1/2 tsp

. fresh ground black pepper

1/2 tsp

. dried oregano

1

tomato - halved and quartered and then sliced thin
Instructions
For the filling:
Heat a large cast iron frying pan and cook the ground beef. Place the meat in a colander and drain the fat from the meat.
Wipe the pan and heat.
Place the grape tomatoes in the heated pan and sprinkle with salt and sugar. When the tomatoes get slightly charred add the sliced onions and again sprinkle with a little bit of salt and sugar.
Let the onions get slightly golden and add the sliced peppers and garlic and continue to cook for another minute or two; allowing the peppers cook down a bit.
Season with the spices and toss.
Add the cooked meat to the pan and simmer on a low heat.
Taste for seasoning and if needed re-season a bit.
Cook on a gentle heat for 15 – 20 minutes while preparing the garnish.
For the garnish:
Combine the sliced onion, chopped garlic, chopped parsley, chopped raisins, lemon juice and honey in a small bowl. Add the seasonings and stir. Taste for seasoning.
Place on top of the wrap and garnish with the sliced tomato.
Place the ground beef mixture in the center of the flat-bread and top with the parsley and onion garnish and thin sliced tomatoes.
Recipe Card powered by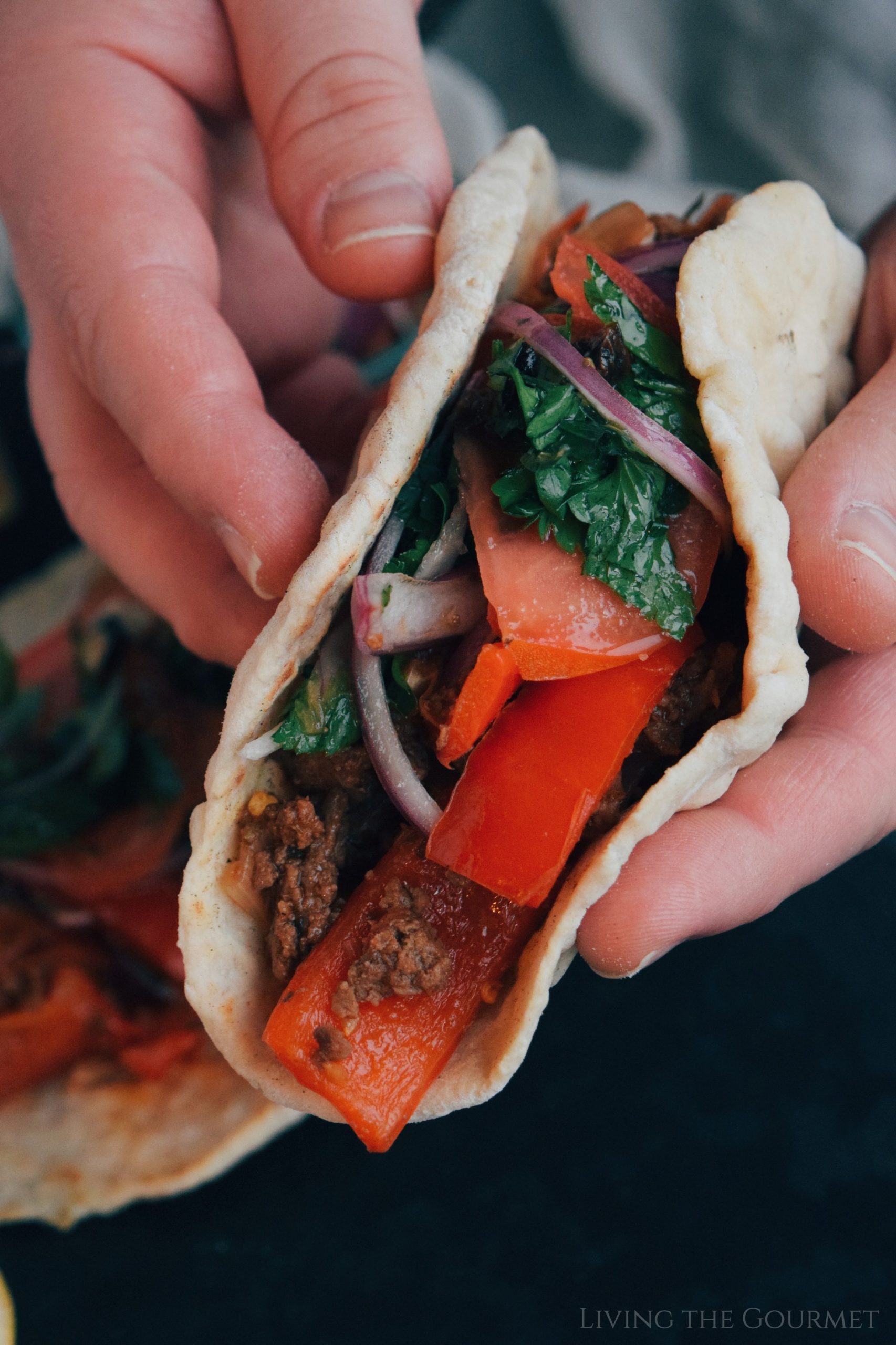 If You Enjoyed Today's Recipe…
Be sure to follow us on Instagram to stay up to date with all things Living the Gourmet, and for more great recipes, tips and tricks.
Did you make this recipe?
If so, let me know in the comments down below, or post a picture to Instagram, or to Pinterest, and I'll give you a shoutout on Instagram, or post your pin to one of my Pinterest boards!
0