This post has been sponsored by Veroni. All opinions expressed are my own.
Today we're preparing some ultra-decadent Prosciutto Melts, with a little help from my longtime friends over at Veroni, whose Prosciutto Italiano really helped kick today's sandwiches up a fair few notches. As a nice bonus, the meats of antibiotic-free charcuterie line are all natural, contain no added nitrates, and are produced from ham raised without antibiotics.
To make today's sandwiches, we'll be combining the prosciutto with crisped Italian bread, lettuce, home grown tomatoes, basil, red onion, and melted provolone, to create a delicious summer weather sandwich.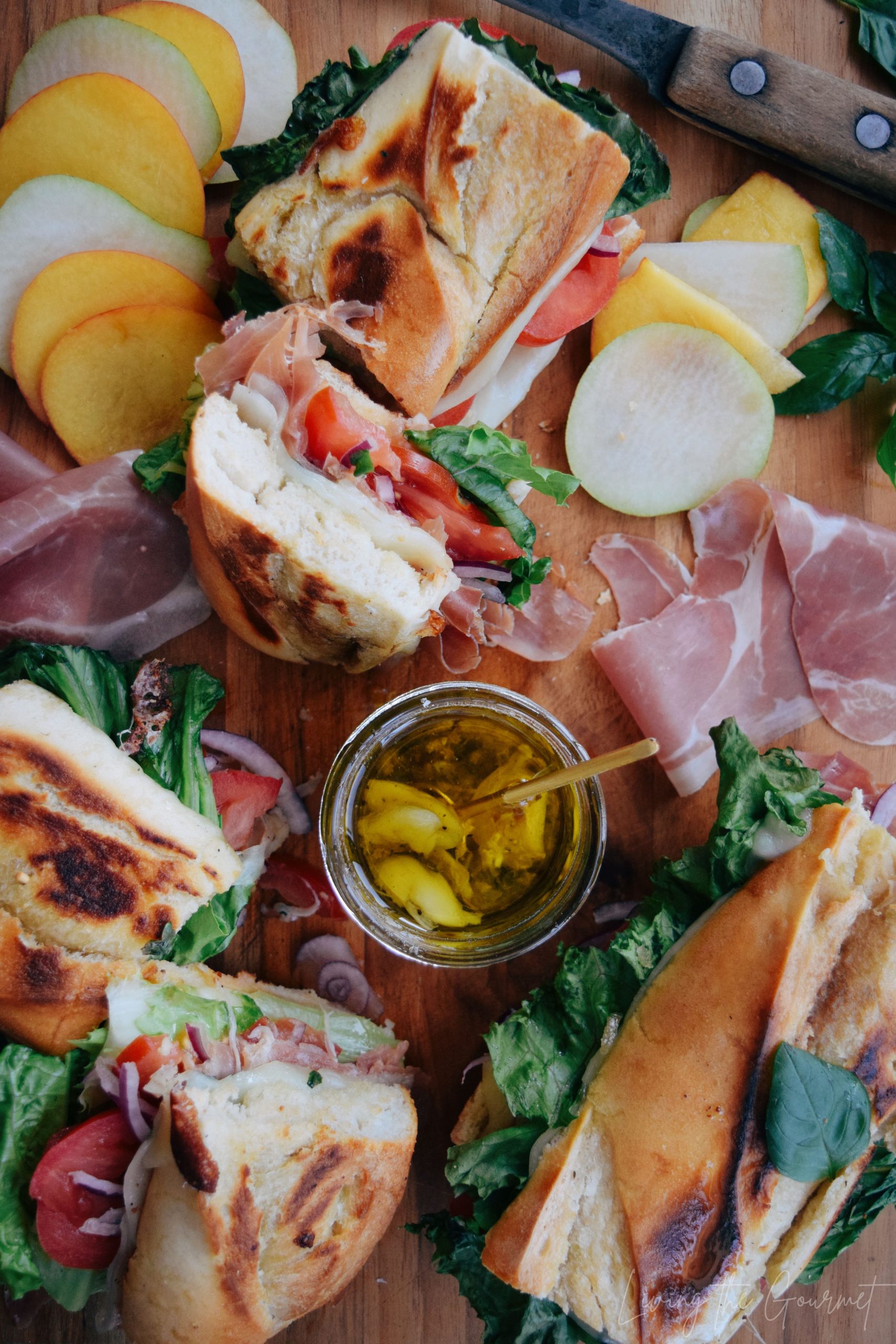 The Bread – How To Get It Right
1) Let's Be Clear. Setting aside the extreme and the absurd, with 'most' sandwiches the bread is 'most' of what you're eating, and so I've always been of the mind that getting the bread right is important. For today's sandwich, that means either hardy Italian bread, focaccia, ciabatta, or baguette.
2) Maximizing Crunch – Brush the Bread With Oil. Before grilling the sandwiches, I really do suggest brushing them down with oil, this helps moisten the bread during the grilling process, while simultaneously achieving that delicious 'crispness' that we all want from a grilled sandwich. You 'do' want to use a decent oil for brushing, as you 'will' taste the oil, as it permeates the bread during grilling.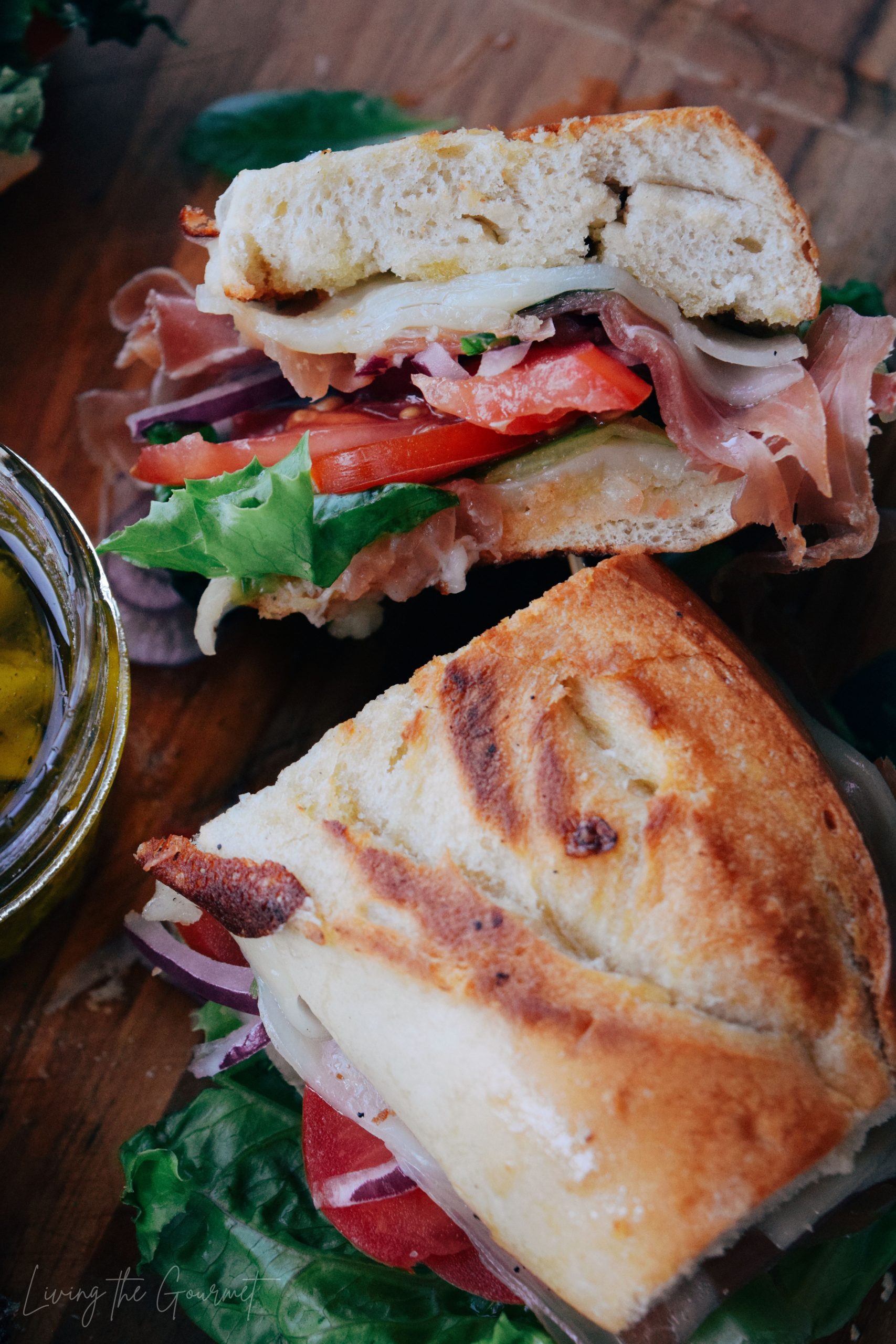 3) Positioning Matters. I learned this from making paninis – always layer the cheese on the bread itself, and keep the 'wet' ingredients, such as tomatoes, towards the center of the sandwich, so as to keep them from soaking through the bread. You'll notice that we layered the cheese, then the lettuce, and then the tomato for today's sandwich.
4) Grilling – Bring the Heat. Perfect grill marks don't come on gradually. They come right at the onset or not at all. That means heating your griddle up nice and hot 'before' attempting to grill your sandwich. This also has the effect of minimizing grilling time, which helps the bread keep its integrity through the grilling process.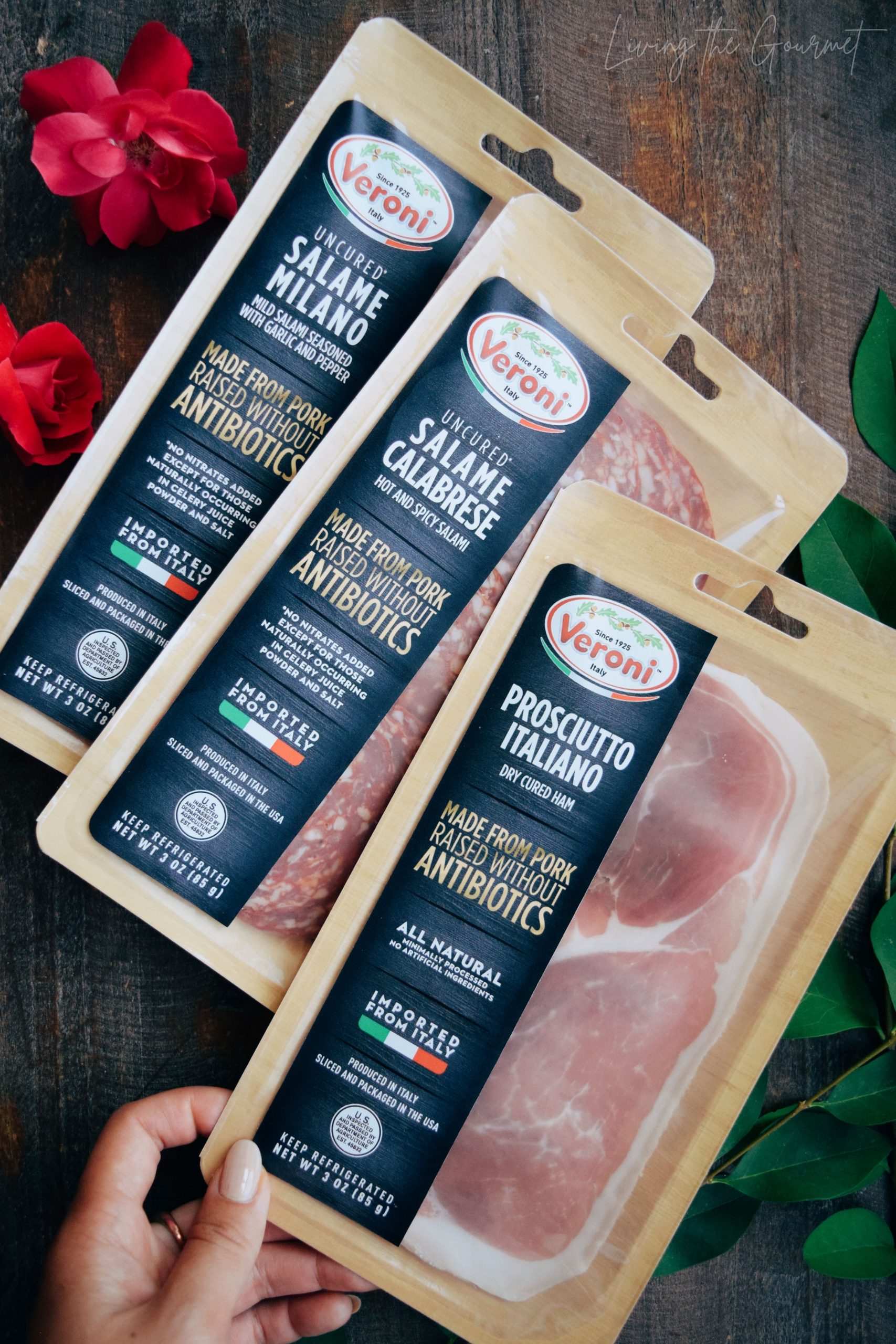 The Sum Of Its Parts – Piece by Piece
1) The Star of the Show – The Meat. Let's be real, the meat is the main attraction here. Thankfully, Veroni, backed by nearly a century of experience, offers a variety of quality meats and cheeses (along with a multitude of other products) that are perfect for things like today's sandwiches.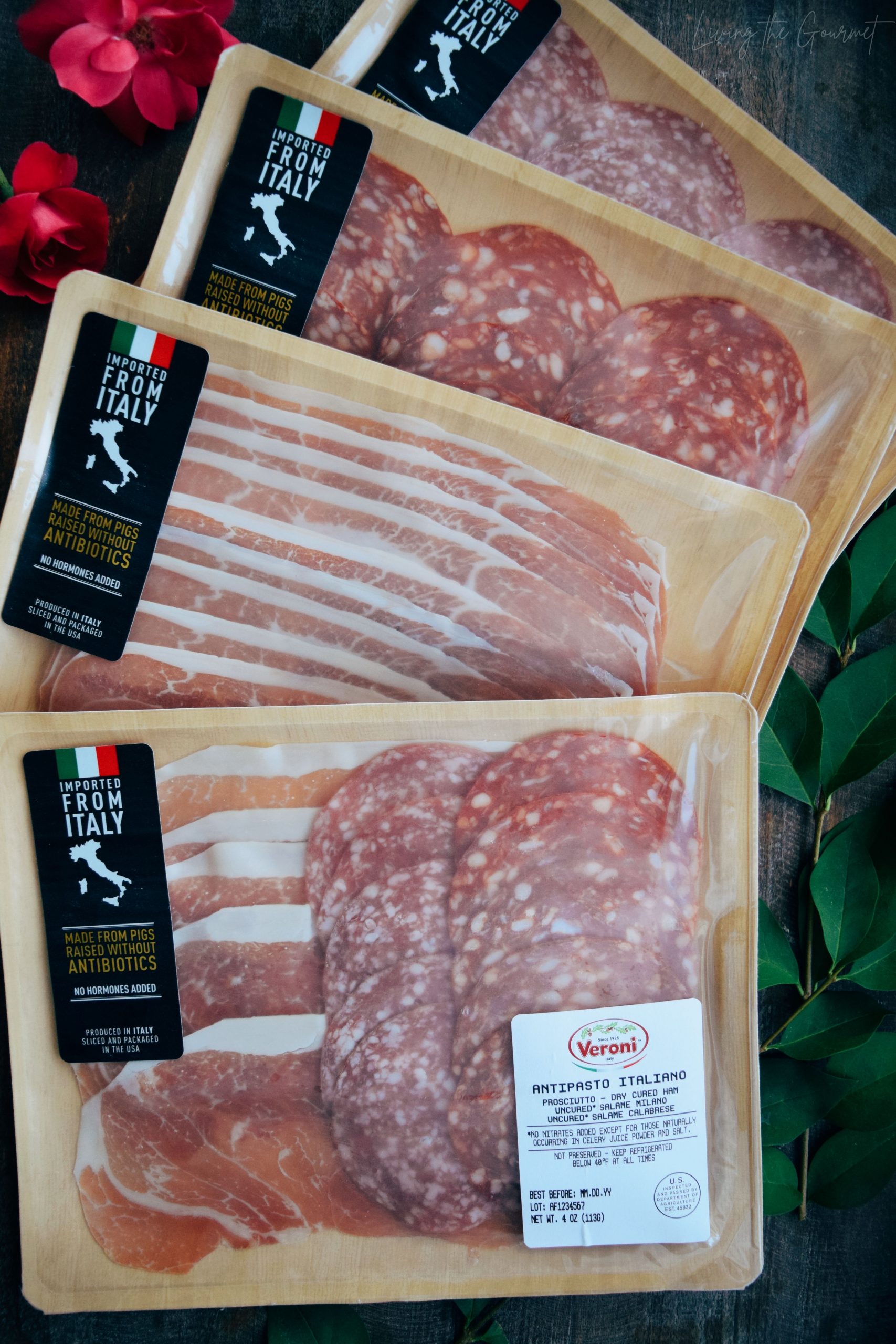 Today, we're using their 'Prosciutto Italiano,' which is a dry-cured ham imported from Italy, and is all natural, includes no added nitrates, and is produced from pork raise without antibiotics. All included in Veroni's line of antibiotic free products are 'Salame Calabrese,' which is a hot and spicy salami, and Uncured Salame Milano, which is a mild salami seasoned with garlic and pepper. Again, all of these products are all natural, and feature no added nitrates. All of these meats come packed on eco-friendly trays that use 75% less plastic. As such, not only does Veroni produce meat that's beyond delicious, but it's meat that you can feel good about eating. On a side note, Veroni is famous for the giant Mortadella, so I highly recommend trying out their Mortadella as well.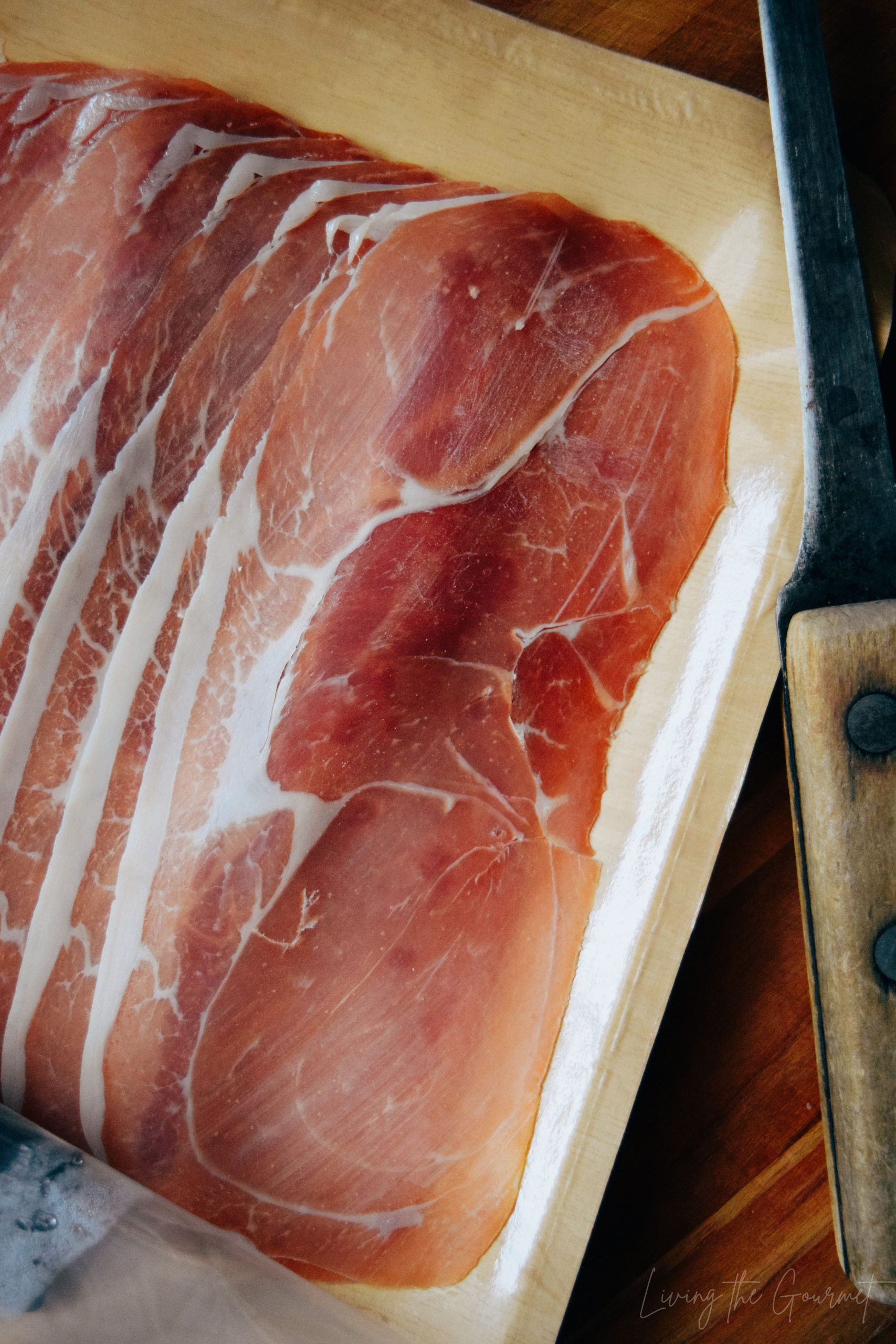 3) Red Onion – The Go-To For Eating Raw. Aside from Sweet onions, Red Onions are easily the most palatable onion when eaten raw. However, Sweet Onions would be too, well, 'sweet' for today's sandwich. That said, Red Onions are the go-to onion for 'uncooked' recipes, being sweet, crisp, just a touch pungent, and a beautiful shade of 'vegetable red.' This is why they often feature prominently in things like Greek and Sicilian salads, fresh salsas, and the like. Today's sandwiches are no exception, as their color contrasts nicely with the greenery, while their flavor is the perfect complement for the prosciutto.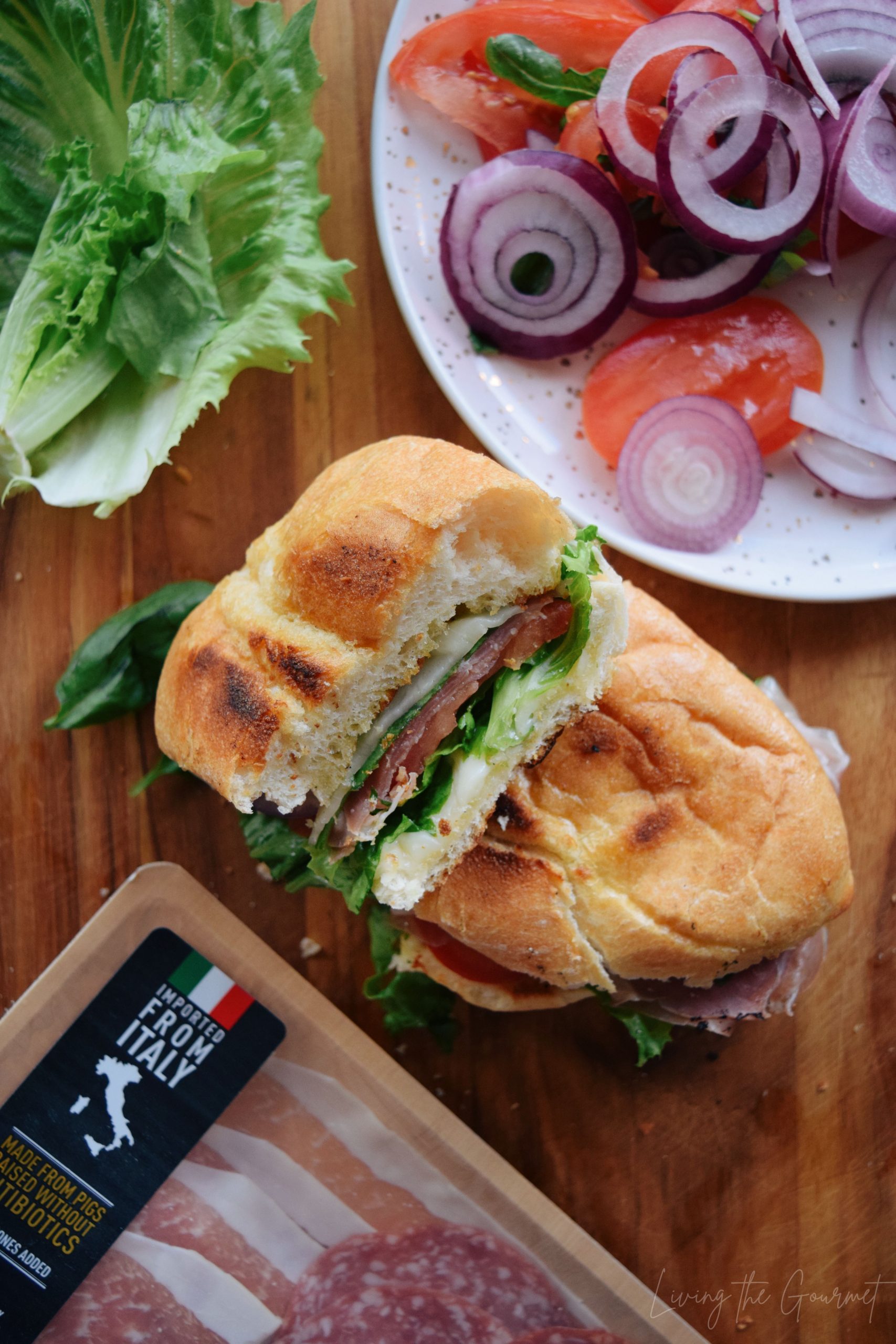 3) The Basil. Personally, I think this is the ingredient that ties the entire sandwich together, tying the whole package together with a nice bit of 'bright licorice' or 'anise-like' flavor. This adds a bit of complexity to what would otherwise be an entirely 'heavy' experience, which would risk being a bit one dimensional.
4) Your Choice of Cheeses. While I'm using provolone, since I think it melds so nicely with prosciutto, fresh mozzarella would also work great, as would Oaxaca or Jarlsberg.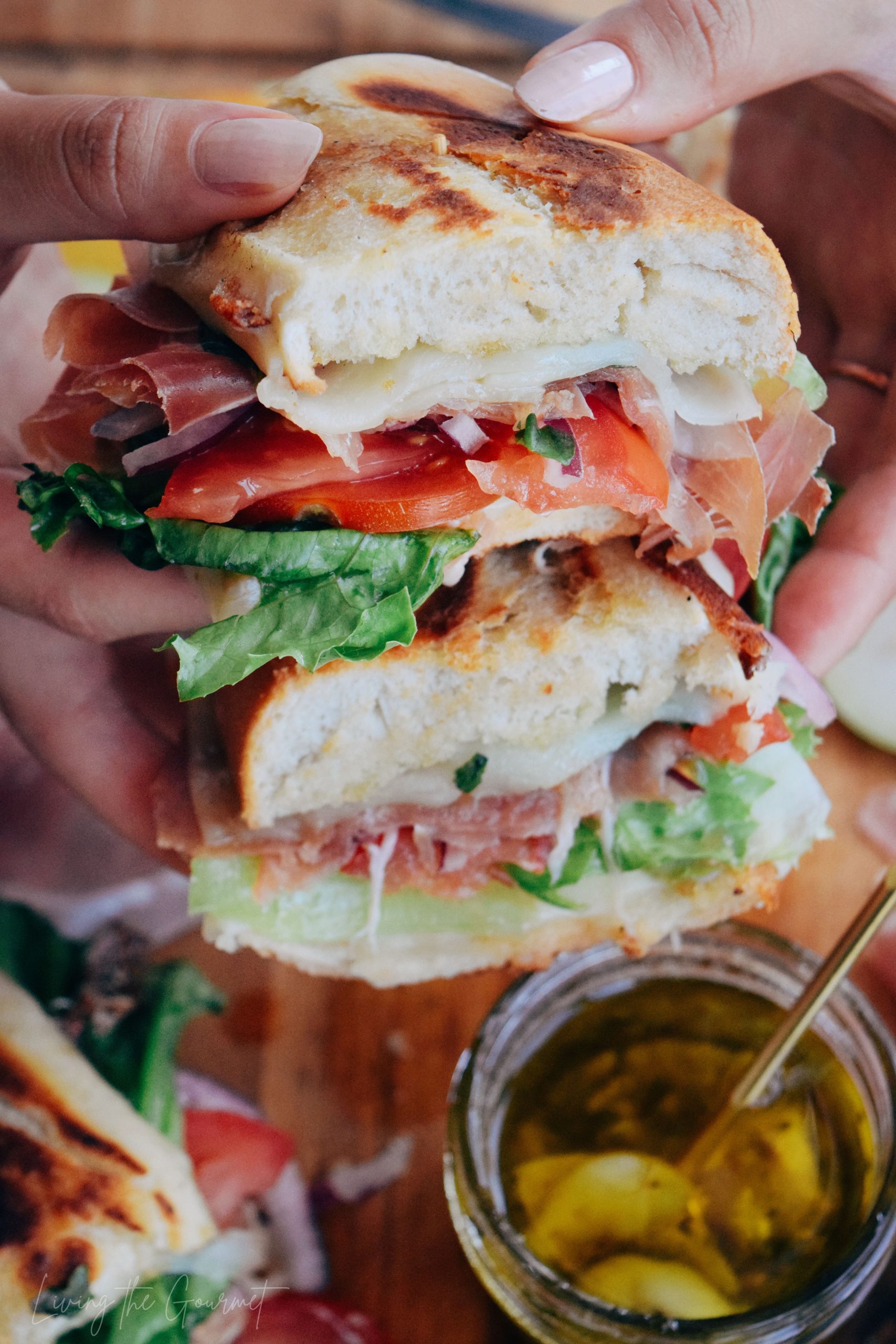 Side Suggestions for Today's Sandwiches
1) Layered Eggplant Salad. Breaded eggplant, combined with fresh basil, fresh tomatoes, and grated romaine, combine to create a delicious take on baked eggplant that's sure to be a hit with your friends and family.
2) French Cheeseboard. Candied nuts, D'Ambert cheese, Comte, an aged Goat Cheese Log, along with fresh fruit, dried fruit, and preserves, creates a delightful summer weather cheeseboard, and one that would pair deliciously with today's sandwiches.
3) Watermelon Salad. Today's sandwiches, paired alongside a super simple watermelon salad, is, in my opinion, the ultimate war weather combo.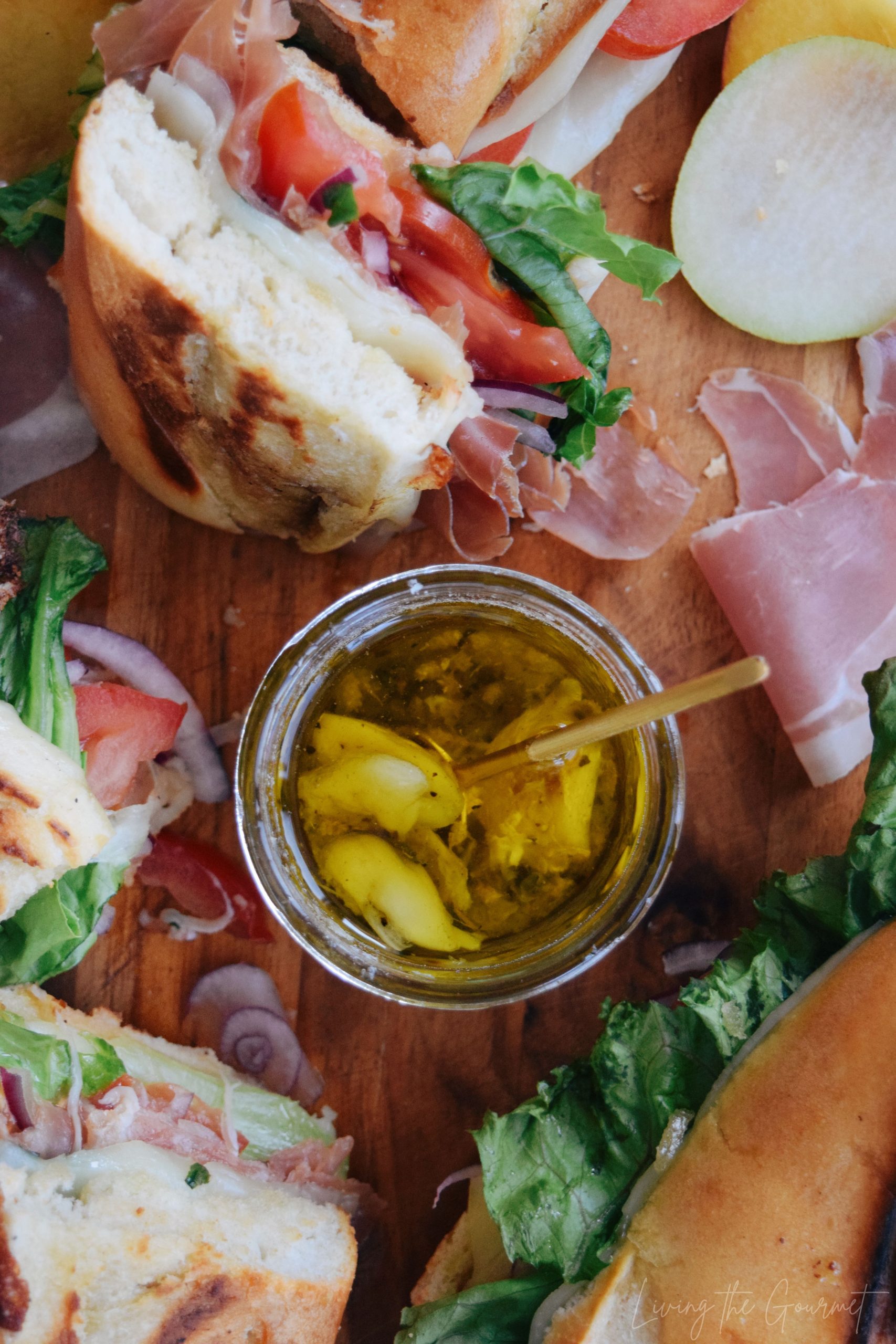 Print
Prosciutto Melts
Author:
Prep Time:

10 minutes

Cook Time:

15 minutes

Total Time:

25 minutes

Yield:

3 sandwiches

Cuisine:

Italian American
Sliced Provolone
Your favorite artisan bread or rolls (I used Italian bread here)
Romaine lettuce
Tomatoes, sliced
Red onion, sliced
Fresh basil leaves
Instructions
Begin by brushing your bread with the infused olive oil and letting it toast on a heated cast iron pan.
Assemble your sandwiches by layering the Provolone on the toasted side of the bread slices so it begins to start melting.  Top with lettuce, sliced tomatoes, red onion, the Prosciutto (I used three slices per sandwich), and fresh basil leaves.  Close the sandwiches, brush the outside of the rolls with the seasoned olive oil and return to the pan until the cheese has completely melted and the sandwiches are toasted and golden.
Serve immediately and enjoy!
Keywords: sandwiches, melts, prosciutto, provolone
Recipe Card powered by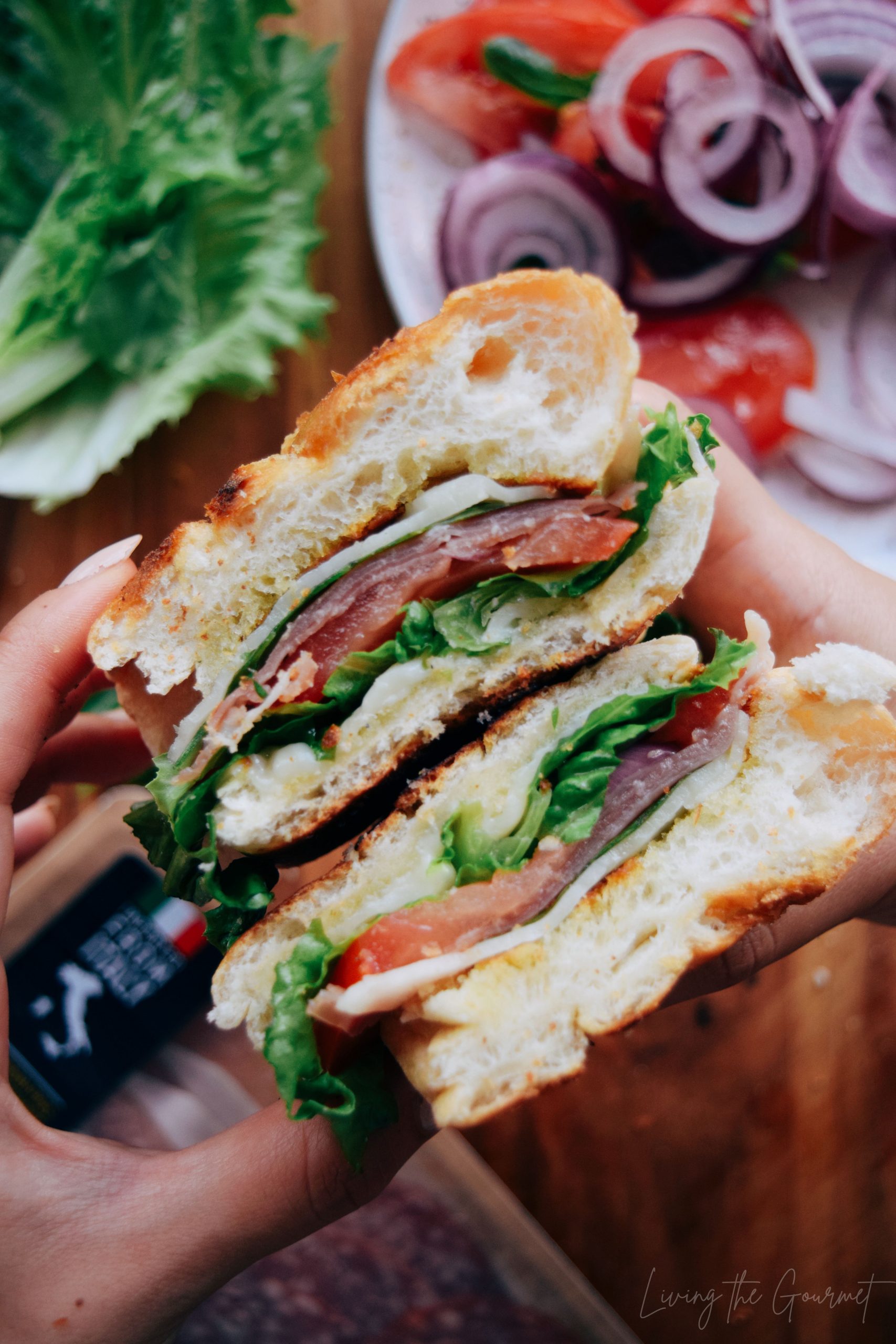 More Sandwiches to Love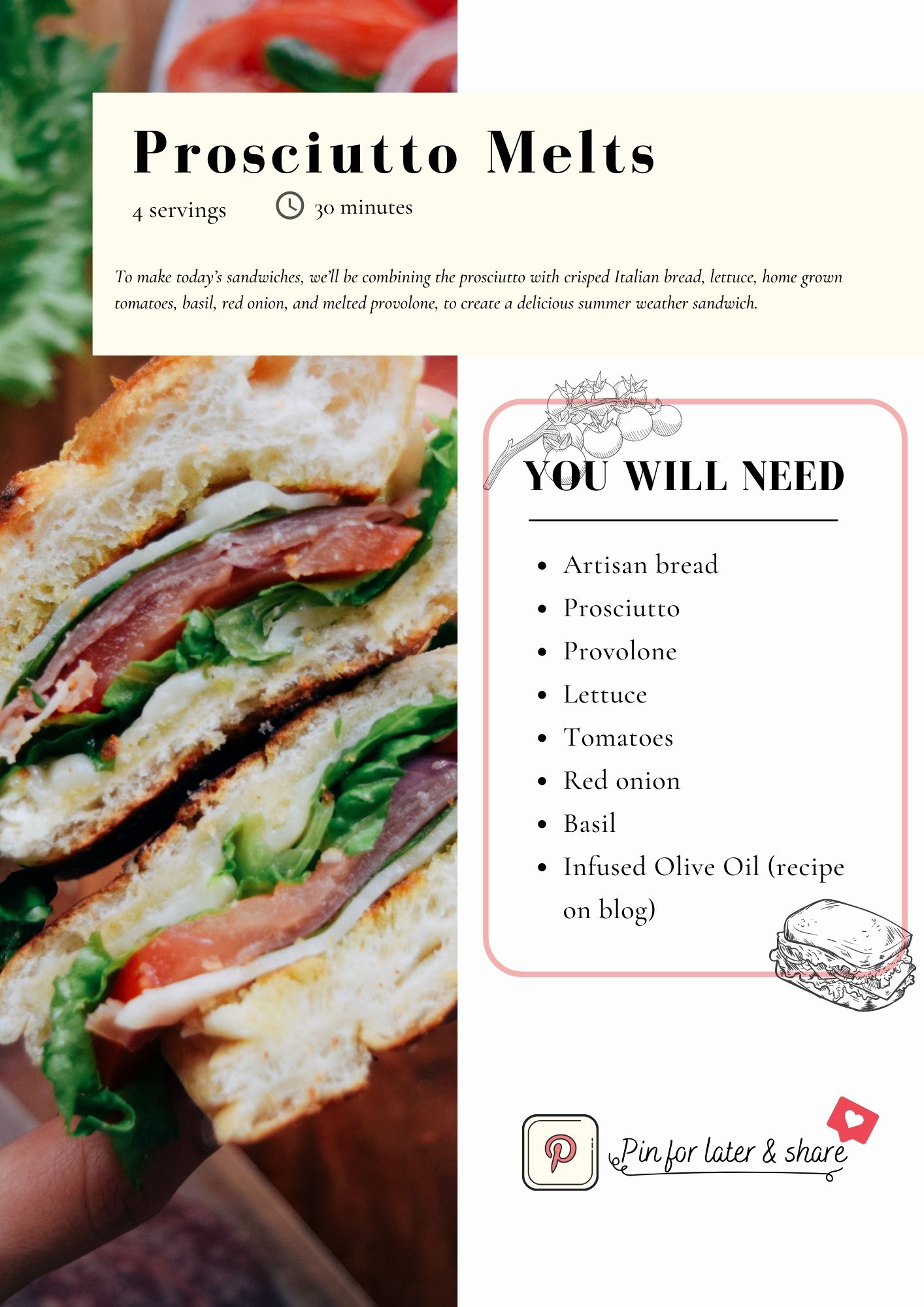 As an Amazon Associate I earn a small commission from any purchases made through the affiliate links within this post. For more information on this please see our disclosure policy. Thank you!
0