I recommend Fotor for all my photo editing needs. All opinions expressed below are my own.
Today we're sharing these crispy, fresh Flounder Fillet Sandwiches and giving you a little behind-the-scenes look at photo editing at Living the Gourmet.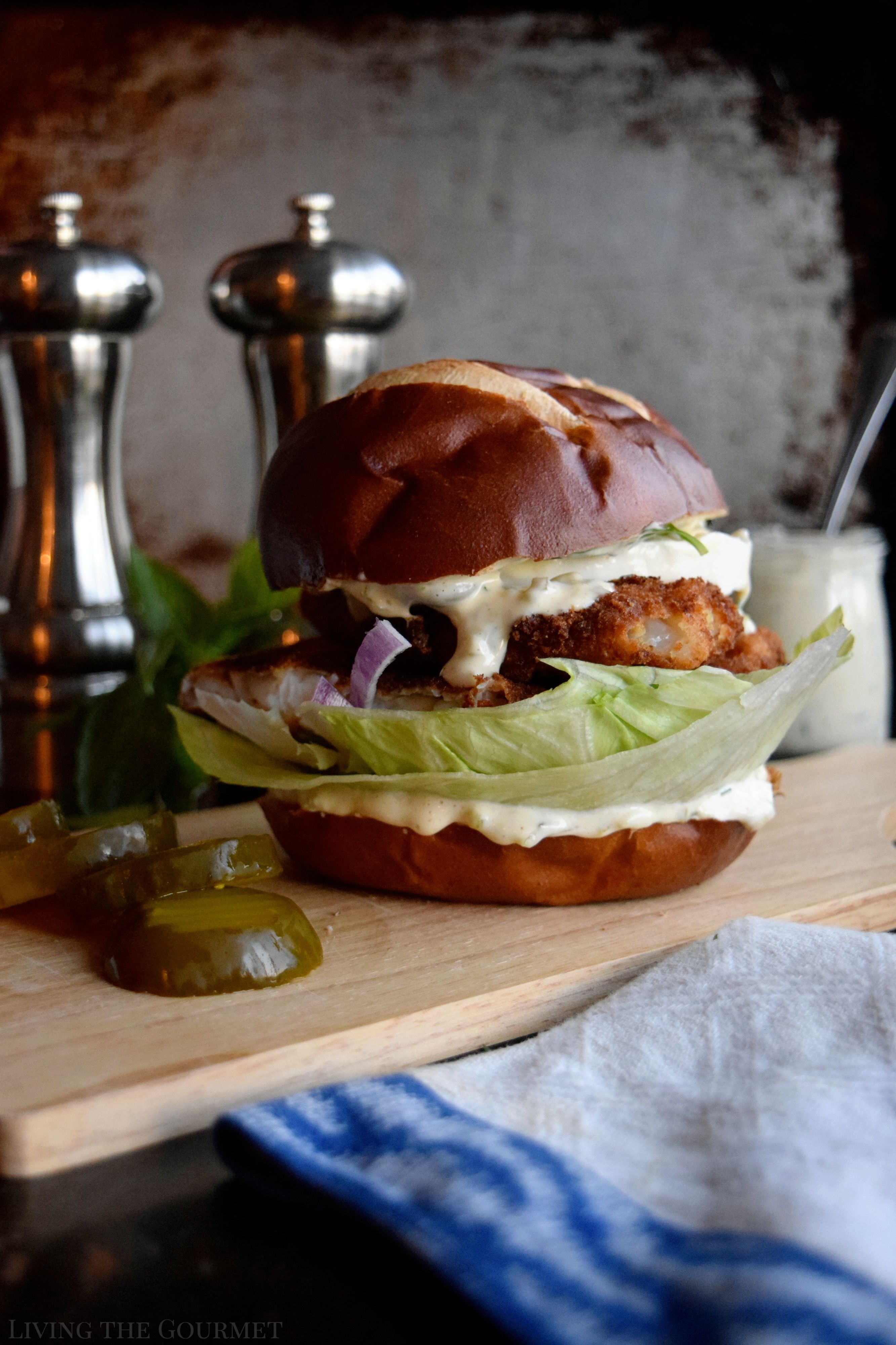 This New Year, I've decided to make a project of recreating a lot of old recipes here on the site. Like most other bloggers can probably relate, sometimes I scroll through my earlier posts and shake my head. Other times, I laugh. Living the Gourmet has certainly come a long way throughout the years and I am proud of those old recipes because they got me to where I am today.
It's hard to believe, I've been at this for almost 10 years come October. A lot of what I have learned is from my own trial and error, and of course hours upon hours of research. With today's technology, you can teach yourself just about anything.
Over the years, many of you have wondered and asked about our photography and we've never really had the chance to address it, so today I wanted to show you how we take and edit our photos.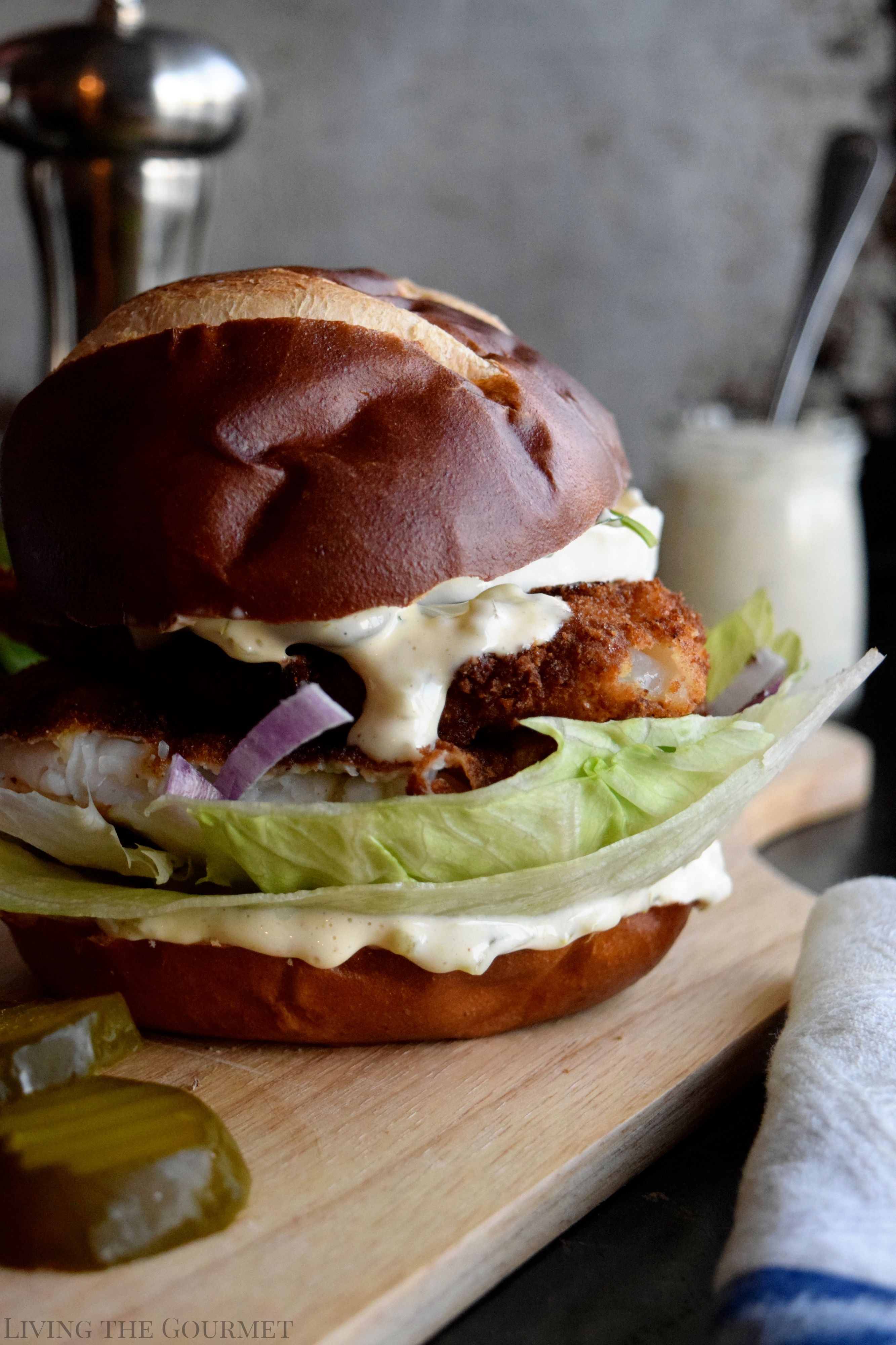 To start we shoot on a Nikon D3300 with the basic 18-55mm lens. Often times, beginners ask about the camera we shoot on and at times get discouraged if they don't have the DSLR. Here's a fun fact- up until about 3 years ago, I shot only with my iPhone 4S. So, if you feel like you can't take good pictures without a DSLR, think again and check out this post and this one– two of my favorites that were shot with that really old smartphone 😉
My number one rule when it comes to food photography is to ALWAYS shoot under natural light and I can not stress that point enough. Shooting under artificial light is something I'm still struggling to master myself. Naturally, during the winter months when the days are shorter and the schedules are busy, it is not always easy, but 9/10 times try and get as much natural light into your shots as possible.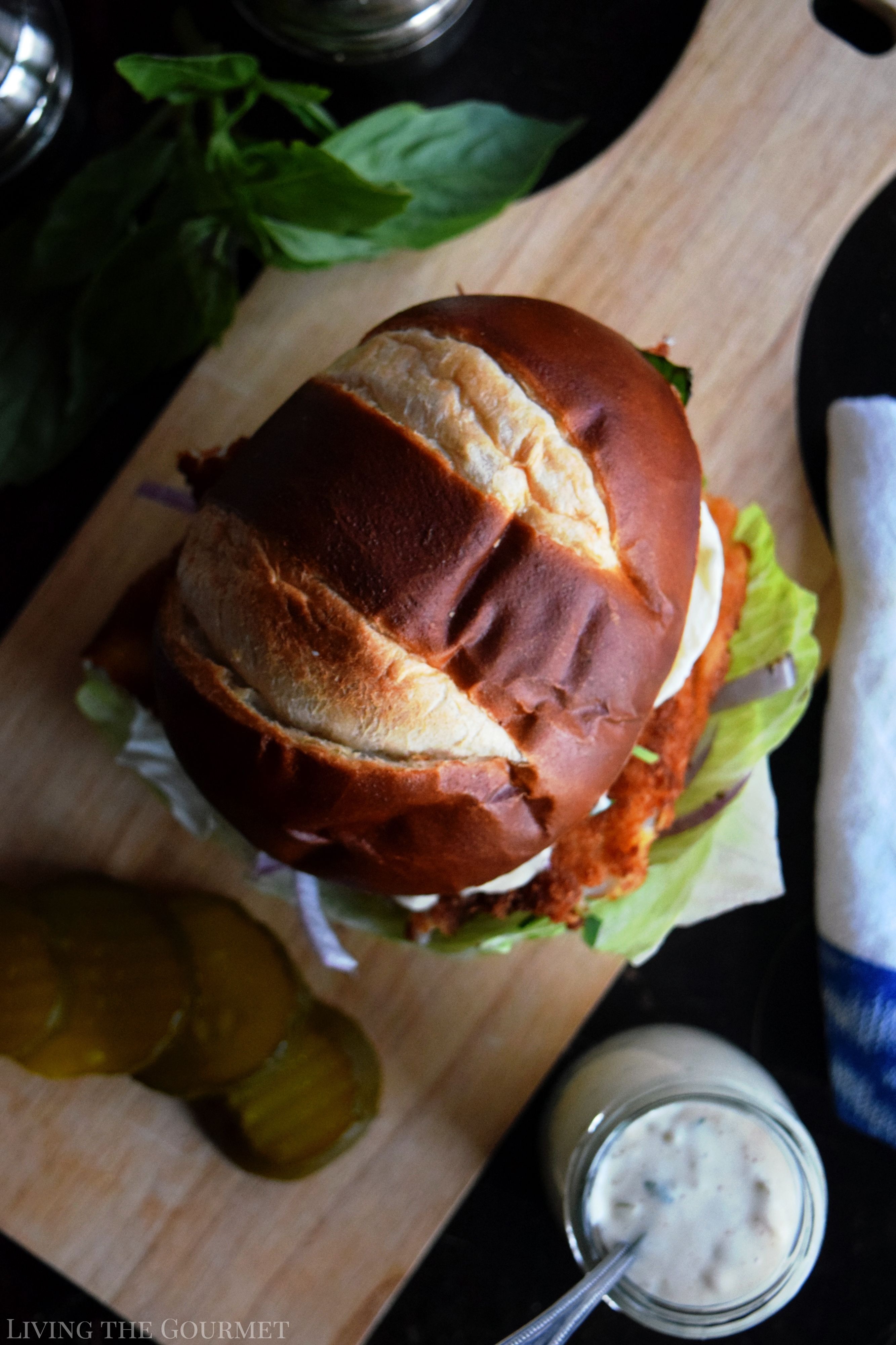 Now onto the fun part of photo editing – filters.
It's not a rule, but in my book it should be. Filters are key to setting a mood, personalizing your own look, and highlighting the best aspects of your shots.
Over the years, I've played around with a lot of different photo editors and one of the best photo editors that I have discovered recently is Fotor. I cannot stress enough how much easier Fotor has made my life and the photo editing process. Furthermore, they are FREE. You can upgrade if you like and even if you did they are very resonably priced.
Fotor offers a variety of templates, filters, stickers, and fonts. They also offer poster designs which I know many of you crafty artists will enjoy, as well as, collages which make creating pinnable images a breeze.
Today, I'm showing you how we not only edit our photos in three easy steps but also how we use Fotor to create Pinterest collages in just two easy steps. (*NOTE: click on each image to enlarge if the text is difficult to read. I've outlined the descriptions below each shot, however).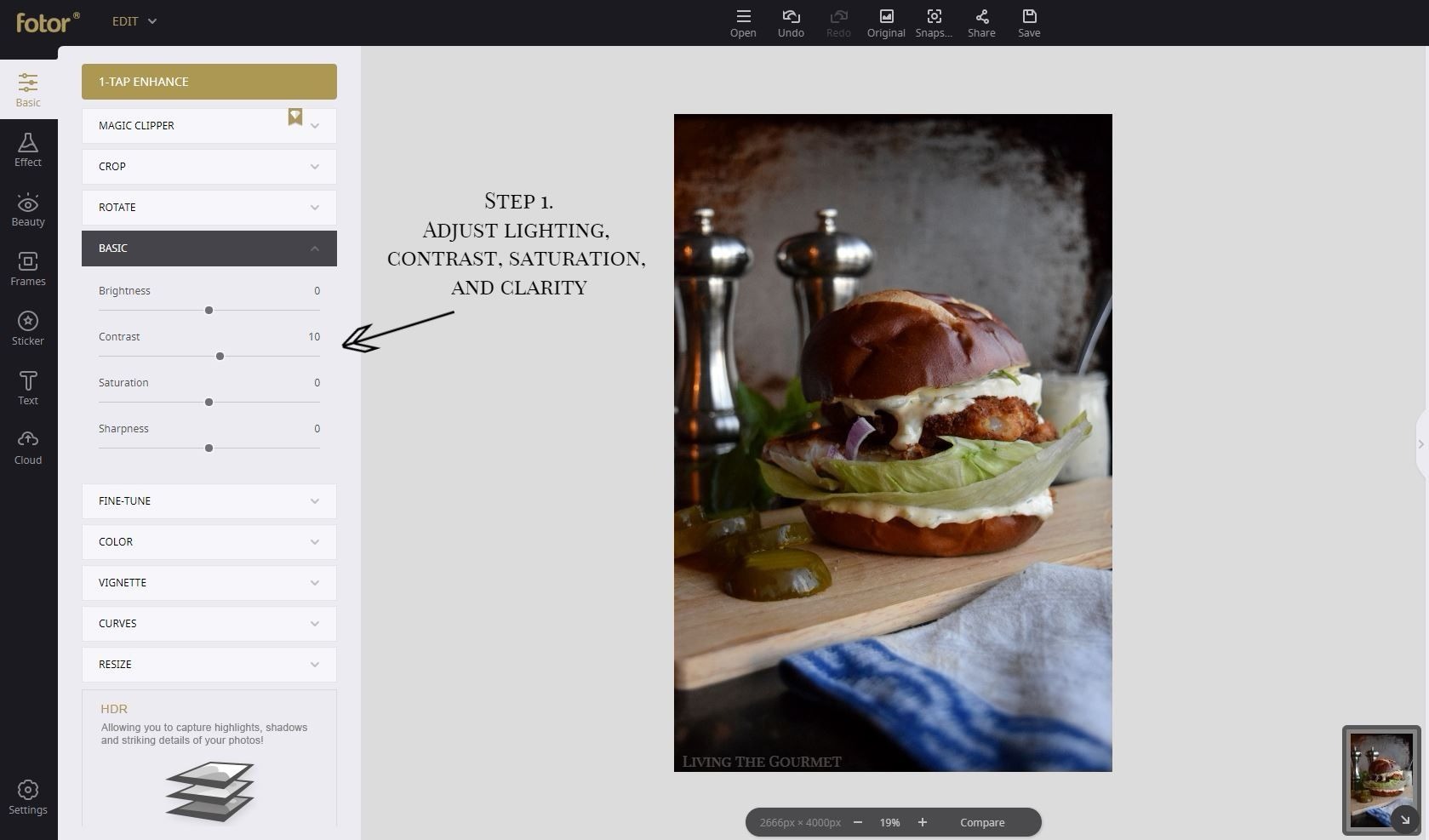 Depending on what time of day you shoot, you may not always have to adjust the brightness and contrast. Usually, I shoot early to mid-afternoon so I only need to adjust the contrast of my shots. I'll up it by about 10 – 15.
If you shoot later in the day you may have to bring the brightness and sharpness up a tad bit and if you shoot earlier you may have to lower the brightness and up the saturation. For me, early morning light tends to dull out my photos.
Everyone is different and has their own personal preference so adjust as needed.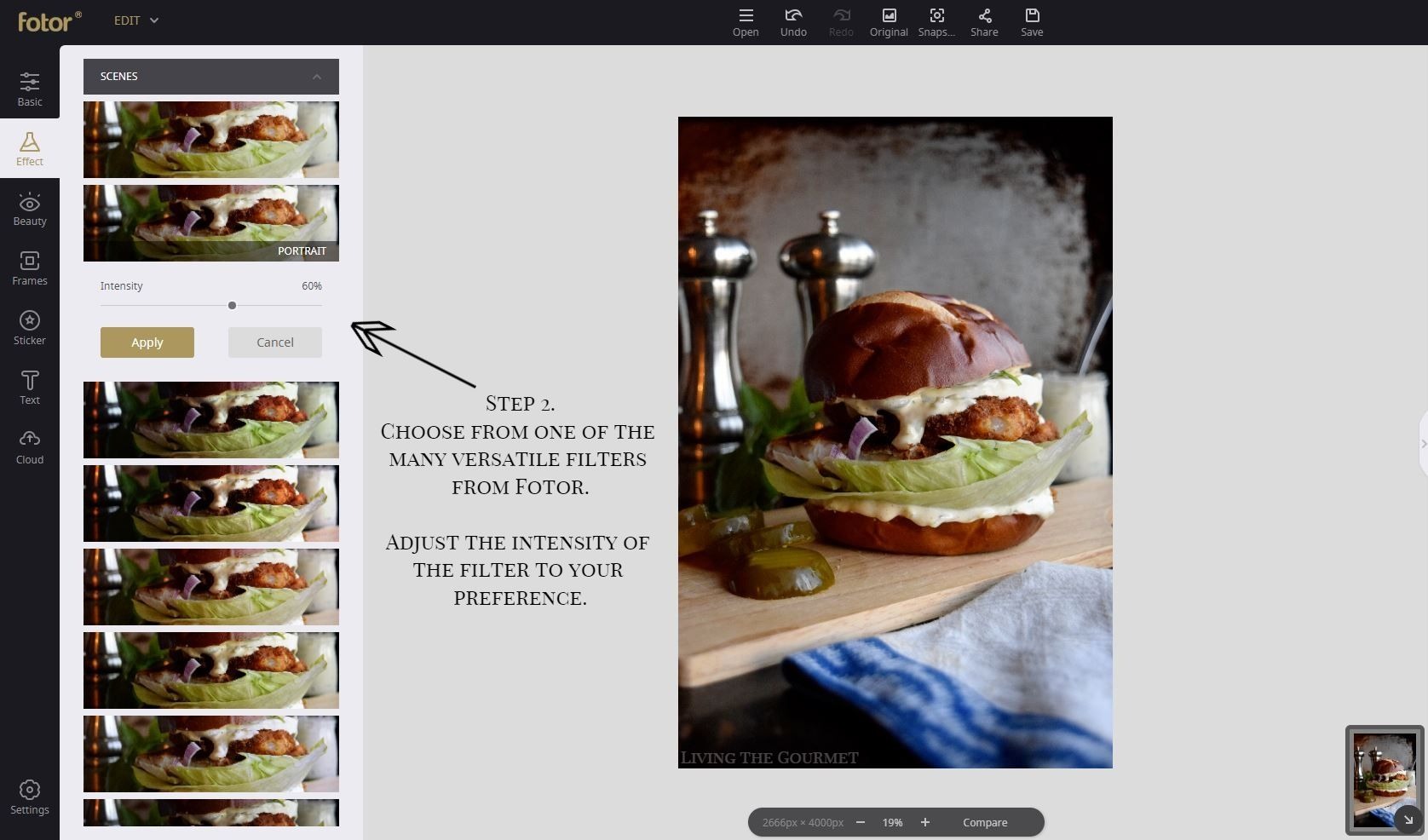 I always enjoy scrolling through the filters on Fotor and play around with the different effects.
Usually, I tend to use SCENES. This collection has the best filters for the majority of my shots. I tend to go for either the Portrait filter or Food filter.
The best part is that the SCENES collection is included in their FREE membership, so go on and give it a try today!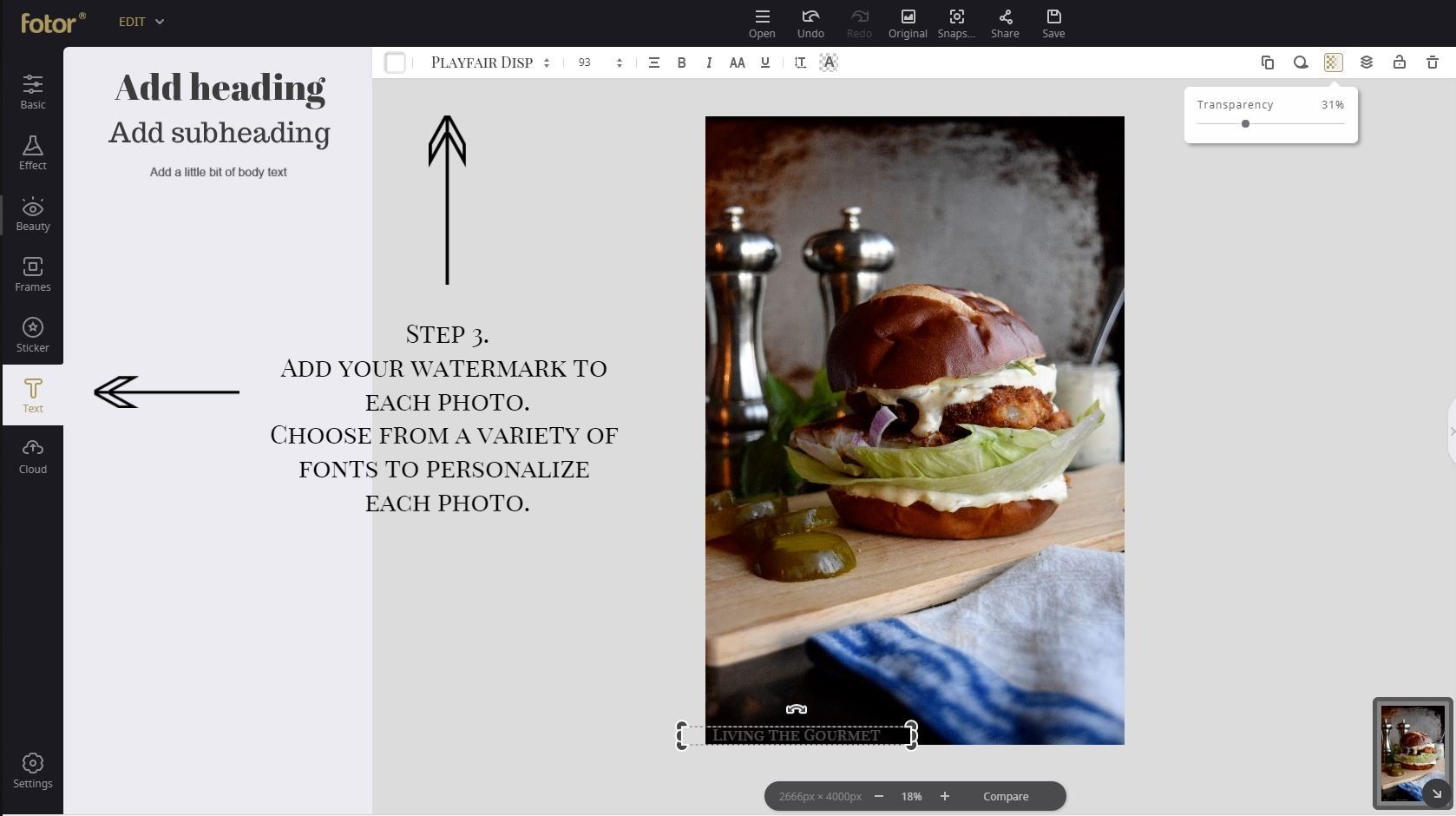 Finally, we come to adding the watermark. Fotor so far has the largest variety of fonts and they are so easy to apply and adjust.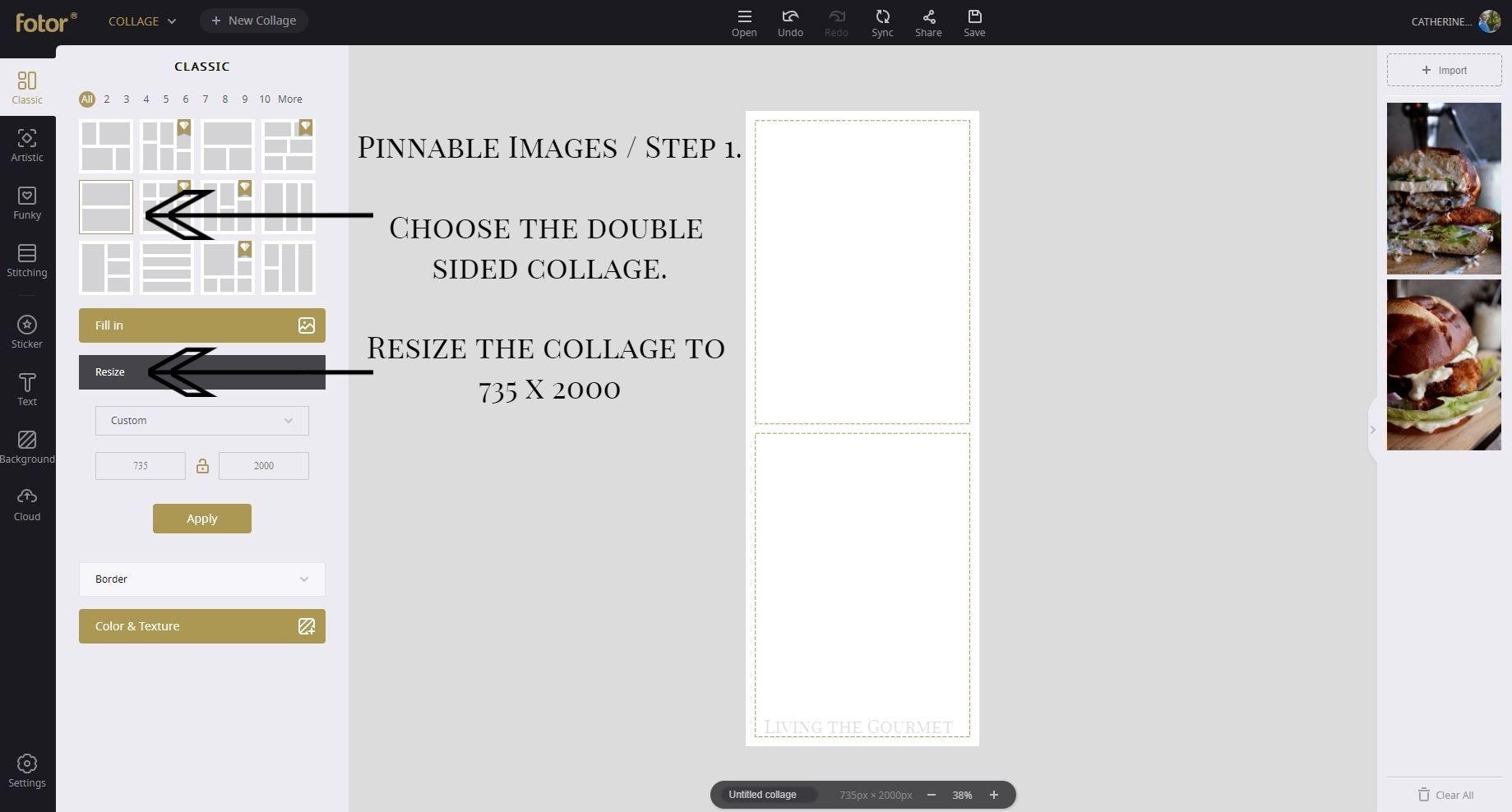 Pinnable collages were always a mystery to me until another food blogger wrote a great, informative piece on why they are important.
I've found a way to make this an effortless task through Fotor.
When you go to Fotor, select 'collages' rather than 'edit'. You'll open up to a page as shown above, that offers different choices for your collage.
Stay with the classic layouts and choose the double-sided option. You will want to edit the dimensions of your collage to get that long, pinnable image. Before your adjust the size, be sure to 'unlock' it so you can customize the size to 735 x 2000.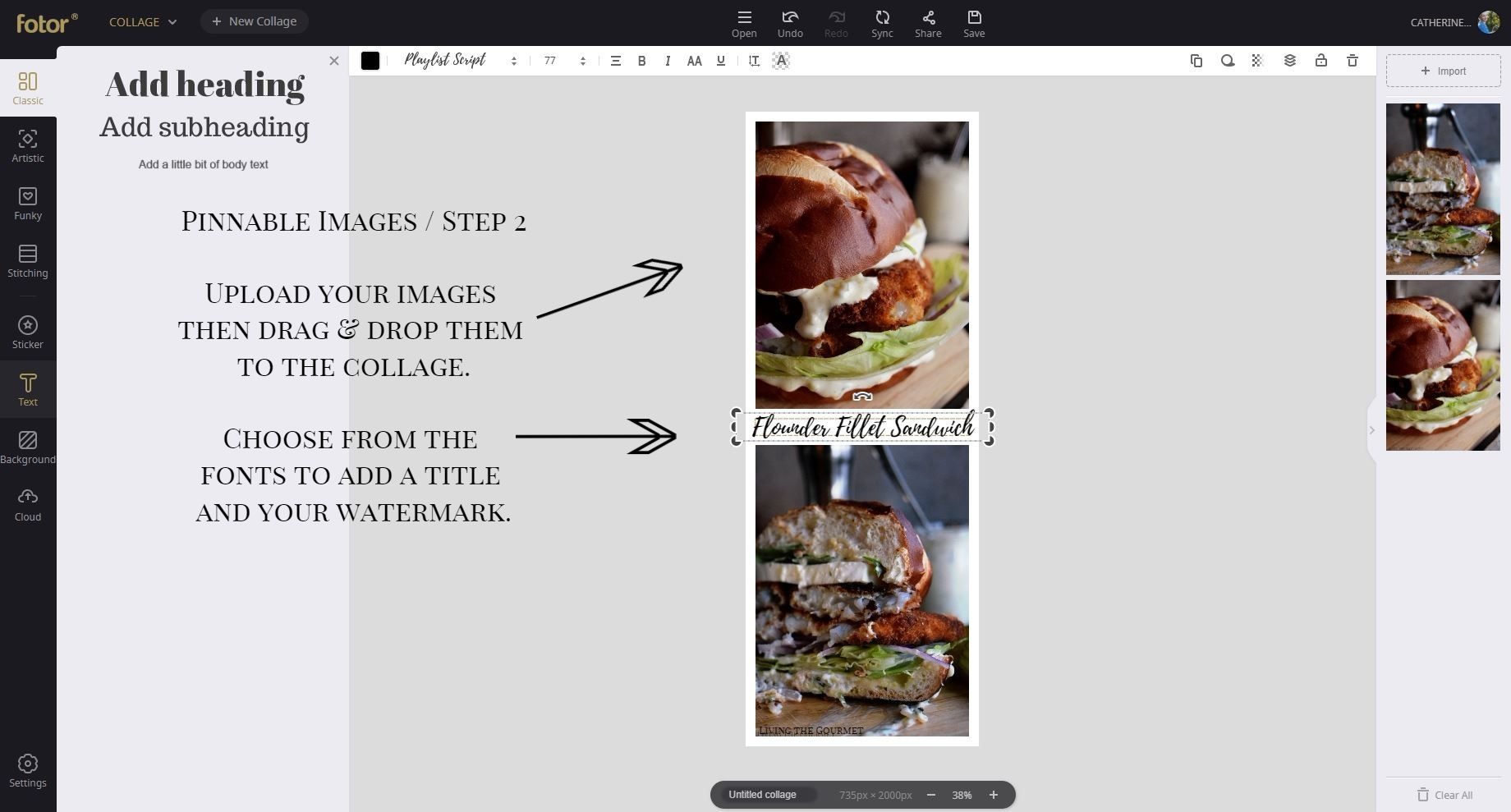 Finally, upload your selected images, then simply drag and drop. Choose from their fonts to add your post title and watermark. Voila! Two easy steps and you're all done. Save your creation and download it to your desktop.
**Note if you want your pinnable collage to appear 'hidden' in your post, check out this post for an easy way to do so.
There you have it folks! A quick run-down on how we edit our photos for each post. Now who's hungry?! In the mood for a crispy Flounder Filet Sandwich with a zesty tartar sauce on a toasted pretzel bun? Yeah, me too. ;D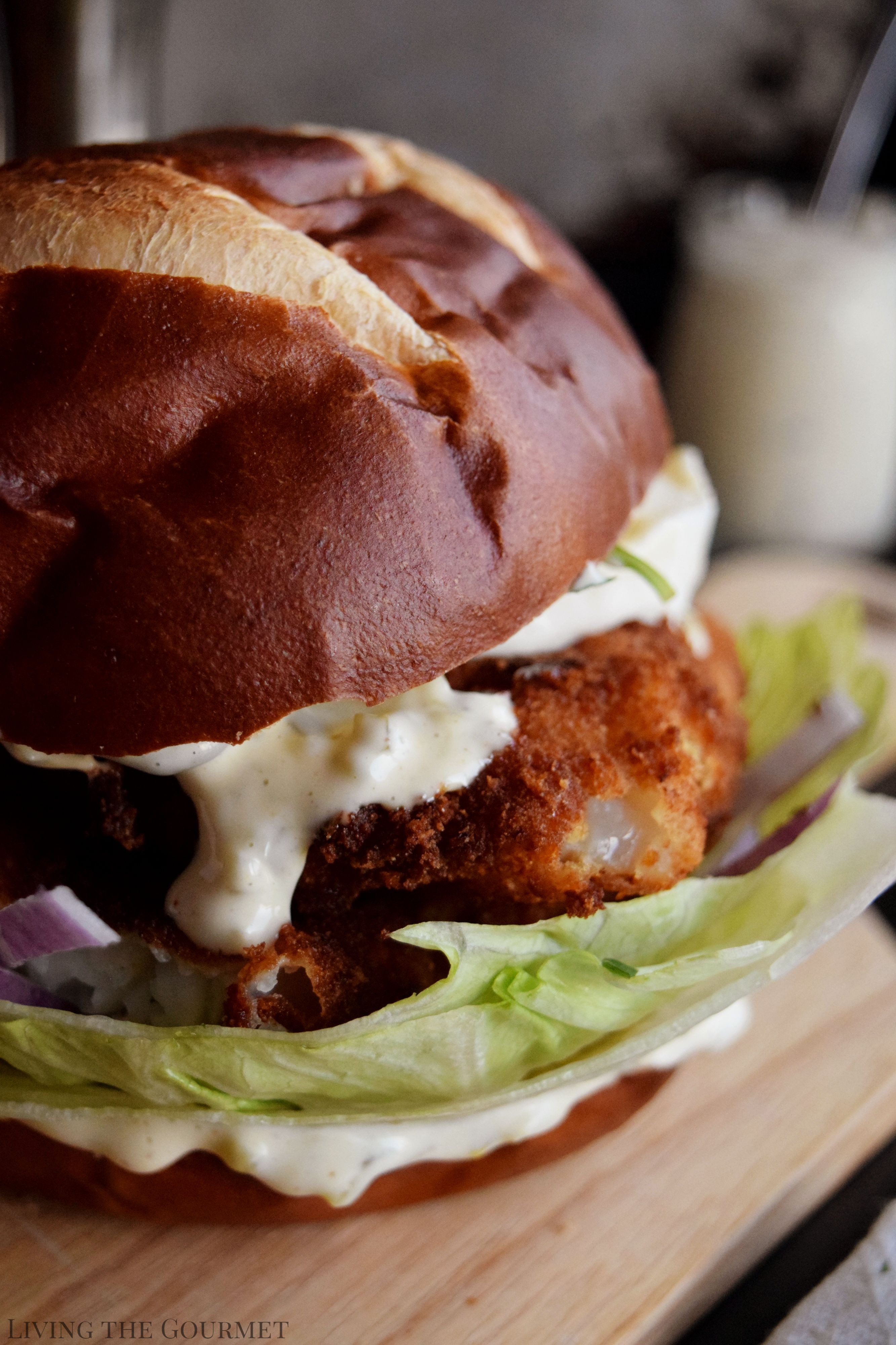 Print
Flounder Fillet Sandwiches and How to Edit Your Food Photos
Author:
Prep Time:

10 minutes

Cook Time:

15 minutes

Total Time:

25 minutes

Yield:

4

-6

1

x
Category:

Main Dish
1

lb

. of flounder fillets

2

cups

of flour

4

eggs – beaten

2

cups

of bread crumbs – plain or Italian style
Canola oil – for frying
For the Sandwich:
Pretzel Buns or bread of your choice
Fresh basil leaves
Thin sliced red onion
Slice of fresh Mozzarella
Lettuce leaves
Pickles
Instructions
Dredge the flounder first in the flour then in the egg wash and finally in the bread crumbs.
For a thicker coating you can dip the flounder again in the egg and then again in the bread crumbs.
Heat a large cast iron frying pan with about ½ inch of Canola oil. Carefully place the flounder in the heated oil. (about 2 pieces at a time) you do not want to overcrowd the pan!
When one side becomes a beautiful golden color carefully turn the slice over, and finish cooking on the other side. The fish takes about 2 – 3 minutes per side, depending on the thickness of the fish. The fish should be a beautiful white flaky texture.
Prepare a plate with paper towels to place the cooked fish on when it is done.
To Build the Sandwich:
Slice the roll and place the tartar sauce on each side of the bread, followed by the slice of fresh mozzarella, sliced red onion, lettuce leaves, fresh basil leaves and pickles if you like.
Recipe Card powered by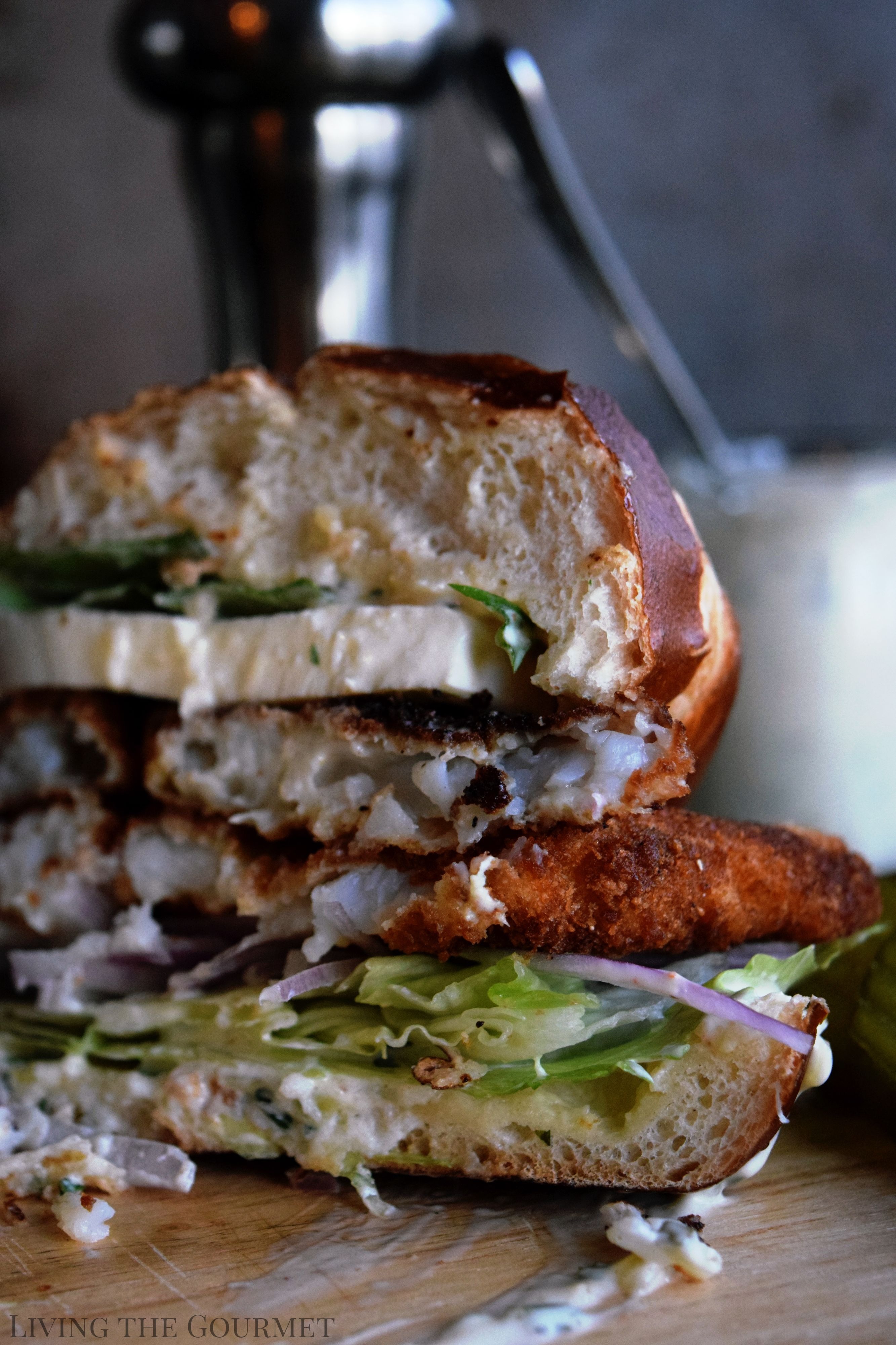 We hope you enjoyed today's post and we are excited to be offering Fotor PRO to one lucky LTG reader. So leave us a comment below with the email to your Fotor account (you cann create a free account if you don't have one) and we will reach out to you directly if you've won! Giveaway ends in one week (1/29). Good luck!
Enjoy with Love!
0