Crispy, oven-fried chicken cutlets are served up on a toasted bun alongside a refreshing cilantro and fig gremolata for the ultimate afternoon sandwich!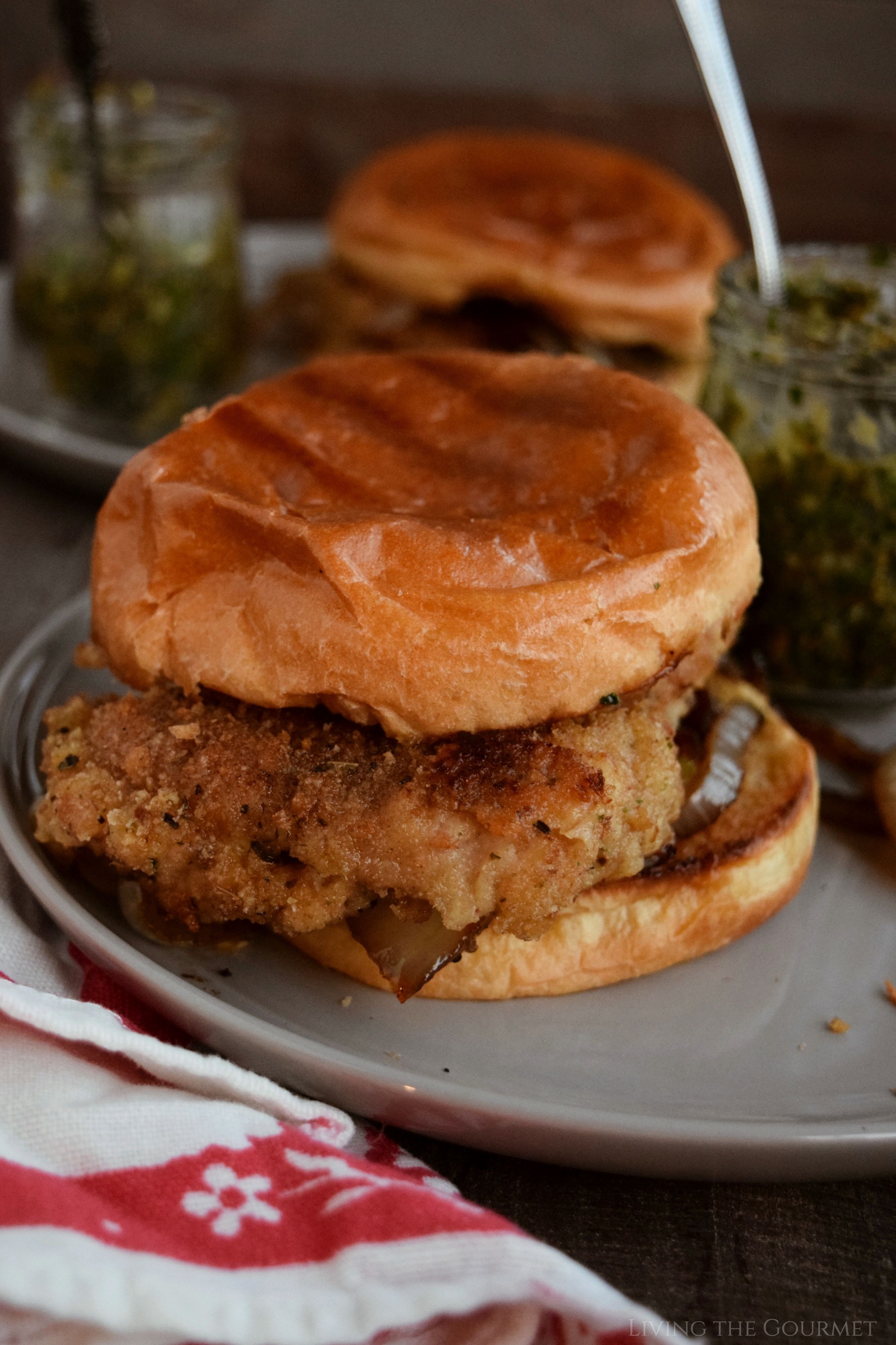 Few things in life are said to make "everything" better. In fact, I can think of only three – bacon, butter, and fried chicken. Today, we're focusing on that last one.
In my previous post, I wrote about wanting to return to some 'serious' bites after a weeks' long stint of home-style comfort, and today we're continuing that theme of more 'serious' fare…sort of. Imagine you've invited some friends over for a relaxed Friday evening, or to watch a game, or really anything less formal than a dinner party that involves food. Now, imagine that you want something to match the mood, something, something relaxed, something easy, but you still want to add on a 'touch of gourmet,' you want to both indulge your desire for a relaxed evening with your refined palate.
Naturally, that's where today's recipe comes in – Oven Fried Chicken Sandwiches with a Cilantro and Fig Gremolata and grilled onions. This is the perfect combination of fun and simplicity, with a dash of 'gourmet' thrown in for good measure.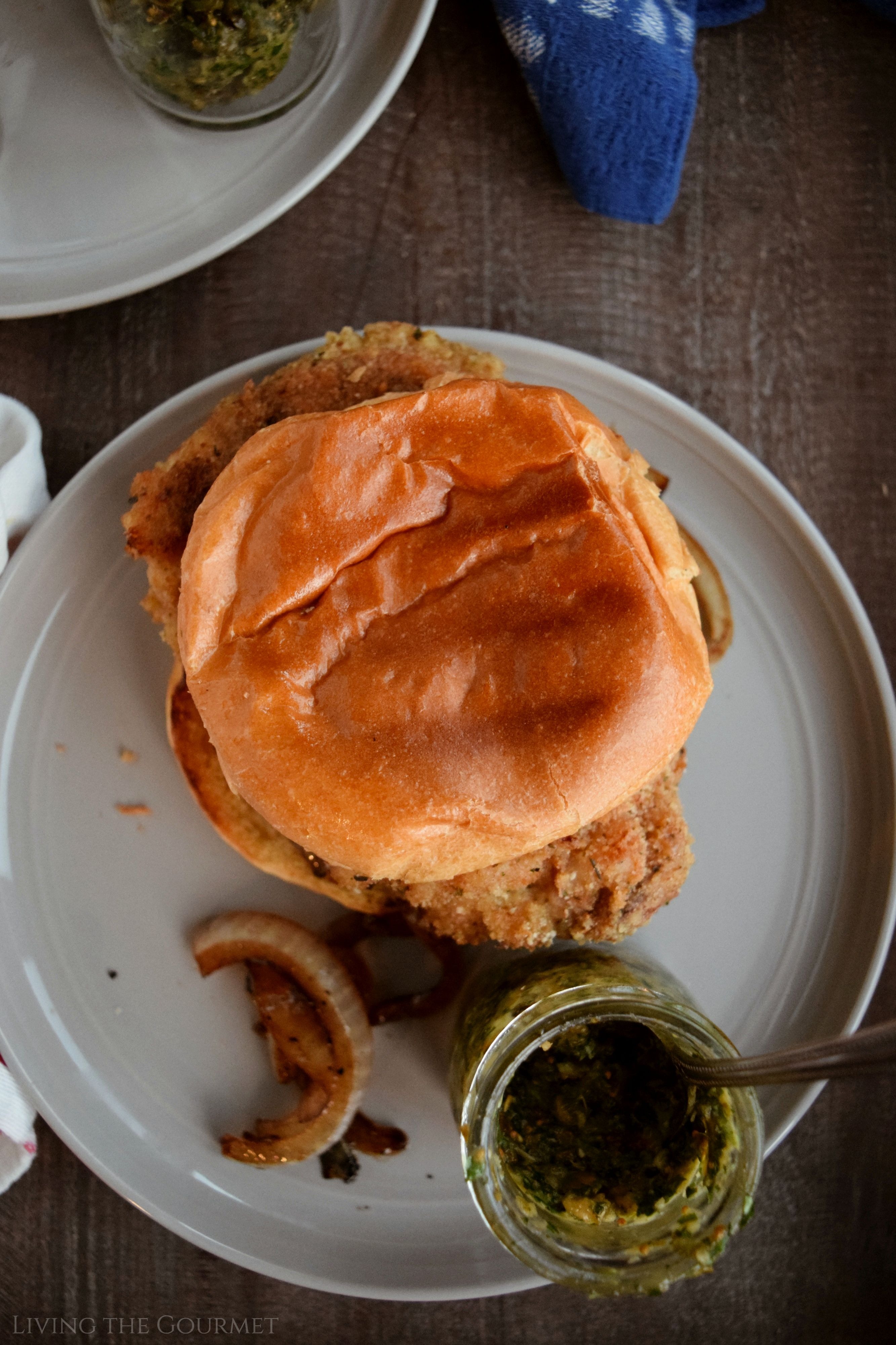 To start things off, we set up our kitchen space with a shallow bowl of breadcrumbs, one with an egg wash (read: briskly whisked eggs in a bowl), and a final bowl with flour. Once that's set up, we dredge chicken thighs, de-skinned and de-boned, through the flour first, then the egg wash, and then the breadcrumbs.
We then set the prepared thighs on a baking sheet, drizzle each with a bit of olive oil, and bake for about forty-five minutes. You want that classic fried chicken golden hue. You know the chicken is fully cooked once the juices run clear.
Now, for the grilled onions. Begin by heating a large cast iron frying pan with olive oil, and add in a sliced sweet onion, and toss that to coat it with the olive oil. You want the onions to char slightly. Once that's been achieved, add in sugar, salt, and toss again. Then add in a dash of balsamic vinegar, and toss a second time. Once the onions are soft, they are done.
Finally, we come to the gremolata. Honestly, this part really couldn't much easier. All you need to do is combine the ingredients listed below in the recipe card in a food processor, and give it a few pulses until you've reached your desired consistency.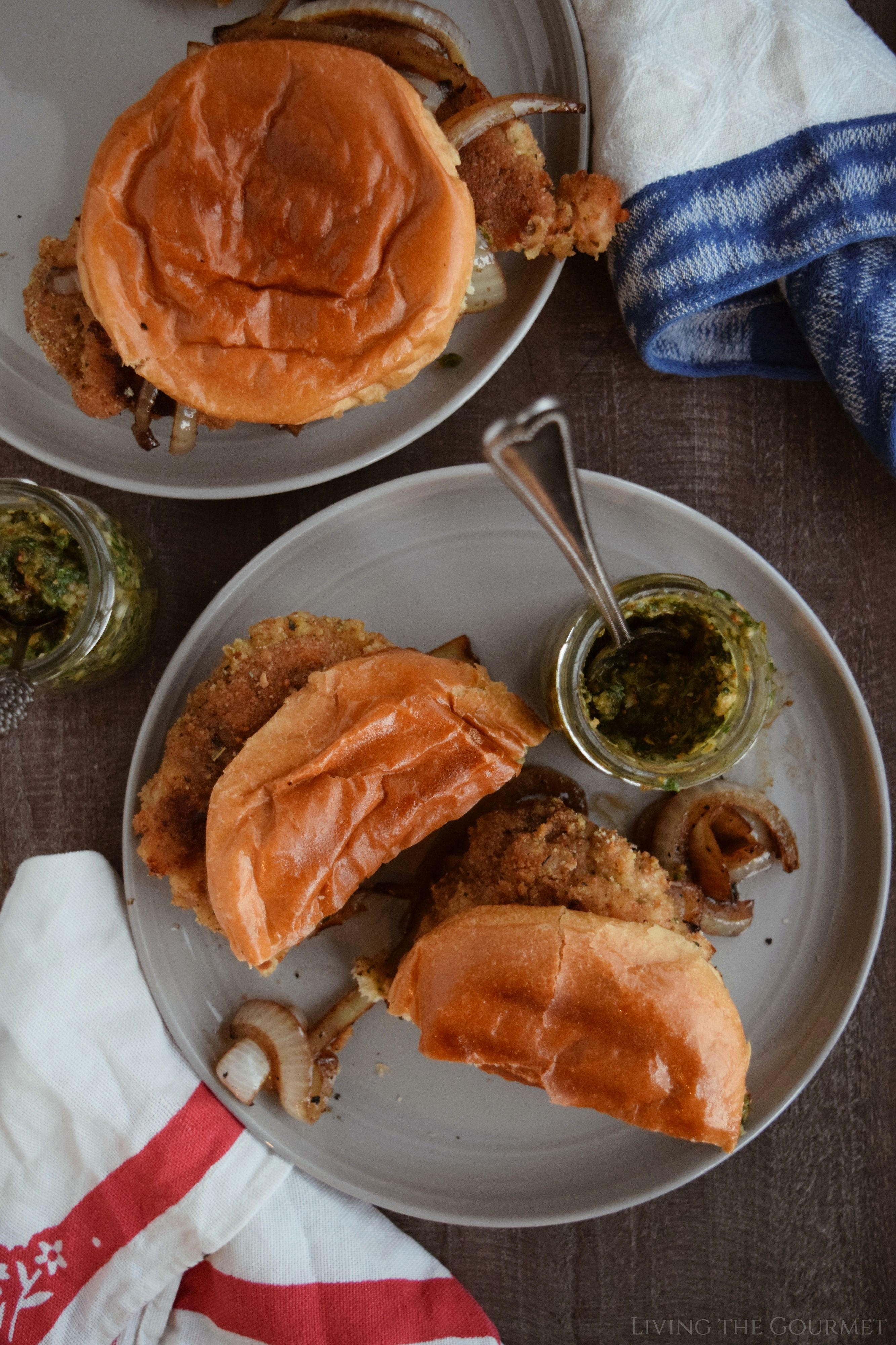 With all three components of the sandwich prepared, it is time to assemble the sandwich.
I really doubt I need to walk you through this, but here we go. First, take a bun, toasted or untoasted, and…slice it in half. I know, this is some complex, groundbreaking stuff going on right now here at Living the Gourmet, but bear with me. Then place a fried chicken thigh on the bun, you're going to want to watch your technique during this phase of the assembly, as you want the fried chicken thigh positioned optimally so as to maximize your sandwich enjoyment. The final steps of this sandwich assembly are somewhat controversial. Some suggest placing the onions next, others the gremolata. I have tried both ways, and I can confirm that the 'optimal' method of preparation is gremolata first.
Finally, place the top of your bun on the sandwich, and you are done.
Print
Italian Chicken Cutlet Sandwiches with Gremolata
Author:
Prep Time:

10 minutes

Cook Time:

45 minutes

Total Time:

55 minutes
For the Chicken:
8

boneless skinless chicken thighs

1 1/2

cups

of flour

2

eggs plus a splash of milk - whisked

1 1/2

cups

of Italian style breadcrumbs
Olive oil for drizzling
For the Gremolata:
3/4

cup

of fresh cilantro

3

cloves of garlic

6

dried figs with the little stem removed

1/2 tsp

. salt

1/4 tsp

. red pepper flakes
Juice of

1/2

lemon

2

tbs. honey

3

tbs. olive oil
For the Grilled Onion:
1

large sweet onion - sliced thin

2

tbs. olive oil

1 tsp

. sugar

1/2 tsp

. salt

1 tsp

. brown sugar

1

tbs. balsamic vinegar
Instructions
For the Chicken:
Preheat Oven 350 degrees:
Dredge the chicken first in the flour then the egg wash and finally in the breadcrumbs.
Place on a baking sheet and drizzle each thigh with olive oil.
Bake for 40 – 45 minutes for a nice golden outside. The juices must run clear for the chicken to be done.
For the Gremolata & Grilled Onions:
Combine all of the ingredients for the gremolata in a food processor and process to desired consistency. Taste to adjust any seasonings.
For the grilled onions, heat a large cast iron frying pan with the olive oil.
Add the sliced onion and toss to coat with the olive oil. Let the onion begin to char. Add the sugar, salt, brown sugar and toss. Finally, add the balsamic vinegar and again toss.
Allow the onion to become nice and softened.
To Build Your Sandwich:
Your choice of bun – toasted
Place the chicken on one side of the bun.
Place the gremolata on the chicken, top with the onions and close with the other side of the bun.
Recipe Card powered by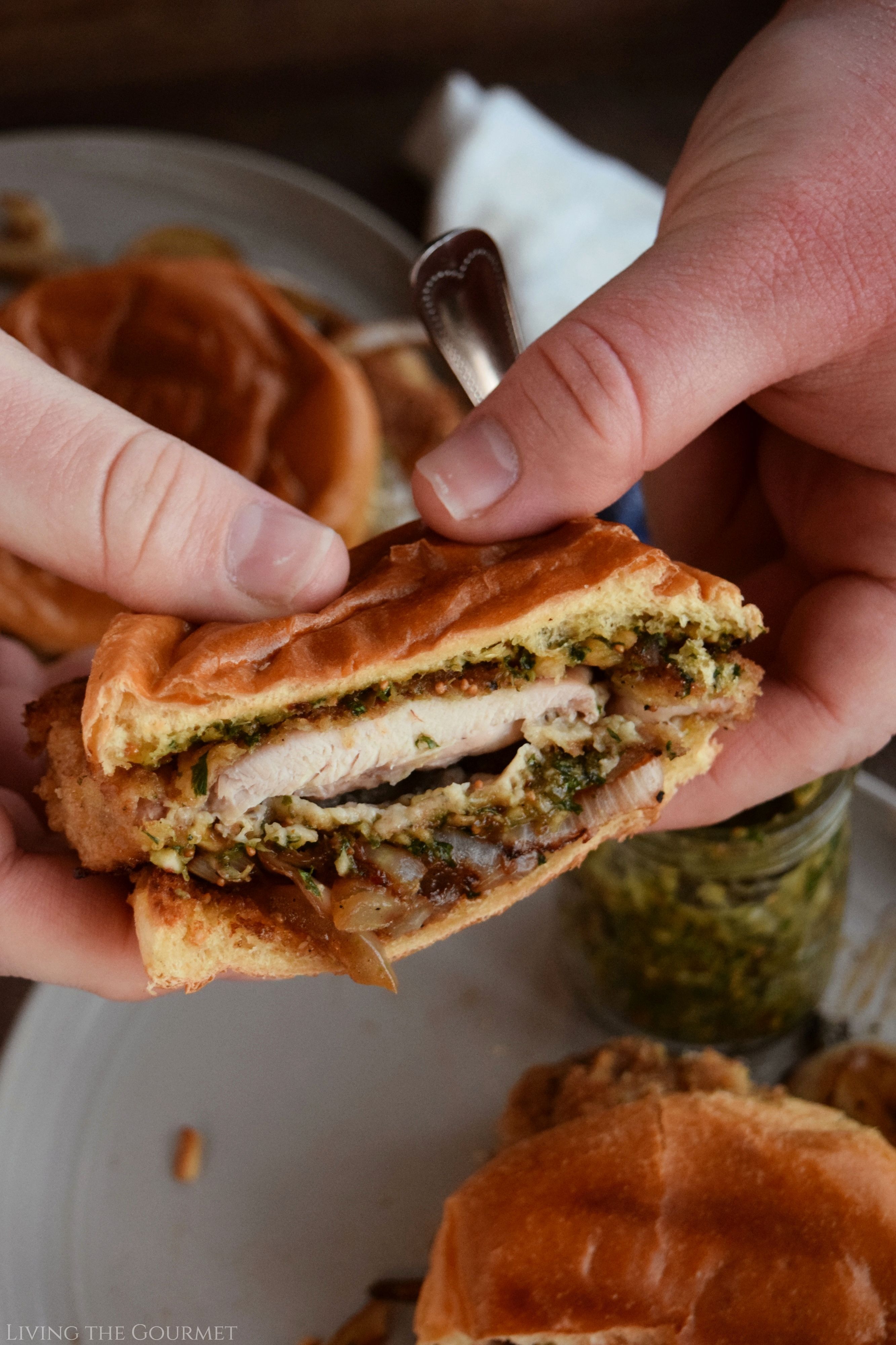 Enjoy with Love!
4