This post is sponsored by Small Town Cultures. All opinions expressed are my own.
Today we're preparing a batch of colorful Paninis with a little help and inspiration from our new friends over at Small Town Cultures. Their line of fermented veggies and peppers not only promote gut health, but are simply delicious, as well as being a great way to add a dash of color to any plate.
Now, without further delay, let's make some paninis.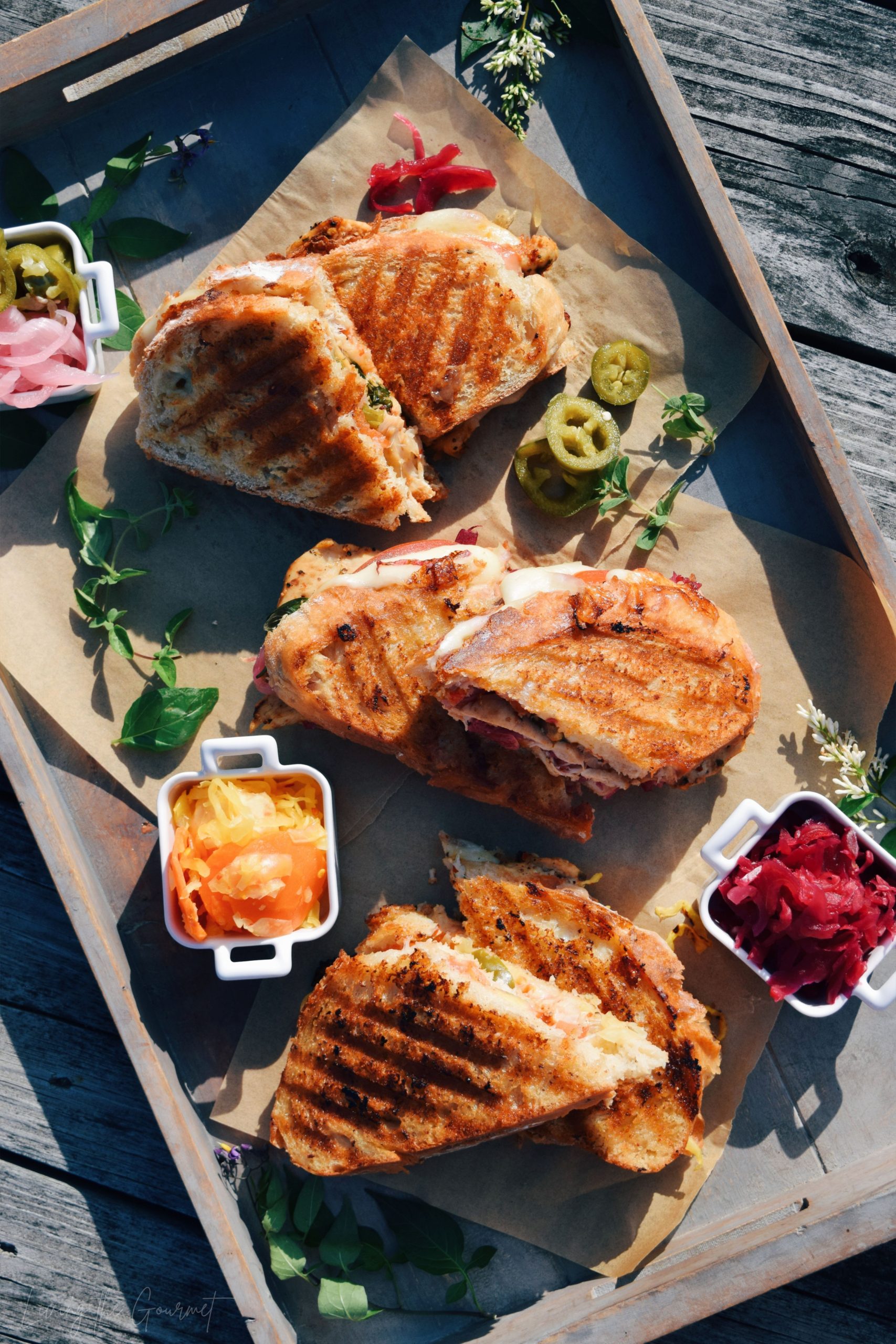 What You'll Need to Make a Panini
1) A Panini Maker. The best paninis are made in panini makers – there, I said it. While it breaks my heart to give 'anything' an edge over my preferred 'cast iron implements,' this is one area where there is simply no getting around it. If you enjoy paninis more than a few times a year, invest in a decent-ish panini maker, as there really is no substitute.
2) Or Two Cast Iron Pans. Conversely, using two heavy (emphasis on heavy) cast iron pans works 'almost' as well. Simply heat one of the pans up until its nice and hot, and then use the second cast iron pan (which needs to be of a smaller diameter than the heated pan) as a 'press' to press the panini. Yes, this is less convenient, and somewhat messier, and doesn't achieve those delectable grill marks, but it does get the job done. And again, if you only make paninis a few times year, this really is all you need.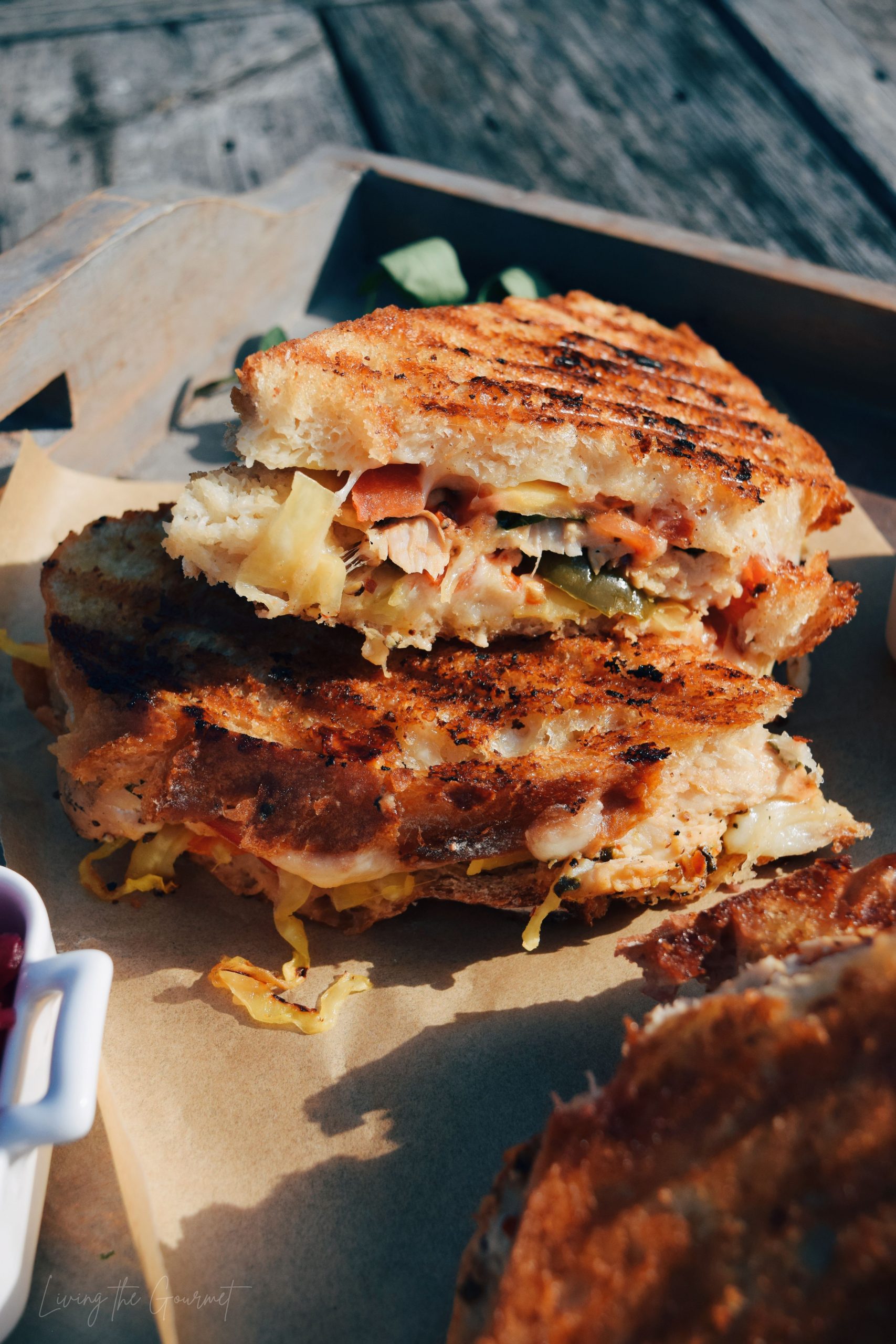 3) Or the Griddle and Pan Combo. If you have a griddle, you can achieve the same grill marks as a panini maker and a heavy cast iron pan. Simply heat up the griddle, and use a heavy cast iron pan to 'press' the panini. This, again, is less convenient and messier, but 'does' achieve those delectable grill marks.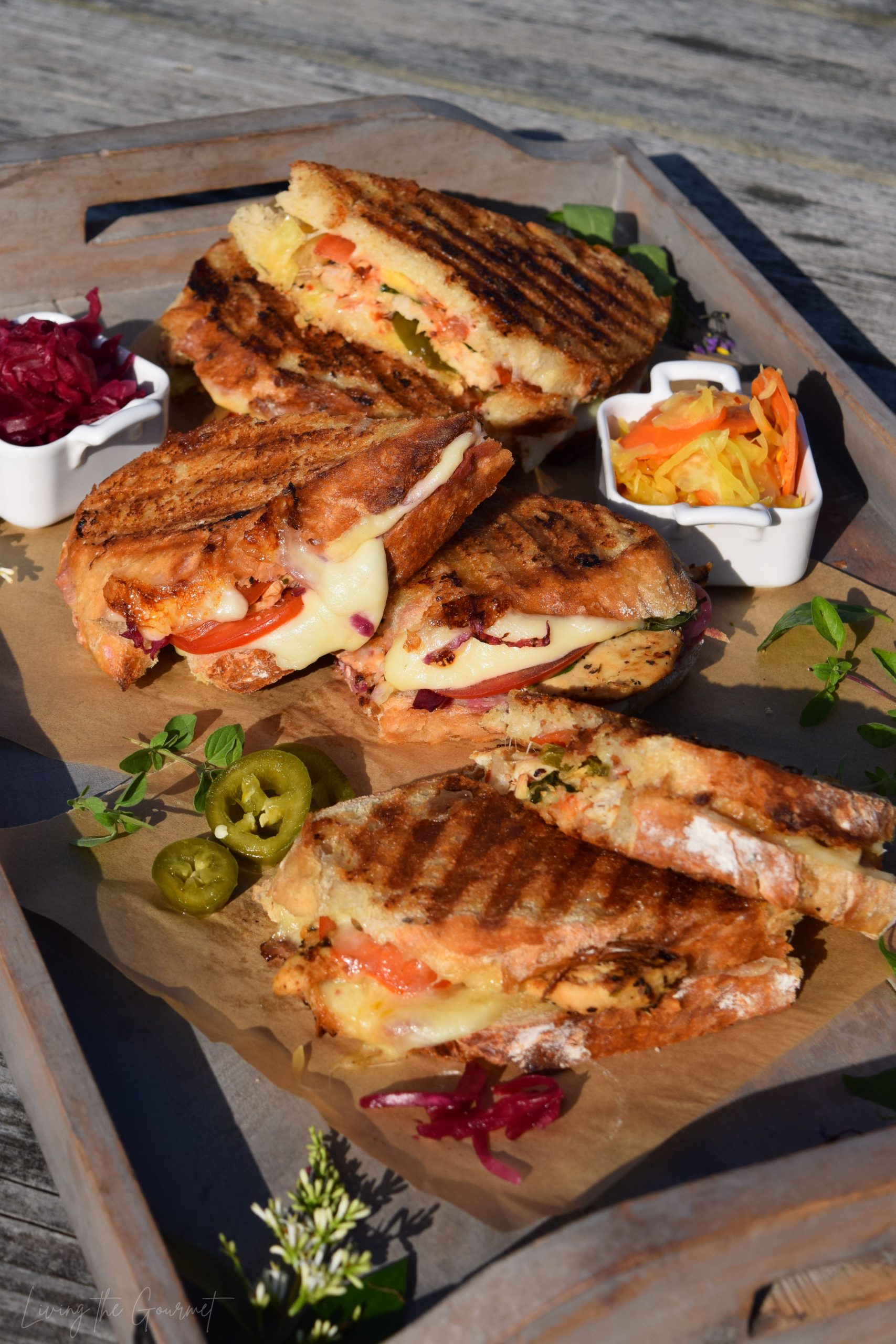 Ingredient Notes and Tips
1) The Bread. Denser is better when it comes to grilled sandwiches, particularly dense bread that is also quite pliable. If the bread is 'crumbly,' 'fragile,' 'thin,' or feels likes it about to come apart, don't even bother.
2) Fermented Jalapenos. These are a great way to spice pretty much anything, from pizza to eggs to sandwiches, and even topped on steak or tossed into salads. Even the brine itself is delicious, being great for things like margaritas. Small Town Cultures' Fermented Jalapenos feature just three super simple ingredients – water, jalapenos, and salt. Seriously, it couldn't get any simpler than that. As a nice bonus, Small Town Cultures' Fermented Jalapenos are plant-based, gluten-free, nut-free, Paleo, Keto-friendly, and features no added vinegar, sugar, preservatives or additives.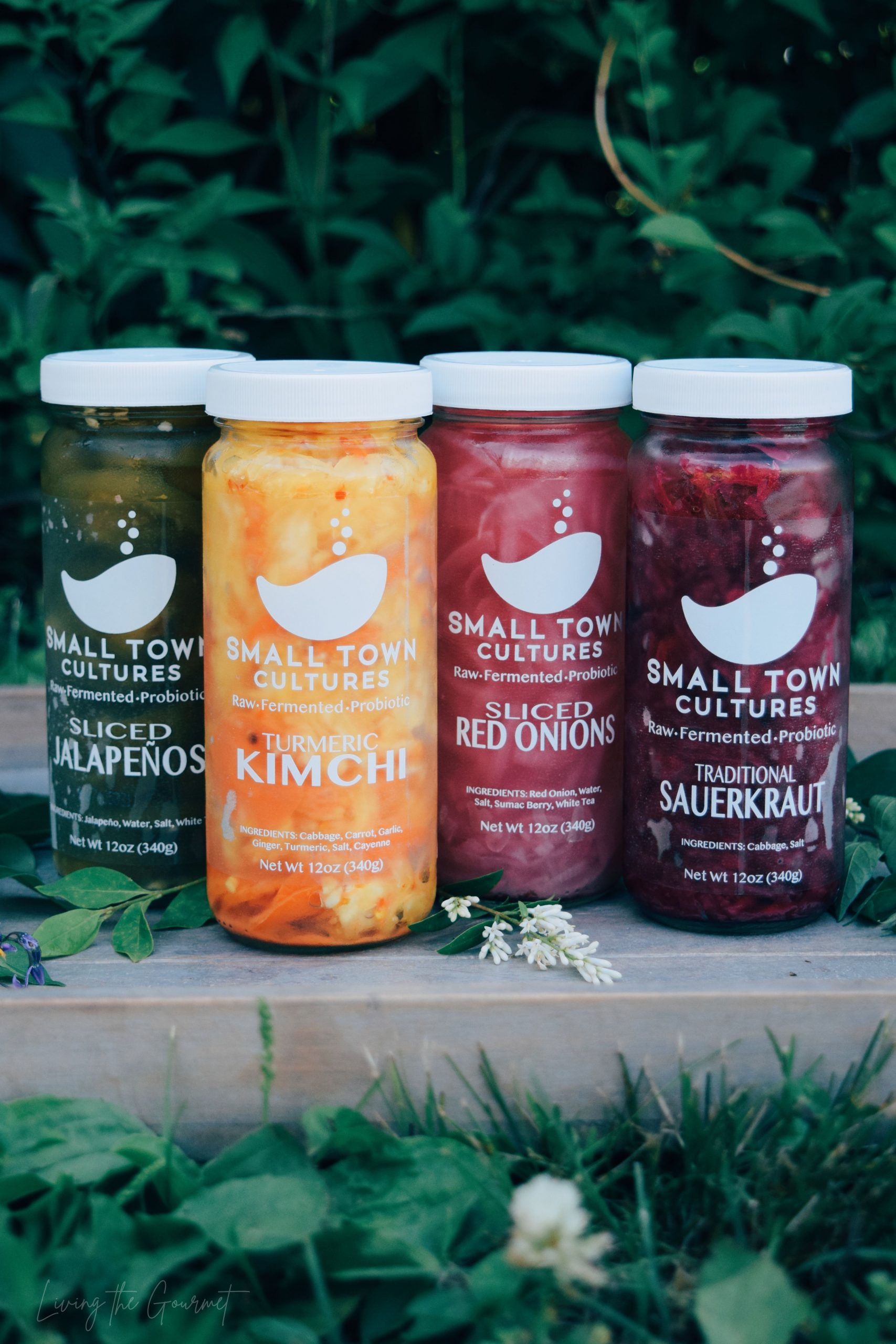 3) Small Town Cultures Sauerkraut. Great on sandwiches, as we're doing today, this sauerkraut is also delicious on sausages and salads, and added a delicious layer of crunch and a beautiful dash of color to today's paninis. Now, I know this is hard to believe, but today's sauerkraut features just two ingredients – cabbage and salt. Once again, it's plant-based, gluten-free, nut-free, Paleo, Keto-friendly, and features no added vinegar, sugar, preservatives or additives.
4) Fermented Red Onions. A delightful mix of red onion, water, salt, sumac berry, and white tea, Small Town Cultures' Fermented Red Onions are a delicious addition to charcuterie boards, sandwiches, and salads. The lovely red color, and delicious taste, make them a delight for the eyes and the palate alike. Again, this product is plant-based, gluten-free, nut-free, Paleo, Keto-friendly, and features no added vinegar, sugar, preservatives or additives.
5) Turmeric Kimchi. Small Town Cultures' best-selling product, turmeric kimchi is a wonderfully simple mix of cabbage, carrots, garlic, ginger, turmeric , salt and cayenne. It features medium heat, with a bright bold flavor, making it perfect for eggs and salad, or as an ingredient in soups, or simply on its own as a side to Asian cuisine. Once again, this product is plant-based, gluten-free, nut-free, Paleo, Keto-friendly, and features no added vinegar, sugar, preservatives or additives.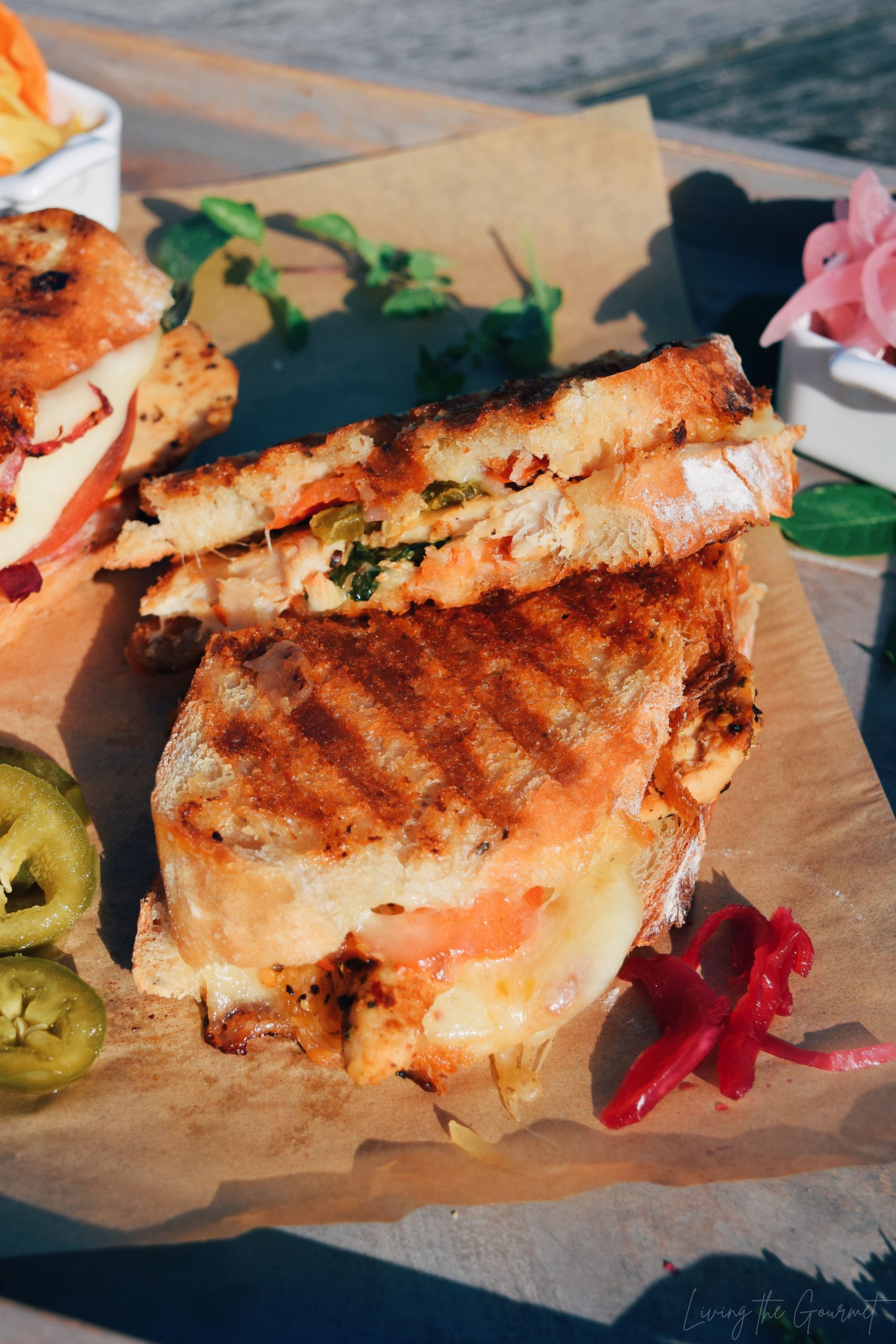 More Great Sandwiches from Living the Gourmet
1) Chicken Fried Pork Rib Biscuits. Cayenne-fried pork ribs, topped with a sweet and spicy chili relish, sandwiched together on plump buttermilk biscuits. Need I say more?
2) Spicy Chicken Wraps. Pan grilled chicken coated with a garlic and lemon spice rub, piled onto homemade wheat tortillas with avocado, red bell peppers, and shredded lettuce.
3) Greek Tacos. My answer to the question "What would a taco look like, if it were prepared with primarily Greek ingredients?" These tacos feature cinnamon ground beef with oregano, bell peppers, and sweet onions, piled onto wheat tortillas with sweet red onion and grape tomatoes.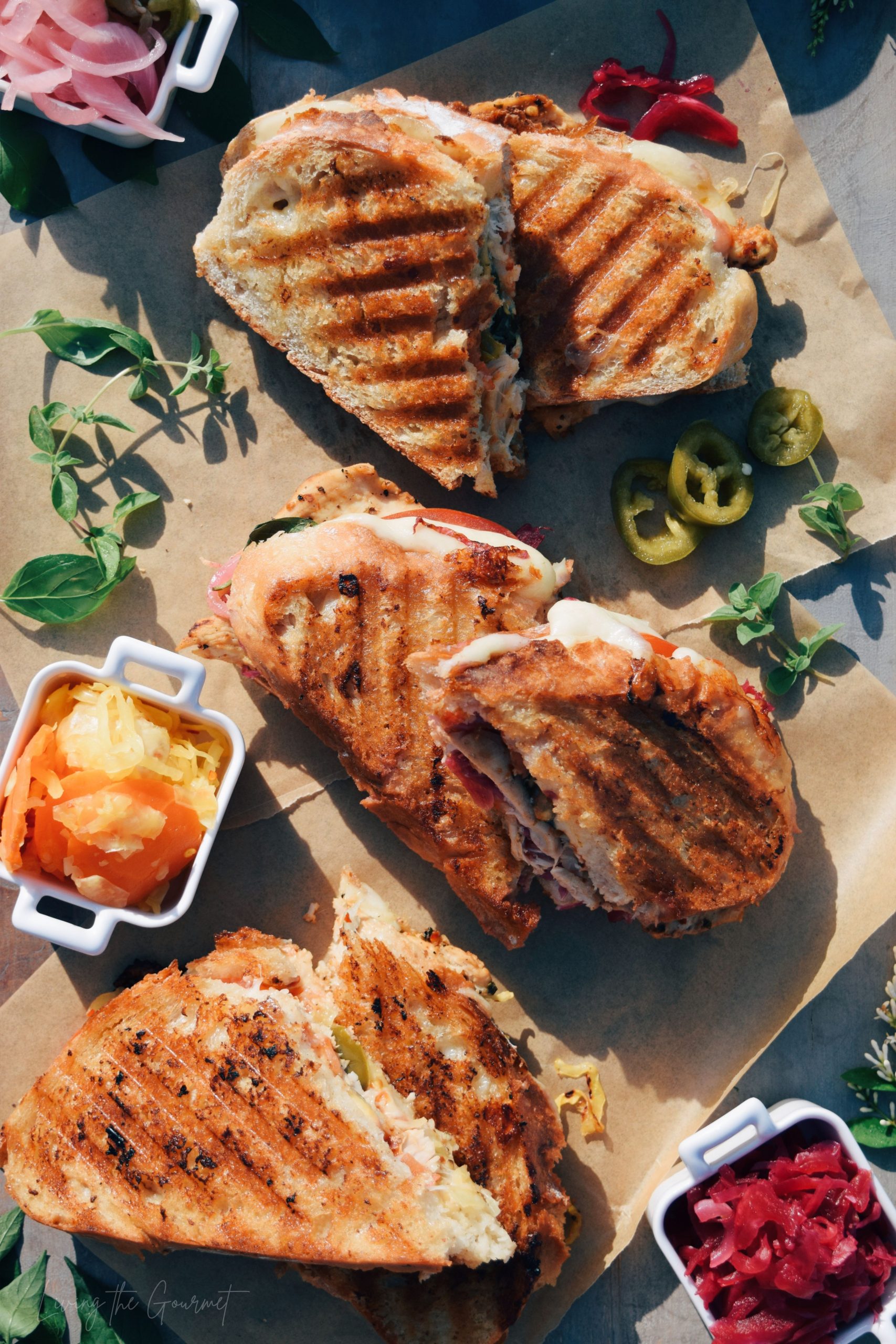 Print
Grilled Chicken Paninis
Author:
Prep Time:

10 minutes

Cook Time:

30 minutes

Total Time:

40 minutes

Yield:

4

paninis

1

x
Marinade for the chicken:
3

tsps. sugar

3

tsps. salt

3

tsps. ground black pepper

2

tsps. dried minced garlic

3

tsps. dried Mexican oregano

2

tsps. crushed red pepper

3

tbs. olive oil

2 1/2

tbs. fresh lemon juice

1

tbs. apple cider vinegar

3

tbs. fresh grated Romano or Parmesan cheese
Instructions
For the chicken:
Combine all of the ingredients for the marinade in a bowl.
Mix and form into a paste like marinade.
Rub each piece of chicken with the paste and place in a covered bowl.
Refrigerate for at least one hour or up to over night.
Heat a cast iron griddle or large cast iron frying pan.
Place a few slices of chicken on the heated pan or griddle.
Allow the edges of the chicken to turn white then turn over and finish cooking on the other side. The cooking time will depend the thickness of the cutlet. Thin sliced cutlets should take about 4 minutes or so per side. The juices should run clear when the chicken is cooked through.
For the paninis:
Preheat your panini grill to 350 F. degrees.
Layer cheese, tomatoes, grilled chicken, and your desired Small Town Cultures fermented foods. Close the sandwich and brush the outside of the bread with mayonnaise.
Carefully place the sandwich on the panini maker and press the lid down gently. Allow to cook for 5-7 minutes on each side until the bread is golden and the cheese is melted.
Serve and enjoy!
Keywords: paninis, sandwiches, grilled chicken
Recipe Card powered by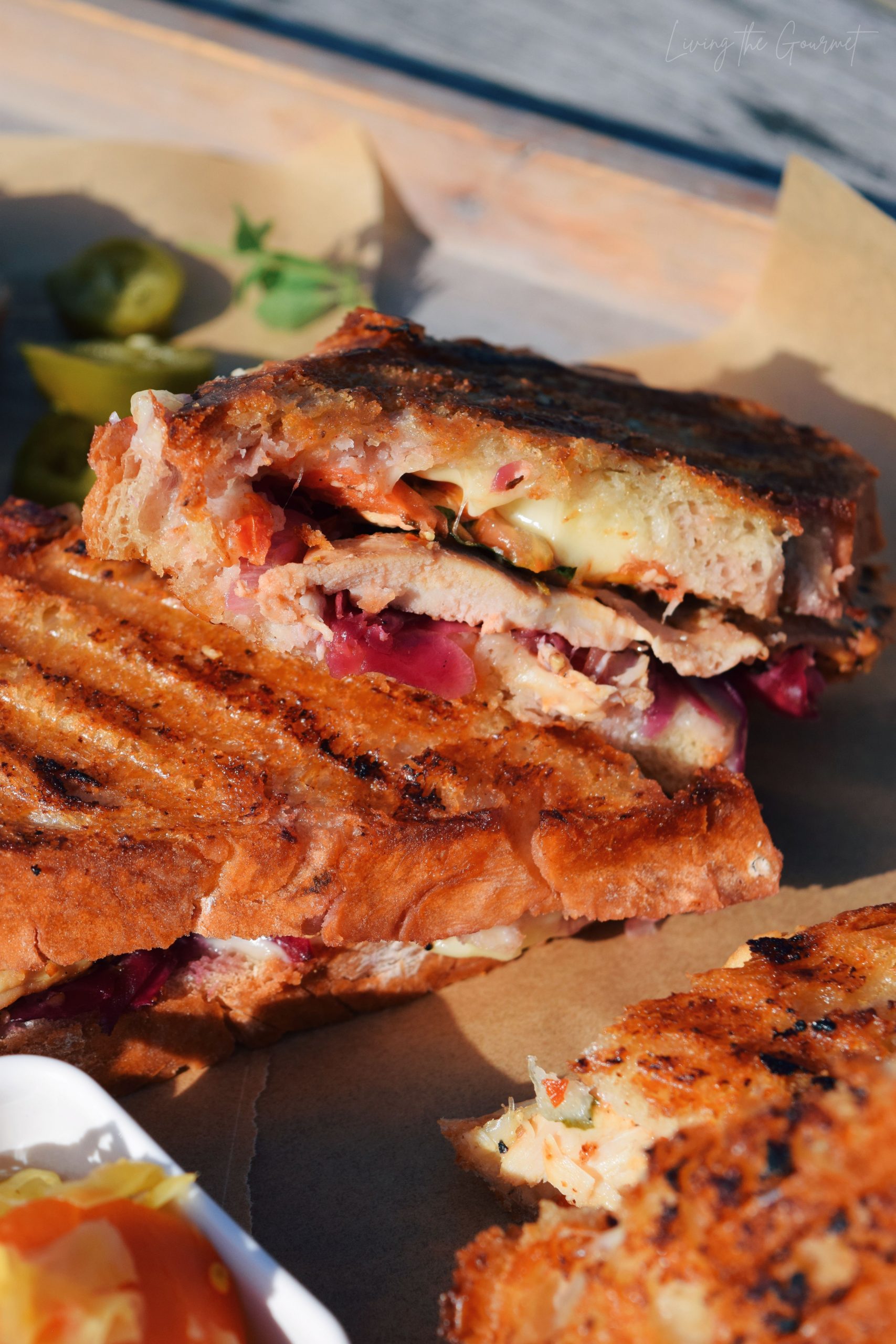 0