This post has been sponsored by Jarlsberg Cheese. All opinions expressed are my own.
These hearty sandwiches are melted with creamy slices of Jarlsberg Cheese and a fresh Giardiniera. It's a perfect pairing with a simple Au Jus sauce that is sure to impress.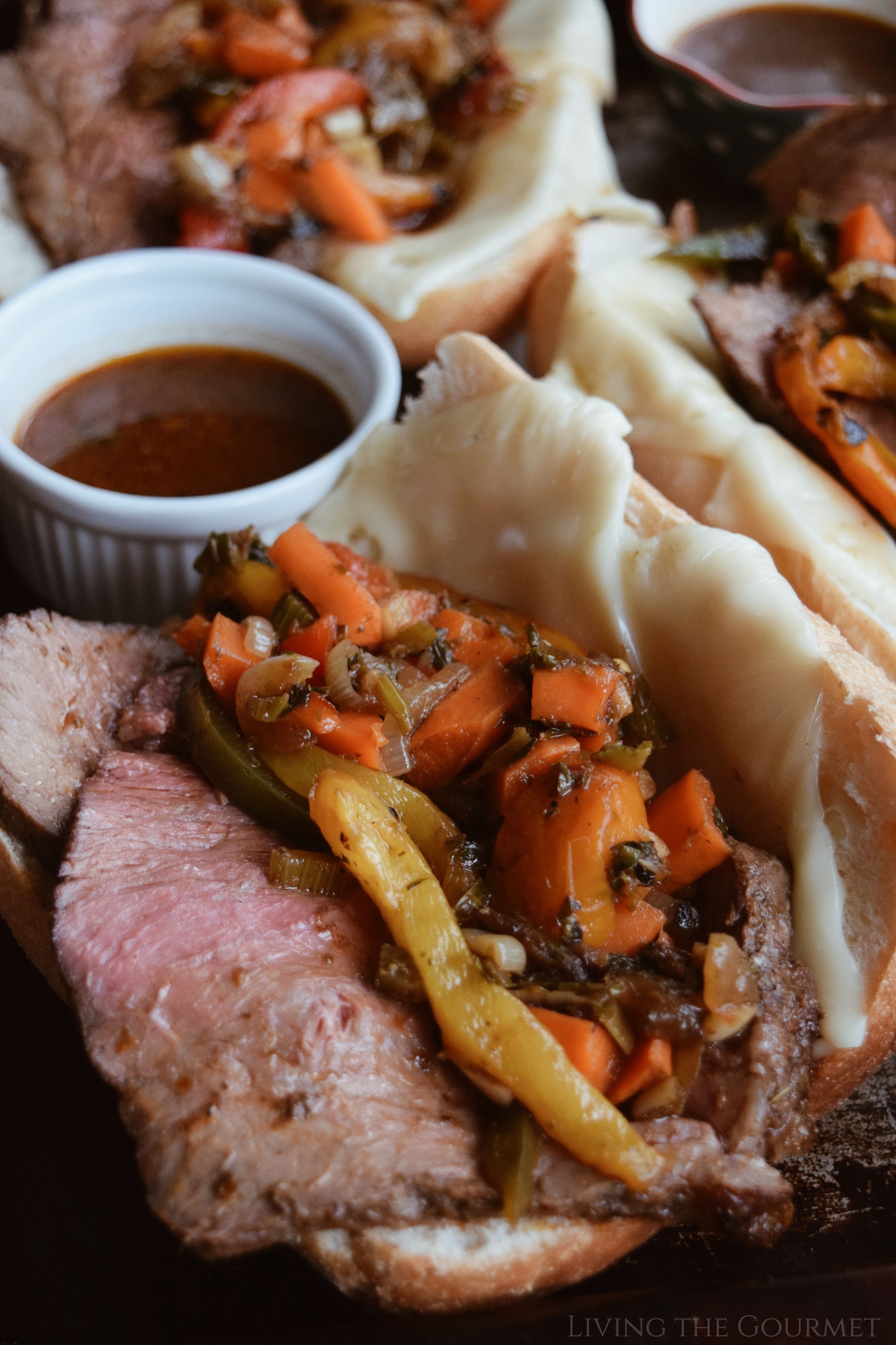 There is very little that I can say to introduce something as ubiquitous as the "Roast Beef Sandwich." The concept is blissfully simple, born from equal parts utility and taste, since few things can be viewed as more utilitarian than roasted meat set between two of pieces of bread, and even fewer that can so easily please the palate.
The list of ingredients for this most basic of creations remains largely consistent across its various incarnations. For example, I prefer mine "Chicago Style," with melted Jarlsberg Cheese, a nice Au Jus sauce, and a mild Giardiniera as a relish, while my son prefers his in the style of what I'll call "Long Island Plain" – mere mayonnaise, salt, pepper, and a club roll. Naturally, today we're making the former since I doubt anyone needs a How-To on the later.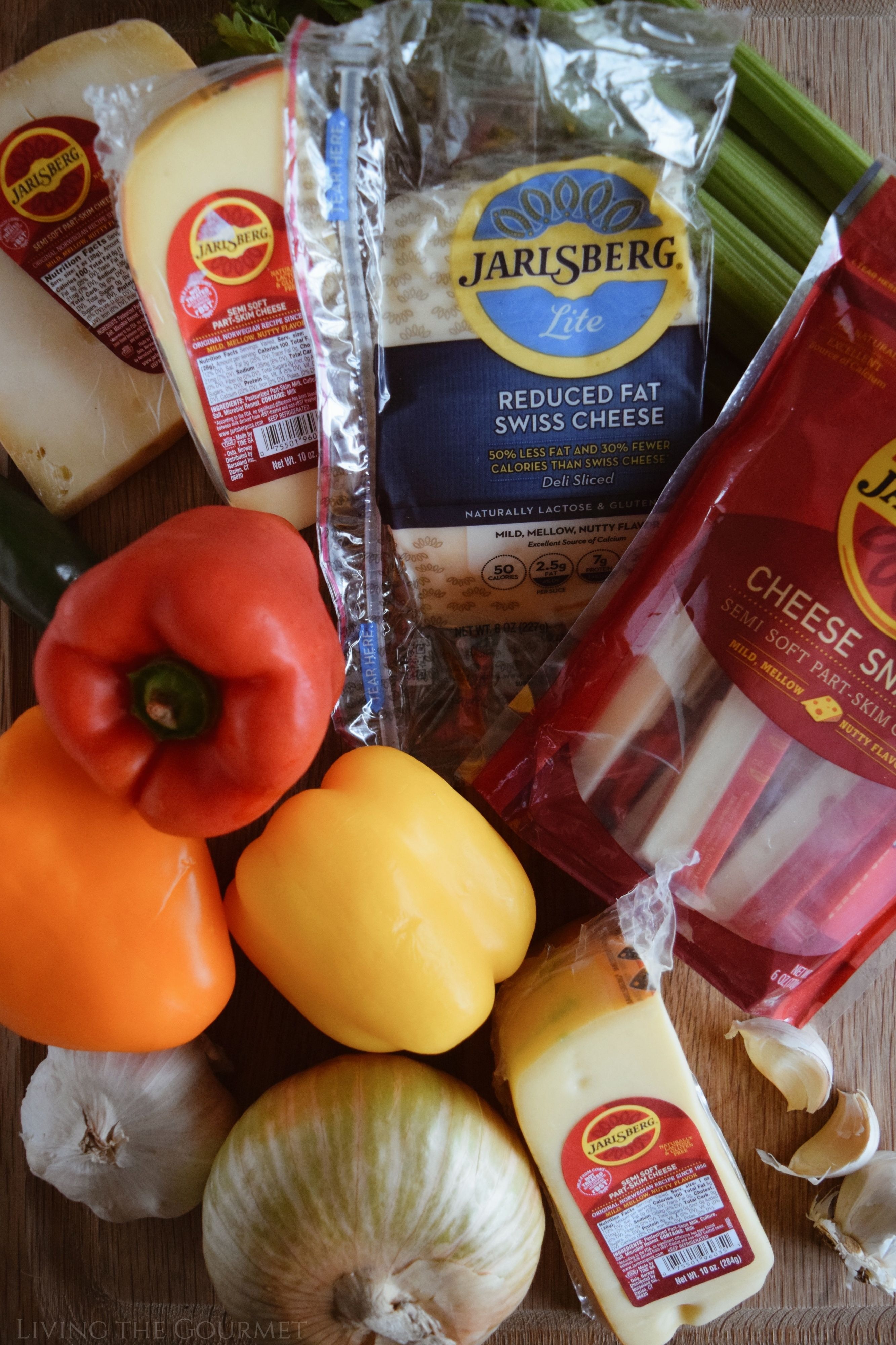 For those few who might not be familiar, Giardiniera it is basically a 'relish' made from peppers, cauliflower, celery, and carrots, which is pickled in vinegar with an assortment of other ingredients, usually a mix of garlic, oregano and/or cilantro and/or parsley, and sugar, and is prepared in both a spicy and mild variety. In Italy, this relish is sometimes referred to as 'sottaceta,' meaning 'in' or 'under' vinegar. Typically this mixture is left to pickle for at least a day or more.
Today's Giardiniera is a bit of a variation on the standard formula. For one, I decided on leaving out the cauliflower, and secondly, I'm bypassing the pickling process. While this might make today's relish more of a 'chutney,' the texture and flavor profile remains largely the same, albeit bit more savory and a tad bit less 'crisp' than the standard recipe.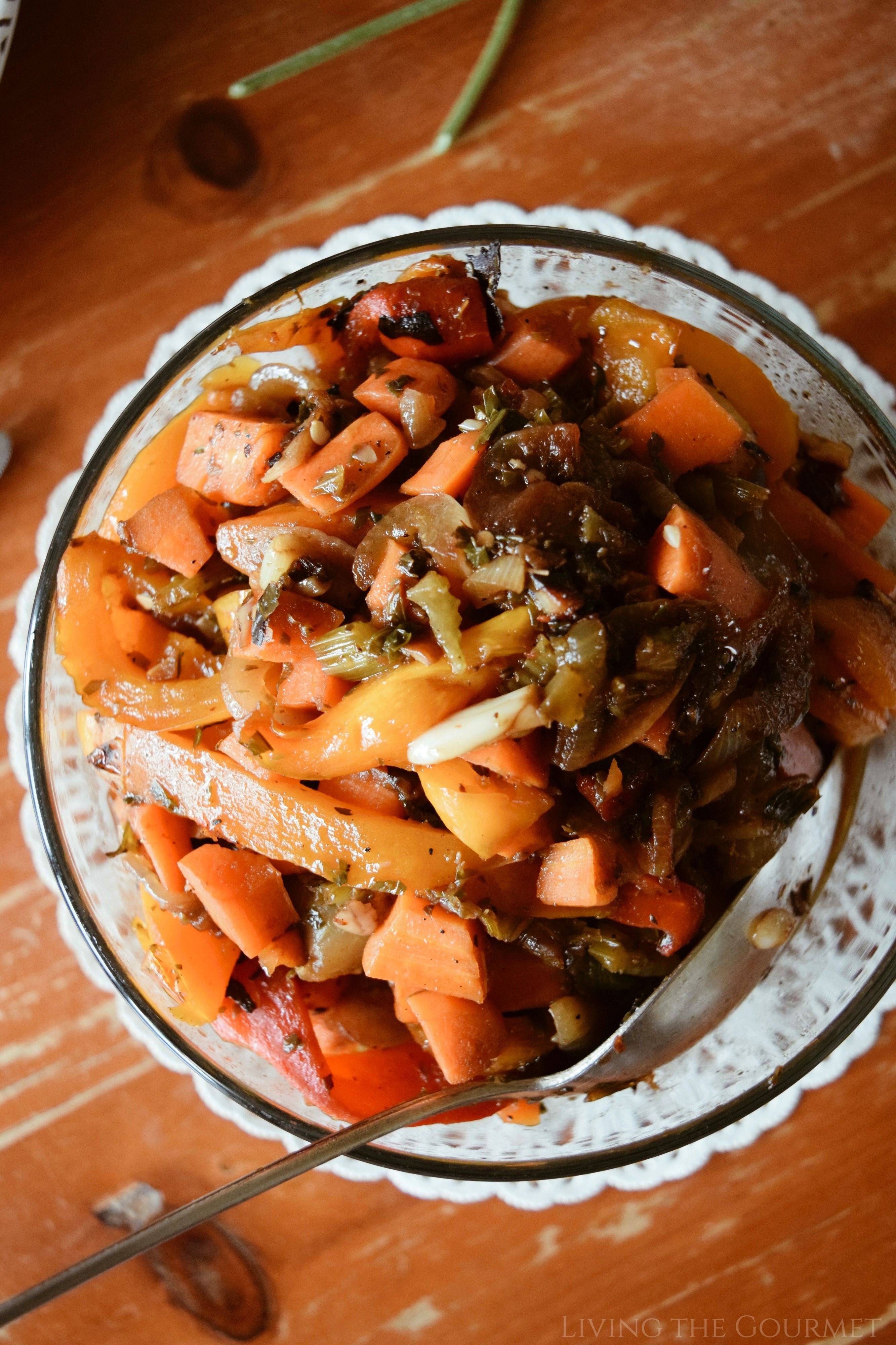 After preparing the Giardiniera, it's time to prep the meat for the sandwich, which is coming from a four and quarter pound Choice Beef Top Round Roast. To start things off, we're going to prepare a rub with sweet paprika, garlic powder, dried oregano, and a good quality BBQ Rub, for which you can substitute coriander if you prefer. Mix that together in a bit of olive oil, and then rub it thoroughly over the roast, being sure to cover the entire surface.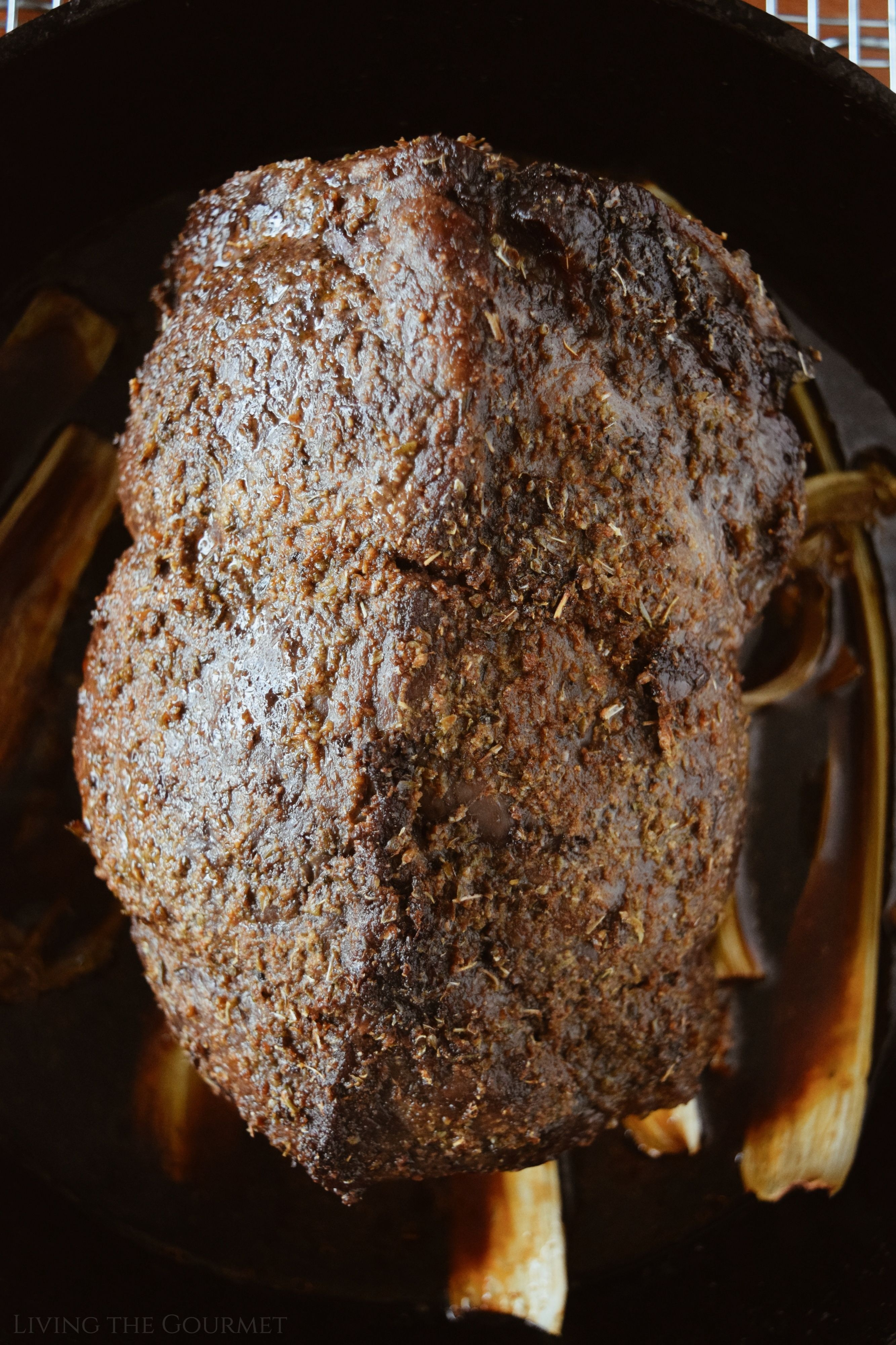 After that, we line a large cast iron frying pan with four to five celery stalks as pictured below, set the roast down on top of them, and then add a cup of water into the pan. Then set the roast to cook at 350 degrees Fahrenheit for about fifteen to twenty minutes per pound, adjusted to how well done or rare you prefer your meat. Add another cup of water midway through the cooking process.
After the meat has finished cooking, arrange a 'tent' of tinfoil over it while still in the pan, and let it rest for about fifteen minutes.
Once the meat has rested and been removed from its pan, it's time to prepare the Au Jus. To do this, add a half a cup of water into the remaining juices of the pan that the meat cooked in, along with salt, pepper, a tablespoon of butter, and a tablespoon of Worcestershire Sauce. Now set the pan over low heat, and stir. Do 'not' let the sauce come to a boil. You merely want it to simmer.
Once that's done, it's time for the fun part – assembling the sandwich.
To start, we begin by slicing some club rolls lengthwise, and then layer a few slices of Jarlsberg Cheese on either side. While you can, of course, use your preference of cheese, I find that the texture and flavor of Jarslberg to really complement what we're going for here today, having a bit more 'body' and a slightly more 'robust' flavor that won't be overpowered, but without being overly sharp. After that, set them either in the oven or in a toaster oven for a minute or two to allow the cheese to melt. After that, set your roast beef slices in the Au Jus sauce for about a minute, but not any longer, otherwise the meat will begin to cook again. Then layer the slices onto the sandwich, top the meat with the Giardiniera, close the sandwich, and serve with a side of extra Au Jus for dipping, and you're done.
Print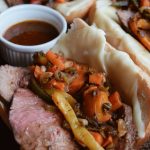 Beef Au Jus Sandwiches with Jarlsberg Cheese
---
Author:

Total Time:

2 hours 15 minutes

Yield:

6

sandwiches

1

x
4 1/4

lb

. Choice Beef Top Round Roast

4

-

5

celery stalks
Your favorite rolls
Jarlsberg Cheese slices
Rub for the Roast:
1 tsp

. Sweet Paprika

1 tsp

. BBQ Rub (if you do not have BBQ Rub you may substitute ground Coriander)

1 1/2 tsp

. Garlic Powder

1 1/2 tsp

. Dried Oregano

1 1/2

tbs. Olive oil
For the Au Jus:
1/2

cup

beef drippings
Salt and fresh ground black pepper

1 tablespoon

of butter

1 tablespoon

of Worcestershire Sauce
For the Giardiniera:
1

large sweet onion - sliced thin

3

bell peppers - any color - (though tri-color looks nice) - roasted

1

large jalapeño - roasted (with or without seeds)

2

-

3

carrots - sliced

5

cloves of garlic - chopped

3

celery stalks with leaves - chopped

1

tbs. dried oregano

1

tbs. sugar

1 tsp

. red pepper flakes

2

tbs. balsamic vinegar

2

tbs. olive oil

1 tsp

. sugar
---
Instructions
For the Roast:
Combine all of the spices and olive oil in a small bowl and rub all over the meat.
Lay the celery stalks in a large cast iron frying pan and place the prepared meat on the celery stalks.
Place one cup of water in the frying pan.
Preheat Oven 350 degrees F:
Cook the meat 15 – 20 minutes per pound or to your desired doneness.
Add another cup of water to the pan as the roast is cooking.
Let the roast rest tented with tin foil for at least 15 minutes.
For the Au Jus:
Leave the cooked celery in the pan. It adds some flavor
Stir the Au Jus with the seasonings and the Worcestershire Sauce at a gentle heat, do not boil. Taste for seasonings.
The Au Jus is made just before serving.
Giardiniera:
Preheat Oven 350 degrees F:
Place the sliced carrots in a dry cast iron frying pan and roast for approximately 10 – 12 minutes.
Remove and let cool for a minute then slice.
Place the peppers whole over a flame and let char on all sides. The jalapeno pepper may be too small to do this so, place in a small frying pan and let char. Be sure to be very careful when doing this and always keep an eye on the vegetable.
If you do not have a gas stove for doing this is works fine to place the pepper in a dry frying pan and let char on all sides.
Let the peppers cool and then remove the char and the seeds and slice thin.
Place the sliced onions, garlic and celery with the leaves in a large cast iron frying pan.
Sprinkle with the tablespoon of sugar, the dried oregano and the red pepper flakes and two tablespoons of olive oil and let this sauté over a gentle to medium heat until the mixture is very soft.
Add the sliced peppers and the carrots and toss. Taste for seasoning.
Assembly:
Slice the roll in half and place the Jarlsberg Cheese Slices on each side of the roll.
Place in the oven for a minute or two to let the cheese melt.
Slice the roast beef thin and place for a minute in the A-Jus to moisten. Do Not leave the meat in the A-Jus too long or the meat will get overdone. You only want to moisten the meat.
Place the moistened beef on the melted cheese and top with the onions and peppers.
Serve with a small cup of the A-Jus alongside the sandwich.
Do Not slice more meat than you need it will lose all of its juices. Slice the meat that you need.
Prep Time:

15 minutes

Cook Time:

2 hours
Recipe Card powered by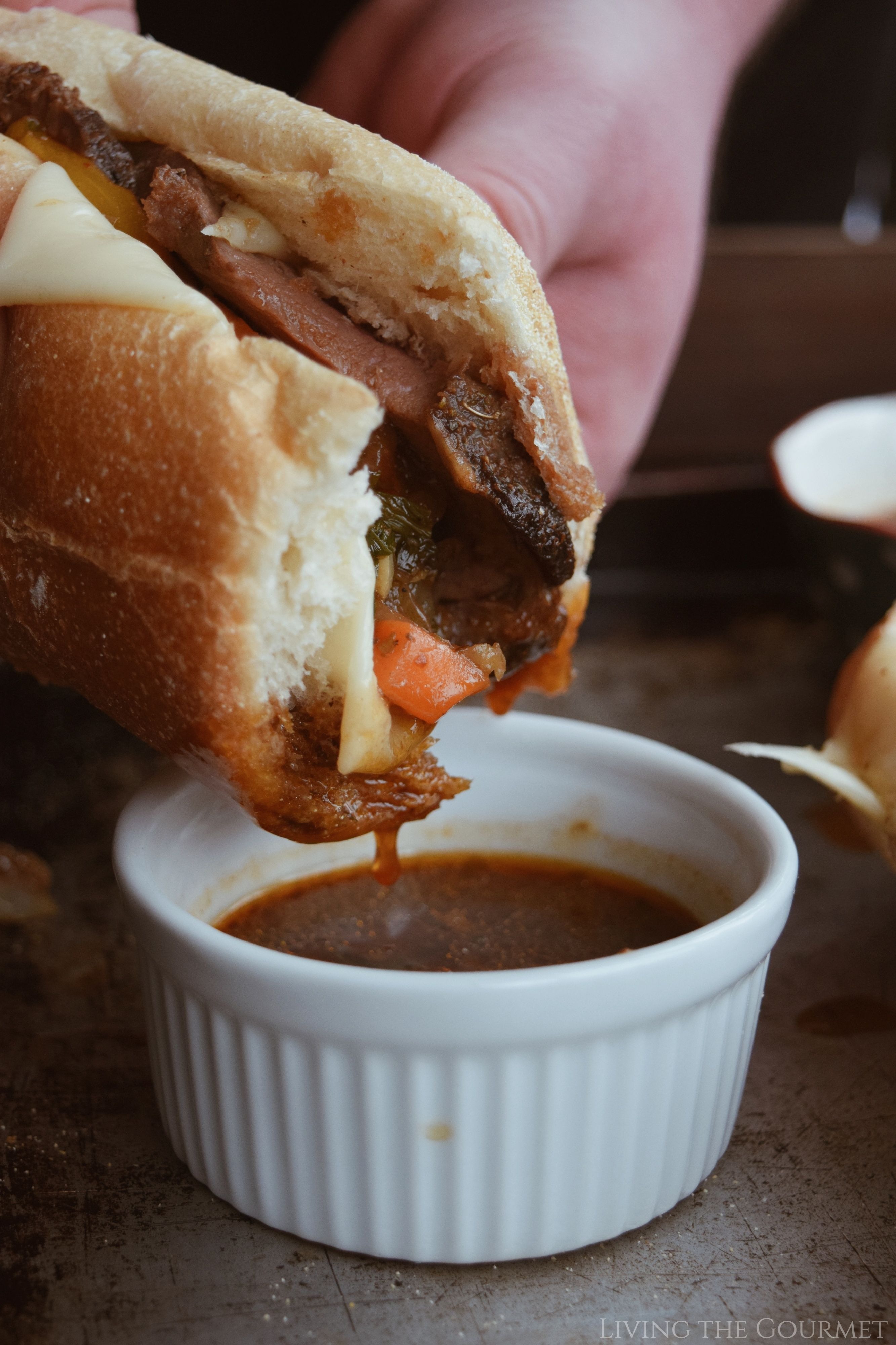 Thanks to our friends over at Jarlsberg for providing today's samples. Be sure to check out their Facebook page for details on their year-long giveaway, featuring "Slay All Day" cheese plates designed by Marissa Mullen of That Cheese Plate. The giveaway series is live now for Mother's Day, featuring "That Slay All day Plate," with other giveaways throughout the year including "That Happy Birthday Plate" for Norway Day, "The Friendsgiving Plate" for Thanksgiving Day, and "That Signature Plate" for the various winter holidays. Enter now for your chance to win one of these fabulous arrangements.
1