Dress up your outdoor tablescape this season with this layered Summer Eggplant Salad!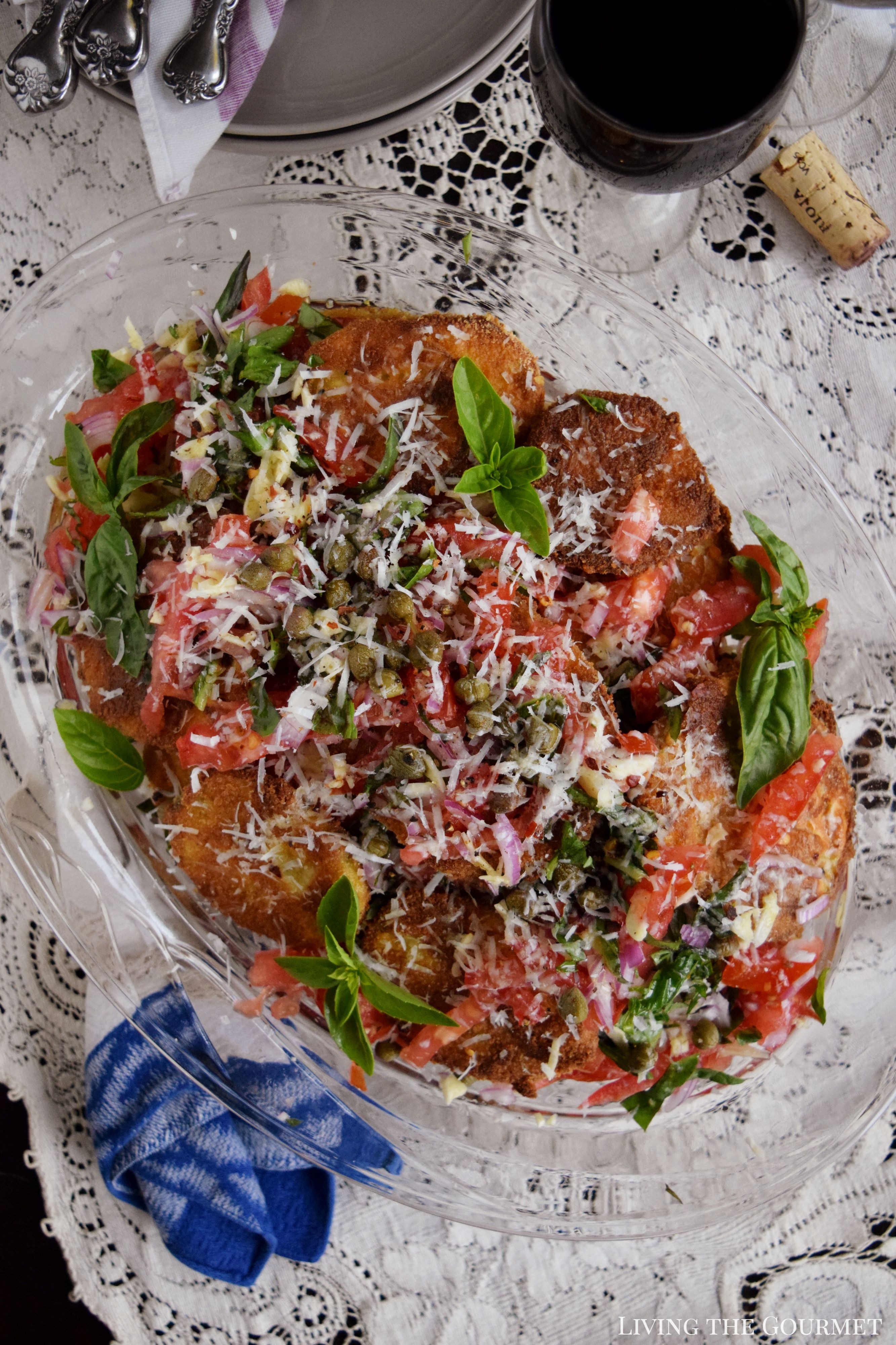 One of the best pieces of advice I ever received regarding putting together a meal or entertaining in general, was that it's like "Piecing together a puzzle," and that "Each piece, taken individually, need not be hard."
I wrote recently about how the summer season conjures images of relaxation, backyard parties, or sunset dinner gatherings on the porch. While these ideas are lovely, to truly make them memorable you might want to do something unexpected, or serve something 'outside the box,' or just 'glam it up' a bit, but of course that raises the question of where to start.
Back to the metaphor of the puzzle, what is among the first things you serve at a warm summer party, whether for dinner on the porch or outside in the sun – the salad. That's the first piece of any such get together, and is often times the first things your guests will taste alongside your starters.
Now, while giant fruit bowls or grilled fruit serve excellently, and can certainly glammed up on their own, I'm thinking of taking things in a slightly different direction to enhance both the 'summery' flavors and textures – while keeping all of the ease and yet enhancing the elegance several fold.
That, of course, brings us to today's recipe – Mediterranean Style Eggplant Salad.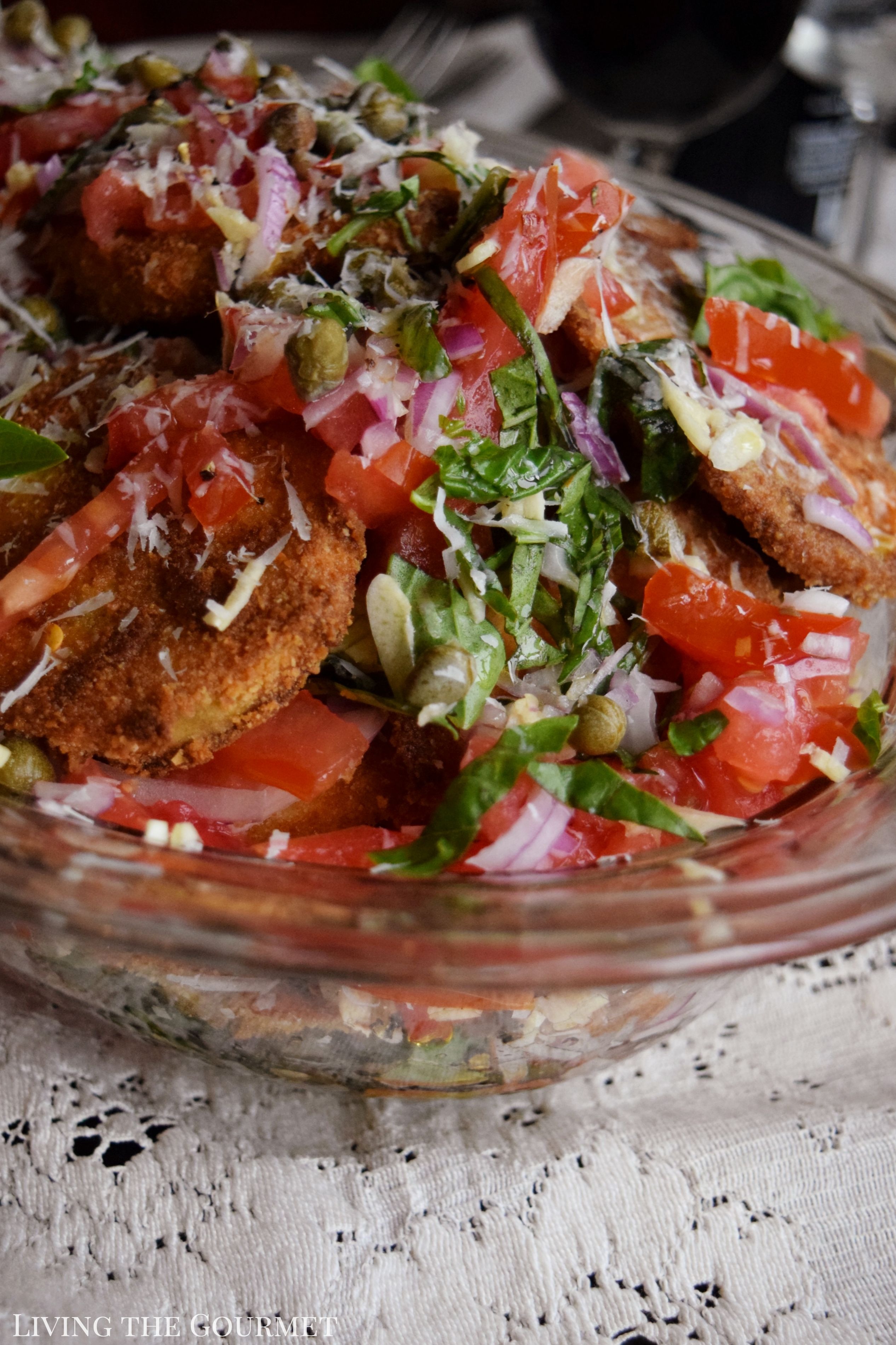 This is a dish that my first generation Sicilian mother used to make all the time during the warmer weather, and in several distinct variations. The variation today is a sort of combination of everything that I can remember from what my mother made, a sort of combination of all the best parts – though I'll provide some variation tips below.
First and foremost, from the fresh tomato and basil drenched in olive oil, to the combination of capers and red onion, this dish simply screams "Warm weather by the Sea," since if you can combine this with salty sea air, there really are few things better for a warm weather dinner party or late afternoon gathering, trust me on that.
To start things, we begin by preparing the eggplant – which we peel as thoroughly as we can, but be careful not to damage the eggplant since we want the slices whole and sturdy. Once the eggplants are peeled, slice them to about a quarter of an inch in thickness. You can go slightly thicker, but I would not go thinner since that will result in them getting soggy once combined with the salad.
From there, dredge the slices first in flour, then in an egg wash, and then in seasoned bread crumbs as shown below. Then set them either on a set of nonstick baking sheets or with a drizzle of olive oil over the top of each prepared eggplant slice, and bake for about fifteen to twenty minutes until they are nice and golden, turning them once during the process. Then let them cool while we prep the salad portion of the recipe.
On a side note, if you prefer your eggplant slices grilled as opposed to breaded, that would serve excellently as well. Simply oil up a griddle with olive oil, and grill them until they have beautiful char lines, and then, similarly, set them aside to cool as we prep the salad. This variation would probably serve better alongside barbecued food as it would both provide a lighter contrast to your grilled meat while keeping the grilling theme consistent.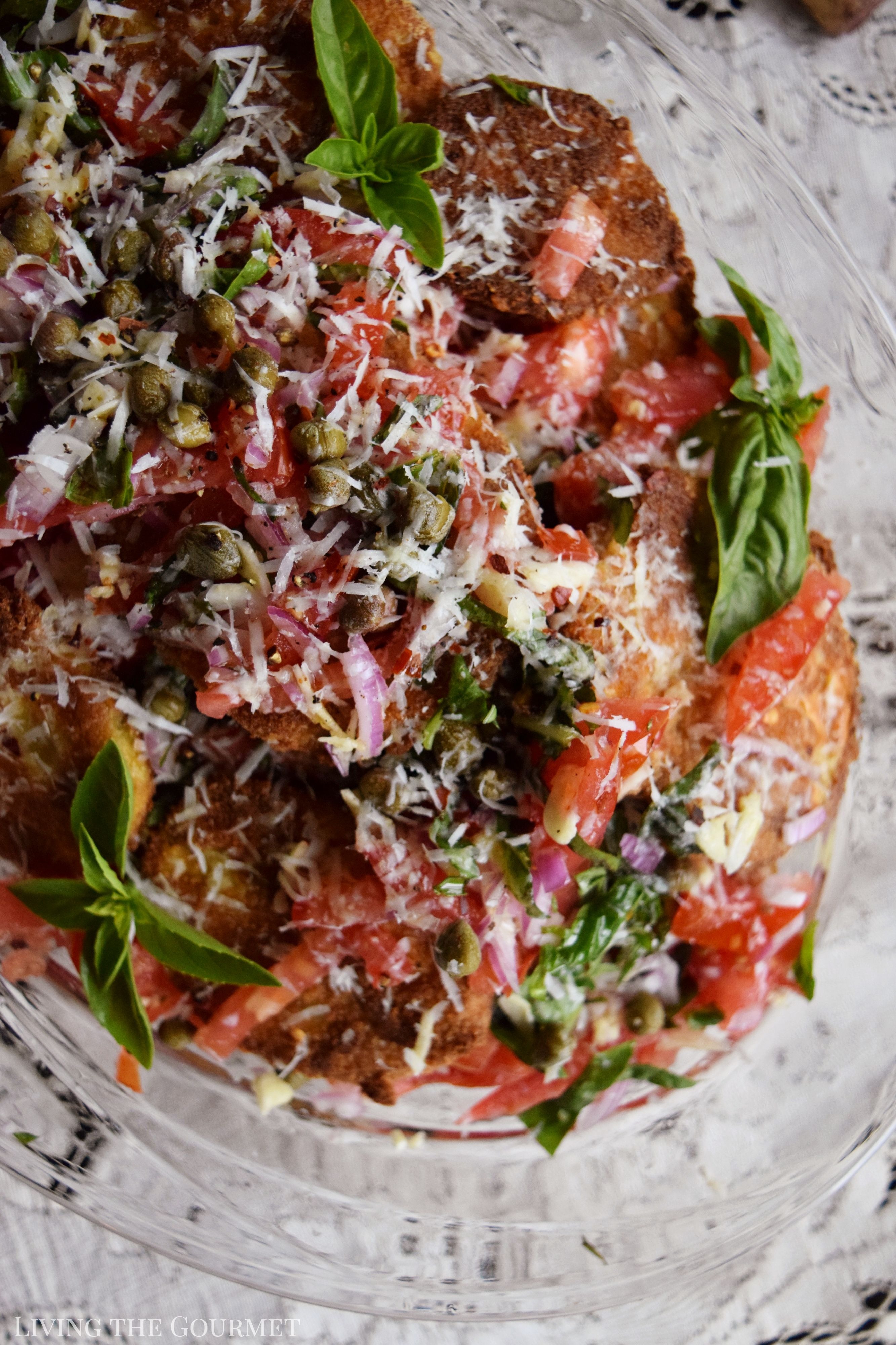 As to the salad portion, we begin by drizzling the bottom of a bowl with olive oil and set down a layer of the prepped eggplant slices, and then top that with sliced tomatoes, fresh basil leaves, sliced onion, dried oregano, a generous dash of red pepper flakes, a few dashes of freshly ground black pepper, capers and capers juice, and a generous dusting of grated cheese, your choice of Romano, Asiago, or Parmesan.
For a hardier variation, you can also substitute or simply add mozzarella slices, and stack those slices over the tomatoes with a dusting of fresh Italian parsley followed by the rest of the ingredients mentioned above. Use your imagination and your won taste as you would with a 'regular' salad, this is an eminently versatile recipe.
Repeat that layering process until you have filled the bowl, and then refrigerate until you're ready to serve it. Keep in mind, that you can make this salad well ahead, since it marinates as it sits, meaning over the course of a day or two in the fridge this salad will only get better.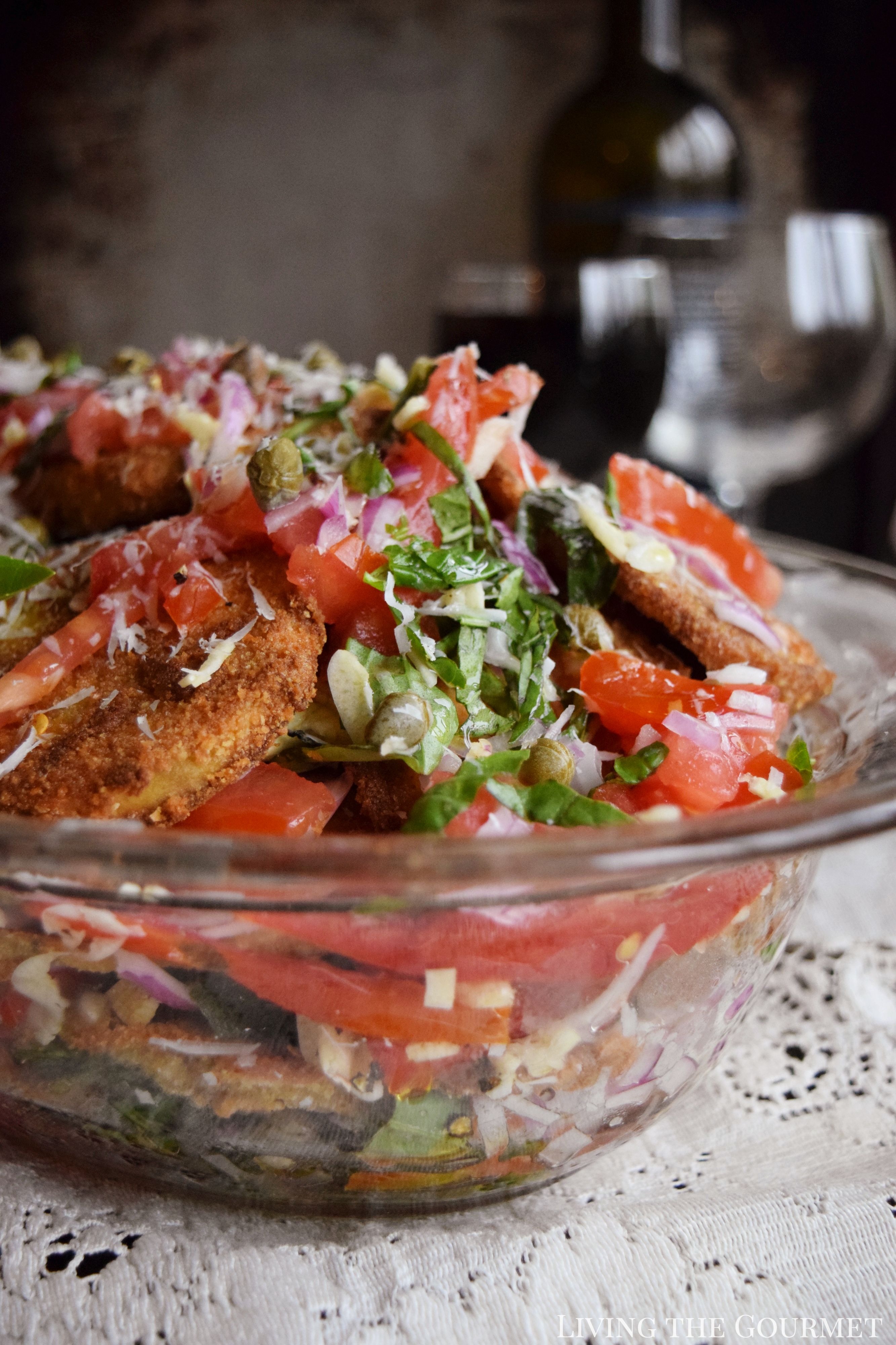 Print
Summer Eggplant Salad
Author:
Prep Time:

15 minutes

Cook Time:

20 minutes

Total Time:

35 minutes
For the Eggplant:
2

eggplants – peeled and sliced to 1/4 inch thickness

1 1/2

cups

flour – seasoned with salt and black pepper

2

cups

bread crumbs – Italian style or plain simply seasoned with salt and pepper

3

eggs beaten with a splash of water
Olive oil
For the Salad:
4

–

5

cloves of garlic – chopped fine
Fresh basil leaves – chopped
Capers plus caper juice
Red onion – sliced thin and chopped

4

–

5

vine ripe tomatoes – chopped
Black pepper
Dried oregano
Red pepper flakes
Fresh Romano cheese or Parmesan- grated
Olive oil
Instructions
For the Eggplant:
Preheat Oven 350 degrees F.
Set up three shallow bowls; one with the flour, one with the egg wash and one with the bread crumbs.
Dredge the eggplant slices first in the flour, then in the egg wash and finally in the bread crumbs.
Place on a non-stick baking sheet and drizzle with olive oil.
Place in the oven and bake for 15 – 18 minutes, or until they turn a nice golden, turning once.
Remove from the oven and let cool.
For the Salad:
Drizzle the bottom of a bowl with olive oil and place a layer of eggplant slices over the oil.
Top that with tomato slices, fresh basil leave, sliced onion, dried oregano, red pepper flakes, fresh ground black pepper, capers and a drizzle of caper juice and grated cheese
Repeat this process until the eggplant is used.
Refrigerate until ready to serve. Serve with a delicious crusty bread to dip in the oil of this salad.
Notes
This dish gets better the longer it sits in the refrigerator.
Recipe Card powered by
And just like that, you've put together the first piece of your Summer Dinner Party Menu.
Over the next week or two, we'll putting together the other pieces for you as well. Stay tuned for our Ultimate Charcuterie Board with Individual Pizzas for an awesome pairing.
Enjoy with Love!
1