Looking for a quick, easy, and flavorful dip to impress your guests this summer? Look no further than this Grilled Garlic and Butter Bean Dip with Marinated Artichokes. This dip is perfect for serving alongside fresh veggies or flatbreads, and is sure to be a crowd-pleaser at any summer gathering.
What makes this dip so special is the combination of smoky, grilled garlic, creamy butter beans, tangy lemon juice, and savory marinated artichoke hearts. The garlic is charred in its skin to give it a rich, smoky flavor, while the butter beans and artichoke hearts provide a creamy, flavorful base for the dip. The lemon juice adds a bright, zesty note that balances out the richness of the other ingredients, while the olive oil brings everything together with a silky texture.
Not only is this dip delicious, but it's also incredibly easy to make. Simply grill the garlic, then blend it together with the other ingredients in a food processor until smooth. If you find that the dip is a little too thick, just add a bit more olive oil to thin it out to your desired consistency.
This Grilled Garlic and Butter Bean Dip is also versatile enough to pair with a wide range of dishes. Try serving it with fresh veggies like carrots, celery, or bell peppers, or with crispy pita chips or flatbreads for a satisfying crunch. You could also pair it with grilled meats or fish for a hearty and flavorful summer meal.
So, what are you waiting for? Whip up a batch of this Grilled Garlic and Butter Bean Dip with Marinated Artichokes for your next summer gathering. Read on for an ingredient checklist with substitutions, variations to help make this recipe your own, and some pairing suggestions.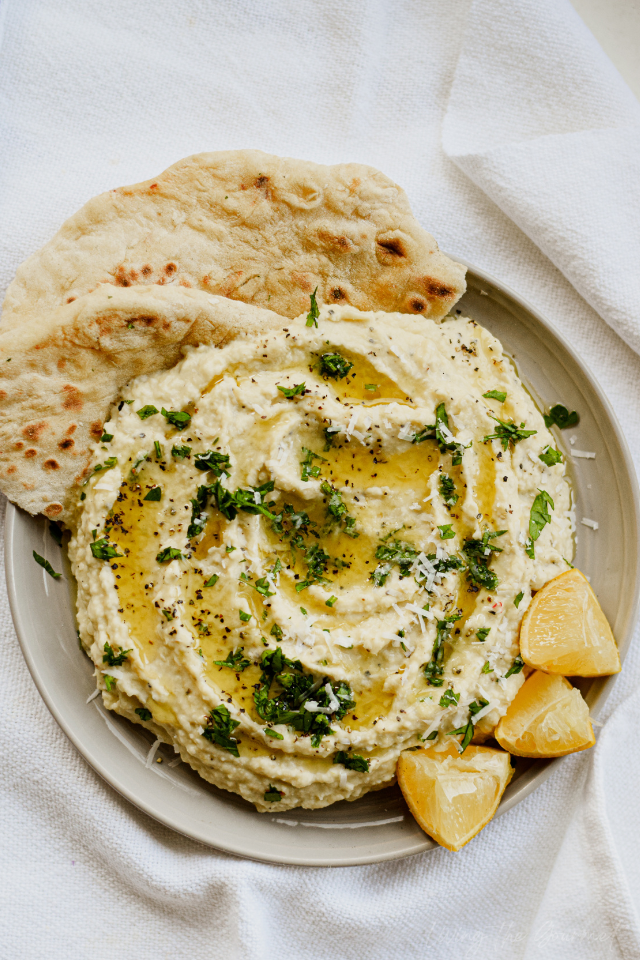 Ingredient Checklist – And Substitutions
Garlic - Grilling the garlic gives it a delicious smoky flavor that pairs well with the other ingredients. If you don't want to grill the garlic, you could roast it in the oven instead, or just give it a quick chop and add it into the food processor raw.
Butter Beans – Butter beans are a type of lima bean that have a buttery texture and mild flavor, but really any type of white bean will work in today's recipe, such as cannellini or navy beans.
Lemon juice - Lemon juice adds a bright, tangy flavor to the dip. You could also use lime juice or white wine vinegar if you prefer.
Olive Oil - The olive oil helps to give the dip a smooth, creamy texture. I do recommend using a decent quality extra virgin olive oil, as the oil is being consumed raw.
Artichoke hearts - Artichokes add a slightly tangy, savory flavor to the dip. If you don't have – or don't like – marinated artichokes, you can roasted red peppers or sundried tomatoes instead.
Salt – Plain table salt is you need. Salt helps to bring out the flavors of the other ingredients. You could also use a seasoned salt blend or a pinch of garlic salt for extra flavor.
Black pepper - Black pepper adds a bit of heat and depth of flavor to the dip. You could use a different type of pepper, like white or pink peppercorns, if you prefer. Regardless of the type of pepper you use, I strongly recommend fresh ground, or to crush the peppercorns in a mortar and pestle for best results, to truly bring out the pepper's aromatics.
Italian parsley - Parsley adds a fresh, herbal flavor and a pop of bright green color to the finished dish. You could also use another fresh herb like basil, cilantro, or mint.
Parmesan cheese - Parmesan cheese adds a salty, nutty flavor to the dip. If you don't have Parmesan, you could use another type of hard cheese, like pecorino or asiago.
Remember, this is a blissfully flexible recipe that can (and should!) be adapted to suit your tastes and flavor preferences. Don't be afraid to experiment!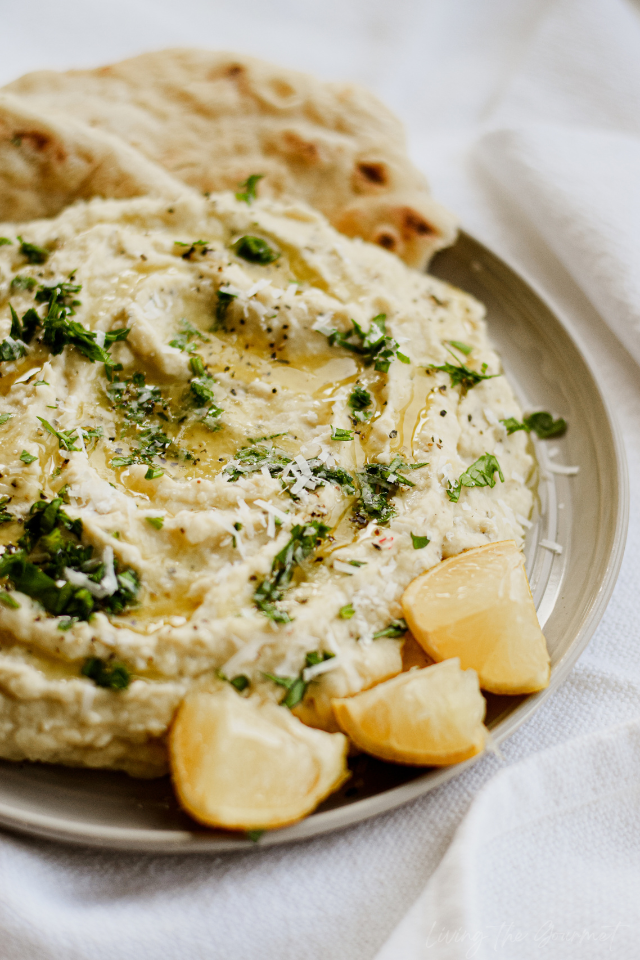 Simple Variations – Making This Recipe Your Own
Spicy Butter Bean Dip: For a little extra heat, add a diced jalapeno pepper to the mix, or stir in a teaspoon or two of red pepper flakes.
Rosemary and Parmesan Butter Bean Dip: Instead of marinated artichokes, try stirring in a tablespoon or two of chopped fresh rosemary, and top the finished dip with grated Parmesan cheese.
Smoky Paprika Butter Bean Dip: Add a teaspoon of smoked paprika to the dip for an extra layer of smoky flavor. You could also sprinkle a bit of extra smoked paprika on top of the finished dip for a nice visual touch.
Lemon and Herb Butter Bean Dip: Skip the artichokes and add a tablespoon of chopped fresh herbs like basil, parsley, or thyme to the mix. Increase the lemon juice to 3-4 tablespoons for a bright, zesty flavor.
Roasted Red Pepper and Butter Bean Dip: Instead of marinated artichokes, stir in a roasted red pepper (either homemade or from a jar). Garnish the finished dip with a sprinkle of chopped fresh parsley or a drizzle of balsamic glaze.
These are just a few ideas to get you started - feel free to get creative and come up with your own variations based on your tastes and what ingredients you have on hand!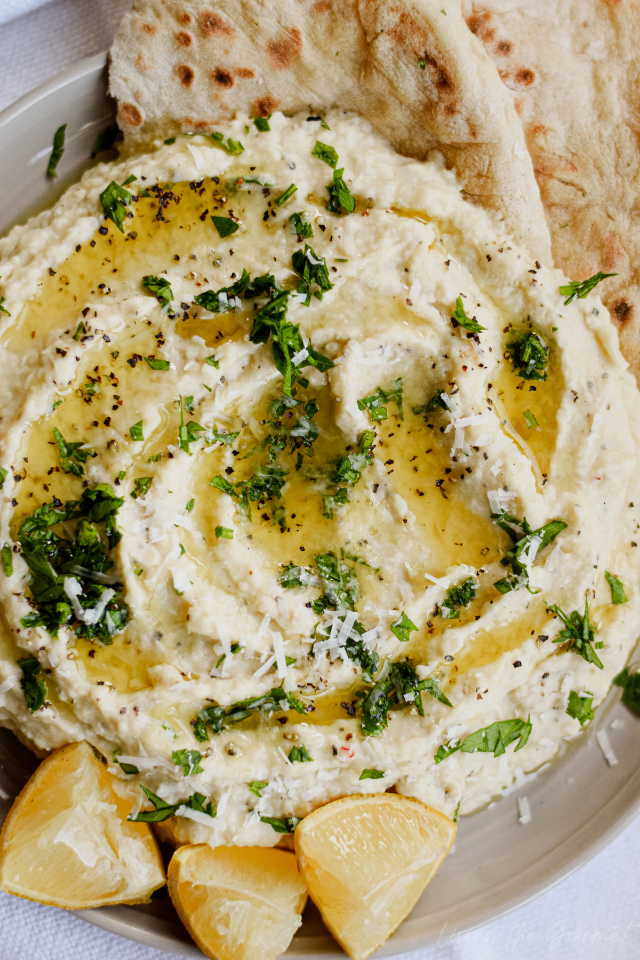 Pairings – Making the Most of this Dip
Flatbreads: Homemade wheat tortillas are the way to go. Spread the dip over a tortilla still warm from the grill, top with some mixed greens, cheese, olives, and sliced tomato, and you're good to go.
Veggies: Naturally, the dip is also delicious with raw veggies like carrot sticks, cucumber slices, cherry tomatoes, or bell pepper strips for a healthy and refreshing snack.
Chips: Serve the dip with your favorite tortilla chips or potato chips for a crunchy and salty snack.
Grilled meats: Spread this dip over juicy grilled meats, such as kebabs fresh from grill, or seared steaks, and you've got a match made heaven. Trust me on this one.
Sandwiches: Use the dip as a spread for sandwiches, wraps,, or paninis. It adds a delicious creamy texture and flavor to any sandwich.
Salads: Use the dip as a dressing for salads. Thin it out with a little bit of water or olive oil and drizzle over a green salad or roasted vegetables
Cheese platter: The dip can also be served alongside a cheese platter as a savory dip for crackers or bread.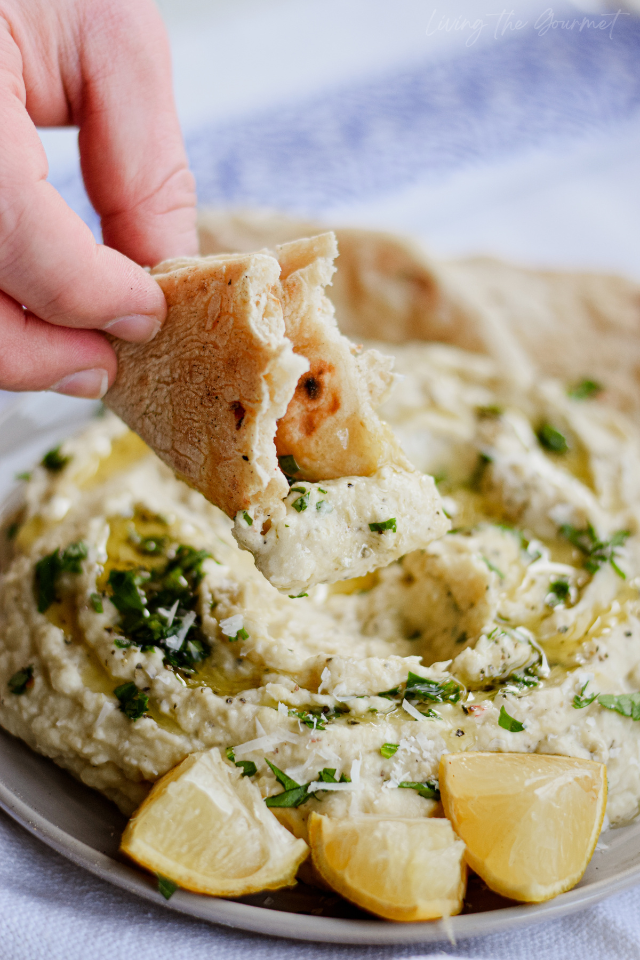 Print
Grilled Garlic and Butter Bean Dip
---
Author:

Total Time:

20 minutes

Yield:

4

-6

1

x
1

head of garlic - grilled in skin

15.5 oz

. can of butter beans - drained

2

tbs. fresh lemon juice

4

-

5

tbs. of olive oil

5

-

6

marinated artichoke hearts

1 tsp

. salt

1 tsp

. course black pepper
For the Garnish:
Fresh Italian parsley
Fresh grated Parmesan cheese
Fresh ground black pepper
Olive oil
---
Instructions
Place the garlic in a small cast iron frying pan with the skin on and let the skin get a nice char.
Let the garlic cool and pop the garlic out of the skin.
Place the drained butter beans, garlic, artichoke hearts, salt, pepper, lemon juice and olive oil in a food processor.  Process this mixture to a smooth consistency.  If it is a little too solid feeling add a tablespoon more of olive oil and process.  Taste for seasoning.
Garnish with olive oil, fresh chopped parsley, fresh ground black pepper and fresh grated Parmesan cheese.
Refrigerate until ready to serve. Serve with flatbreads or veggies.
Prep Time:

5 minutes

Cook Time:

15 minutes
Keywords: dip, bean dip, hummus
Recipe Card powered by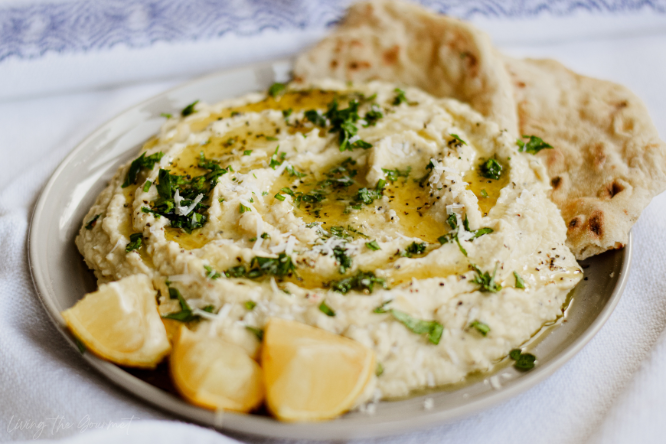 And that's my Grilled Garlic and Butter Bean Dip. If you enjoyed today's recipe, be sure to like, share, and subscribe, so that you never miss a post.
If you tried today's recipe, or any of the variations or pairing suggestions, be sure to let us know in the comments below. We always love hearing from you! Happy Cooking!
1