This post has been brought to you by Scilia DOC. All opinions expressed are my own. The following message is intended for those 21+. Please enjoy responsibly.
Today we're reviewing a selection of Sicilian wines from a variety of vineyards. First up, we'll be covering some of the basics regarding Sicilian wine and the region itself, then we'll of course be reviewing the wines, and ending off on some food pairing suggestions. Think of today's feature as 'crash course' on all things 'Sicilian Wine.'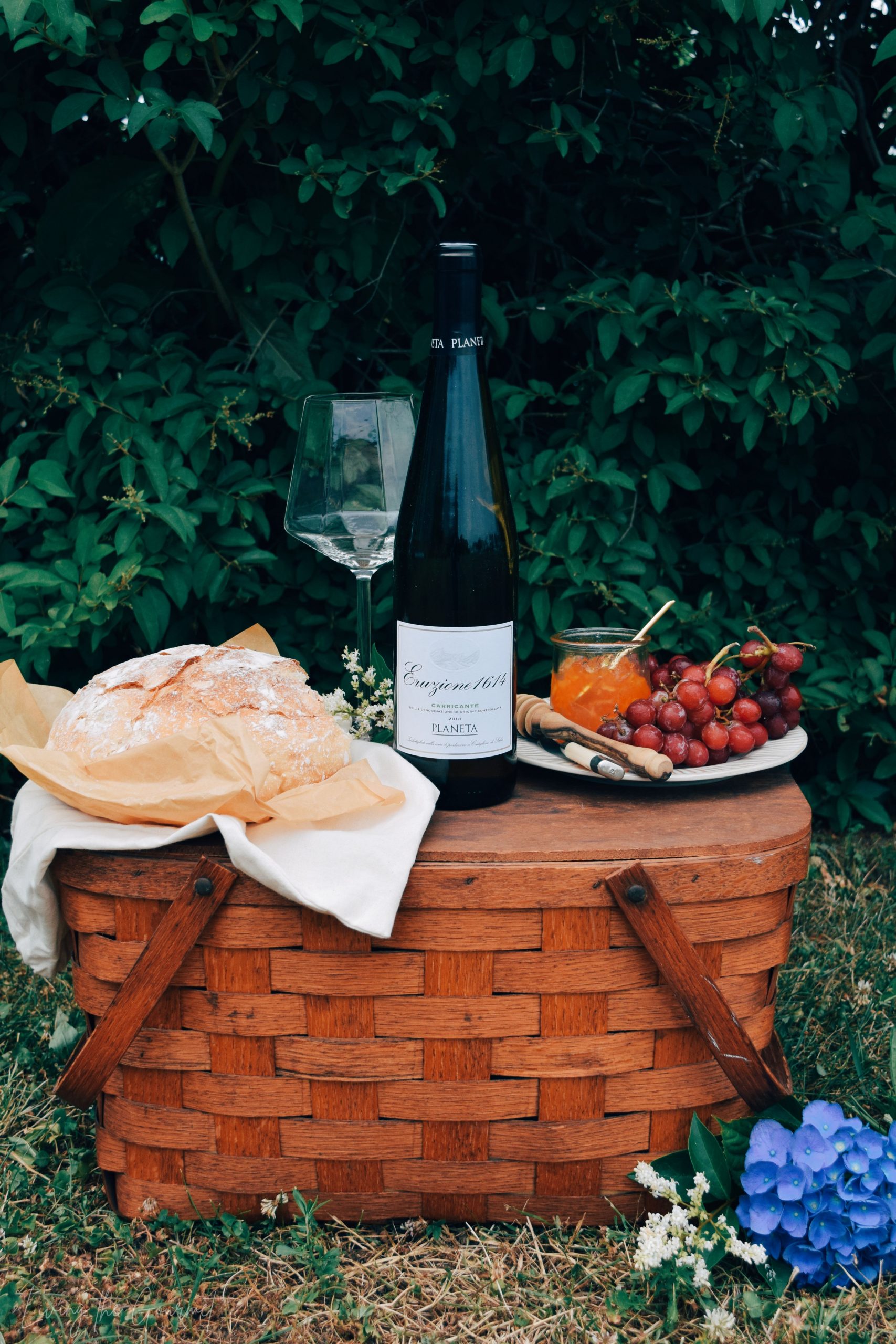 The Where – Sicily
The word 'Terroir' simply means the combination of a region's soil, climate, and topography in regards to the area's ability to produce wine. Generally, there three areas in the world that are considered to be without peer for their ability to produce not only 'quality' wine, but 'lots' of quality wine. Known collectively as the 'Three Great Terroirs,' these areas are, in order of prestige, value, and production quantity – France, Italy, and Spain.
Today's bottles come to us from Sicily, which is Italy's largest administrative region (being just a few hundred kilometers larger than Piedmont), as well as the largest island in the Mediterranean.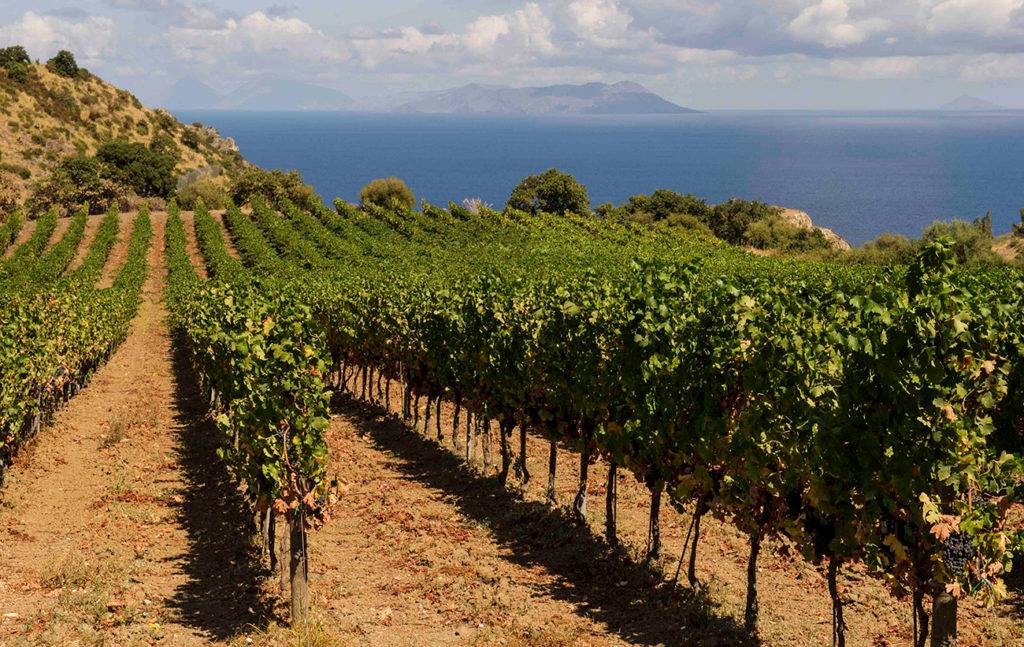 Dominating the center of the Mediterranean Sea, Sicily has been an object of contention by rival regional powers almost since the dawn of recorded history. Greeks, Phoenicians, Romans (both as Imperial Romans and later as Eastern Romans or 'Byzantines'), Goths, Arabs, medieval and Renaissance-era Italians, the Spanish, medieval Germans, various 'Knightly Orders,' and the French, have all at one time or another claimed Sicily as their own – either directly, indirectly, via colonization, or a mix of the three.
To say that this has had an effect on the region's viticulture would be putting it mildly – very mildly. While Sicily has been producing wine since around 4000 BC, it was the Greeks who, via colonization, introduced advanced winemaking techniques to the island, and in turn to the rest of Italy. From Italy, via the Roman Empire, winemaking would be spread throughout the Mediterranean basin and the world. Rome controlled the island, continuously, for over a thousand years, during which time it served a vital role in the production of grain, wine, olives, and as an important port, all located strategically at the center of the empire.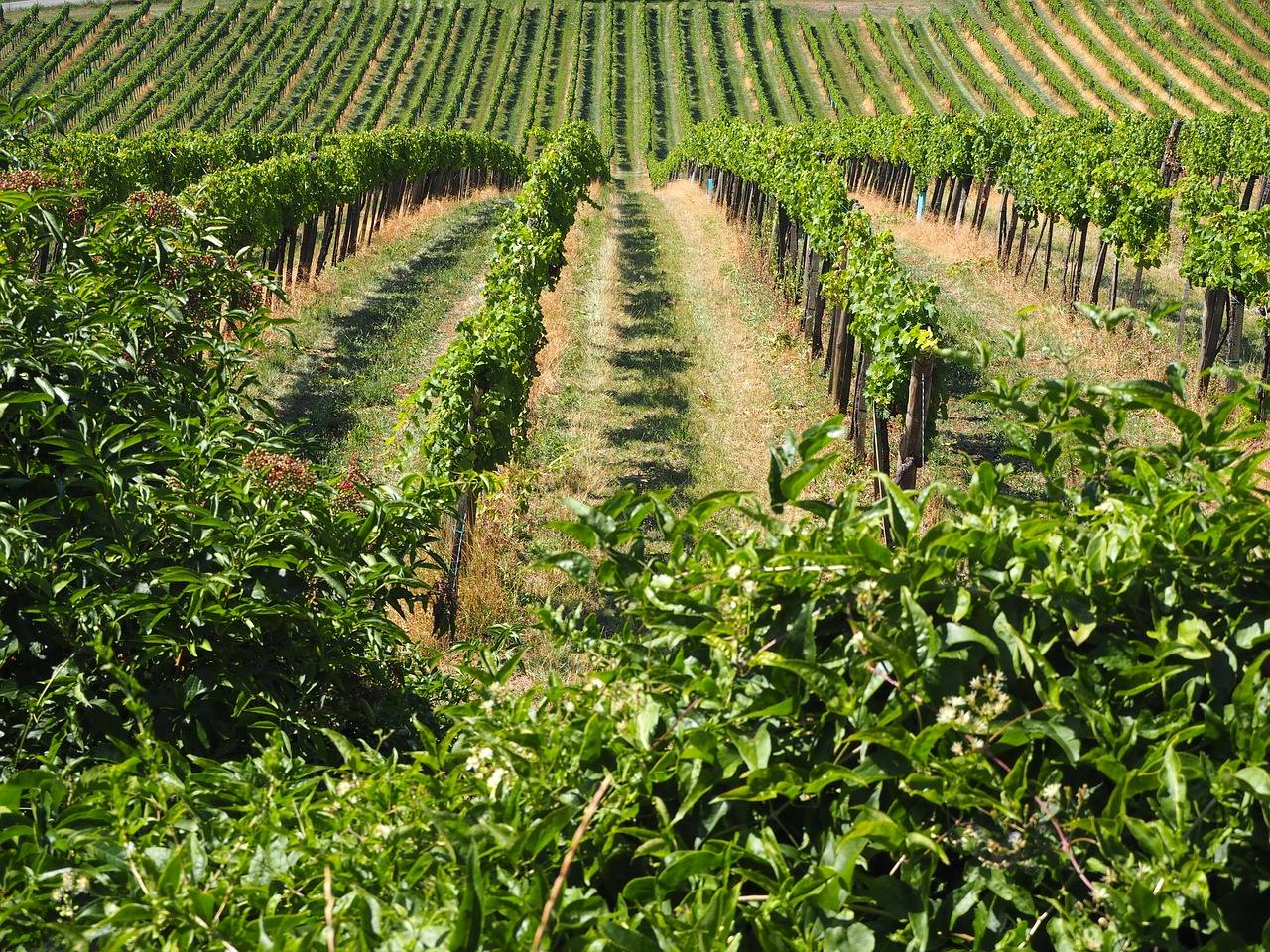 However, the fall of the Roman Empire in the West would introduce nearly a millennium of tumult to the island. Various "Goths" would vie for control of the Italian peninsula, and in turn Sicily, and the Goths placed very little value on winemaking. Later on, Sicilian winemaking would take another hit under Arab domination via the Aghlabid Emirate of Ifriqiya, who, naturally, outlawed the sale of alcohol, reducing grape growing to a purely agricultural practice. Arab control of Sicily began in 827 AD and wouldn't be fully thrown off until 902 AD.
From there, Sicily would spend the entirety of Middle Ages changing hands between various duchies, many backed by larger regional powers, culminating in the horrendously destructive Italian Wars. These were a series of Renaissance Era conflicts beginning in 1494, waged across Italy and Sicily, pitting France and the Ottoman Empire against the Spanish Empire and the Holy Roman Empire, with the Kingdom of England allying itself to either side at different stages of the conflict. Assorted Italian states fought on both sides. The conflicts, ultimately, resulted in Spain controlling much of Southern Italy, including Sicily, from 1554 onwards. Thereafter, Spanish control of Southern Italy and Sicily would continue into the 19th century, almost without interruption, until Sicily was finally ceded to the Bourbons in 1860.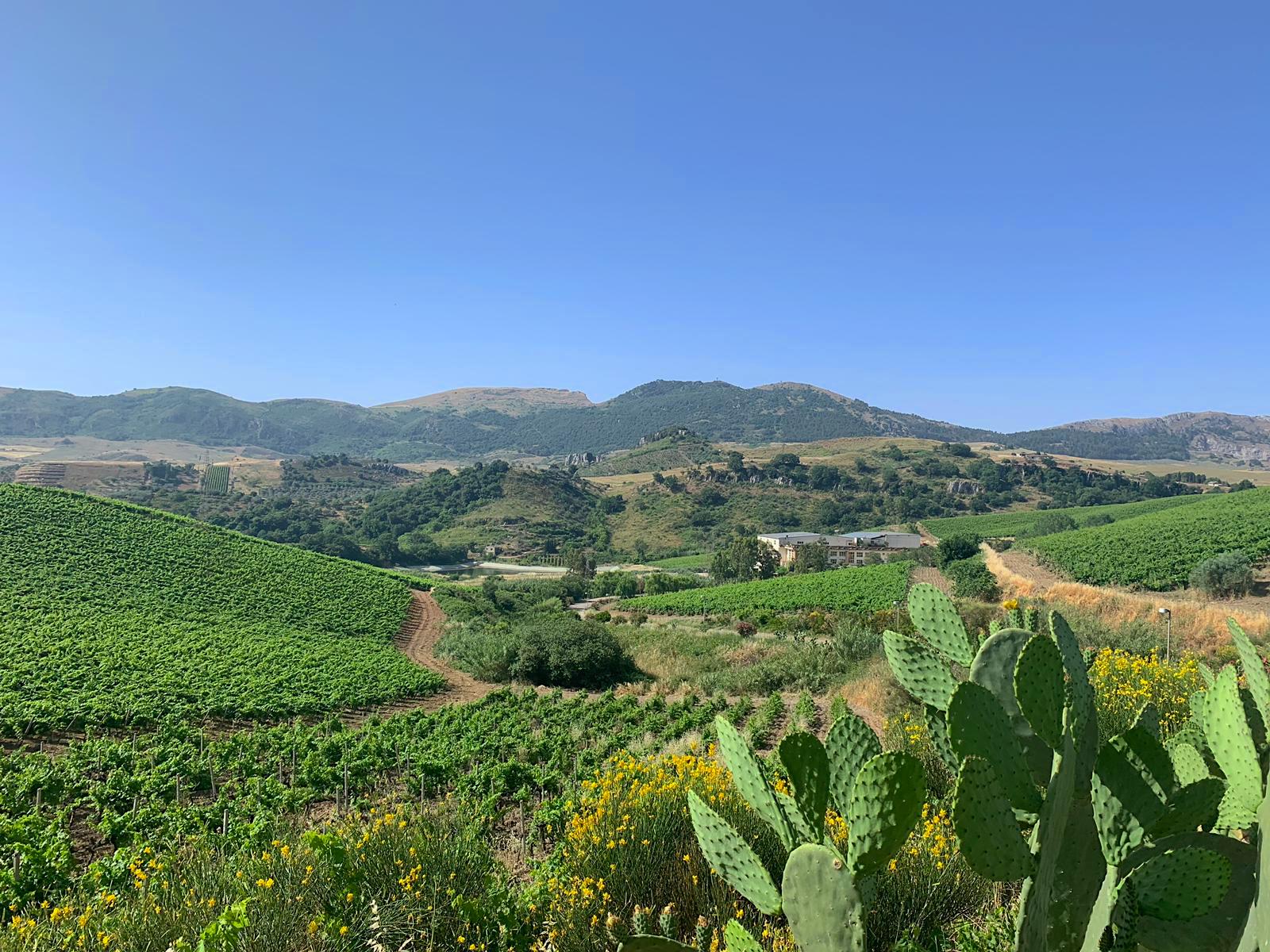 Vineyards, naturally, were not immune to the devastation inflicted by these conflicts.
However, it was the Spanish crown's domination of the island that would outlast the devastation inflicted by the Italian Wars. Due to the Spanish crown's stubborn resistance to agricultural industrialization, Sicilian winemaking lagged behind their mainland counterparts. Meanwhile, following Spain's lead, and due to regulations imposed by the crown, Sicilian farmers focused on bulk wine yields – a focus that continued even after Italy's unification. During the first half of the 20th century, this focus on bulk wine morphed into the production of 'top quality table wines.'
Similar to Spain, this focus on bulk yields, while profitable in the short term, came at the cost of developing local prestige, recognizable labels, and renowned vineyards. It wasn't until the 1980s that this focus finally began to change, led primarily by a shift in consumer preference. However, as Sicily shifted away from bulk wine production towards a more qualitative focus, the island found itself playing a very odd game of catchup at the dawn of the 21st century, despite having what ought to have been literally thousands of years' worth of a head start on the competition. For reference, only Greece, the home of European winemaking, boasts an older viticultural tradition than does Sicily, though Sicily is perhaps the only place on earth with better conditions for the art.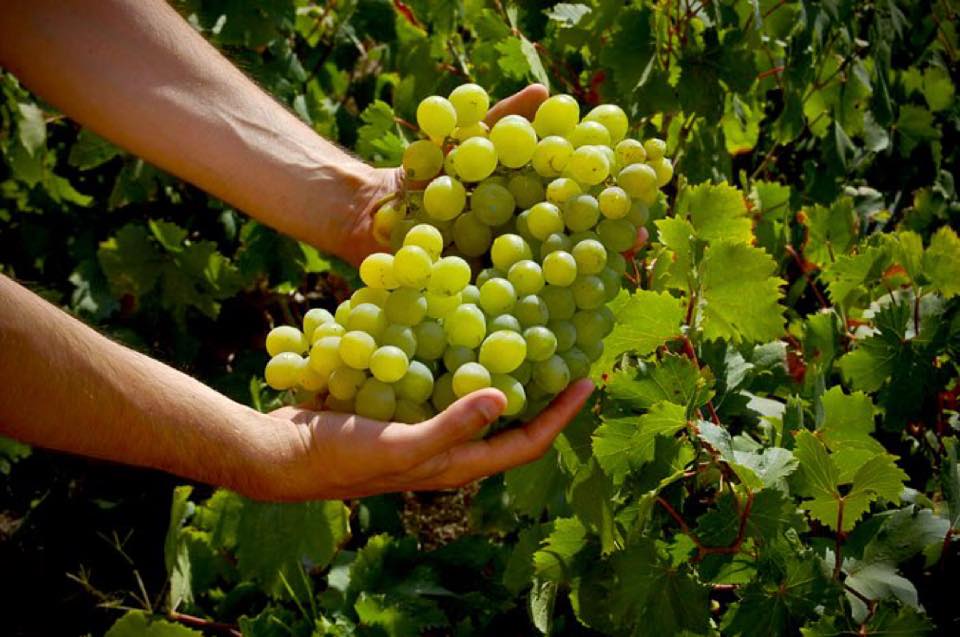 Today, Sicily produces what are arguably some of the most interesting wines in Italy – and by extension 'the world.'
The island's most widely grown grape is Nero d'Avola, a grape renowned for its depth of color, flavor, and intense aromatics. Spice, herbs, dark fruit, juicy acidity, and soft-to-medium tannins characterize the wines produced from this grape.
Sicily's next most widely grown grape is Nerello Mascalese, thanks largely to critical acclaim that led to the grape amassing a dedicated and passionate consumer fanbase. The grape does best in the volcanic soils of Mount Etna, and often finds itself blended with Nerello Cappucio, whose spicy qualities beautifully complement Nerelleo Mascalese.
However, one cannot talk about Sicilian white wines without mentioning Grillo and Carricante. Grillo is a medium bodied, dry white wine that boasts decided peach and apricot notes, with wild flower and dew damp grass aromatics. Carricante is a dry, medium-bodied varietal, and is the primary grape featured in Mount Etna's famed Etna Bianco wines, and is beloved for its zesty acidity.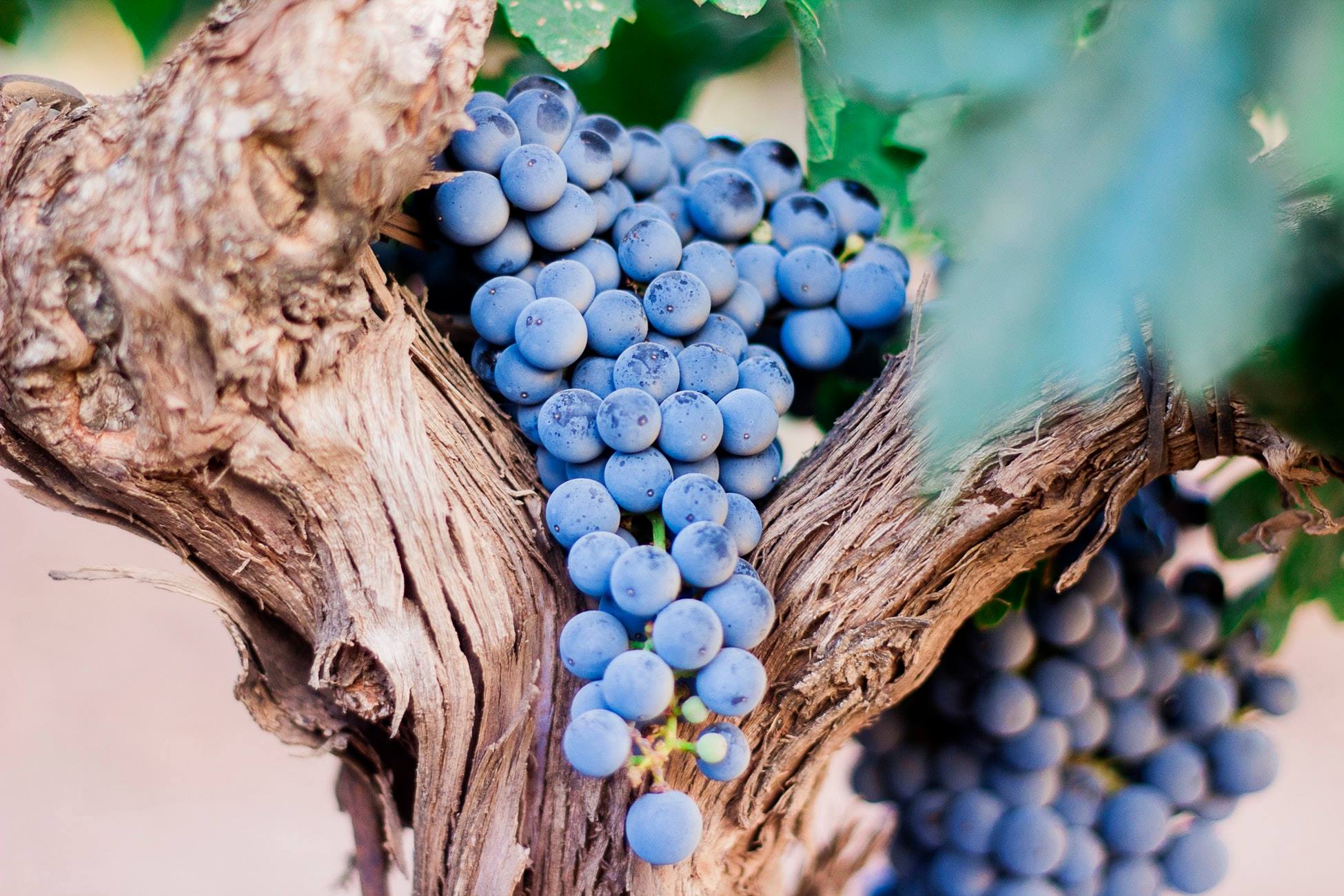 The Bottles – A Showcase
First up, we'll be taking a look at Di Giovanna's 2020 Helios Grillo, which is produced in a single vineyard in Fluminello, at a whopping 830 meters above sea level.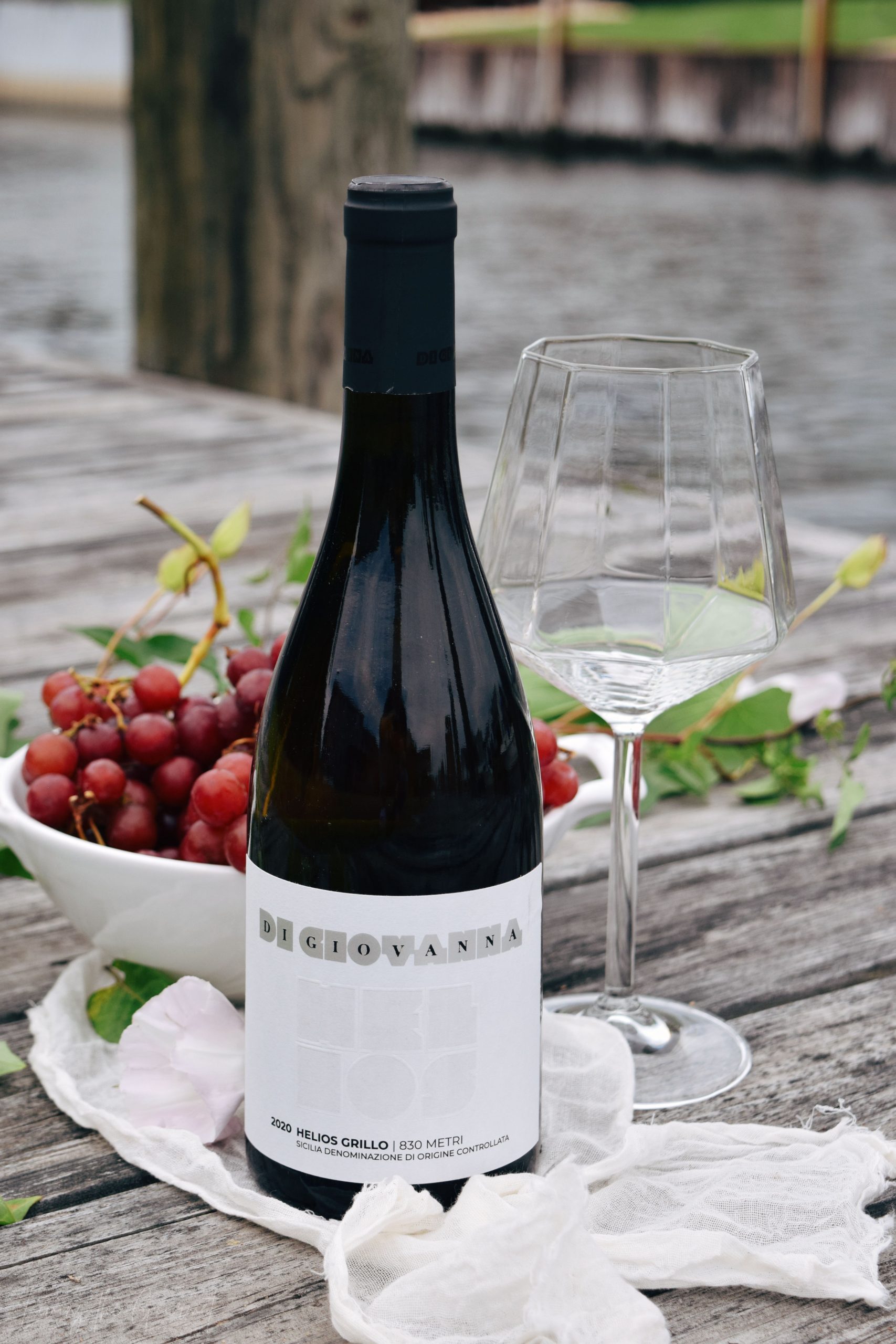 Next up, we'll be reviewing Planeta's Eruzione 1614 – which translates to "Eruption 1614," referring to the legendary ten-year long eruption of Mount Etna that began in 1614. Yes, Planeta plants their vines in the rich volcanic soil surrounding the Mount Etna volcano.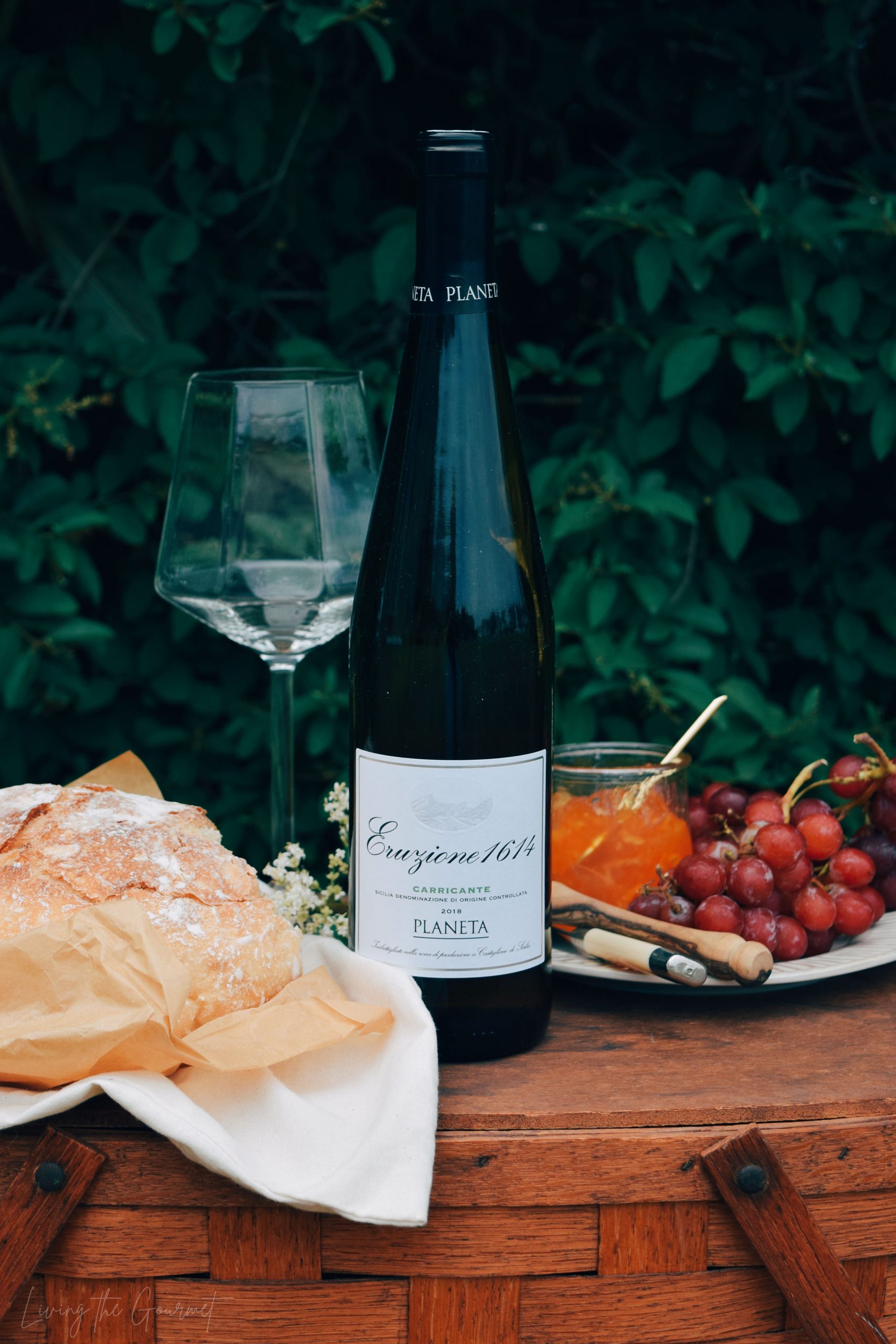 Next, we'll be taking a look at Assuli's Lorlando, which is a Nero d'Avola.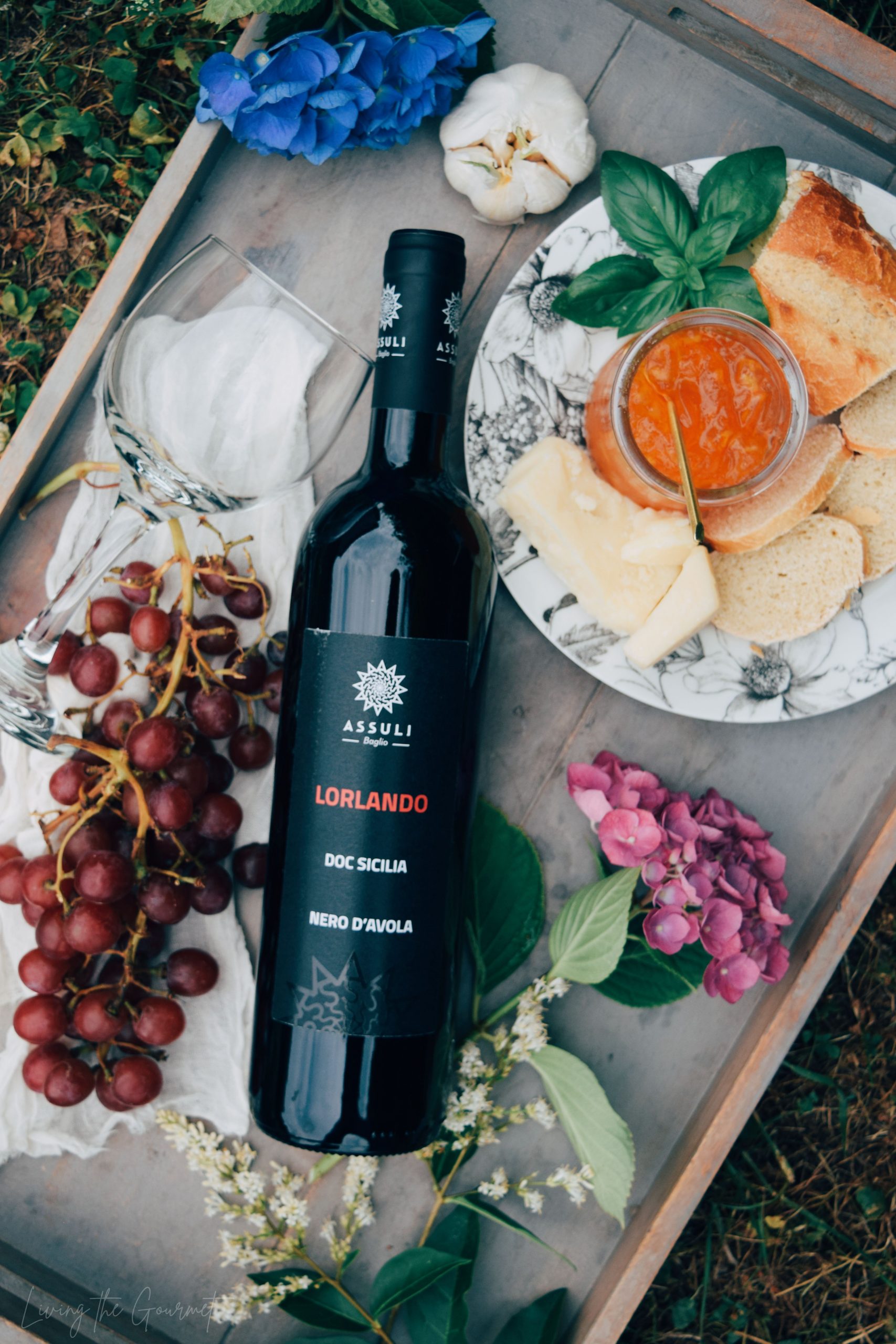 After that, we'll be taking a look at Cartagho's Mandrarossa, a 2017 Nero d'Avola.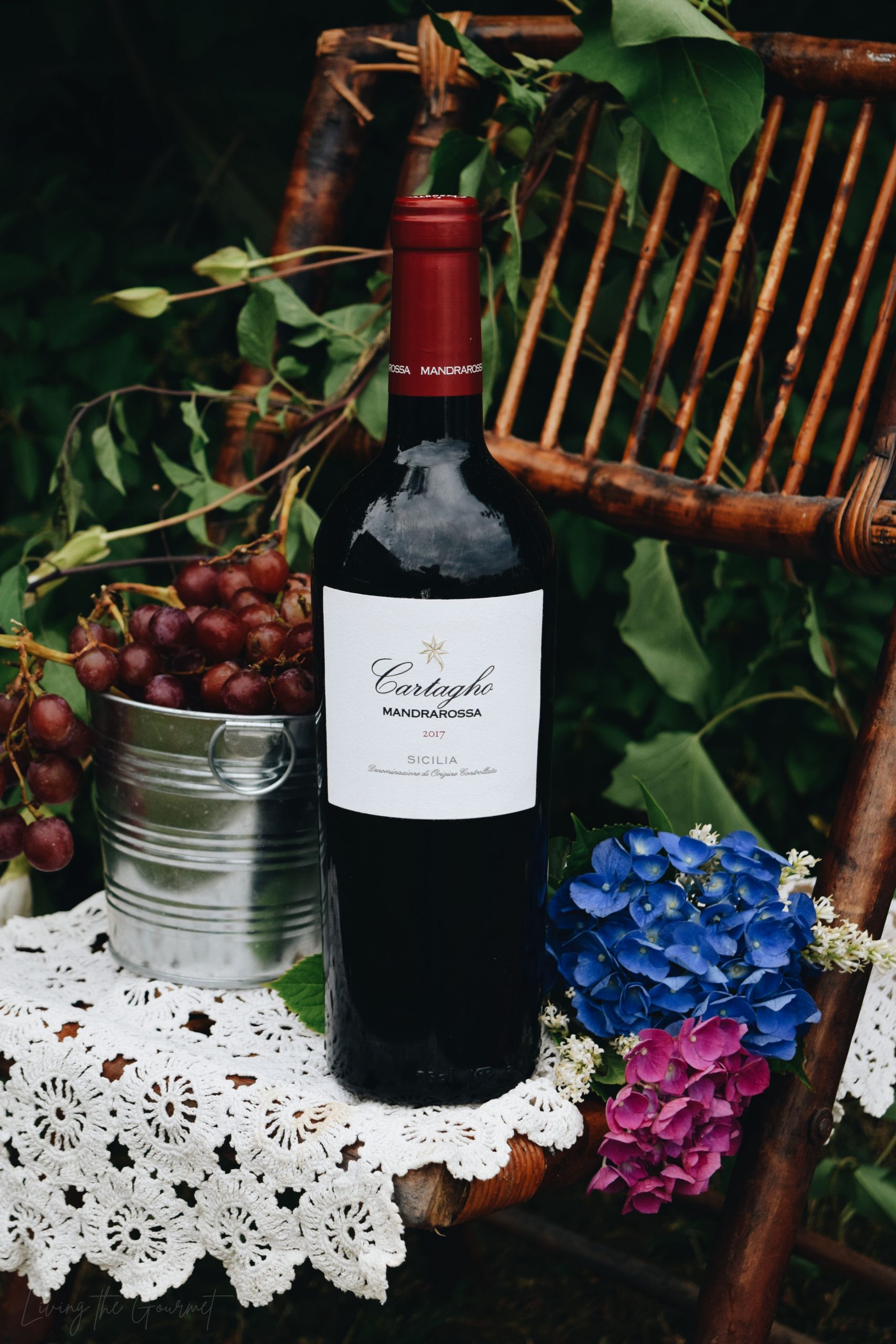 Finally, we'll be ending off on a 2020 Sicilian Chardonnay, courtesy of Carizza, who sent us their Insolia Sicilia.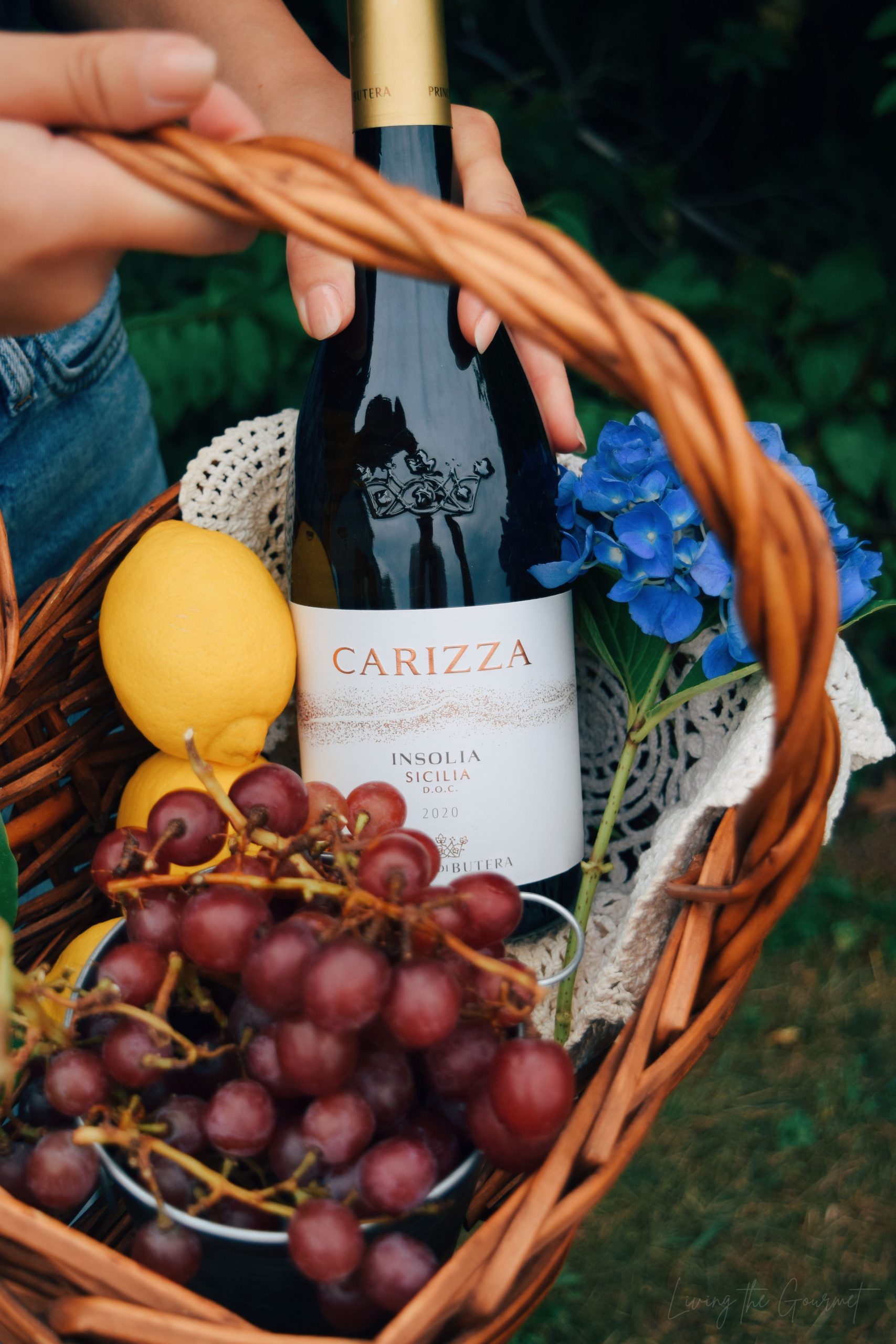 Tasting and Aromatics – The Review
The Helios Grillo introduces itself with lively citrusy aromatics laced in honey and minerals. Tropical notes, especially pineapple, manifest deeper into the glass. On the palate, lemon zest and honey are at the forefront, complemented by tropic fruit notes. Very refreshing, an excellent 'warm weather' wine in my opinion.
Planeta's Eruzione 1614 is 'chiefly' a carricante, with just a small amount of Rhine Riseling (some ten percent). The wine introduces itself with wild flower aromatics, punctuated by notes of almond and honeysuckle. Something mineral lingers in the background, becoming wet gravel on second whiff, alongside ash, and a mild smokiness, creating a complex and varied bouquet. On the palate, the minerality is instantly refreshing, especially set against notes of melon and pear. A very enjoyable experience from start to finish.
The Lorlando greets with notes of rich blackberries and chocolate. Deeper into the glass, the blackberries ripen deliciously, accentuated by notes of tobacco and leather. On the palate, the blackberries carry over deliciously, with hints of chocolate and earthy notes completing the experience. The wine is 'very' full bodied, while featuring a balanced acidity.
The Mandrarossa opens with aromas of oak and ripe berries, and just a hint of licorice. Deeper into the glass, blackberries and something I'll describe as 'fresh cigar' dominate the bouquet, set against a rich dark fruit backdrop. On the palate, the dark fruits are front and center, think plum and blackberries, with very soft tannins and a balanced acidity.
The Insolia Sicilia starts off on notes of citrus, with crisp green apple and stone fruit. On the palate, the wine is bone dry and fruity, with the green apple carrying over from the bouquet. Very fresh and very light. A notable minerality carries through the aromatics and onto the palate, creating a very refreshing and pleasant experience.
What to Eat – The Pairings
With the Helios Grillo, stick to light shellfish dishes, particularly something such as the shrimp cocktails I prepared here. Conversely, you might opt for something like tuna cups served with a fresh aguachili. Similarly, a light charcuterie board paired with olives, fresh fruit, and crusty bread would also pair quite nicely. In other words, think light and fresh, so as not to drown out the wine's crisp acidity and delicate aromatics.
With the Eruzione 1614, consider something like the Neapolitan Risotto I prepared here, featuring Arborio rice layered with sauce, cheese, and a top layer of sausage polpettes.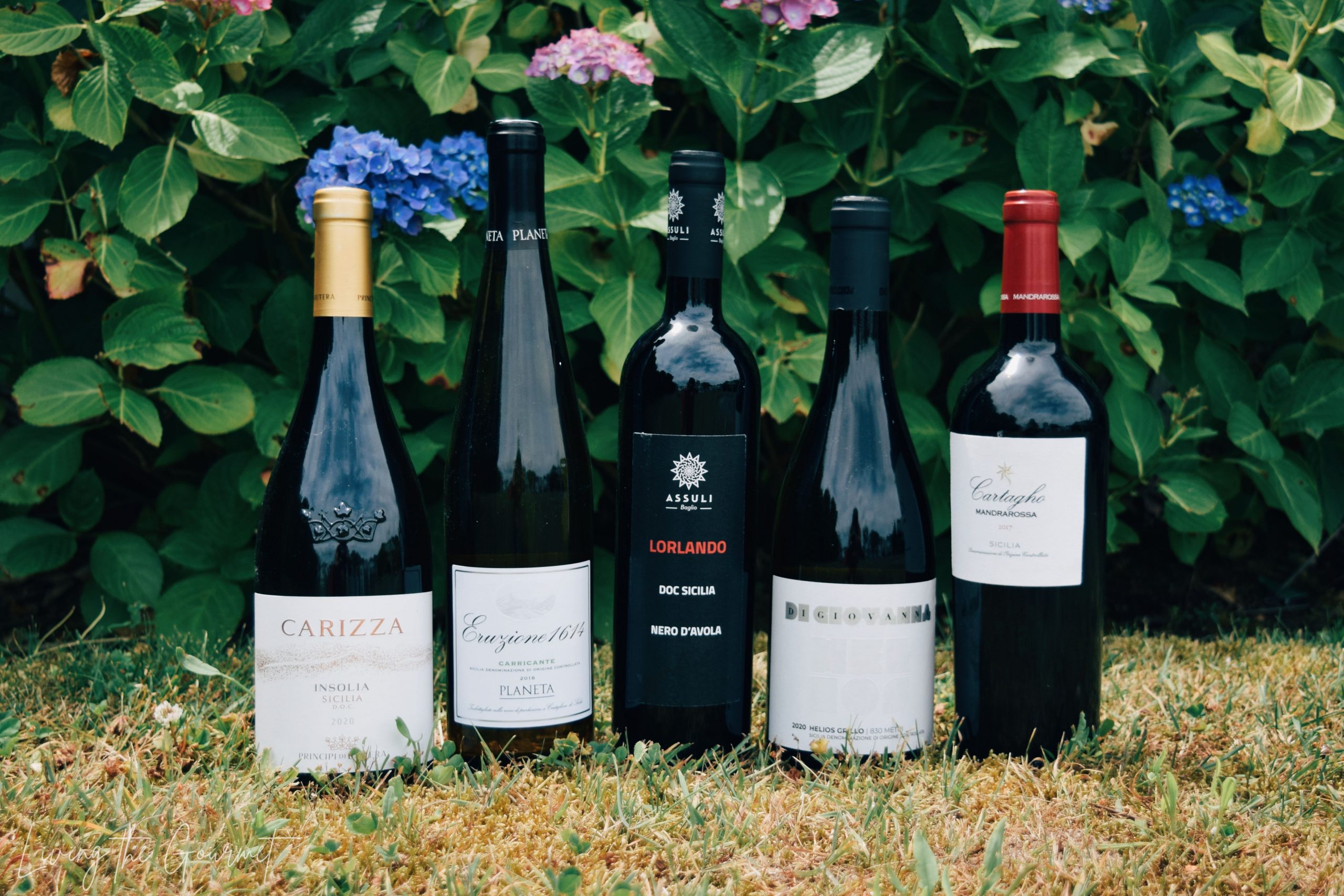 With both the Mandrarossa and Lorlando, think hardier entrees. You might consider something like a moussaka features lamb seasoned with Persian saffron and Saigon cinnamon, and a creamy bechamel infused with Tahitian vanilla. The end result is a delicious moussaka that features layers of rich flavor from beginning to end. A more traditional pairing, however, might be roasted lamb rubbed with a mix of garlic, oregano, salt, and pepper, and then served over a bed of orzo tossed with a spicy red sauce would pair beautifully. Steak marinated in herbs, garlic, red pepper, and vinegar, and then pan seared with rosemary, would also be delicious, such as my recipe here.
With the Carizza Insolia Sicilia think 'by the book' chardonnay pairings. Something like my "Healthier General Tso's Chicken," which features panko crusted chicken coated in a spicy orange sauce, would pair beautifully. Conversely, you might also consider a cod fish stew prepared with capers, sweet onions, plenty of garlic and Italian parsley. However, I think this bottle is most at home as an aperitif, perhaps paired alongside a lush charcuterie board, featuring things like Coppa Italiana, Panino Al Prosciutto, Salame di Parma, crusty bread, garlic butter, dried fruit, and crostini.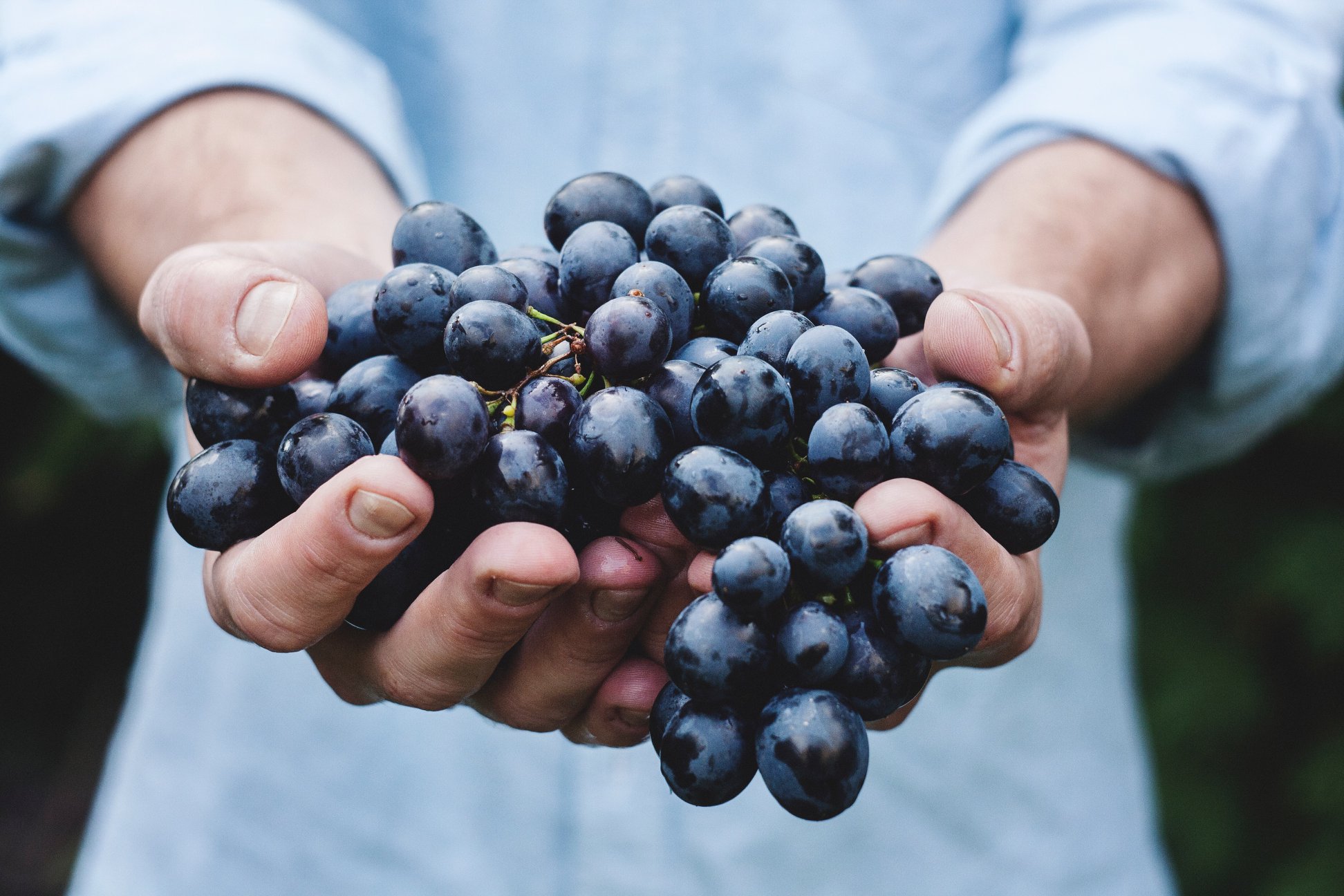 0