This post has been sponsored by Slofoodgroup. All opinions expressed are my own.
Today we're preparing a recipe that I've been meaning to make for a long time, but kept putting off for one reason or another – Homemade Moussaka.
However, I wanted this to be more than just a "classic" or "traditional" by-the-book moussaka, instead I wanted to do something really special, and with a little help from my new friends over at Slofoodgroup, whose gourmet spices and flavors really helped kicked today's recipe up to new heights. Slofoodgroup is a gourmet spice house that puts to practice the basic principle of "best in, best out."
Courtesy of Slofoodgroup, today's moussaka features lamb seasoned with Persian saffron and Saigon cinnamon, and a creamy bechamel infused with Tahitian vanilla. The end result is a delicious moussaka that features layers of rich flavor from beginning to end.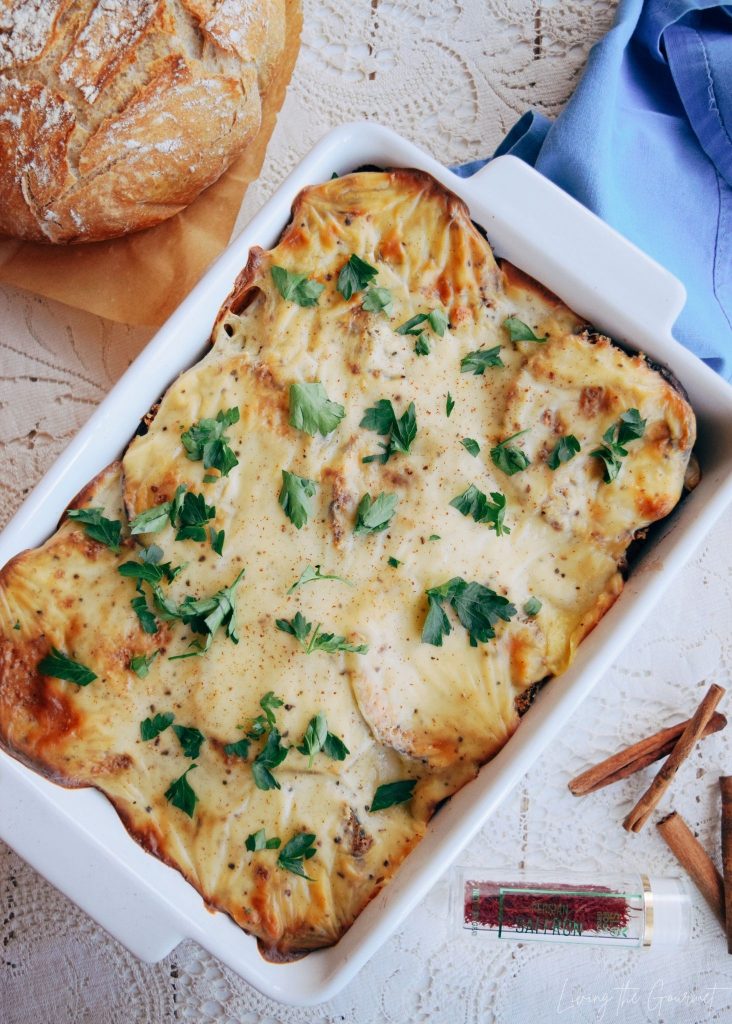 Moussaka – Why We All Love It
1) Decadent Indulgence. Moussaka is one of those recipes that's unabashedly comfort food, to the point that it positively defies being "lightened up," and I'm perfectly fine with that. Very few dishes are a 'blatant culinary indulgence' the way moussaka is, and today's take is no exception.
2) Make Ahead (Kind of). Moussaka heats up just fine, and letting the eggplant 'set' in the sauce and lamb juices only heightens the experience. As such, I wouldn't hesitate making this a day or two ahead of time. However, leave it much longer than that and you'll likely end up with soggy eggplant.
3) Crowd Pleaser. Easy to love for the whole family, a tray of moussaka is sure to please guests of every 'palate disposition.'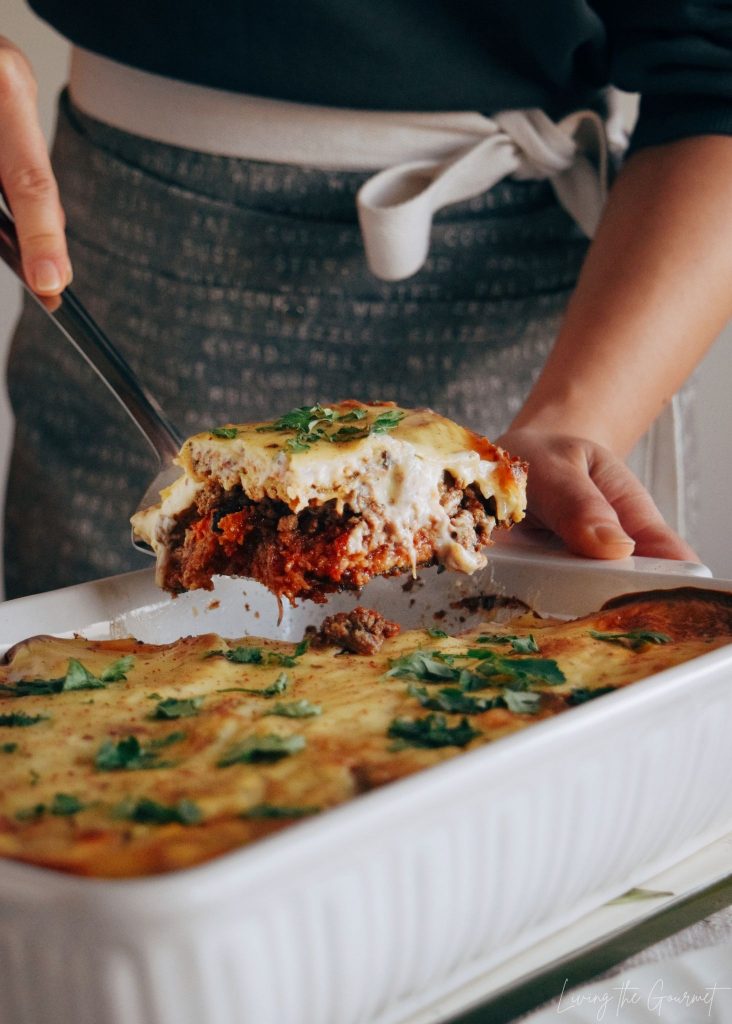 Ingredient Notes and Tips
1) Saffron – Today's Surprise Ingredient. One of the key 'twists' in today's moussaka is the saffron, which we're using to season the lamb. Saffron has clung to an air of mystery that few – if any – herbs have managed to retain into the modern era. That said, the 'color' of saffron is almost as prized in the recipes where it makes an appearance as its flavor – sometimes more so. Saffron risotto, various curries, bouillabaisse, and paella, all utilize saffron as much for the color it imparts as for the flavor it brings. And what is that flavor? Sweet and earthy with a 'pleasantly musky' aroma are all words and phrases that are used to describe saffron – of which there are several broad types. Iranian (Persian), Greek, and Spanish. You're likely to hear Greek saffron described as earthier than the others, and perhaps just a touch bitter, while Spanish saffron is generally characterized by being a tad sweeter than its counterparts as well as bit mellower, while Iranian/Persian saffron is generally considered to be somewhere in the middle, while dispensing of any bitterness. With all of that said, when cooking with saffron do bear in mind that a little really does go a long way. Rarely does a recipe call for more than one to four 'threads' of the stuff, and this is because saffron, like similarly powerful herbs (mint, fresh oregano, and nutmeg come to mind) will very quickly overpower the dish it's appearing in if used in even 'slight' excess, such that it will be almost all you taste.
Today we're using Slofoodgroup's Persian Saffron. Sourced from Afghanistan, this saffron is of the highest quality thanks to the care taken during cultivation, harvesting, and drying. The saffron features rich, earthy aromatics, and bright red coloring, both indicative of quality. This saffron is Non-GMO, all natural, certified kosher, and naturally gluten free. Put plainly, this is quality saffron.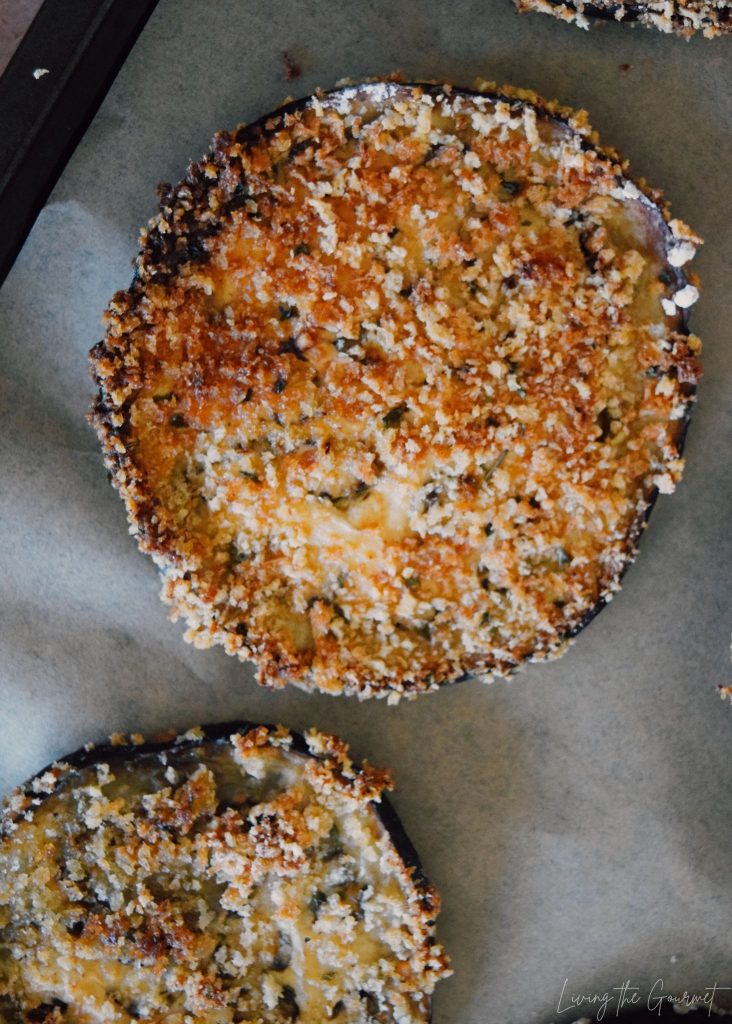 2) Selecting Quality Eggplant – Super Easy. First things first, we 'Test with the Eyes.' In terms of visuals, you want an eggplant with the shiniest skin possible. You also want the skin to be dark – but 'not' night black, and you want the skin to be of uniform of color. Next we 'Test with the Hands.' You want an eggplant that is perfectly smooth to the touch. You want the eggplant to be 'moderately' firm, but 'not' hard. The eggplant should feel like it's ready to 'give way' in your hand, but it should resist doing so. Avoid eggplants that are wrinkled, blotchy, overly soft, overly firm, that are unsmooth, and that aren't shiny.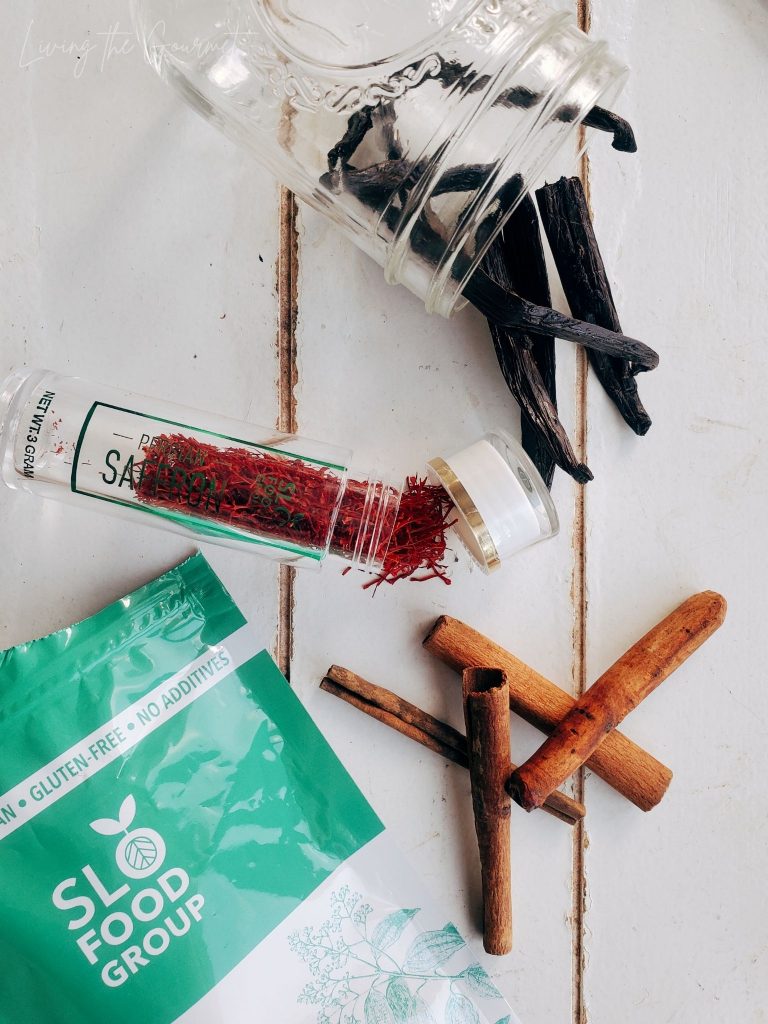 3) Cinnamon – The Most Illusive of Spices (until recently). Today, cinnamon is just about everywhere, from rolls and candies, to pastries, soups, stews, and even meat rubs. However, would you believe me if I told you that 'most' of the world either had never tasted cinnamon up until a few centuries ago, or didn't know of its existence at all? What if I said the stuff was once gifted to royals as a wedding gift? It's true. Unlike most other spices, whose origins and production were (mostly) well understood by those who traded them, cinnamon was a closely guarded secret by those at the 'production end' of the trade route. This secrecy was strategic, and lucrative, allowing the producers, and by extension their favorite merchants, to monopolize the cinnamon trade. For millennia (yes, millennia, people have been engaged in long-distance cinnamon trade for 'at least' 3000 years), this 'monopoly-via-secret' worked. This secrecy not only allowed a select few producers to maintain their monopoly, but this 'elusiveness' or 'mystery' also had the added effect of turning cinnamon into something of a 'mystique,' thereby artificially bloating prices on an already scarce (and impossibly pricy) spice. Then the Portuguese set sail in search of cinnamon's origin story (spurred on not by curiosity but rather by increasing demand across the Mediterranean and Europe). They found what they were looking for, but their victory was short lived, as the Dutch promptly waged war with them (and the locals) over the stuff (yes, literally blood for cinnamon). The Dutch won, spread cinnamon production throughout Southeast Asia, and then fought and lost a war over the increased cinnamon supply with the English. By the 1800s, cinnamon was everywhere, and readily available at reasonable prices, as opposed to being a prize worthy of a royal wedding gift.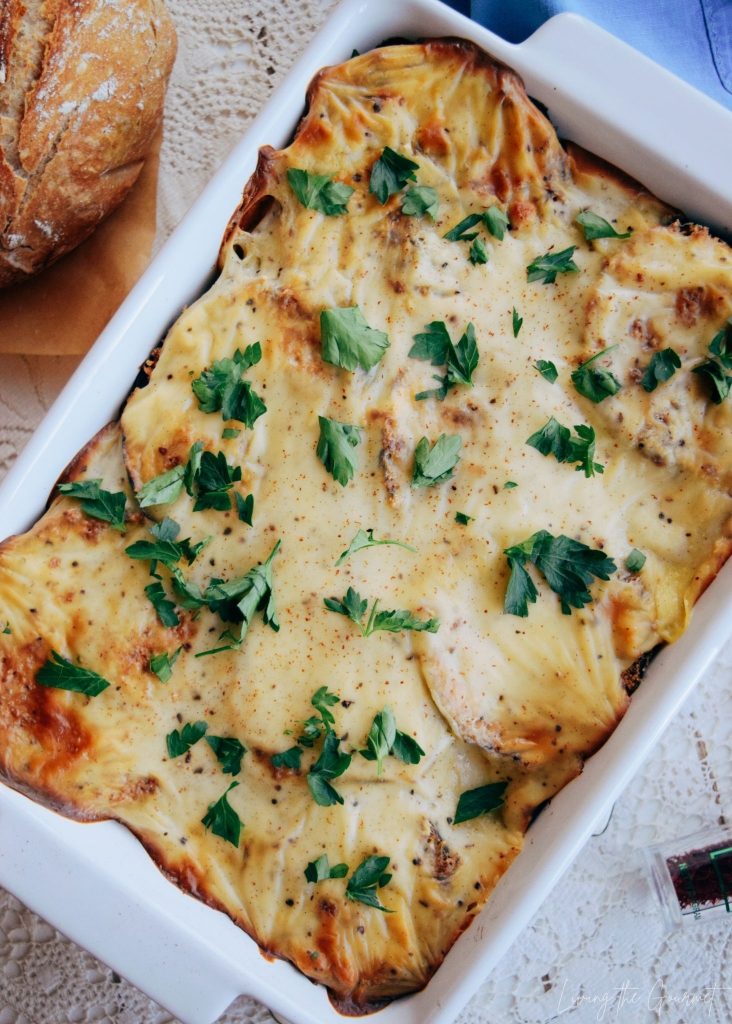 For today's moussaka, we're using Slofoodgroup's Saigon Cinnamon Sticks. The key here is that purchasing via Slofoodgroup assures that you're getting the highest quality possible, and that the cinnamon has been farmed organically, sustainably, and is Non-GMO. Saigon cinnamon 'is' spicier (or 'warmer') than Ceylon cinnamon, due to it containing higher levels of essential oils, which accounts for Saigon cinnamon's more complex and pungent flavor, being described as 'intensely peppery' and 'warm,' with slight bitter notes. These qualities, I find, work wonders in savory dishes such as today's moussaka.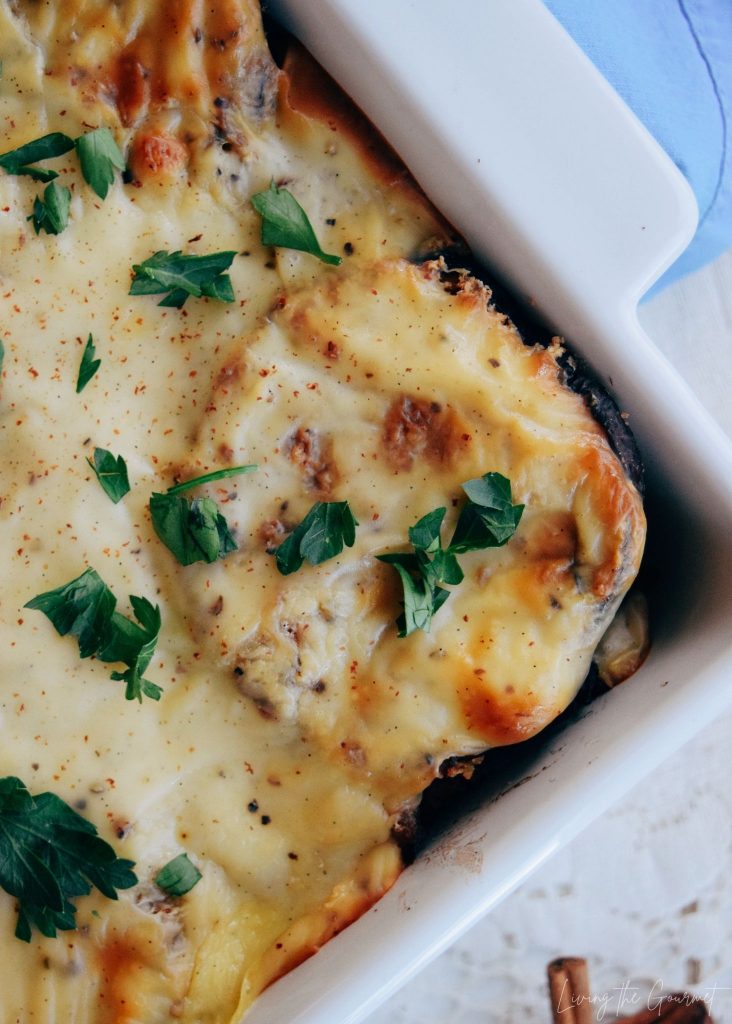 4) The Vanilla – Whole Beans vs Extract vs Paste. Let's start with the whole beans. Fresh vanilla beans consist of a dark brown-to-black waxy pod, which is in turn is filled with tiny black 'specks,' which is where the 'vanilla flavor' is located. For many, these tiny specks, aside from being packed with flavor, are considered quite eye-appealing, being prized by bakers and enthusiasts for how they become peppered through the recipe they are used in. The vanilla flavor from beans is typically much 'fresher tasting,' as well as much more intense. By contrast, extract is made by macerating vanilla beans in a mixture of ethanol and water, which slightly dilutes the flavor of the beans. Paste is something of a 'in between,' as while the flavor has diluted 'somewhat' due to the processing involved, it nevertheless retains more of the original flavor than extract, but with the trade off of being harder and 'more cumbersome' to use than simply adding in a dash of liquid extract.
As we want the full flavor of the vanilla, we're using Slofoodgroup's Tahitian Vanilla. This is an award-winning Grade A Tahitian Vanilla, sourced from French Polynesia. This vanilla is grown and harvested from a single family estate, and features all of the delicate nuances and floral aromatics that typify truly quality vanilla. A sky-high moisture content (indicative of top-quality vanilla), ensures visibly plump and juicy beans, boasting flavor described as a mix of red wine, cherry, peach, and stone fruits. Try these vanilla beans, I promise you won't be disappointed.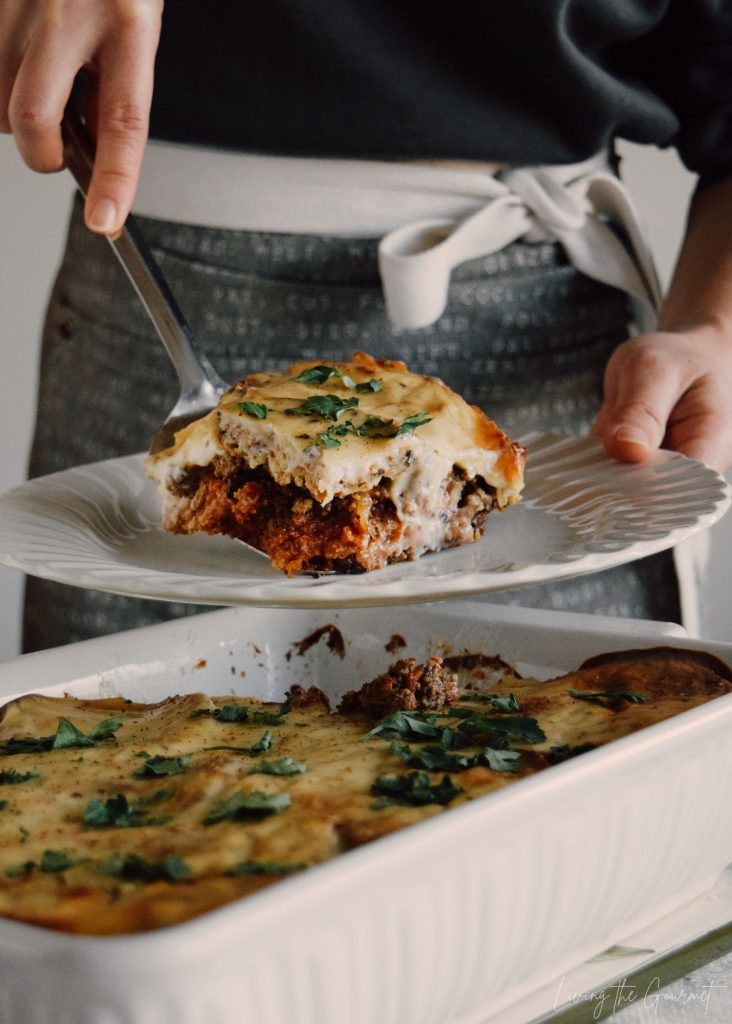 More Hellenic Delights from Living the Gourmet
1) Sweet Mediterranean Lasagna: This lasagna is a bit more colorful by design, featuring fresh baby spinach, a touch of sweetness from raisins and cinnamon, and 'Mediterranean' flavors such as capers, oregano, and lots of fresh garlic.
2) Pork Souvlaki with Homemade Tzatziki: My take on the ubiquitous Greek-Immigrant classic, combining herbed barbecued pork, with homemade flatbreads and fresh tzatziki. Super simple, satisfying and delicious, this recipe is perfect for backyard barbecues.
3) Greek Salad Pita Pockets: Combining fresh salad greens with sliced peppers, crumbled feta, Kalamata olives, and red onions, packed into a pita pocket and then drizzled with an balsamic vinaigrette, this is one salad you should definitely have in your repertoire.
4) Greek Tacos: My answer to the question "What tacos might taste like, had they originated in Greece?"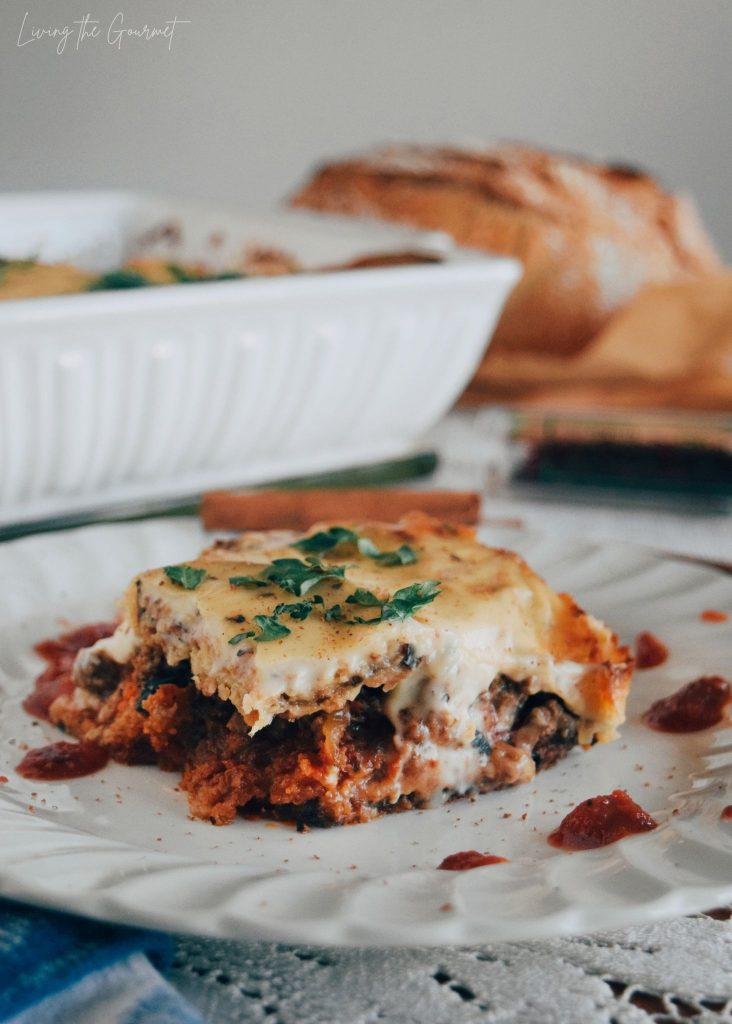 Print
Moussaka (Greek Lamb & Eggplant Lasagna)
---
Author:

Total Time:

1 hour 30 minutes

Yield:

6

servings

1

x
For the Eggplant:
2

eggplants (sliced 1/4-inch thickness with skin)
Panko breadcrumbs
Flour
Egg wash
Vegetable or olive oil, for drizzling
For the Ground Lamb:
1

lb

. of ground lamb

1

sweet onion, sliced
Dashes of fresh cinnamon

1 tsp

. salt

1 tsp

. black pepper

1/2 tsp

. sugar

2

tsps. olive oil
For the Béchamel Sauce:
2 tablespoons

unsalted butter

1/4

cup

AP flour

1/8 teaspoon

fresh vanilla bean

1 teaspoon

salt

1 teaspoon

black pepper

2 1/2

cups

whole milk
For the Marinara sauce:
---
Instructions
For the Eggplant:
Preheat Oven 400 degrees F.
Set up a station with three shallow bowls. One with flour, one with an egg wash and one with the breadcrumbs.
Dredge the eggplant first in the flour, then the egg wash and finally in the panko crumbs.
Place on a baking sheet prepared with parchment paper and drizzle with the oil.
Bake for 20 – 25 minutes or until the eggplant get a nice golden color, turning once halfway through the process.
Set the eggplant aside while preparing the lamb.
For the Ground Lamb:
Place the onion in a dry heated cast iron pan and sprinkle with the sugar.
Toss until the onion becomes golden.
Add the olive oil, lamb and the seasonings and toss until the lamb is cooked through.
Remove from the heat and set aside.
For the Béchamel Sauce:
In a pan, melt down butter. Stir in vanilla bean, salt, and pepper.
Whisk in flour until a thickened paste comes together.
Add milk, gently whisking until smooth.
Keep whisking occasionally for about 15-20 minutes until a smooth, creamy sauce comes together.
To Build The Moussaka:
Place a teaspoon or two of olive oil at the bottom of the baking dish.
Place two tablespoons of marinara sauce at the bottom of the baking dish and swirl around the bottom of the dish with the back of the spoon.
Layer the eggplant at the bottom of the dish followed by marinara sauce followed by another layer of eggplant, repeat this for a total of two layers.
Spoon the lamb over the eggplant and sauce and top with more layers of eggplant followed by the béchamel sauce.
Preheat Oven 350 degrees F. and bake for 45 – 50 minutes until the top is slightly golden.
Let the dish rest for about 10 – 12 minutes before cutting into.
Prep Time:

15 minutes

Cook Time:

1 hour 15 minutes

Category:

Main Dish

Cuisine:

Greek
Keywords: Moussaka, Greek Lasagna, Eggplant, Lamb
Recipe Card powered by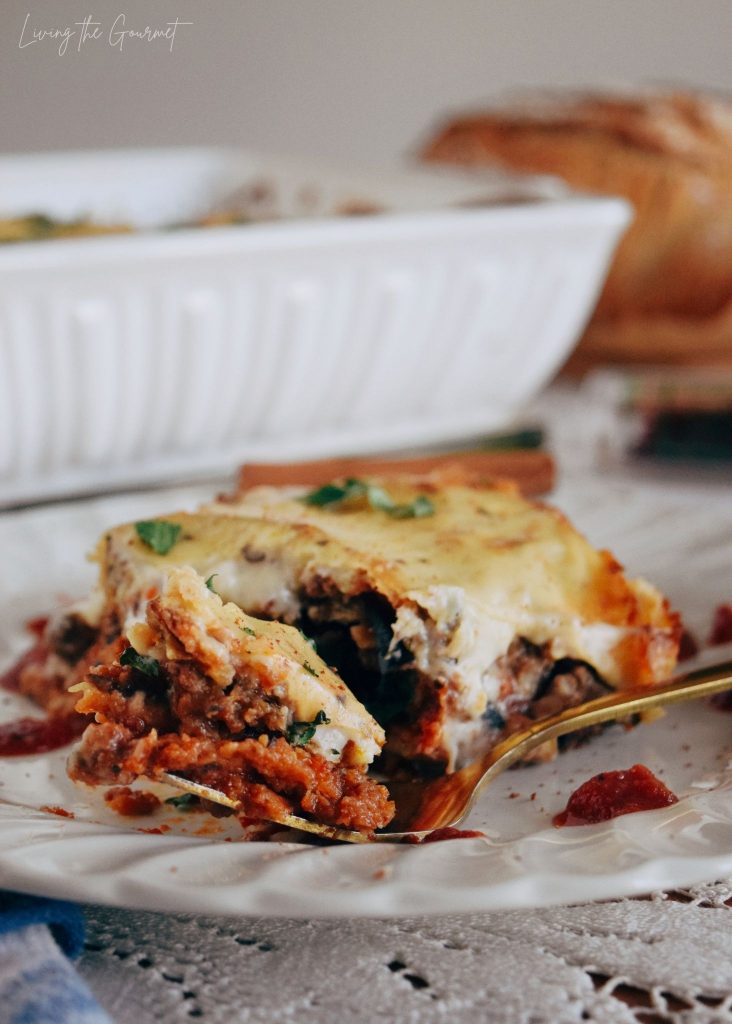 1