This post was sponsored by Better than Bouillon as part of an Influencer Activation for Influence Central and all opinions expressed in my post are my own.
Today we're preparing what is perhaps one of the most "Old School" recipes I've ever posted to Living the Gourmet – Neapolitan Risotto and Polpettes. This is basically Arborio rice layered with sauce, cheese, and a top layer of sausage polpettes. While the more traditional way to prepare this is with beef patties, I think the sausage gives it a more 'rustic' and 'fuller' flavor, as well as staying bit moister during cooking.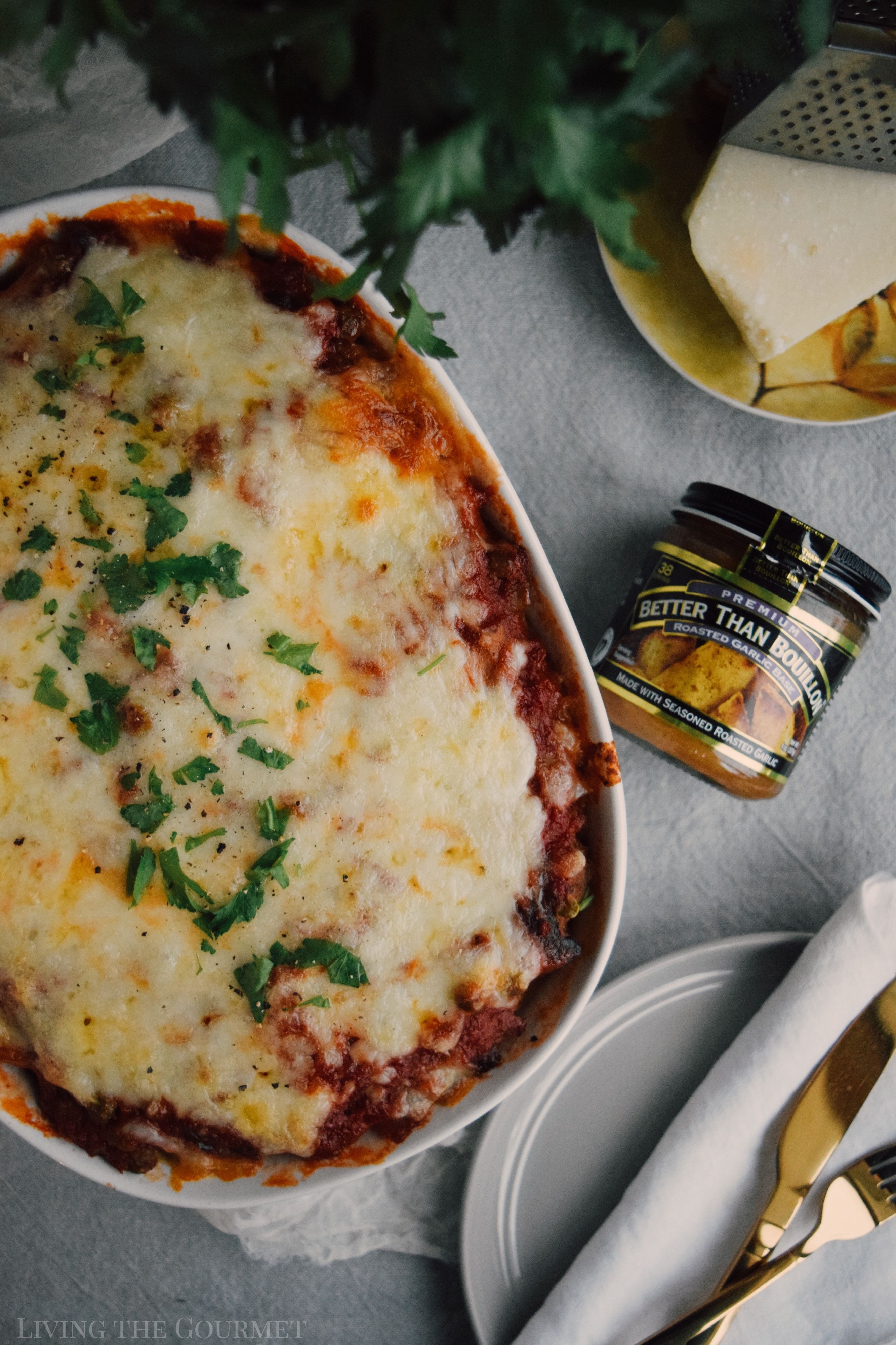 This is a great weeknight recipe, and can be made a few days ahead of time, and then heated up in the oven without drying it out. Hearty and satisfying, this makes for a great one-dish meal with a salad or side of veggies.
We'll be putting together today's recipe with a little help from our new friends over at Better than Bouillon, but more on them in just a second.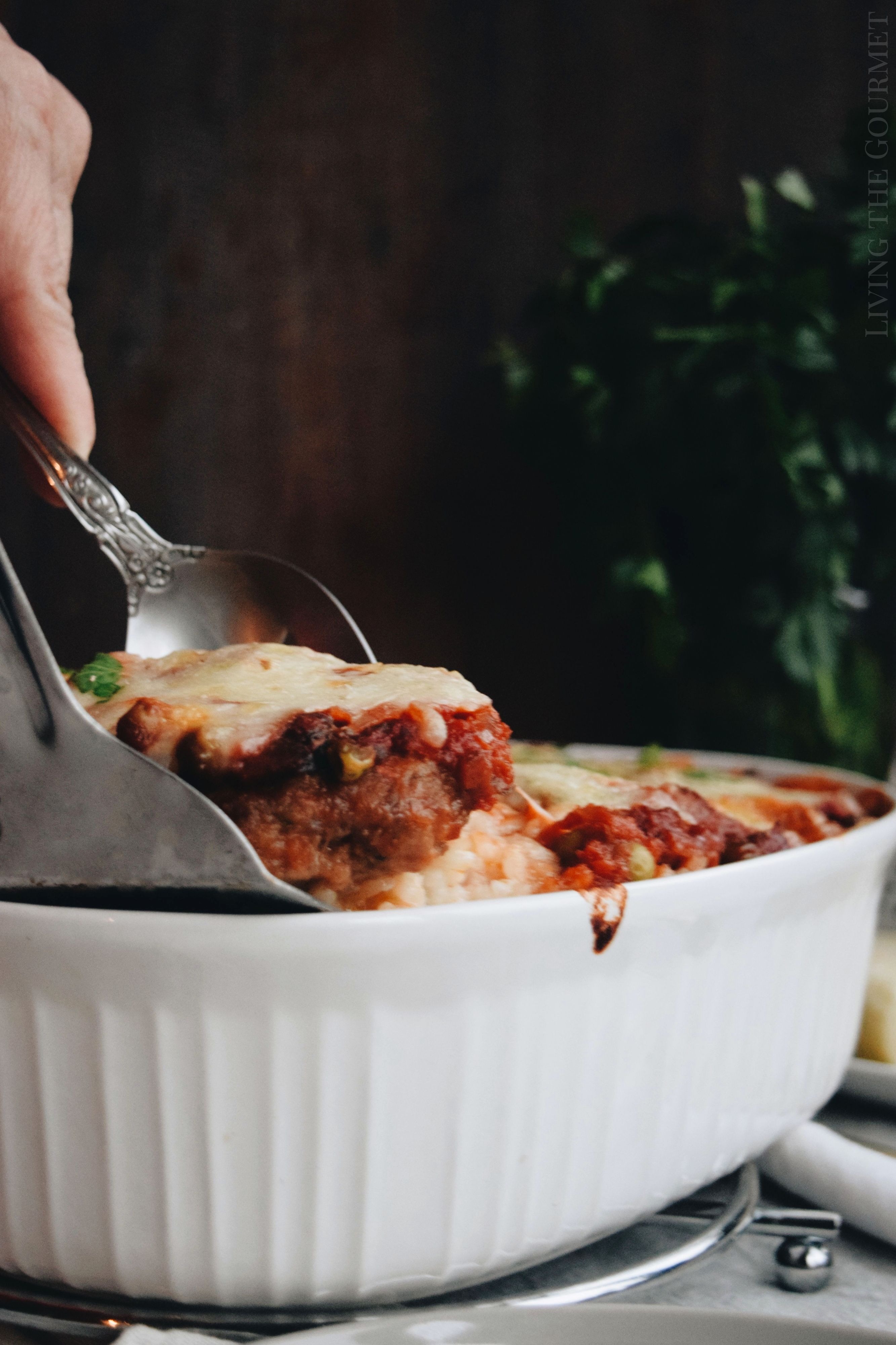 Ingredient Notes and Tips
1) Arborio Rice – There is no substitute – This particular type of rice is named after the village "Arborio" located in the Po Valley. However, most Arborio rice today is actually grown in California and Arkansas, although Italian grown Arborio rice is still widely available. The distinguishing feature of Arborio rice, and the quality that makes it so desirable for recipes like today's, is its 'plump' shape and fluffy or 'creamy' texture. This allows the rice to thoroughly absorb the juices of the recipe that it's being prepared in, making the rice almost 'spongey,' and consequently packed with flavor.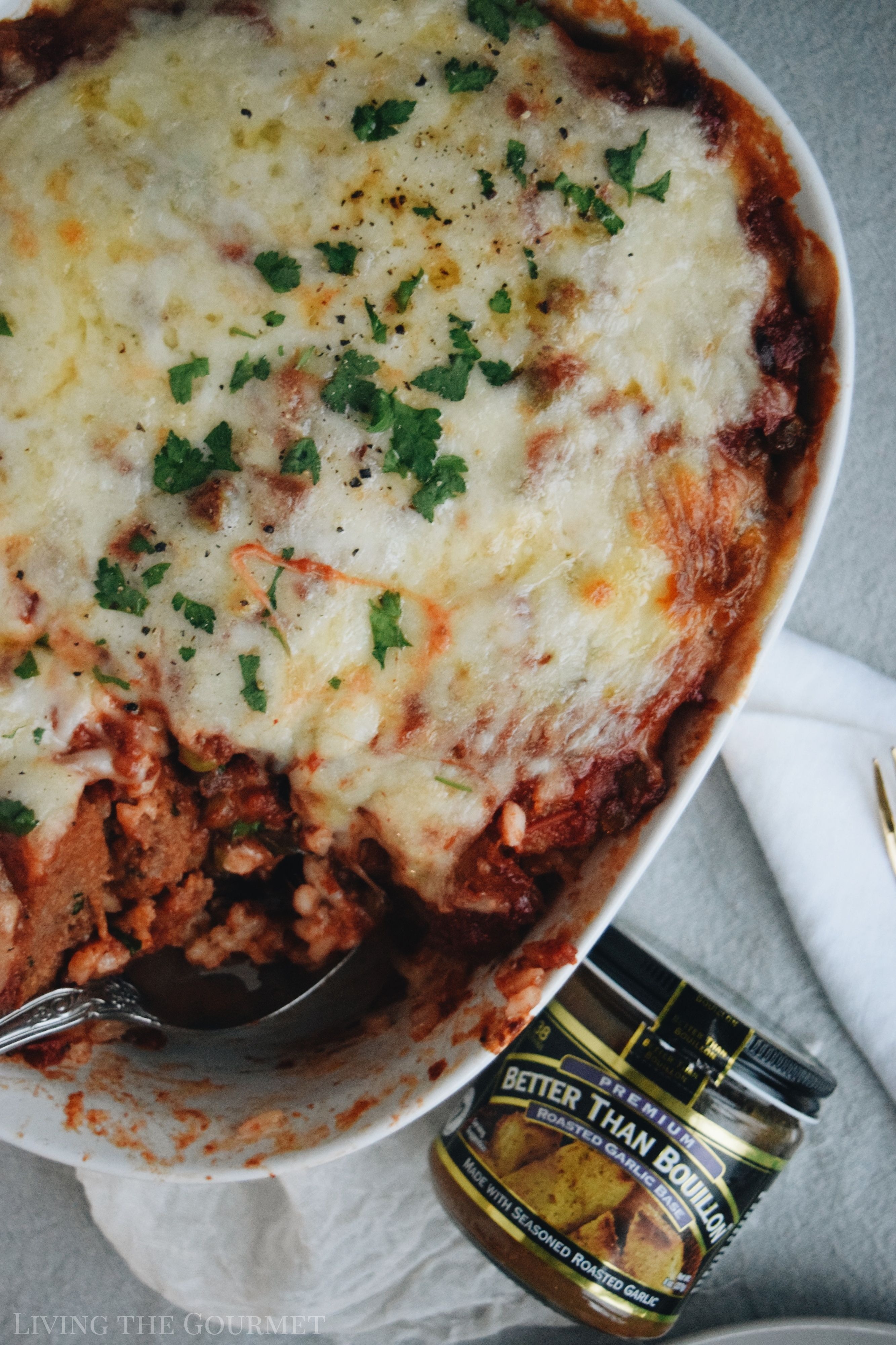 2) Better Than Bouillon Roasted Garlic Base – This is the 'secret weapon' of today's recipe. Better Than Bouillon offers a long line of premium paste concentrates, all of which give your recipes a 'cooked all day' flavor without actually having to take the time to roast or simmer anything for hours on end. I'm using the Roasted Garlic flavor, which packs a full 'punch' of roasted to perfection garlic with a full bouquet herbs in just a single serving, which is equivalent to a bouillon cube or broth. Better than Bouillon products come available in a range of flavors, including Roasted Beef Base, Roasted Turkey Base, Roasted Chicken, Seasoned Vegetable Base, and a host of others. They also have Reduced Sodium Options, a line of organic products, and Vegetarian and Vegan options as well, ensuring there's something for everyone and every recipe. These products can add flavors to main courses, such as today's recipe, or be used in soups, appetizers, sauces, or as the seasonings for roasted or grilled vegetables, or as rubs for steaks, roasts, or poultry – the possibilities really are endless. That said, kick up your holiday recipes with Better than Bouillon!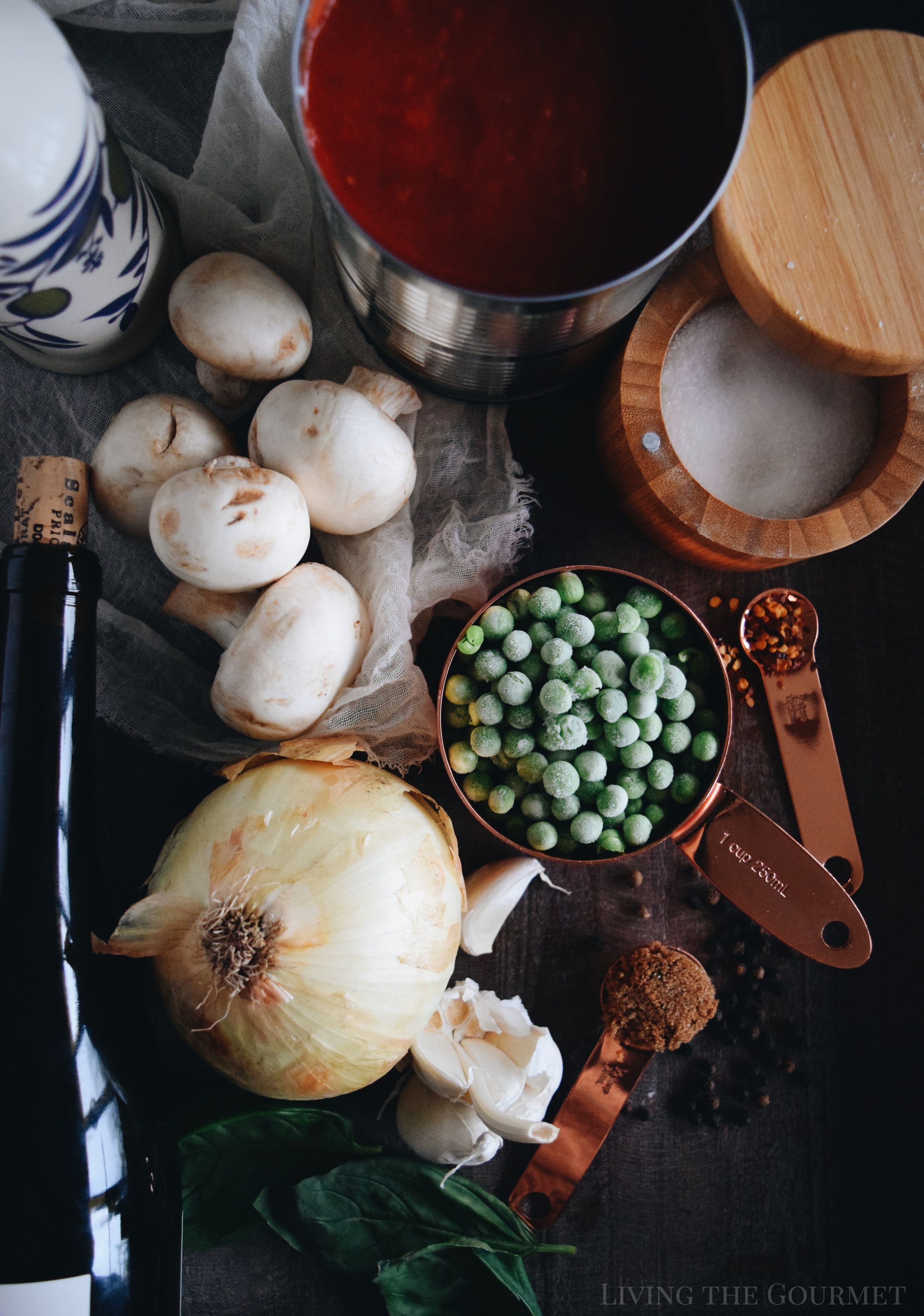 3) Mozzarella – Fresh or Supermarket? This recipe can be greatly enhanced by the presence of fresh mozzarella, since the added moisture, 'fresher' taste and 'fluffier' texture melds absolutely beautifully with the Arborio rice. However, fresh mozzarella is far from necessary, and packaged supermarket mozzarella works just fine – as evidenced here today.
4) White Onion – We're using white onions instead of red for the simple reason that the 'harsher' or 'sharper' flavor of red onions would simply be overpowering. We want 'some' onion flavor, but we want it to take a decidedly background role. However, feel free to experiment.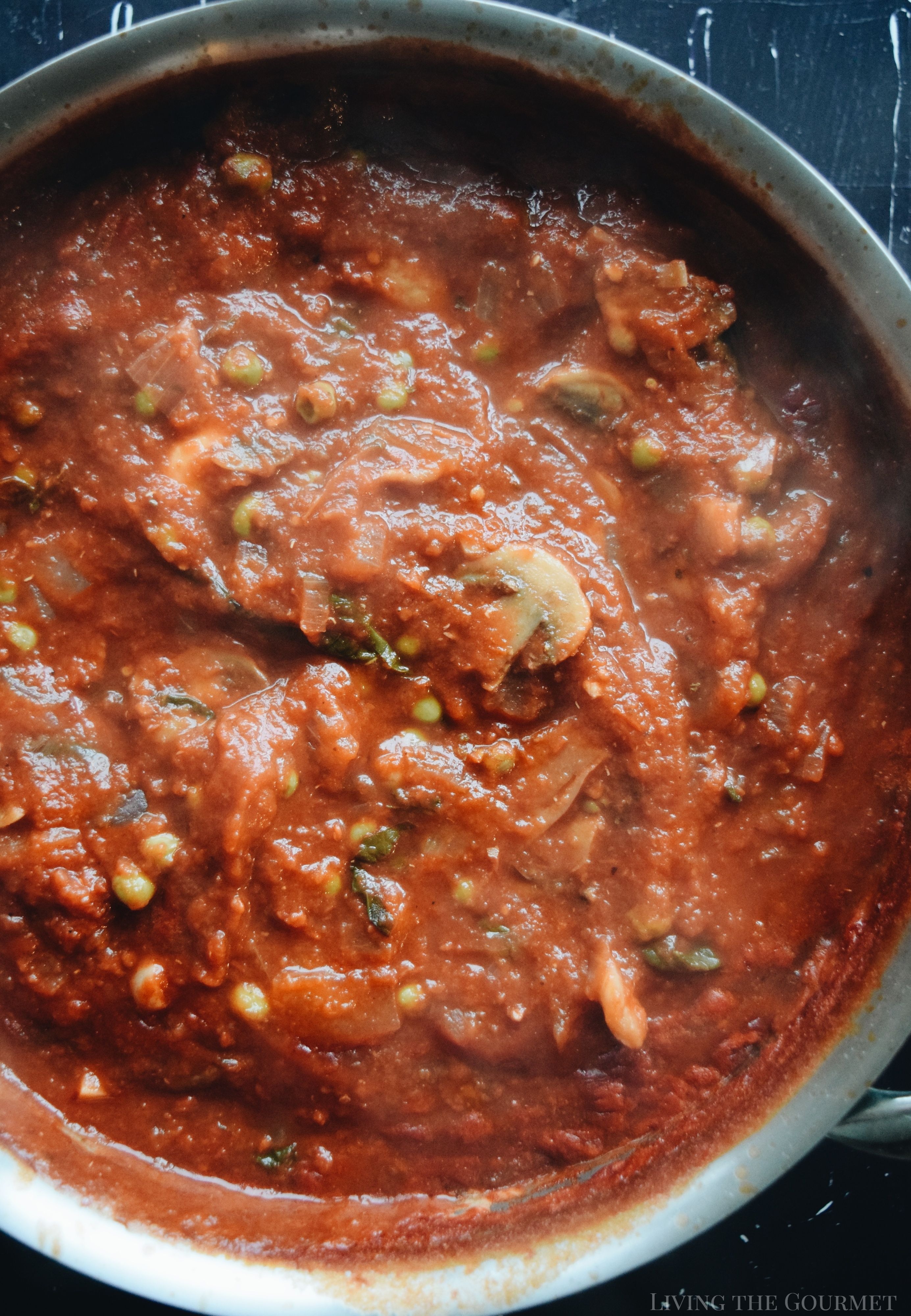 Prep Tips – Red Wine and Sausage
1) Cooking With Wine – Or How I Learned to Stop Fearing The Splash and 'Wine' My Sauce. Yes, we are using a half cup. Do not look at the wine in the pot and think to yourself that it's 'too much,' or that it will make your sauce too liquid or too acidic. First and foremost, as with all liquids, a portion of it will simply evaporate, or be soaked into the other ingredients. Secondly, not only will a portion of the total wine evaporate, but the entirety of its alcohol content 'will' evaporate away, as alcohol has a much a lower boiling point than water. For reference, the boiling point of alcohol is 173 degrees Fahrenheit, well under than the 212 degree boiling point of water. This means that even before the sauce has reached a 'gentle simmer,' the alcohol will have entirely departed the sauce in the form of steam – which, by itself, will reduce the total amount of 'wine' you've added by anywhere from twelve to fifteen percent, depending on the wine you've used. Translation, feel free to increase the amount of wine in today's recipe up to about a cup, depending on how much 'acidity' and 'wine flavor' you like in your sauce – it's purely preference.
2) The Polpettes – Don't Overdo It. As with meatballs, the key to 'plump' rather than 'stiff and rubbery' sausage polpettes is to 'not' overwork the meat. You want to form the patty so that it doesn't fall apart but is still somewhat 'loose,' and then leave it. Overworking the meat dries it out, essentially 'pressing' the juices from the tissue of the meat, while also destroying all of the air pockets, and more than anything is what results in stiff and rubbery patties – just as with overworked meatballs.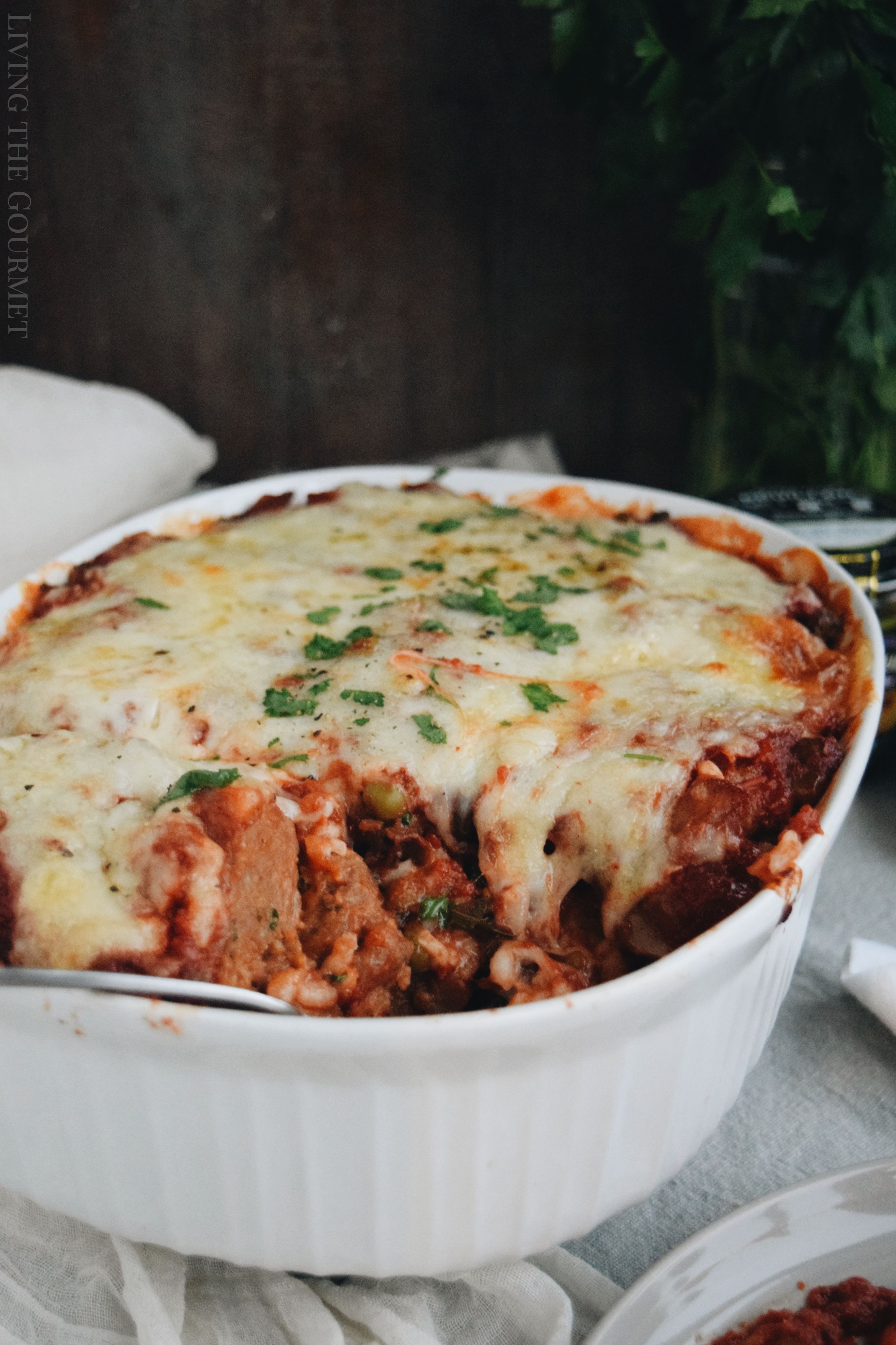 Other Great Italian Favorites
1) Simple Italian Pasta Sauce. My version of a basic sauce to set over pasta. This sauce is simple and to the point, perfect for busy weeknights.
2) Meatballs with Rasins and Pignoli Nuts. My absolute favorite meatball recipe of all time. Moist, flavorful, and versatile, these are the perfect meatablls to pair with red sauce and pasta.
3) Breadsticks. Prepare a batch of breadsticks are easier than you might think. They make a nice centerpiece to a dinner table, and really impress he guests when the learn that you prepared them yourself.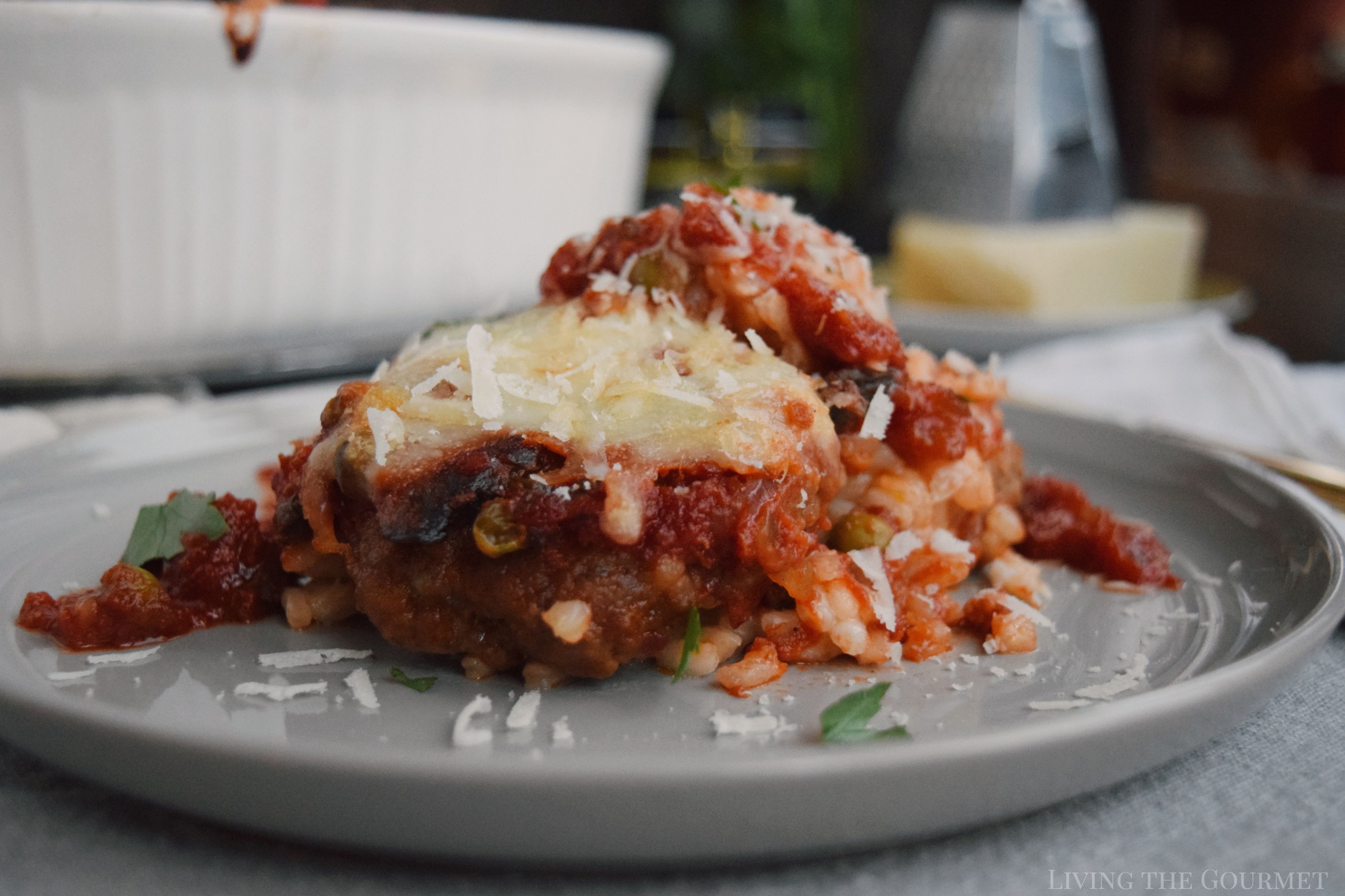 Print
Neapolitan Risotto
Author:
Prep Time:

10 minutes

Cook Time:

1 hour

Total Time:

1 hour 10 minutes

Yield:

4

-6

1

x
For the Sauce:
1

large white onion, chopped

2

cloves garlic, minced

2 tablespoons

olive oil

2

cups

mushrooms, washed and thinly sliced

2

(28 oz) cans crushed tomatoes

1/2

cup

red wine

1 tablespoon

fresh basil, chopped

2 tablespoons

brown sugar

2 teaspoons

sea salt

1 teaspoon

fresh cracked black pepper

1 teaspoon

red pepper flakes

1.5

cups

frozen peas
For Risotto & Polpette:
2

cups

arborio rice,

2 tablespoons

olive oil

1 teaspoon

Better than Bouillon Roasted Garlic

2

lbs. ground sausage meat (I used 1 lb. spicy and 1 lb. sweet)

1.5

cups

Italian bread crumbs, plus 1/2 cup

2

large eggs

1/4

cup

fresh parsley, chopped
Zest of

1

lemon

1/4 teaspoon

freshly ground nutmeg

1

clove garlic, minced

1 teaspoon

sea salt

1/2 teaspoon

fresh cracked black pepper

1/3

cup

flour
Vegetable oil, for frying

1

lb

. Mozzarella cheese, grated
Parmesan cheese, grated
Instructions
For the Sauce:
In a deep skillet or pot, saute onion and garlic in olive oil over medium heat until the onions are tender. Add the mushrooms and saute for a few more minutes, then add crushed tomatoes, wine, basil, sugar, salt, pepper and red pepper. Let simmer for about 30 minutes over low heat. Add the peas and let simmer for another 10 minutes. The sauce should be thick, not runny.
For Risotto & Polpette:
In a large pot, combine rice with olive oil and saute over medium heat just long enough to heat the grains. Be careful not to brown the rice.
Cover the rice with about 1.5 inches of water and 1 teaspoon Better than Bouillon Roasted Garlic. Stir occasionally and bring to a boil. As soon as the rice begins to boil, cover and remove from the heat. Set aside.
To make the polpettes, in a large bowl combine ground sausage meat, 1.5 cups bread crumbs, eggs, parsley, lemon zest, nutmeg, garlic, salt and pepper. Mix well then form into small patties, about 1/4 inch thick and 1.5 inches wide.
Fill a small bowl with 1/3 cup flour and coat each patty in flour.
In a large skillet, heat oil for frying. To test the oil, simply tip the end of a wooden spoon into the oil. If it bubbles, the oil is ready for frying. Fry each patty until golden brown on each side and drain on paper towels.
Assembly:
Preheat oven to 350 degrees F.
Coat the bottom of a deep baking or casserole dish with olive oil, then sprinkle and coat with remaining 1/2 cup breadcrumbs.
Spread half the cooked rice evenly on top, then spread the beef patties on top of the rice. Spoon enough sauce to evenly cover the patties and top with grated mozzarella and Parmesan. Repeat this process again. Drizzle once more with a little olive oil and bake for 30 minutes until the cheese is completely melted and golden. Let settle slightly before serving. Slice and enjoy!
Recipe Card powered by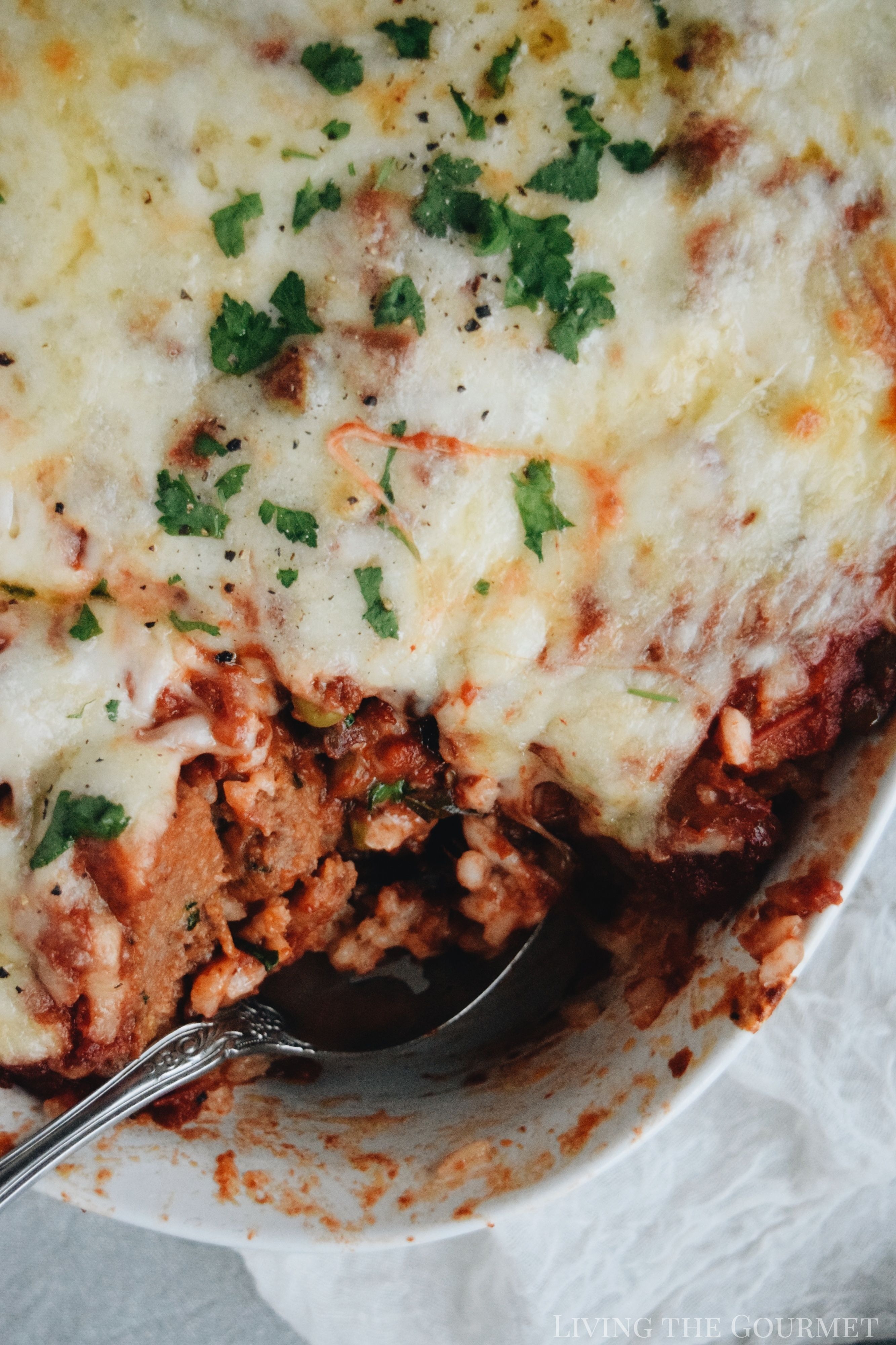 If You Enjoyed Today's Recipe…
Be sure to follow us on Instagram to stay up to date with all things Living the Gourmet, and for more great recipes, tips and tricks.
Did you make this recipe?
If so, let me know in the comments down below, or post a picture to Instagram, or to Pinterest, and I'll give you a shoutout on Instagram, or post your pin to one of my Pinterest boards!
3