This shop has been compensated by Collective Bias, Inc. and its advertiser. All opinions are mine alone. #ChooseMazola #CollectiveBias
We're kicking the week off right with a baked not fried version of my favorite takeout meals- General Tso's Chicken! I'm serving it over brown rice, making this lightened up with Mazola Corn Oil! It's better than any takeout dish you've ever had!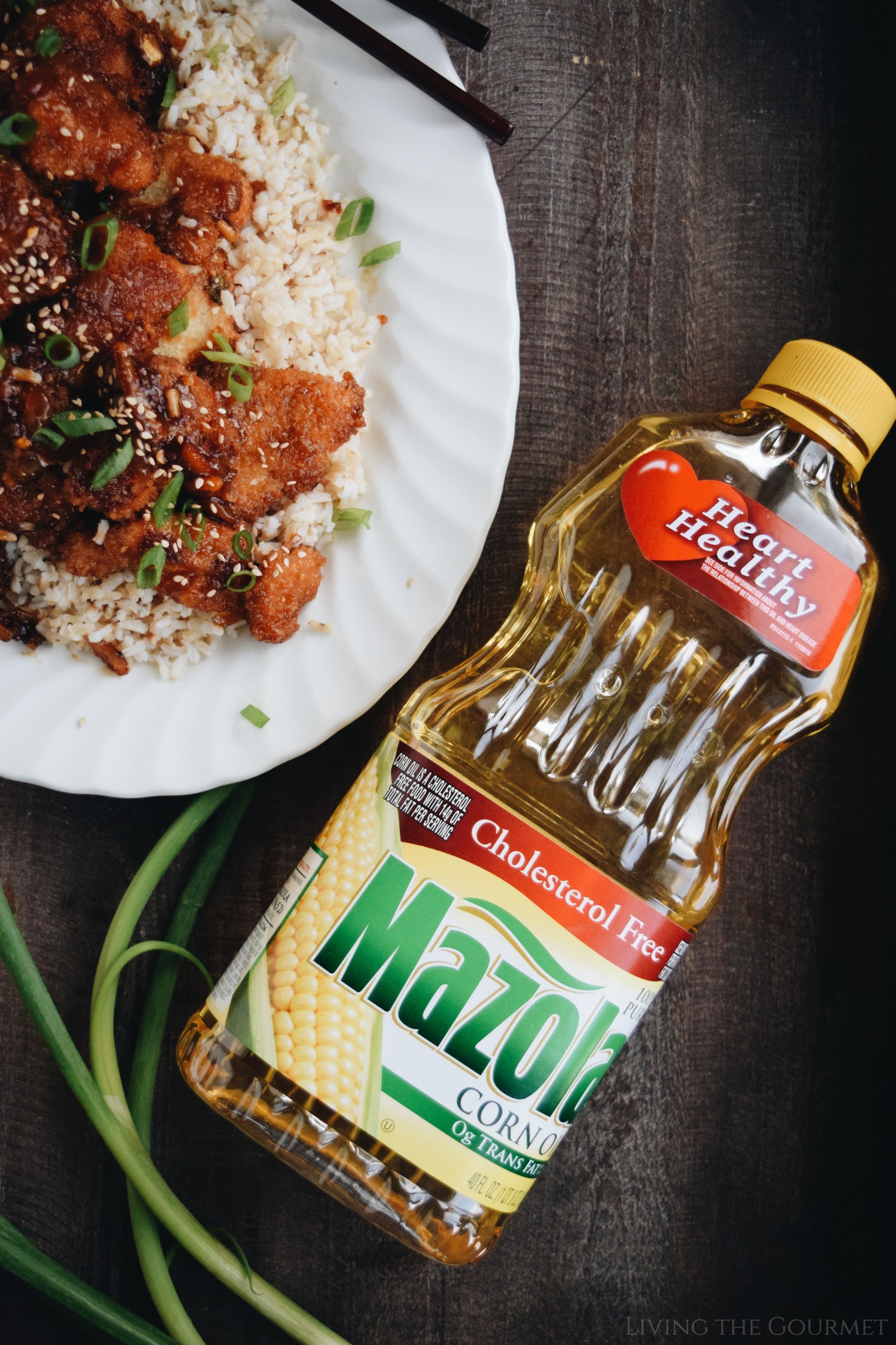 ​
This September is Nation Cholesterol Awareness Month, and to 'celebrate', I decided to put a health-conscious spin on a takeout classic – General Tso's. A clinical study showed Mazola Corn Oil reduces cholesterol 2x more than extra virgin olive oil. To learn more about this claim, see Mazola.com.​ So I decided to use it as one of the key ingredients in today's recipe.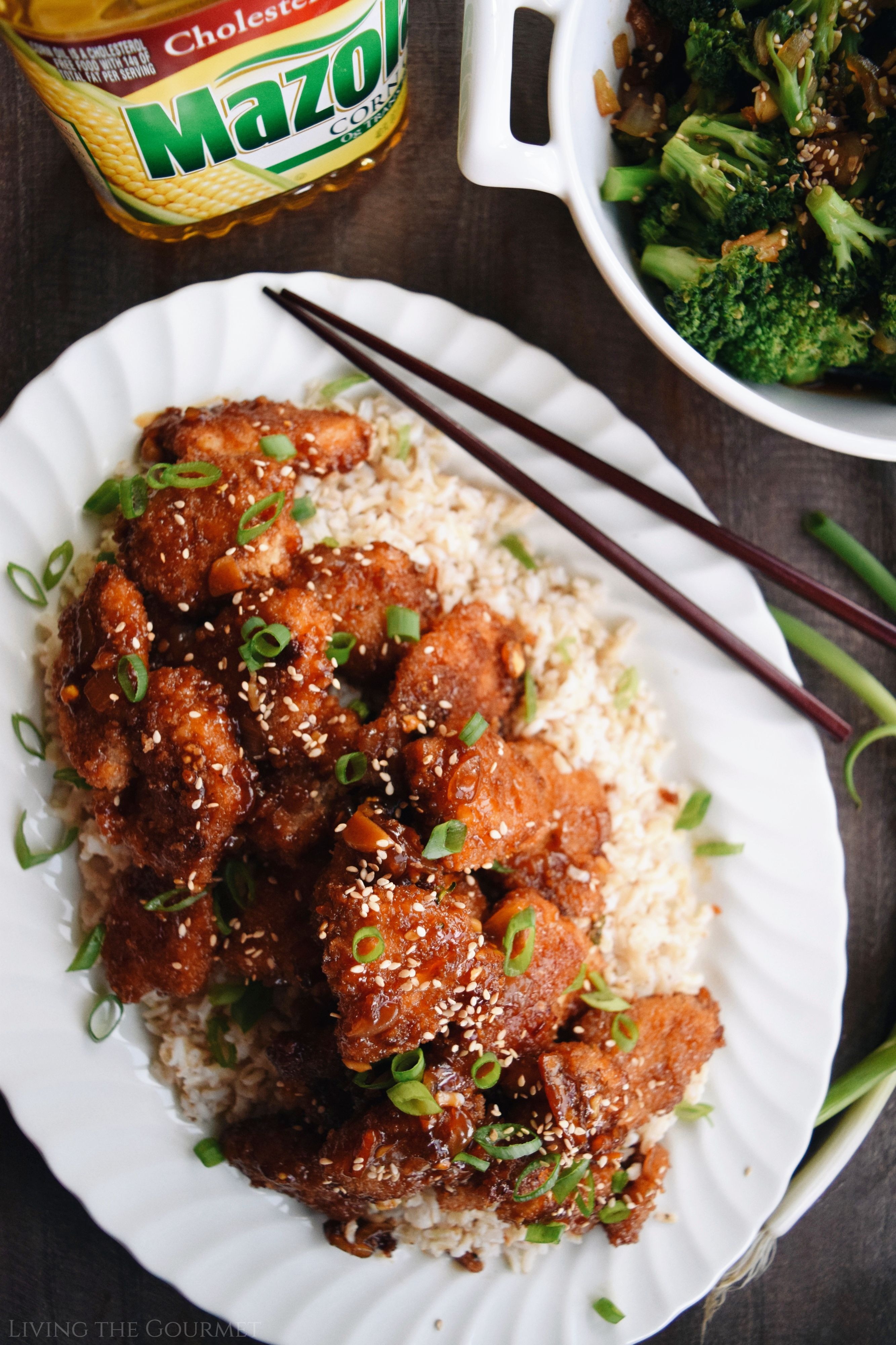 The takeout version of General Tso's Chicken is a guilty indulgence of gooey-on-crispy fried goodness drenched in a thick sweet and spicy orange-brown sauce – a sauce whose precise flavor you can never 'quite' put your finger on, but that you 'believe' is a base of orange preserve and sesame oil. It's a carefree indulgence if ever there was one.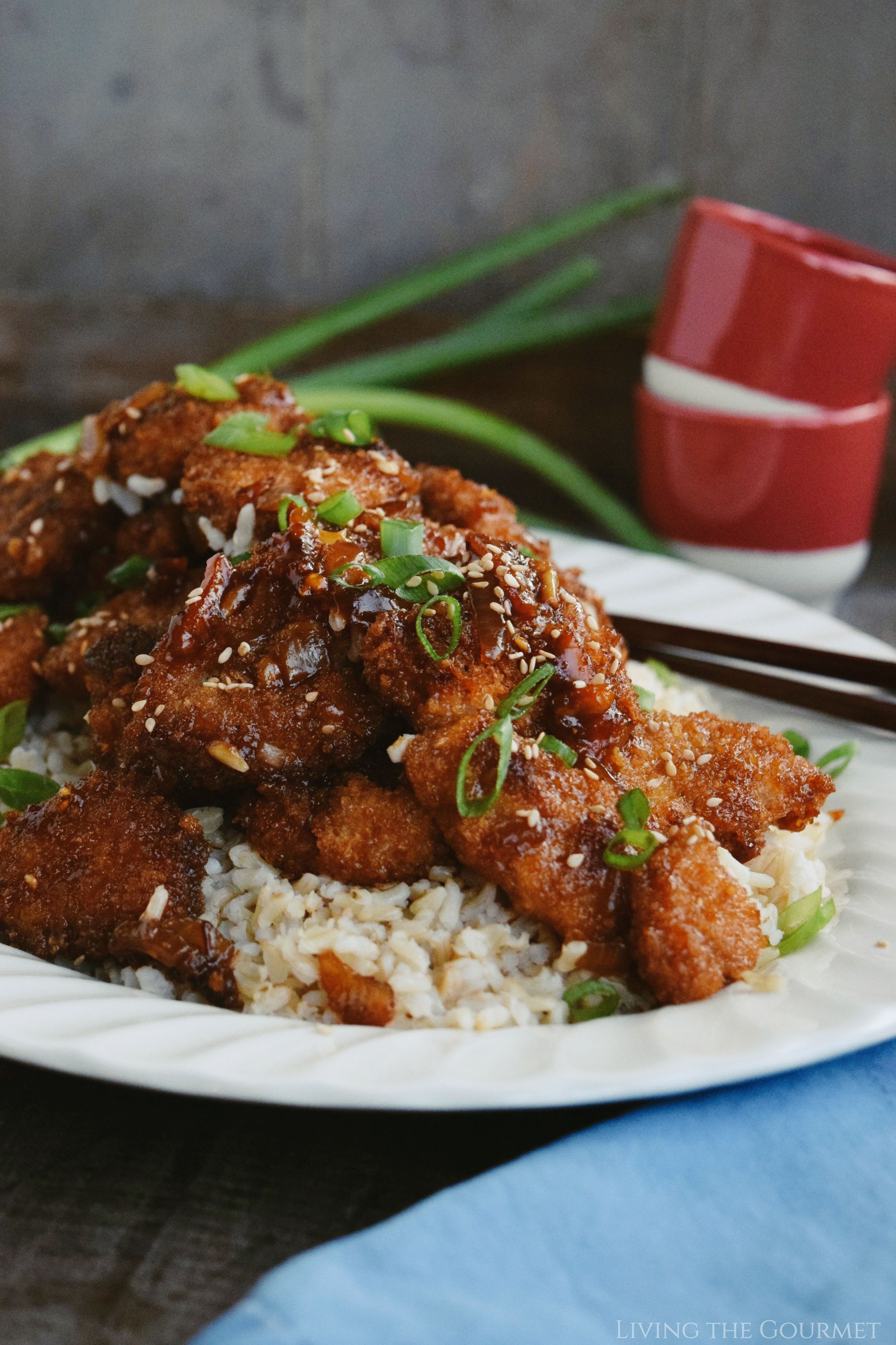 However, making this classic at home can be a challenge. First and foremost, most of us don't have a deep fryer sitting on our countertop, meaning the chicken rarely has quite the same crunch. Second of all, at least for me, there's a sort of 'psychological barrier' when it comes to preparing something this intentionally 'guilty' and decadent, ordering something like this out is one thing, but preparing it in my own kitchen is quite another. Today, we're solving both of those problems. What I've prepared for you in today's post is a near guiltless recipe for super crispy chicken chunks, prepared with a sweet and spicy brown sauce, that offers all of the 'crunch' and flavor of the takeout classic but almost none of the guilt.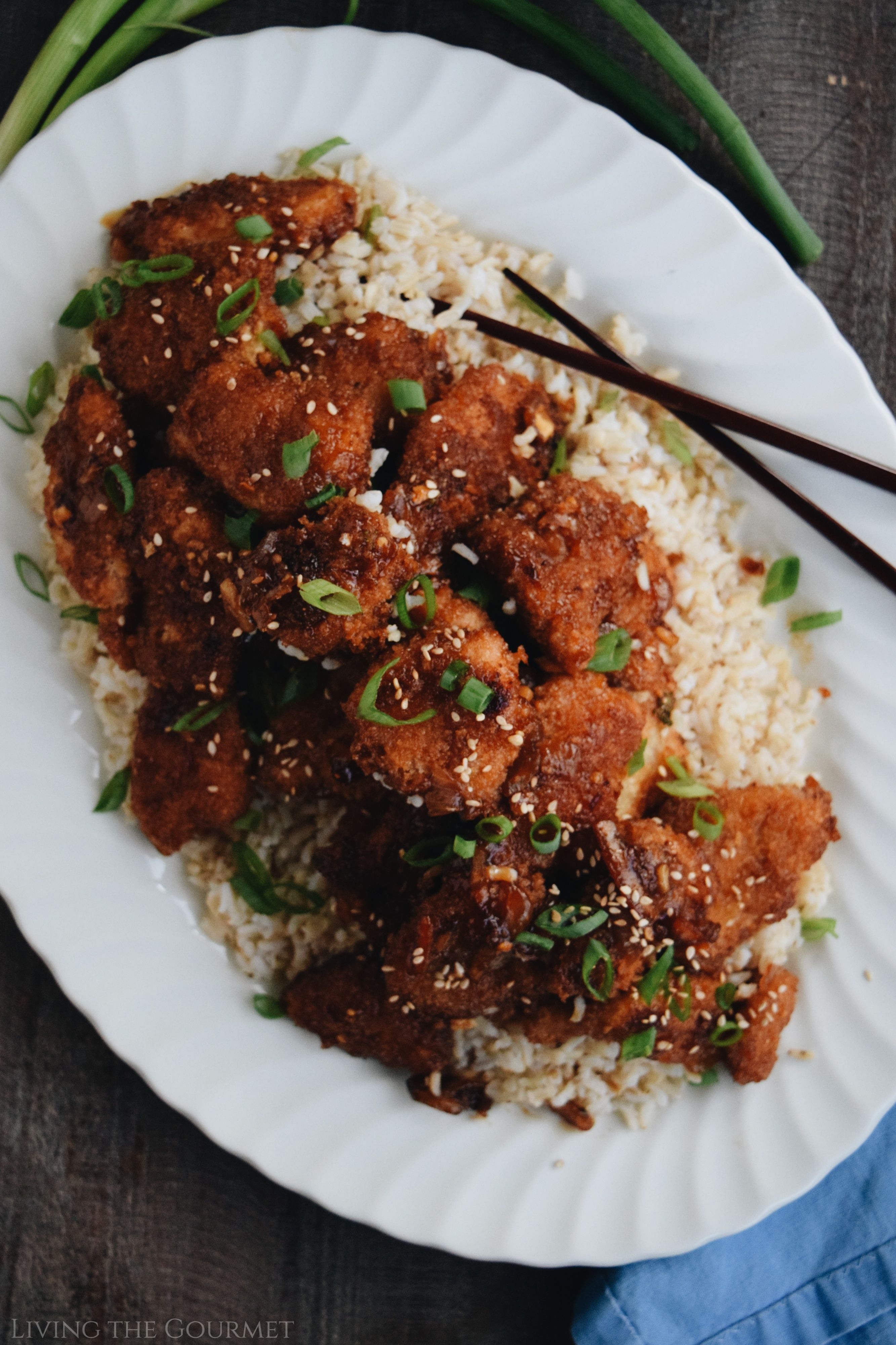 Why You'll Love This Recipe
1) No Deep Fryer Needed: One of the big disadvantages of trying to make General Tso's at home comes down to the deep fryer. Since it's simply not an everyday item, most of us don't have one, and for those of us who do, it's one of those gadgets where you love what it does – crispy fried food – but it's a hassle to use. Today's General Tso's requires no deep fryer, and no skillet frying. Instead, to achieve the crispy chicken that's at the core of the recipe, we'll be oven baking it. More on that later.
2) Moist and Crunchy: I'm going to cut right to the chase and say that my favorite thing about General Tso's is not really the 'flavor,' but rather the almost contradictory textures that it has, combining a moist gooey exterior with a crisp interior. This recipe achieves that without the need for deep frying.
3) Great Left Over: Like its takeout counterpart, homemade General Tso's is great left over. It heats back up absolutely beautifully in an oiled skillet or wok but also tastes great cold – if you're so inclined.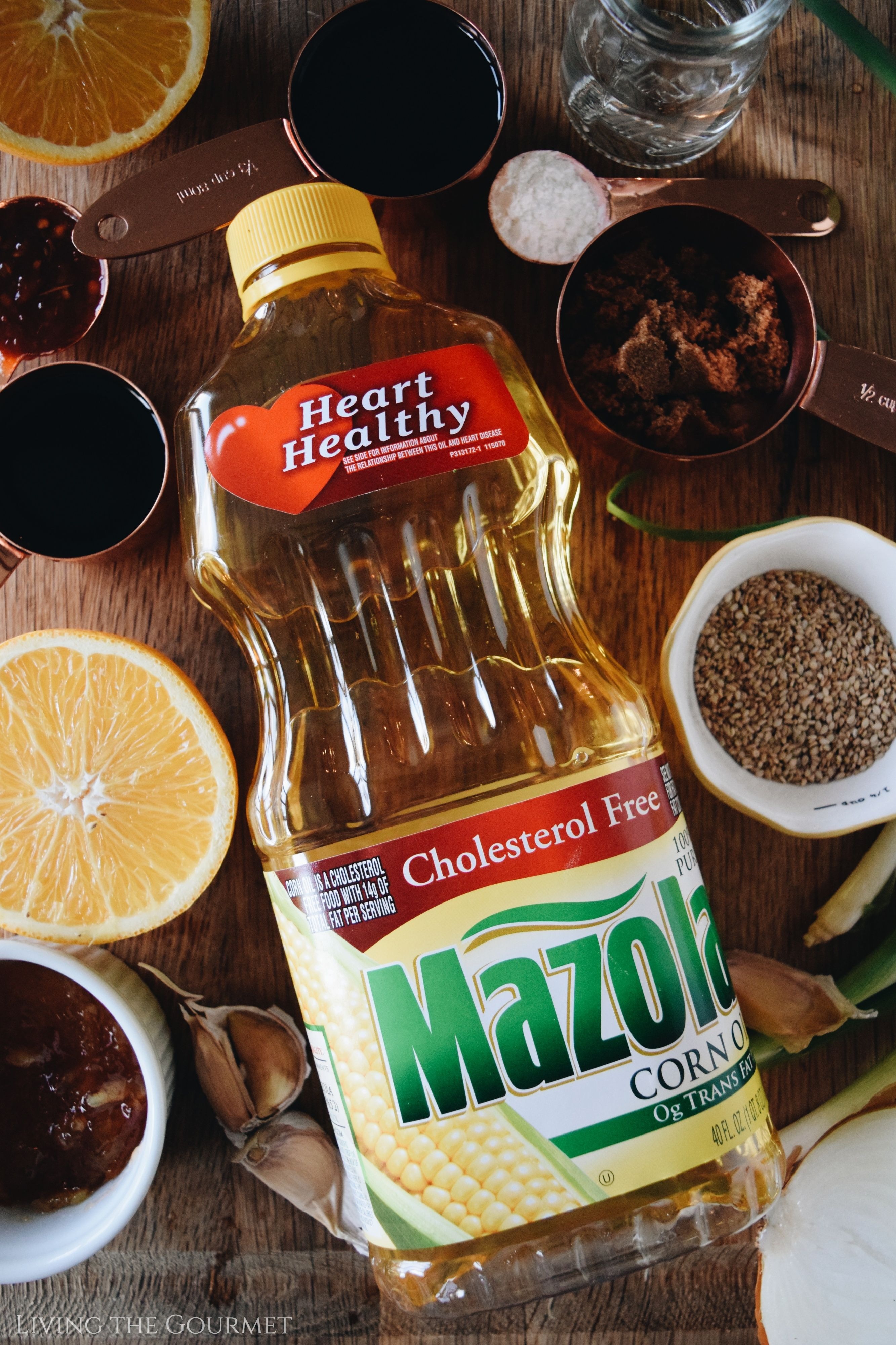 Making General Tso's Lighter – Five Swaps
Swap One – The Oil: The first swap in the standard general Tso's recipe is to skip regular cooking oil or olive oil in favor of Mazola Corn Oil, which we'll be using to drizzle on the chicken during oven baking. Which brings us to our second health-conscious swap.
Swap Two – Oven Baking vs Frying: Perhaps the biggest swap in today's recipe, we're opting out of deep frying the chicken in place of oven baking. Not only is this a healthier choice, but's far easier, quicker, and much less expensive – due to not needing cups of cooking oil.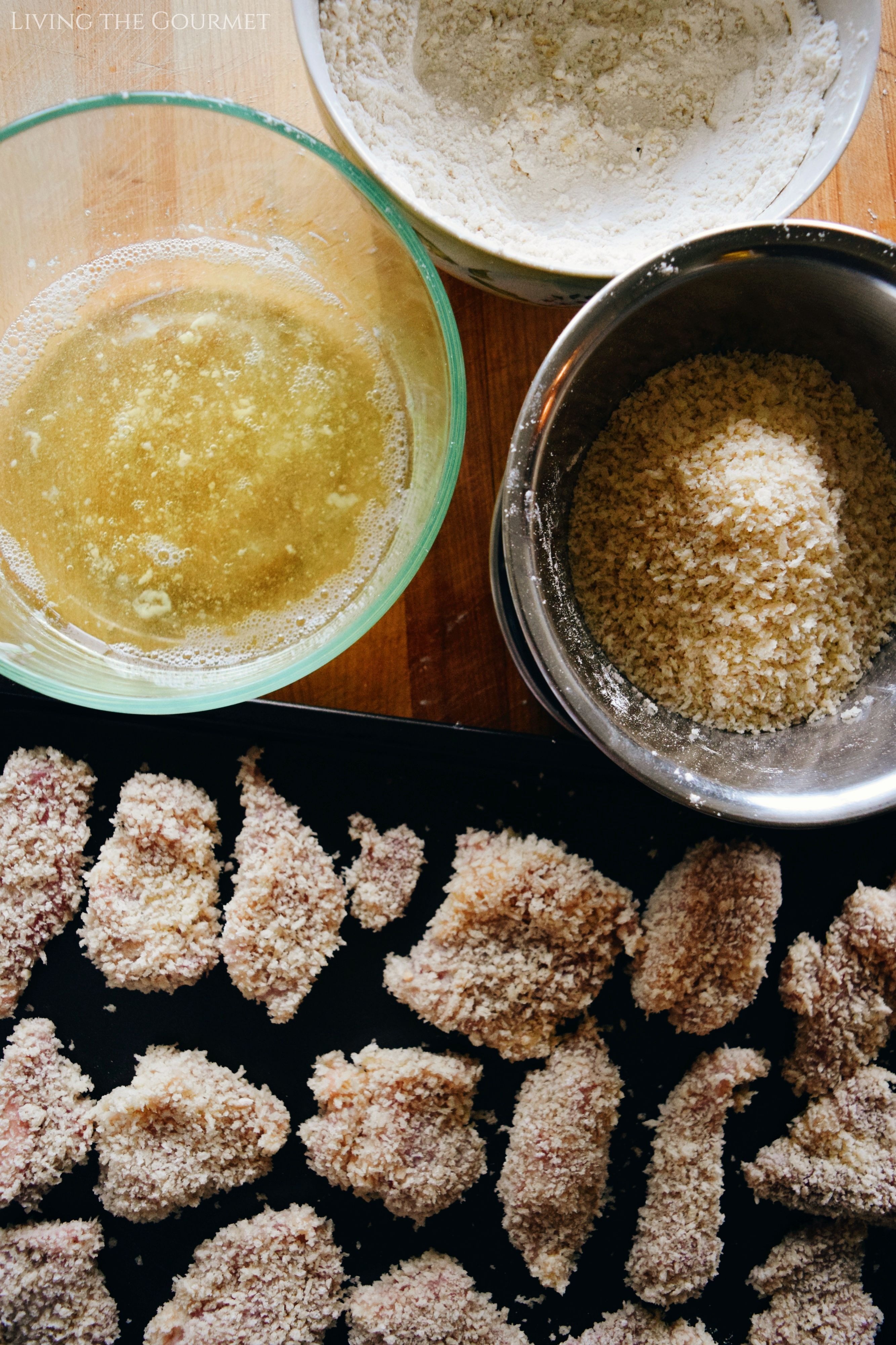 Swap Three – Egg Whites: For the egg wash, we'll be using three egg whites in place of whole eggs. This makes no difference in taste or texture. The only 'real' difference here is cutting the cholesterol content of the recipe.
Swap Four – Low Sodium Soy Sauce: Low Sodium Soy Sauce is one of the very few "Low This" or "Free That" foods where the difference in flavor truly is negligible to nonexistent. As a result, since we don't need the extra sodium or body of standard soy sauce for today's recipe, there was no reason not to make the swap.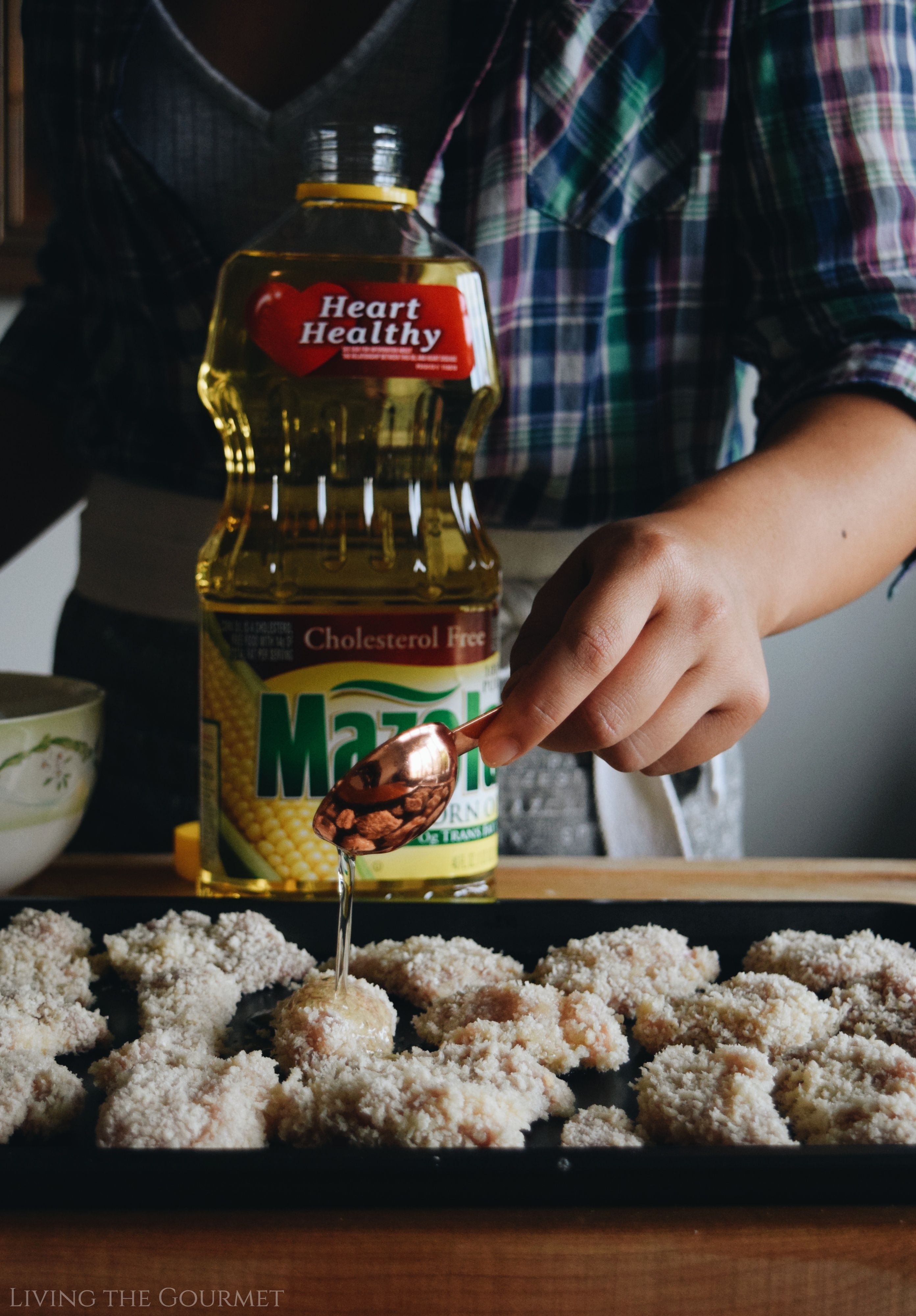 Swap Five – Brown Rice vs White Rice: While takeout General Tso's is generally served with a side of white rice, today we'll be substituting brown rice. Brown rice is a whole grain, which still has its bran and germ intact, as opposed to white rice, which has had the bran and germ removed. Since the bran and germ are the most nutritious part of the rice, this further enhances the nutritional value of the recipe.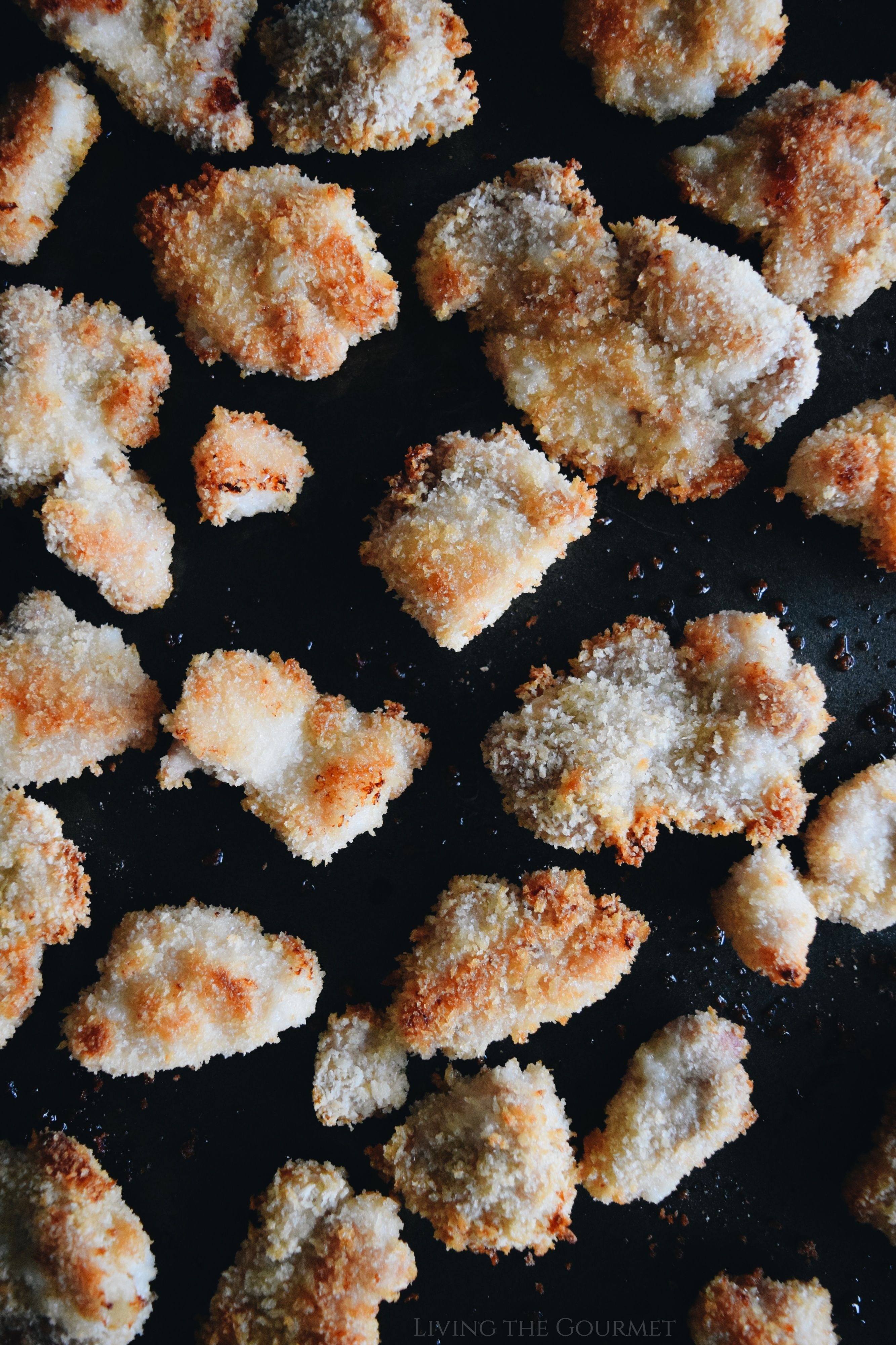 Ingredients – Some Tips and Pointers
1) Panko vs Breadcrumbs. If you want to know how we manage to keep the chicken crisp and crunchy without deep frying or skillet frying, this is how. Panko is a type of Japanese breadcrumb produced from crust-less, coarsely ground bread. While traditionally used in deep fried foods, panko works great in oven baking to achieve a 'deep fried' crunch. As a bonus, Panko is also lower in calories than its crusty, finely ground counterpart.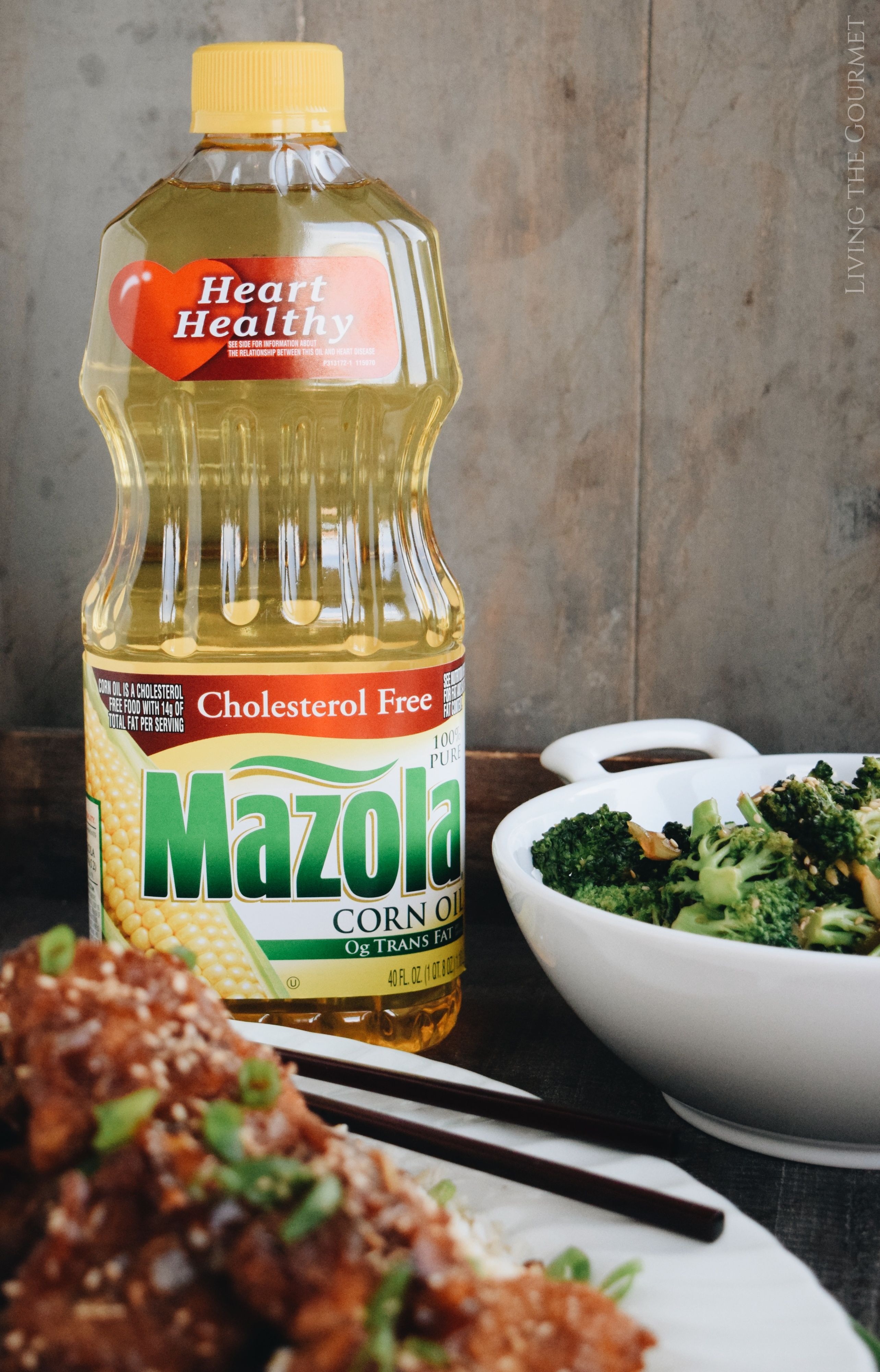 2) Mazola Corn Oil. Mazola Corn Oil is an all-purpose, cholesterol free cooking oil that is a smart heart-healthy* choice for your family. *See Mazola.com for more information on the relationship between corn oil and heart health. It has a variety of uses including baking, grilling, sautéing, stir frying, or mixing up a marinade or dressing.​ There are other reasons we're using this particular oil. First and foremost, it's completely flavor neutral, meaning I don't have to account for it in the recipe or worry about conflicting flavors. Also, it has a smoke point of 450 degrees Fahrenheit, meaning it can reach this temperature without negatively affect the recipe's taste and nutritional value. Since we'll be mixing the chicken in a heated wok or frying pan after cooking it at 400 degrees Fahrenheit, this is particularly important.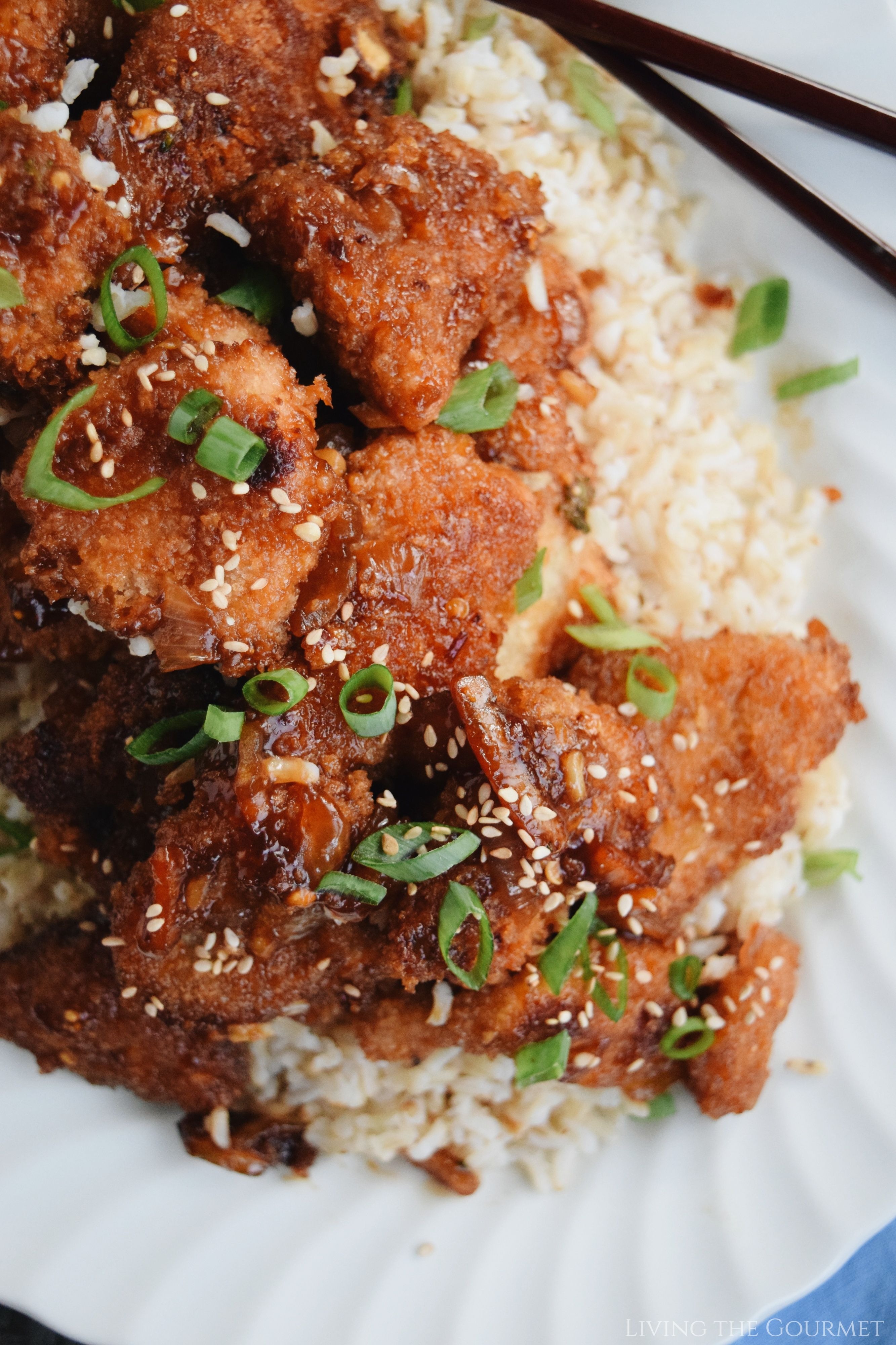 Living the Gourmet
Healthier General Tso
10 minPrep Time
25 minCook Time
35 minTotal Time
5 based on 13 review(s)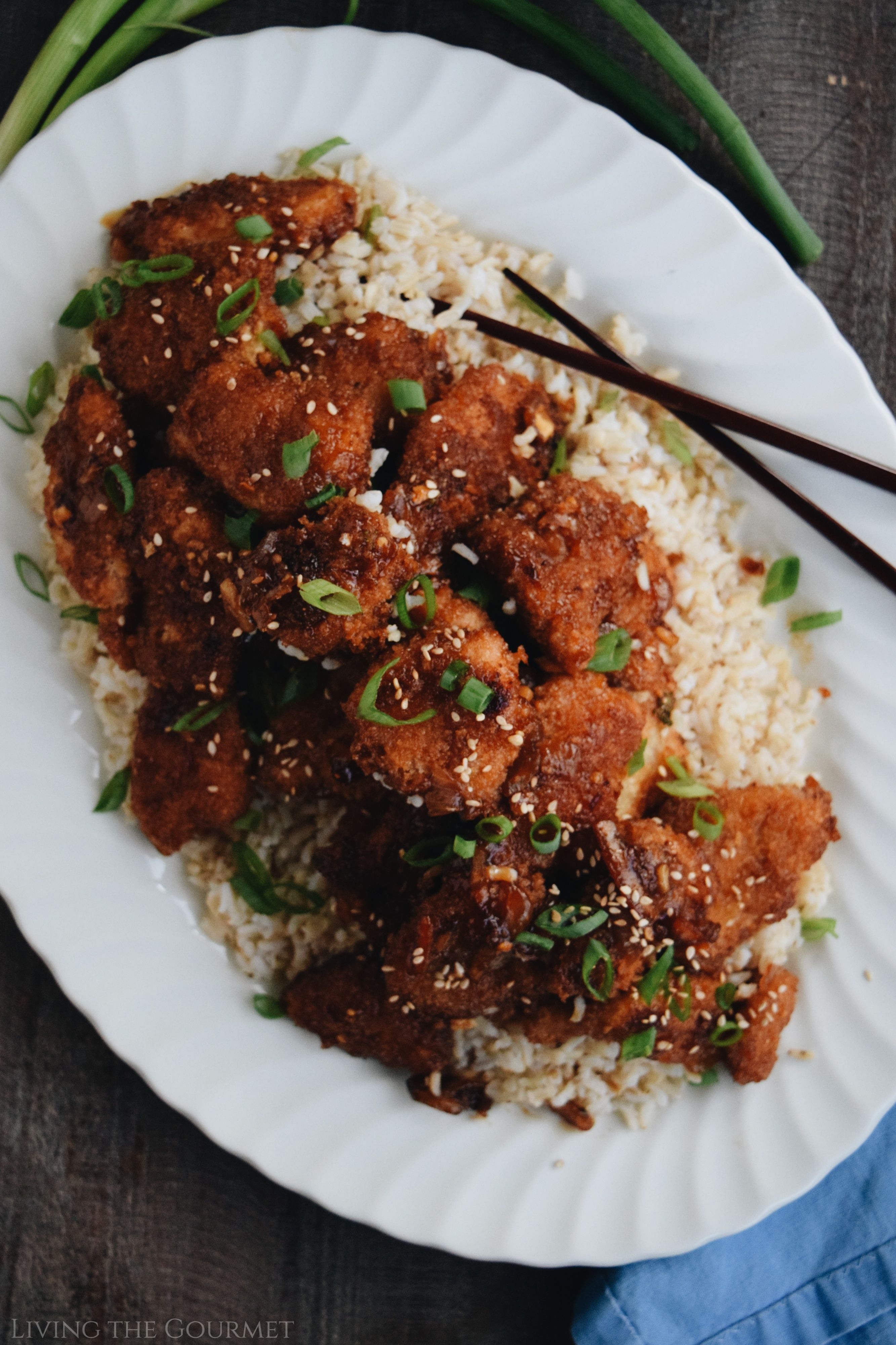 Ingredients
1 pound boneless chicken thighs, trimmed and cut into 1½ – inch pieces
1 cup flour
3 egg whites and 1 tablespoon water, whisked together
2 cups panko
Mazola Corn Oil , for drizzling

For the Sauce:

1 tablespoon Mazola Corn Oil
2 cloves garlic, minced
½ sweet onion or 1 shallot, finely chopped
Juice of 1 large orange
¼ cup low-sodium soy sauce
¼ cup teriyaki sauce
2 tablespoons fresh chili paste
1 tablespoons apricot preserves
1 tablespoon dark brown sugar
1 tablespoon cornstarch mixed with 1 tablespoon water
Spring onions, chopped for garnish
Toasted sesame seeds, for garnish
Instructions
Preheat oven to 400 degrees F.
Begin by dredging the chicken pieces- first coat in flour, then egg wash, and finally, panko. Lay the pieces out on a baking sheet and drizzle with Mazola Corn Oil .
Bake the chicken pieces until golden, about 12-15 minutes.
In a large wok or skillet, heat oil with garlic and onions. Add the soy sauce, teriyaki, chili paste, apricot preserves, brown sugar, and orange juice. Stir until the preserves are cooked down and everything is incorporated. Now add the cornstarch slurry and stir until the sauce begins to thicken. Quickly add the baked chicken and toss until each piece is well coated.
Top with spring onions and toasted sesame seeds if desired and serve alongside brown rice. Enjoy!
7.8.1.2
1332
https://livingthegourmet.com/2019/08/healthier-general-tso.html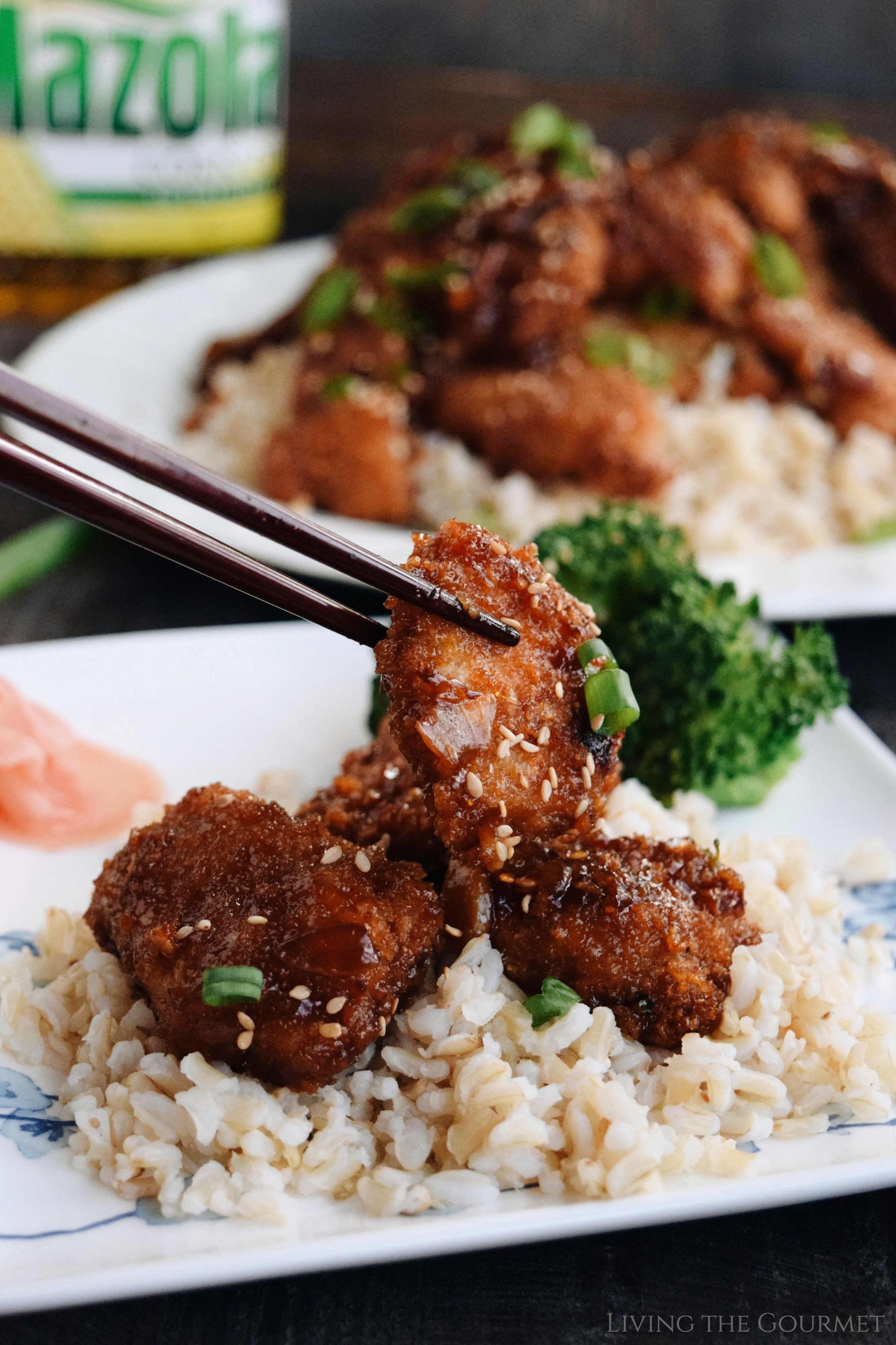 Did you make this recipe?
If so, let me know in the comments down below, post a picture of what you made either to
Instagram
or
Pinterest
(or both!), with @LivingtheGourmet or #LTGFood, and we'll give you a shoutout on Instagram, or post your pin to one of our boards on Pinterest!
Enjoy with Love!
0