This post has been sponsored by Mark T. Wendell. All opinions expressed are my own.
'Tis the season for spreading joy and sweetness! Today we're sharing one of my favorite recipes for traditional Italian Almond Cookies. We'll be delving into the secrets of creating the perfect batch, along with tips for presenting these delectable treats to delight your guests for the holiday season.
To complete the setting, we will be serving these alongside a cup of our favorite tea from Mark T. Wendell for a cozy Autumn treat.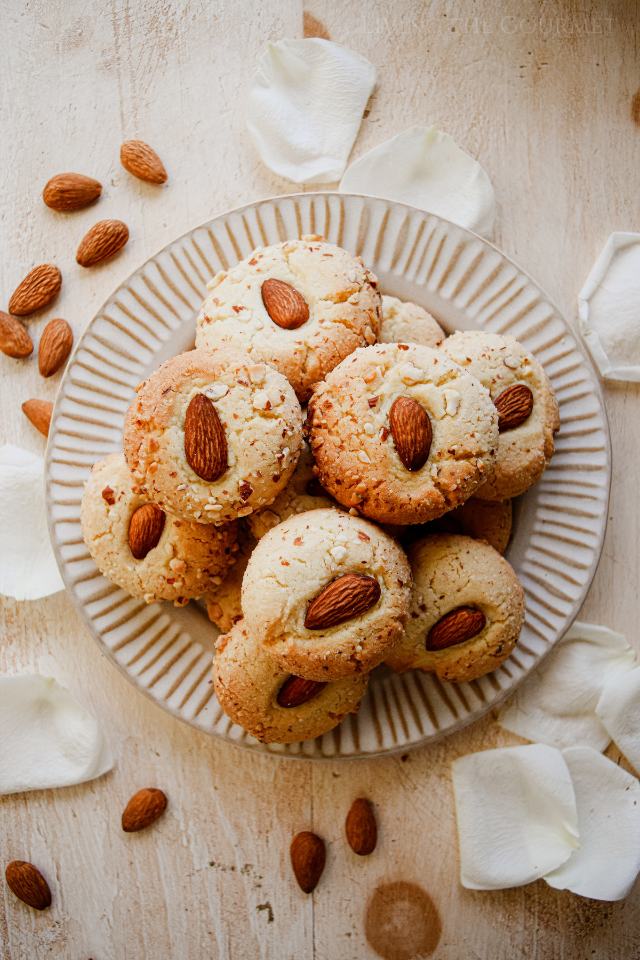 Tips for Perfect Almond Cookies
Quality Ingredients Matter: Fresh, premium ingredients lay the foundation for exceptional flavor and a perfect result. Not only that, but knowing what kind of ingredients especially when it comes to baking, is crucial to achieving the best outcome.

Bleached vs Unbleached Flour - As the names may suggest, one has been treated with certain chemical agents to achieve a brighter but fine and softer grain. While the latter has been aged naturally. While you might assume that unbleached is the best and most natural version for all your baking needs, that's not entirely the case. Bleached flour is actually more ideal for desserts that produce tender baked goods such as cookies and cakes. Alternatively, unbleached is best for denser baked goods like bread and pastries.
Gluten free Flours - If you prefer to use an alternative to All-Purpose (AP) Flour in today's recipe, use finely ground almond flour, coconut flour, or a mix of your favorite gluten free blends. It will alter the texture slightly to a more coarser texture and the result might be more comparable to Amaretti.
Pure Almond Extract - As we said above, premium ingredients make a big difference in any recipe. Remember though, that not all extracts are equal. Almond is far more pungent than vanilla, so a little goes a long way.

Chill the Dough:

I'm a big fan of chilling cookie dough beforehand in most cases. This allows the cookie dough to chill in the refrigerator before baking. This allows the flour to fully hydrate and absorb the ingredients which not only enhances the flavor but also helps maintain the cookie's shape during baking so they don't spread out too much. Try to remember this tip for cut-out and rolled cookies!

Precision in Sizing:

Not all cookie doughs are conducive for preshaping, but these aren't your typical drop cookies. Since we're making a thumb-print and topping each with an almond, you need a nicely shaped cookie. I recommend using a cookie scoop or rounded tablespoon to measure out consistent portions of dough. This ensures uniform baking for a professional presentation.

Mindful Baking Time:

Don't forget to set the time! Aim for a light golden color, and remember that they will continue to firm up after being removed from the oven. As with all cookies, I take them out a minute or two before they're 'fully' done. This also ensures the cookies stay soft after baking and don't harden too much once the cookies have cooled.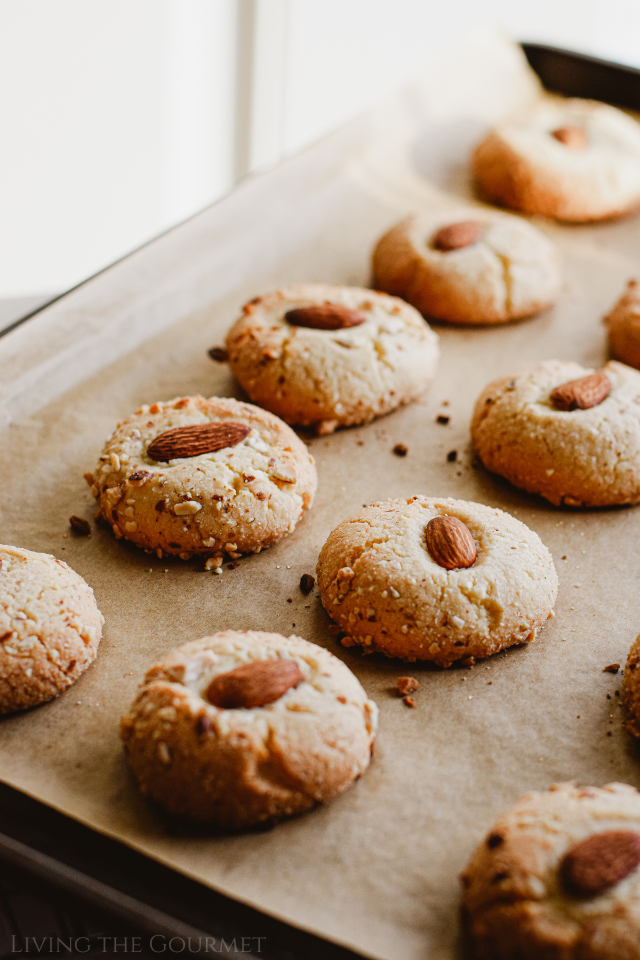 How to Serve Traditional Almond Cookies for the Holidays
Gift-Worthy Cookie Boxes: A big holiday tradition for us are cookie boxes and today's cookie adds a perfect balance to traditional jam and butter cookies, powdered cookies, and classic sugar cookies. Package your cookies in festive, holiday-themed boxes or jars and add a personalized touch with ribbons or tags.
Cookie Platter Extravaganza: Alternatively, you can create a visually stunning cookie platter by arranging your almond cookies alongside other holiday treats (see mentioned cookies above). Incorporate a variety of shapes and sizes for an eye-catching display.
Decorate with Elegance: We rolled our cookies in finely chopped almonds and sugar before baking then gently pressed an almond on top of each cookie for a touch of easy elegance. This not only enhances the visual appeal but also adds an extra layer of flavor. You can even dust with powdered sugar once they've cooled if you like a little added sweetness. And if you really want to up the flair, drizzle a little melted chocolate on top!
Pairing Perfection: Because today's cookies are just a touch sweet they are perfect alongside a selection of hot beverages like spiced chai or herbal tisanes. The warm, nutty flavors complement the sweetness of the cookies. We really love these cookies with a hot cup of tea and since they aren't too sweet, we'll argue they're even acceptable as a little breakfast cookie alongside you preferred brew- my recommended favorite is the Oriental Spice Black Tea from Mark T. Wendell.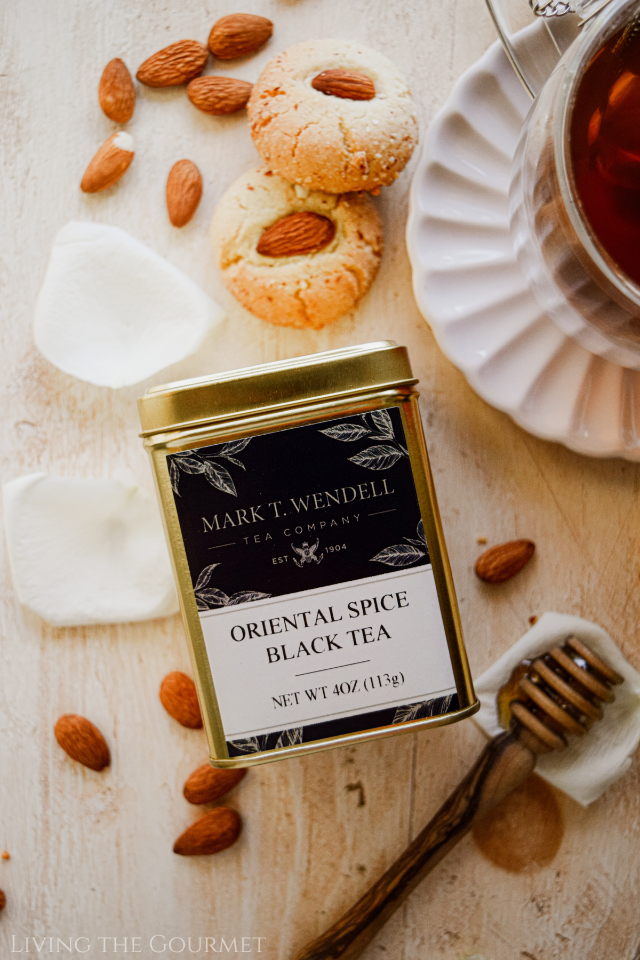 Tea Time
There's a comfort in the process behind preparing loose leaf tea especially during the wintertime. I love slow mornings when its quiet and still.
We've shared our process behind brewing loose tea leaves. The most important tip to brewing the perfect cup of tea is using high quality tea leaves. That being said, we're partnering with our favorite brand, Mark T. Wendell who offers one of the largest selections of teas and tisanes.
Be sure to browse their seasonal blends like the Amaretto Cherry Black Tea, Vanilla Bourbon Rooibos, or the Oriental Spice Black Tea (pictured above) and treat your guests this season to hot cup of tea.
Today and always, you can get 15% off any Mark T. Wendell order of $50 or more when you use the code LivingtheGourmet at checkout.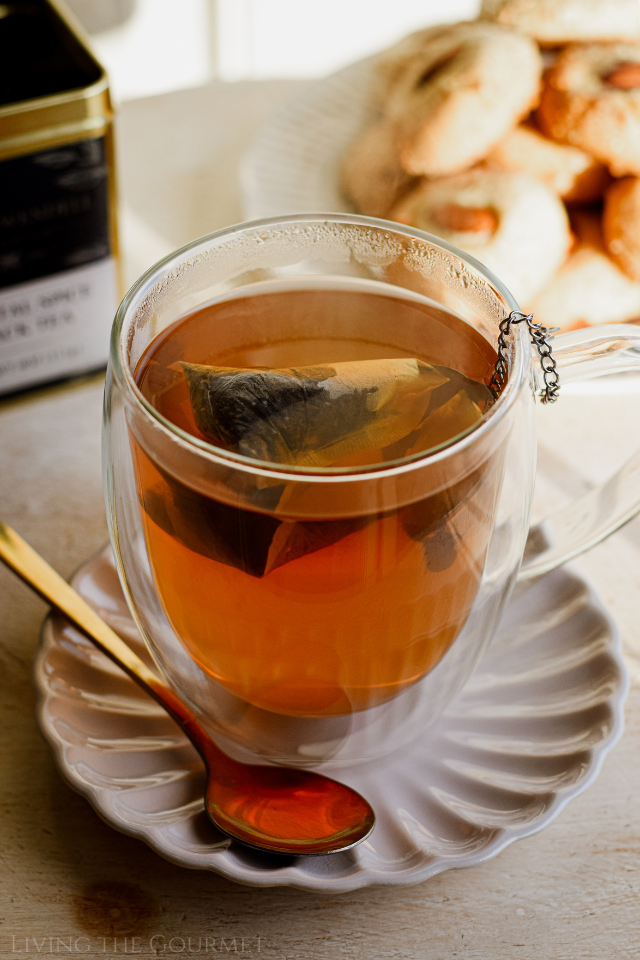 Print
Traditional Italian Almond Cookies Recipe
---
Author:

Total Time:

1 hour 20 minutes

Yield:

30

cookies

1

x
1

cup

unsalted butter, softened

1 1/2

cups

powdered sugar, sifted

1

egg, beaten

1/2 teaspoon

almond extract

2 1/2

cups

AP flour, sifted

1 teaspoon

cream of tartar

1/4 teaspoon

salt

1 teaspoon

baking soda

20

almonds, crushed

2 tablespoons

sugar
About

30

whole almonds, for topping
---
Instructions
In a food processor or bullet part of your food processor combine 20 almonds and 2 tablespoons of sugar and crush.  Set this aside for rolling the cookie dough in.
In a large bowl combine the softened butter and confectioners sugar. Add the egg and almond extract and combine.
Sift in the flour, cream of tartar, salt and baking soda and mix into a dough.
Cover and chill in the refrigerator at least one hour.
Preheat Oven 375 degrees F.
Using a rounded tablespoon or cookie scooper to divide the dough and shape into small balls.
Roll the balls in the almond and sugar mixture.
Place the balls on a baking sheet prepared with parchment paper and press 1 almond into the cent of each.
Bake for about 10 minutes depending on the oven range.  They should be lightly golden around the edges.  Take them out and let them rest for a minutes before transferring to a cool rack.
Prep Time:

10 minutes

Inactive Prep Time:

1 hour

Cook Time:

10 minutes

Category:

Dessert

Method:

Baking

Cuisine:

Italian
Keywords: almond cookies, cookies, dessert,
Recipe Card powered by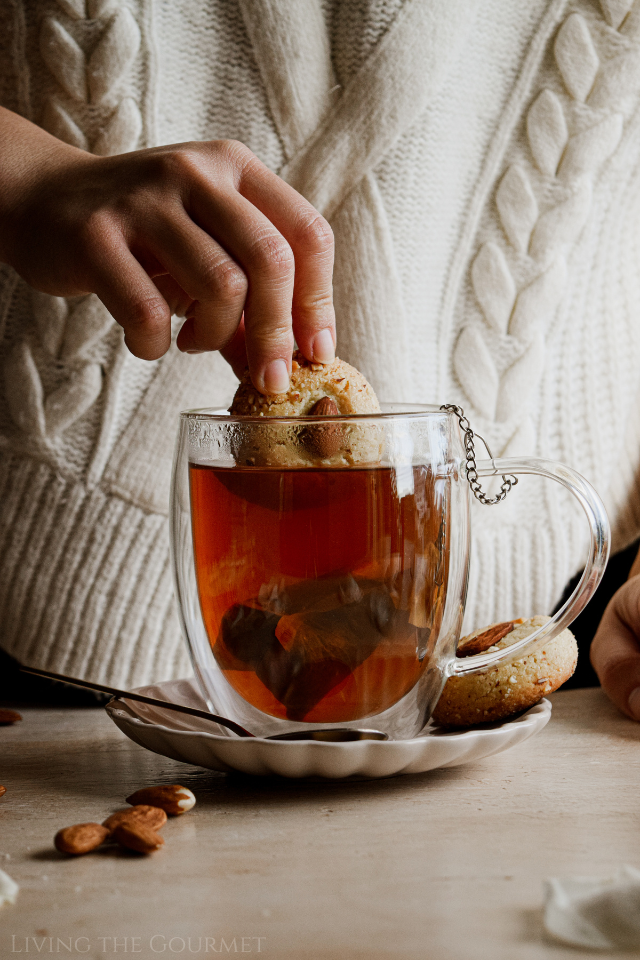 More Cookies to Enjoy this Holiday Season
0