It's that time of year again. Love is in the air and Valentine's Day is just around the corner. If you're looking for a sweet way to show your loved ones just how much you care this holiday, look no further than these delicious heart-shaped sugar cookies!
Baked fresh with love and decorated with white and pink frosting, these Valentine's Day sugar cookies are sure to make your special someone smile. Not only are they incredibly tasty, but they're also incredibly easy to make. In fact, you can whip up a batch in no time at all!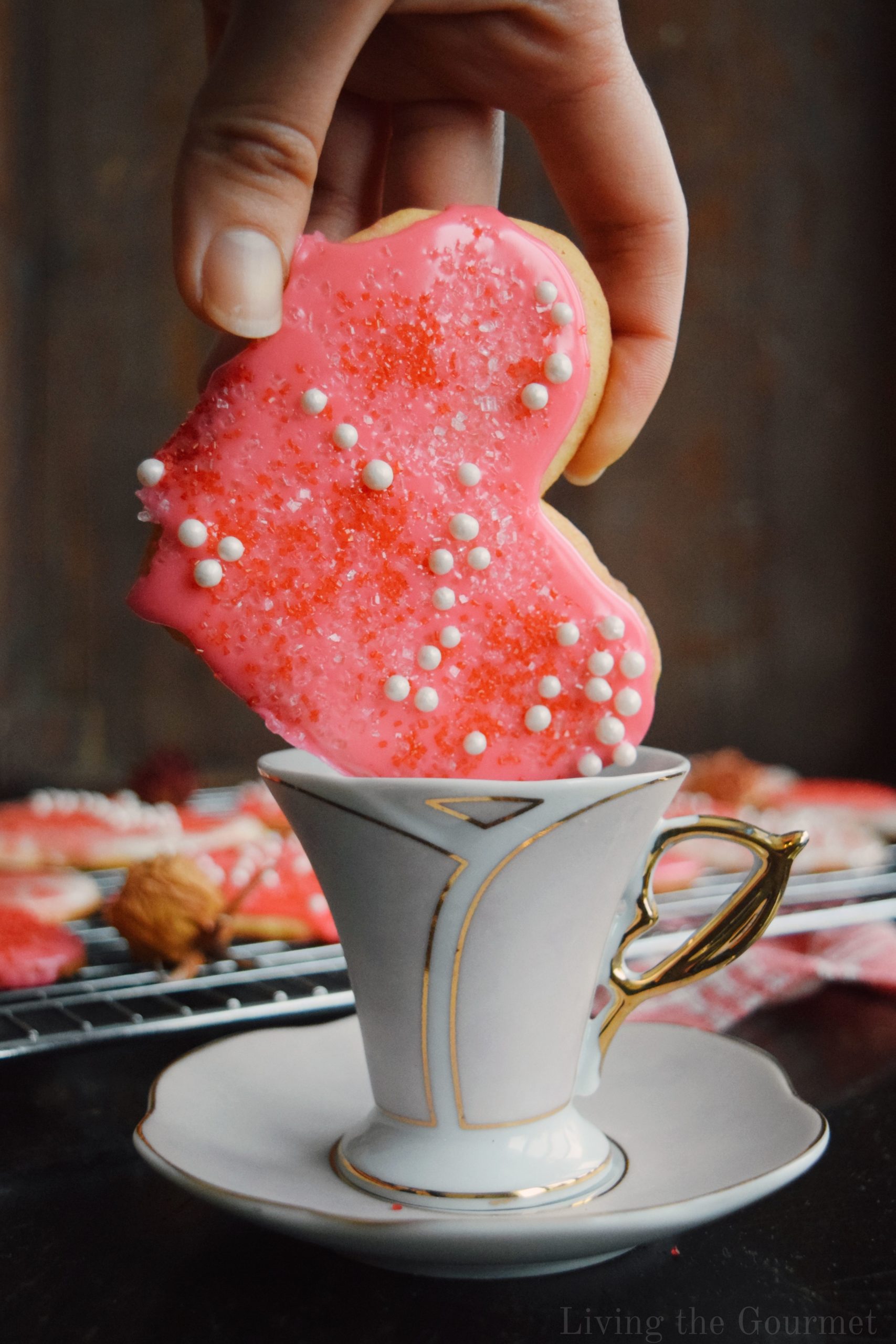 These cookies are perfect for your significant other, friends, family, or anyone else you'd like to show your love to this Valentine's Day. Plus, they're an ideal way to get the kids involved in the holiday fun. Have them help you mix, roll, cut, and decorate the cookies for an activity that's both creative and delicious.
There's something special about homemade Valentine's Day treats. And with this easy sugar cookie recipe, you can create a delicious, festive snack that is sure to be a hit with everyone.
So, if you're looking for a way to spread some love this Valentine's Day, then look no further. These heart-shaped sugar cookies are sure to satisfy your sweet tooth!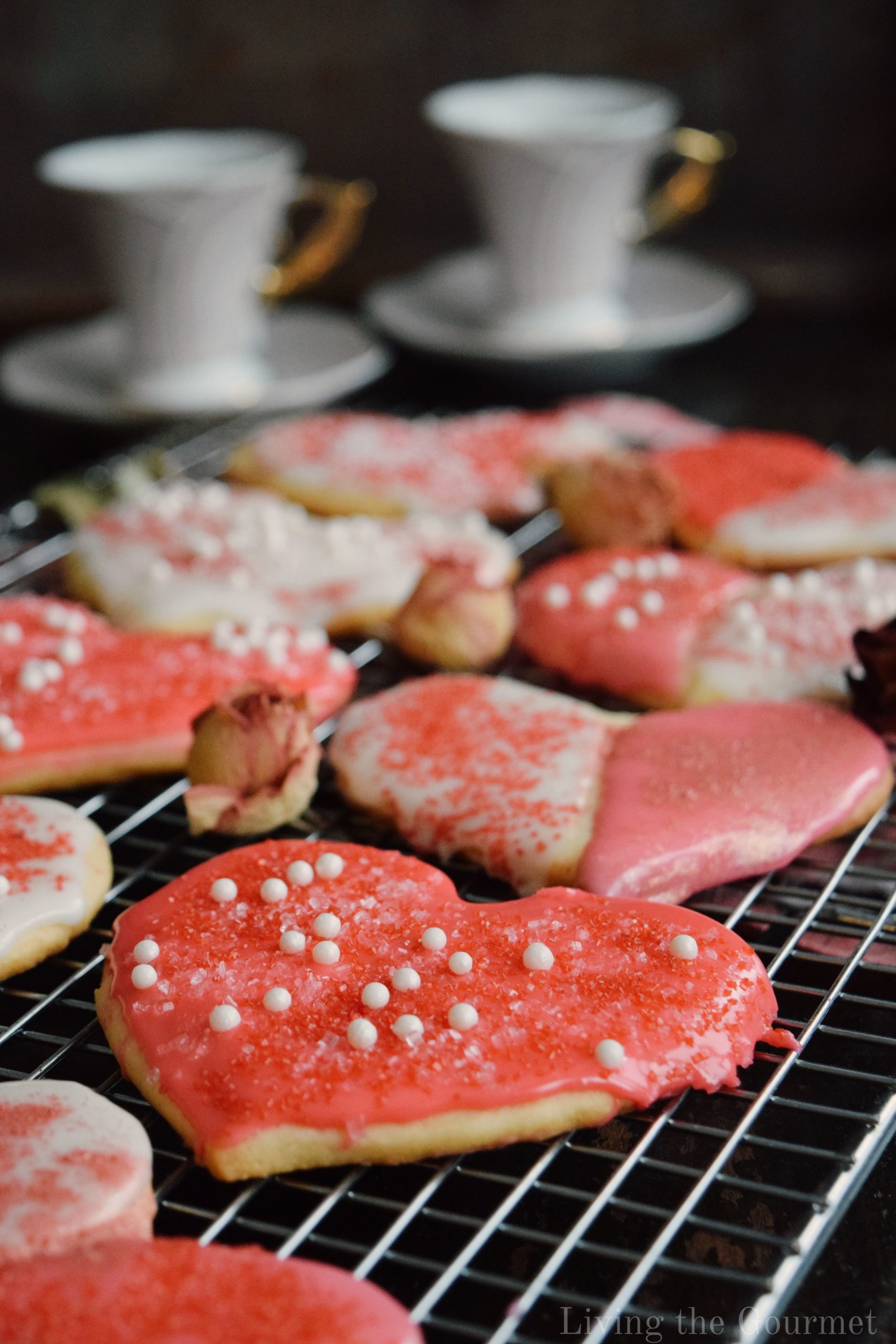 Ingredient Checklist
All-Purpose Flour. For the best sugar cookies, you want to stick with plain all-purpose flour – unless the recipe specifically calls for baking flour. Baking flour results in a much light, more delicate cookie, such that the cookie will fall apart unless the recipe is specifically tailored to that type of flour.
Baking Powder. This helps the cookies rise, while giving them a light and fluffy texture. The recipe simply does not work without this ingredient.
Salt. Plain table salt is all your looking. One pinch to help balance out the sweetness of the sugar. Salt also helps to create the texture of a cookie by helping to control the spread of the dough while baking.
Butter. Stick to unsalted butter. Really, for almost any use – aside from spreading on bread – unsalted butter is really all you need for cooking.
Sugar. Use granulated or superfine sugar for today's recipe. More on this below.
Egg. Please, please, please don't try to substitute the egg. The egg serves a couple of purposes. The main reason is to act as a binder, helping to hold the cookies together and give them structure. The egg also adds flavor (via fat), moisture, and richness to the cookie. In addition, the lecithin in eggs helps to create a softer, more tender cookie. Finally, it acts to give the dough 'lift.'
Milk. For moisture and added fat. Yes, the fat is important.
Vanilla. I'm using vanilla extract, but paste or pods would also work fine. Those substitute at a one to one ratio by volume. I'm using Nielsen Massey Pure Vanilla Extract, as they've been a favorite in my kitchen for many years now.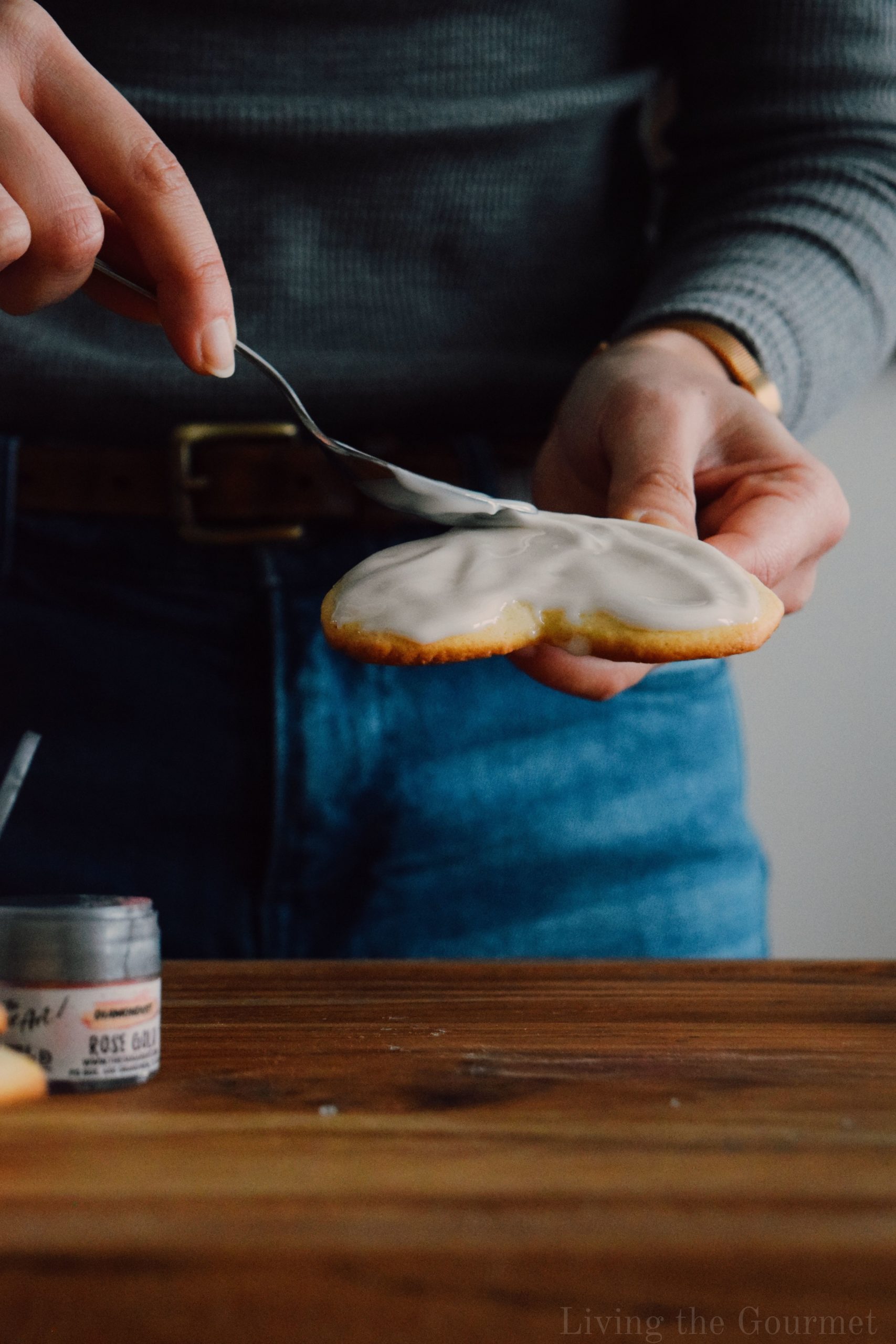 Tips for Making Sugar Cookies
Butter Basics. This might sound like I'm stating the obvious, but use a butter that you enjoy on its own. The quality here matters, since the cookies are very 'buttery' and that means a lot of the butter's flavor comes through. Stay away from salted butter for this recipe.
Cream the Butter and Sugar. It might take a little longer, but I do suggest creaming the butter and sugar together, this will help ensure a quality texture – one that remains light-yet-crisp through baking.
Refrigerate the Dough. While 'not' strictly necessary, consider refrigerating the cookie dough for at least one hour before using it. This will help the cookies keep their shape when baking, and make the dough easier to work with.
Rolling out the Dough. Roll out the cookie dough on a lightly floured surface to ensure it doesn't stick. Sticking 'will' lead to tearing. Also, be sure to use a rolling pin to roll out the dough to ensure an even thickness.
Cookie Cutter Basics. While today's recipe works just fine for basic circles, and while achieving a 'heart shape' is possible with a knife, I cannot stress how much easier this is with a cookie cutter. Also, when using the cookie cutter, considering greasing the blade portion to prevent the cookie dough from sticking.
Hold off on Decorating. Allow the cookies to cool to 'at least' room temperature before decorating. Consider chilling them in the fridge for thirty minutes best results. Yes, I know that eating the cookies hot is very tempting.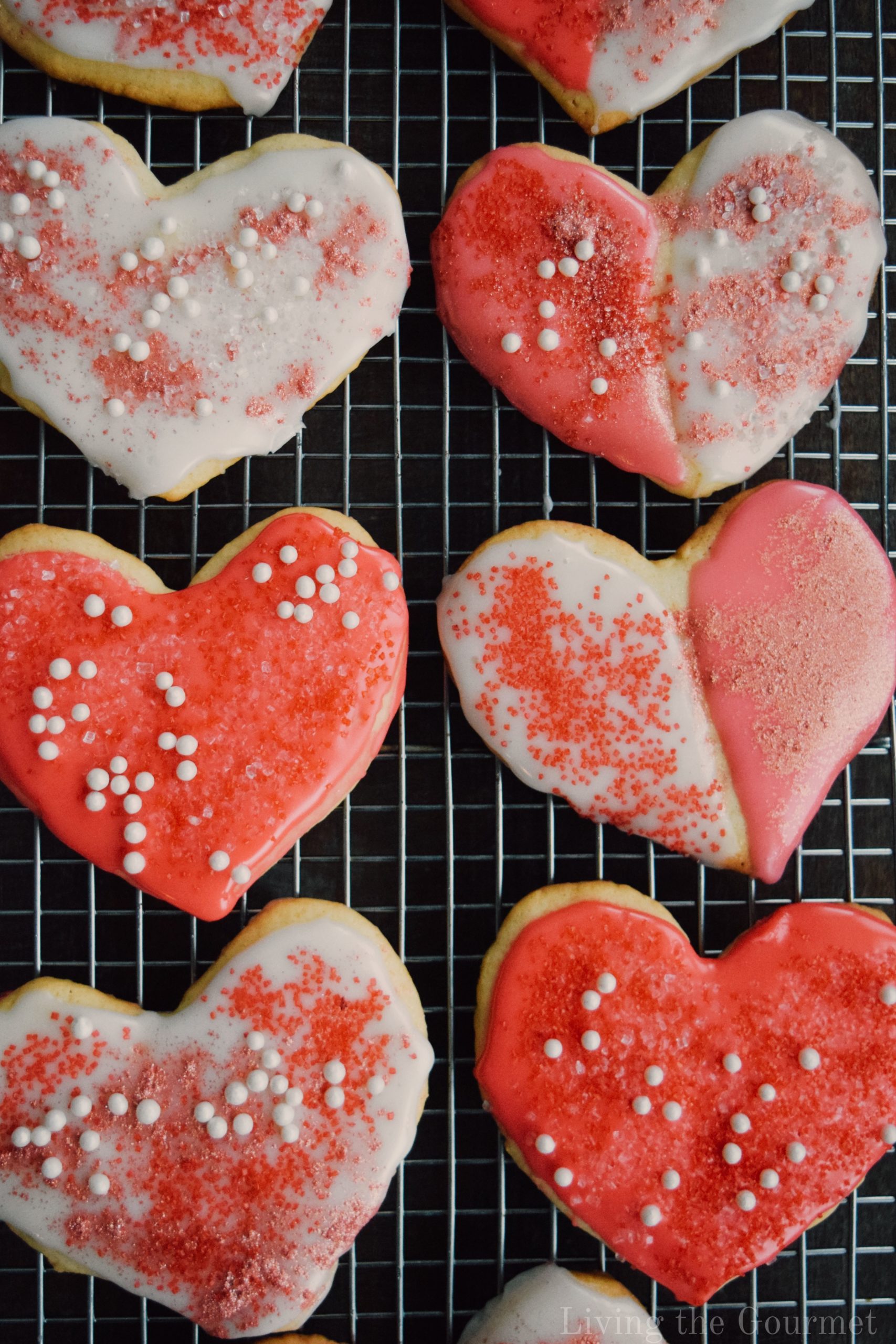 Print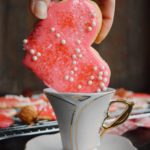 Valentine's Day Sugar Cookies
---
Total Time:

25 minutes

Yield:

2

dozen cookies

1

x
1 1/2

cups

AP flour

1 teaspoon

baking powder
Pinch of salt

1

stick unsalted butter, softened

3/4

cup

sugar

1

large egg

1 tablespoon

milk

2 teaspoons

Nielsen-Massey Pure Vanilla Extract
For the Sugar Cookie Icing:
Toppings:
Sugar Pearls
Red, Pink, and White Sprinkles
---
Instructions
For the Cookies:
In the bowl of a stand mixer with the paddle attachment, whip butter and sugar together until fluffy. Add egg and vanilla, beat again until well combined. Add flour, salt, and baking powder. Beat on low speed until combined, scrape down the sides of the bowl, and beat again on medium-low speed, until a soft cookie dough as come together.
Shape the dough into a flat disk and wrap in clingfilm. Refrigerate for about 30-45 minutes.
Preheat oven to 350 degrees F. Line two baking sheets with parchment paper and set aside.
Roll out the chilled dough on a lightly floured work surface until about ¼-inch thick. Use a heart shaped cookie cutter and cut out your cookies. You should get about 2 dozen cookies from this recipe.
Bake for 10 minutes or until the sides are just lightly golden.
Transfer to a cooling rack and let cool completely before icing.
For the icing and decor:
In a small bowl, whisk together confectioner's sugar, almond extract, 2 tablespoons milk, and 2 tablespoons corn syrup. Whisk until smooth but still thick. If it's still too dry, add an addition tablespoon each of milk and corn syrup.
Divide the icing between another bowl. To the separate bowl, add 1-2 drops of red (or pink) food coloring. Ice the cookies and decorate as desired. Lay out on a lined baking sheet and let the icing set.
Cookies can be stored in an air-tight container in a cool, dark place for up to two weeks.
Notes
Prep Time does NOT include Inactive Prep Time.
Prep Time:

15 minutes

Cook Time:

10 minutes
Recipe Card powered by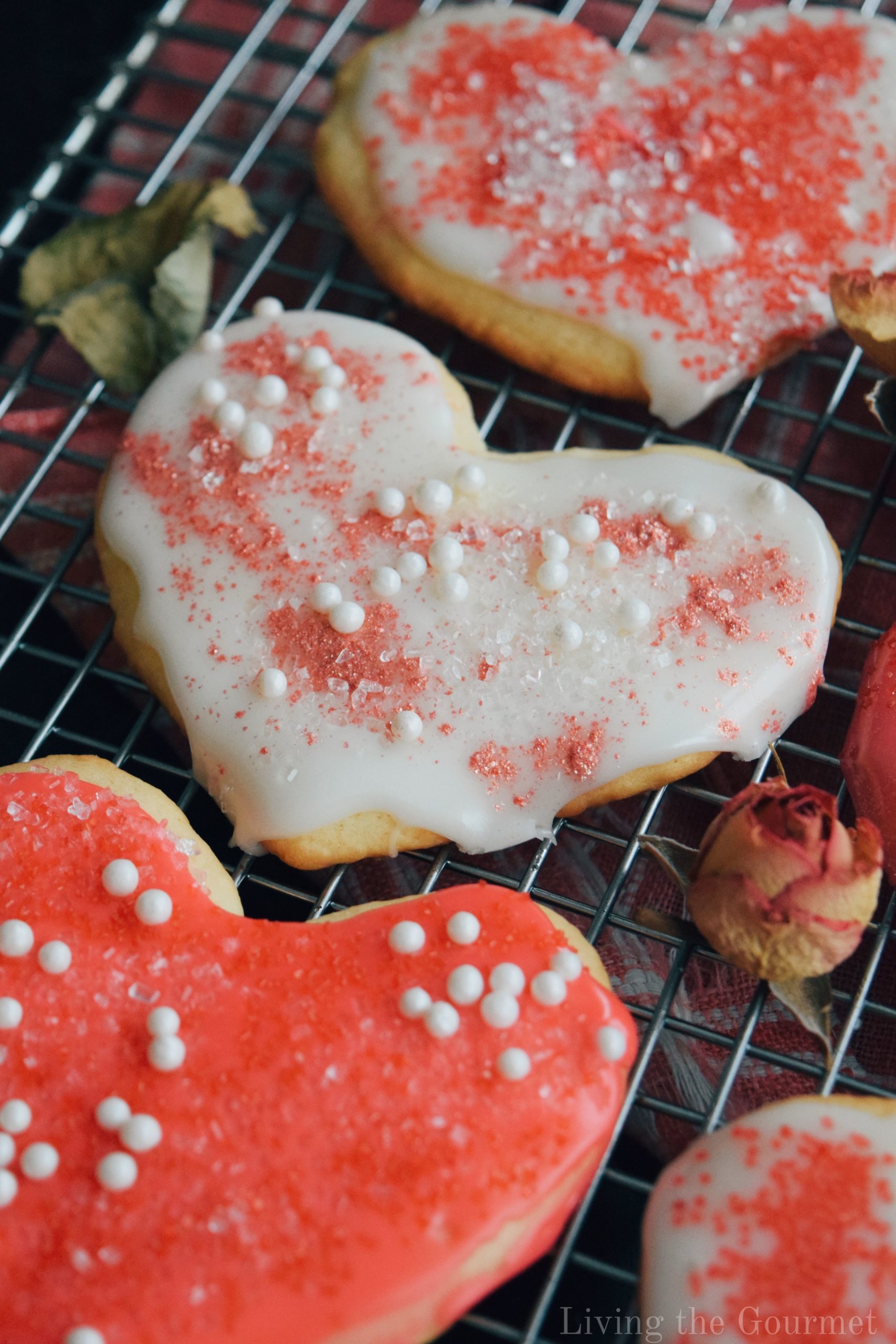 And those are my Valentine's Day heart cookies. If you tried this recipe, or have any suggestions for this or future content, let me know in the comments below, I love hearing from you!
If you enjoyed this recipe, be sure to like, share, and subscribe. It helps more than you know!
Happy Baking!
0