These Italian Butter Cookies are a delectable holiday treat. Rich and buttery, their delicate texture melts in your mouth. The sweet jam filling adds an extra layer of flavor, while the chocolate coating adds a smooth and creamy finish. So delicious, one bite won't be enough!
To pair alongside these Italian Butter Cookies, you might consider fresh seasonal fruit, a light and creamy custard – such as our Creamy Rum Rice Pudding or a scoop of rich and creamy No Churn Vanilla Ice Cream. For a festive twist, you could also serve a variety of sweet jams and preserves for guests to spread on their cookies - allowing them to mix and match with the jam filling!
Now, without further delay, let's bake some cookies!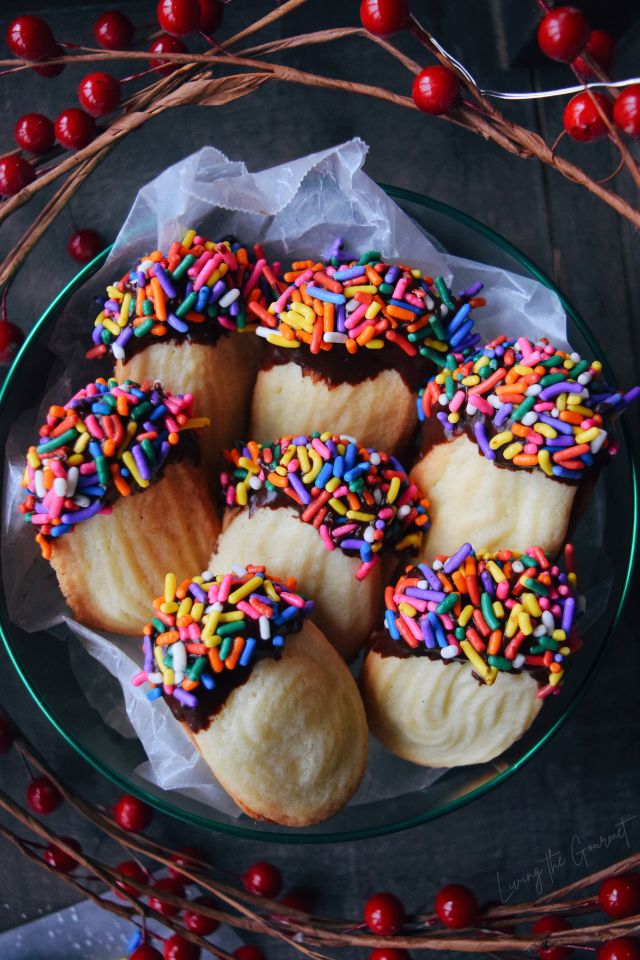 Ingredient Checklist
Shortening. I'm using vegetable shortening. Yes, this is in addition to the butter.
Butter. The 'workhorse ingredient' of most baked goods. Butter adds flavor and richness. In cookies, it helps to create a 'tender texture,' while browning and crisping the exterior. It also works to keep them moist.
Sugar. Plain granulated sugar is all you're looking for here.
Eggs. These are a binding agent, as they help to hold ingredients together. Additionally, eggs help to add structure, texture, and flavor to baked goods. Curiously, eggs play a secondary role as a leavening agent by providing 'lift' as the cookies bake. The more you know.
Vanilla. I'm using vanilla extra, but pods or paste will work just fine. These substitute at a one-to-on ratio by volume.
Flour. I'm using all-purpose, simply because we want these cookies to be slightly 'heavier.' Baking Flour would result in a markedly light, less dense cookie.
Baking Powder. This is a two-phase leavening agent, and the recipe simply doesn't work without it.
Salt. Plain table salt is all you're looking for.
Sprinkles. Mostly for eye appeal, but these do add a nice crunch.
Powdered Sugar. Again, mostly for eye appeal.
Dark Chocolate. For making the chocolate coating.
Raspberry Jam. Your choice of jam filling. I'm raspberry since I find the slightly 'tart' flavor contrasts nicely with the sweetness of the cookies.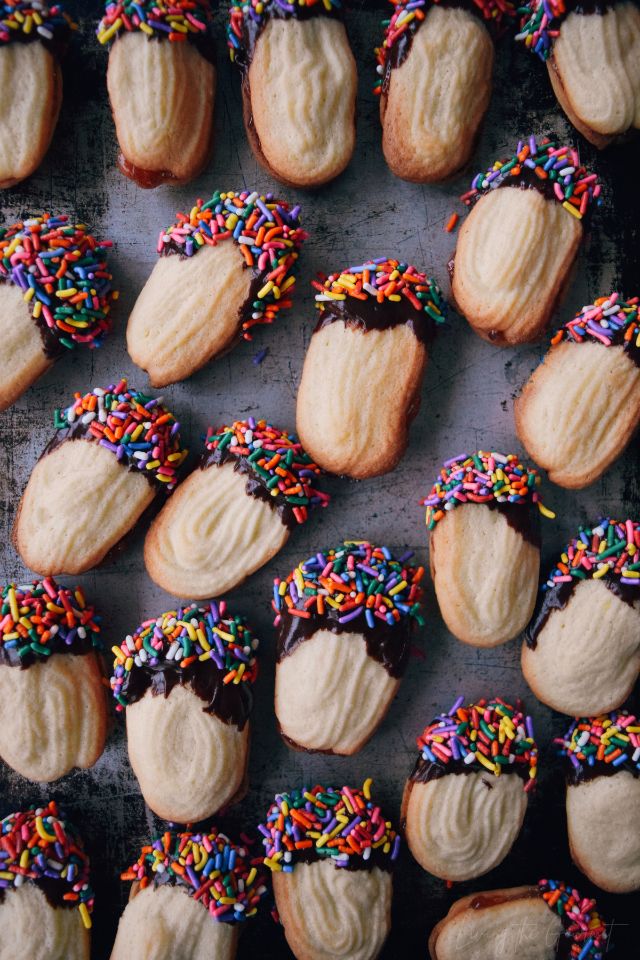 Jam vs Preserves vs Jelly – Which to Use for Cookies?
I strongly suggest jam or preserves, and here's why.
To start, jam is made from fruit and sugar that is cooked until thickened, while preserves are made from whole or large pieces of fruit, cooked with sugar and set into a thick, jelly-like consistency. By contrast, jelly is made from fruit juice, sugar and pectin, which is cooked and then set into a jelly-like consistency.
That structural difference is why I suggest using jam or preserves. Jelly is looser and contains more water. As such, both jam and preserves will solidify better between the cookies, leaking far less – and melting much less if you decide to assemble the cookies while they are still warm. I also find that the chunks of fruit add a nice texture contrast to the cookies.
Seven Tips for Baking These (Or Any!) Cookies
Make sure to use room temperature butter for soft, chewy cookies.
Measure your ingredients accurately for consistent results. Inaccurate, or poorly scaled measurements can result in 'baking catastrophes' – such as cakes that refuse to rise, or poorly textured cookies.
Chill the cookie dough before baking for a thicker, chewier cookie.
Use parchment paper or a silicone baking mat for even baking. This reduces 'hotspots' on the baking sheet, and ensures the cookies don't stick.
Use an ice cream scooper (or a leveled tablespoon) to get evenly sized cookies. Evenly sized cookies ensures even baking throughout the entire batch.
Don't overbake the cookies. Cookies should still be quite 'soft' when removed from the oven, and then removed 'immediately' from the baking sheet (as the sheet will continue baking them even outside of the oven).
Let the cookies cool completely before storing in an airtight container.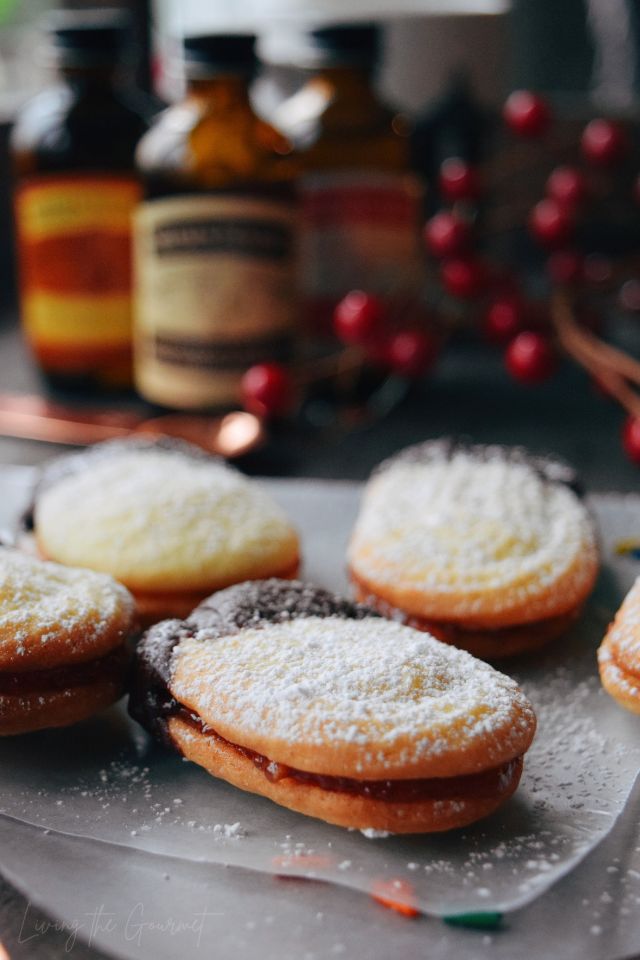 Print
Italian Butter Cookies (Bakery Style)
---
Author:

Total Time:

20 minutes

Yield:

24

cookies

1

x
1

recipe for butter cookies (see below)

2

cups

Raspberry Jam (can be substituted with Strawberry Jam)

1

cup

dark chocolate chips melted down with 3 tablespoons heavy cream, for dipping
Rainbow Sprinkles
Powder Sugar for dusting
For the butter cookies:
1/2

cup

shortening

1/2

cup

unsalted butter, softened

2

cups

sugar

4

eggs

3 teaspoons

Nielsen-Massey Madagascar Bourbon Pure Vanilla Extract

3

cups

AP flour

2 teaspoons

baking powder

1 teaspoon

salt
---
Instructions
Preheat oven to 350 degrees F. Line 2 baking sheet with parchment paper and set aside.
In the bowl of your stand mixed fixed with paddle attachment, cream shortening, butter and sugar. Add eggs one at a time, mixing well between each addition. Add vanilla and mix well.
Finally, add the dry ingredients and beat until a soft, sticky dough comes together. Let the dough rest in the refrigerator for about 20 minutes.
Prepare a pastry bag fitted with a star-shaped tip and fill with the cookie dough. Pipe your cookies about 2-inches long and 1-inch apart. Bake for 10-12 minutes or until the edges are lightly golden.
Remove and let cool on a wire rack.
Assembly:
Prepare your assembly by lining two baking sheets with wax paper and pour rainbow sprinkles in a shallow dish or bowl. Alternatively if you like you can also dip your cookies in chocolate sprinkles, chopped nuts like pistachios or almonds. I chose to stick to the traditional rainbow sprinkles, reminiscent to those you find at the Italian bakery.
In a double-boiler, melt down dark chocolate chips with 3 tablespoons heavy cream. Stir until the chocolate has melted down completely and is smooth.
Spread desired jam on one cookie (about ½ teaspoon), sandwich with another cookie then dip in the chocolate and then the rainbow sprinkles. You should get about 2 dozen cookies out of this. For the finishing touch, sprinkle with confectioner's sugar.
Serve and enjoy!
Prep Time:

10 minutes

Cook Time:

10 minutes
Recipe Card powered by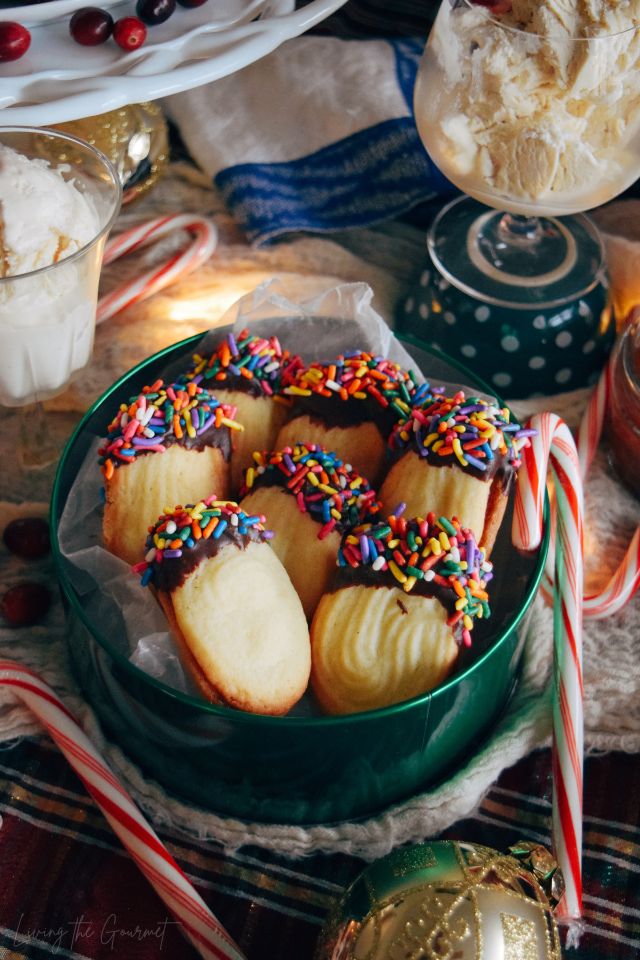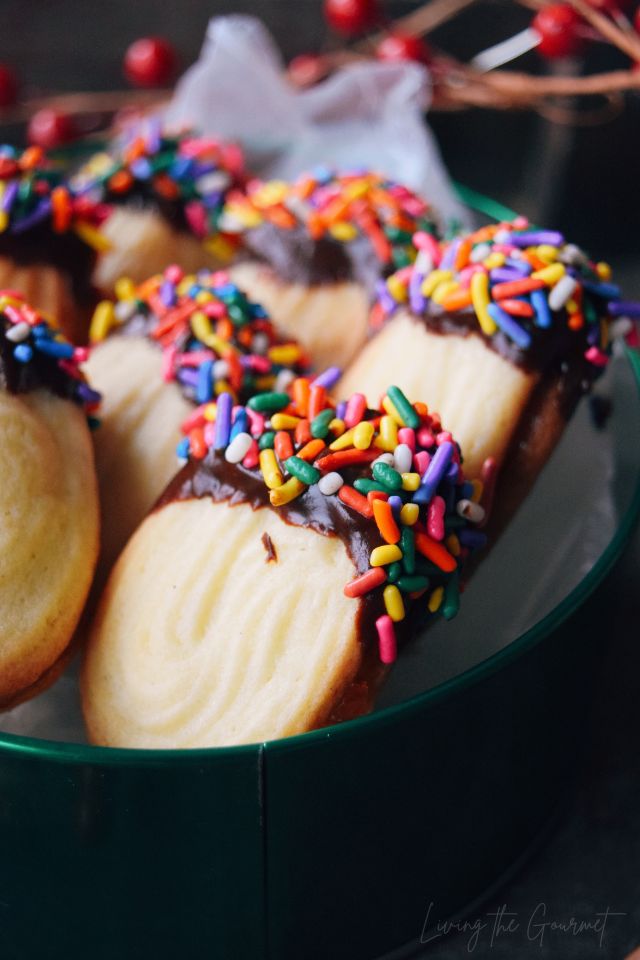 As an Amazon Associate I earn a small commission from any purchases made through the affiliate links within this post. For more information on this please see our disclosure policy. Thank you!
46