Made with fresh ginger, these crisp, fragrant cookies are a seasonal must and have been a tradition in our home for years.
These cookies bring together all of your favorite autumn spices in a chewy ginger-molasses cookie, decorated with white chocolate icing.
These cookies are perfect treats for any Thanksgiving or Christmas get together. As a nice bonus, they can be made ahead of time, as they keep nicely for up to a week.
These cookies would be delicious paired alongside something like my Pumpkin Spice Caramel Latte, or a Pumpkin Spice Buttered Rum. Also check out our super simple homemade Pumpkin Pie Spice seasoning, so that you can add the beloved flavor of fall to 'everything.' It couldn't be easier!
Now, without further delay, let's making some Fresh Ginger Cookies.
Ingredient Checklist and Notes
Flour. Standard all-purpose flour is what you're looking for in today's recipe.
Baking Soda. This is what allows baked goods to rise and become fluffy. Simple as that.
Sugar. Plain white sugar is all you're looking for.
Brown Sugar. I suggest using dark brown sugar, simply because this is the type of sugar that has real, naturally occurring molasses – which does actually make quite a bit of difference in terms of flavor.
Cinnamon. Ubiquitous and beloved, if ever one spice 'tastes like Autumn,' this is the one. Cinnamon gives the cookies a nice warming and earthy flavor, and just a hint of background sweetness.
Ginger. While I'm using freshly grated ginger, and equivariant amount of powdered would also work just fine.
Cloves. Combined with the ginger and the cinnamon, cloves really help complete the flavor profile we're aiming for with these cookies.
Molasses. Color, flavor, and moisture, this is an essential ginger cookie ingredient. In terms of flavor, think sweetness and earthy notes. It also adds texture in the form of 'chew' to the cookies. I opt for 'original' unsulphured molasses over dark – simply as a matter of preference.
Canola Oil. Basic baking oil, used for fat and moisture.
Butter. As usual, I highly recommend using unsalted butter for the purposes of today's recipe.
Salt. Plain table salt is all you need.
White Chocolate Chips. This forms the base for the icing.
Prep Tips – Making Ginger Cookies
Making the icing in advance. The icing can be prepared up to three days ahead of time. So, if you're on a tight schedule, or simply don't feel like making 'all the mess' at once, consider prepping the icing ahead of time.
Expect the dough to be sticky. Expect the dough to sticky – very sticky. This is what you want, so don't fret.
Chill the Dough. Because of how sticky the dough is, you will need to chill it in order to be able to work with it. Chill it for at least three hours, preferably in cling wrap.
Don't Overwork. I mention this in virtually ever recipe that uses a 'dough.' Do 'not' overwork the cookie dough. Working equates to air, air equates to a dry, hard cookie.
Watch the Thickness. When rolling the dough, aim for about a quarter of an inch in thickness. If the dough is too thick, the interior won't cook properly. If too thin, the cookies will burn.
Spread the cookies out. This one should really go without saying, but try to space your cookies about an inch apart, not because they're spread – they won't – but simply so that they have room to 'breath,' and because this makes it easier to remove them from the pan once baked.
Print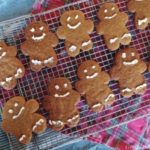 Fresh Ginger Cookies
---
Author:

Total Time:

20 minutes

Yield:

2

dozen cookies

1

x
For Fresh Ginger Cookies:
3

cups

all-purpose flour

11/2 teaspoon

baking soda

1/2

cup

white sugar

1/2

cup

dark brown sugar

1

egg

1 teaspoon

ground cinnamon

1/2 teaspoon

ground cloves

3 teaspoons

freshly grated ginger root

2 tablespoons

unsulfured molasses (I used Grandma's Original)

1/4

cup

canola oil

4 tablespoons

butter
Pinch of salt
For White Chocolate Icing:
1/4

cup

white chocolate chips
Pat of unsalted butter
---
Instructions
In a large bowl, mix together sugars, egg, cinnamon ,cloves, fresh ginger, oil, butter, molasses and salt. Stir together until everything is smooth and combined.
Sift the flour and baking soda into the bowl and mix until a wet, sticky dough forms.
Transfer the dough to cling film. Wrap and refrigerate for several hours until firm.
On a baking sheet lined with floured parchment paper, transfer the dough. Flour your rolling pin and roll the dough out into a rectangle about 1/4 inch thick. Place in the dough in the freezer for the next 30 minutes.
Preheat oven to 350 degrees. Take the dough out and cut out the desired shapes. Bake for 8-10 minutes or until the cookies are golden. Transfer immediately to a cooling rack. Let cool completely.
In a double broiler, melt down the white chocolate and butter. Turn the heat off once the butter begins to melt about 2-3 minutes. Remove the pan from the hot water and stir. Once the chocolate melts completely into a smooth consistency spoon immediately into the piping bag. It shouldn't be too hot. (If you don't remove the chocolate immediately, it will seize).
Decorate the cookies as desired.
Prep Time:

10 minutes

Cook Time:

10 minutes

Category:

Dessert
Recipe Card powered by
This post has been updated October 2022. The original recipe was published December 2014.
As an Amazon Associate I earn a small commission from any purchases made through the affiliate links within this post. For more information on this please see our disclosure policy. Thank you!
94