This Mediterranean-Style Lasagna, which is a slightly more 'complex' spin on the classic layers of ricotta, mozzarella, and red sauce.
Today's lasagna is a bit more colorful by design, featuring fresh baby spinach, a touch of sweetness from raisins and cinnamon, and 'Mediterranean' flavors such as capers, oregano, and lots of fresh garlic.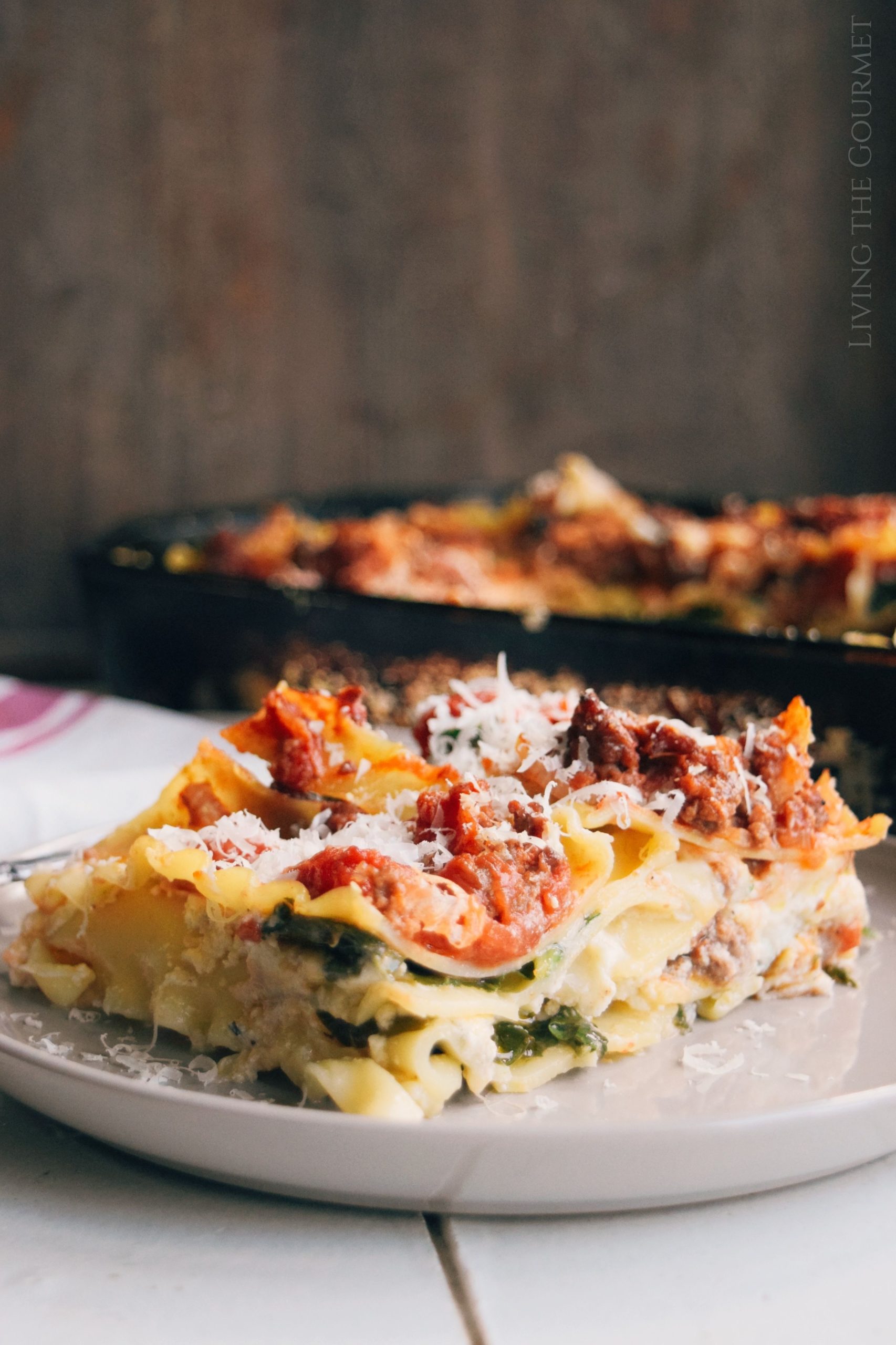 Why To Try
Let's be honest, a well-made 'traditional' lasagna is easily one of the best things in the world, a treat for palates of all 'maturity' levels. And so it's definitely understandable if you were to ask "Why fix what isn't broken?" The answer is, we're not, and here's a few key reasons why you'll definitely want to give today's take on the perennial favorite.
1) Flavor Complexity. While today's lasagna features everything you love about a 'traditional' lasagna, it features a few extra layers of flavor that create a beautifully complex flavor profile, with hints of salty 'brine' from the capers, to baked cinnamon sweetness and background fruity notes from the raisins, all of which is set framed in a herbal notes from the oregano and copious roasted garlic.
2) It Keeps Beautifully. The other big reason to try today's recipe is that it keeps really, really well – as in it actually gets 'better' as it sits, due to the flavors melding and 'marinating' together. As a result, you can prepare this a day or two ahead of time if you're making it for a get together.
3) Something Different. While I love a traditional lasagna as much as the next person, traditional lasagna can be a bit…predictable. This simply freshens the recipe up a bit, and gives you a nice base to experiment with in terms of flavor.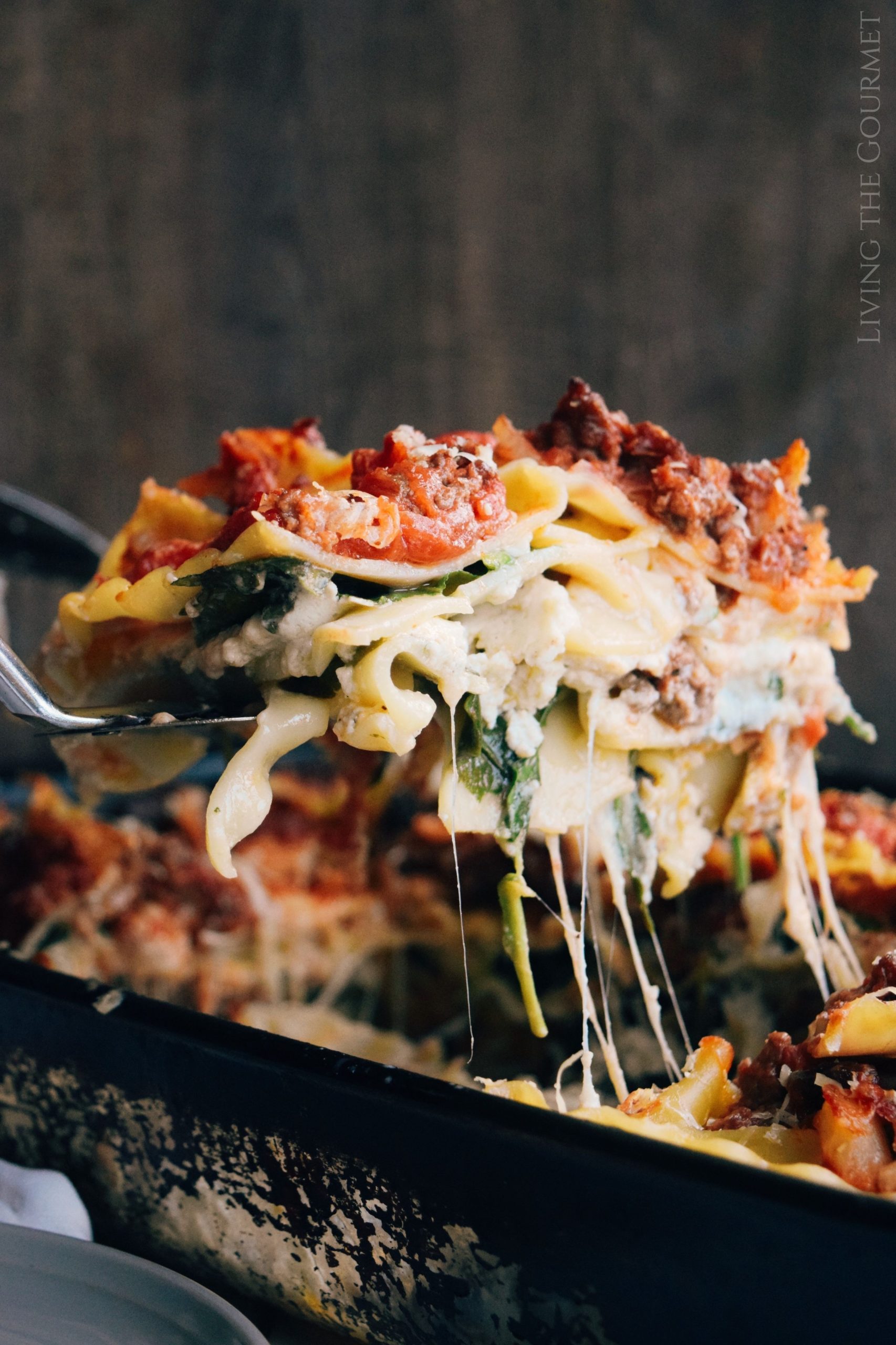 Ingredient Notes
1) Ricotta. One of the oldest cheeses in the world, ricotta hast been produced in Italy since around 2500 BC. While we tend to think of ricotta purely as that creamy cheese that melts beautifully in things like stuffed shells and lasagna, ricotta also comes in smoked, aged, salted, and baked varieties. Produced from whey, ricotta is made from a variety of milks, including from sheep, goats, and Italian water buffalos. However, in the US, ricotta is produced almost exclusively from cow's milk. This naturally results in Italian ricotta being both naturally sweeter and somewhat less moist than its American counterpart.
2) Sugar in Sauce – The 'Why' Behind the 'Sweet.' You'll notice that I'm adding sugar at two stages in this recipe; to the sauce and to the ricotta mixture – and there's a reason beyond 'sweetness.' Like salt, sugar is a 'blurring' or 'melding' agent. That simply means that sugar helps to 'bind' flavors together. In recipes like red sauces, chilis, or stews, where you have a medley of different flavors coming together, some of which actually contrast quite sharply, you need 'something' to help 'blur' or 'meld' those ingredients together. The primary item for doing this is salt, but sugar also has a very similar effect. However, unlike salt, sugar also 'mutes' or 'blunts' acidity – despite being somewhat acidic itself (chemically speaking). That said, unlike the 'saltiness' of salt, which can come through quite powerfully, the 'sweetness' added by sugar is much milder and harder to detect, especially when used in very small quantities. Thus, sugar serves two purposes inside of today's recipe, melding together flavors and blunting acidity, while itself being a nearly 'invisible' ingredient – although the sweetness does come through a bit in today's recipe, deliciously complementing the raisins and cinnamon.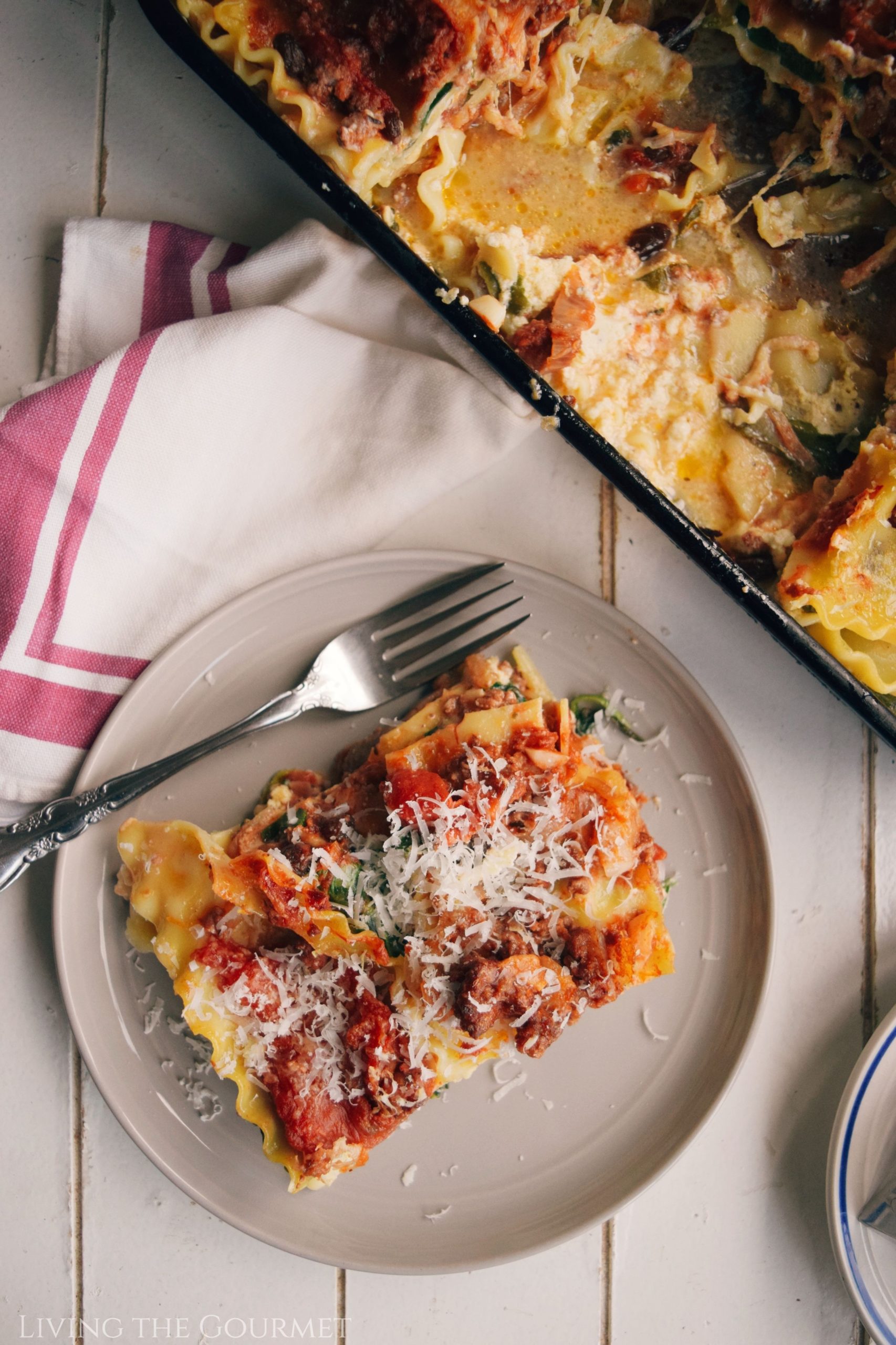 3) Mozzarella – Fresh or Packaged? I could be a 'food snob' here and decry the 'vices' of packaged, non-fresh mozzarella, but the difference is a bit more nuanced. To start, yes, fresher is always better – and mozzarella is no different. Fresh mozzarella is undeniably moister, with a fluffy or even silky texture, with something of a milky quality to it, and above all it simply tastes 'fresher' – imagine that. Thus, opt for fresh whenever you can. However – and this is a big 'however' – fresh mozzarella is far from always being a 'must.' Recipes that call for fresh mozzarella involve those where the 'milky' taste and 'fluffy' texture won't either be overpowered by the other ingredients, or destroyed by a harsh cooking process. That said, if the mozzarella is going to be drowned out by a medley of powerful ingredients, or baked down, then you can save yourself a few dollars and buy packaged. After all, there's really no point in paying for fresh mozzarella when all of the qualities that make 'fresh' desirable are being lost. Today's recipe is one such recipe, although fresh would impart nice 'milky' flavor and 'delicate' notes to the lasagna.
4) Baby Spinach vs 'Adult' Spinach. Contrary to popular belief, Baby Spinach is not undeveloped 'standard' spinach. Instead, baby spinach is simply the smallest variety of flat leaf spinach, and contains all of the same nutrient values as its larger cousins. While some frown on cooking baby spinach, the larger varieties, in my opinion, would simply be 'too much' for today's lasagna, and I would have ended up chopping down into smaller portions anyway…so I suppose you might say I'm letting 'nature' do my chopping for me by using baby spinach.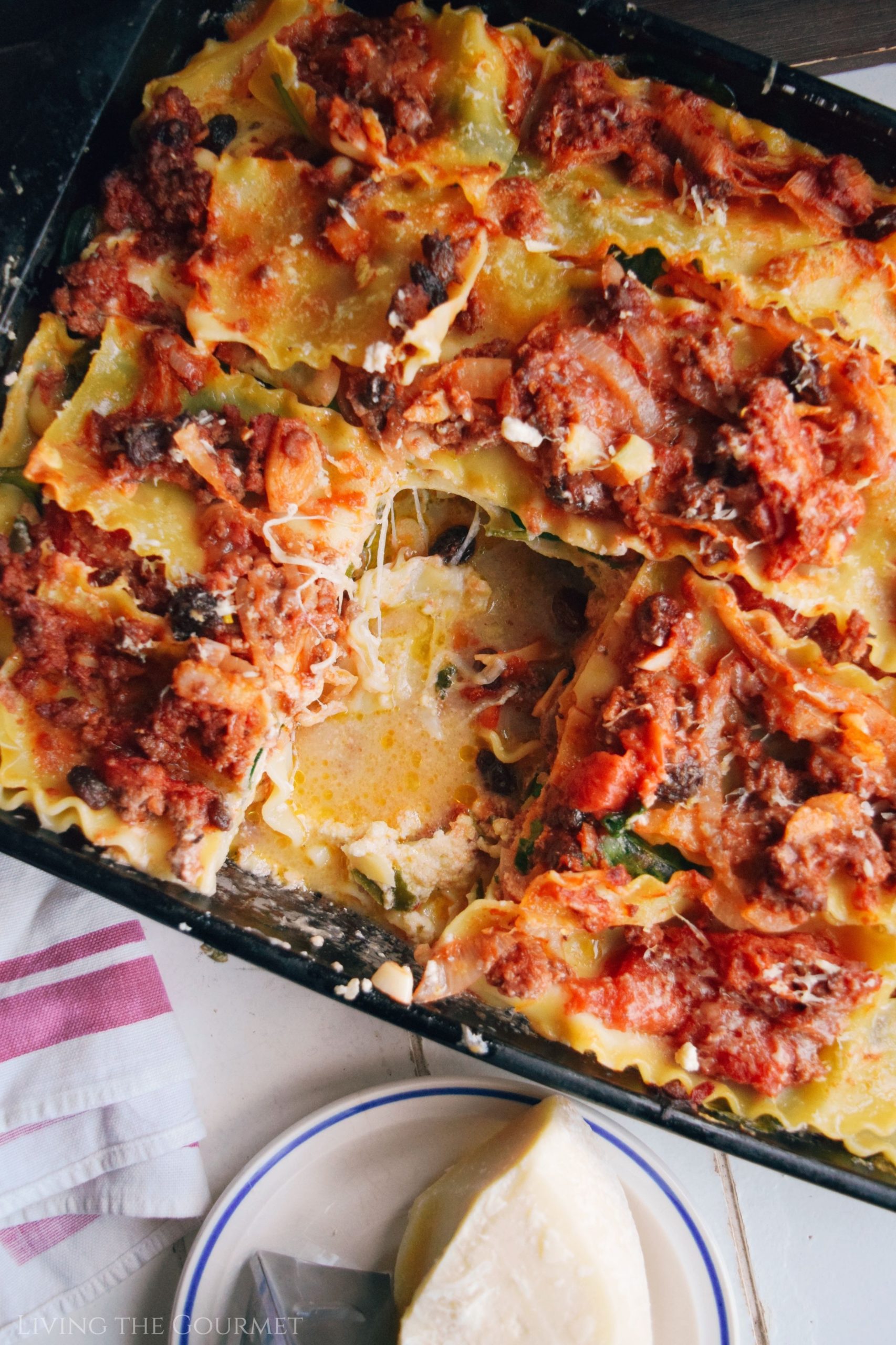 If You Liked Today's Lasagna, You'll Love…
1) Ravioli. My favorite twist on a beloved classic, these homemade ravioli are blissfully simple to prepare, but the real draw here is the delicious mix of asiago, ricotta, mozzarella, and romano, coupled with a fresh red sauce, plenty of garlic, and fresh spinach.
2) Homemade Pasta. If you're feeling adventurous, making your own lasagna noodles would add an extra layer of 'gourmet' to today's recipe – and to any other pasta recipe in your repertoire.
3) Breadsticks. At the risk of being old fashioned, I'm going to suggest breadsticks to pair with today's lasagna, and these are much easier to prepare than you might think. Paired with some olive oil for dipping, or even some herbed butter or black coffee, these are super versatile and keep great. As a nice bonus, they never fail to impress the guests.
Print
Sweet Mediterranean Style Lasagna
Author:
Prep Time:

15 minutes

Cook Time:

45 minutes

Total Time:

1 hour

Yield:

4

-6

1

x
8

oz

. fresh baby spinach

30

oz

. ricotta cheese

2

eggs

1/4

cup

grated Romano cheese or Parmesan cheese plus more for grating

16

oz

. mozzarella cheese - shredded

1

large onion - sliced thin

6

-

8

fresh garlic cloves - chopped

4

tbs. raisins

2

tbs. capers

1 1/2

lbs. chopped beef

1 tsp

. sugar

1 1/2 tsp

. salt

1 tsp

. black pepper

1/2 tsp

. red pepper flakes

1/2 tsp

. ground cinnamon

1 tsp

. dried oregano

2

-

3

tbs. olive oil

1

lb

. lasagna noodles
For the Sauce:
28 oz

. can crushed tomatoes

1 1/2

lbs. chopped beef

1

large onion - sliced thin

6

-

8

fresh garlic cloves - chopped

1 tsp

. sugar

1 tsp

. salt

1/2 tsp

. black pepper

1 tsp

. dried oregano

1/2 tsp

. red pepper flakes
Instructions
Preheat Oven 350 degrees F.
Prepare lasagna noodles as directed. Drain and set aside to cool while preparing the sauce.
In a large cast iron frying pan cook the ground beef and set aside. Drain the fat from the pan.
Heat a large cast iron frying pan with 2 – 3 tbs. olive oil and add the sliced onion, chopped garlic and seasonings.
Sauté until the onions are softened and slightly golden and the garlic is fragrant.
Add the crushed tomatoes and continue to simmer on a gentle heat.
Add the cooked ground beef to the sauce and simmer on a gentle heat while preparing the ricotta.
In a large bowl place, the ricotta cheese, grated Romano cheese, eggs, seasonings, raisins, capers and mix.
Assembly:
Drizzle a large baking dish with a tablespoon or two of olive oil.
Line the bottom of the baking dish with the lasagna noodles and spoon the prepared ricotta over the noodles followed by the baby spinach followed by the tomato sauce followed by the shredded mozzarella followed by grated Romano cheese.
Continue this process until the ingredients are used up.
Finish off with the tomato sauce, a drizzle of olive oil and grated Romano cheese.
Bake for 30 – 35 minutes.
Allow to cool down for 10 – 15 minutes before cutting into.
Recipe Card powered by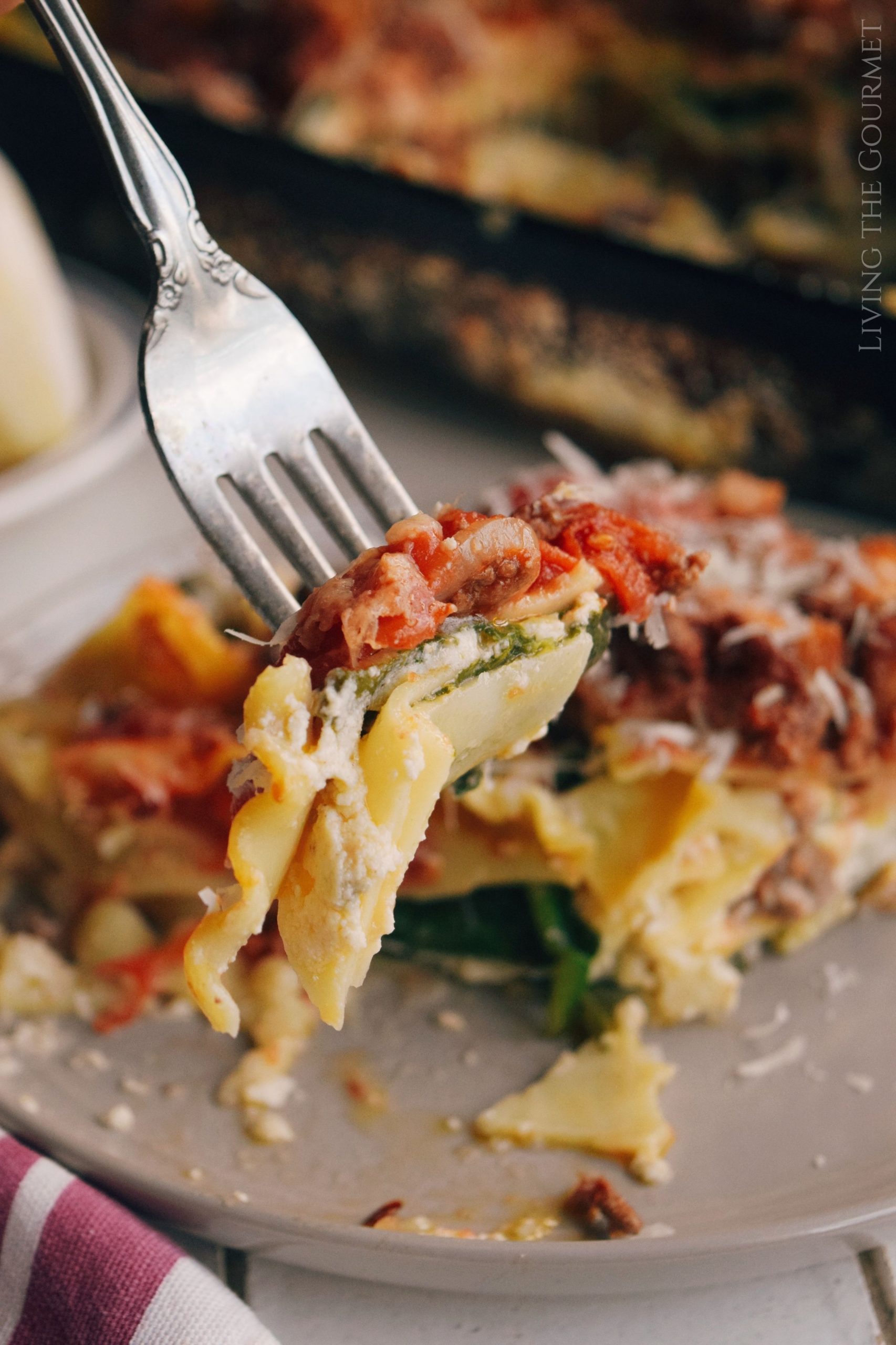 Did you make this recipe?
If so, let me know in the comments down below, or post a picture to Instagram, or to Pinterest, and I'll give you a shoutout on Instagram, or post your pin to one of my Pinterest boards!
0