This post has been sponsored by Herzog Wine Cellars and Superior Farms Lamb. All opinions expressed are my own.
In our household Easter is a month-long celebration as we observe both Catholic Easter and Greek Easter. Today we're recapping our Greek Easter dinner with this Roasted Bone-in Leg of Lamb served alongside Herzog Wines.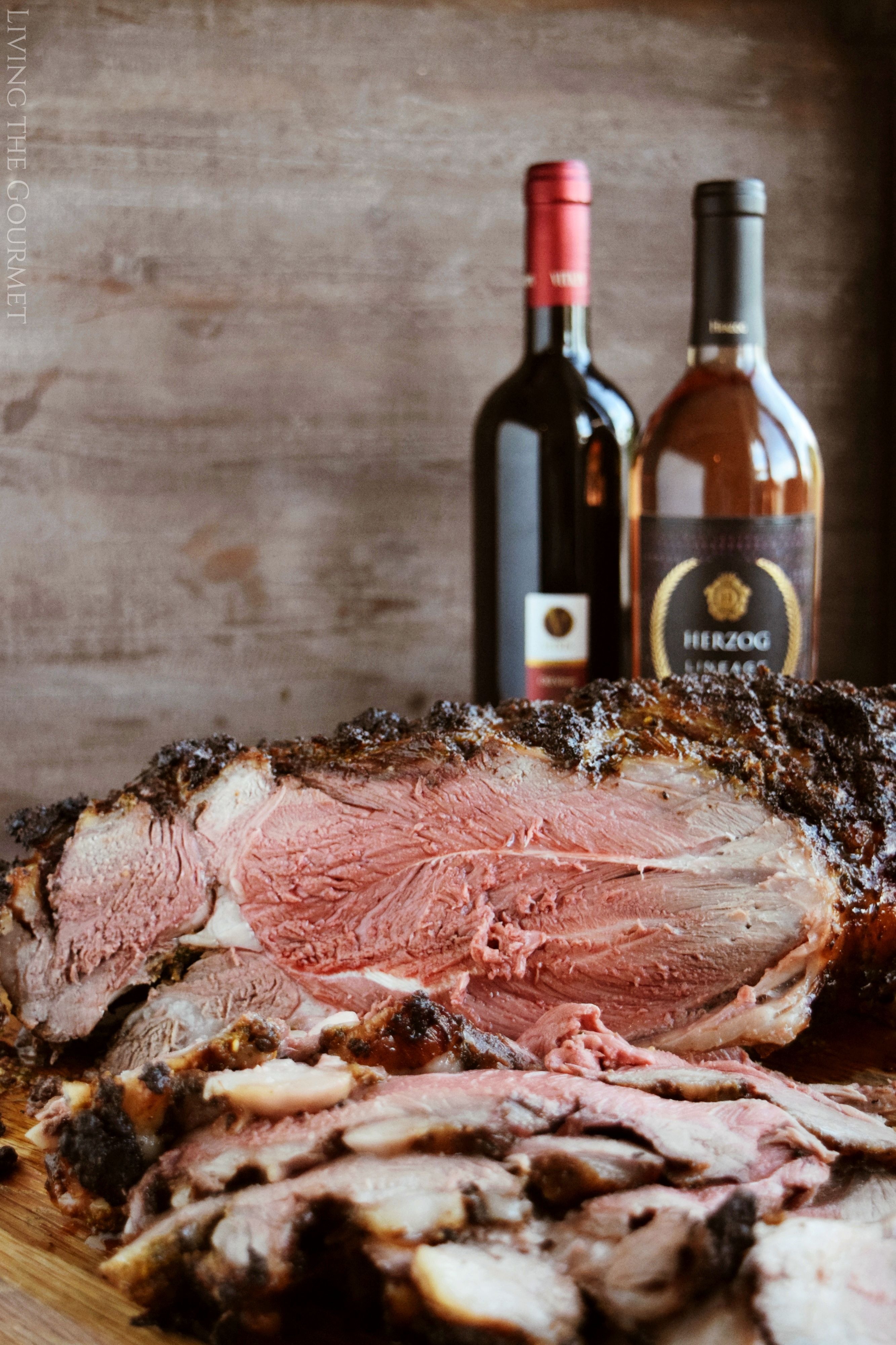 In true Napoleonic style, let's start with a pair of maxims. The first being "Everything's better with friends," since today's post features a trio of products, one from a longtime friend of the site – Herzog Wine Cellars, and two from a pair of new faces here on Living the Gourmet, Superior Farms and Vitkin Winery; more on them later.
The second maxim is "Everything old is new again." I say this because as early as 2014, one of Italy's top rosé regions was selling off as much as 25% of its vineyards according to a December 3rd 2014 Winefolly article by Madeline Puckette, signaling the high-water mark of Rosé's doldrums. However, less than two years later Fortune would run an article celebrating how "Millennials have made Rosé mainstream again." Then, in Businesses Insider article published just last year, Sarah Jacobs quoted master sommelier Alana Singh as saying "The millennial obsession with Rosé wine isn't going anywhere anytime soon," explaining that the generation has rocketed rosé back into the mainstream.
I've always loved rosé as part of any 'complete' spring or summer pairing. Granted, growing up the story was much different. Rosé wine was unequivocally the 'fashionable' drink of the 'young and suburban' at the time. The young 'American' wives of my then-young Italian brothers would bring it over, and the family's 'old guard' would politely tolerate it with feigned smiles and forced compliments. In our house, sturdy reds such Sangiovese and Sagrantino were the order of the day, with Sambuca and Anisette serving as our aperitifs of choice.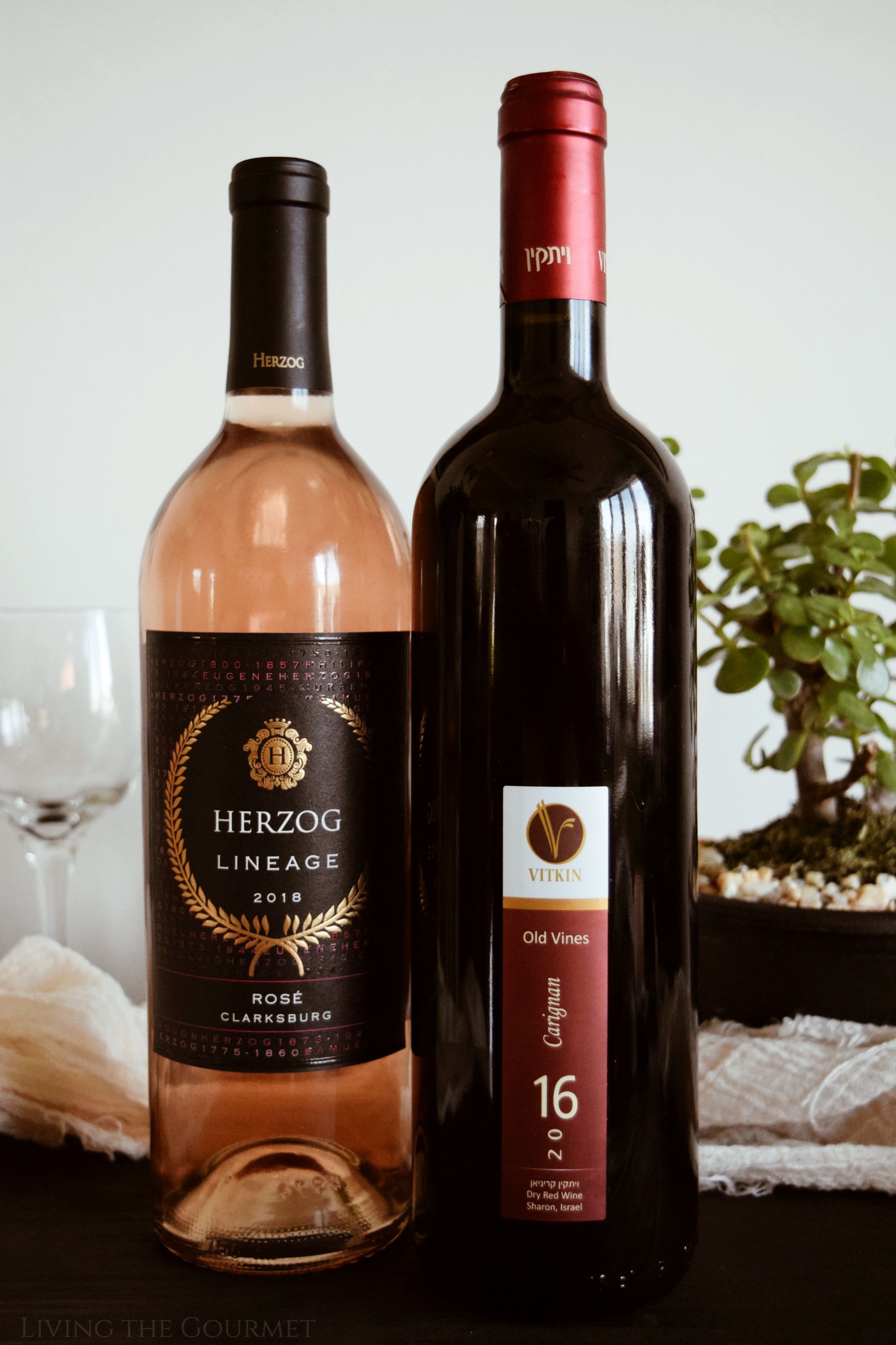 Thankfully, I didn't let that taint my view of this particular type of wine.
With that being said, we're featuring a 2018 Herzog Lineage Rosé Clarksburg. Off the nose, the wine greets with initial hints of citrus and zest set over ripe summer fruits, with just a hint of toasted wood notes in the background. On the palate, the wine is medium bodied, carrying the flavor and aromatics of blood orange mixed with cherry and red fruit essences. Overall, this is a very, very pleasant bottle.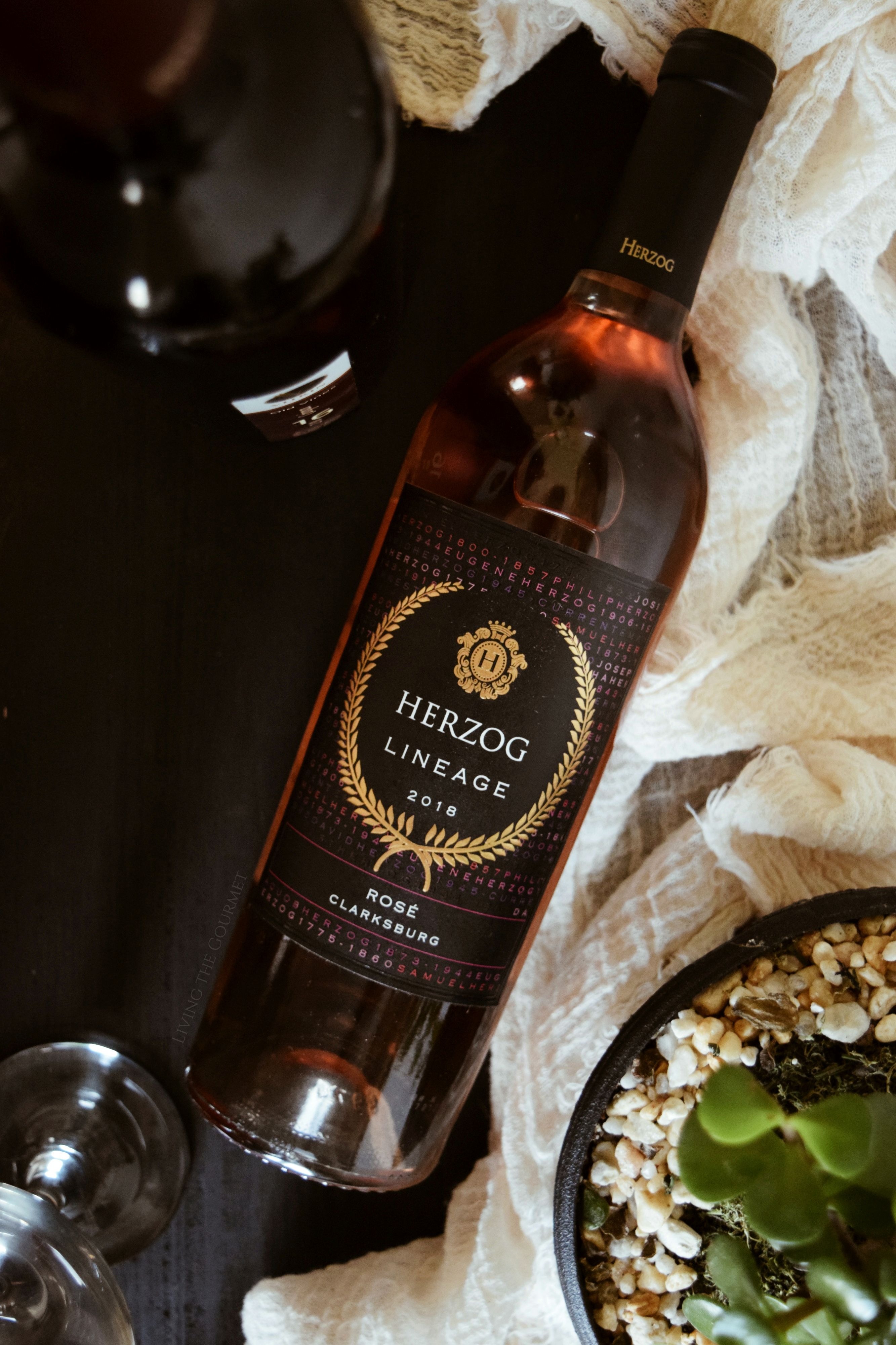 For pairing, I'm going to side with the winemakers themselves, who use imagery of sunshine and time spent out on the porch. To my mind, this is quintessential "Spring drinking." Think light salads, fruit, perhaps sliced oranges topped with balsamic vinegar and feta cheese.
Far from "everything old being new again," we now head over to some "Old Vines," which we received courtesy of Vitkin Winery, which is based in Sharon, Israel on the slopes of Carmel. The wine introduces itself with a bouquet of mixed berries, chiefly ripe red cherries, hints of currants, and perhaps just a touch of blackberry or black cherry in the background. There's also a faint bit of 'herb' or tobacco leaf lurking in the mix, but it's tad bit hard to pin down. On the palate, the wine is medium to soft bodied, with chewy tannins, and medium acidity. The fruit from the bouquet largely carries over, with the herbal notes becoming more prominent, but also slightly more earthy. Overall, this was a very enjoyable experience.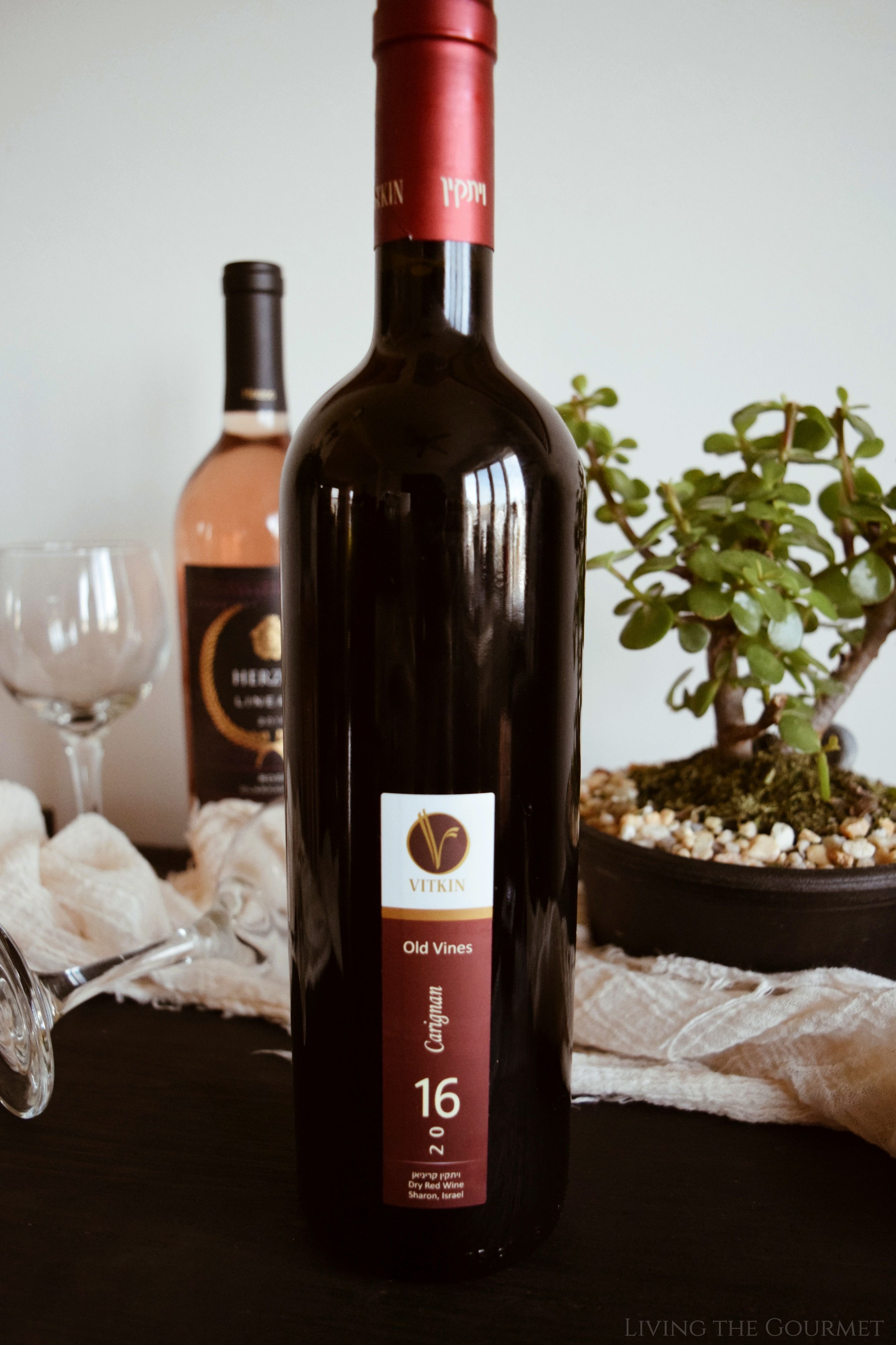 For pairing, think meaty entrees such as roast pork with garlic and herbs, or if you prefer poultry think on the heavier and richer side of things. However, since it's spring, and with Orthodox Easter just a few days away, I decided to pair this wine with a traditional leg of lamb, which comes to us courtesy of Superior Farms Lamb. In case you missed my previous feature on them from last week, they produce only sustainably raised, American sourced lamb, which are set to pasture on naturally maintained grasslands. This combination of natural raising and feeding, with sustainable resource management, means that you can feel good about you're eating, and that, most importantly, it's absolutely delicious.
That, of course, brings us to today's recipe – Roasted Bone-in Leg of Lamb.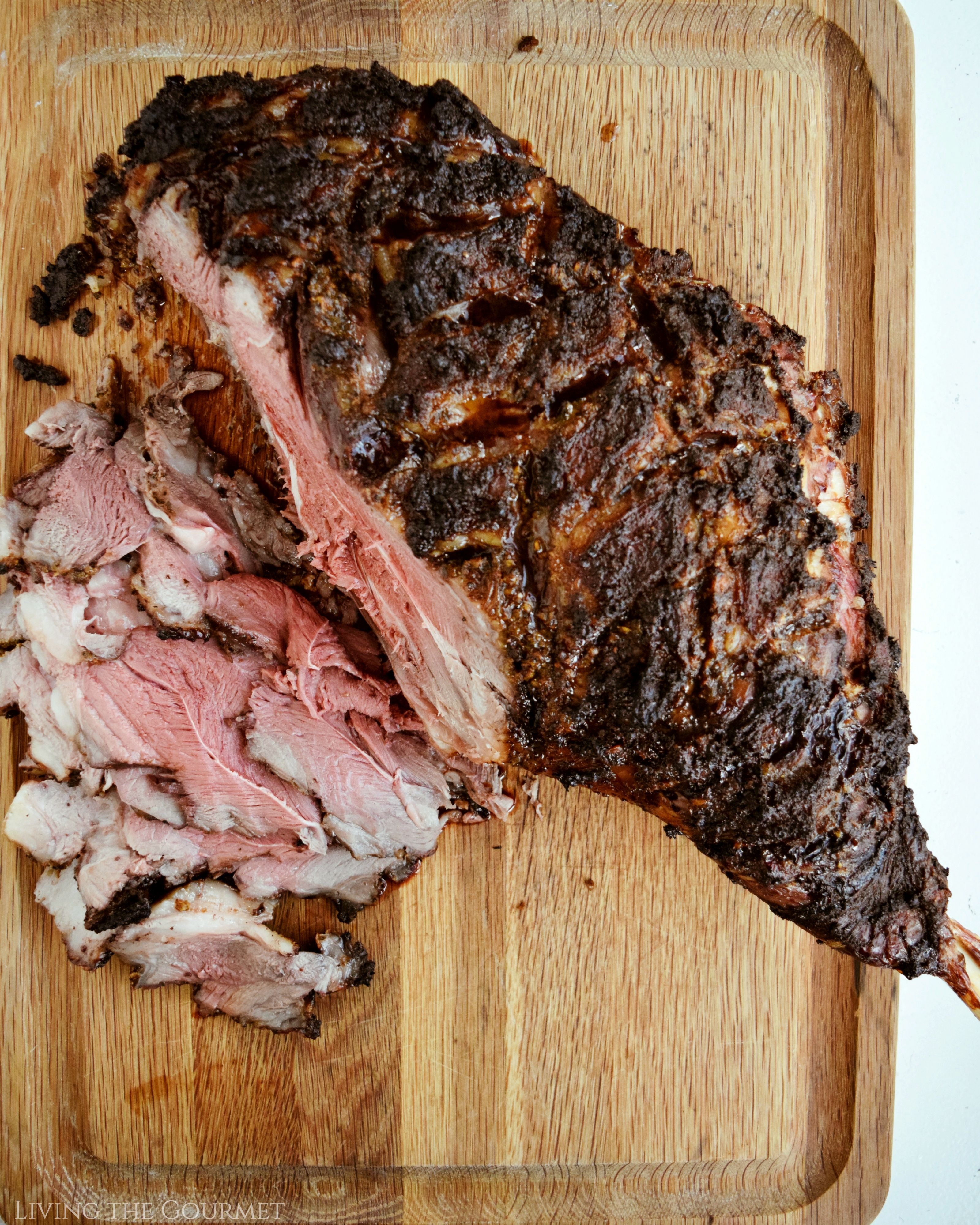 To start, begin by preparing a rub with Italian parsley, garlic, sun-dried tomatoes, capers and caper juice, Romano cheese, black pepper, cumin, and coriander, mixed in a base of extra virgin olive oil. Then give these ingredients a few good chops in the food processor. You want them to form a paste rather than a liquid or a 'loose marinade.'
Now, before rubbing the leg of lamb down, you want to score the meat. To do this, simply make precise, sharp cuts into the lamb's outer layer of fat. Space the cuts about an inch apart, and cut diagonally across the lamb. Then, in the opposite direction, repeat this process. You do not want to cut too deeply, otherwise all of the juices will spill out of the lamb during cooking, and you'll end up with a dry, oversized piece of a jerky.
The end result should be as pictured below, a 'diamond' pattern running across the other layer of the lamb.
Then, gently rub the lamb down with the mixture we prepared before. Be sure to rub the mixture between the lines of the scoring, but be careful not to separate or 'tear' the fat from the meat. Again, if you do this, the meat will be very dry after cooking.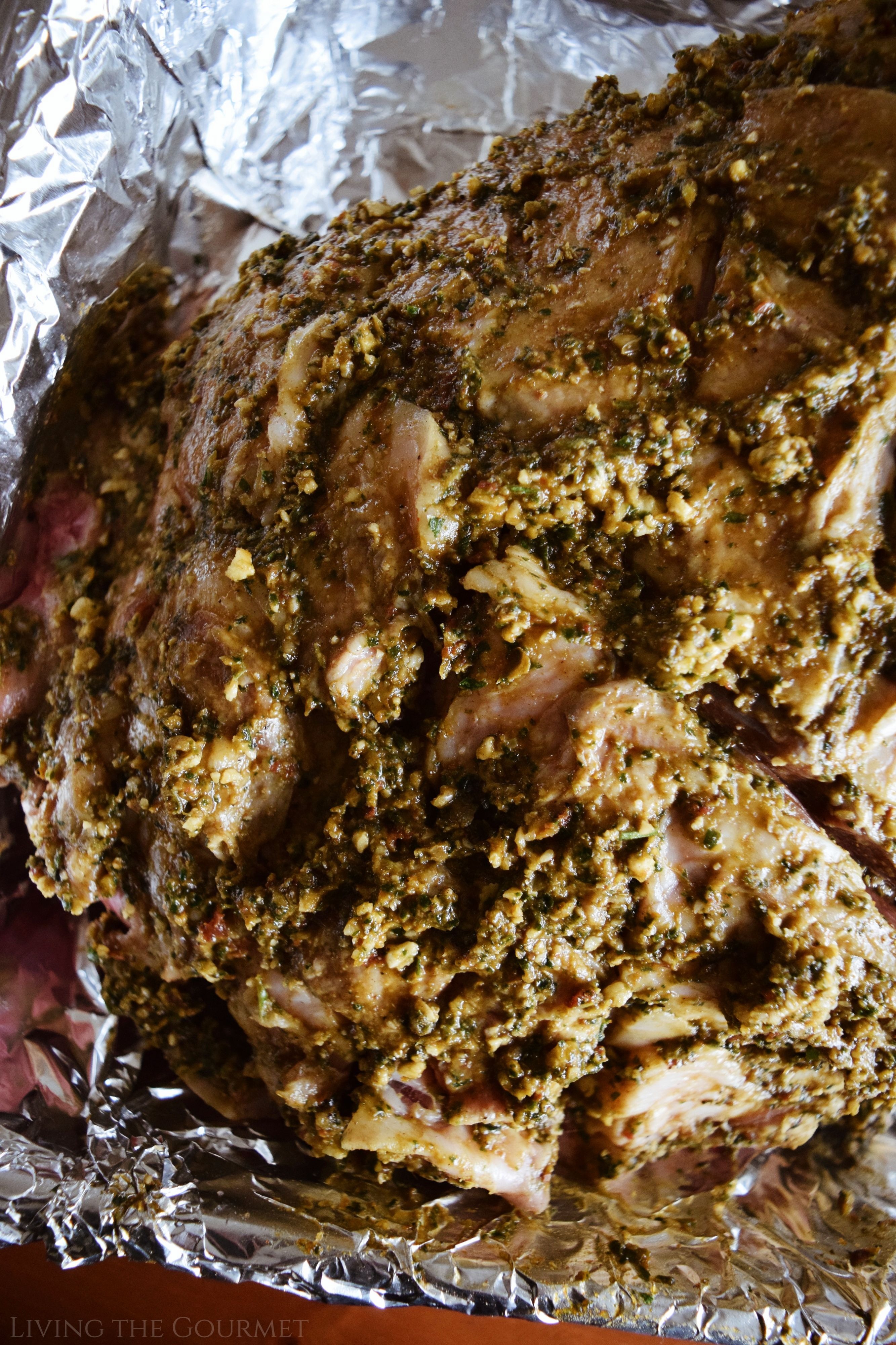 After rubbing the lamb down, let it sit out for about two hours before cooking. You want it to be roughly room temperature. Once the meat is room temperature, cook at 350 degrees Fahrenheit for about twenty minutes per pound, or until the meat has reached an internal temperature of 135 degrees Fahrenheit at its thickest point.
Once cooked, let it rest for about fifteen minutes before serving.
Print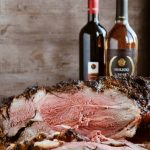 Roasted Bone-in Leg of Lamb featuring Herzog Wines
---
Author:

Total Time:

2 hours 45 minutes

Yield:

1

leg of lamb

1

x
8

-

9

lb

. bone-in leg of lamb - scored
For the Rub:
1

bunch of Italian parsley

1

head of garlic

4

sun-dried tomatoes

1

tbs. capers plus tbs. of caper juice

1 1/2

inch piece of Romano cheese

1 tsp

. black pepper

1 tsp

. cumin

1 tsp

. coriander

4

tbs. olive oil
---
Instructions
Combine all of the ingredients for the rub in a food processor and give a few good chops to form a paste.
Score the fat of the leg of lamb with a sharp knife ¼ inch deep forming diamond shapes.
Rub the lamb under and over with the rub mixture.
Let the lamb rest at room temperature for 1 ½ to 2 hours before cooking.
Preheat Oven 350 degrees F.
For a medium rare leg of lamb cook 20 minutes per pound.
For medium-rare to medium doneness, an instant-read thermometer inserted into the center should read at least 135 degrees F.
Let the lamb rest after it is taken out of the oven for at least 15 minutes before slicing.
Notes
Prep Time does NOT include Inactive Prep Time.
Prep Time:

15 minutes

Cook Time:

2 hours 30 minutes
Recipe Card powered by
That said, I was very pleased with today's wines, and can wholeheartedly recommend Superior Farms to anyone looking for delicious, sustainably sourced American lamb.
This post is intended for persons 21+. Please enjoy responsibly!
Enjoy with Love!
1