I introduced my Black Bean Veggie Burgers by saying that I am an unrepentant carnivore who doesn't mind a good veggie burger, and that's true of veggie 'meatballs' as well. However, when it comes today's chickpea meatball-equivalent, these are more of a 'fried delight' than a 'veggie-counterpart' to the real thing. With a crisp exterior, and a moist interior positively bursting with flavor, these really are a treat unto themselves, and I absolutely promise you'll love them…unless of course you don't love 'fried delights.'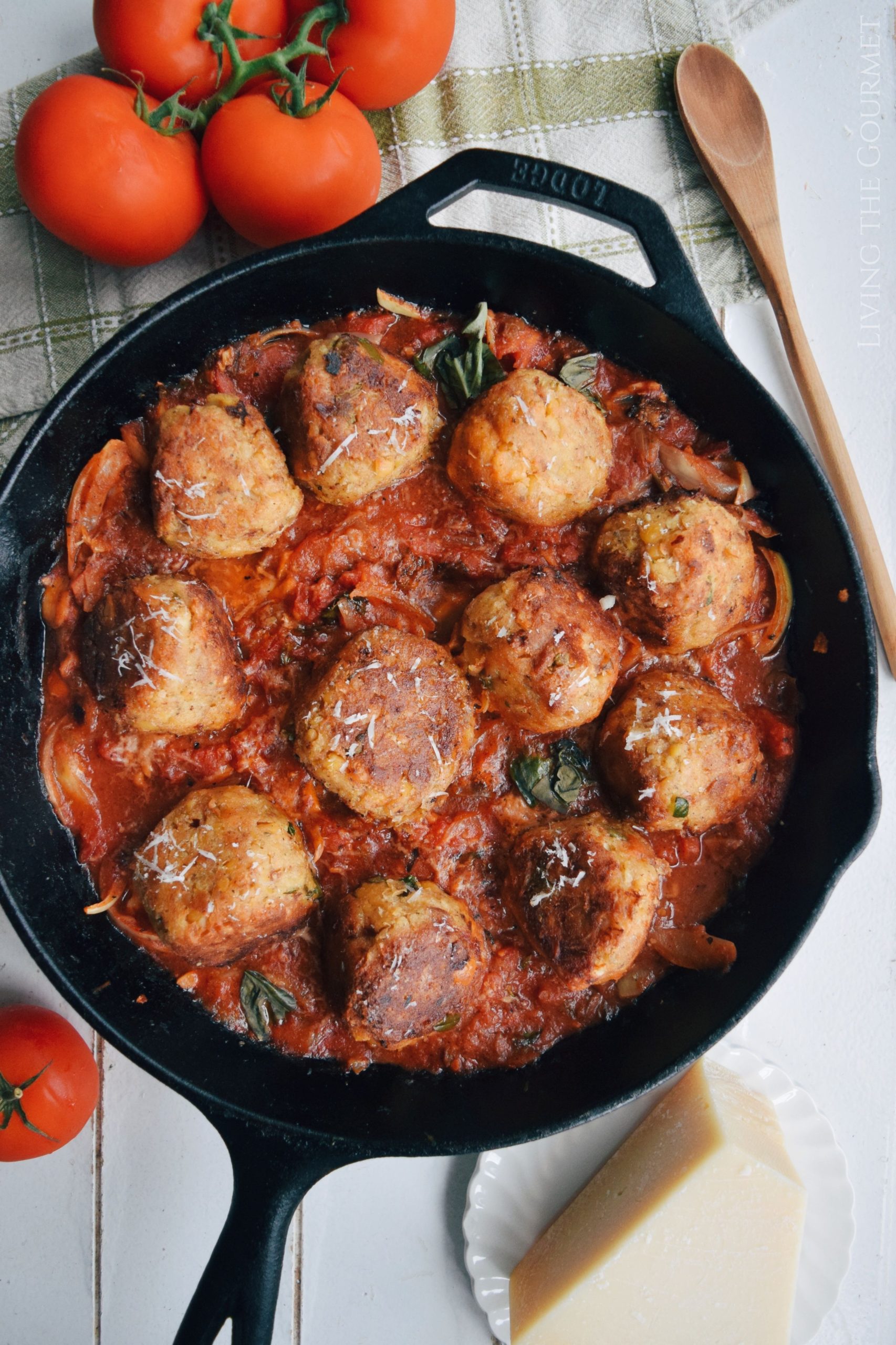 Ingredient Notes, Tips, and Substitutions
1) Olive Oil or Vegetable Oil? You'll notice that we're using 'both' in today's recipe – but at different points. We're using vegetable oil for frying chickpea 'meatballs,' and olive oil for everything else in today's recipe. The rule of thumb when deciding which to use when is as follows – olive oil gives a far superior flavor and health benefits, but 'only' when used raw or when cooking at lower temperatures of no more than 350 degrees Fahrenheit, or when barbecuing over 'gentle' flames. Use vegetable oil for cooking at higher temperatures. The reason is that most olive oils have a relatively low 'smoke point,' which is the temperature at which the olive oil begins to burn away, giving your food a rancid taste and sapping its nutrients. Curiously, the lower the quality your olive oil, the 'higher' its smoke point. In fact, 'Light' olive oil actually has a higher smoke point than vegetable oil, while Extra Virgin Cold Pressed olive oil will start to burn away at merely a 'low simmer.'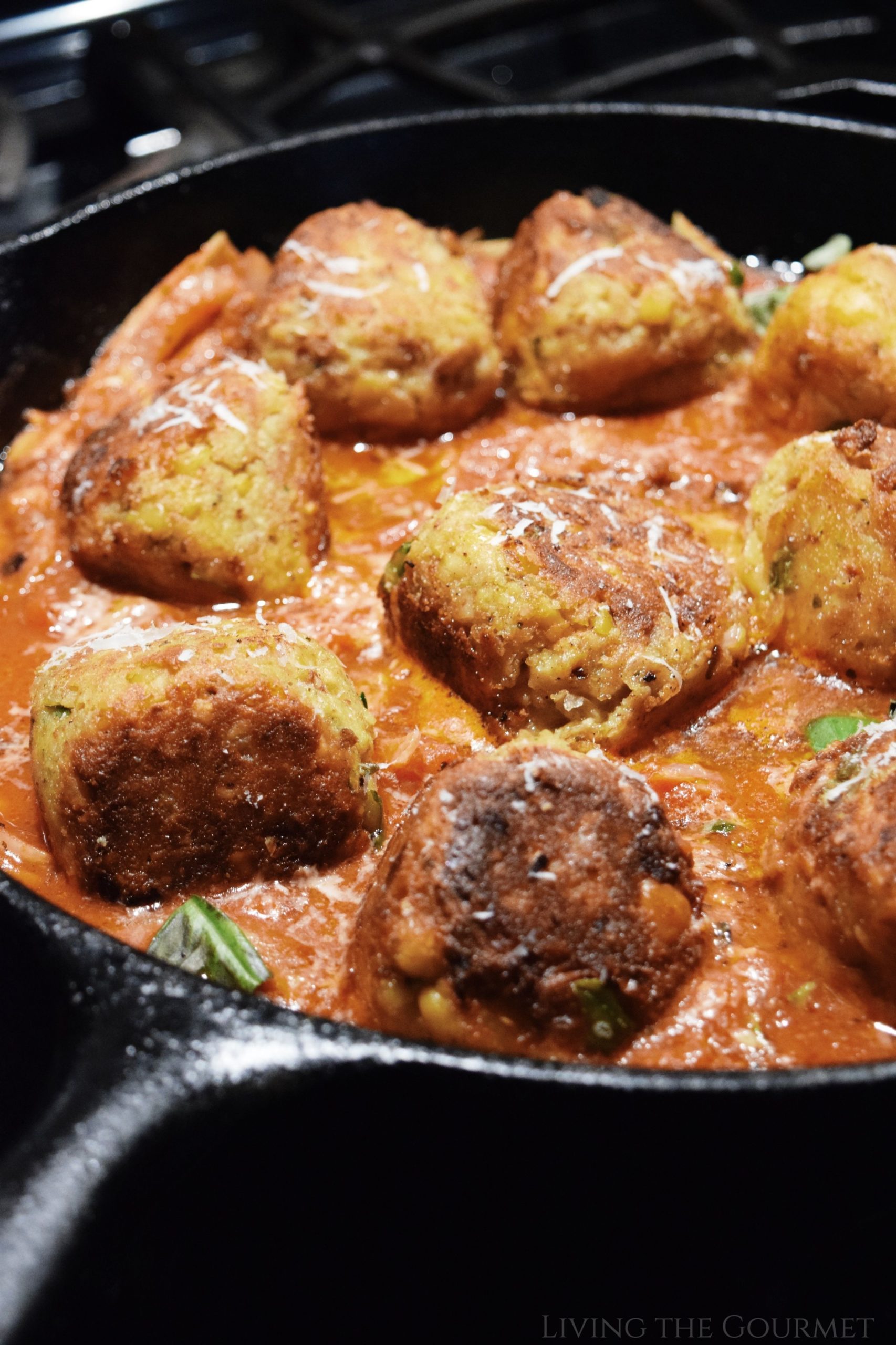 2) Anchovies. One of the ultimate 'love it or hate it' ingredients, for which I am firmly in the 'love it' camp. However, why is that we see anchovies added so often to recipes that otherwise really have nothing to do with 'fish?' Anchovies find their way into 'meatless' garlic and oil sauces, otherwise 'fish-less' red sauces, steak sauces, salads, salad dressings, eggs, and a shocking number of roasted lamb recipes, especially those heavy on herbs and potatoes. The answer is 'salty umami' or 'brine-flavor.' Much like capers – for whom anchovies are a substitute, but curiously 'not' vice versa – anchovies are beloved largely for the sharp salty 'pep' or 'kick' that they bring to a recipe, and the vague background 'meaty' flavor that permeates the recipe. Since anchovies dissolve entirely on cooking – both flesh and bones – their flavor melds uniformly throughout the recipe to which they're added, and when this happens much of their 'fishiness' evaporates, meaning that they instead add a delicious background of meaty umami that isn't immediately or noticeably fishy.
**Substitution: If you absolutely cannot tolerate anchovies, feel free to use one-half teaspoon of fish sauce per anchovy fillet, since we're using the anchovies purely for background flavor.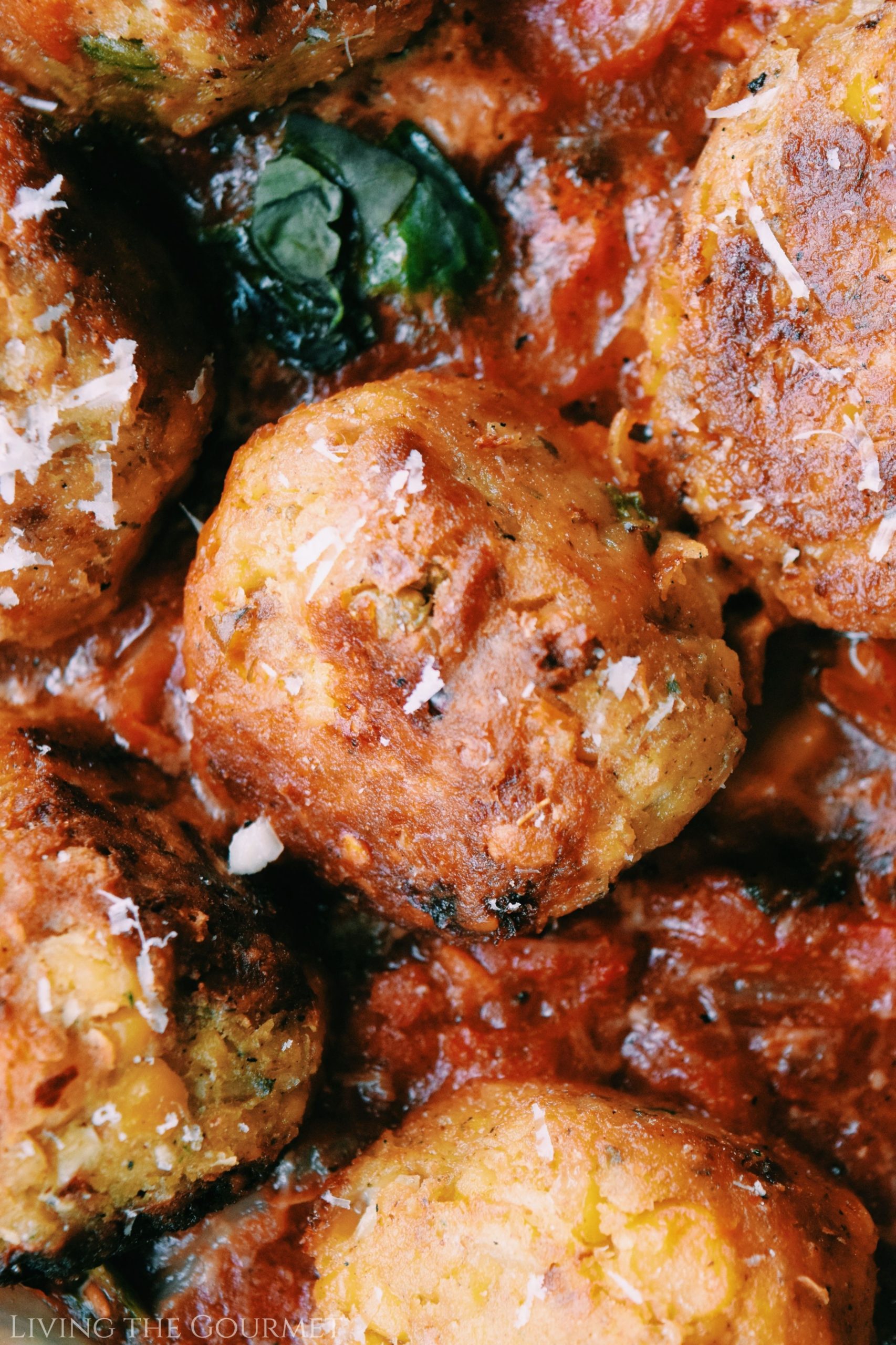 3) Shallots are like Onions? Or are shallots like leeks? Or are shallots…garlic? Full disclosure, I'm of two minds on this, and that's largely because there is a host of conflicting opinions on this from sources that I trust and value. On the one hand, there is bountiful literature stating that shallots are perfectly similar to onions, such that you could replace most types of chopped onions with chopped shallots at a one-to-one ratio. Other sources claim that shallots are more akin to garlic, and that they are not at all interchangeable with onions, but 'can' stand in for leeks – which are themselves very similar to onions. So, which is it? I tested for myself, and I will tell you that both leeks 'and' onions are perfectly suitable stand-ins for the shallots in today's recipe, both at a one-to-one ratio. If you have an opinion on how to substitute shallots, leeks, or onions, and whether they are in fact interchangeable, let me know down in the comments below, I would love to hear from you.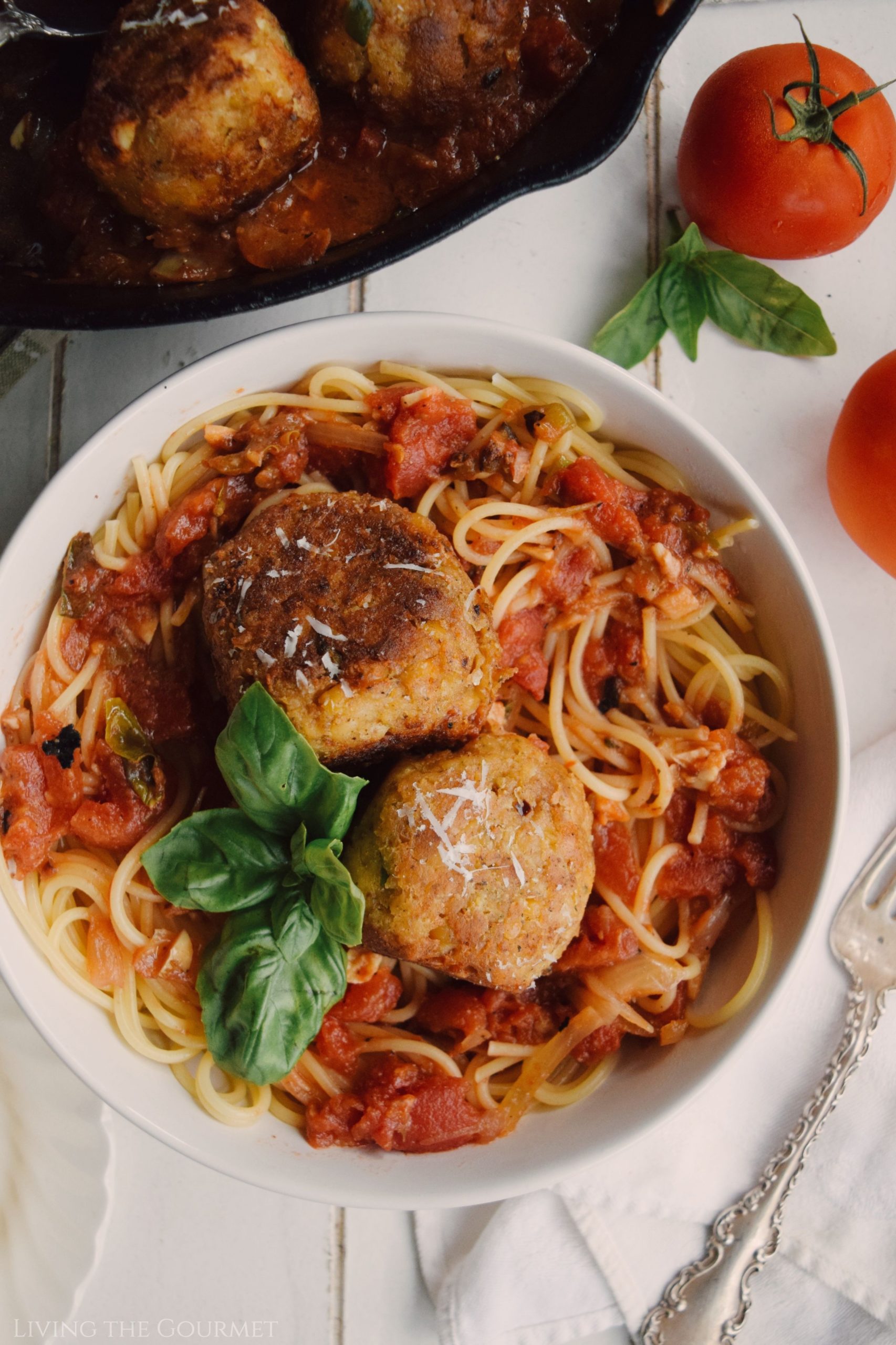 Tips and Tricks
1) Mix Them Well. You want the chickpea mixture to be thoroughly, completely, and uniformly combined. This is in contrast to mixing chop meat meatballs, where you want to work the meat mixture 'only' until your ingredients are incorporated, lest you end up with a rubbery meatball. That won't happen here. Just the contrary. If your ingredients are 'not' thoroughly and uniformly blended, you will end up with 'chickpea meatballs' that won't hold together through the frying process.
2) No Animal Fat Means No Shrinkage. If you've ever prepared chop meat burgers or meatballs or meatloaf, you're well aware that those items 'shrink' during cooking – and this is especially true when using thoroughly marbled meat. Leaner meat shrinks less – or barely at all if you're using painfully lean meat. That doesn't happen with bean burgers, veggie patties, or today's 'chickpea meatballs,' since there simply isn't any animal fat to dissolve or 'melt' during cooking. Instead, the burgers will remain roughly the same size during cooking, so form them to precisely the shape and size you want beforehand.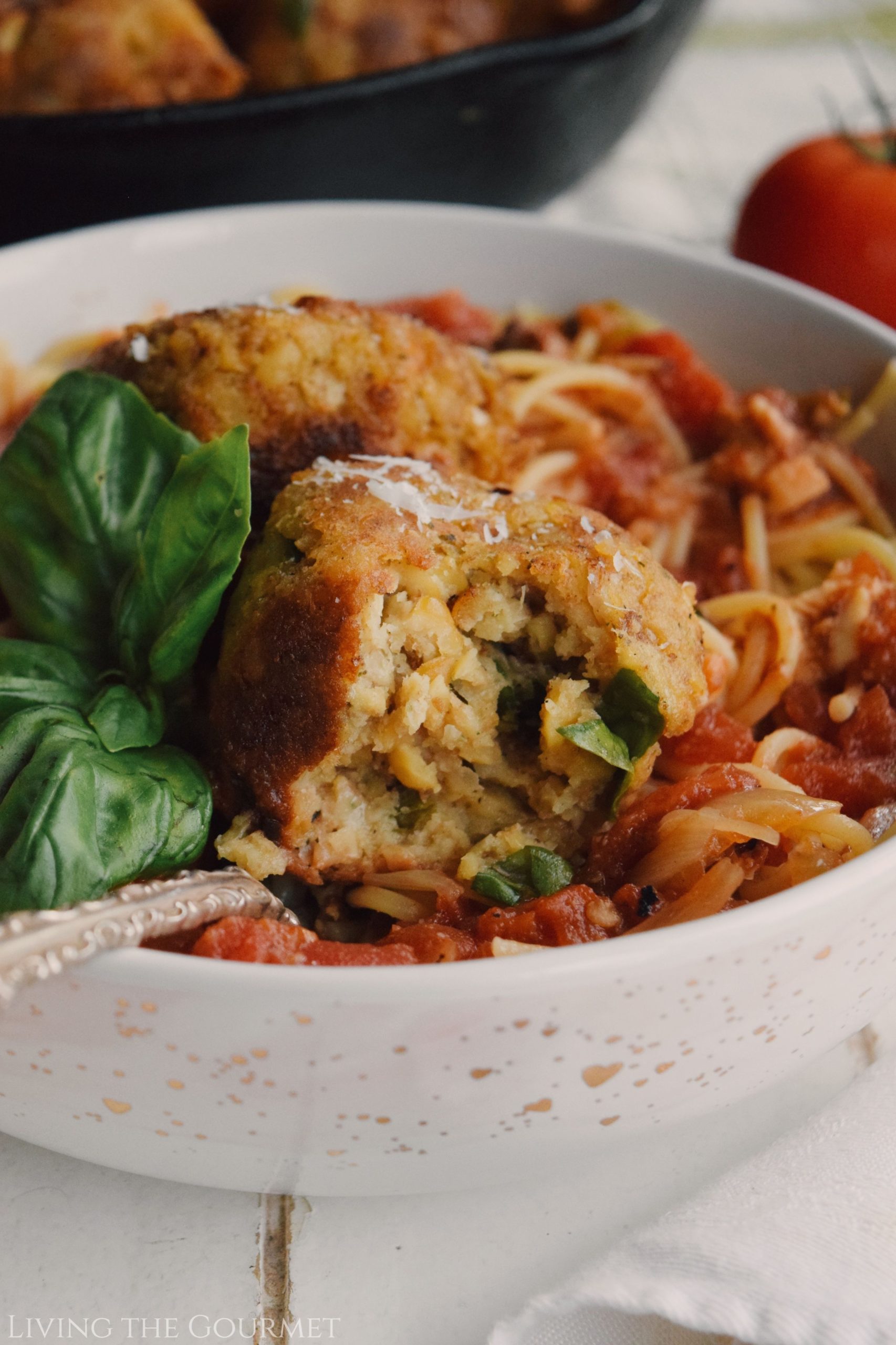 More Veggie Goodness
1) Sundried Tomato Falafel. A traditional falafel recipe blended together with sundried tomatoes, curry, and cumin. Paired with Homemade Flatbreads, these are great either as a light lunch or as a starters to a Mediterranean themed meal.
2) Crispy Fried Cauliflower Balls. One of my absolute favorite uses for cauliflower. Crisp, crunchy, flavorful, and moist, these are a real treat. If you've got some cauliflower that you aren't sure what to do with, or are simply looking for a new use for cauliflower, these have got you covered.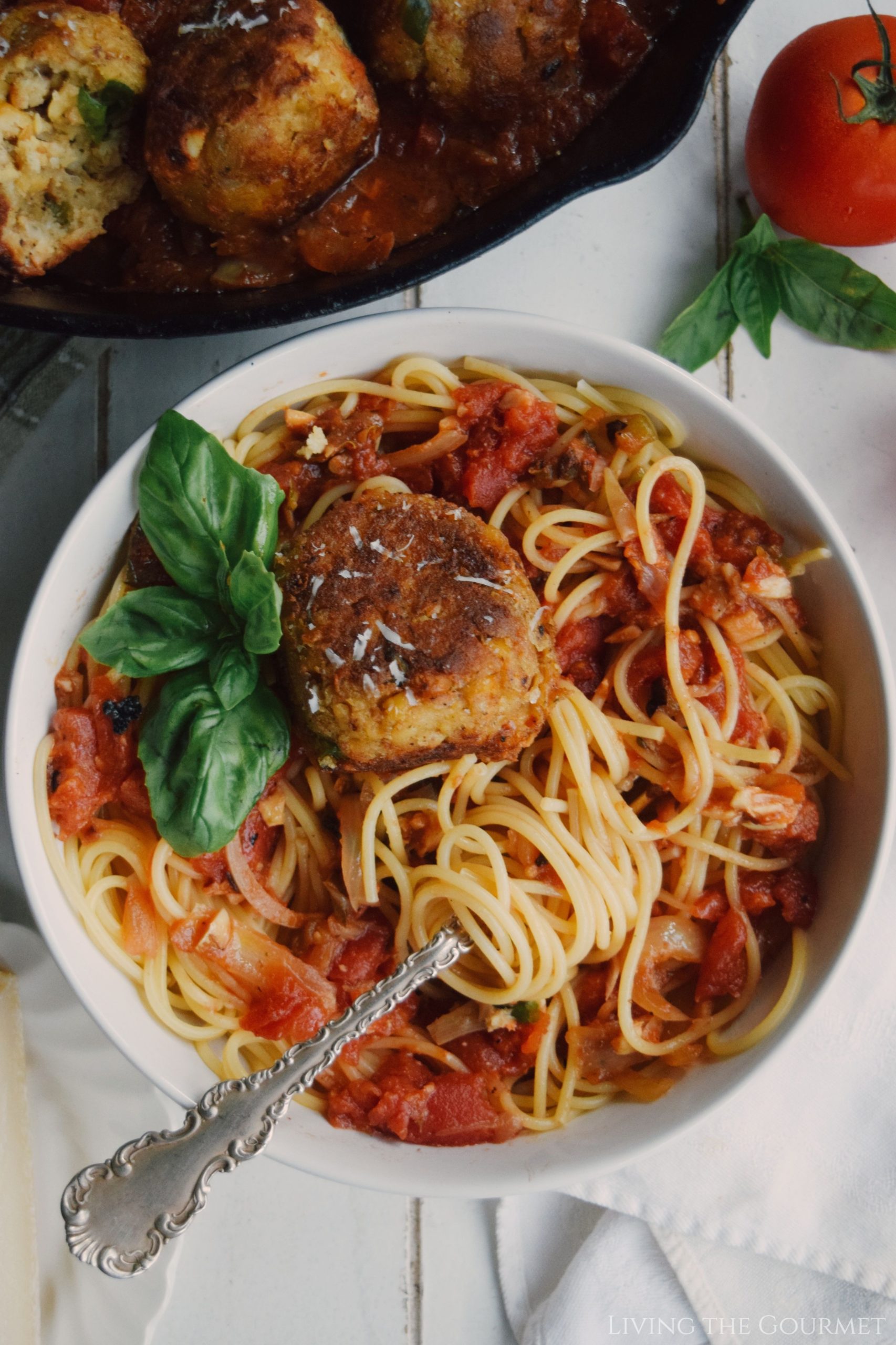 Living the Gourmet
Yields 6
Chickpea Meatballs & Spicy Red Sauce
15 minPrep Time
40 minCook Time
55 minTotal Time
4.9 based on 14 review(s)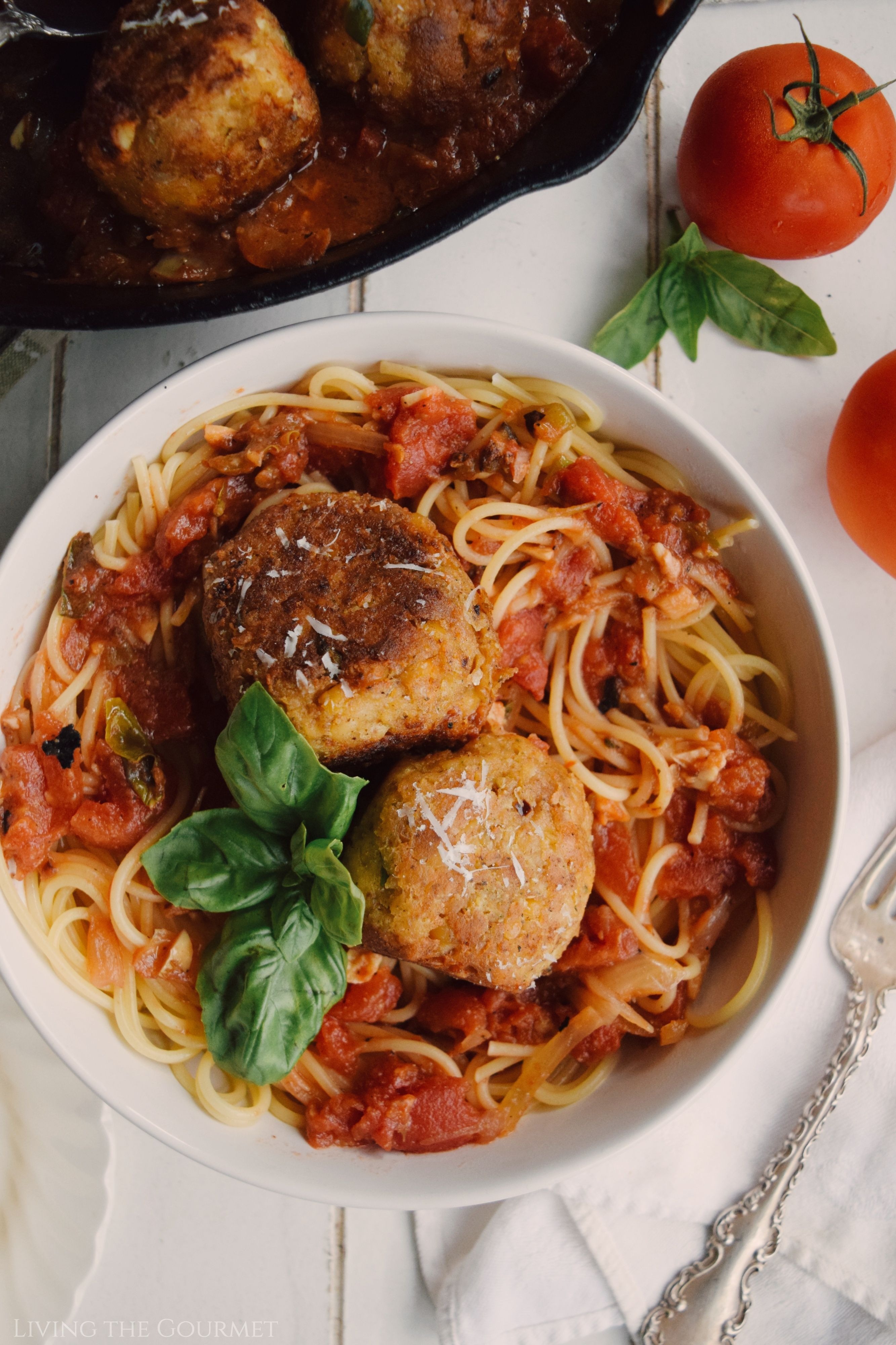 Ingredients
For the Chickpea Meatballs:

2 – 15.5 oz. can of chickpeas – drained
4 oz. mozzarella – cubed
¼ cup Romano or Parmesan cheese – grated
1 tbs. capers
3 slices of white bread – toasted and crumbled
2 eggs
½ shallot – chopped
3 – 4 cloves of garlic – chopped fine
¼ cup bread crumbs
4 – 5 fresh basil leaved – chopped
½ tsp. salt
½ tsp. fresh ground black pepper
½ tsp. dried oregano
¼ tsp. red pepper flakes
Vegetable oil for frying

For the Spicy Red Sauce:

28 oz. can of plum tomatoes
6 garlic cloves – chopped fine
1 jalapeno – grilled and diced with seeds
1 medium onion – sliced thin
3 – 4 anchovies
6 – 8 fresh basil leaves – chopped
¼ cup of Romano or Parmesan cheese - grated
½ tsp. sugar
1 tsp. salt
½ tsp. fresh ground black pepper
½ tsp. red pepper flakes
1 tsp. dried oregano
2 – 3 tbs. olive oil
1 lb. of your favorite pasta
Instructions
For the Chickpea Meatballs:

In a large bowl combine the drained chickpeas, crumbled toast, bread crumbs, eggs, chopped garlic, capers, grated cheese, cubed mozzarella, chopped shallot, seasonings and chopped basil. Using a pastry cutter, mash down this mixture 8 – 12 times to get a nice texture, yet not "mush".
Let the mashed mixture sit for about 5 - 10 minutes before forming into desired sized "meatballs".
Heat a large cast iron frying pan with 2 – 3 tablespoons of vegetable oil.
Form the chickpea mixture into desired sized balls and carefully place in the pan. Do Not Overcrowd the pan.
Let the balls form a beautiful golden color on all sides. When turning the balls in the pan use a spatula and a small spoon to carefully lift, so that they do not stick to the pan and break.
Prepare a plate with a paper towel to place the chickpea balls on while preparing the sauce.

For the Spicy Red Sauce:

Heat a small cast iron frying pan and place the jalapeno in the dry pan to grill on all sides.
Remove from the pan and dice.
Heat a large cast iron frying pan with 2 – 3 tbs. of olive oil. Place the sliced onion, chopped garlic and diced jalapeno in the pan to sauté. Allow the onion to become translucent and slightly golden.
Add the seasonings to the pan and toss.
Add the plum tomatoes to the pan and carefully cut the tomatoes.
Add the anchovies and gently mash with a fork.
Allow the sauce to gently simmer on a very gentle heat for 15 – 20 minutes.
Taste for seasoning.
Add the chickpea balls to the sauce and continue to simmer on a gentle heat while preparing the pasta.
7.8.1.2
1449
https://livingthegourmet.com/2020/07/chickpea-meatballs-spicy-red-sauce.html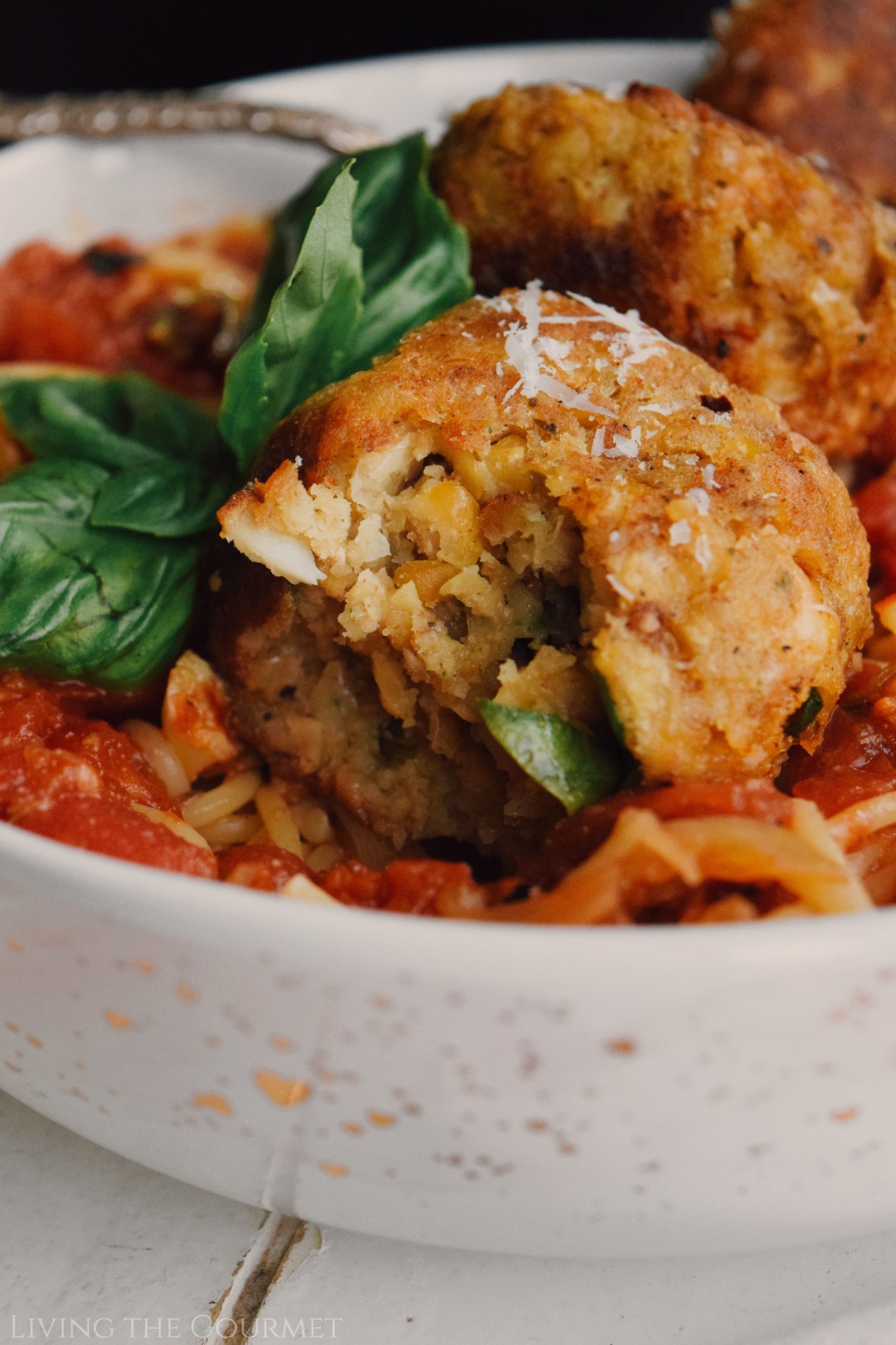 If You Enjoyed Today's Recipe…
Be sure to follow us on Instagram to stay up to date with all things Living the Gourmet, and for more great recipes, tips and tricks.
Did you make this recipe?
If so, let me know in the comments down below, or post a picture to Instagram, or to Pinterest, and I'll give you a shoutout on Instagram, or post your pin to one of my Pinterest boards!
1