Today we're preparing salmon fillets with a teriyaki and garlic rub that's citrusy, savory, and just a touch spicy. The end result is a beautifully moist and flavorful piece of salmon that's simple to prepare, yet has all the flare and flavor needed to be your next favorite 'Fusion' creation.
In today's post, we'll be covering how to select quality salmon, as well as some pointers and background on a few key ingredients. Now, without further delay, let's get to it.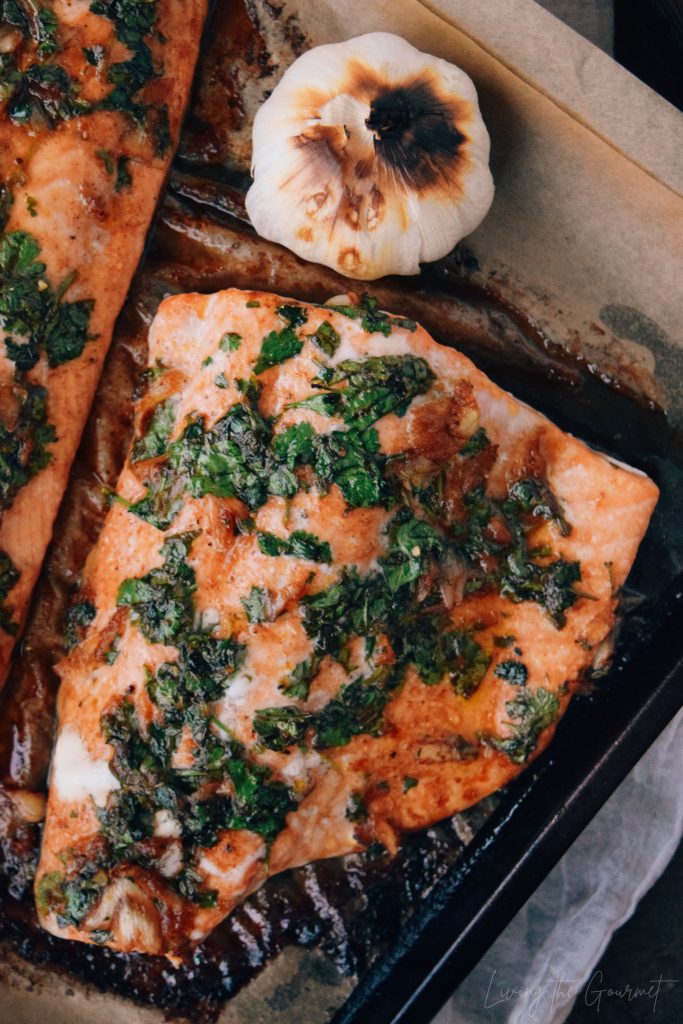 Why You'll Love Today's Salmon
1) Weeknight Friendly, and Fun for the Weekend. The prep process for today's salmon couldn't be simpler, making it weeknight friendly. Conversely, the medley of flavors makes this a great weekend treat. To start, we'll be mixing the listed ingredients for the rub together, then we'll be cutting some shallow slits into the salmon. After that, we rub down the fillets with the mixture, and pop the fish in the oven. Super simple, yet super delicious.
2) Medley of Flavors. Today we're combing the layered umami of teriyaki, with citrusy notes from fresh lemon juice, and warming and earthy flavors courtesy of paprika and fresh ground pepper, rounded out with roasted garlic and cilantro. This creates a true 'fusion' experience that's both citrusy and savory, and just a touch spicy.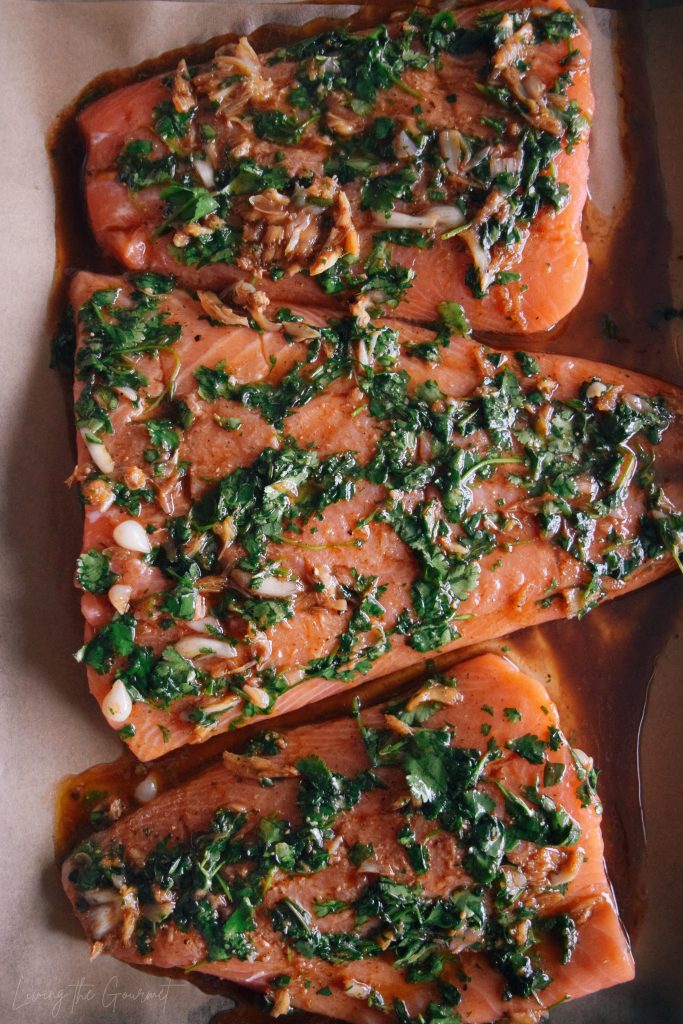 Ingredient Notes and Tips
1) Teriyaki Sauce – What is this stuff, anyway? At its simplest, teriyaki is soy sauce with brown sugar (though white sugar or honey can also used), sake or mirin, and ginger. This mixture is then boiled until it has reached the desired thickness – the more it's boiled, the thicker it becomes. Most commercially available teriyakis have a thickness similar to that of soy sauce, while homemade and craft made teriyakis tend to be on the thicker side. Contrary to popular opinion, thickness is 'not' a sign of quality, but rather simply a matter of preference. Teriyakis used as a dip or as a glaze tend to be thicker, while those teriyakis used as an ingredient, such as in marinades, tend to be thinner.
2) Cilantro – The Herb that Tastes like…soap? Almost unknown in the USA and Canada until the 1970s, cilantro has a lot of detractors. Why? Because to a wide swath of the population, due entirely to an accident of genetics, cilantro tastes like soap, or – according to Julia Child – 'death.' Personally, I find the taste of cilantro to be bright and citrusy, a bit like 'parsley with a dash of earthiness and a squeeze of lemon.'
How to Use Cilantro: Generally speaking, in the same way you might use parsley, but with a few caveats. Cilantro fairs better in heavier, fattier recipes than does parsley, due to the herb being slightly stronger and more pungent. Due to these qualities, you might want to skip cilantro in lighter recipes, opting instead for parsley or basil. For example, cilantro fairs best in things like spicy salsa and pico de gallo, chunkier guacamoles, and, my personal favorite chimichurri. Raw, you might consider sprinkling it over tacos, chili, or chicken tikka masala. In recipes like these, parsley would simply be overwhelmed. However, before using cilantro, you're going to want to wash its leaves thoroughly under cool water, and then separate the leaves from their stems – a very tedious but worthwhile process. Yes, the stems 'are' edible if you are so inclined.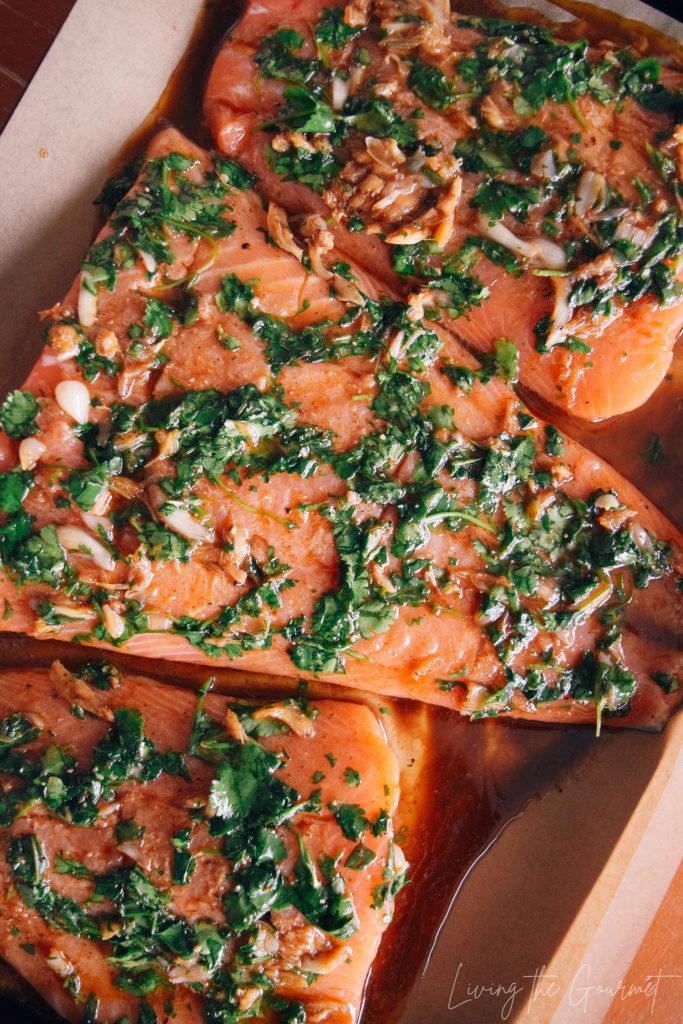 Selecting Quality Salmon – Both Easier, and Harder, Than you Might Expect
1) Fresh vs Frozen – A Difference Without a Distinction. Unless you're buying your salmon (or any fish) directly – as in directly off the fishing boat or pier – you are buying frozen fish…or at least fish that 'was' frozen before your fishmonger defrosted it for display. According to the National Fisheries Institute, some 85% of all commercially available fish has been frozen at some point on its journey to market. This is a good thing, and the quicker the fish was frozen after being caught, and the longer it remained frozen before finding its way to the display case of your local market the better.
2) Don't question your fishmonger. It's pointless. Asking your fishmonger if the fish on display is 'fresh' is likely pointless. First off, it's all been frozen and defrosted anyway, as the link above shows. Second, if you have an honest fishmonger, he or she won't be displaying low quality fish to begin with. Third, if you have a dishonest, lazy, or inept fishmonger, they'll likely assure you the fish is good even if it isn't. Instead, find a market that you trust to display good fish. If you really must inquire about the quality of the fish, ask for fish that has 'never' been defrosted. Conversely, let's learn how to tell if the fish is 'good' or 'fresh' or 'not' on our own, which brings us to my next point…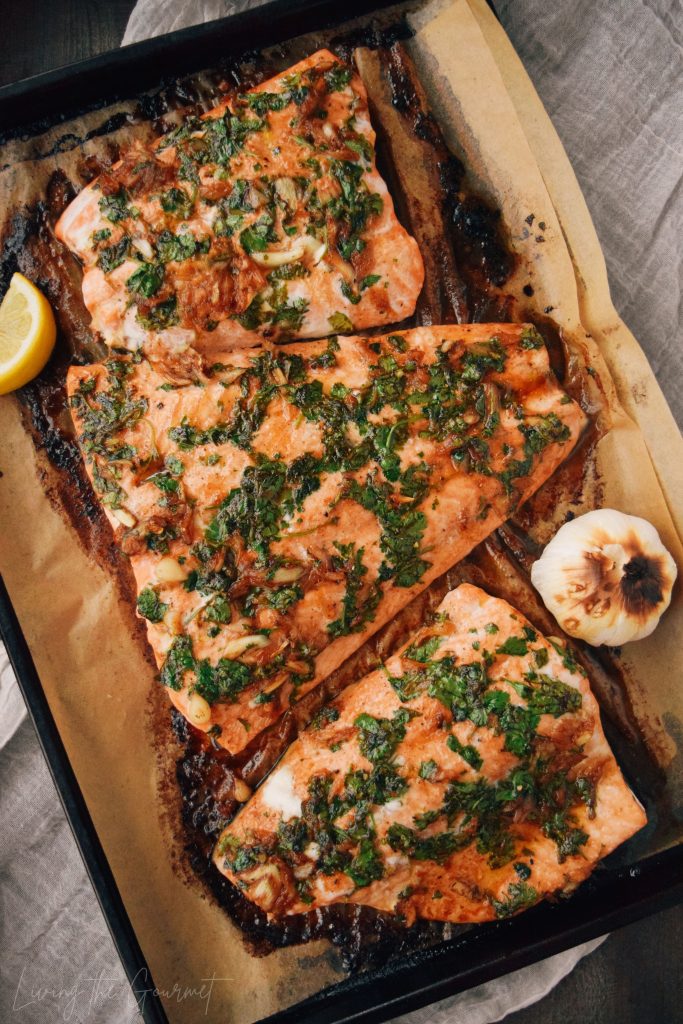 3) Moistness and Plumpness. Fish dries out rapidly as it decays, and is especially true of fattier fish such as salmon. As such, look for fish that appears plump and moist, rather than dried and deflated. This moistness is also a great indicator of how well the fish was handled, as handling the fish roughly will cause the moisture to leak out, as well as cause indentations or bruising.
4) Vibrancy. Avoid fish that looks grey or dull in color. Colorful fish, such as salmon, should be richly colored. White bodied fish, such as certain species of shark, should be clear, flawless white. Avoid fish with browning edges, or splotches, as this is evidence of decay and/or poor handling.
5) Farmed vs Wild – It Depends. Wild is 'generally' better, let's get that out of the way. However, this is only because it can be 'very' tricky and time-consuming (if not outright impossible) to find out where your local fishmonger or supermarket is sourcing their farmed fish. That said, responsibly farmed fish 'does' exist, and 'can' be a low-cost, sustainable alternative to wild caught fish. So, until there are either tighter regulations around fish farms, or until it becomes easier to find out where your local market is sourcing their fish, we're going to suggest buying wild.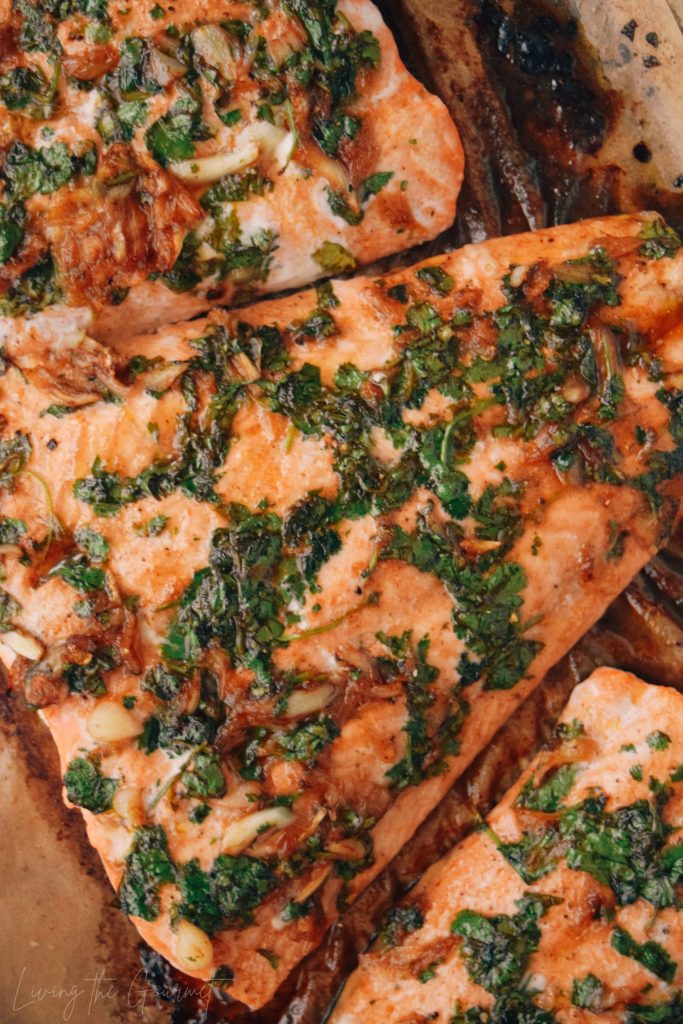 More Seafood Favorites from Living the Gourmet
1) Paella. My take on a Valencian classic. I prepare my paella with a smoky and spicy mix of jalapenos and saffron coated rice, tossed with pork and chicken, which we've marinated in a mix of fresh lemon, olive oil and oregano.
2) Calamari Salad. Squid rings and shrimp tossed with olive oil, capers, and olives. Fresh red onion, celery, lettuce, and cherub tomatoes, round out this delkicious seafood salad salad.
3) Shrimp and Salsa. Grilled shrimp rubbed down with a mix of olive oil, cilantro, sea salt, fresh ground black pepper and plenty of garlic. After that, we pair the shrimp with salsa and fruit cocktails, topped with chunked feta and jalapenos. If that doesn't sound like a summer treat, I don't know what does.

Print
Teriyaki Salmon Filets
---
Author:

Total Time:

35 minutes

Yield:

4

-

6

servings

1

x
3

lbs. fresh salmon filet

Parchment paper for lining the sheet pan.
1

tbs. Teriyaki Sauce

1

tbs. Soy Sauce

1

head of garlic – roasted in skin

4

tbs. olive oil
Juice of

1

lemon

1 tsp

. salt

1 tsp

. fresh ground black pepper

¼ tsp

. paprika

½ cup

of fresh cilantro – stems removed – then chopped
---
Instructions
Preheat Oven 350 degrees F.

Remove the loose skins from the garlic head.  Place the head of garlic in a small cast iron frying pan and bake in the oven for about 10 – 15 minutes or until the outer skin is slightly charred looking.

Let the garlic head cool and the pot it out of its skin into a medium sized bowl and mash with the back of a fork.

Add to the mashed garlic chopped cilantro, soy sauce, teriyaki sauce, fresh lemon juice, seasonings and the olive oil.

Place the fish filets on a parchment lined baking sheet and make very shallow slits into the flesh of the filets; about three slits per filet.

Spoon the marinade over the fish.

Bake for 20 – 25 minutes until it easily flakes with a fork.  Do Not overcook the salmon!
Prep Time:

10 minutes

Cook Time:

25 minutes

Category:

Seafood
Keywords: salmon, seafood, teriyaki, soy, fish, farm raised, main dish
Recipe Card powered by
0