This post has been sponsored by NatureSweet. All opinions expressed are my own.
Today we're putting together one of my favorite New Year's recipes – Shrimp and Calamari Salad, which we'll be preparing with NatureSweet Cherubs. These tomatoes come bursting with a tangy, sweet flavor that beautifully complements the squid, while also adding a gorgeous pop of bright red color to the salad.
What I love about this salad is that not only is it super simple to put together, but it's also as healthy as it is delicious, and it simply looks great as a nice bonus. Now, without further delay, let's make some calamari and shrimp salad.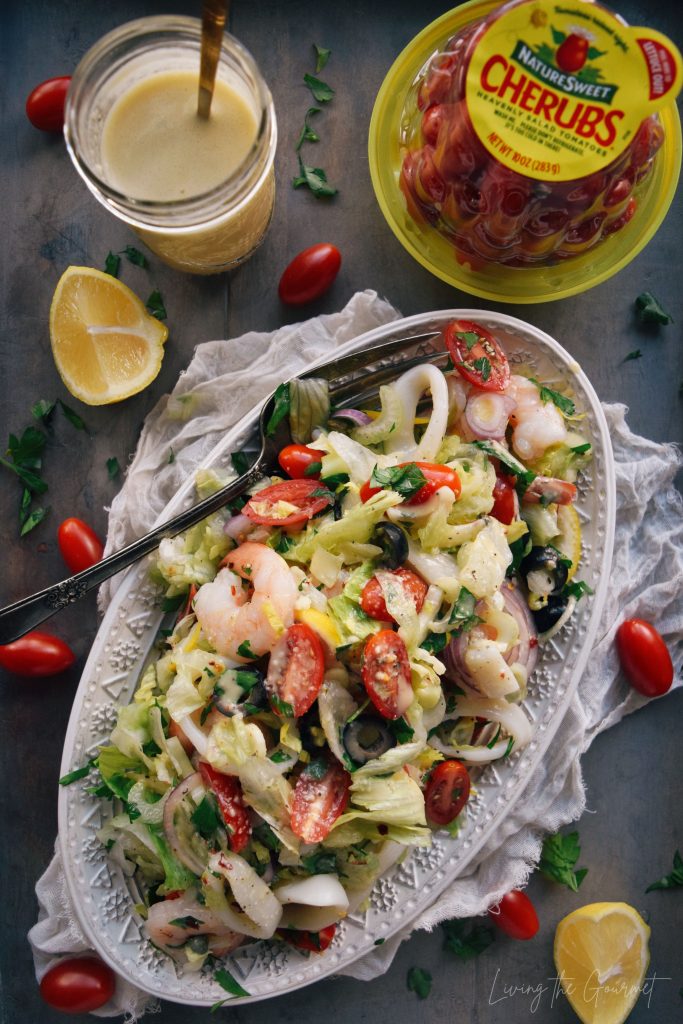 Why To Try Today's Shrimp and Calamari Salad
1) Start the New Year off right. If you're looking for a New Year New You recipe that's vibrant and filling, as opposed to drab and unsatisfying, today's salad is definitely what you're looking for. It is fresh and crisp tasting, bursting with vibrant colors, and manages to be satisfying while still being a health-minded choice for the New Year.
2) Super Simple. Seriously, boiling the squid and shrimp is the 'hardest' part of this recipe, and even that's very simple to do, meaning it is a recipe that's accessible for home chefs of all skill levels.
3) Versatile. This salad, in my opinion, can be served at any time of year. It's light and fresh for bright summer days, but also a great choice for winter entertaining. Also, this salad makes a great lunch by itself, while pairing great as a side to heavier entrees as well. Imagine this salad alongside something like marinated steak or pork stir fry. Delicious.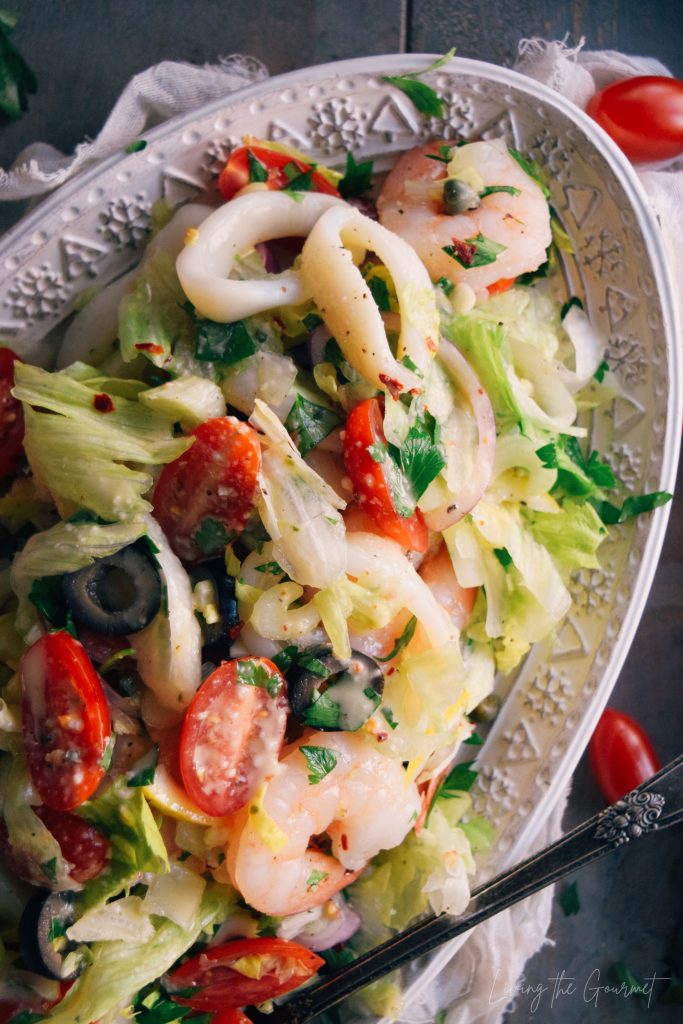 Ingredient Notes and Tips
1) Sea Salt or Table Salt – Is There a Difference? Can you substitute one for the other? In terms of nutrition, salt is salt. Would you be shocked to learn that some table salt is, in fact, thoroughly processed sea salt? But what about flavor? The honest answer there is 'it depends.' To start, sea salt is produced by evaporating ocean water, and it's the trace minerals, impurities, and 'elements' that are found in the saltwater that gives sea salt its distinctive 'brine flavor.' However, depending on how thoroughly processed the 'salt' was after it's been produced via evaporation (and 'all' sea salt requires at least 'some' processing), your sea salt might not actually taste any different than standard table salt. The more sea salt tastes like 'the sea' the less it's been processed – which may or may not actually be a good thing. With all of that said, for culinary purposes, while I love my Pink Himalayan Salt and Black Hawaiian Sea Salt as much as the next gourmet, the reality is that table salt and sea salt are almost entirely interchangeable 'unless' you have a brand of sea salt that has been minimally processed to preserve the 'brine flavor' that makes sea salt desirable in the first place. So, for today's salad, if the sea salt you have on hand does 'not' have a 'brine flavor,' feel free to use regular table salt.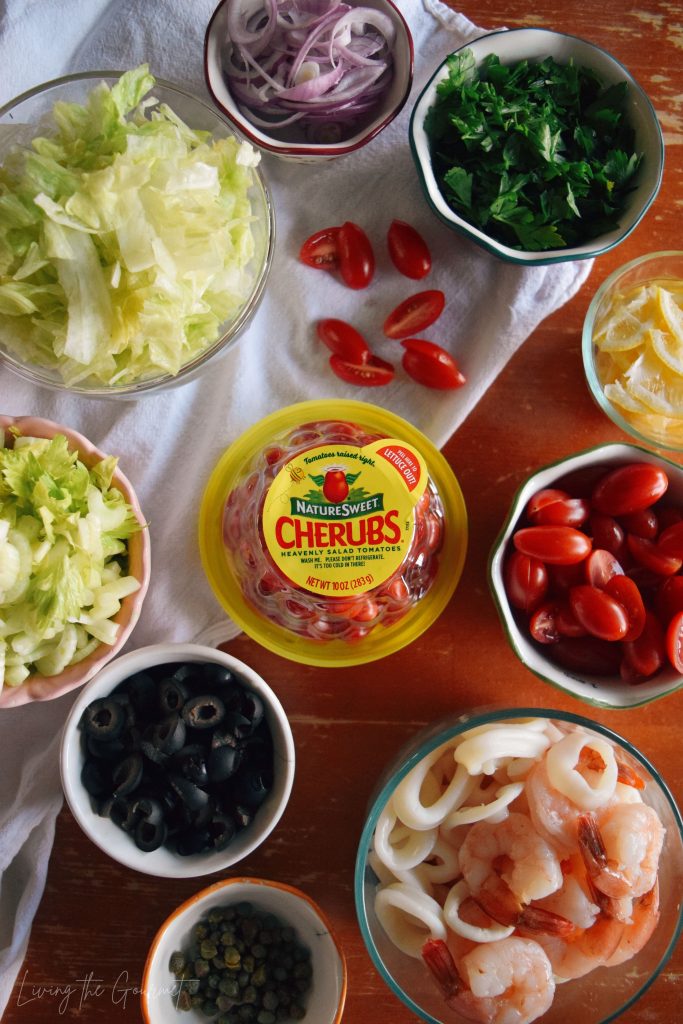 2) NatureSweet Cherubs. A perfect way to start the New Year off on a health-conscious note, NatureSweet Cherubs are both versatile and delicious. Being at home in a variety of recipes ranging from simple veggie platters to sandwiches, to salads like the one we're preparing today. NatureSweet grows their tomatoes with attention given to maximizing freshness, as well as flavor, ensuring that these beautiful bright red tomatoes are handpicked off the vine at the peak of freshness, and then shipped within twenty-four hours. This not only means that they're crisp and delicious, but also that they're a healthy source of essential vitamins and minerals. All of this combined makes NatureSweet Cherubs the perfect way to add a touch of color to salads like today's while allowing you to start the New Year off on a note that's as healthy as it is delicious.
3) Lemon Juice. Fresher is Better. As in virtually all cases, fresher is better. On top of that, slicing a lemon into squeezable halves or wedges is practically as easy as opening a bottle and measuring it out. Furthermore, bottled lemon juice simply isn't as flavorful, lacking the full 'zest' or 'brightness' of fresh lemon juice, since the juice begins breaking down chemically almost as soon as it leaves the lemon. Beyond that, the juice's flavor is often further diluted with preservatives. As a result, if you want the full flavor and balance intended in today's recipe, use fresh lemon juice.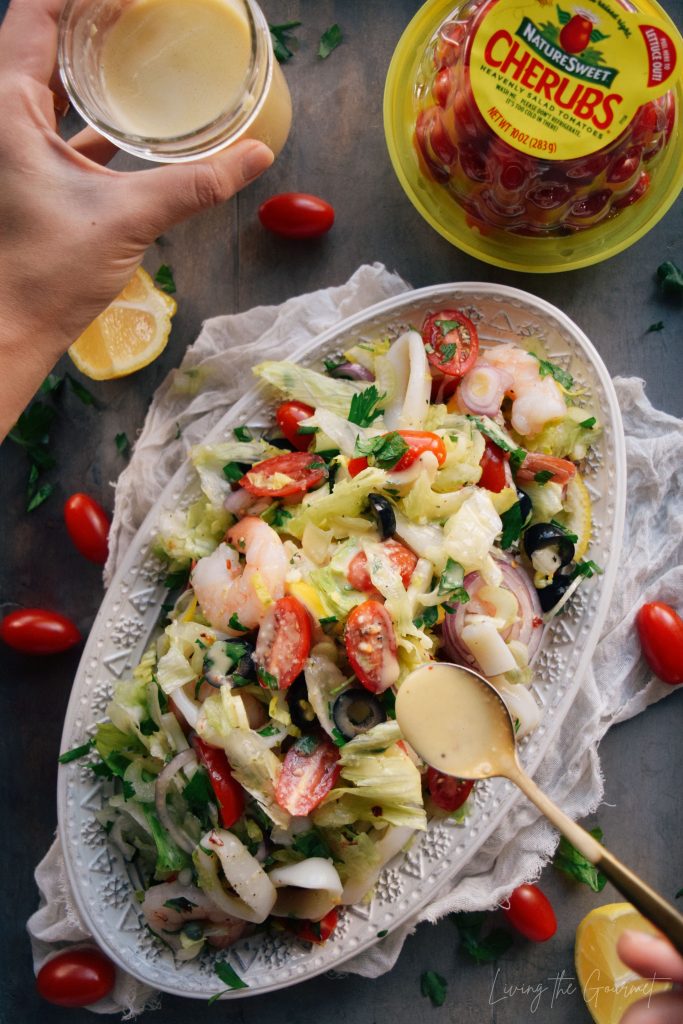 Selecting Quality Shrimp – A Few Tips
1) Fresh or Frozen? The hard truth is that unless you are buying directly – as in directly off the fishing boat or pier – you are buying frozen fish…or at least fish that 'was' frozen before your fishmonger defrosted it for display. This isn't a bad thing, and it's almost entirely unavoidable. According to the National Fisheries Institute, some 85% of all commercially available fish has been frozen at some point on its journey to market. This is a good thing and the quicker the fish was frozen after being caught, and the longer it remained frozen before finding its way to the display case of your local market, the better. The same applies to shrimp.
2) The Right Question to Ask Your Fishmonger is None at All. Asking your fishmonger if the fish on display is 'fresh' is likely pointless. If you have an honest fishmonger, he or she won't be displaying spoiled fish. If you have a dishonest, lazy, or inept fishmonger, they'll likely assure you it's fresh even if it isn't. Instead, find a market that you trust to display good quality fish. If you really must inquire about the quality of the fish, ask for fish that has 'never' been defrosted. Conversely, learn how to tell if the fish is 'good' or 'fresh' or 'not,' which brings us to my next point…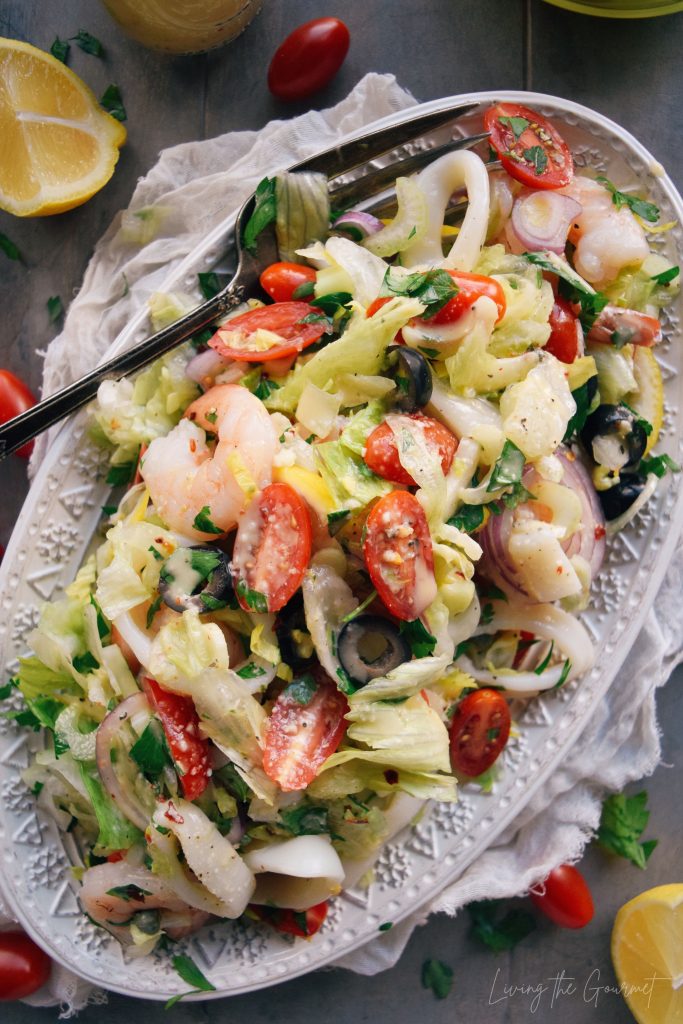 3) Buy Shell-On Shrimp. Freezing or storing shrimp after it has been shelled and deveined results in a loss of flavor, since this causes the shrimp to drain away juices that impart flavor. This is true even when flash freezing the shrimp immediately after shelling and deveining. This doesn't mean that the 'quality' of shelled or deveined shrimp is inferior, merely that you're getting a 'less flavorful' shrimp…which is a quality in and of itself.
4) Inspect the Shell. While this might be hard to do through freezer bags, it's worth mentioning that the shell of the shrimp holds important clues as to the quality of the shrimp itself. Black spots or patches of deep brown indicate that the shrimp are decaying.
NOTE: Some species of shrimp, such as Black Tiger shrimp, or Gulf Pink shrimp, naturally have streaks of black or dark green on their shells.
5) Smell. Shrimp should smell of saltwater or 'brine.' Any other smell is a sure sign that the shrimp have begun to turn.
6) Texture. Once fully thawed, shrimp should be firm to the touch. If they are soft, rubbery, or mushy, do not eat them.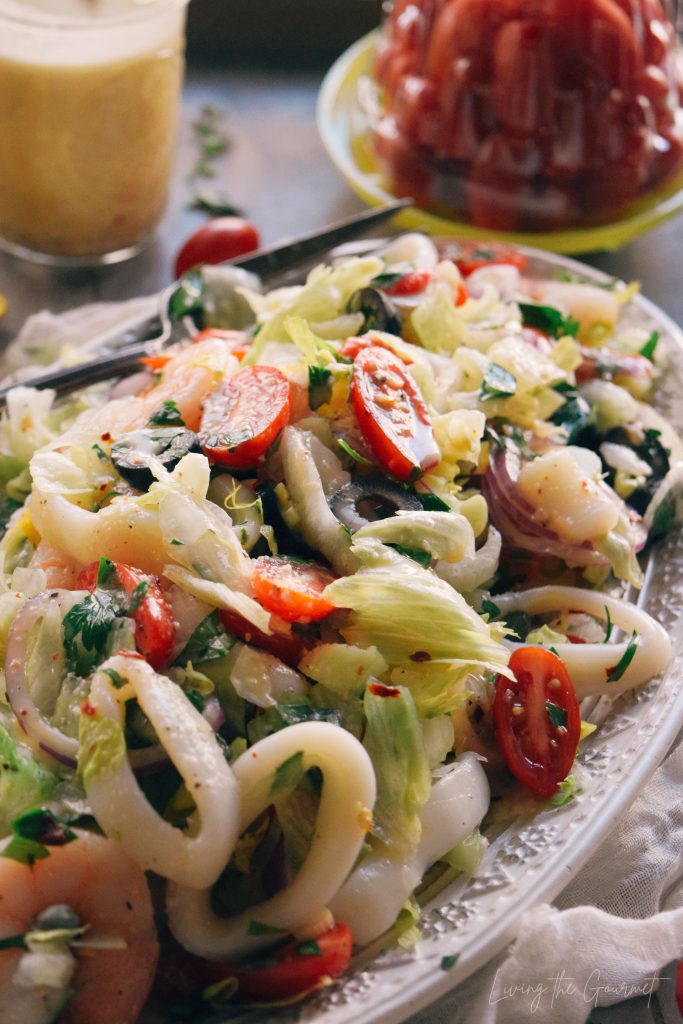 Print
Fresh Tomato & Seafood Salad
Author:
Prep Time:

15 minutes

Cook Time:

5 minutes

Total Time:

20 minutes

Yield:

4

1

x
Category:

Salad

Cuisine:

Mediterranean
For the Salad:
8 oz

. of frozen calamari rings

32 oz

. of cleaned frozen jumbo shrimp

3

tbs. non pareil capers

1

bunch of Italian parsley – stems removed and rough chopped

1

small red onion – sliced into thin rings

4

stalks of celery – sliced thin with leaves

6 oz

. can of black olives – drained and sliced

1

head of lettuce – sliced thin

10 oz

. container of NatureSweet Cherubs- halved

1

lemon sliced thin
For the Garlic and Lemon Dressing:
Juice of

1 1/2

lemons

4

–

5

cloves of garlic

3/4 tsp

. ground sea salt

1 tsp

. fresh ground black pepper

1/2 tsp

. red pepper flakes

1 tsp

. sugar

1/2 cup

of olive oil

3

tbs. water
Instructions
For the Salad:
Cook the shrimp and calamari as directed.

Drain the shrimp and calamari and refrigerate until ready to use.

In a large bowl toss together the lettuce, parsley, celery, olives, capers, onion, NatureSweet Cherubs, lemon slices an

d shrimp and calamari and toss.

Serve with the dressing to taste.
For the Garlic and Lemon Dressing:
Place all of the ingredients for the salad dressing in a blender and blend until smooth.

Taste for seasonings.

Keep refrigerated until ready to use.  Serve over your favorite salad.
Keywords: salad, side salad, calamari, shrimp, healthy
Recipe Card powered by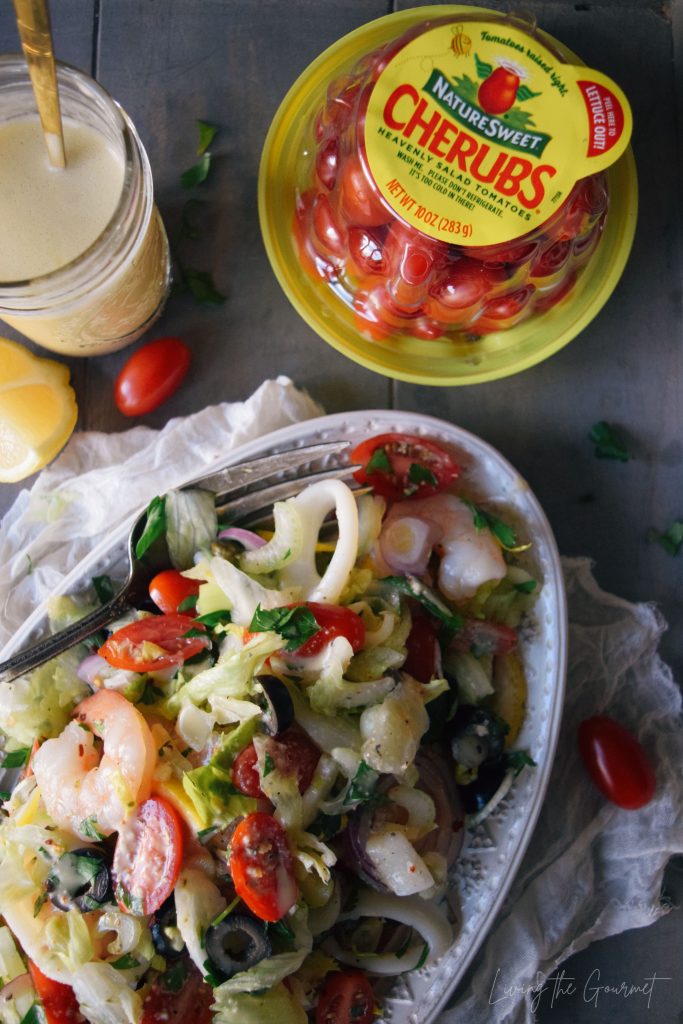 This post has been sponsored by NatureSweet. All opinions expressed are my own.
0