This post has been sponsored by Sertodo Copper. All opinions expressed are my own.
Today's paella features a smoky and spicy mix of jalapenos and saffron coated rice, tossed with pork and chicken marinated in a mix of fresh lemon, olive oil and oregano. I'll be preparing today's paella with some stylish help from new friends over at
Sertodo Copper
, whose copper-craft stretches back over a thousand years with their team of master artisans in their workshop located in Michoacan, Mexico.
Now, without further delay, let's make some paella!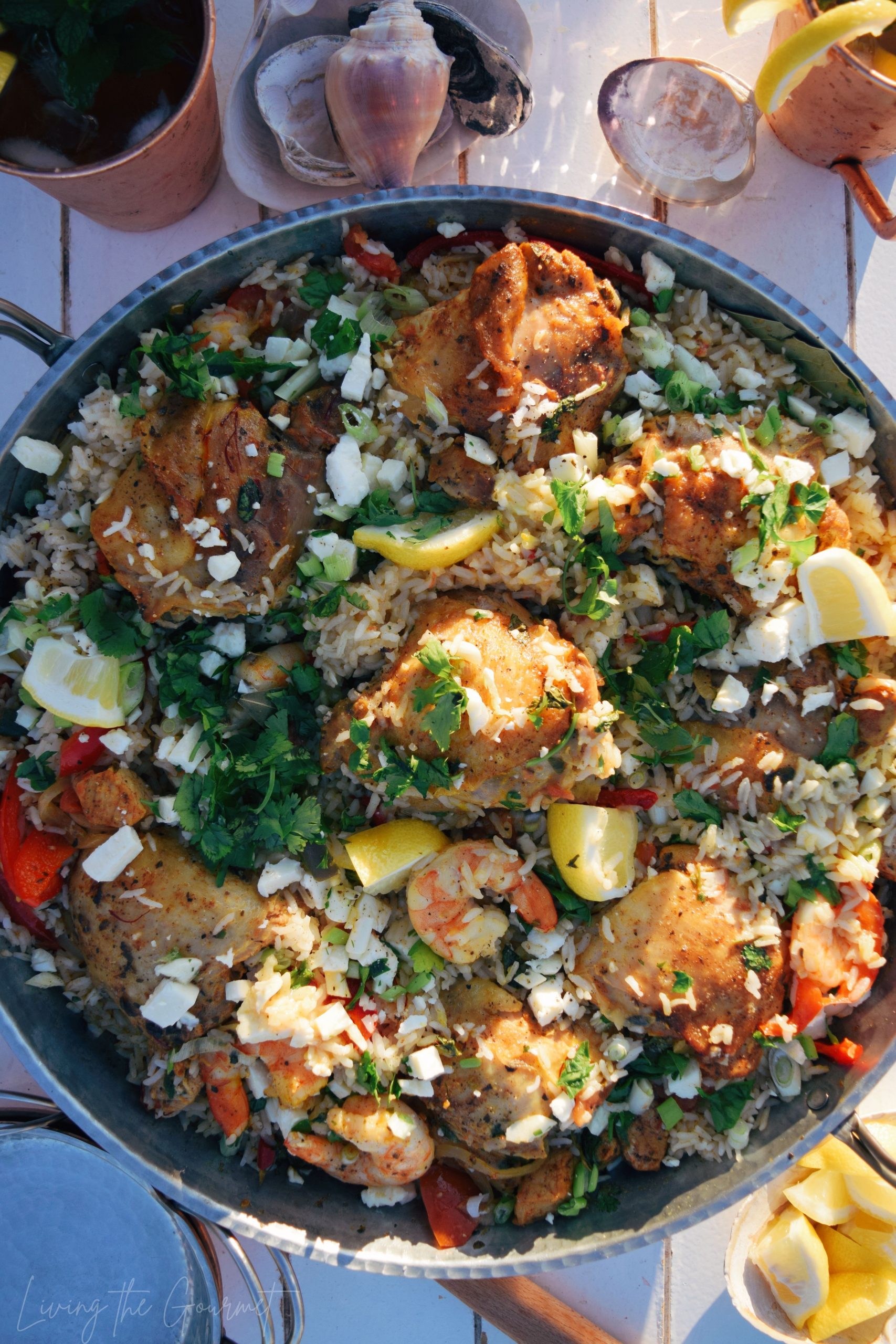 Paella – The Proof is in the Pan
1) Valencian or Spanish? Iberian? Paella is far away the most recognizable 'Spanish' recipe to non-Iberians. However, within Spain, paella is viewed as a Valencian specialty, 'not' a dish that symbolizes the nation or the peninsula. This would be a bit like thinking of Philly Cheesesteaks as the 'national dish' of the USA, rather than something iconic to Philadelphia. That said, paella has become so popular over the last several decades that regional and even 'non-Iberian' manifestations of the dish exist, and many of these variations are now firmly cemented in the culinary world.
2) A Precise Recipe or a Preparation Method? Paella in one form or another has been with us since at least the 10th century, dating back to the rice and meat casseroles of the Moors. 'Modern' paella, however, wouldn't appear until about the mid-19th century in Albufera, Valencia. Today, paella is typically thought of as a mixture of chicken, pork sausage, and shellfish tossed with saffron-yellowed rice. In its traditional Valencian incarnation, paella consisted of a mix of some combination of rabbit, chicken, duck, green beans, and peas tossed with plump rice prepared in olive oil and rosemary, with the rice being yellowed and flavored with saffron – although turmeric is noted as being a common substitute for saffron. A seafood variation of this paella was popular as well, which did away with meat and poultry in favor of seafood, and omitted green vegetables entirely. Notice the distinct lack of sausage, the wholly optional saffron, and the seemingly purposeful separation of seafood, poultry, and meat. As such, one can be forgiven for regarding 'paella' as a preparation method for saffron (or turmeric) yellowed rice tossed with assorted proteins. Granted, such regard may be a 'bit' of an exaggeration, but 'not' a wholly unreasonable one.
3) The Saffron. While traditional Valencian paella often substitutes saffron with turmeric, I can't help but regard the saffron flavor as 'quintessential' to the dish. Honestly, if I'm eating paella that doesn't feature the earthy and pungent notes characteristic to saffron, I can't help but feel like I'm missing out on one of the high points of the experience. As such, while it may be pricy, I say splurge for the saffron.
4) The Distinctive Pan. For me, the presentation of the distinctive 'paella pan' is part of the 'perfect' paella experience, in much the same way that the ornateness of a briki and decorative demitasse cups are part of the 'experience' of Turkish coffee. However, while I love ornate cookware as much as the next gourmet, I also like my cookware to be functional. As such, I regard the combination of form and function as a key trait for pinpointing truly good products – at least in my opinion. This, I believe, is what my friends at Sertodo have really captured; the combination of beauty and utility.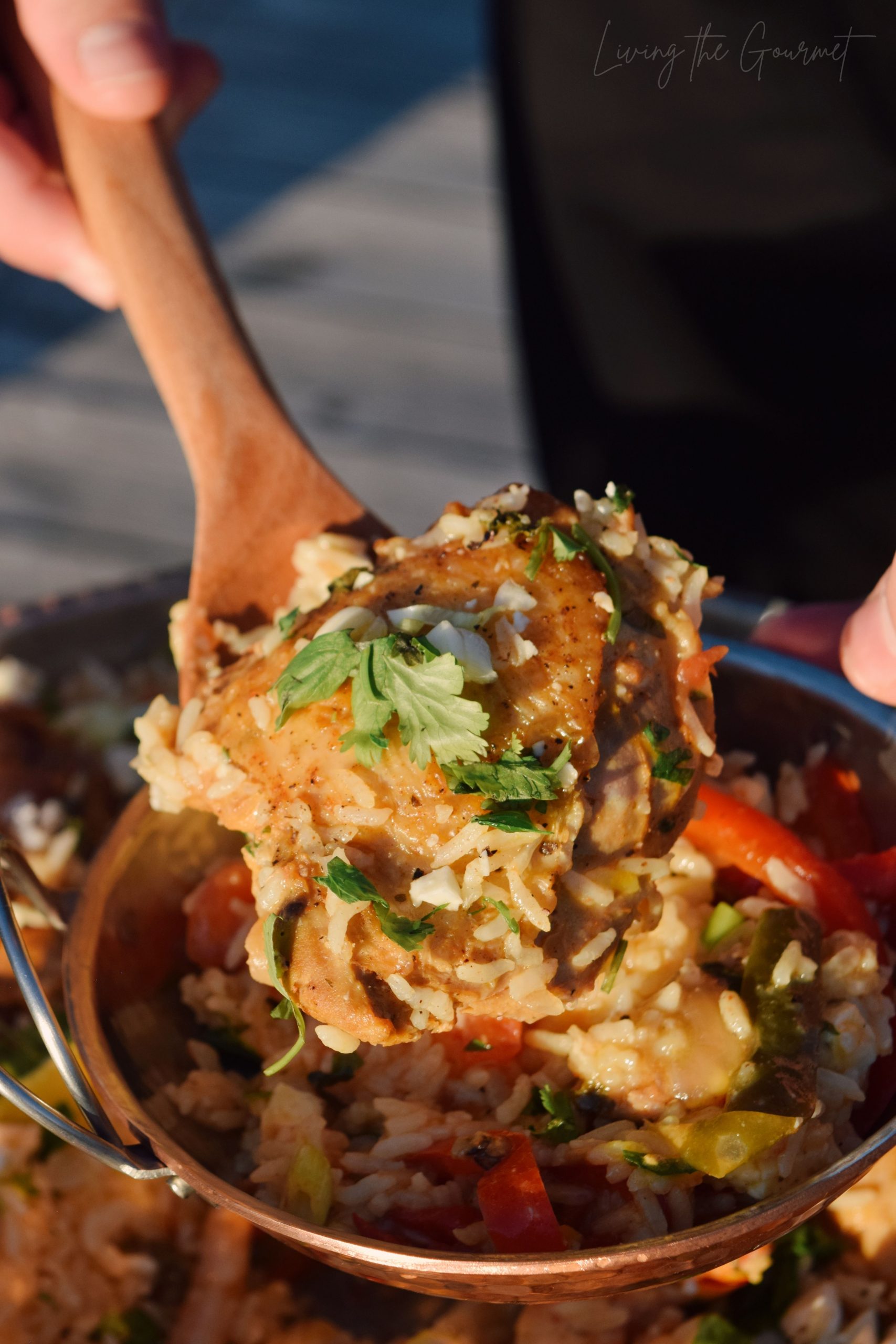 But 'why' use copper cookware? For starters, the right copperware can last generations. However, the big plus to using copperware is the metal's ability to rapidly conduct heat. In fact, copper is the third most heat conductive material available, behind only diamond and silver, and even then, silver only conducts heat some ten percent better than copper.
But what does this ability to conduct heat mean in the kitchen? If you've ever used stainless steel, you're probably way more familiar than you'd like with 'hot spots,' those areas of the pan that are hotter than the rest, and that never seem to go away no matter how long the pan sits on the burner. This simply never happens with copper. Copperware heats up and cools 'very' rapidly, allowing for precise temperature control while ensuring an even spread of heat throughout the surface of the pan. Naturally, this also minimizes time spent waiting for the pan to heat up.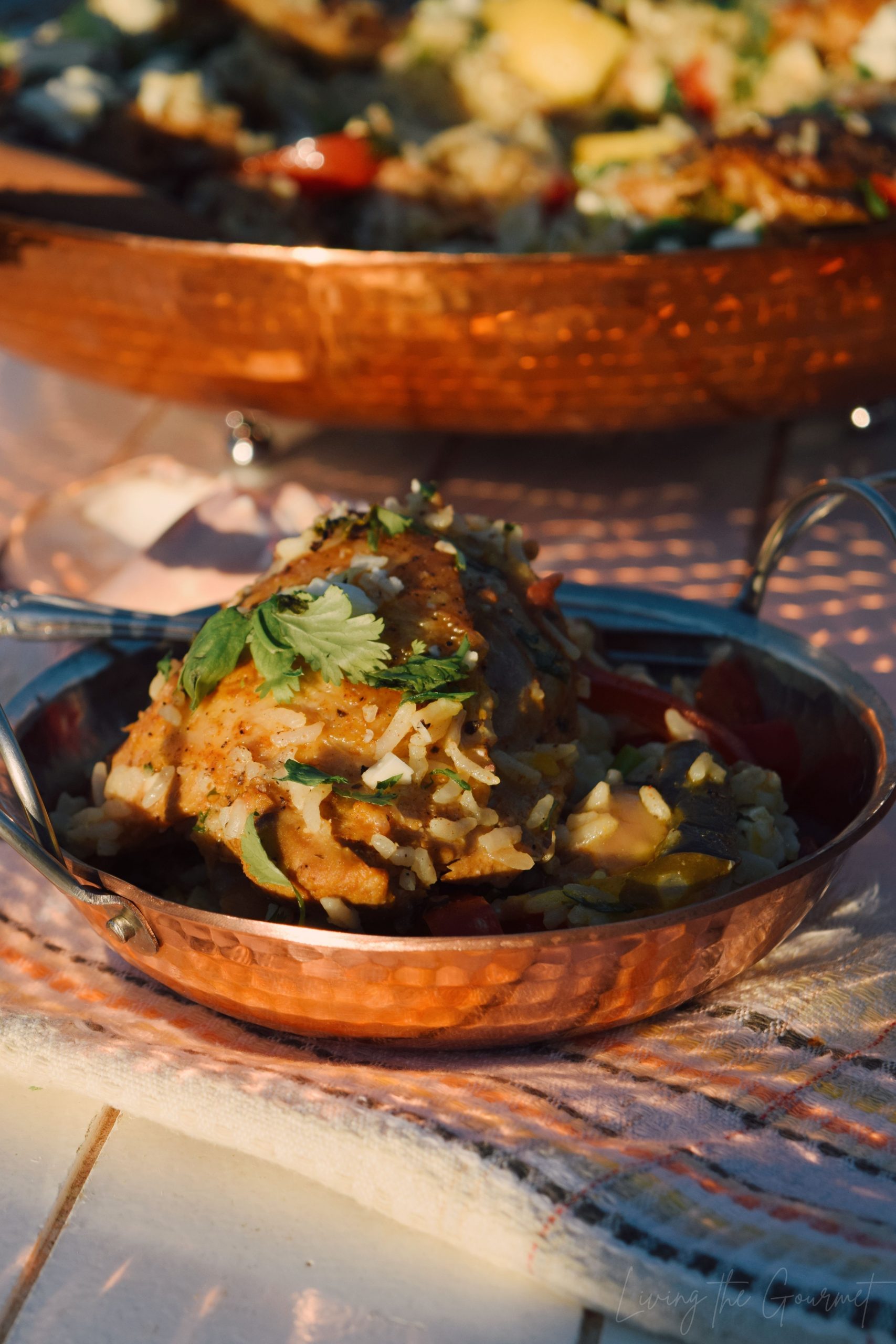 However, if the copper is 'not' evenly and thickly distributed over the entire product, this will diminish these conductive qualities, while also lowering the durability of the pan. Thankfully, today's paella pan features heavy gauge copper that's 2mm thick across the entire product. This copper is also hammered, and hammering doesn't merely make the pan look nice, it also serves to 'harden' the pan, increasing overall durability, and making for a more 'wear friendly' surface. With this amount of care put into their craft, Sertodo's products are designed to be used, they are made to last generations.
Sertodo's cookware comes tin lined using a hot tinning method. This not only ensures a superb looking surface, but also that the cooking surface is food safe and durable. However, be advised that tin is a soft metal, and so I would suggest using only wooden utensils when cooking, as well as non-abrasives when cleaning.
As a nice bonus, all Sertodo products are made only from pure recycled copper. To learn more, or to order some of these gorgeous copper products for yourself, visit the Sertodo website.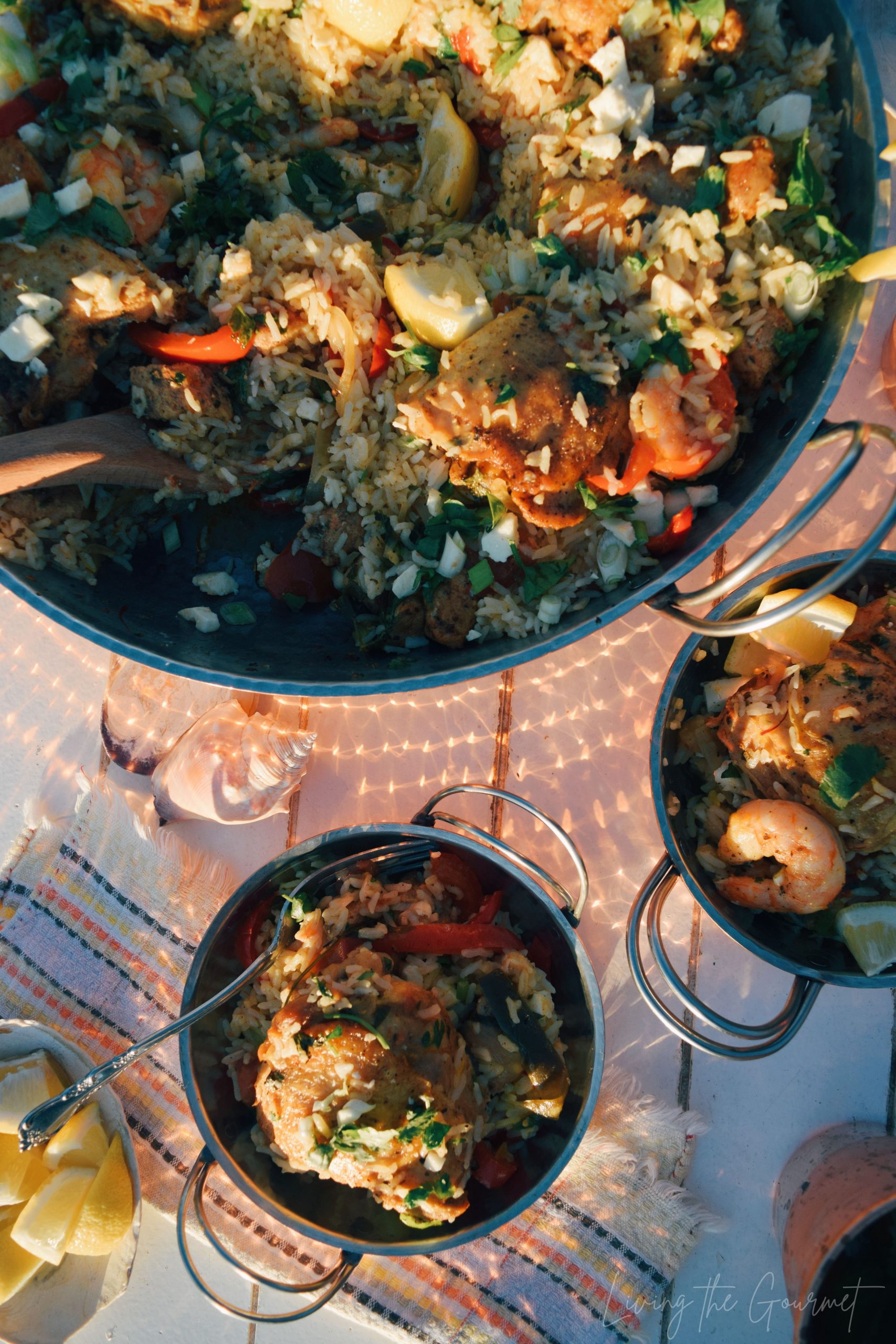 Ingredient Notes, Tips, and Substitutions
1) Saffron – A Defining Ingredient. Across virtually every incarnation of paella (and there are countless varieties out there), paella is defined by the use of saffron to flavor the rice. This is the one item that you can count on seeing in the ingredient list. From its comparatively high price to its rich red color, saffron has clung to an air of mystery that few – if any – herbs have managed to retain into the modern era. That said, the 'color' of saffron is almost as prized in the recipes where it makes an appearance as its flavor – sometimes more so. Saffron risotto, various curries, bouillabaisse, and paella, all utilize saffron as much for the color it imparts as for the flavor it brings. And what is that flavor? Sweet and earthy with a 'pleasantly musky' aroma are all words and phrases that are used to describe saffron – of which there are several broad types. Iranian, Greek, and Spanish. You're likely to hear Greek saffron described as earthier than the others, and perhaps just a touch bitter, while Spanish saffron is generally characterized by being a tad sweeter than its counterparts as well as bit mellower, while Iranian saffron is generally considered to be somewhere in the middle, while dispensing of any bitterness. With all of that said, when cooking with saffron do bear in mind that a little really does go a long way. Rarely does a recipe call for more than one to four 'threads' of the stuff, and this isn't due to its price – it's because saffron, like similarly powerful herbs (mint, fresh oregano, and nutmeg come to mind) will very quickly overpower the dish it's appearing in if used in even 'slight' excess, such that it will be almost all you taste.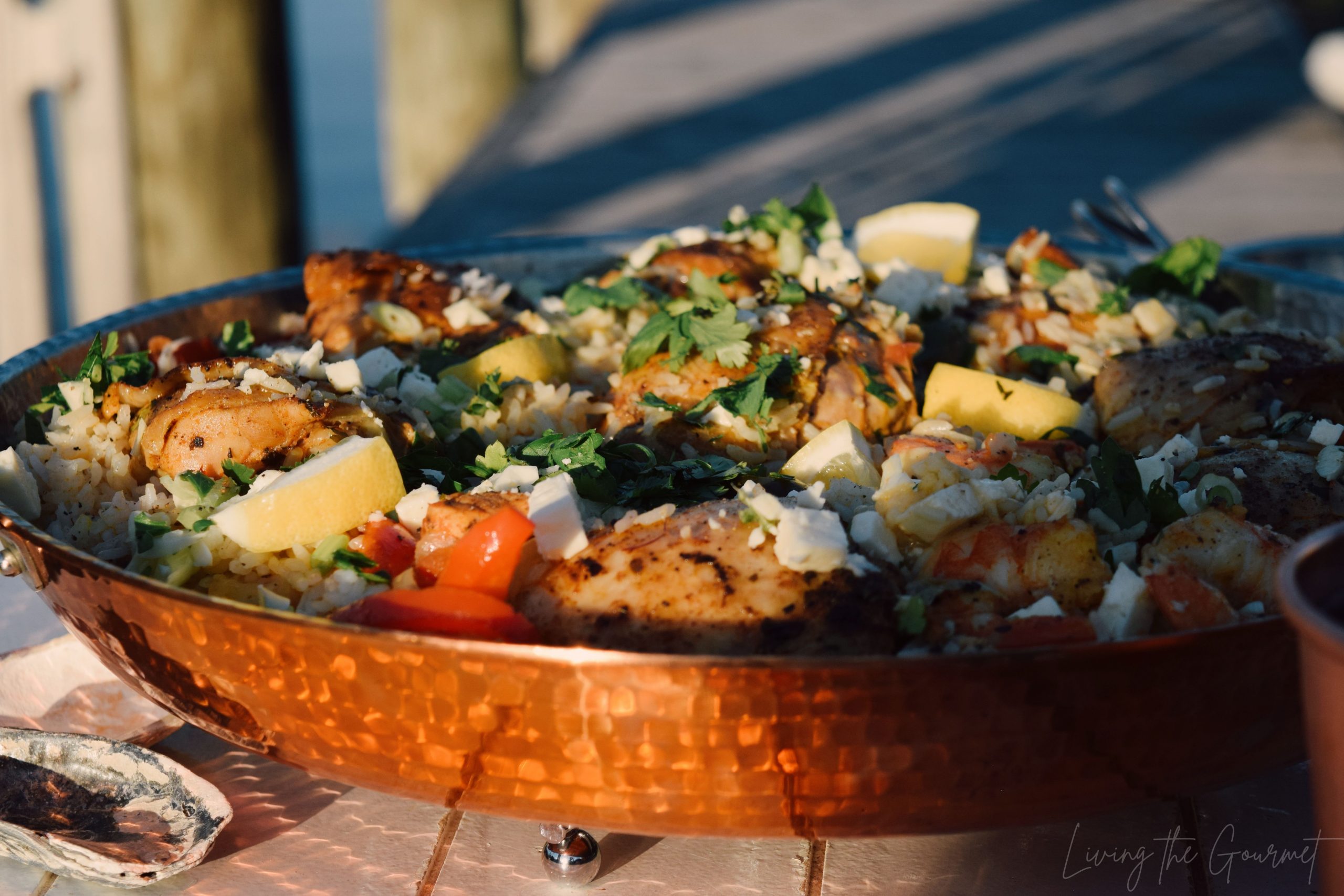 2) Lemon Juice. Fresher is Better. As in virtually all cases, fresher is better. On top of that, slicing a lemon into squeezable halves or wedges is practically as easy as opening a bottle and measuring it out. Furthermore, bottled lemon juice simply isn't as flavorful, lacking the full 'zest' or 'brightness' of fresh lemon juice, since the juice begins breaking down chemically almost as soon as it leaves the lemon. Beyond that, the juice's flavor is often times further diluted with preservatives. As a result, if you want the full flavor and balance intended in today's recipe, use fresh lemon juice.
3) The Chicken Broth…or bouillon? Stock, broth, and bouillon are words that are often used interchangeably, but that were once denoted 'very' different things. Even Bon Appetit itself fell victim to this in their article comparing "Boxed Stock" with a name brand 'bouillon.' https://www.bonappetit.com/story/boxed-stock-or-better-than-bouillon The opening line pines that "In our dream kitchen, we'd have unlimited supplies of homemade chicken stock in our freezers," followed by hundreds of words comparing said 'dreams of infinite stock' to a brand of…bouillon. Oof. That said, I can forgive Bon Apetit for making this mistake as the difference between bouillon, broth, and stock has almost completely disappeared over the last couple of decades – at least on the consumer side. Originally, 'bouillon' was a thin broth made by simmering 'meat.' Stock was notably thicker than bouillon, being made by simmering bones, the cartilage, marrow, and grizzle of which would seep into the simmering liquid, thickening it. Broth, by contrast, differentiated itself by being made from vegetables. Due to recent demands in recent decades for 'vegetarian' versions of people's favorite stock and bouillon…well, that led to companies simply making broth, adding thickening agents, and then labeling said broth as bouillon or stock. So, there you have it. Broth, stock, and bouillon are now entirely interchangeable because of consumer demand for…a labeling change.
Substitutions: Vegetable stock will work just fine in today's recipe if you don't have chicken broth. However, I would steer clear of bone broth or beef bouillon, since bone broth is 'very' slim on flavor (by design), while beef bouillon would change the flavor profile of today's paella drastically.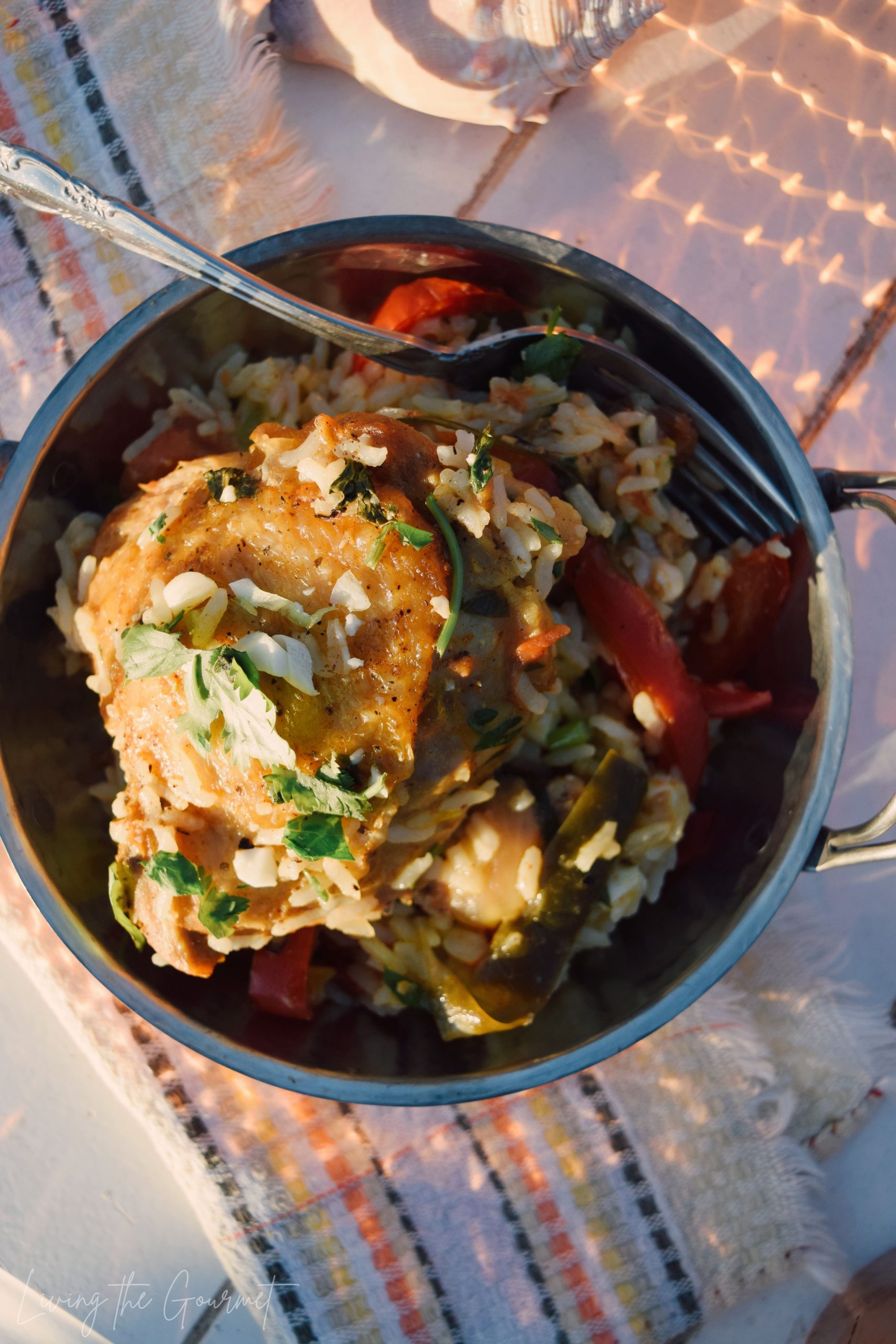 4) Paprika – A Primer and Possible Substitutes. To start, paprika comes in a number of varieties, but not everyone actually agrees on what those varieties are. The most common way to divide Paprika boils down to "Sweet," "Hot" and "Smoked," and those labels are perfectly self-explanatory. However, others differentiate Paprika into "Basic," "Hungarian," and "Spanish." Hungarian paprika is typically divided into eight different categories according to both flavor and color, ranging from mild and bright red to spicy, pungent, and pale orange. A bright red variety called édesnemes is the most common Hungarian paprika, and has a pungent peppery flavor with noticeable sweetness. By contrast, Spanish paprika – often labeled as 'pimentón' – is typically made from smoked peppers, which gives the paprika a deeper, smokier, more 'peppery' flavor, although this can vary somewhat by region. Like its Hungarian counterpart, Spanish paprika is also subdivided into categories, these being 'dulce' or sweet, 'agrodulce' (bittersweet), and finally 'picante' or hot. "Basic" paprika is what you'll find in most supermarkets, and tends to be quite mild and varies dramatically in terms of flavor and quality.
Substitutes: If you going for the 'smoky' qualities of paprika, Chili Powder has got you covered. Use the same amount of chili powder as you would paprika. However, if you prefer 'hotter' paprika, Cayenne Pepper can fill the bill quite nicely. Using about three-quarters of the amount of cayenne as you would paprika should be sufficient, but this will vary by palate.
Print
Chicken & Shrimp Paella
---
Author:

Total Time:

1 hour 15 minutes

Yield:

4

-6

1

x
Meat & Seafood Base:
2

lbs. boneless pork end - cubed

5

-

6

bone-in with skin chicken thighs

10

-

12

extra large raw cleaned shrimp

2

cups

white rice - cooked as directed
Marinade for the Pork and Chicken Thighs:
1 tsp

. salt

2

tsps. dried oregano

1 tsp

. paprika

1 tsp

. black pepper

2

tbs. olive oil

2

tbs. fresh lemon juice
Vegetables & Seasonings:
2

bell peppers - sliced

1

large Vidalia onion - sliced

1

head garlic - left whole

2

vine ripe tomatoes - diced

2

large jalapeno's - with or without seeds - sliced

1/4

cup

of fresh Italian parsley - stems removed

1/4

cup

of fresh cilantro - stems removed

1 1/2

cups

chicken broth

1

cup

white wine

2

tbs. fresh lemon juice

2

bay leaves

1 tsp

. saffron
Garnish:
1

bunch of scallions - chopped

1/4

cup

of fresh cilantro - stems removed

1/4

cup

of fresh Italian parsley - stems removed

8

oz

. feta cheese - crumbled

1

lemon - cut into wedges
---
Instructions
In a small bowl combine all of the ingredients for the marinade and rub the chicken thighs with the marinade; cover and refrigerate for at least one hour.
Combine the ingredients for the marinade again and rub it on the cubed pork and refrigerate for at least one hour.
Heat the pallela pan with 2 tbs. of olive oil.
Add the chicken thighs and allow the thighs to get a nice golden color on each side.
Add the onion and garlic and allow the onion to cook down.
Add the pork and allow the pork to get a nice golden color.
Add the diced tomatoes and allow them to cook down.
Add the peppers and again allow the peppers to soften on a low, gentle heat.
Add the chicken broth and the bay leaves continue to simmer on low, gentle heat for 25 - 30 minutes or so.
Add a mixture of fresh cilantro and fresh Italian parsley.
Add the wine and continue to cook on a low, gentle heat.
Add the shrimp and cook on a low, gentle heat until the shrimp are a nice opaque color.
Add the saffron.
Continue to cook down over a low heat, gentle heat for 25 - 30 minutes.
Taste for seasoning. You may mix together the seasoning for the marinade and add this to the pallela for an extra burst of flavor, cut the salt in half, if you do.
Prepare the rice as directed. You may either add the saffron or turmeric to the rice water while the rice cooks to give it a golden color.
When the rice is finished cooking add it to the Pallela.
Prepare the garnish and dress the top of the Pallela with the garnish before serving.
Finish with a squeeze of fresh lemon juice.
Notes
Note to cook:  Please have patience cooking this recipe.  The cook time depends on the size of both the chicken thighs and the pork.  Everything should cook gently and slow so that the meat does not toughen.  The shrimp should go in at the very end and should turn opaque when done.  You do not want to overcook shrimp since they will toughen also.   It is a recipe that requires patience.
Prep Time:

15 minutes

Cook Time:

1 hour
Keywords: paella, meat, poultry, seafood
Recipe Card powered by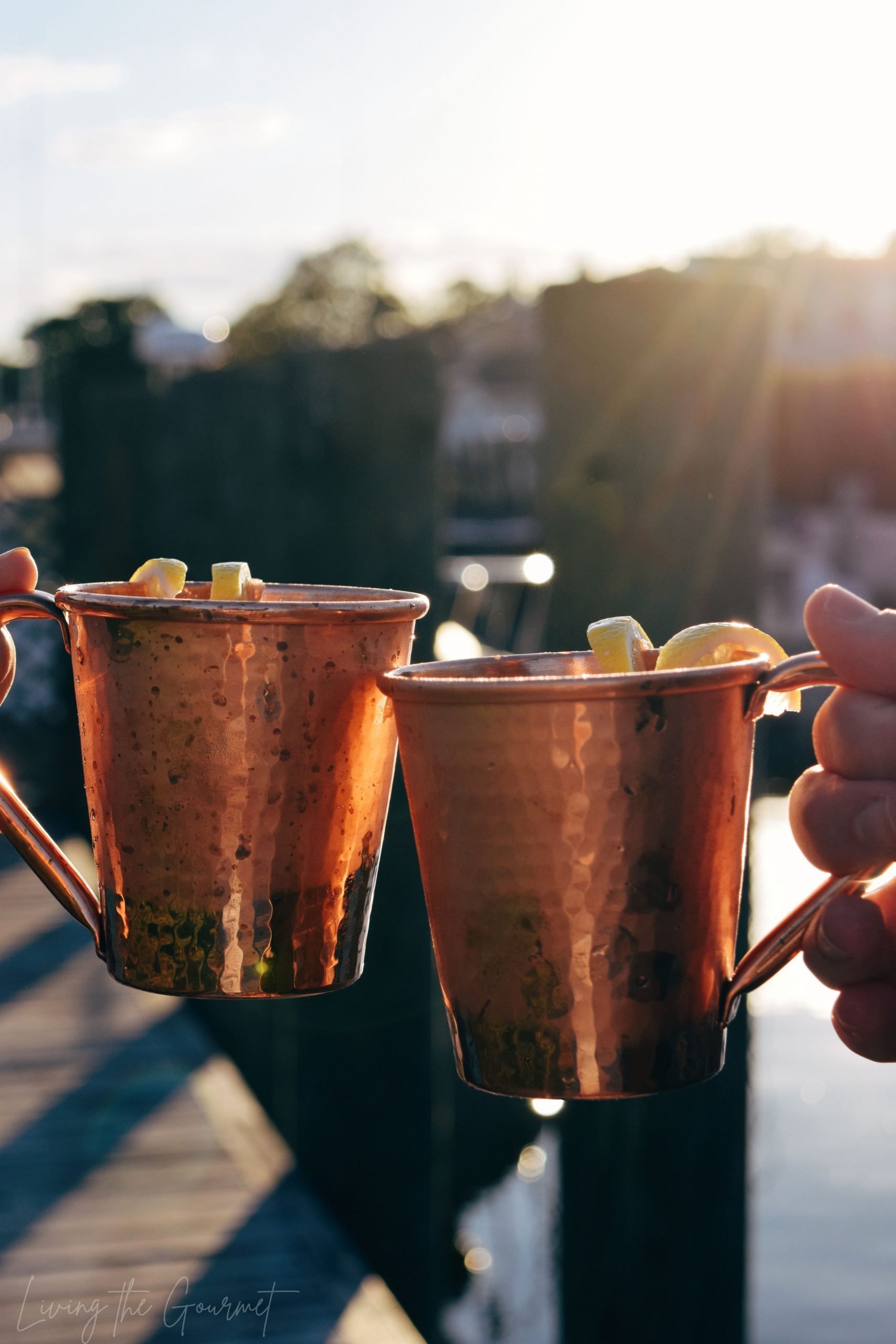 2