Earthy yet crisp and bright, this cilantro and basil chimichurri pairs deliciously with steaks, grilled or fried chicken, and flatbreads, as well as making a great dressing for hardy salads.
A few weeks back, I prepared a steak platter with Argentine beef, homemade fries and wheat tortillas, and I enjoyed the gremolata that I paired with the meat so much that I decided to devote an entire post to the stuff – but with a few key changes.
The relish I prepared for the platter was somewhat 'in between' a gremolata and a chimichurri, since it was much too complex to be a 'real' gremolata, but still 'assuredly not' a chimichurri. So, I decided to pear down the recipe a good bit, and replace the parsley with a mix of cilantro and basil, up the spiciness a good bit and throw in a dash of red wine vinegar, and the end result was today's chimichurri.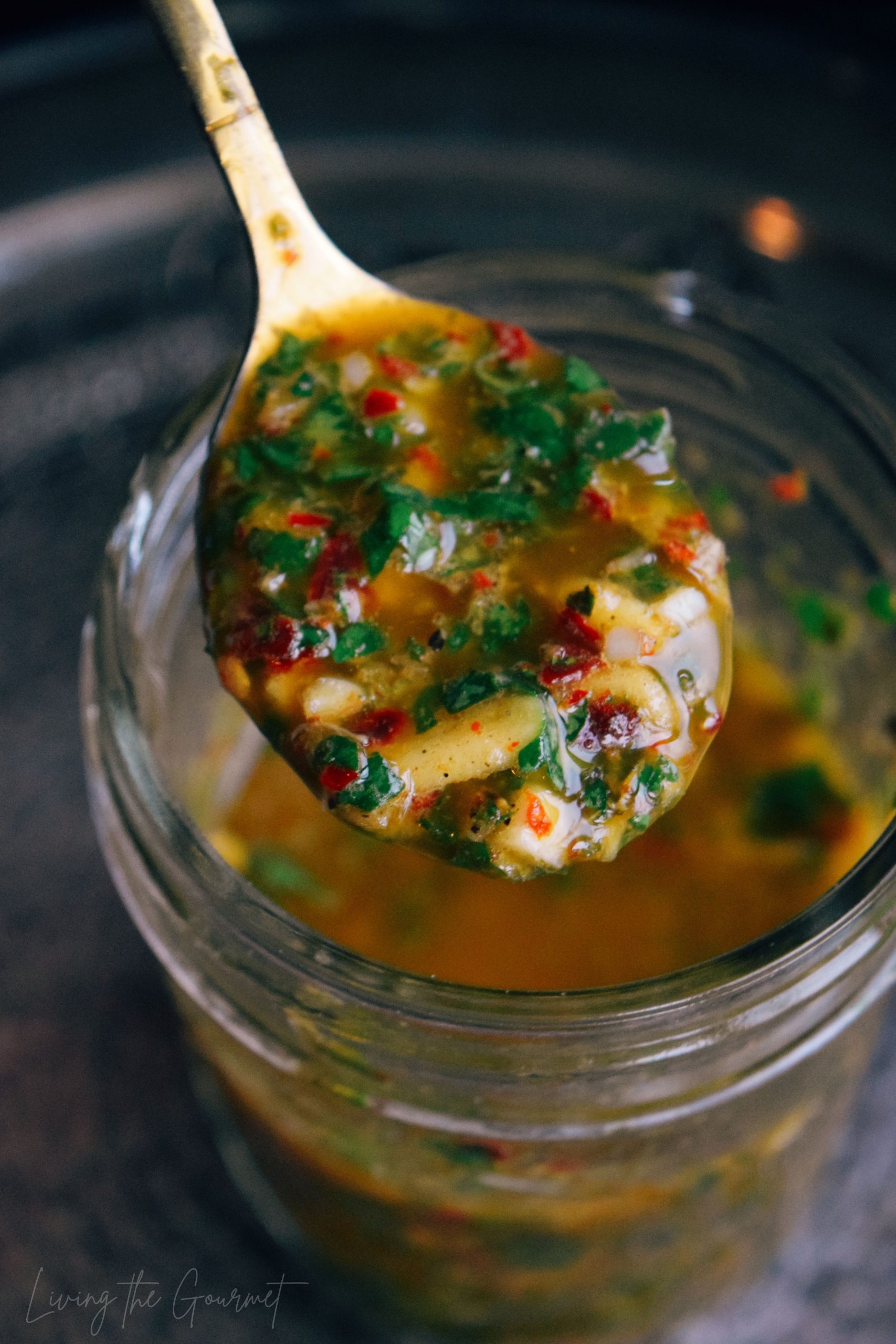 Why to try today's chimichurri
1) Super simple. If you can chop up some cilantro and a few basil leaves and turn on your food processor, you can make today's recipe. Seriously, this couldn't be simpler.
2) It keeps. I've kept this in the fridge for about a week, and it keeps just fine.
3) Versatile. Eggs, homemade pizza, veggies, on crusty Italian bread, on steaks, lamb, or pork chops, or even as a salad dressing, gremolata pairs with pretty much anything savory. One reason I love this recipe so much is because of how versatile this simple little dip is.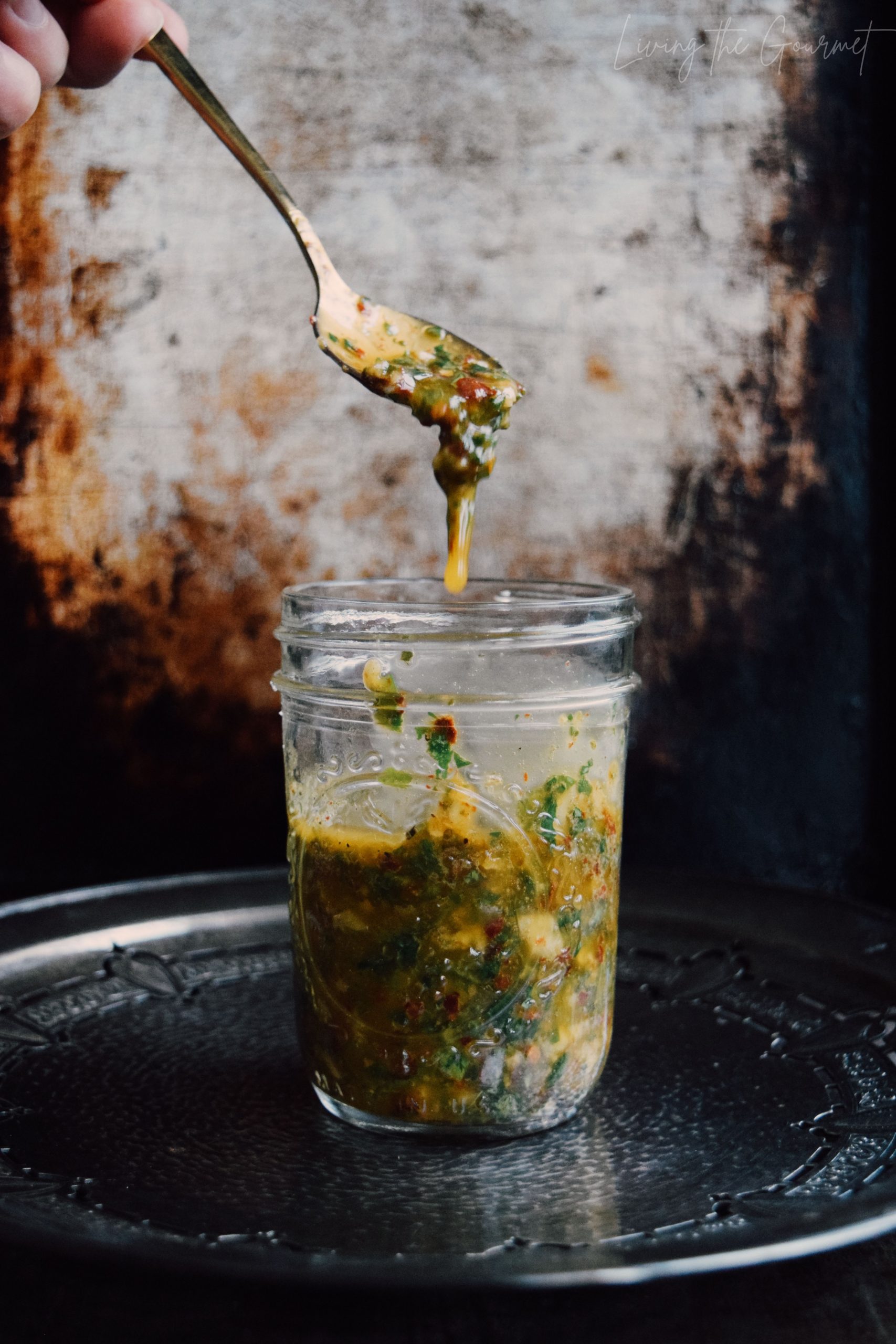 Ingredient Notes and Tips
1) Why cilantro rather than parsley? Honestly, I wasn't sure how replacing all of my gremolata's parsley with cilantro would turn out – since cilantro features a much 'darker' and more 'herbal' flavor profile than parsley, whereas parsley is 'bright' and 'crisp' and 'fresh' by comparison. This is why cilantro typically features in heavier and more complex recipes, where the herb simply stands up better than parsley would. Parsley tends to get drowned out and overwhelmed by fatty or overly acidic ingredients, or lost in overly complex flavor profiles – whereas cilantro tends to complement such ingredients. For today's chimichurri, the fat from the oil, and the clashing mix of spicy red pepper, chili oil, and basil will really make the qualities of the cilantro shine, whereas parsley would risk being overpowered. That said, I loved how the swap turned out.
2) Fresh Basil vs Dried – Fresh is a 'Must.' As with most herbs, fresh basil and its dried counterpart are 'usually' but not always safe substitutions for one another. I'm using fresh basil today in order to achieve a 'bright licorice' or 'anise-like' flavor – but both of these flavors are entirely absent in dried basil, where a slightly 'mintier' flavor dominates. Furthermore, fresh basil has powerful aromatics that are reminiscent of a bright summer garden in full bloom, whereas dried basil boasts an earthier, vaguely 'darker' herbal aromatic profile. Also, the fresh basil is providing part of the 'body' for today's chimichurri, thus fresh basil is a must on all accounts.
Substitutions: Conversely, if you either do not or cannot use fresh basil, replace the basil with an equal amount of additional cilantro, while also adding in a quarter teaspoon of dry basil. This is far from a perfect substitution, but it's the way to go in the absence of fresh basil.
3) Chili Oil. I prefer a spicy chili oil. The one I use is a sriracha oil, which is a simple mix of canola oil, garlic, crushed red pepper, and sundried tomatoes, along with various spices. However, your preferred chili oil will work just fine.
Substitution: If you don't have chili oil on hand, simply take a few tablespoons of olive oil, and mix that with about a teaspoon of red pepper flakes, half a teaspoon of chili powder, about an eighth of a teaspoon of cayenne, and a clove of crushed minced garlic, and use that in place of the chili oil at a one-to-one ratio. Not a perfect substitution, but it will work.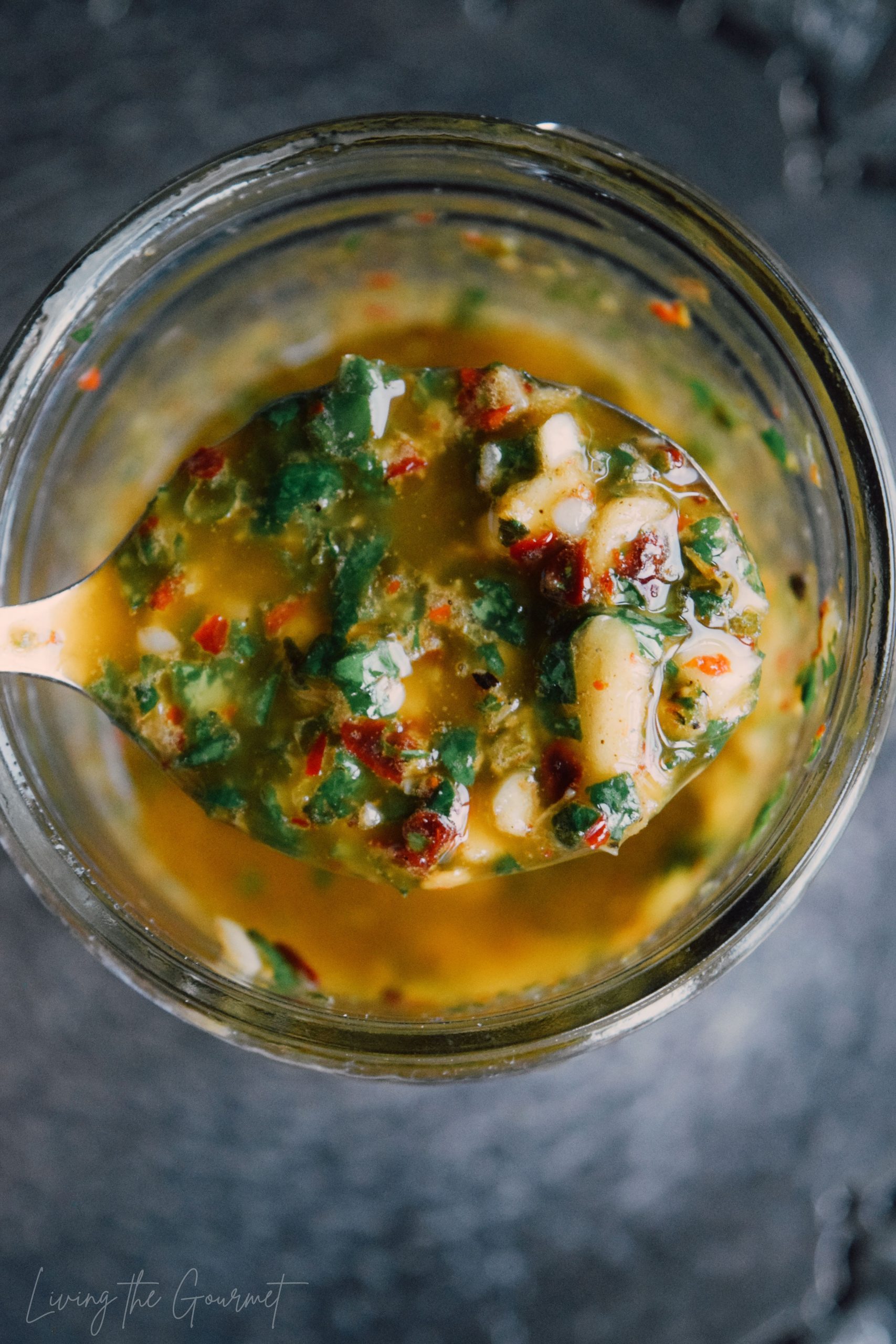 What to do with Today's Chimichurri
1) Flatbread Creations. Whether your melting Oaxaca cheese onto a homemade wheat tortilla, and then topping that with avocado slices and steak strips, or simply spreading hummus over a flatbread, today's cilantro chimichurri is a delicious finishing sauce.
2) Steak. Grilled steak is probably the ideal pairing for today's chimichurri. Argentine cowherds (gauchos) are credited with popularizing (or even inventing) chimichurri, which they would use to season the beef that formed the staple of their diets. Today's chimichurri is 'almost' identical to more traditional chimichurri, which is typically – but not always – made with parsley rather than cilantro. See my steak platter for a lengthier explanation.
3) Pizza. I'm talking mostly about homemade pizza, such as my Spicy Artichoke Pizza, or even a homemade NY Style Pizza. A Cuban-style pizza would also likely pair deliciously with this. Regardless, drizzle a bit of this over a homemade pizza, and again I really don't think you'll be disappointed.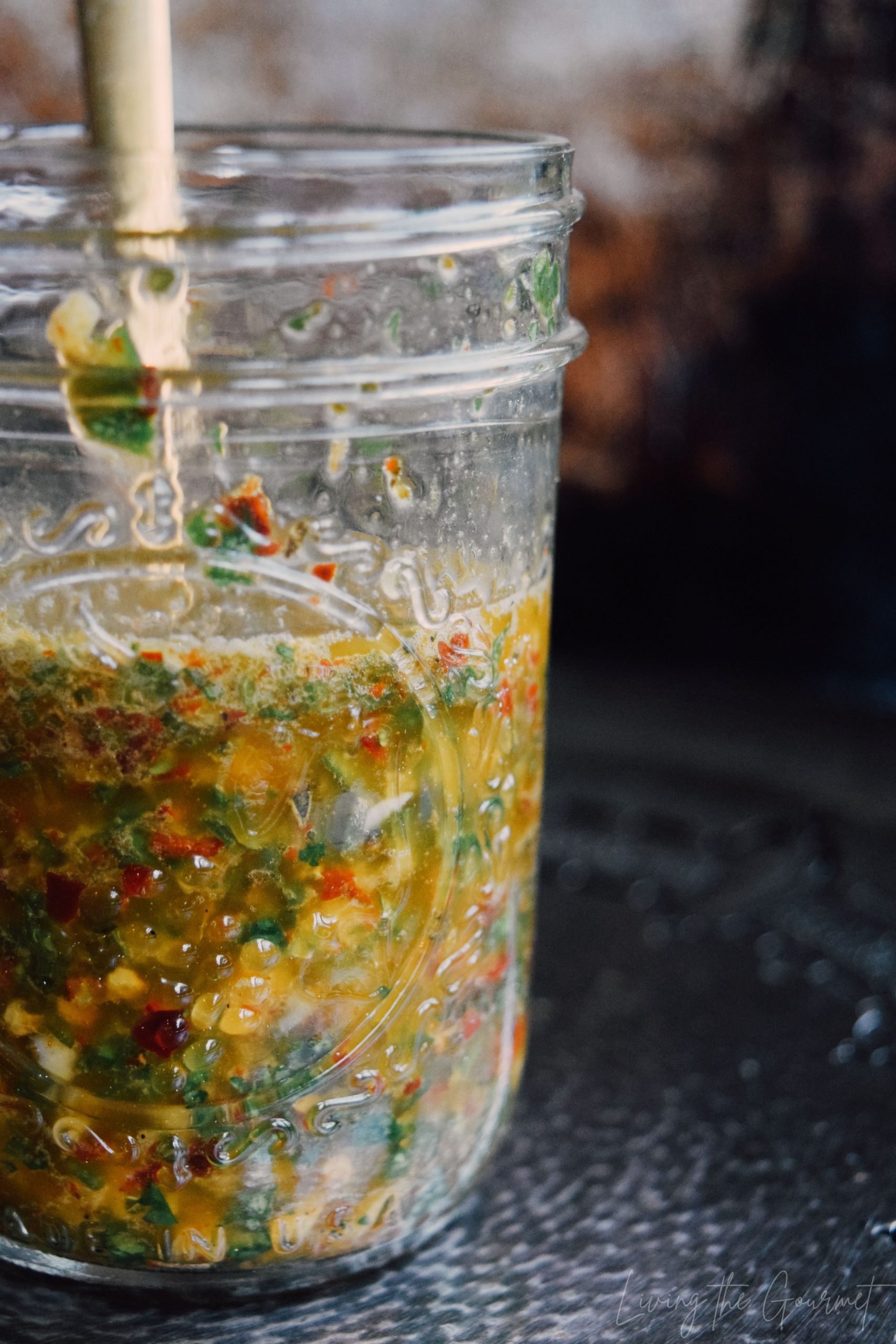 Print
Cilantro Chimichurri
Author:
Prep Time:

10 minutes

Total Time:

10 minutes
1/2 cup good quality olive oil
1/4 cup de
–
stemmed
and chopped
cilantro
3-4
b
asil
l
eaves
, chopped

5-6 garlic cloves, crushed and then finely chopped
2 teaspoons dried oregano
3 tablespoons red wine vinegar
2 teaspoons red pepper flakes (more or less to taste)

1/4 teaspoon salt (more or less to taste)
1/2 teaspoon black pepper (more or less to taste)
Instructions
Combine all of the above ingredients in a food process, and blend until well combined.
Recipe Card powered by
1