Today we're preparing a homemade pizza, topped with a sweet onion and red pepper sauce, marinated artichoke hearts, and capers. We'll be preparing this pizza with my recipe for a super simple homemade dough.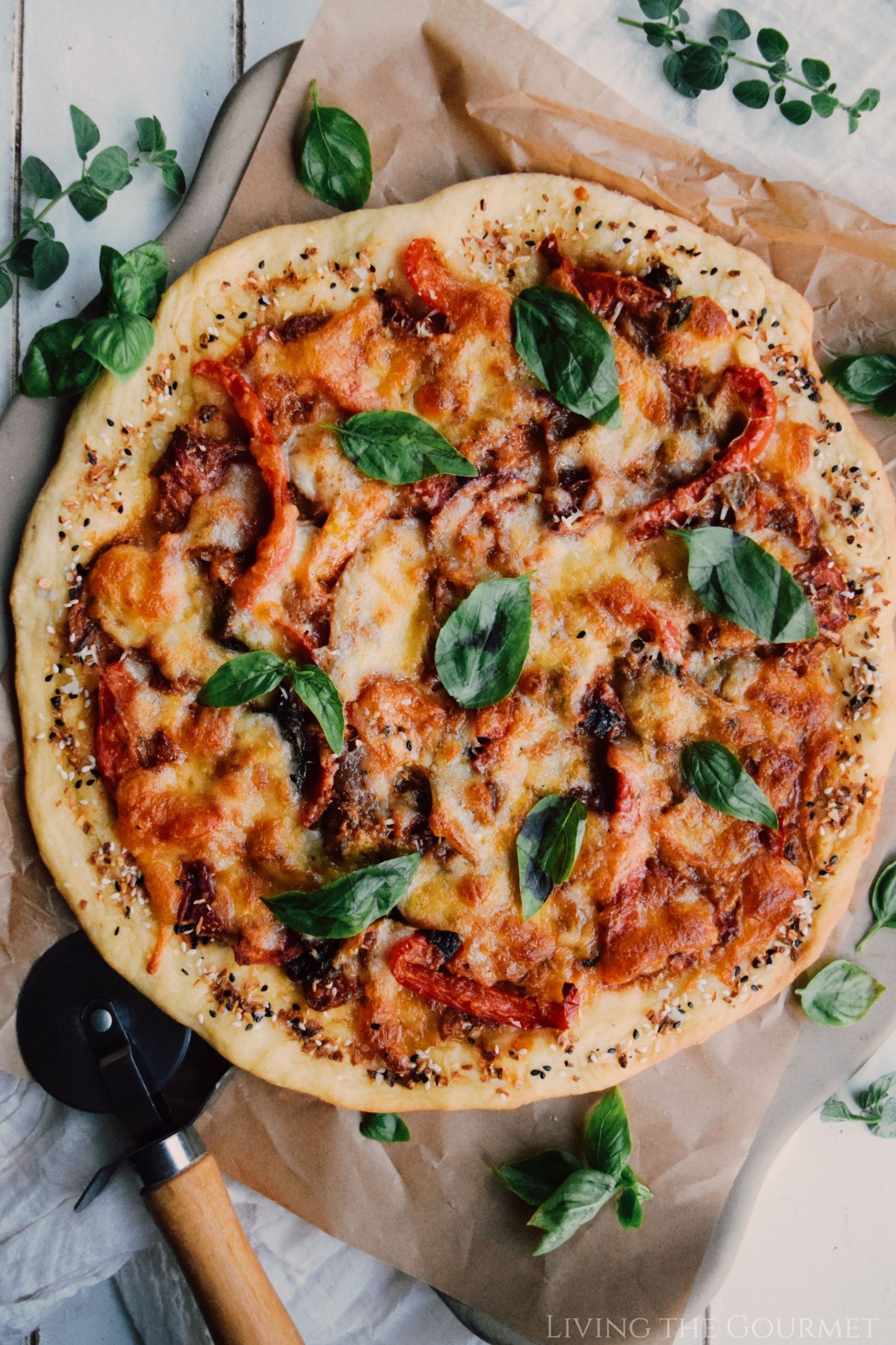 Ingredient Notes and Tips
1) The Onion – Bring the Sweet. For today's pizza, sweet onions are a must, since they meld so beautifully with the rest of the ingredients – especially the basil and red peppers. How sweet are sweet onions? Seriously, I've bitten into these things like an apple. Since these onions are so delicious raw, they feature prominently in things like garden salads, sandwiches, raw salsas, uncooked relishes, and the like. However, this sweetness comes at the price of perishability, meaning Sweet Onions tend to sour a bit more rapidly than their non-sweet counterparts. By contrast, yellow onions are basically the 'workhorse' of the 'onion family.' Featuring a balanced astringency, this makes them ideal for almost any cooked recipe that calls for onions, especially sauces and soups, since they become sweeter the longer they cook. Spanish Onions are a type of yellow onion, but are somewhat sweeter, and pack less of a 'bite.' By contrast, Red Onions are the go-to onion for 'uncooked' recipes, being sweet, crisp, just a touch pungent, and a beautiful shade of 'vegetable red.' This is why they often feature prominently in things like Greek and Sicilian salads, fresh salsas, and the like. Also, if we're being honest, they really do 'not' cook well, since their beautiful red color simply washes out under heat, while their taste becomes almost identical to that of yellow onions, taking on something of a 'muted' sweetness.
2) Marinated Artichoke Hearts. These are one of my favorite things in the world. They can add a touch of 'flare' and 'Old World Class' to pretty much anything. These make an appearance in pretty much every Mediterranean cuisine, from Morrocco to Sicily to Greece, Turkey, and Spain. And for good reason – there is pretty much nothing you 'cannot' do with them. Toppings for flatbreads, homemade pizza, eggs, antipasto, various pasta dishes, seriously these are beyond versatile, and learning how and where to use them will seriously kick up your kitchen game a few notches.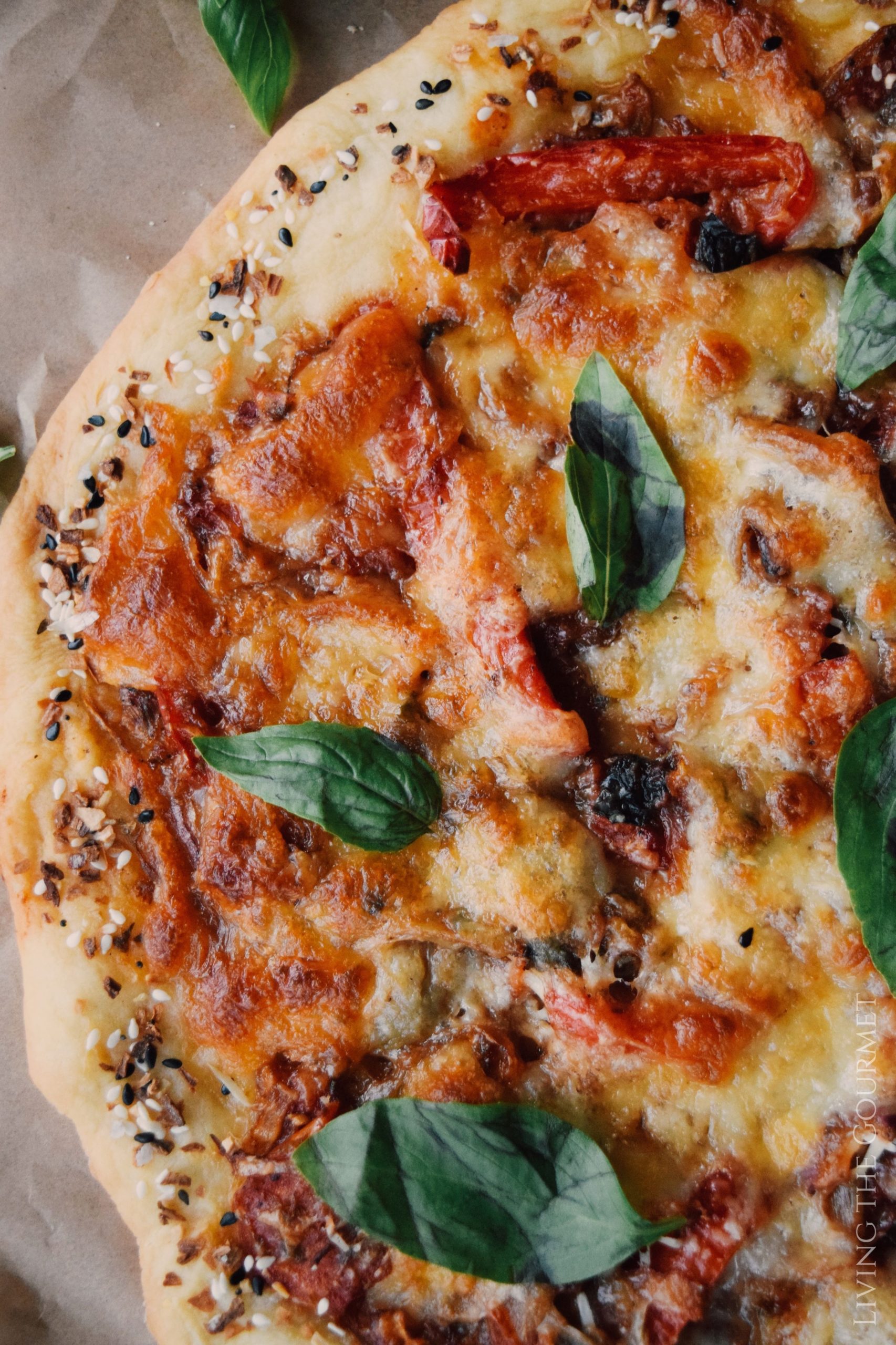 3) The Mozzarella – Fresh or Packaged? I could be a 'food snob' here and decry the 'vices' of packaged, non-fresh mozzarella, but the difference is a bit more nuanced. To start, yes, fresher is always better – and mozzarella is no different. Fresh mozzarella is undeniably moister, with a fluffy or even silky texture, with something of a milky quality to it, and above all it simply tastes 'fresher' – imagine that. Thus, opt for fresh whenever you can. So, if you aren't afraid of spending a few extra dollars, today's pizza would benefit immensely from a topping of fresh mozzarella, since it will play beautifully with the fresh basil. However – and this is a big 'however' – fresh mozzarella is far from always being a 'must,' and it is certainly 'not' a must on today's pizza. Recipes that call for fresh mozzarella involve those where the 'milky' taste and 'fluffy' texture won't either be overpowered by the other ingredients, or destroyed by a harsh cooking process. That said, if the mozzarella is going to be drowned out by a medley of powerful ingredients, or baked down, then you can save yourself a few dollars and buy packaged. After all, there's really no point in paying for fresh mozzarella when all of the qualities that make 'fresh' desirable are being lost.
4) Sugar in Sauce – The 'Why' Behind the 'Sweet.' Like salt, sugar is a 'blurring' or 'melding' agent. That simply means that sugar helps to 'bind' flavors together. In recipes like red sauces, chilis, or stews, where you have a medley of different flavors coming together, some of which actually contrast quite sharply, you need 'something' to help 'blur' or 'meld' those ingredients together. The primary item for doing this is salt, but sugar also has a very similar effect. However, unlike salt, sugar also 'mutes' or 'blunts' acidity – despite being somewhat acidic itself (chemically speaking). That said, unlike the 'saltiness' of salt, which can come through quite powerfully, the 'sweetness' added by sugar is much milder and harder to detect, especially when used in very small quantities. Thus, sugar serves two purposes inside of today's recipe, melding together flavors and blunting acidity, while itself being a nearly 'invisible' ingredient.
5) Cornmeal For Sprinkling? Cornmeal keeps the pizza dough from sticking to the pan during cooking. Simple.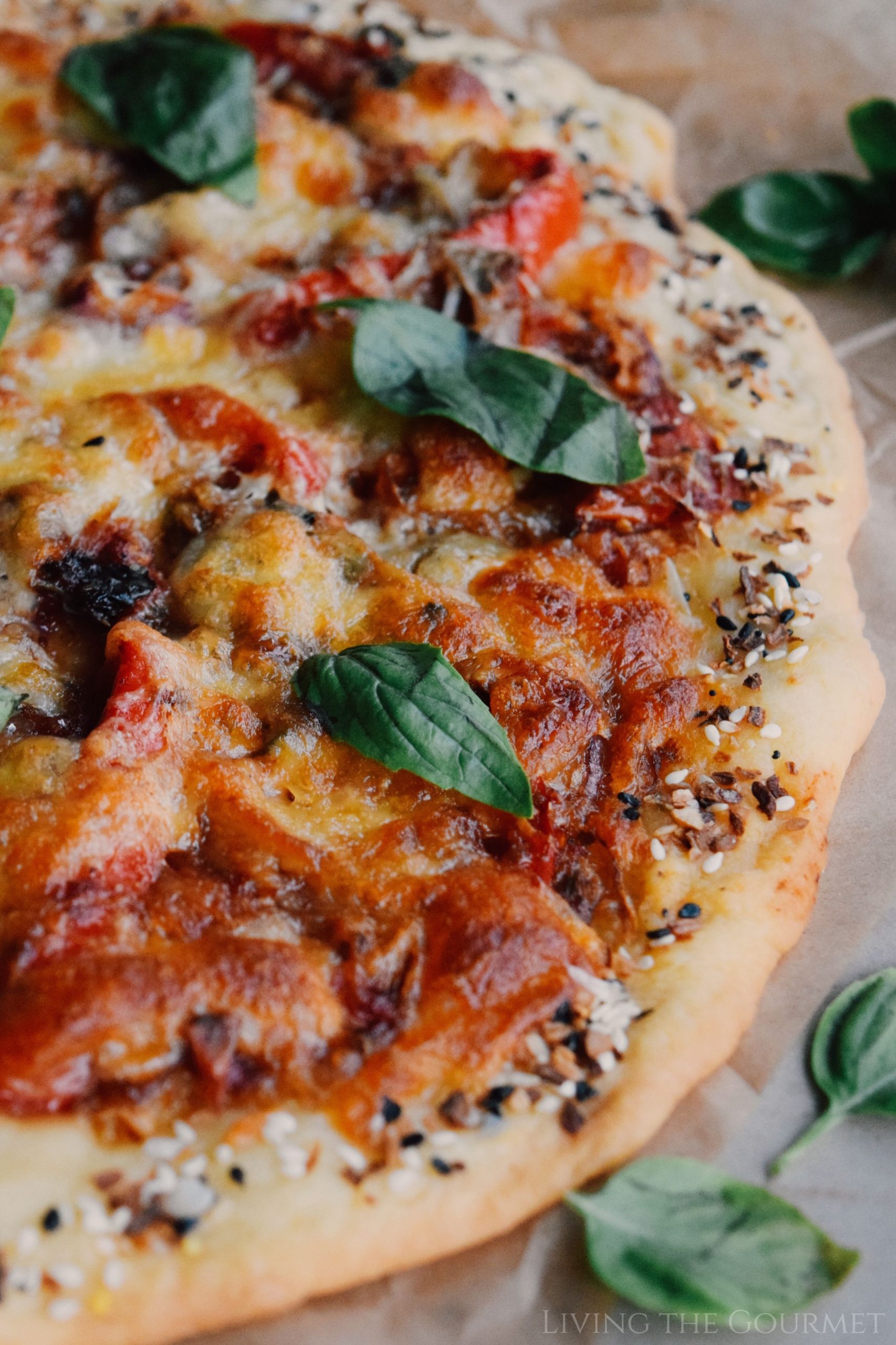 Making Today's Pizza Your Own
We're topping today's pizza with a sweet onion and red pepper sauce, along with fresh basil and plenty of mozzarella. However, today's pizza is more of a 'base' or 'starting point' than anything else. I want today's pizza recipe to be the starting point for own kitchen creations. To get your imagination going, here are a few suggestions.
1) Individualize the pizzas. Making individual pizzas is as simple as dividing the dough into four, and then rolling them out as described in the recipe, and just like that you've got individual pizzas. This gives you room to 'customize' each pizza to individual palates…or to the contrasting desires of your own palate. Four individual pizzas makes a dinner for one…right?
2) Spice It Up. My son's preferred 'customization' is to dry roast spicy peppers or chilis until they are lightly charred, and then chop those onto the pizza seeds and all, then top with a bit (or a lot) of extra cheese to seal in the chilis, and then pop it in the oven.
Easier Route: If you want the spice without the hassle of grilling chilis, simply chop up a few jarred pepperoncini peppers and spread those on the pizza before popping it in the oven.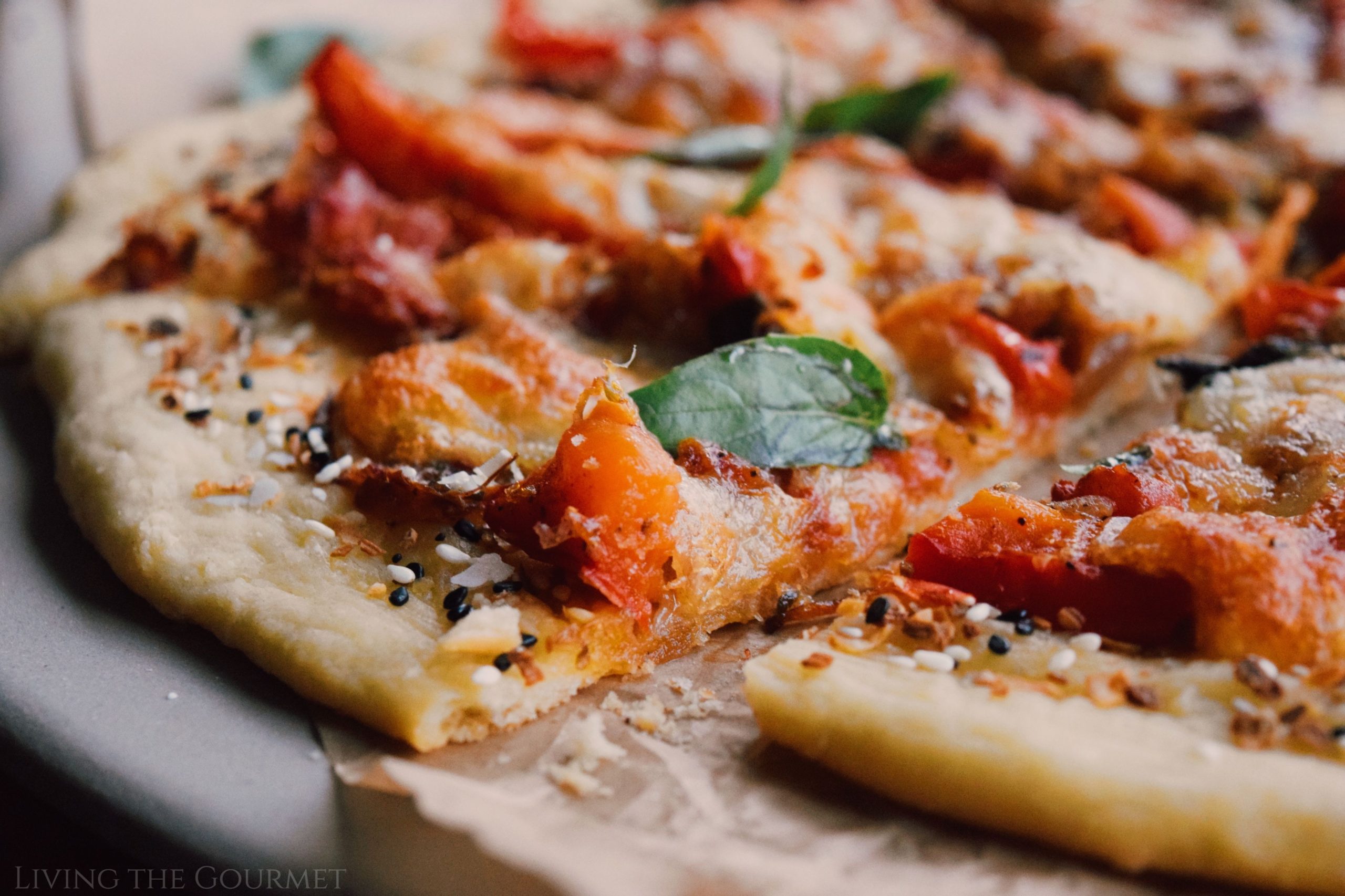 3) Cuban Style. Borrowing from my Cuban Pizza recipe, spread a spicy red sauce over the pizza (simply add a teaspoon or two of red pepper to today's sauce), top that with extra garlic and chorizo sausage, followed by a dense layer of mozzarella and Gouda, along with a generous dusting of Parmesan, and you've got a Cuban-style pizza sans the traditional fold over. Ham, pineapple, pickles, and lobster are optional.
4) Rustica. Grill plenty of garlic until its buttery soft, and then spread that on the pizza with prosciutto, oregano, quality olive oil, chunks of fresh mozzarella, crushed black pepper, plenty of red pepper, and grated parmesan. Follow this up with chunks of salami, oregano, fresh basil, sundried tomatoes, plenty of parmesan, and you've got a delicious 'rustica style' pizza.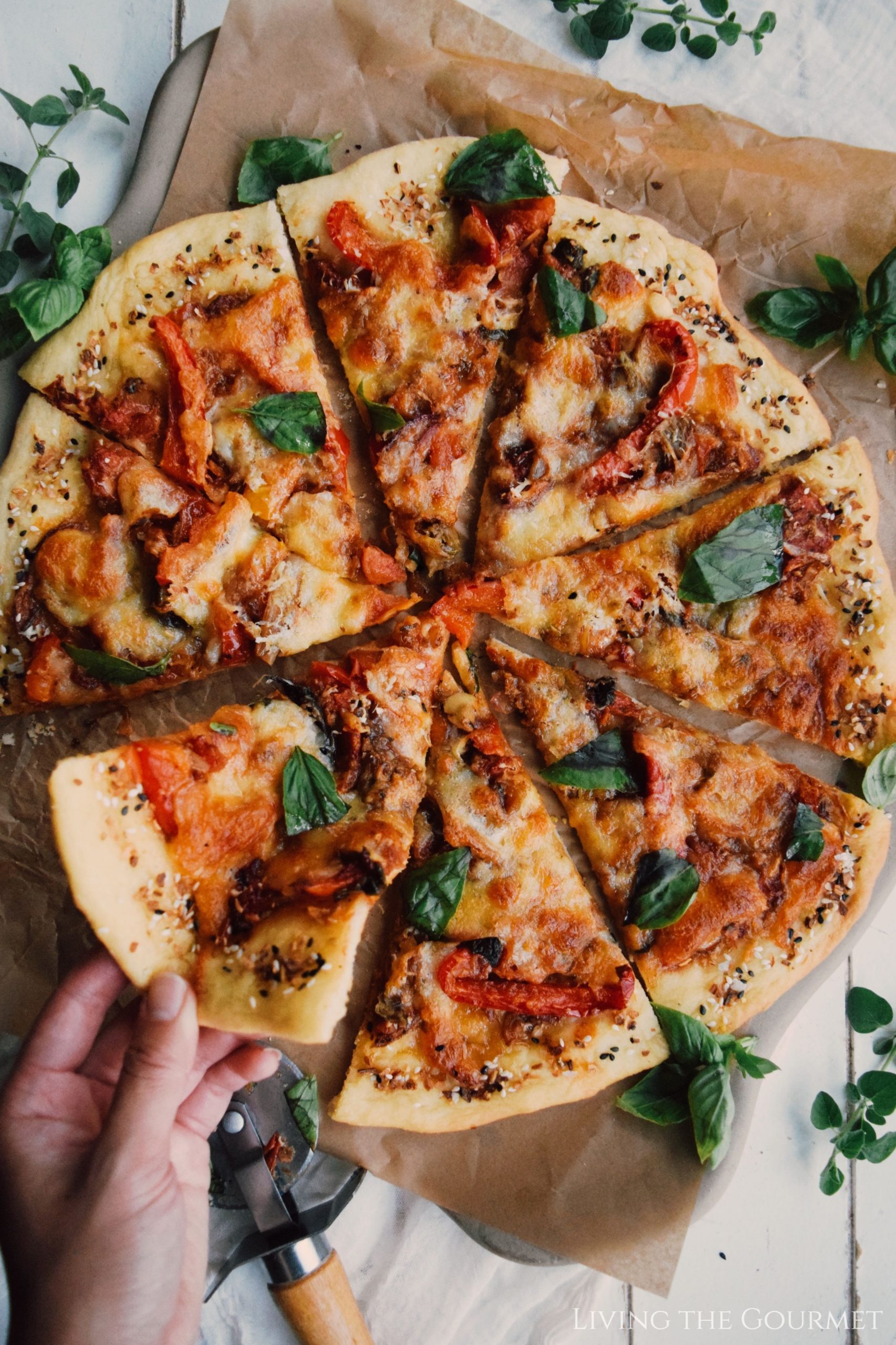 Pairing Today's Pizza
1) A Cold Drink. What 'really' sounds better than a pizza and cold drink? A pizza and cold drink prepared by an expert mixologist, that's what – and that's exactly what Drinkworks is; your own personal 'mixologist.' Think of Drinkworks as the "Keurig of Home Bars," simply pop one of their drink pods into the machine, and out comes a delicious chilled 'adult beverage' (no ice required) that tastes like it was mixed by a master. With dozens upon dozens of drink pod flavors to choose from, including Margarita, Cosmopolitan, Mojito, Moscow Mule, Whiskey Sour, White Russian, and Old Fashioned, among many others, there's something for everyone, every palate, and every food pairing.
2) Homemade Onion Rings. I'm of the opinion that onion rings pair well with just about everything, and I wouldn't hesitate to make a batch to serve alongside to today's pizza. I prepare mine with just a hint of spice, and a thick, dense batter that crisps up beautifully during frying. You can grab my recipe here.
3) Homemade Breadsticks. At the risk of being old fashioned, I'm going to suggest breadsticks to pair with today's pizza, and these are much easier to prepare than you might think. Paired with some olive oil for dipping, or even some herbed butter or black coffee, these are super versatile and keep great. As a nice bonus, they never fail to impress the guests.
Print
Spicy Artichoke & Caper Pizza
Author:
Prep Time:

15 minutes

Cook Time:

40 minutes

Total Time:

55 minutes

Yield:

2

12-inch pizzas

1

x
For the Dough:
2 1/4

cups

all-purpose flour

1

big tsp. active dry yeast

1 tsp

. sugar

3/4

cup

warm water

1

tbs. olive oil

1 tsp

. salt
For the Sauce:
1

red bell pepper – sliced

1

sweet onion – sliced

1/2

small red onion – sliced

1

small head of garlic – sliced

2

heirloom tomatoes – cubed

1

tbs. capers

3

–

4

marinated artichoke hearts – separated

1

tbs. tomato paste – (optional)
Handful of fresh basil

1 1/2 tsp

. salt

1 tsp

. dried oregano

1/2 tsp

. fresh ground black pepper

1/2 tsp

. red pepper flakes

1/4 tsp

. sugar

2

–

3

tbs. olive oil

16

oz

. of mozzarella – thinly sliced with a vegetable peeler
Fresh Parmesan or Romano cheese – grated
Cornmeal for sprinkling
Instructions
For the Dough:
Proof your yeast by combining the yeast, sugar, and warm water. When the yeast starts to bubble; add the olive oil and salt.
In a large bowl, add your flour and make a well in the center. Pour the yeast mixture into the flour and mix until combined. Knead the dough in the bowl for a few minutes, until it is soft and pliable.
Cover the bowl with a dry towel and place in a warm spot, away from any drafts. Allow the dough to rise for a couple hours until it has doubled in size.
For the Sauce:
Place the sliced red bell pepper slices, sliced garlic and onions in a large, dry, cast iron frying pan.
Sprinkle with the sugar and salt.
Allow the onion to get a golden color, the garlic to become fragrant and the pepper slices to soften.
Add the diced tomatoes, capers, artichoke hearts, tomato paste, seasonings and toss.
Add the olive oil and toss. Allow these veggies to cook down for two or three minutes then turn the heat off, add the fresh basil and toss. Set aside.
Building the Pizza:
On a floured surface, turn the dough out and knead the dough a few times. DO NOT OVER KNEAD.
You may roll the dough out to a 1/4 inch thickness with a rolling pin or simply shape it to fit your pizza pan with your hands, be sure to oil your fingers before doing so.
Brush the edges of the pizza with a little olive oil if you would like to sprinkle a little bagel seasoning on the edges of the crust.
Preheat Oven 375 degrees F. and sprinkle the pizza pan with corn meal. Set aside.
Place the tomato and pepper mixture on top of the dough followed by the mozzarella, fresh grated Romano or Parmesan cheese, and a drizzle of olive oil.
Bake for 20 – 25 minutes until the crust is golden and the cheese is melted and golden.
Notes
Prep Time Does NOT include Inactive Prep Time
Nutrition
Serving Size:

16 slices of pizza
Recipe Card powered by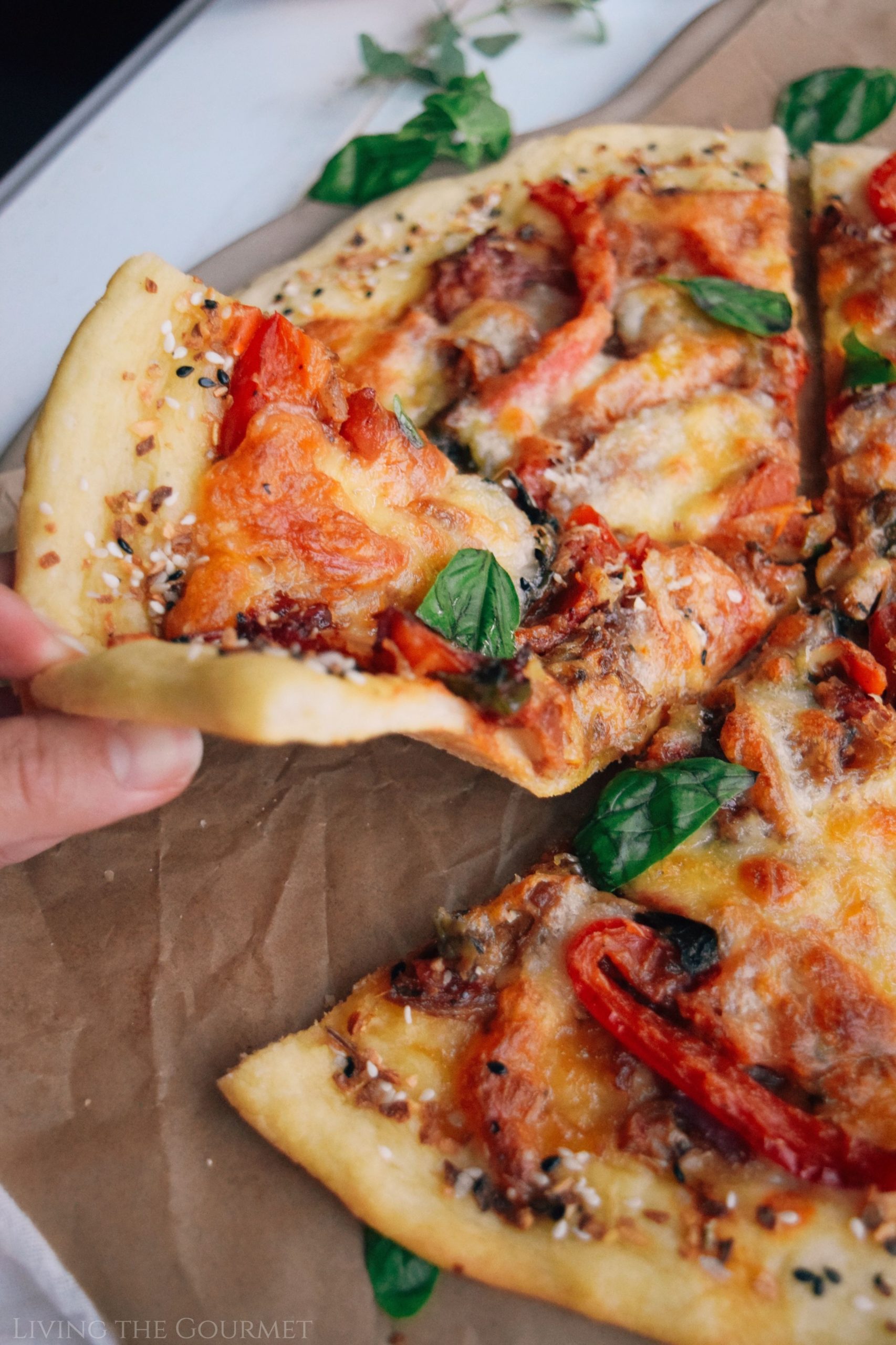 If You Enjoyed Today's Recipe…
Be sure to follow us on Instagram to stay up to date with all things Living the Gourmet, and for more great recipes, tips and tricks.
Did you make this recipe?
If so, let me know in the comments down below, or post a picture to Instagram, or to Pinterest, and I'll give you a shoutout on Instagram, or post your pin to one of my Pinterest boards!
0