This shop has been compensated by Collective Bias, Inc. and its advertiser. All opinions are mine alone. #HomemadePizzaCrust #CollectiveBias #BakefromScratch
Today we're preparing a slightly different pizza than I'm used to, but one that I instantly fell in love with, Cuban pizza – and we will be doing so with a little help from our friends over at Fleischmann's®, in particular we'll be using their RapidRise®, which makes preparing the dough for today's pizza infinitely simpler, but more on all of that later.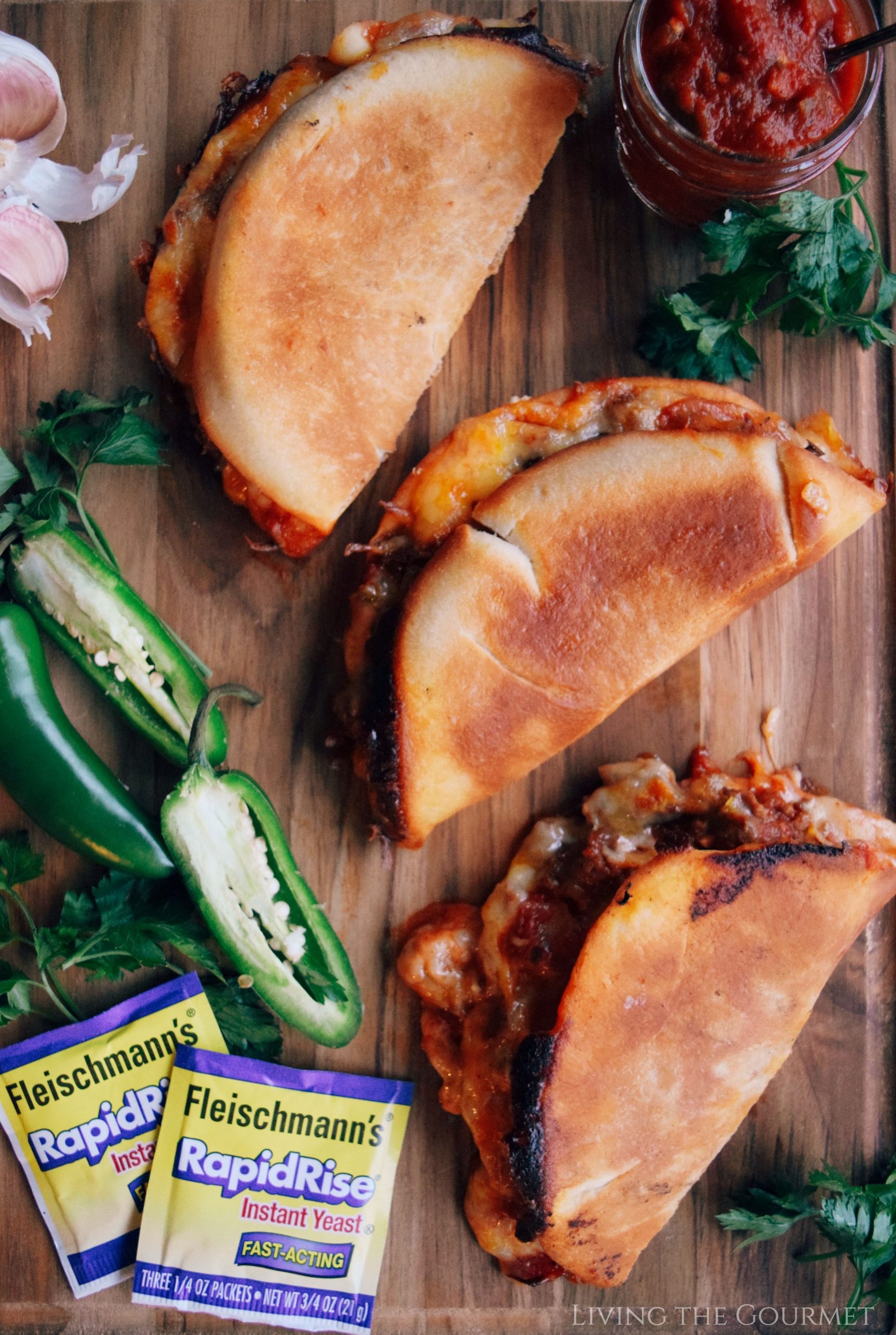 Why You'll Love This Pizza
1) A Twist on a Familiar Favorite. Whether you're from LA, New York, Chicago, or almost anywhere in between, chances are that Cuban pizza offers a few key twists on your 'home town' version of the circular combination of bread, sauce, and cheese. Whether it's the combination of gouda and mozzarella, the plumper texture of the dough, or the 'street vendor' fold that typifies this type of pizza, today's recipe is a great way to switch things up at your next pizza night.
2) No Special Equipment Needed. A sauce pan, a knife, a greater, a flat surface for working the dough, and a spoon are really all that you'll need to put together today's pizza. Simple.
3) Accessible to Chefs of All Skill Levels. Pizza, in my opinion is one of the ideal 'starter' recipes for home chefs who are just setting out on their culinary journey. On the one hand, pizza is supremely easy to put together, making it great for getting the kids involved in cooking, but it also allows for a lot of experimentation. Conversely, there are also ways to ratchet up the complexity of pizza making, allowing expert level skills to shine through. Naturally, Cuban pizza is no exception.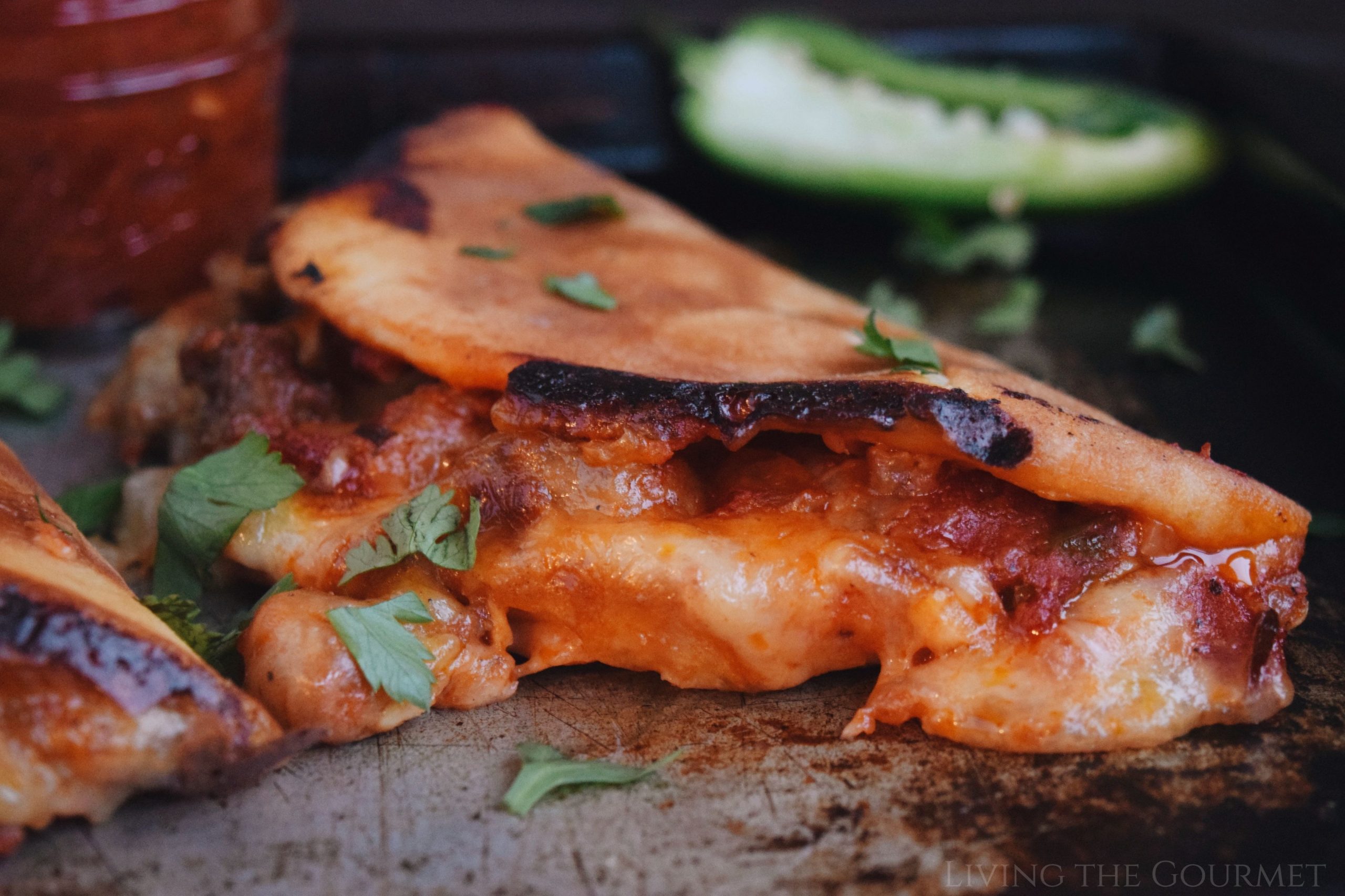 Cuban Pizza – A Brief Primer
1) What is it? If you've toured the 'foodie-sphere' looking for Cuban pizza, you are likely under the impression that 'Cuban pizza' is little more than a 'Cuban sandwich' transposed onto the surface of a pizza, complete with a beer batter, pickles, shredded pork, and a light dusting of 'sandwich cheese.' While I won't say that such an interpretation is 'incorrect,' I will call it out as 'trendy' as opposed to 'authentic.' First and foremost, a Cuban pizza isn't all that much different in terms of appearance from an Italian-American one. On the contrary, the differences – toppings aside – are subtle. The first thing that differentiates a Cuban pizza is the cheese – invariably a mix of gouda and mozzarella. Cuban pizza also tends to feature a smaller but 'plumper' dough than its Italian-American counterpart. Third, the toppings and sauce on a Cuban pizza are 'not' merely sprinkled on top, but rather 'sealed in' beneath a dense layer of cheese. Finally, the toppings on Cuban pizza – and this brings us back to our opening point – are 'not' set in stone, just the opposite in fact. Ground beef, spicy sausage or chorizo, ham, onions (caramelized, fried, or raw), fried plantains, pineapple, bananas, lobster, or even just American-style pepperoni, or some combination thereof, are all popular toppings to bake beneath the cheese.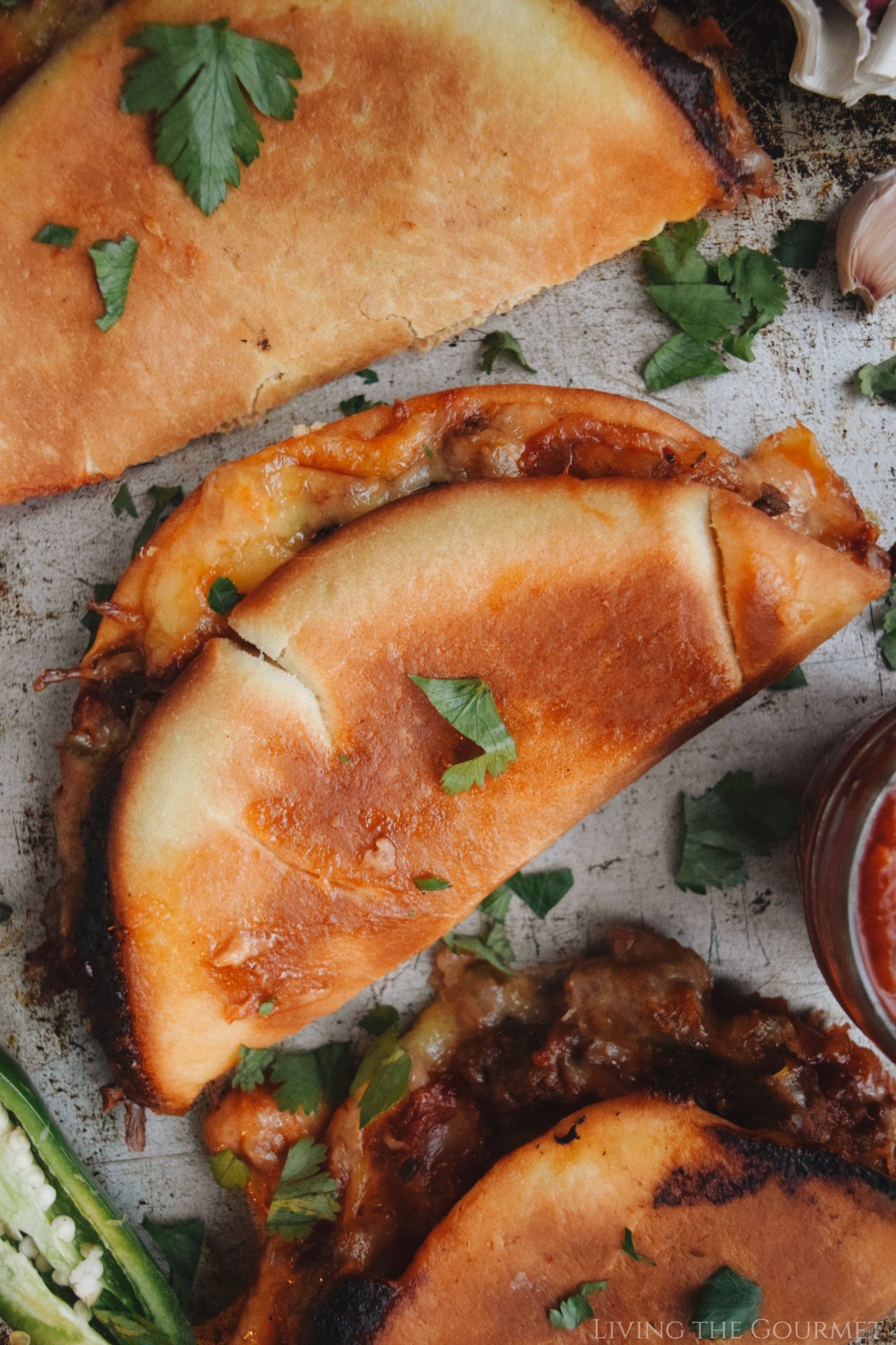 2) Street Vendor Style? This simply refers to the fact that the pizza has been folded, given a quick crisp, and then eaten like a calzone, with the cheese 'sealing in' the 'filling' made from the sauce and meat. This is typically how you find it served as 'fast food,' in which case the pizza being folded makes eating it both easier and cleaner, especially for someone on the go. To my mind, this simply makes for a more 'fun' and 'unique' experience – as well as harkening back to my own first impression of Cuban pizza. 3) Gouda? Oddly enough, this Dutch ingredient is what makes a Cuban pizza 'Cuban.' Prior to the rationing system in Cuba, imported gouda was among the most popular cheeses on the island. Naturally, it found its way into a variety of recipes as a 'key' ingredient, including the ever-popular 'Cuban sandwich,' and somewhere along the way it was put on pizza as well.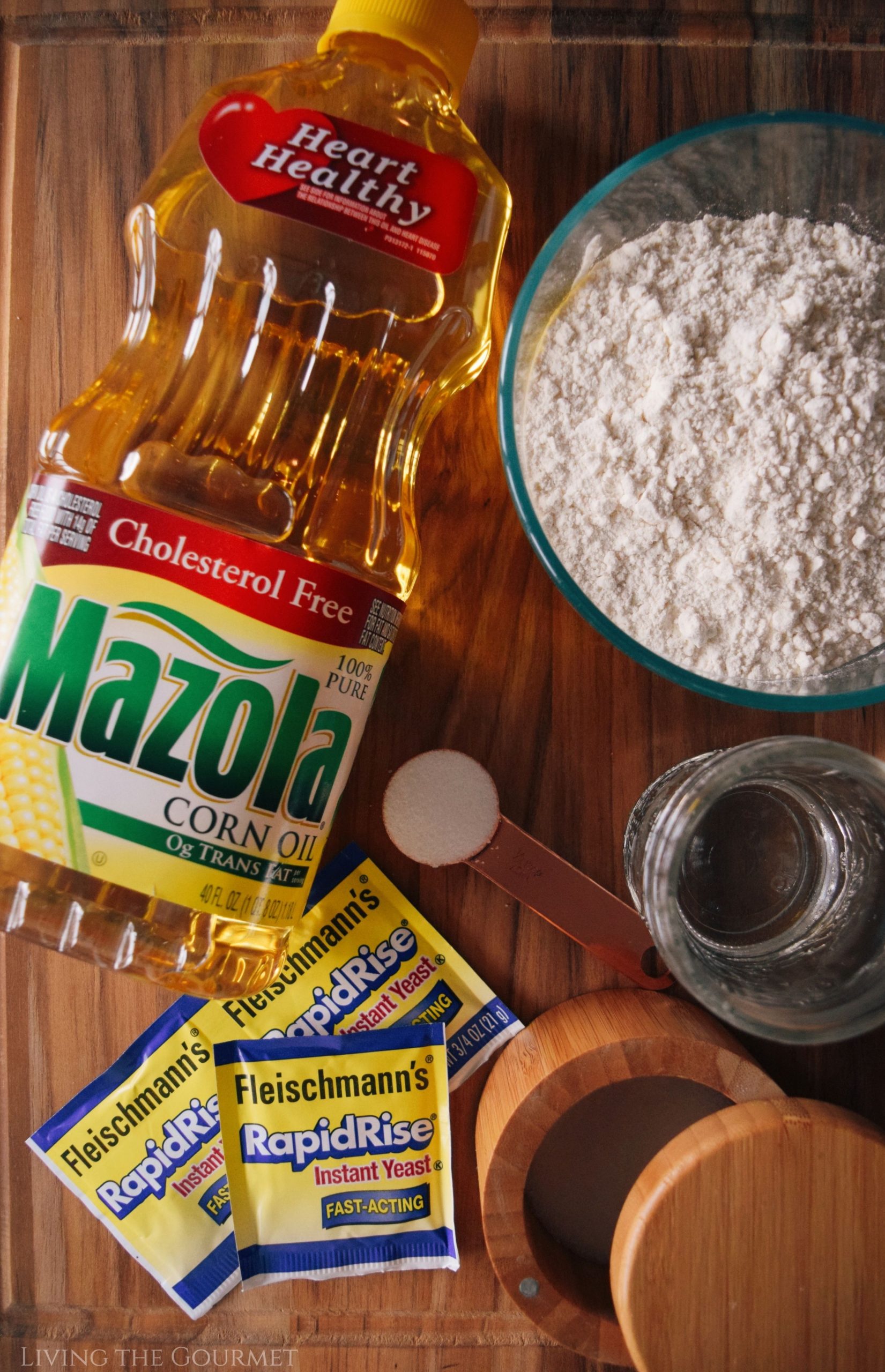 Ingredient Notes and Tips
1) Fleischmann's® RapidRise® Yeast. Perhaps the most important ingredient in today's recipe is Fleischmann's® RapidRise® Yeast, since it makes today's recipe much simpler to prepare, as the dough only needs to rise for about ten minutes – as opposed to hours.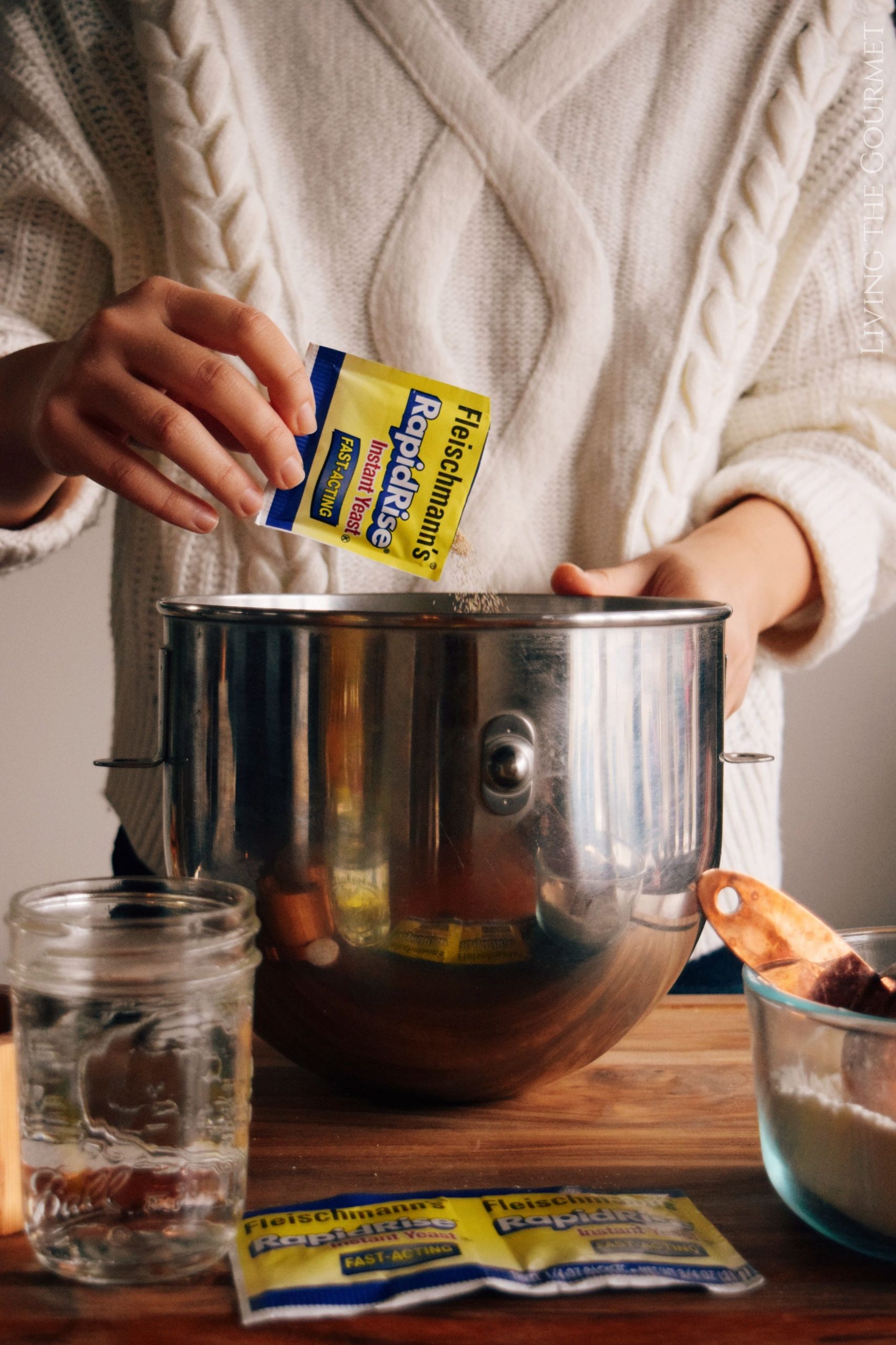 2) Baking with Yeast. However, there are a few points to keep in mind when baking with yeast – and they apply to today's RapidRise® Yeast as well. First and foremost, when yeast calls for lukewarm water, it means lukewarm. Hot water will kill the yeast, while overly cold water will stifle the yeast, since yeast feeds and reproduces best at around seventy to eighty degrees Fahrenheit. Furthermore, you've probably read that salt counteracts yeast, but this is only true in large quantities. In fact, a total salt content of around one-half to one percent of the total dough, will actually help the yeast. If you prefer a saltier bread, you can up the salt share of the dough to a whopping two percent without any adverse effects to the yeast. Regardless, you're probably asking if preparing dough from scratch is even worth it. To answer that, let me begin by saying that I'm big fan of preparing doughs from scratch with yeast for the simple purpose of 'freshness.' There is no better version of 'oven warm' or 'oven fresh' bread and pastries than those that come straight from your own kitchen. Beyond that, no one can assure quality, natural ingredients the way 'you' can. In other words, if freshness and quality are the name of the game, than homemade is the way to go. For more information on Fleischmann's® RapidRise® Yeast, or to order, check out the Fleischmann's® website.

3) Mazola Vegetable Oil.
While Mazola Corn Oil has more cholesterol blocking plant sterols than other cooking oils – four times more than olive oil for example – there are other reasons we're using this particular oil. First and foremost, it's completely flavor neutral, meaning I don't have to account for it in the recipe, or worry about conflicting flavors. Also, it has a smoke point of 450 degrees Fahrenheit, meaning it can reach this temperature without negatively affecting the recipe's taste and nutritional value – which is important since we'll be baking the pizzas at a balmy 425 degrees Fahrenheit. As such, it's ideal as an oil for today's pizza, since it won't burn during cooking.
What to Eat With Cuban Pizza
1) Pasta Bake. While a 'standard' macaroni and cheese would likely pair well with today's pizzas, I honestly think a slightly 'upscale' style pasta bake would pair simply deliciously.
2) Onion Rings and/or Jalapeno Poppers. A pairing made in heaven, in my book. Jalapenos stuffed with cream cheese, garlic, and parsley, and fried stove top, would be absolutely delicious. Also, if you haven't tried making homemade onion rings, it's easier than you might think – and no deep fryer is required. Grab the recipes here.
3) Coleslaw. This super easy homemade coleslaw is the perfect side salad for today's pizzas, and is something the entire family will love.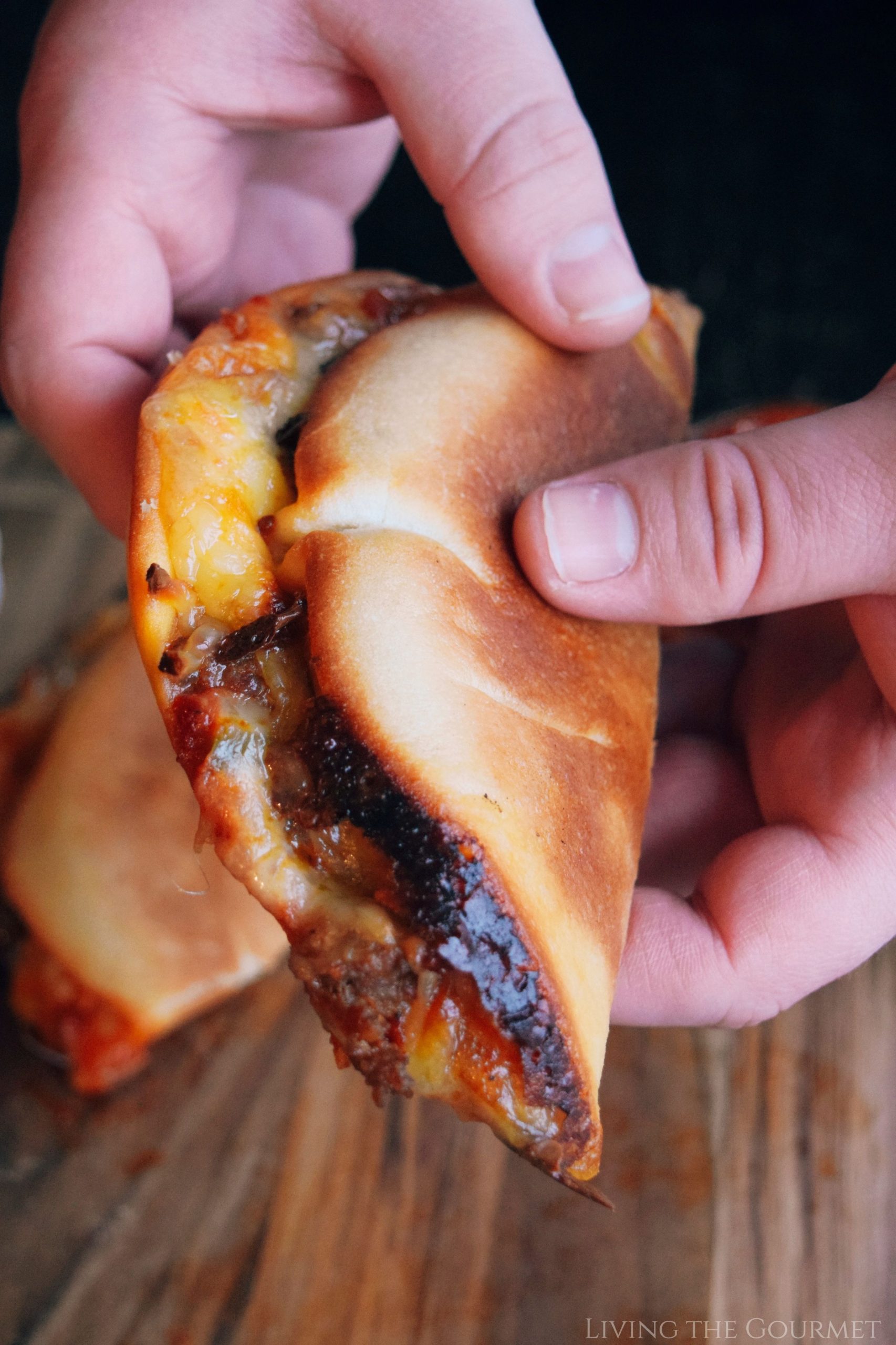 Print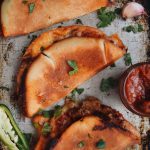 Cuban Pizza
---
Author:

Prep Time:

15 minutes

Cook Time:

30 minutes

Total Time:

45 minutes

Yield:

8

Cuban pizzas

1

x
For the crust:
1

–

3/4

to 2-1/4 cups all-purpose flour

1

envelope Fleischmann's® Pizza Crust Yeast
OR Fleischmann's® RapidRise Yeast

1

–

1/2

teaspoons sugar

3/4 teaspoon

salt

2/3 cup

very warm water (120° to 130°F)*

3 tablespoons

Mazola® Corn Oil
Toppings:
1 cup

Mozzarella, shredded

1 cup

Gouda, shredded

1 cup

Parmesan, grated

1

lb. ground chorizo sausage

1 cup

spicy pizza sauce (recipe below)
For the pizza sauce:
1

(32.oz) marinara style jarred tomato sauce

1

small red onion, sliced

4

cloves garlic, minced

1

chili pepper, finely chopped

1 tablespoon

fresh cilantro, chopped
Salt and Pepper to taste
Mazola® Corn Oil for frying
---
Instructions
For the sauce and toppings:
In a large cast iron fry pan, cook the chorizo sausage, breaking it down as it cooks to a crumbly mixture. Drain and set aside.
In a sauce pan, fry the onions, garlic and chili pepper down with a drizzle of corn oil. Season with a pinch of salt and pepper each. Once the onions have sweated down, add the jarred sauce and let simmer for about 15 minutes. Turn off the heat and stir in the fresh cilantro. Set aside.
For the crust:
Preheat oven to 425°F.
Combine 1 cup flour, undissolved yeast, sugar and salt in a large bowl. Add very warm water and oil; mix until well blended, about 1 minute. Gradually add enough remaining flour to make a soft dough. Dough should form a ball and will be slightly sticky. Knead** on a floured surface, adding additional flour if necessary, until smooth and elastic, about 4 minutes. (If using RapidRise Yeast, let dough rest at this point for 10 minutes.)
Divide the dough into quarters, then divide each quarter.
On a well floured surface, roll out each dough with a rolling pin to fit a 7½-inch cast iron frying pan.
Spoon about 1/8 cup of sauce over the dough and spread evenly. Top with cooked chorizo then the grated mozzarella, grated grouda, and grated parmesan. Drizzle with corn oil and bake in the oven for about 10-12 minutes until the crust is golden around the edges and the cheese is bubbling. Once the pizzas are done, immediately remove from the fry pan onto a baking sheet and fold over.
Repeat this for each remaining dough ball.
Serve alongside any remaining pizza sauce and enjoy!
Notes
*If you don't have a thermometer, water should feel very warm to the touch.
**To knead the dough, add just enough flour to the dough and your hands to keep the dough from sticking. Flatten dough and fold it toward you.Using the heels of your hands, push the dough away with a rolling motion. Rotate dough a quarter turn and repeat the "fold, push and turn" steps. Keep kneading dough until it is smooth and elastic. Use a little more flour if dough becomes too sticky, always working the flour into the ball of dough.
*Cook time reflects the total amount of time for 8 Cuban pizzas.
Recipe Card powered by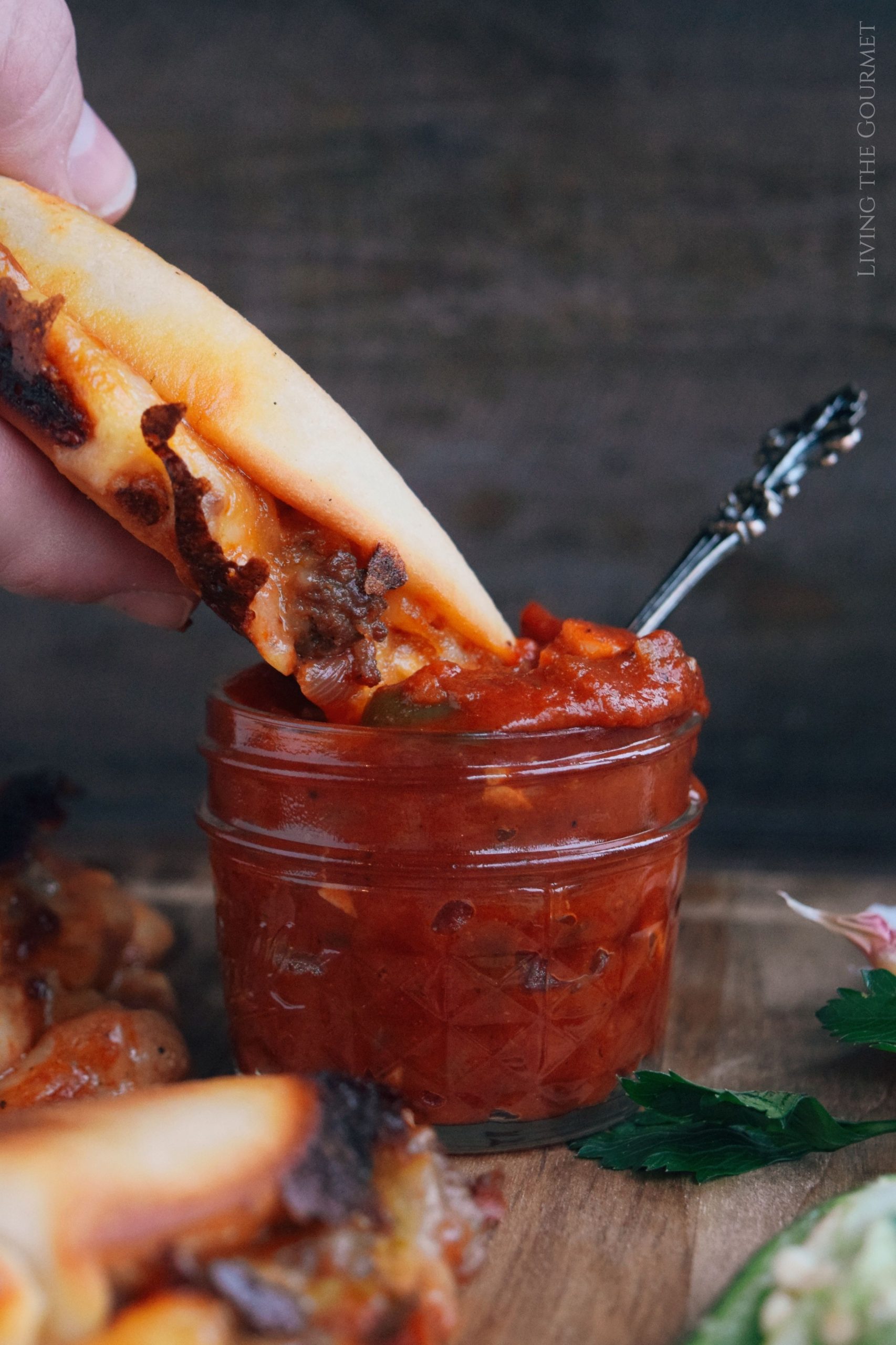 If You Enjoyed Today's Recipe… Be sure to follow us on Instagram to stay up to date with all things Living the Gourmet, and for more great recipes, tips and tricks.
Did you make this recipe? If so, let me know in the comments down below, or post a picture to Instagram, or to Pinterest, and I'll give you a shoutout on Instagram, or post your pin to one of my Pinterest boards!
Visit the website to find more quick and easy recipes using Fleishmann's® RapidRise® Yeast. Follow along on Facebook, on Instagram as @FleischmannsYeast, and Pinterest. ​
3