Today we're preparing a batch of chickpea and tuna patties, which are a cross between a chickpea burger and a tuna cakes. Prepared with scallions, red pepper, and plenty of garlic, these are light yet satisfying, and bursting with flavor.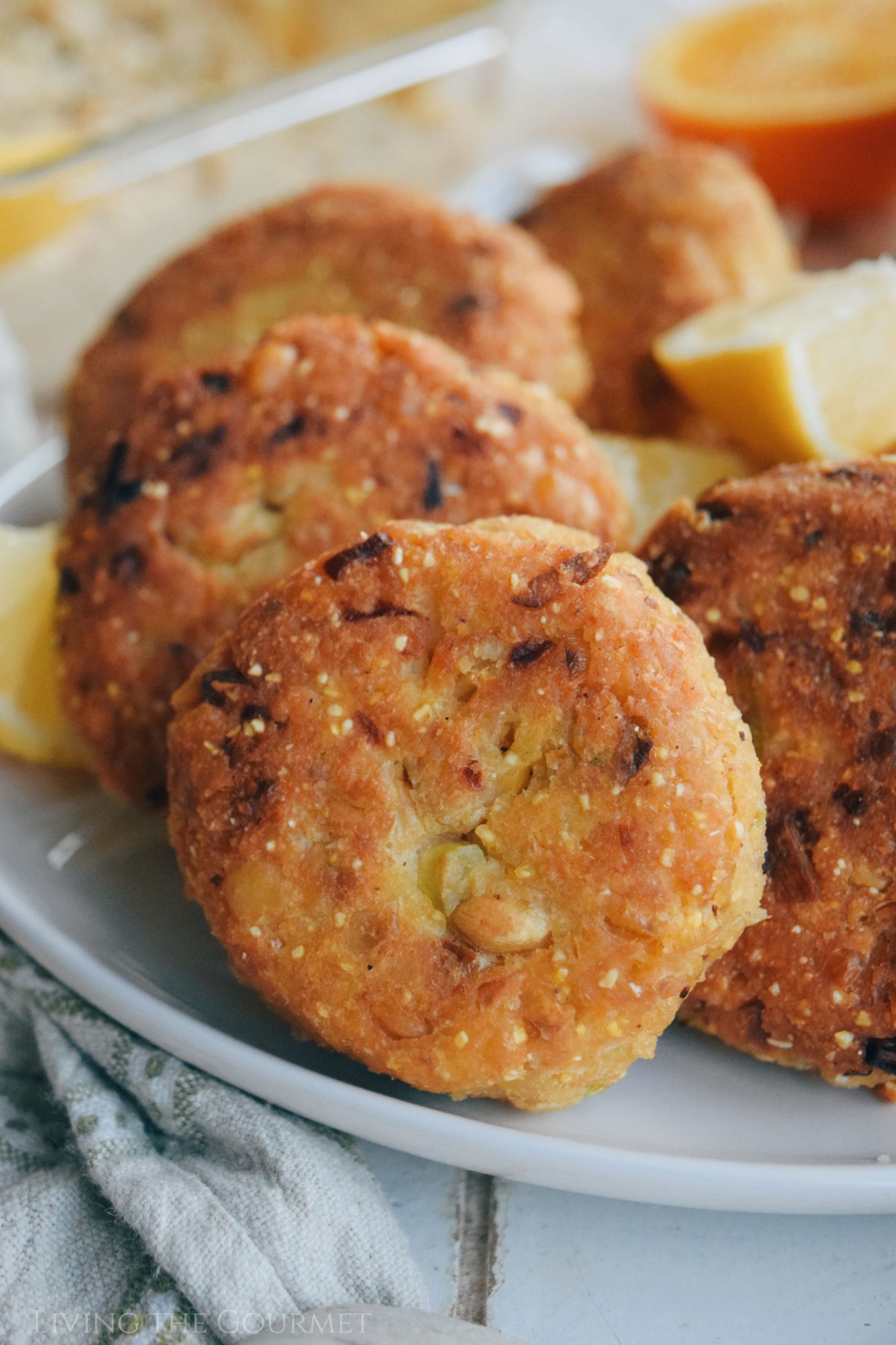 Why You'll Love Today's Tuna-Bean Cakes
1) Make Ahead. You can make these on Saturday or Sunday, and then have them through the week, since the tuna-chickpea mixture keeps excellently for several days in the fridge.
2) Great as Leftovers. Related to the above point, these burgers keep for a good several days after they've been made, and taste great either cold or heated up, meaning they're great as leftovers.
3) Lunch or Light Dinner. These are perfect for a hardy lunch, and are satisfying enough to eat for a light dinner, especially paired alongside something like homemade onion rings, but more on my pairing suggestions below.
4) Salads, Burgers, Flatbreads and Sandwiches. These patties work great piled on buns as burgers with toppings like bacon, tomato, and lettuce, and then finished with either mayo, tarter sauce, hot sauce, or simply ketchup. Conversely, they also make great sandwiches, they go nicely with salads, and great rolled into flatbreads.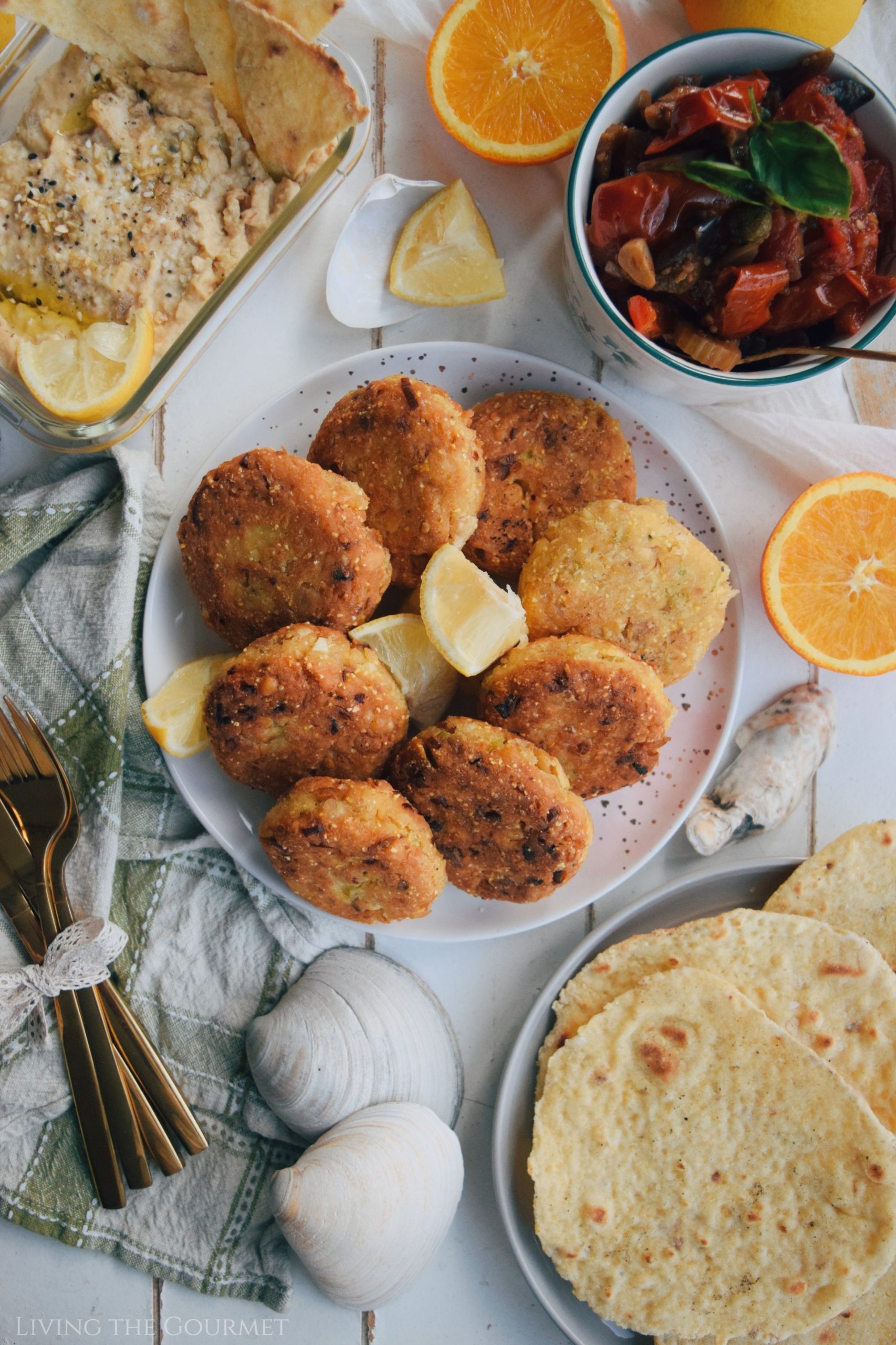 Prep Tips
1) Do not over mash the chickpeas. For the sake of the patties' texture, you do 'not' want to perfectly and evenly mash the chickpeas. Instead, you want the mixture to remain somewhat, but not overly, 'chunky.' This prevents the mixture from becoming 'paste-like,' giving them body and firmness, and preventing them from becoming overly dense.
2) Let The Mixture Rest. After preparing the tuna and chickpea mixture, you're going to want to let it sit at room temperature for about ten minutes to let it 'rest' or 'settle' before forming the patties.
3) Pan Fried vs Oven Baked. I do 'not' recommend trying to bake these in the oven. The crisp outside and super moist inside are a big part of what I love about these patties, and you just won't get the same crispness oven baking them. On the contrary, oven baking these tends to dry out the inside, while giving them a bland to mushy exterior – which simply isn't palatable in my opinion.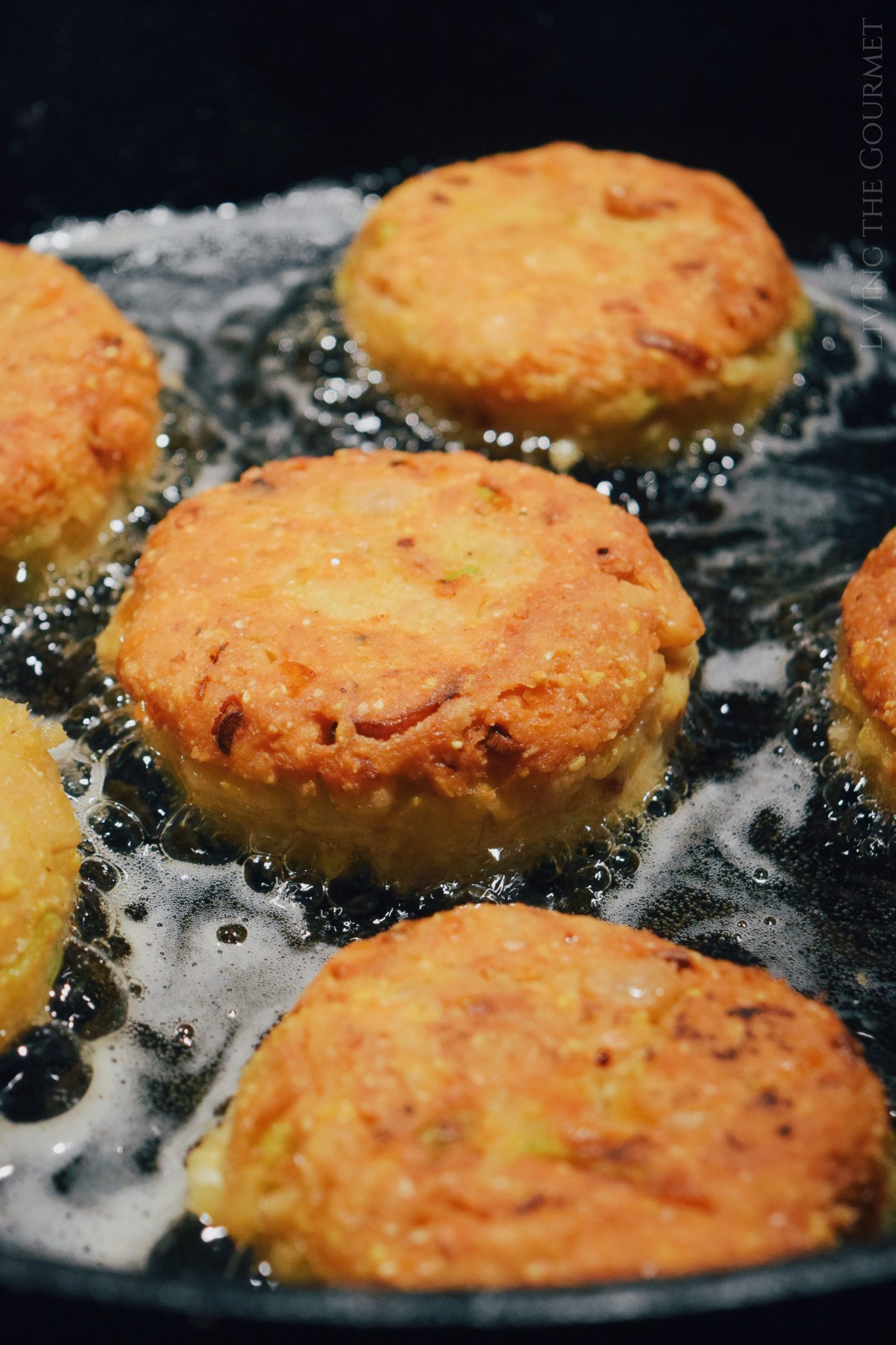 Pairs Great With
1) Homemade Onion Rings. I'm of the opinion that onion rings pair well with just about everything, and I wouldn't hesitate to make a batch to serve alongside to today's tuna patties. I prepare my onion rings with just a hint of spice, and a thick, dense batter that crisps up beautifully during frying. You can grab my recipe here.
2) A Cold Drink. Tuna patties and a cold drink are a match made in heaven. However, I'm talking about a drink prepared by an expert mixologist – and that's exactly what Drinkworks is; your own personal 'mixologist.' Think of Drinkworks as the "Keurig of Home Bars," simply pop one of their drink pods into the machine, and out comes a delicious chilled 'adult beverage' (no ice required) that tastes like it was mixed by a master. With dozens upon dozens of drink pod flavors to choose from, including Margarita, Cosmopolitan, Mojito, Moscow Mule, Whiskey Sour, White Russian, and Old Fashioned, among many others, there's something for everyone, every palate, and every food pairing.
3) Grilled Veggies. I served today's recipe with a medley of grilled vegetables (see recipe card) akin to one of my favorite salads- caponata. Warm and hearty, it's a perfect August-to-autumn side for so many other dishes as well.
4) Hummus. One of the healthiest, easiest recipes you can make. With just a handful of ingredients you can have a dip served alongside you favorite vegetables, crisps, or as shown in today's post, fried corncakes!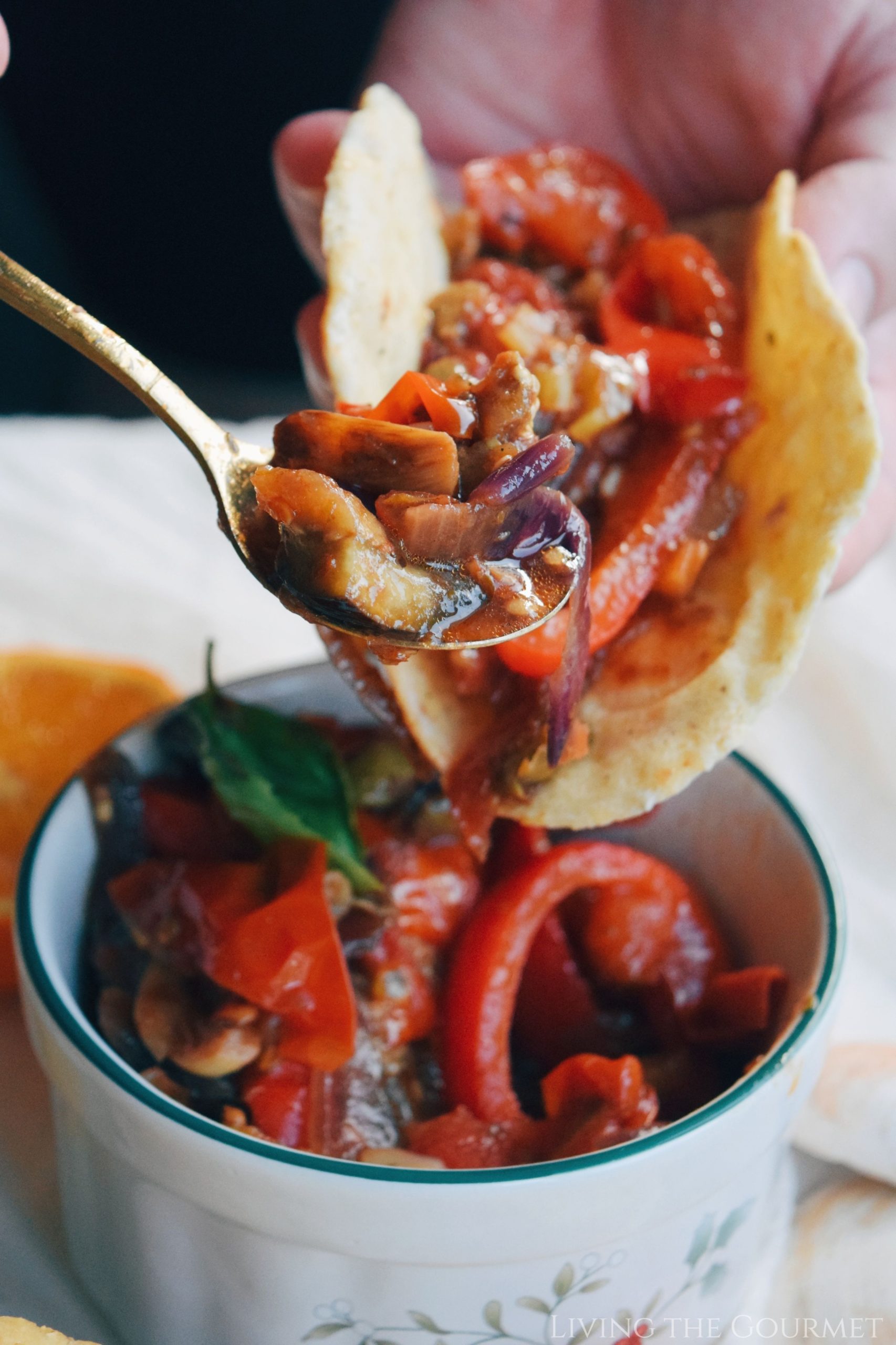 5) Spicy Jalapeno and Orange Salad. A simple fruit salad prepared with oranges, mint, jalapeno, fresh basil, and nutmeg. This salad packs a nice kick, while remaining crisp and refreshing, while being blissfully simple to put together.
6) Coleslaw. My preferred recipe for coleslaw combines the obligatory mayo-coating with a citrusy dressing. For a nice kick, I slice in jalapenos with the cabbage to create a sweet-and-spicy salad, with just a hint of crisp citrus.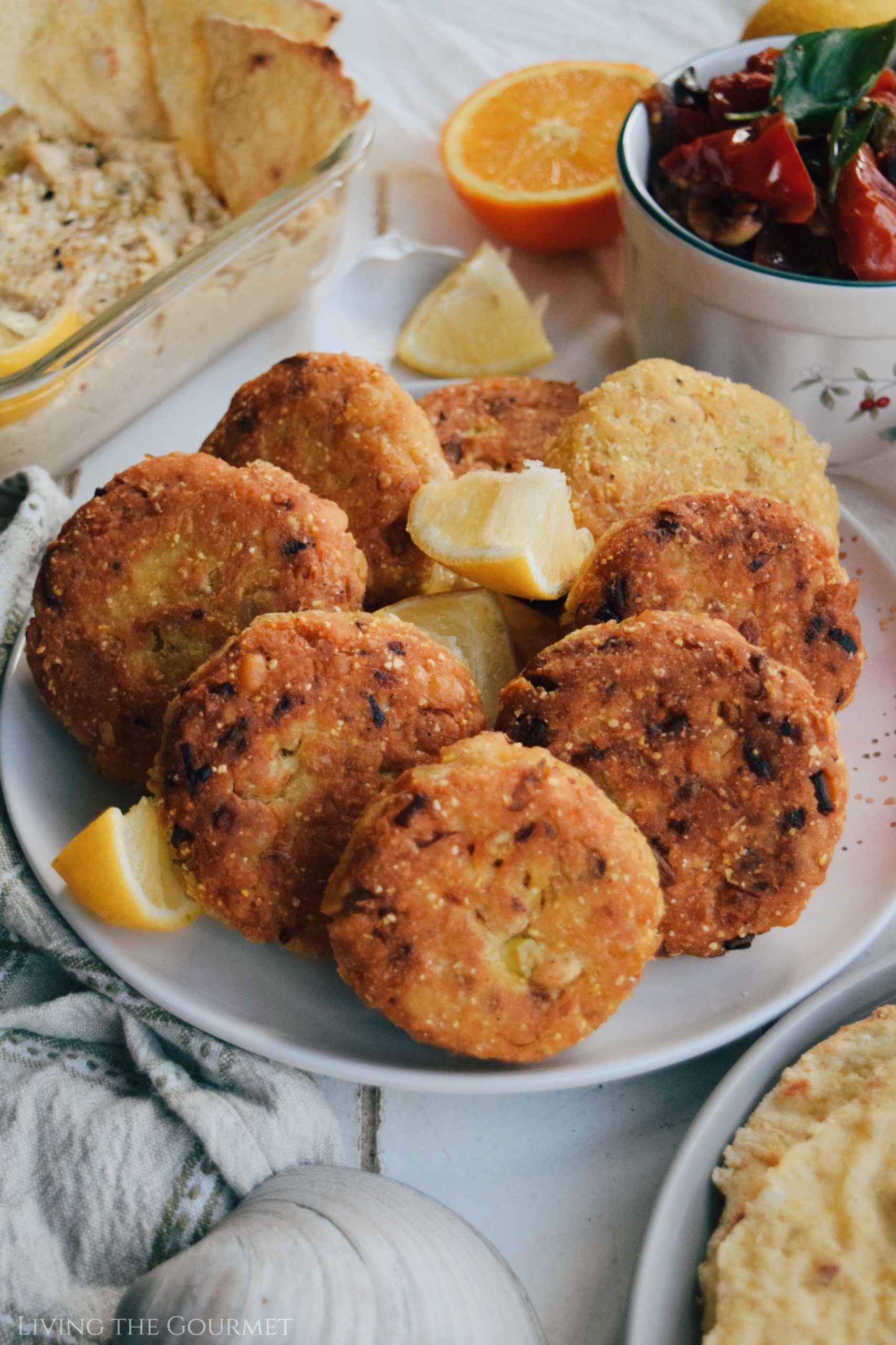 Print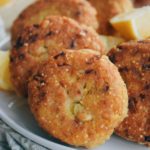 Tuna and Cornmeal Cakes
---
Author:

Total Time:

30 minutes

Yield:

4

1

x
For the Corncakes:
29 oz

. can of chickpeas – rinsed and drained

5 oz

. can of tuna fish – drained

2

eggs

1 cup

cornmeal

3

–

4

scallions – chopped

1 tsp

. baking powder

1 tsp

. salt

1 tsp

. – fresh ground black pepper

1 tsp

. red pepper flakes

3

–

4

garlic cloves – chopped
Vegetable oil for frying
For the Grilled Veggie Medley:
6

–

8

Roma Tomatoes, quartered

1

small eggplant, diced with skin (I left the skin on since this is fresh from the garden and a very tender skin)

1

red onion – sliced

4

–

5

garlic cloves – sliced

1

red bell pepper – sliced

3

stalks of celery – sliced thin

2 tsp

. capers

2 tsp

. sugar

2 tsp

. salt

1 tsp

. red pepper flakes

2 tsp

. dried oregano

3

–

4

tbs. olive oil
---
Instructions
For the Corncakes:
Place the rinsed and well drained chickpeas in a bowl.
Mash the chickpeas with a potato masher. Do not over mash, leaving some bits of chick peas.
Add the drained tuna fish, eggs, scallions, baking powder and seasonings and the cornmeal and mix until incorporated.
Let the mixture rest while preheating a large cast iron pan with about a ¼ inch of oil.
Form into small disc-like patties and place in the heated oil. Do Not overcrowd the pan.
Turn over when the patty is golden on one side and continue cooking on the other side until a nice golden color is achieved. This should take about 3 – 4 minutes per side.
Place on a platter prepared with a paper towel to absorb any oil.
For the Grilled Veggie Medley:
Heat a large cast iron frying pan.
Place the sliced onion, garlic, celery and sliced peppers in the dry pan.
Sprinkle the veggies with the sugar and salt.
Let the veggies cook down and achieve a nice char.
After the veggies get a nice golden char add 2 – 3 tbs. of olive oil.
Add the tomatoes and capers continue to cook on a gentle heat. Add the remaining seasonings.
The tomatoes will almost melt in the pan.
This should take about 20 minutes or so.
Turn the heat off and let the veggies cool down.
Place in a bowl, cover and refrigerate. This tastes very good cold or may be served warm.
Prep Time:

10 minutes

Cook Time:

20 minutes
Nutrition
Serving Size:

10 corn cakes
Recipe Card powered by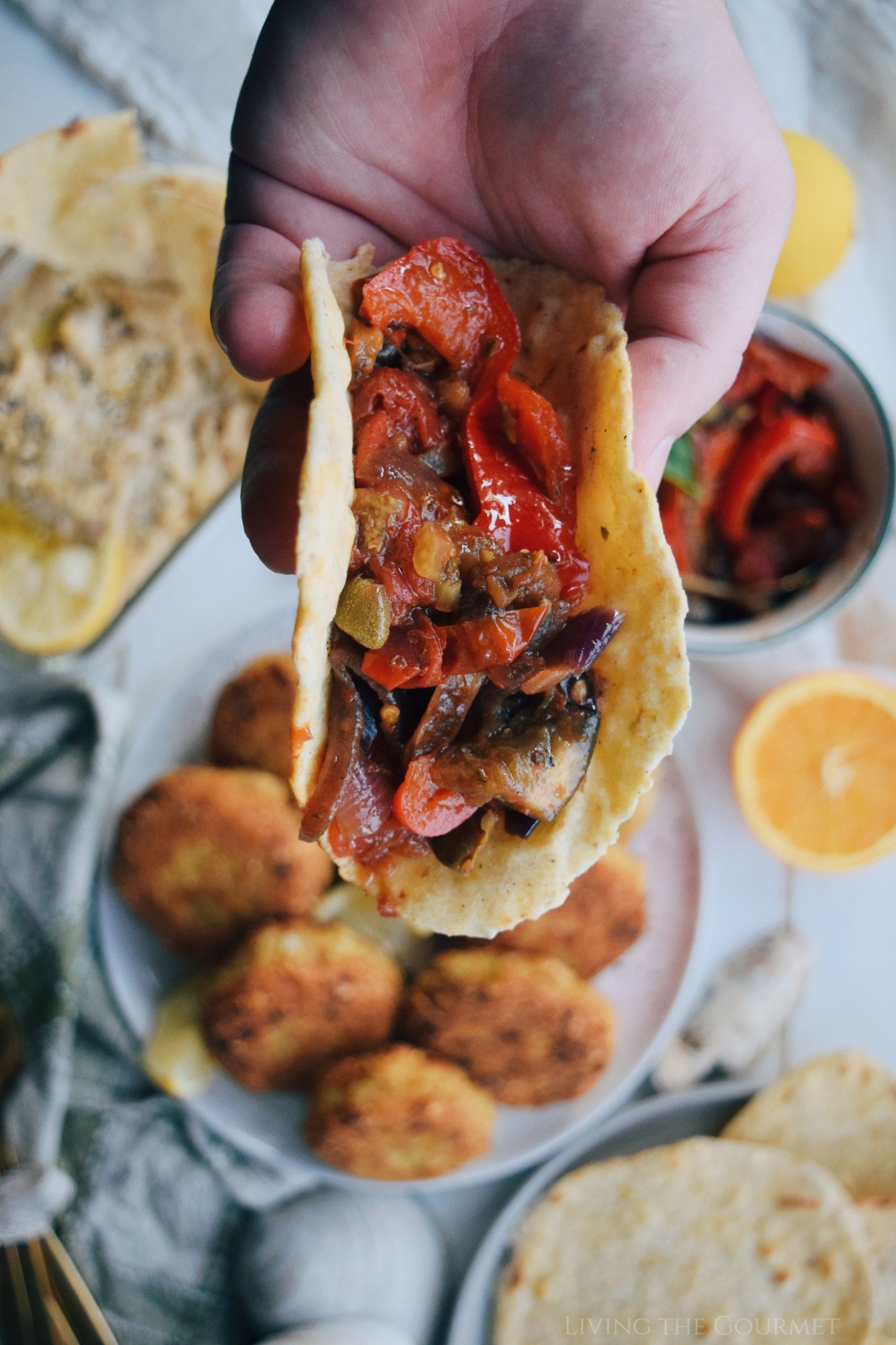 If You Enjoyed Today's Recipe…
Be sure to follow us on Instagram to stay up to date with all things Living the Gourmet, and for more great recipes, tips and tricks.
Did you make this recipe?
If so, let me know in the comments down below, or post a picture to Instagram, or to Pinterest, and I'll give you a shoutout on Instagram, or post your pin to one of my Pinterest boards!
0