Today we're preparing a simple orange and jalapeno salad, with fresh basil and grated nutmeg. Crisp, refreshing, and blissfully simple to put together, this is a summer salad you should definitely have in your seasonal repertoire.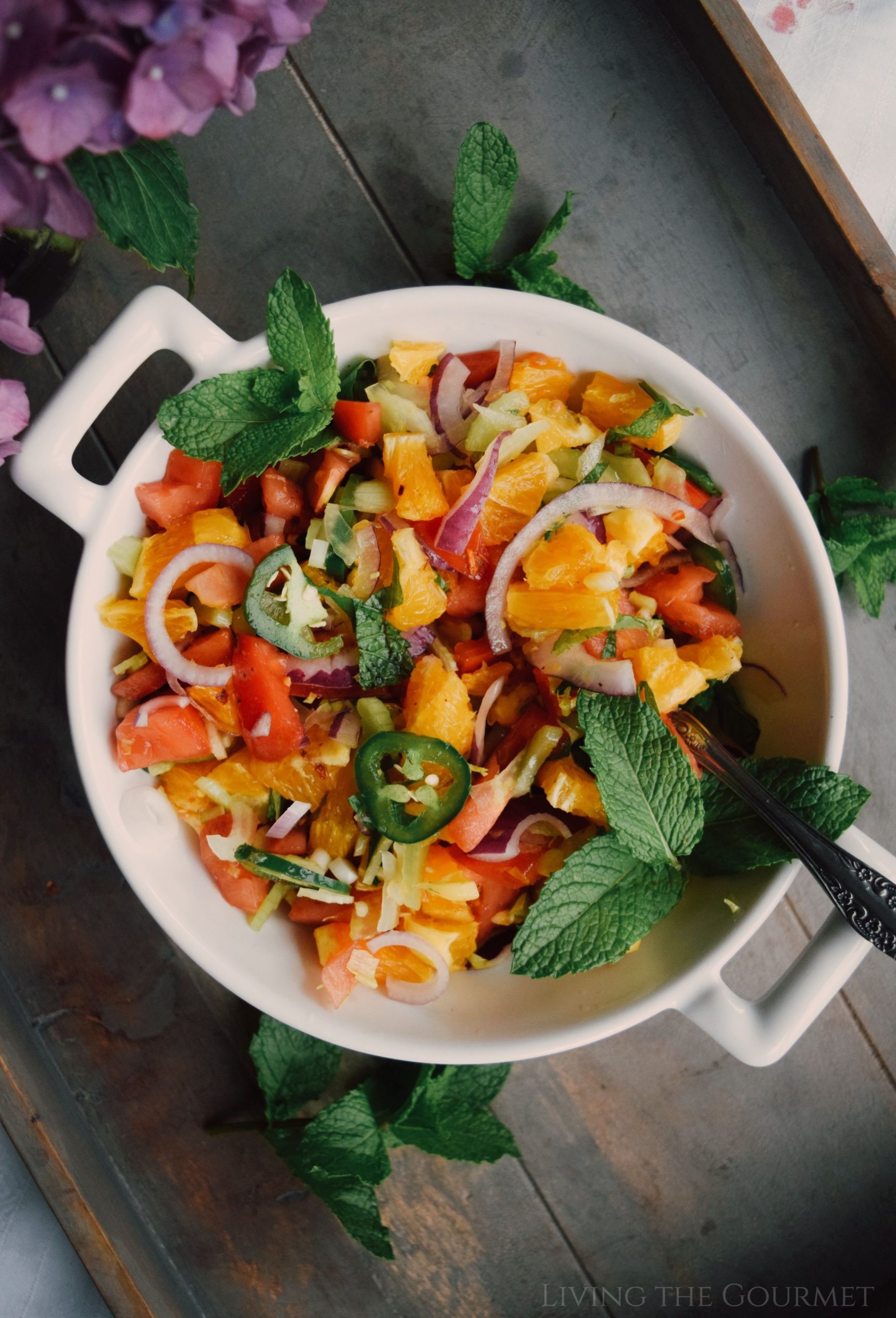 Why You'll Love Today's Salad
1) Light Lunch in the Sun. Today's salad is more or less what comes to mind when I think summer salads that go beyond the basic 'fruit toss.' With a touch of spice from the jalapeno, juicy sweetness from the orange, crisp fresh notes from the basil, and herbal sweetness from the mint and nutmeg, today's salad combines many of what I consider to be quintessential summer flavors.
2) It Pairs Excellently. I'll touch on this more below, but today's salad is great on its own, but also pairs surprisingly well with a range of different summer favorites, from steaks to burgers, to summer seafood favorites, it's wide yet beautifully melded bouquet of flavors means it pairs great with an equally wide variety of dishes.
3) Super Simple. As I mentioned in my opening, this salad is simple to put together, no lengthy stints of chopping, no extra prep work. This salad fixes up in mere minutes.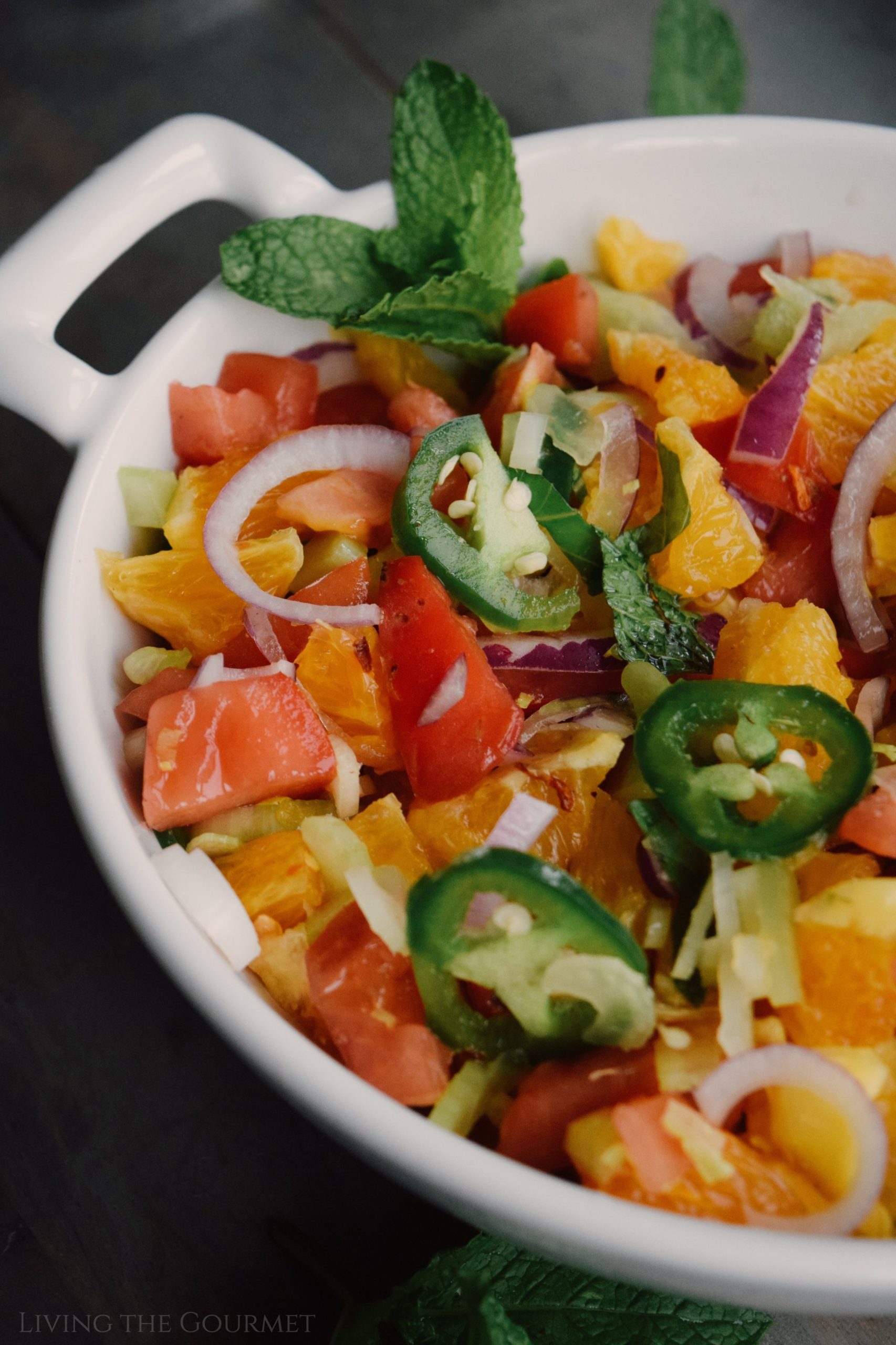 Ingredient Notes, Tips, and Substitutions
1) Fresh Mint. Often called 'the friendliest and most forgiving herb' out there, it definitely has that reputation for a reason. Mint is easy to grow (seriously, my mint has survived Long Island droughts and Long Island flooding, and comes back like clockwork), and it's even easier to incorporate into your cooking – but still leaves room for 'getting fancy.' From complex reductions for use on roasted lambs, to simply stirring a few chopped leaves into yogurt or ice cream, mint is a joy for home cooks and expert chefs alike. With that said, we don't want to go 'too heavy' on the mint in today's salad, otherwise it will be almost literally be the only thing you taste.
Substitution: Dried mint. Dried mint packs a lot of the same characteristic qualities that its fresh counterpart does – albeit with the lingering 'earthy' or 'dark herbal' notes that pervade all dry herbs. For today's recipe, about two to three teaspoons will suffice, just make sure its thoroughly spread throughout the salad. Fresh marjoram is also a nice substitute for fresh mint, but I would use about three-quarters of the amount of marjoram as mint in this case.
2) The Red Onion – Color vs Flavor. For today's salad, I'm using red onion purely because I think it looks better in the mix. Sweet Onions would also go great in today's salad, but would forgo the 'oniony bite' of their red counterparts in favor of – you guessed – a sweeter flavor profile. So, if you prefer a bit more 'sweet' in your salad, go for sweet onions, if you prefer more color and a bit of 'bite,' go for the red.
3) The Fresh Basil. I'm using fresh basil today to achieve a 'bright licorice' or 'anise-like' flavor. Since both of these flavors are entirely absent in dried basil, dried basil isn't really an option here. Furthermore, fresh basil has powerful aromatics that are reminiscent of a bright summer garden in full bloom, whereas dried basil boasts an earthier, vaguely 'darker' herbal aromatic profile. Since today's salad is meant to be 'light' and 'fresh' on the palate, fresh basil is the way to go.
Substitution: Oddly, there really isn't a 'go to' substitute for fresh basil, and this is especially true in raw or uncooked recipes, since it's dried counterpart is 'very' different from its fresh incarnation – unlike mint, where fresh mint's flavors largely carry over when dried. Oregano is often touted as a decent substitution, but I'm not sure how well that work in today's salad.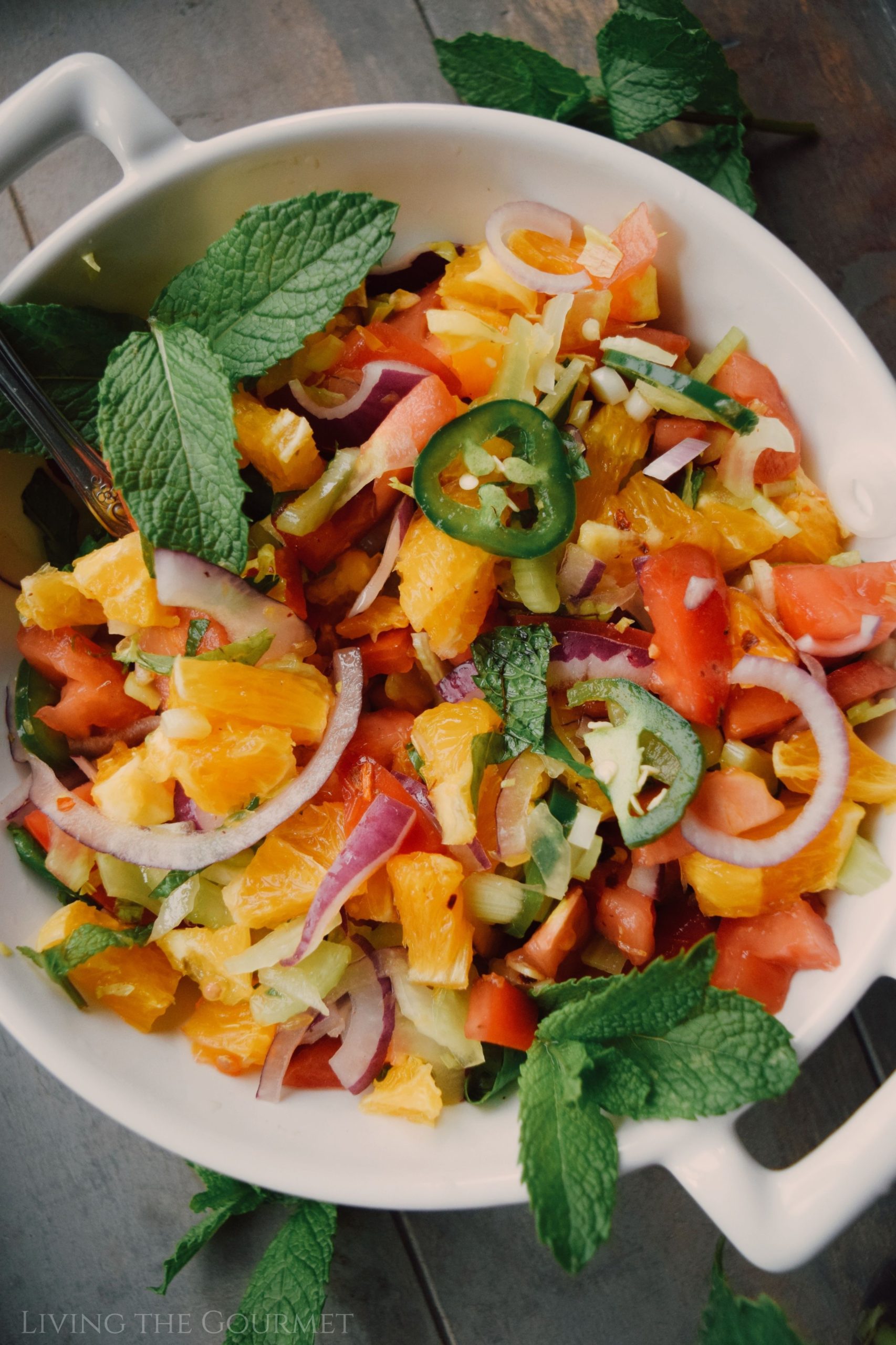 Pairs Great With
1) Patty Melts. A little behind the scenes, these patty melts are actually what I ate today's salad with, having prepared both recipes on the same day – and yes, they went deliciously together. If you're feeling particularly adventurous, whip up a quick batch of homemade onion rings to complete the combo.
2) Walnut Crusted Oven Fried Chicken Cutlets. Dredged in a dense walnut-based coating, and then fried to golden perfection, these chicken cutlets are both crisp and flavorful, putting a delicious spin on a familiar favorite.
3) Mediterranean Style Lasagna. A blissfully seasonal lasagna combining sweet notes such as raisins and cinnamon, with earthy umami such as capers and garlic, layered together with ricotta, fresh tomato sauce, and baby spinach, this is one recipe I absolute recommend trying before the warm weather is out.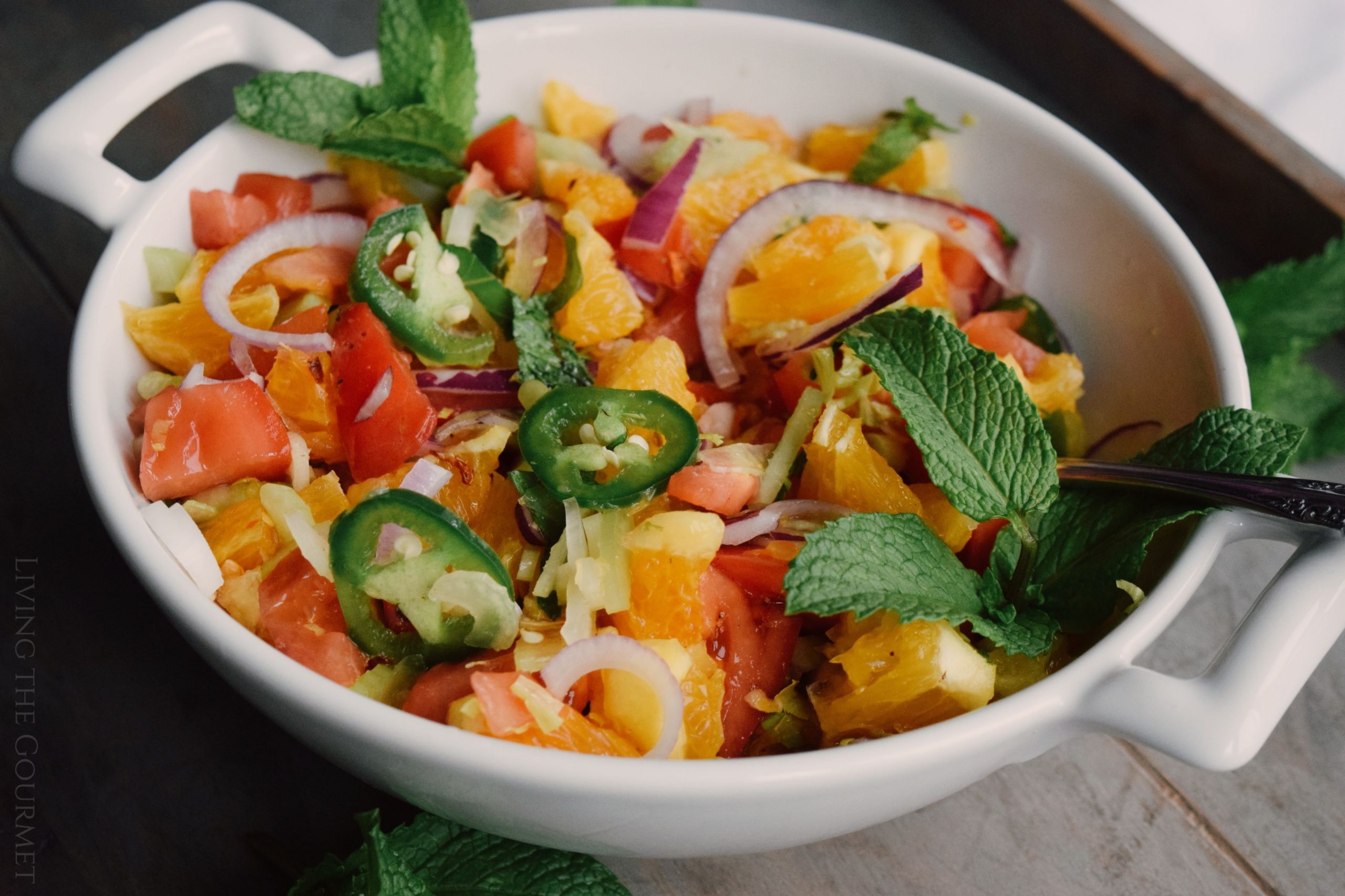 Print
Spicy Orange Salad
Author:
Prep Time:

10 minutes

Total Time:

10 minutes

Yield:

4

1

x
2

oranges - cut into pieces

1

jalapeno - sliced thin - with or without seeds

1

large tomato - diced

1

small red onion - sliced thin

4

-

5

stalks of celery - sliced thin with leaves
Fresh mint (8 - 10)- chopped
Fresh basil leaves (8 - 10) - chopped

3/4 tsp

. salt

1 tsp

. sugar

1/2 tsp

. red pepper flakes
Fresh nutmeg - grated

2

tbs. apple cider vinegar
Instructions
Combine all of the ingredients in a bowl.
Add the seasonings and vinegar and toss.
Taste for seasoning. Serve immediately.
Recipe Card powered by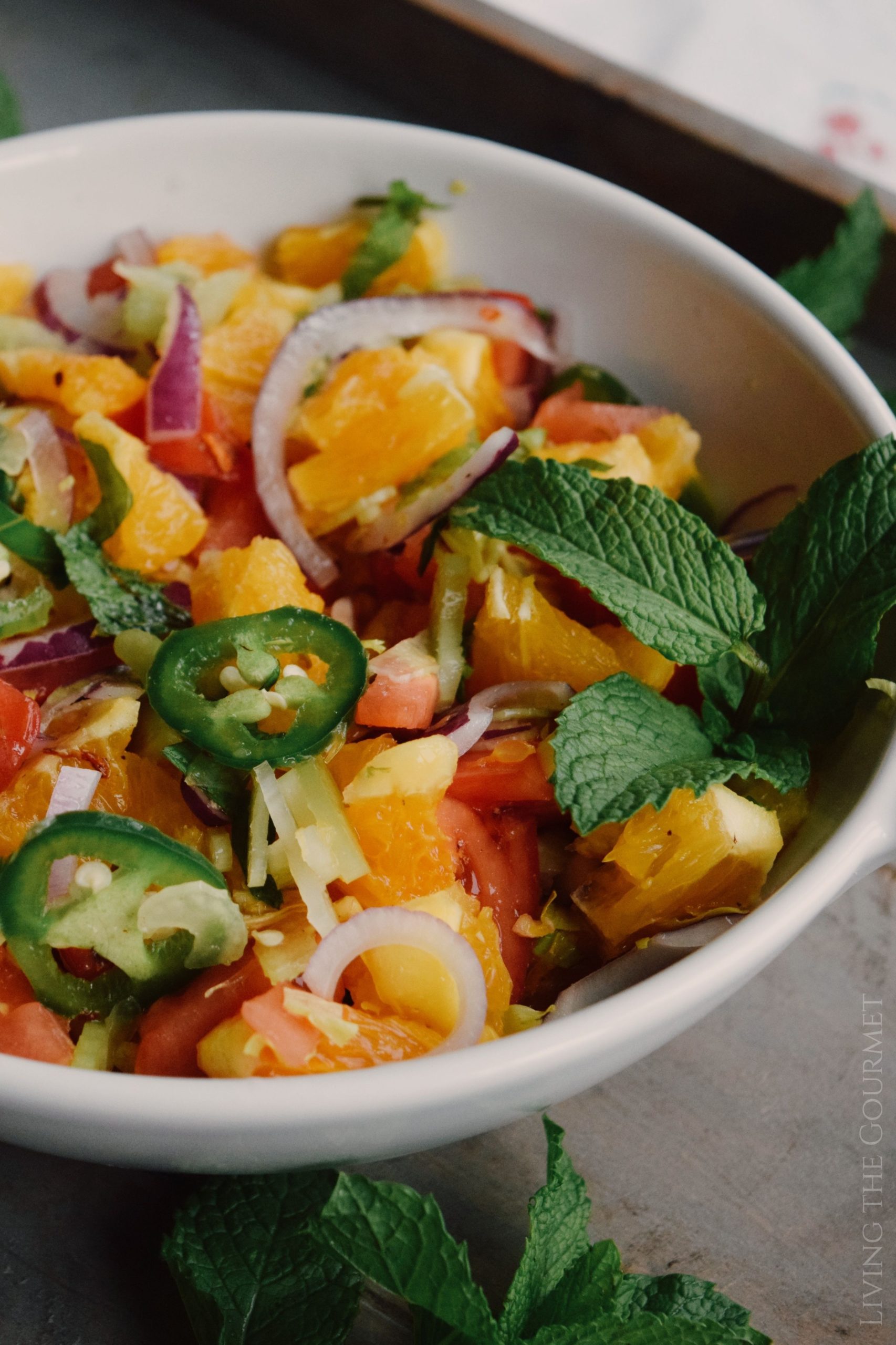 If You Enjoyed Today's Recipe…
Be sure to follow us on Instagram to stay up to date with all things Living the Gourmet, and for more great recipes, tips and tricks.
Did you make this recipe?
If so, let me know in the comments down below, or post a picture to Instagram, or to Pinterest, and I'll give you a shoutout on Instagram, or post your pin to one of my Pinterest boards!
2