Today we're preparing a recipe that needs no introduction – Fried Onion Rings. This is my go to recipe for onion rings. It's simple, delicious, and never fails to impress the guests. So, whether your throwing a backyard bash with burgers and hotdogs, or are looking for a hardy side to steak, this recipe has got you covered.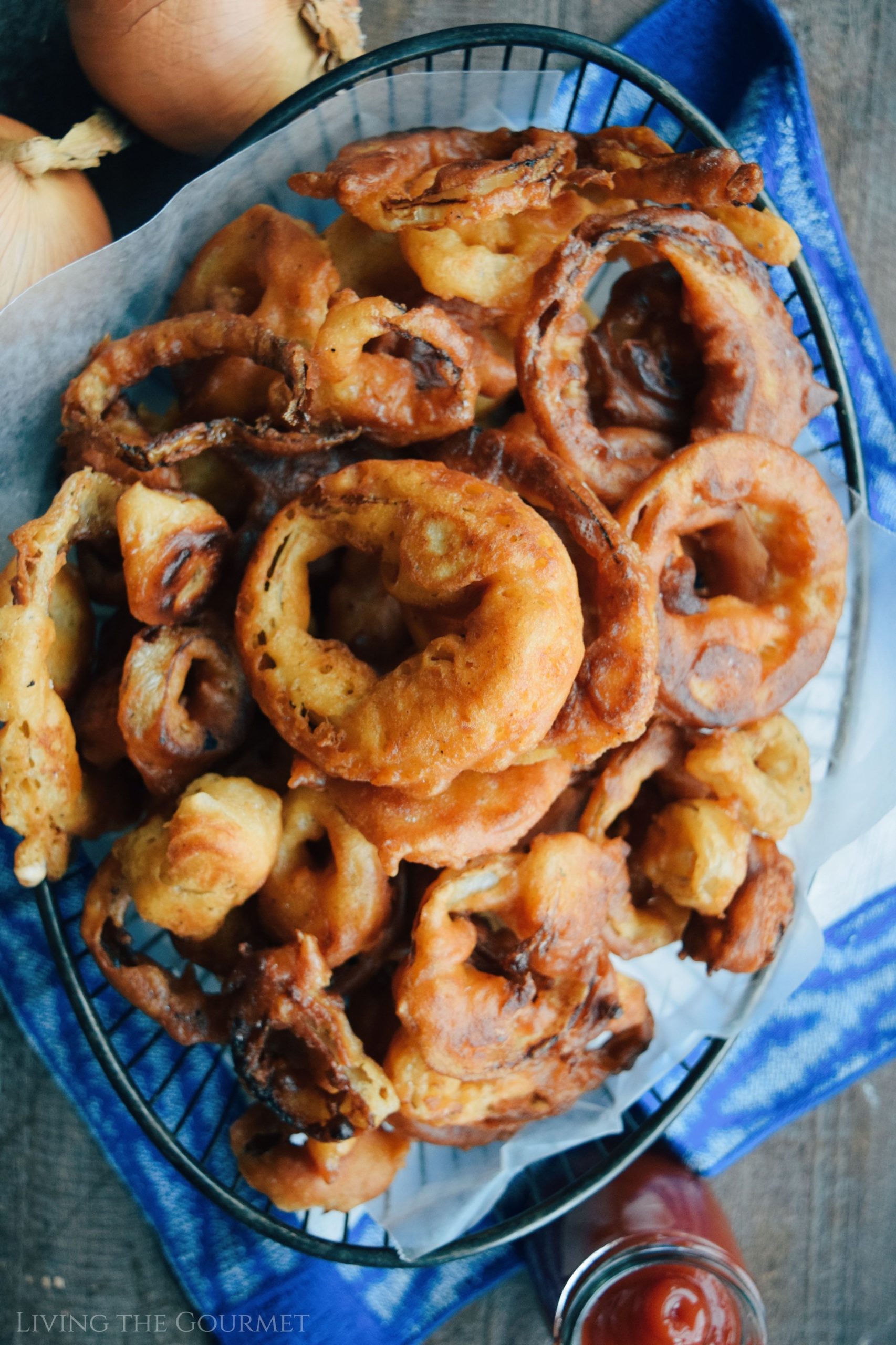 Ingredient Notes and Tips
1) Cayenne in Onion Rings? Yes. The cayenne is the 'punch' behind the 'kick' in today's recipe – see what I did there? While you can leave out the cayenne, I strongly recommend leaving it in, if only because it gives a nice bit of 'smoky earthiness' to the rings, with just a touch of background heat.
2) Paprika in Onion Rings? Largely the same logic as the cayenne, except the paprika leans more into a deep smoky flavor as opposed to heat.
3) The Onions. For onion rings, the go-to onion is large white and yellow onions. You want an onion that is neither terribly sharp nor terribly sweet. While you 'can' use pretty much any onion for onion rings, trust me and stick to basic white or yellow onions.
4) The Oil. When frying, you almost always want to default to a basic vegetable or corn oil. While I 'do' fry things like zucchini flowers in olive oil, those are the exception rather than the rule. However, when frying something like calamari, onion rings, or French Fries, the temperature at which your frying exceeds the 'smoke point' of olive oil – which is around 375-410 degrees Fahrenheit – whereas corn oil can reach up to 450 degrees before it begins to 'smoke.' This essentially means that the oil begins to burn, breaking down chemically, and giving your food a rancid taste and sapping its nutrients. Curiously, on the other hand, the lower the quality your olive oil, the 'higher' its smoke point. In fact, 'Light' olive oil actually has a higher smoke point than vegetable or corn oil (a searing 480 degrees Fahrenheit), while Extra Virgin Cold Pressed olive oil will start to burn at merely a 'low simmer.' However, I would definitely 'not' recommend using light olive for frying, and instead simply opt for either vegetable or corn oil here.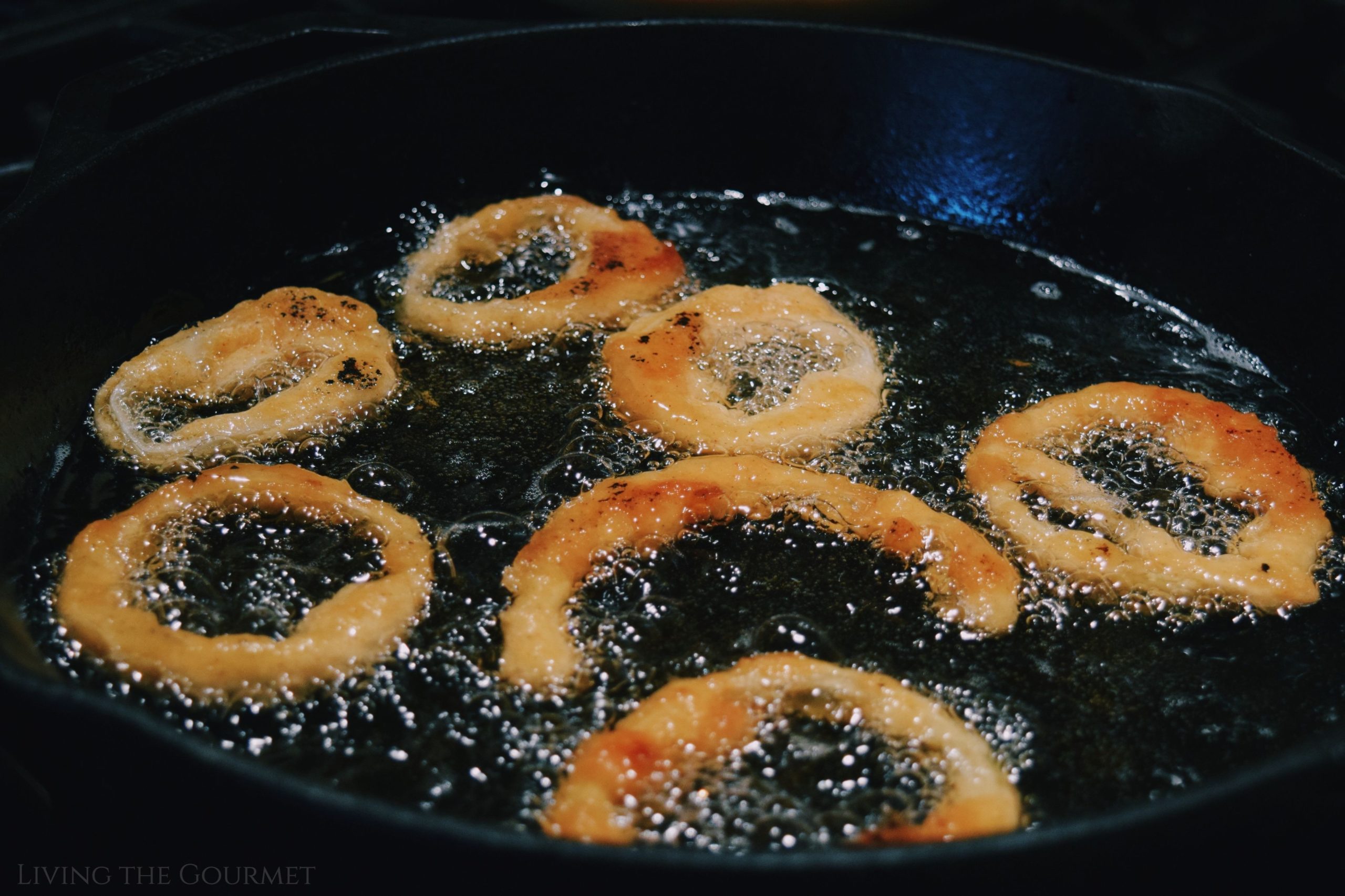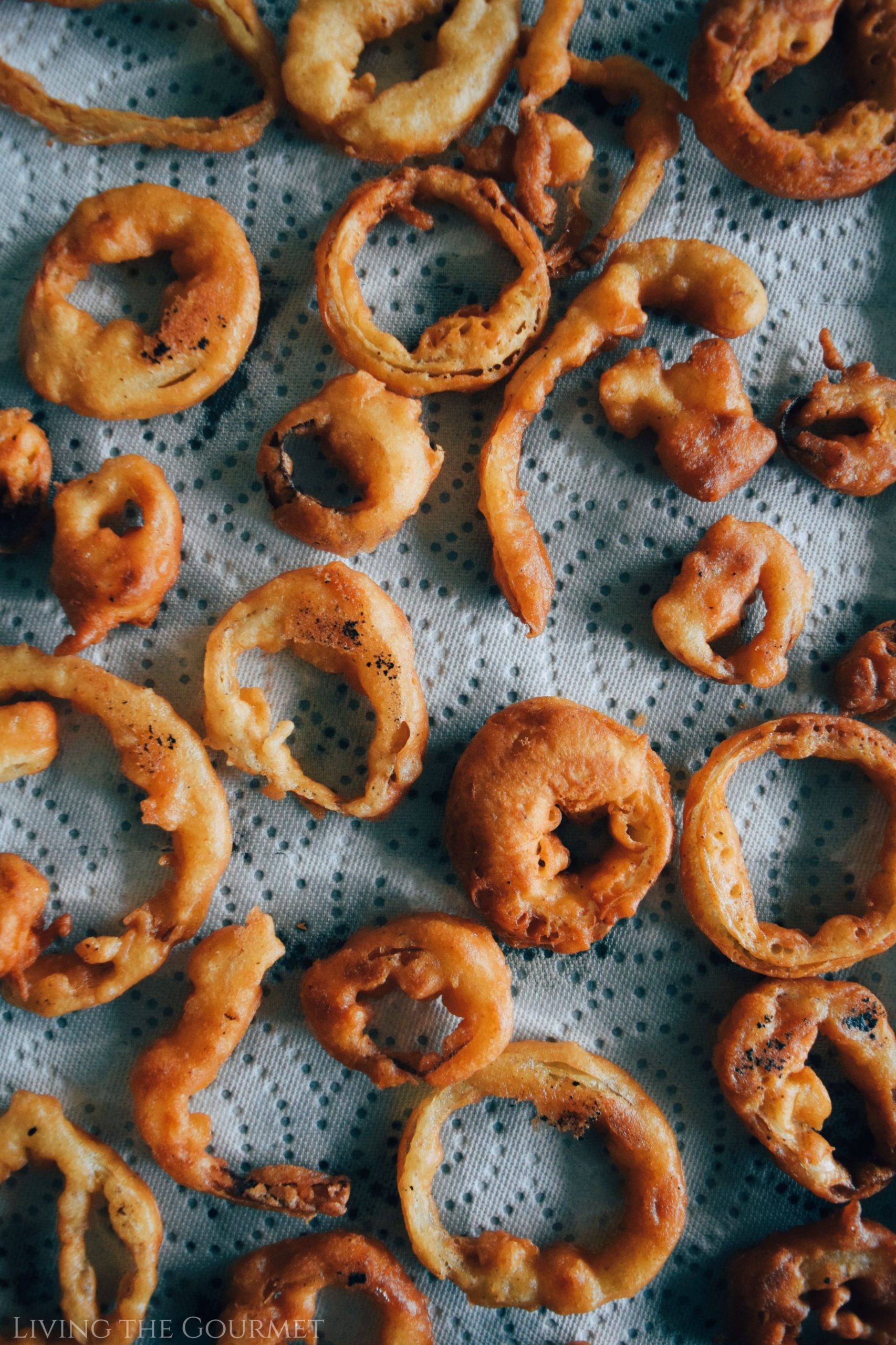 Serving Suggestions
Yes, I know, I know, they're onion rings, and you don't need a whole section of 'tips' on how to eat them.
However, if you 'do' feel like getting a little creative, or like kicking these up into high gear, here are a few suggestions for doing exactly that:
1) Buffalo Dipping Sauce. I'm of the opinion that buffalo sauce is severely 'typecast,' since I believe it often gets overlooked when not in it's 'chicken wing incarnation.' For a quick and easy buffalo dipping sauce, which would pair great with today's onion rings, give this recipe a try.
2) Spicy Honey Dipping Sauce. This is one of my absolute favorite 'quick and easy' dipping sauces. It's literally just two ingredients. Head over to my Instagram to grab the recipe. Pro-Tip: It also goes great on chicken.
3) Beef Au Jus Sandwiches. Rather than the typical hotdog or burger, consider Beef Au Jus Sandwiches, which feature thinly sliced roast beef piled onto club rolls with melted Jarlsberg, which is then topped with an Au Jus sauce (a mix of butter, Worcestershire Sauce, beef drippings, and black pepper), and finished with a spicy Giardiniera, which is a mix of grilled jalapenos, sweet onions, carrots, plenty of garlic, balsamic vinegar, and red pepper.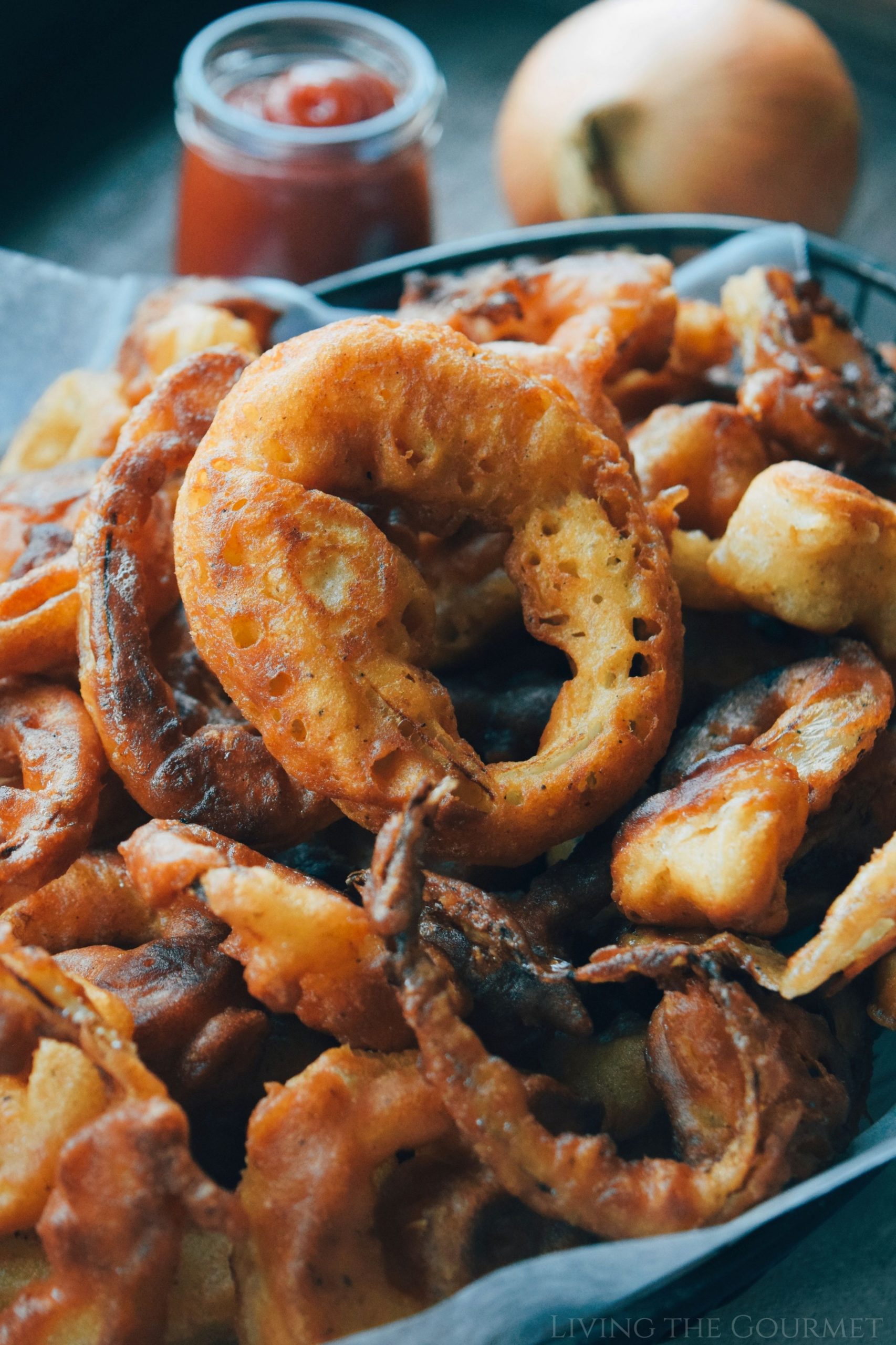 Other Great Fry-Fests From Living the Gourmet
1) Oven Baking vs Frying. My gratuitously in-depth analysis of the difference between frying and oven baking, and which is better for what recipe, as well as the general pros and cons of both.
2) Spicy Fried Chicken. My favorite take on this perennial classic. We use corn starch to give the chicken coating a nice crisp, and add in cayenne and hot sauce to the batter to give the ultra-crispy coating a nice kick.
3) Oven Baked Chicken. I know I promised a fry-fest, but this chicken recipe is the oven-baked version of my spicy fried chicken. I love both, so take your pick of the two and let me know down below which you like the best!
4) Fried Cauliflower Balls. My favorite way to prepare cauliflower is as bite-sized fried delights. Drizzled with some fresh lemon, and served with a homemade tzatziki, and you've got a real treat that's great as either as a starter or a side.
5) Italian-Style Fried Shrimp Balls. These are as delicious as they sound. Prepared with fresh basil, fresh lemon, Romano cheese, and Italian parsley, these a delightful addition to any starter spread.
Print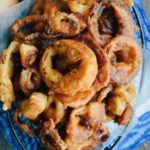 Crispy Fried Onion Rings
---
Author:

Total Time:

25 minutes

Yield:

2

dozen onion rings

1

x
1

large yellow onion - sliced into

1/4

inch thickness
For the Batter:
1

cup

flour - sifted

1 1/2 teaspoons

baking powder

1

egg yolk

3/4

cup

milk

1 tablespoons

Corn Oil

1

egg white

1 tsp

. salt

1/2 tsp

. black pepper

1 tsp

. garlic powder

1/2 tsp

. sugar

1/2 tsp

. cayenne

1/2 tsp

. paprika
Corn Oil - for frying
---
Instructions
Slice onion to ½ inch thickness and separate into rings.
Place the rings in a bowl and cover with cold water. Let the rings stand for about 30 minutes.
Drain and spread on a clean kitchen towel to absorb the water.
Sift the flour along with the baking powder and seasonings.
Beat the egg yolk in a medium sized bowl and stir in the milk and corn oil.
Add the flour mixture and stir until smooth.
Beat the egg white until soft peaks are formed, then fold into the batter.
Heat about 1 inch of corn oil in a large cast iron frying pan.
Dip the onion rings into the batter, letting the excess batter drip into the bowl.
Place several rings into the heated oil and fry until a beautiful golden color is achieved; carefully turning once.
Drain on prepared paper towels.
Serve with your favorite condiments.
Notes
*Prep Time does NOT include Inactive Prep Time
Prep Time:

10 minutes

Cook Time:

15 minutes
Recipe Card powered by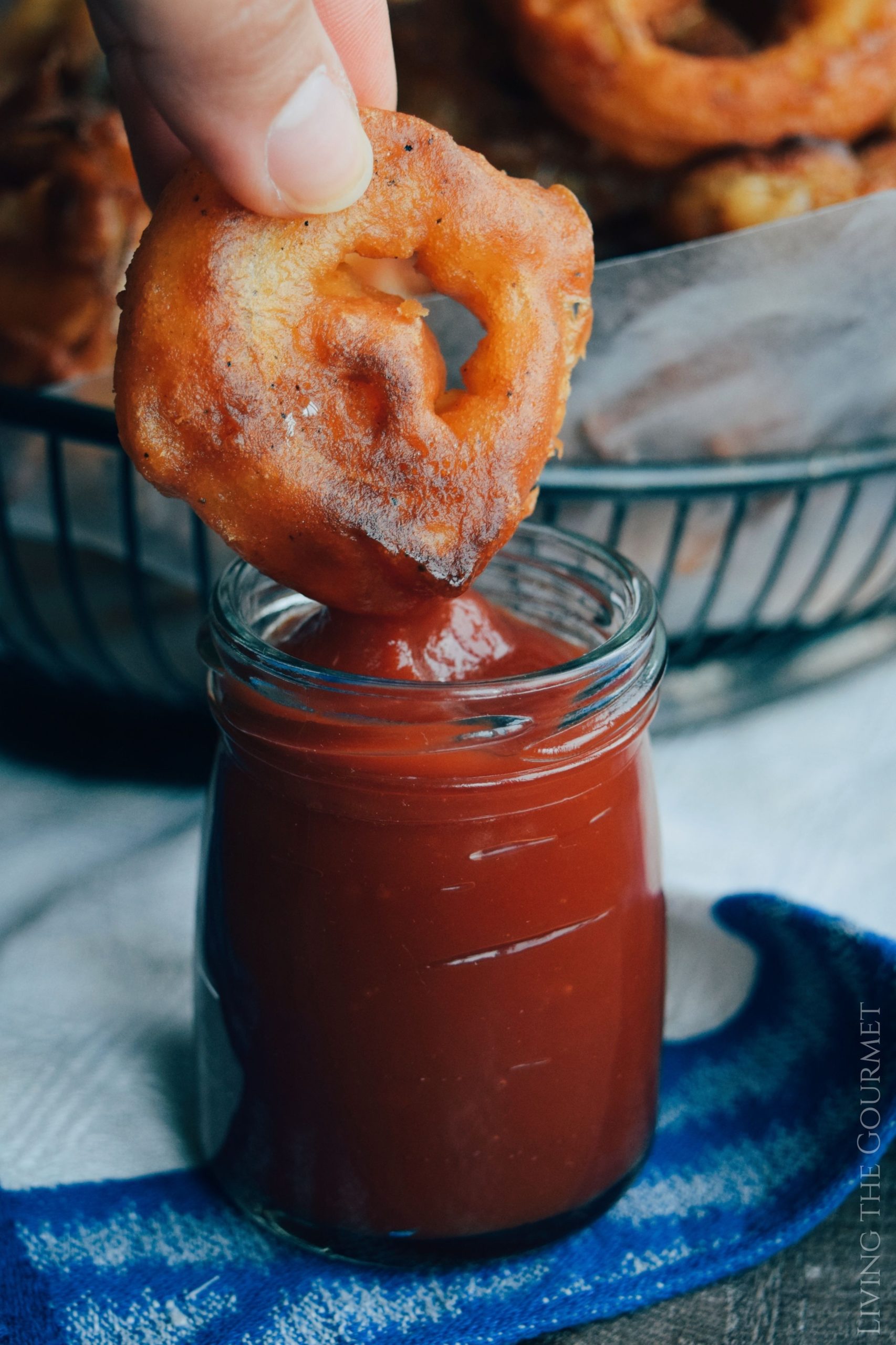 Did you make this recipe?
If so, let me know in the comments down below, or post a picture to Instagram, or to Pinterest, and I'll give you a shoutout on Instagram, or post your pin to one of my Pinterest boards!
5