Enjoy the cool Autumn nights with this warm and hearty Oven Baked Caponata!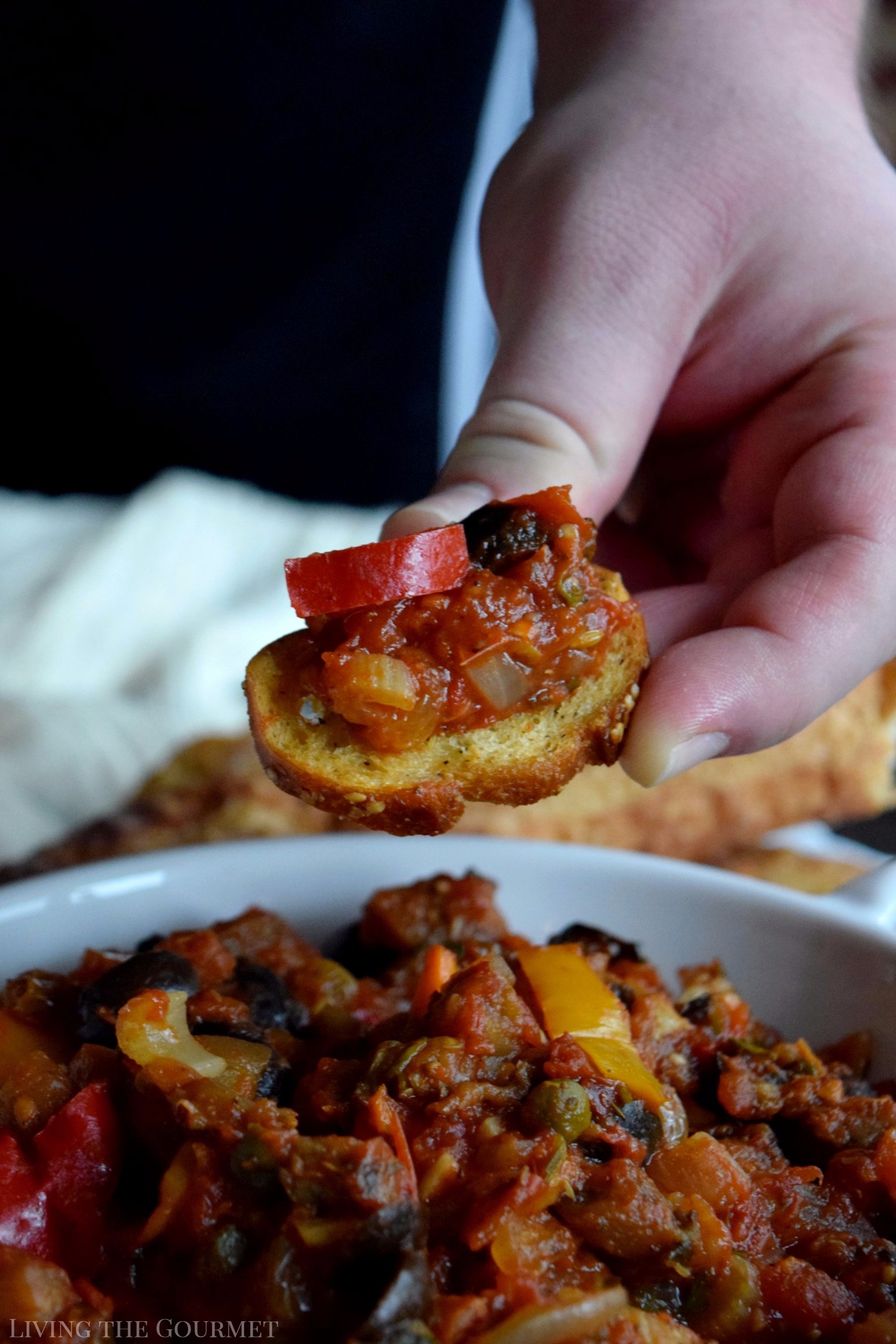 Growing up, from time to time my mother and father would go back and forth in Italian, usually whenever they didn't want myself or my brothers 'prying' in on their conversation. Comically, this was sometimes a more frustrating task for them than one might think, with not-insignificant portions of their conversations being lost in translation between the 'Standard Italian' of my Lucanian father and my mother's fully Sicilian dialect.
Remember, Italy's unification was well within the living memory of my grandparents, while the country's linguistic standardization happened well after they emigrated. Translation – regional differences were still quite real back then.
This distinction in their otherwise shared heritage possessed a pointed culinary edge – one that I wouldn't fully appreciate until much later, since I largely took the style of my mother's cooking for granted – it was simply a way of life, and one that I myself naturally emulated. Who knew that the garlic and oil sauces, grilled vegetables, and caponata I grew up with would become the vogue 'authentic genius' of some of this century's most celebrated celebrity chefs.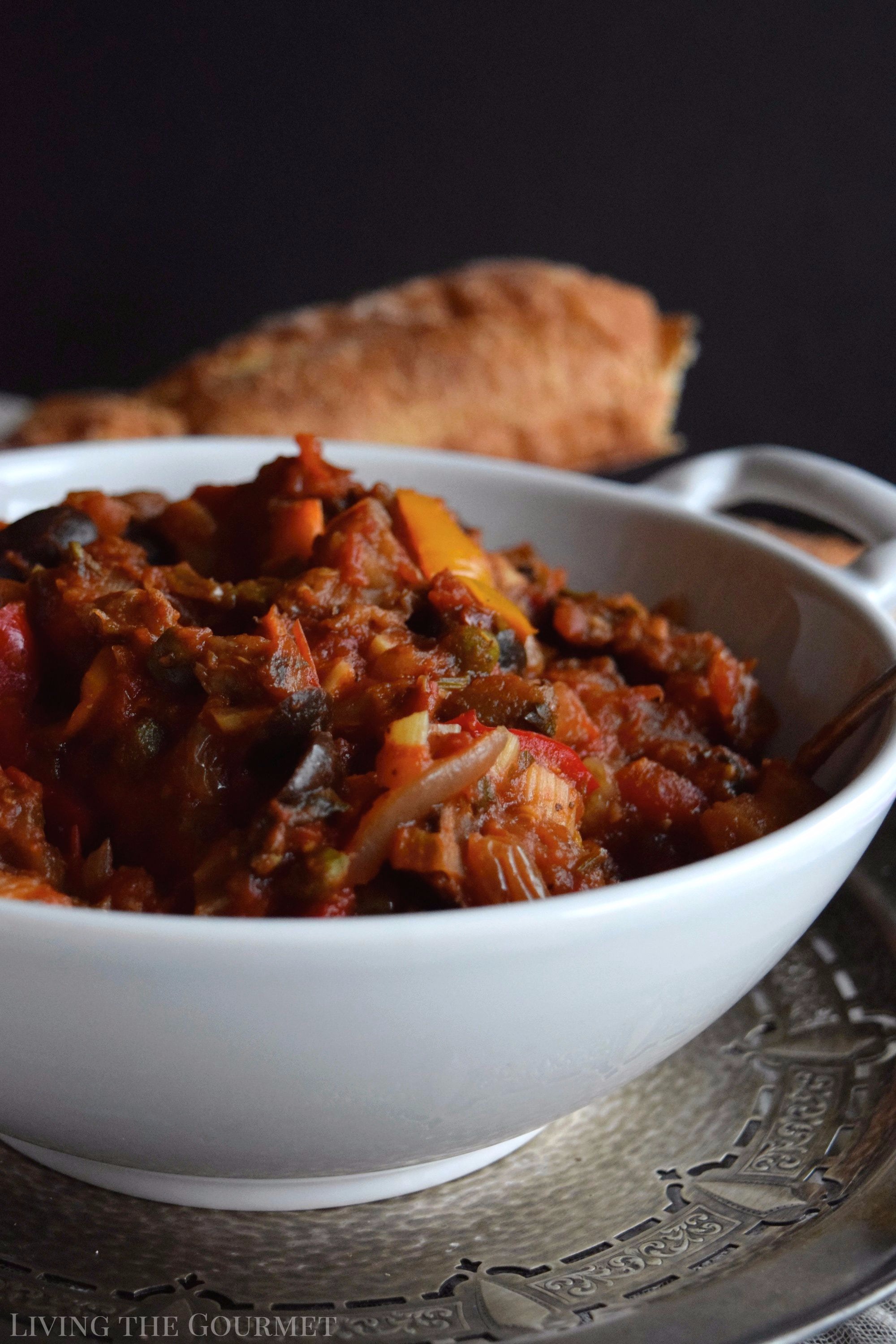 That being said, more than perhaps any other recipe, caponata concisely encapsulates the flavor profile of the Sicilian cuisine, with spongy texture of the roasted eggplant thoroughly absorbing the caper, garlic, and pepper-laced juices of the sauce.
While caponata is sometimes served as a sort of 'warmed vegetable salad,' my preference, and its more typical serving style, is as a topping for bread either as the centerpiece of an antipasto or as the side to the main course.
The 'meat' of this dip, or salad if you prefer, is diced eggplant. While I typically peel my eggplants, some prefer to leave the skin. This is purely preference.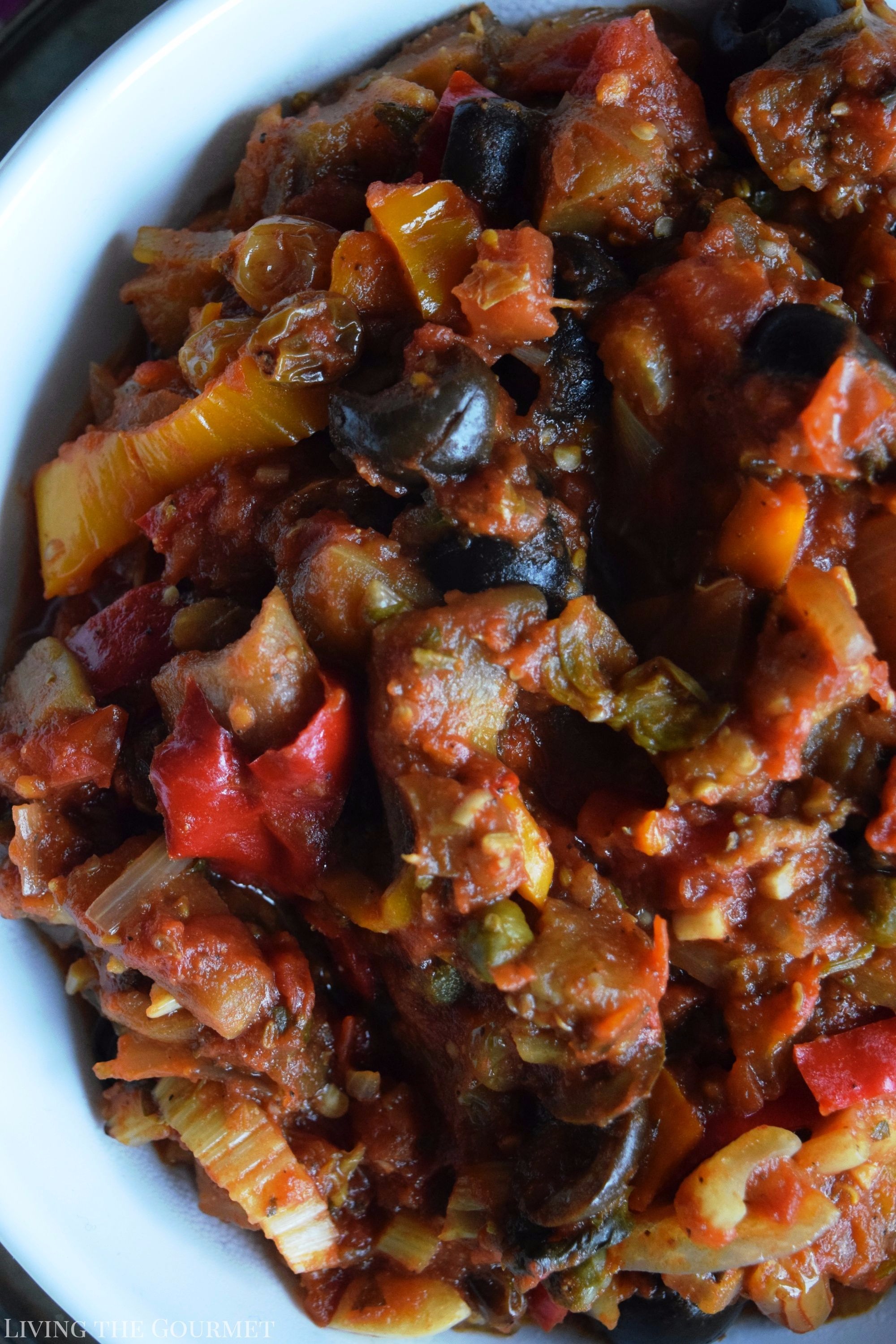 Once diced, combine the eggplants with two large diced tomatoes, chopped celery, garlic, capers, olives, and sliced Italian peppers. Now, I am well aware that there are some prominent caponata recipes sans the peppers, since some chefs believe that the peppers 'take over' the recipe. Honestly, this is akin to heresy in my book, one of those 'authentic' notes that, if removed, simply change the structure and flavor of the original a tad too much for my taste.
Again, however, this is preference.
From there, bake the mixed vegetables for about thirty minutes in the oven. After that, add in the crushed tomatoes, and give it a toss.
Then, mix together the raisins, sugar, and vinegar, and add that into the caponata, and then continue baking for about ninety minutes to two hours.
Now, while you may certainly serve this hot, caponata universally tastes worlds better the following day, I would strongly suggest letting it sit in the fridge for at least twenty-four hours.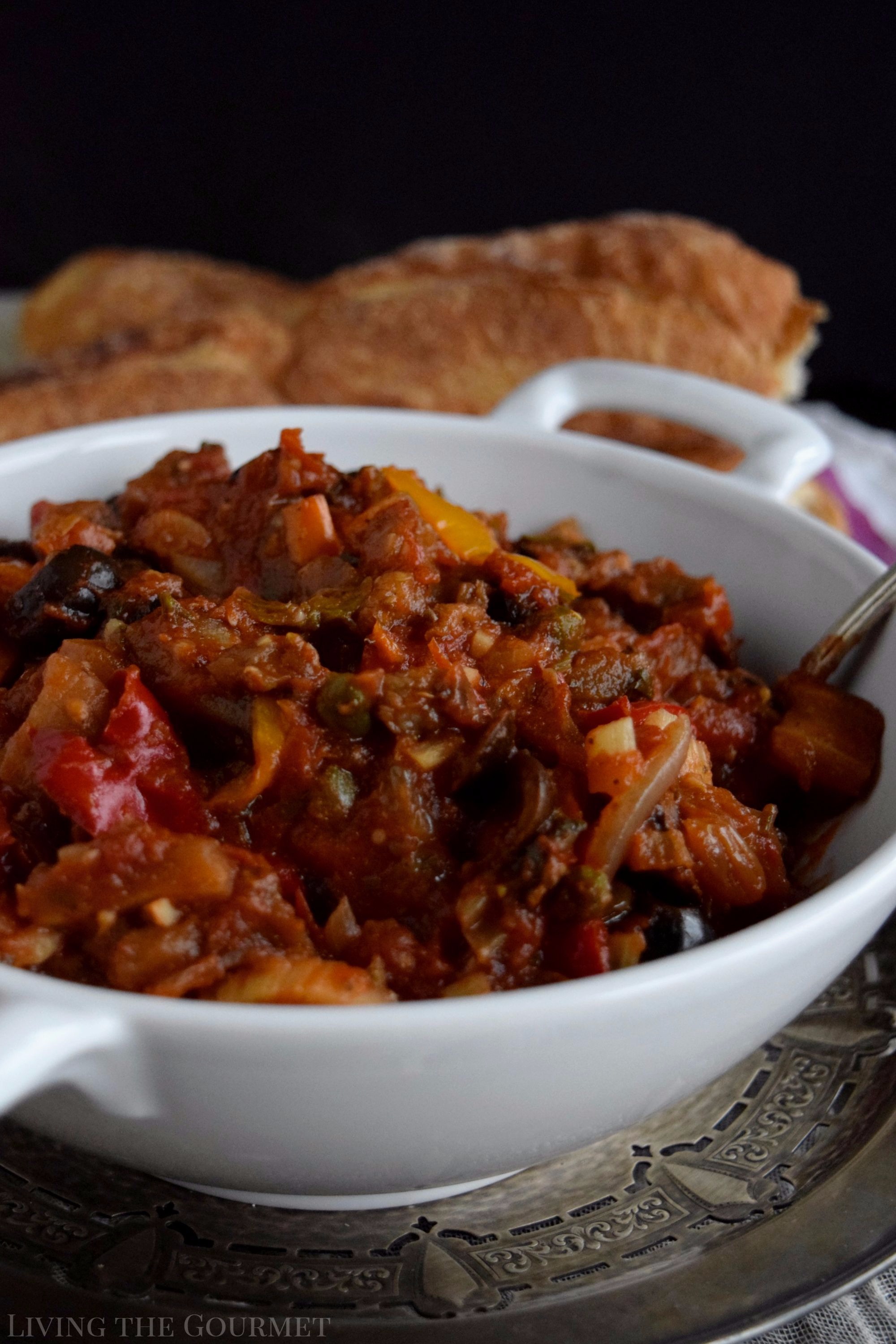 Print
Oven Baked Caponata
Author:
Prep Time:

10 minutes

Cook Time:

2 hours

Total Time:

2 hours 10 minutes

Yield:

4

-6

1

x
Category:

Main Dish
2

whole eggplant – peeled and diced

1

large sweet onion – chopped

5

cloves of garlic – chopped

3

stalks of celery – chopped

4

Italian peppers – chopped

2

large vine ripe tomatoes – diced

8 oz

. can of black olives – drained and chopped

1/2

cup

fresh Italian parsley – chopped

1/2

cup

fresh basil – chopped

28 oz

. can of crushed tomatoes

1/2

cup

raisins

3

tbs. capers

2

tbs. vinegar

1 tsp

. salt

1 tsp

. sugar

1 tsp

. black pepper

1 tsp

. red pepper flakes

1 tsp

. dried oregano

1/2 tsp

. fennel seeds
Olive oil
Instructions
Preheat Oven 350 degrees F.
Toss all the eggplant, celery, tomatoes, onions, garlic, capers, olives and peppers with olive oil and the seasonings.
Bake for approximately 30 minutes. Add the crushed tomatoes and gently toss.
Mix together the raisins, sugar and vinegar; add to the caponata and then continue to bake for at least another hour and half to two hours. Taste to adjust seasonings and make sure the eggplant is soft.
Remove from oven and let cool.
Serve warm or cool.
Recipe Card powered by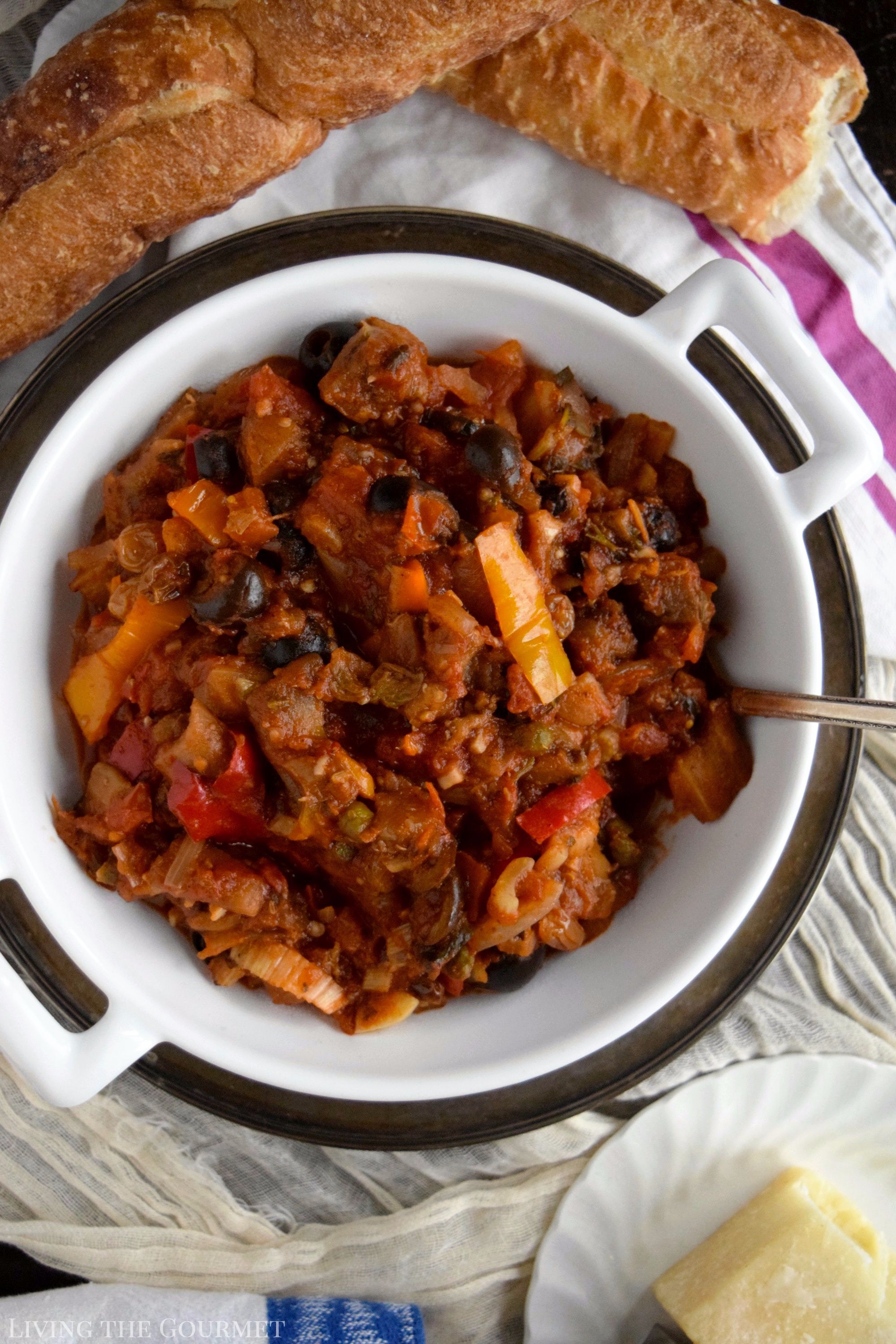 Beyond that, it's also best served at room temperature, again to maximize flavor.
And…well, that's it. Enjoy!
7