Today we're preparing a platter of cardamom and cayenne grilled chicken strips, which we'll be serving alongside a homemade sweet and spicy dipping sauce.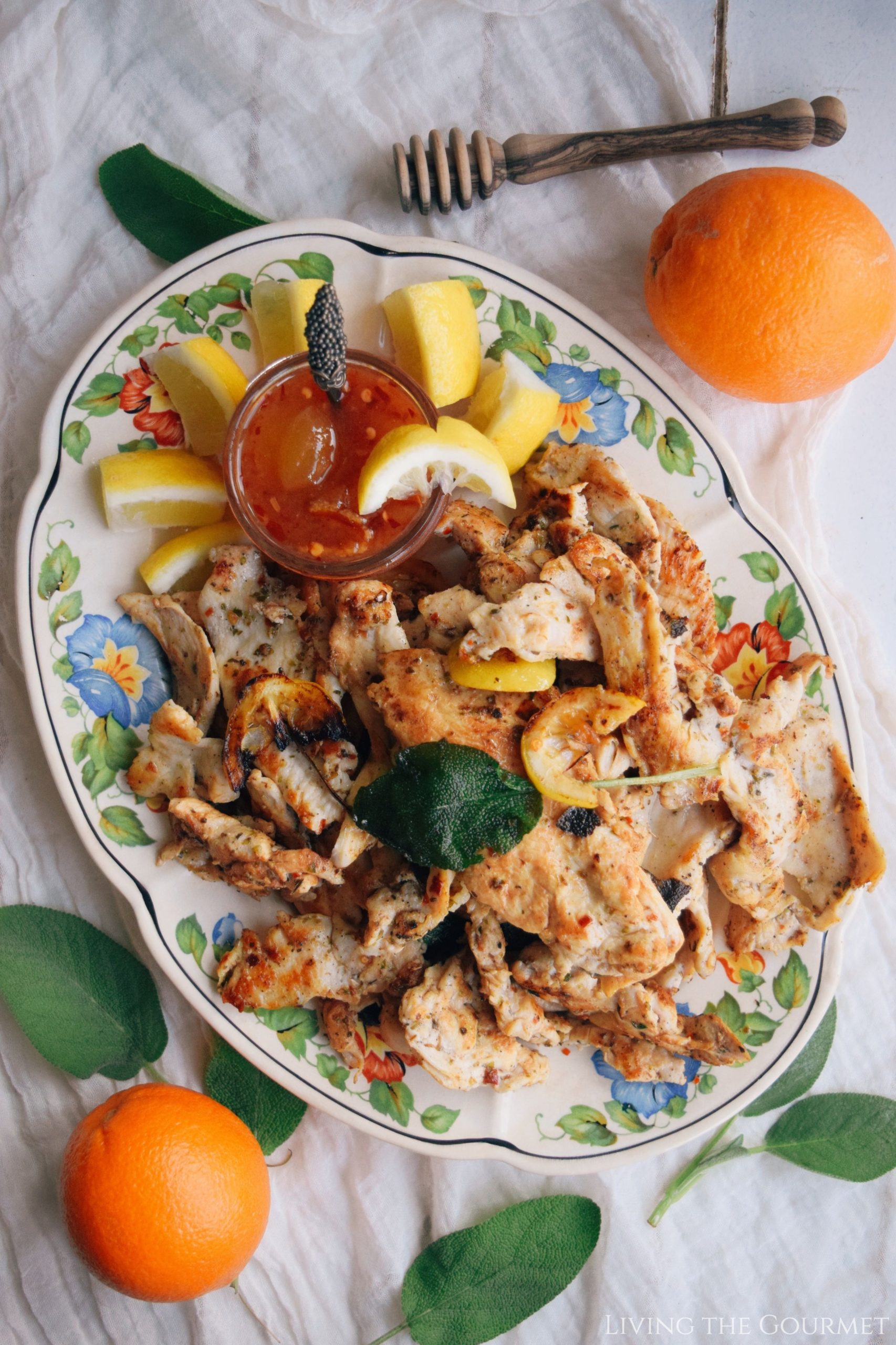 Why You're Love Today's Recipe
1) Super Light. Delicious, guilt-free, and super light, today's recipe is great for the warmer weather, while being waistline friendly as a nice bonus.
2) Blissfully Simple. Today's recipe is easily accessible for home cooks of all skill levels. Simply cut the chicken into strips, coat them in the rub, and then grill them stovetop, remembering to mix the dipping sauce along the way, and that's it.
3) The Dipping Sauce is Surprisingly Versatile. Apart from today's chicken, the dipping sauce – a simple mix of chili paste, marmalade, honey, and lemon juice – goes great on fruit, salad greens, steak, fried chicken, and pork. And best of all, it takes just minutes (literally) to put together.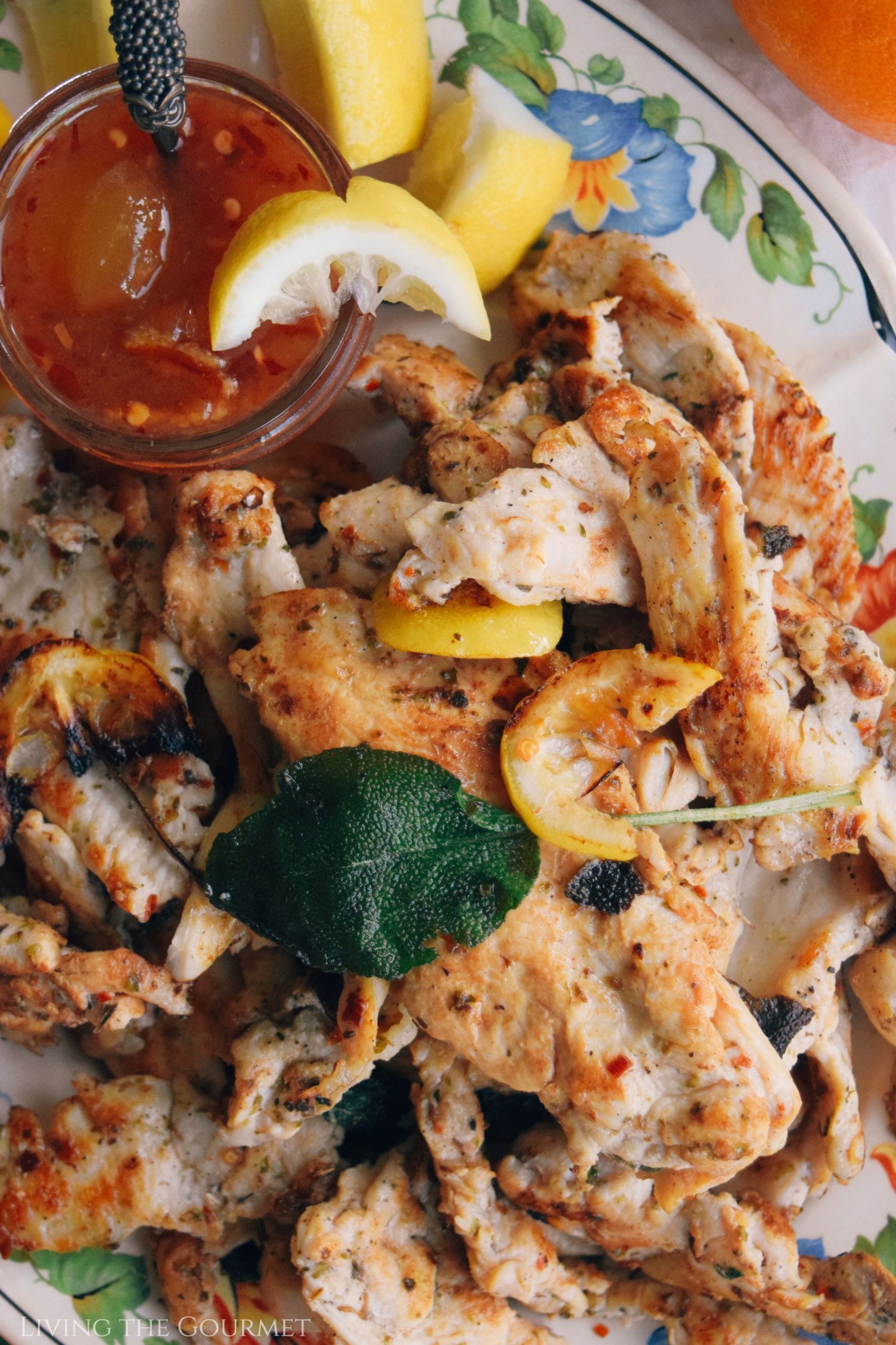 Ingredient Notes and Tips
1) Cardamom/Cardamon/Cardamum. There are two types of cardamom – green pod and black pod. However, when a recipe calls for 'cardamom,' it's almost always the green pod variety that's being referred to unless otherwise specified – and today's recipe is no exception. Green pod cardamom has strong notes of pine, and a vaguely sweet flavor, whereas black pod cardamom evokes an almost menthol-like flavor reminiscent of dried mint.
Substitutes: Due to its intense aromatic profile and unique flavor, it's almost impossible to 'properly' replicate cardamom. However, if you 'must' have a substitute, a blend of roughly equal parts dried ginger, ground cloves, cinnamon, and nutmeg should do the trick – I say 'roughly' since you'll have to make slight adjustments to suite your palate and the recipe in question.
2) The Honey – Get Fancy. Since we're not cooking the honey in today's recipe – we're leaving it raw in the dipping sauce – feel free to get fancy and use your favorite gourmet honey if you have one. As I've written in the past, I keep basic store brand pasteurized honey in my pantry for use in cooked recipes, where the heat of the cooking process would simply break down any of the nuanced textures and flavors of an expensive gourmet honey. The prized qualities of a delicate acacia honey, a raw forest honey, or organic wild flower honey are simply lost during the cooking process. However, in something like a raw dipping sauce, or in salad dressings or fruit salads, feel free to get fancy.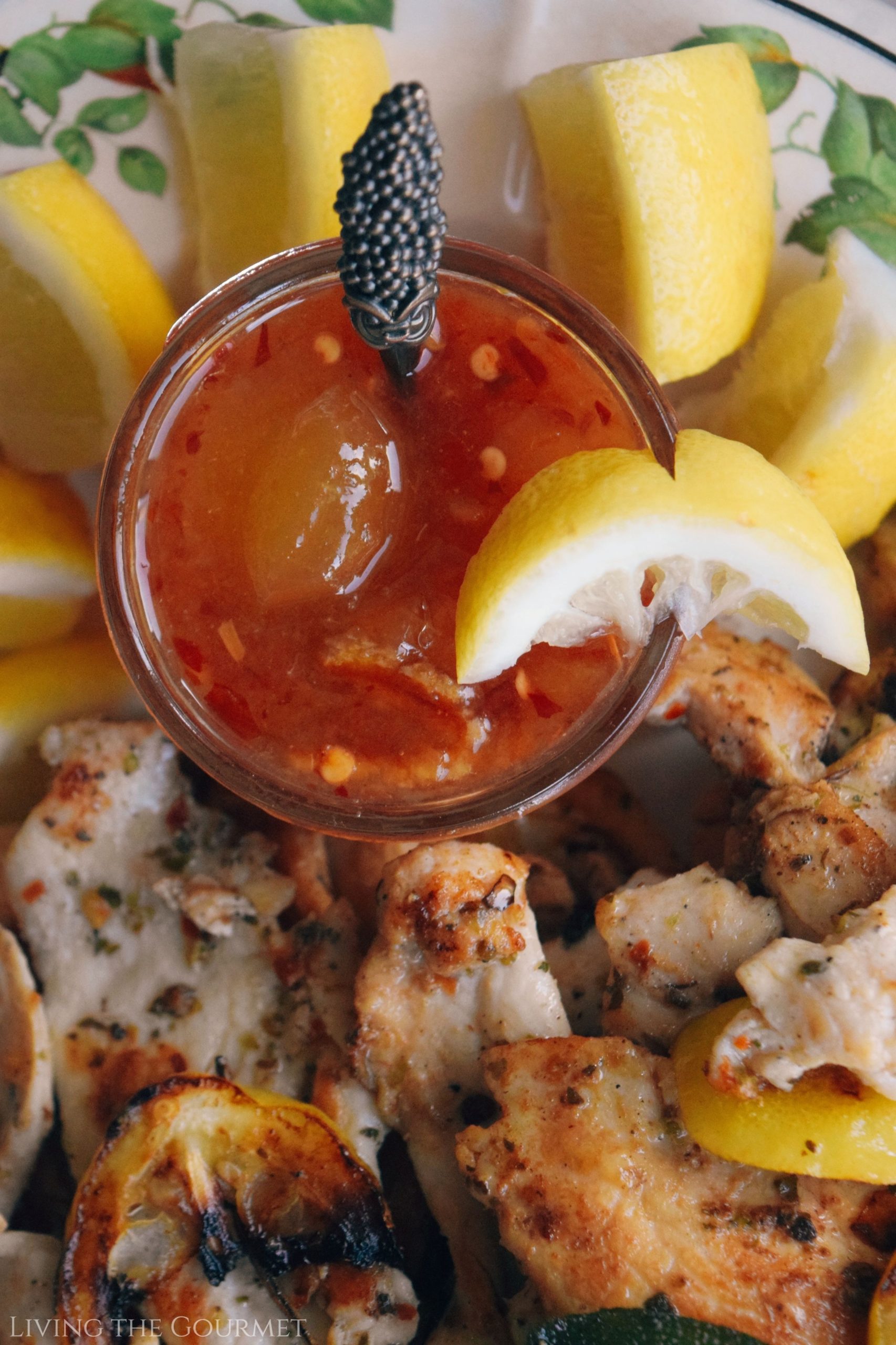 3) Chili Paste – A Shameless Love Letter. This is an ingredient that is so versatile I truly don't know how a kitchen functions without it. Chili paste works wonders as a base for everything from marinades to homemade hot sauces, or for adding some spice to red sauces or salsas, or even serving as a condiment on its own for meat, eggs, and fish, where it brings pungency, spice, and bright 'chili flavor.' That said, I don't personally use a fancy or 'hard to find' chili paste – and honestly, you shouldn't either. On the contrary, I use an Indonesian Sambal chili paste that sells for a couple of dollars per jar. It's a super basic mix of chilis, salt, and vinegar. It's hot, not overly thick, and allows the pungency and spice of the chilis to really shine through.
Should you make your own? No, no not really. I know there are a lot of recipes online for how to make chili paste, and honestly it's just not worth the trouble. Yes, it's (relatively) easy and (very) inexpensive, but at the end of the day, store bought chili paste 'does' taste just as good as similarly structured at home recipes – and is already really inexpensive on its own. Sure, if you want to 'fancy up' a particular chili paste recipe, go for it, but for super-basic chili pastes for use in things like today's dipping sauce, store bought works just fine.
4) Marmalade – Another Shameless Love Letter. I do not remember 'not' loving citrusy, sweetly-bitter, rind-ridden marmalade. Similar to chili paste, it's such a versatile ingredient, that I cannot imagine being without it. Whether sweetening up dipping sauces (as we're doing today), or using it in baked goods such as our Hamantaschen cookies, or using it in sweet marinades or simply spreading it on breakfast breads, the uses for this stuff goes well beyond toast.
Substitutes: Since we're looking not only for the orange and citrus flavors, but also the consistency of the marmalade itself, there really is 'not' a proper substitute. You might consider orange jam with just a dash of fresh orange and lemon zest.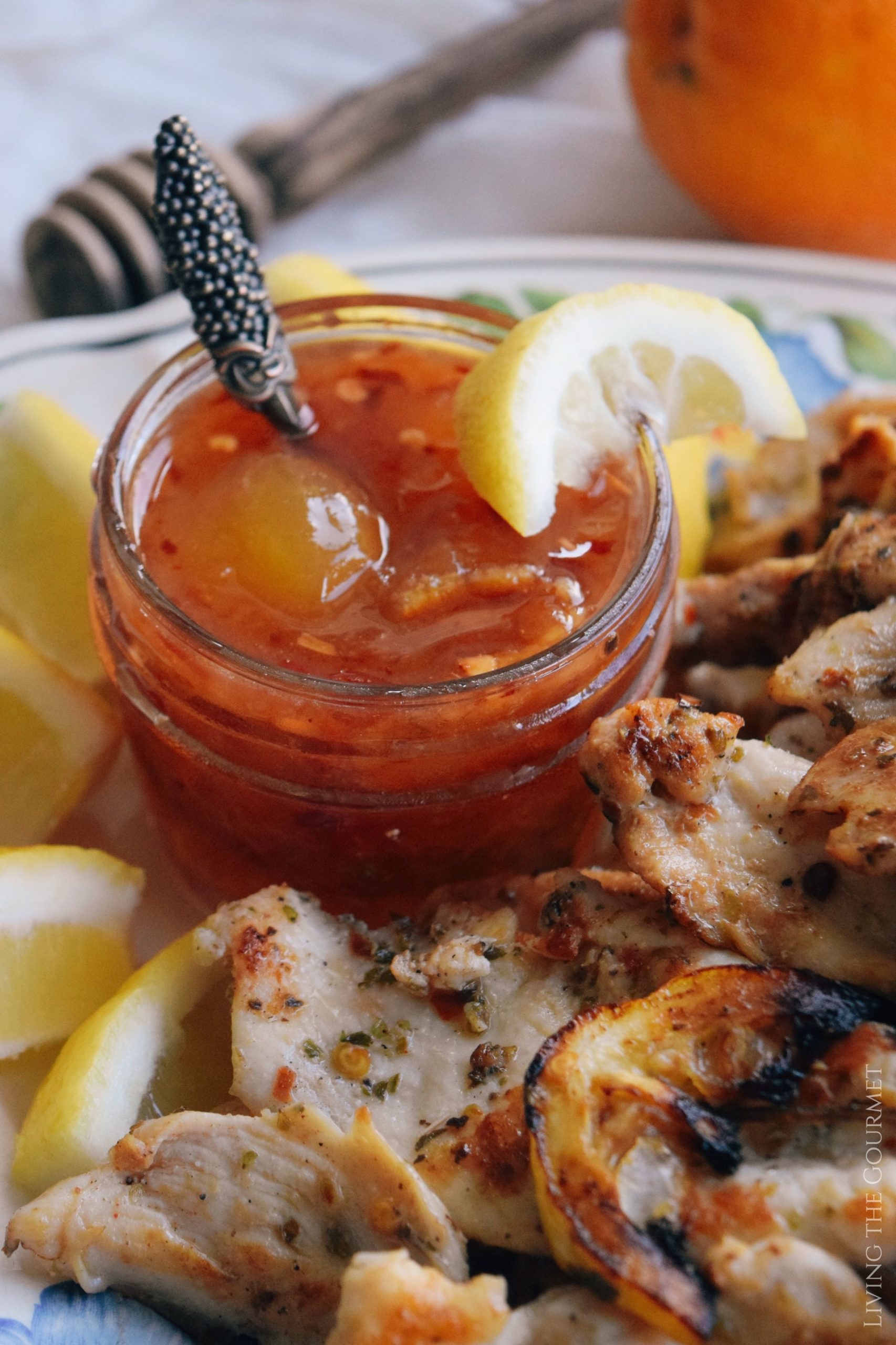 More Great Summer Favorites
1) Rice and Ginger Salad. Combining pickled ginger, roasted garlic and honey, this rice and ginger salad is crisp and refreshing, making it a perfect addition to any warm weather meal.
2) Greek-style Tuna Salad Pockets. This is a must-have on your warm weather menu, combining a Greek-style tuna salad prepared with crisp red peppers, cherry tomatoes, and kalamata olives, packed inside a pita pocket with lettuce greens, feta cheese, and a balsamic vinaigrette.
3) Spicy Jalapeno and Orange Salad. A simple fruit salad prepared with oranges, mint, jalapeno, fresh basil, and nutmeg. This salad packs a nice kick, while remaining crisp and refreshing, while being blissfully simple to put together. This is a summer salad that you should definitely have in your seasonal repertoire.
4) Coleslaw. My preferred recipe for coleslaw combines the obligatory mayo-coating with a citrusy dressing. For a nice kick, I slice in jalapenos with the cabbage to create a sweet-and-spicy salad, with just a hint of crisp citrus.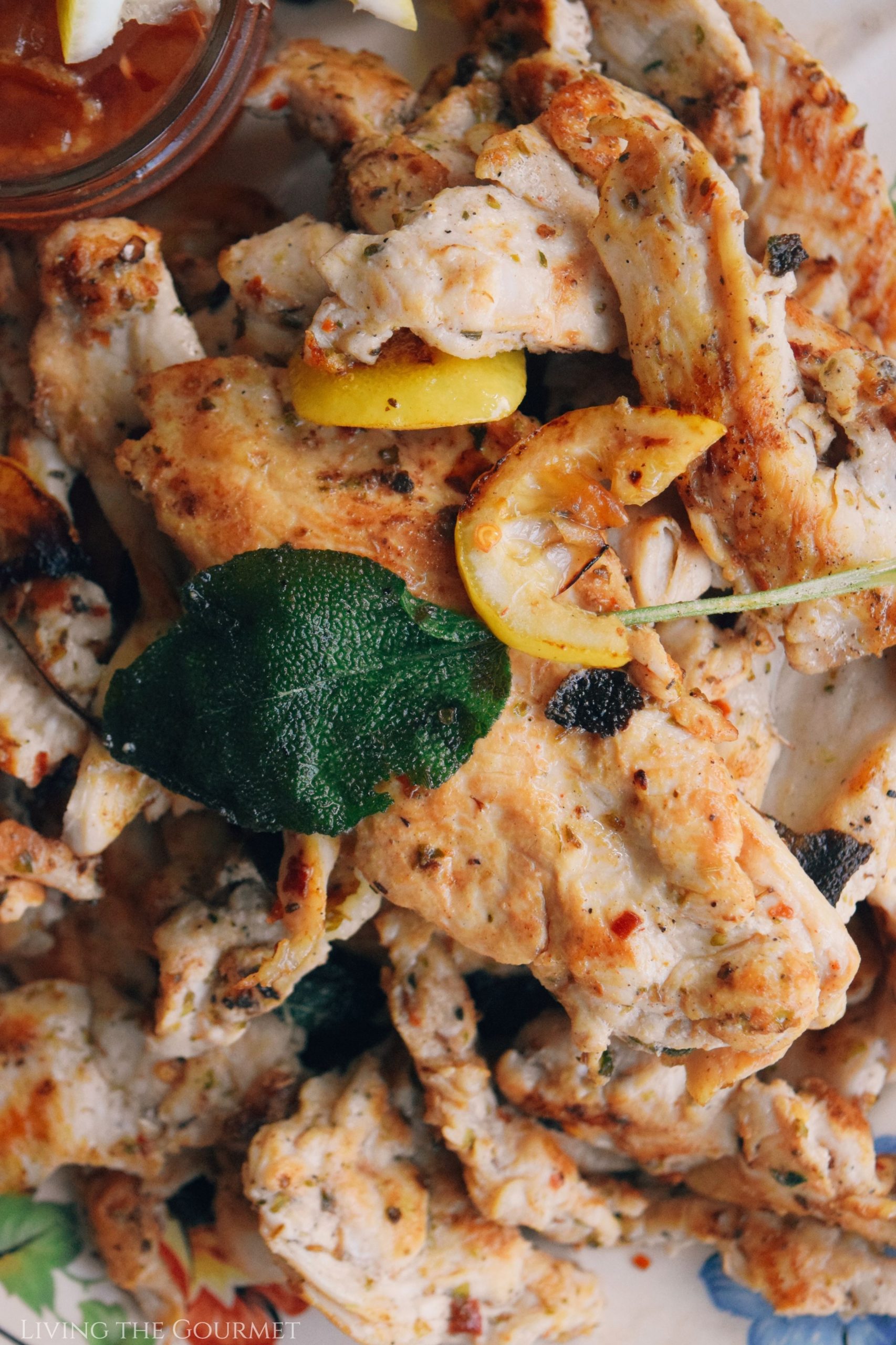 Living the Gourmet
Yields 4-6
Cayenne & Marmalade Chicken Strips
10 minPrep Time
20 minCook Time
30 minTotal Time
5 based on 3 review(s)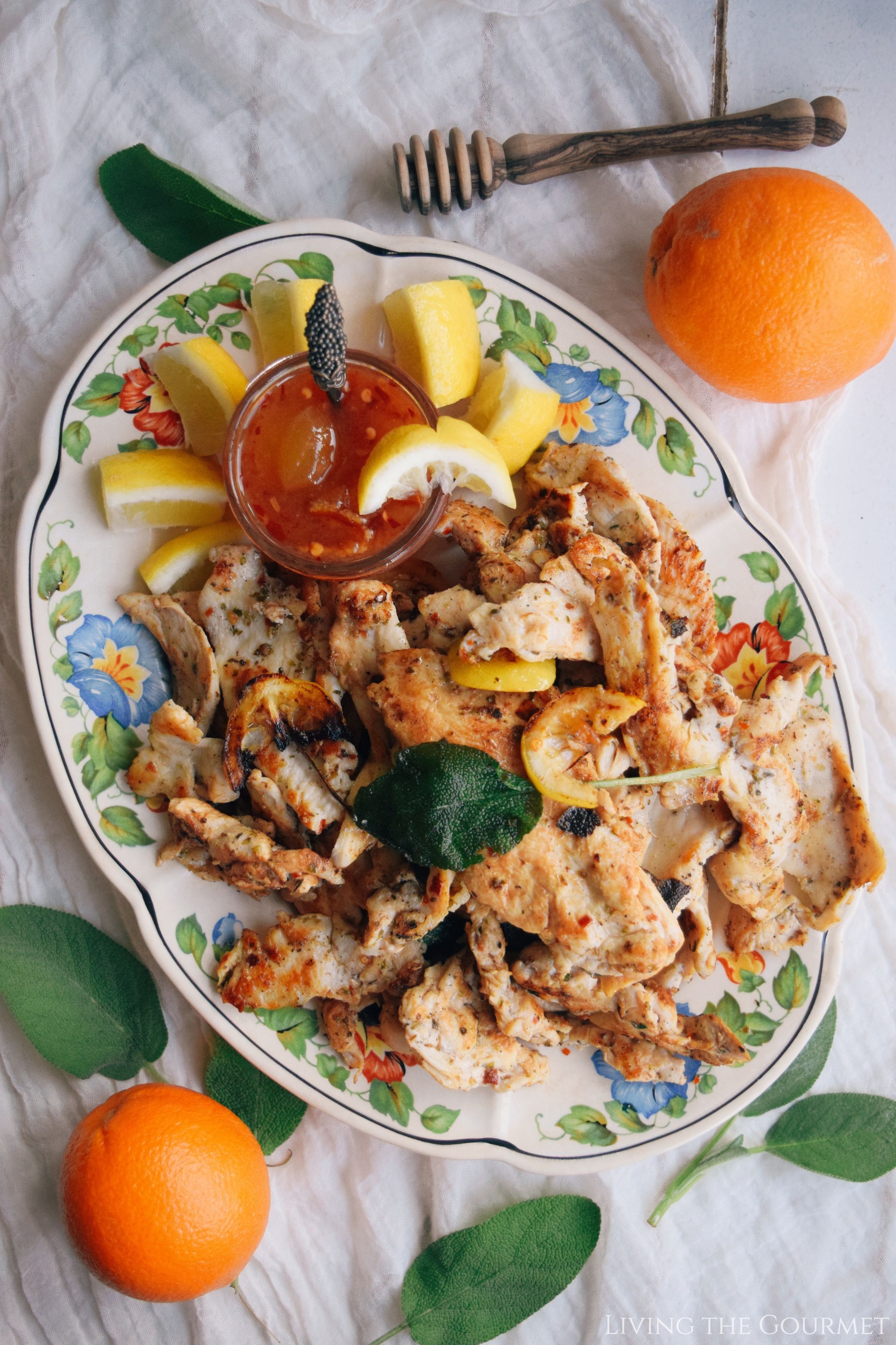 Ingredients
2 – 3 lbs. of boneless chicken strips – sliced very thin

For the Marinade:

Juice of 1 lemon – cut the left-over lemon into wedges to add to the marinade – then discard to not use these lemon slices.
Lemon slices for garnish
1 tsp. red pepper flakes
2 tsp. dried oregano
1 ½ tsp. salt
2 tbs. apple cider vinegar
1 tsp. cardamom
½ tsp. cayenne pepper
Fresh sage leaves – plus extra for frying and garnish
3 – 4 tbs. vegetable oil

For the Dipping Sauce:

4 tbs. orange marmalade
2 tsp. chili paste
2 tbs. honey
2 tbs. lemon juice or apple cider vinegar
Instructions
Place the chicken strips in a bowl. Add the seasonings, lemon juice, lemon pieces, apple cider vinegar, sage leaves and the oil.
Cover the container and place in the refrigerator for a least one hour or overnight.
Heat a large cast iron frying pan. Place a few slices of chicken at a time into the dry pan.
Let the chicken get a nice golden color on one side and then turn over and do the same on the other side.
The chicken should be a nice golden color and the juices run clear.
When all the chicken is cooked place the extra sage leaves in the oil to fry and use as garnish.
Serve with fresh lemon slices for garnish.

For the Dipping Sauce:

Combine all of the ingredients for the dipping sauce in a small bowl and mix. Taste to see if you would like it hotter or sweeter.
Notes
*Prep Time does NOT include Inactive Prep Time.
7.8.1.2
1456
https://livingthegourmet.com/2020/07/cayenne-marmalade-chicken-strips.html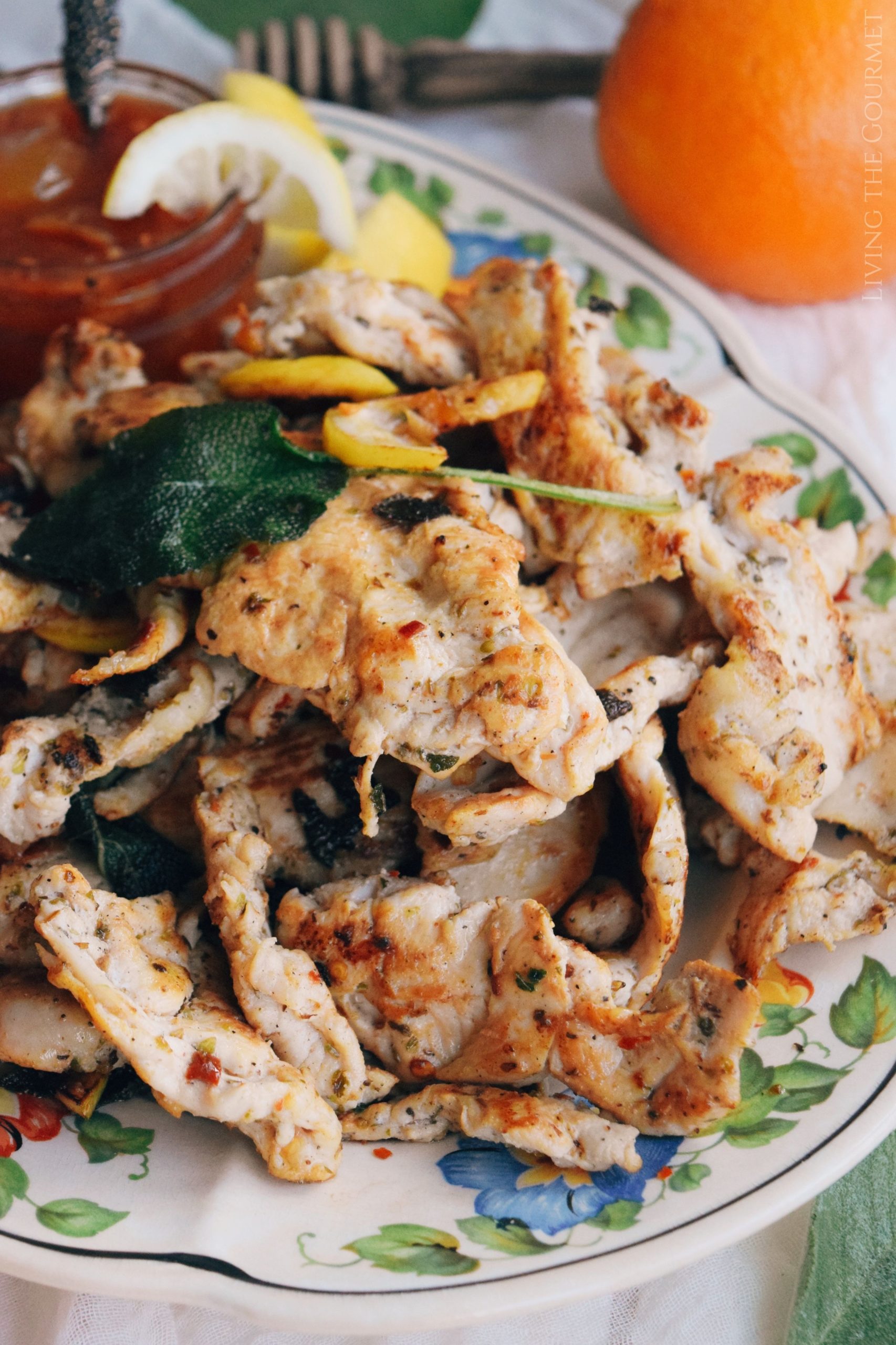 If You Enjoyed Today's Recipe…
Be sure to follow us on Instagram to stay up to date with all things Living the Gourmet, and for more great recipes, tips and tricks.
Did you make this recipe?
If so, let me know in the comments down below, or post a picture to Instagram, or to Pinterest, and I'll give you a shoutout on Instagram, or post your pin to one of my Pinterest boards!
0