This post has been sponsored by Lindera Farms. All opinions expressed are my own.
Today we're preparing a batch of oven fried chicken, which we'll be pairing with a Mediterranean-style tomato and caper chutney, and we'll be doing so with a little help from my new friends over at Lindera Farms, whose gourmet vinegars are an absolute delight – more on them below.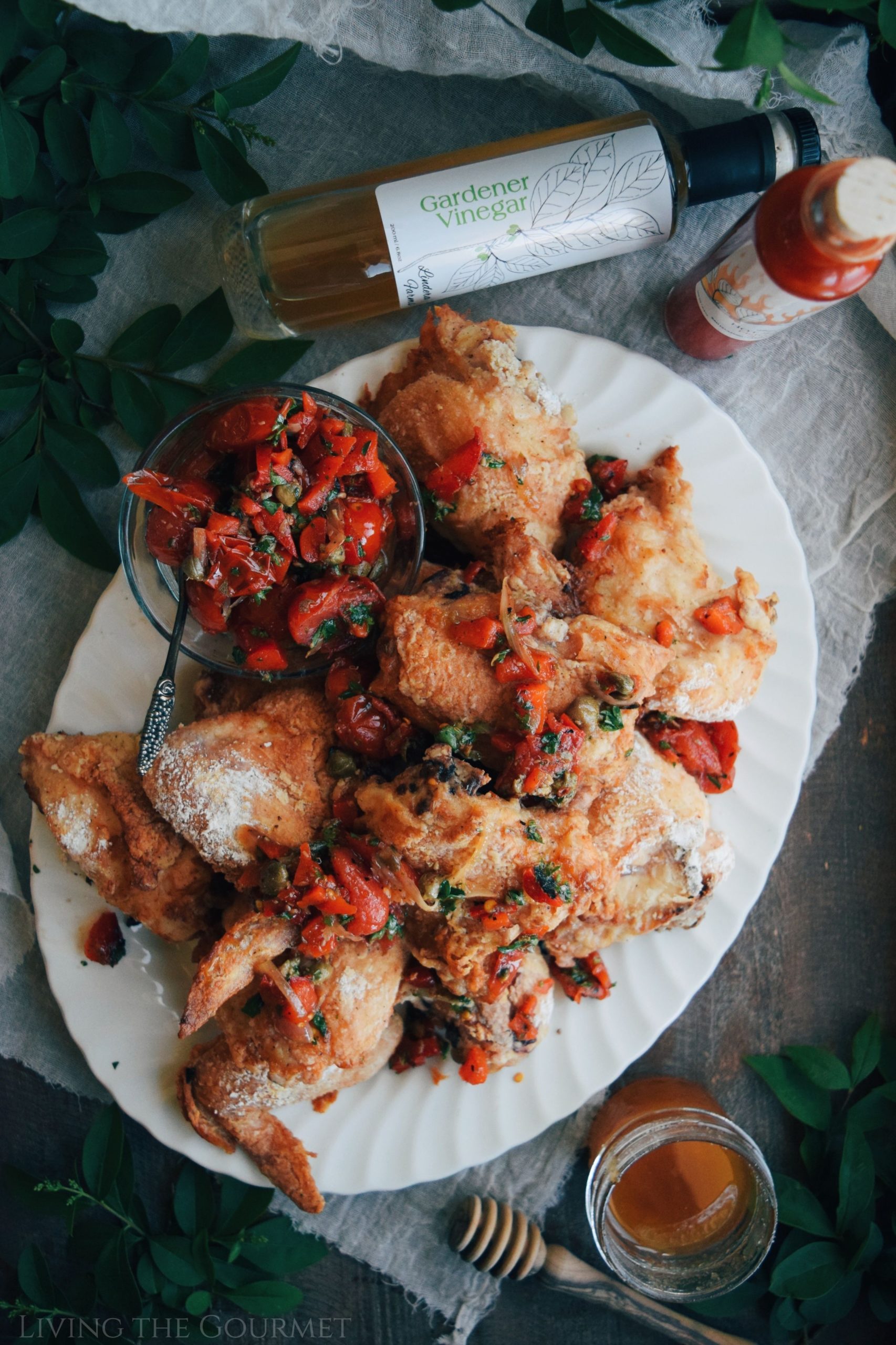 Ingredient Notes, Tips, and Substitutions
1) Capers – What are these things anyway? If you're a regular here at Living the Gourmet, you've likely noticed that I have a soft spot for capers – as in I use them all the time, and that's only a 'slight' exaggeration. In short, they're the flower buds of the Finders Rose or 'Caper Bush.' Oddly, they are wildly unpalatable if eaten fresh or dried – being described as mouth-parchingly bitter or even 'rancid tasting.' However, when pickled, brined, or preserved in salt, the bitterness fades away to a 'pleasant tanginess,' a flavor that's variously described as 'lemony,' 'anchovy-like,' 'salty,' and 'olive-like,' or some combination thereof (I personally would describe them as 'anchovies mixed with olives'). In their brined form, they are 'not' often described as 'bitter,' which might lead to the very understandable conclusion that 'caper flavor' doesn't actually come from the capers themselves, but rather from their 'pickling' or 'brining.' Regardless of the truth behind their flavor, these little pickled flowers-that-weren't are a staple of Mediterranean Cuisine, being especially prominent in Italian, Spanish, Greek, Cypriot, and Moroccan recipes, while also making an appearance in Southern French cooking, and assorted Portuguese and Sardinian dishes. Bonus Fact: Caper leaves, which feature a somewhat more 'pungent' flavor than olive leaves, are a unique fixture of regional Hellenic cuisines, especially in Cyprus, but are consumed almost nowhere else.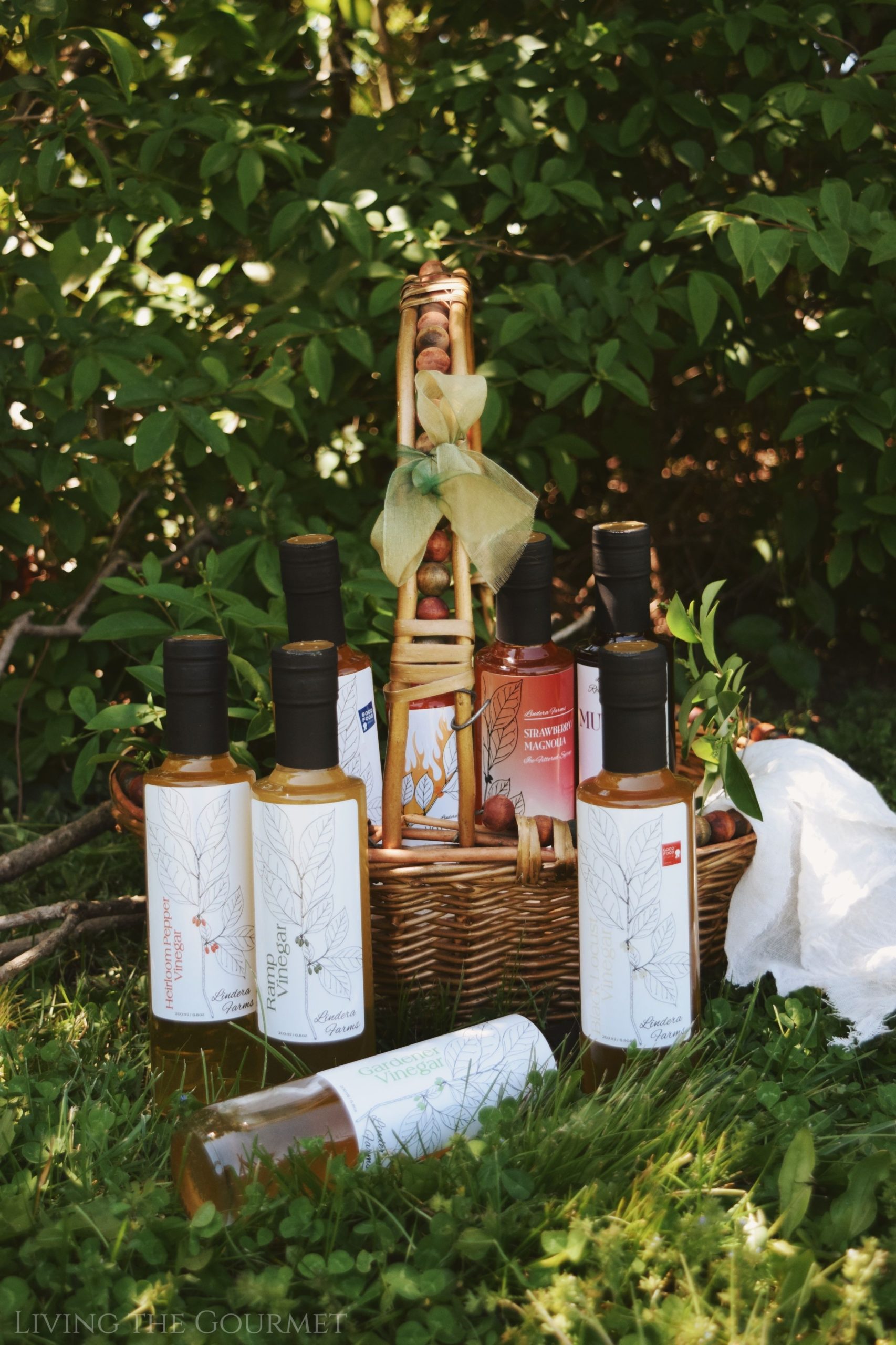 2) Cornstarch – My Secret For Crisp Chicken. This is my favorite 'secret ingredient' when it comes to fried and oven fried chicken. Now, I know what you're going to ask "What does cornstarch have to do with fried chicken?" And you're not wrong for asking, since cornstarch is usually simply a thickening agent for various sauces, and is perhaps most commonly used in various Asian cuisines for stir-fries. However, for today's recipe cornstarch is serving two roles. First and foremost, it's acting as a 'crisper,' giving the chicken a nice 'crunch,' while also helping to 'thicken' the coating. At the same time, it's also serving as a binding agent, to help the coating stick to the chicken so that it doesn't fall off during cooking. Yes, this applies to oven frying, pan frying, deep frying, and air frying.
3) The Vinegar – Choosing Quality Vinegar Makes All The Difference. While consumer awareness about the quality and types of olive oil has exploded in recent years, when it comes to vinegar consumer awareness remains a bit murkier – a lot murkier. As in, most consumers can't tell the difference between real Balsamic Vinegar and cheap red wine vinegar that's been sweetened with sugar and then passed off at a premium. To borrow a metaphor from the article I just linked to, this would be a bit like taking any random vegetable oil, coloring it to match Extra Virgin Olive Oil, and then selling that at a woefully marked up premium. However, vinegar comes in just as wide a range of quality, and in just as many shades of nuance, as does olive oil, wine, or coffee. In my opinion, people tend to pay less attention to the quality and nuance of their vinegar for the simple reason that they often regard it merely as a means of 'adding acidity' to a recipe, or as the heavily masked base to a vinaigrette. However, take my advice and start exploring the wide world of quality vinegars – you won't be disappointed. Now, here's one suggestion to get you started on that journey.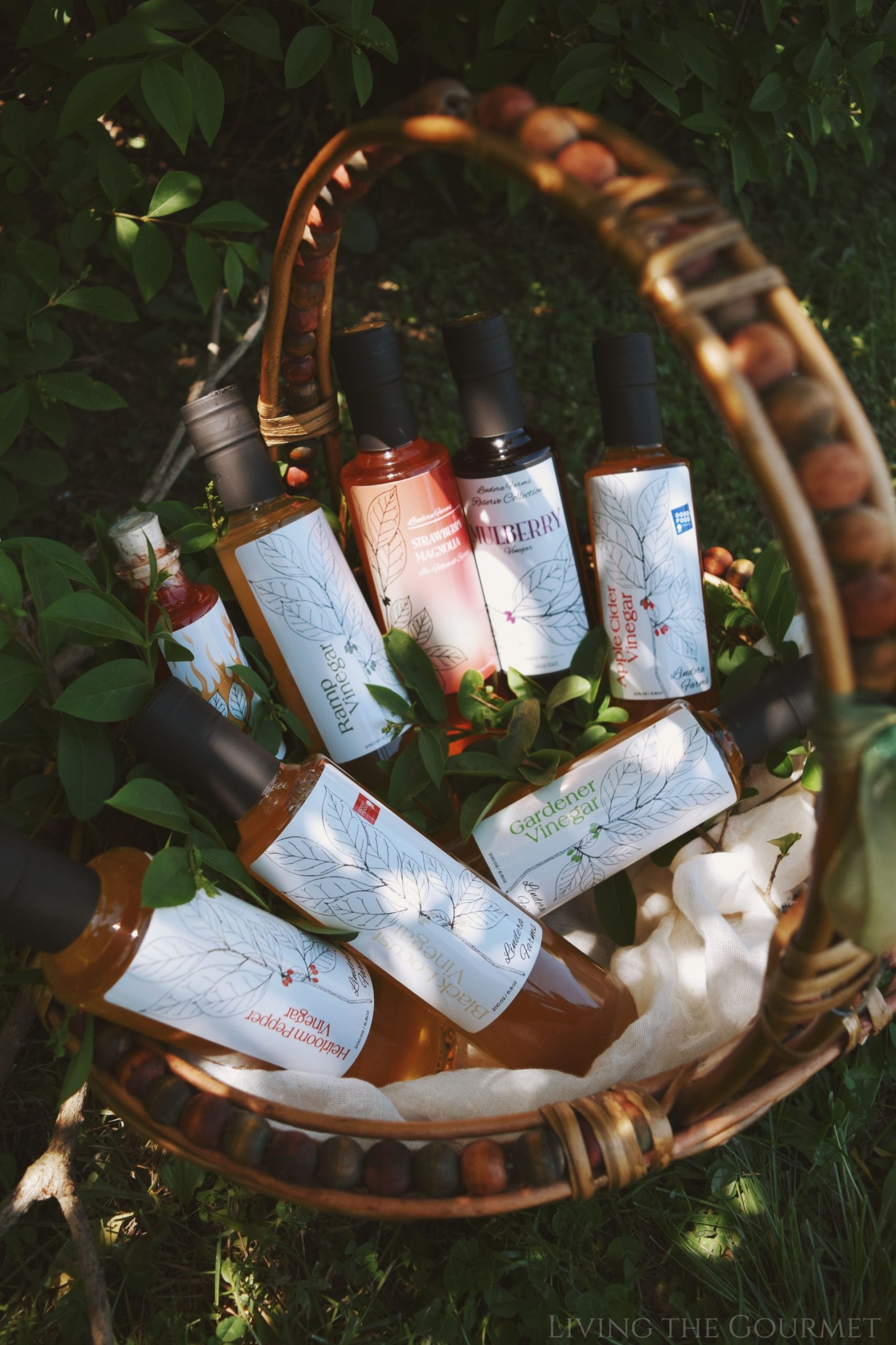 4) Lindera Farms. The first thing that sets them apart is that they handle the entirety of the vinegar-making process themselves – and this is a fair bit rarer than you might think. This includes everything from foraging berries to cultivating herbs and roots, to sourcing sustainable produce, and then combining those ingredients with things like organic molasses and honey to create intensely flavorful wines. They then ferment those wines into flavorful, sustainably sourced, organic vinegars – which are available in a variety of flavors. For example, to complement today's chutney , I'm using their 'Gardener Vinegar,' which is made with things like organic tomatoes, cucumbers, bell peppers, leeks, and wildflower honey, creating a fresh yet savory flavor profile that's crisp on the palate, while also being well-grounded in savory umami notes. Some of their other vinegars include Heirloom Pepper, Mulberry (my son's favorite of the batch), Strawberry Magnolia, and the obligatory Apple Cider. So, if you want to dive into the wide (and largely unexplored) world of quality, flavorful vinegar, Lindera Farms offers a great starting point.
5) Lindera Farms Makes A Shockingly Good Hot Sauce. I was surprised that I also received a shockingly good hot sauce from Lindera Farms with my batch of vinegars. Now, I will admit that myself, my daughter, and my son are something of 'hot sauce connoisseurs.' For my son's birthday, for example, my daughter gifted him a pair of locally sourced gourmet hot sauces. We're serious about our spice. What we received from Lindera was a bottle labeled "Fish Pepper and Tomato Hot Sauce." On tasting, we were surprised at just how complex the flavor was – this definitely isn't a 'heat for the sake of heat' hot sauce. In fact, I might say that 'heat' takes a backseat to a blissfully complex flavor profile that is garlicy and pleasantly acidic, with just a hint of something earthy or herbal lingering in the background, something that's vaguely reminiscent of sundried tomatoes in oil. I splashed it on today's chicken, and it was a hit. I also tried it on eggs the next day, and it was simply delicious. Seriously, if there's a hot sauce lover in your family, give them a bottle of this.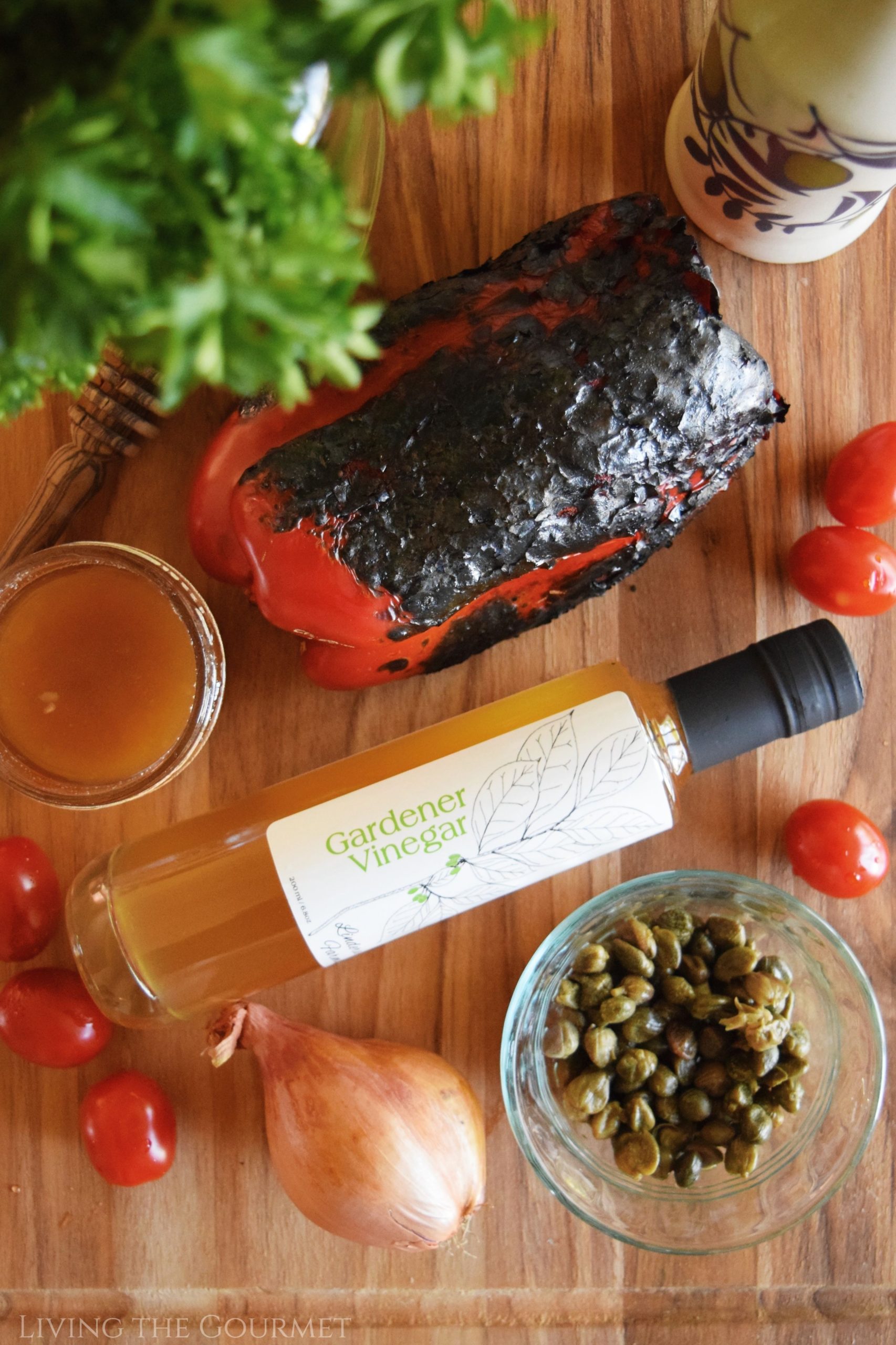 Tips on Pairing Today's Chutney
1) Grilling the Red Peppers. You can do this a few different ways, the main thing is that you want the peppers to lightly char. I'm doing this stovetop on my griddle, but you can also use a dry cast iron pan (yes, it's important that the pan be dry, no oil), or simply place the peppers directly over your burners – which is probably the more popular way to do this.
2) Don't Burn Your Hands. Please, don't rush this, just let everything cool. It's that simple, you're going to be serving the chutney either chilled or room temperature, so there's no reason 'not' to let the peppers, shallots, and so forth cool before working with them.
3) Skip the Processor – We Want Chunks. I know it might be tempting to try and save yourself some prep time by simply tossing everything into a food processor, but don't. We want nice 'chunks' of chutney, as opposed to a 'relish.' After the vegetables are chopped place them in a colander to drain the excess moisture before seasoning and adding the vinegar and oil.
4) Taste As You Go. The measurements I laid out below are simply suggestions. They are what I found suitable to my palate. Taste the chutney after seasoning, and adjust your seasonings to your likening. Experimentation is a good thing.
Pairing Today's Chutney
Now, while I'm putting today's chutney on oven fried chicken, what else can you do with it? Honestly, pretty much anything, but here are a few standout examples.
1) Flatbreads. The first and best pairing for today's chutney is flatbreads. Whether paired together on their own, or as part of a larger antipasto, simply spoon some of the chutney onto the flatbread, and you've got a delicious appetizer.
2) Crostini. Similar to the flatbreads, but if you want something with a bit more 'crunch' to it, grab my basic crostini recipe here. You won't be disappointed, I promise.
3) With Eggs. Today's chutney makes a great filling for an omelet, especially if you top it with either fresh mozzarella or gouda.
4) Steaks. I'm thinking of steaks prepped in a Mediterranean marinade or even simply grilled steaks, with the chutney acting as a topping.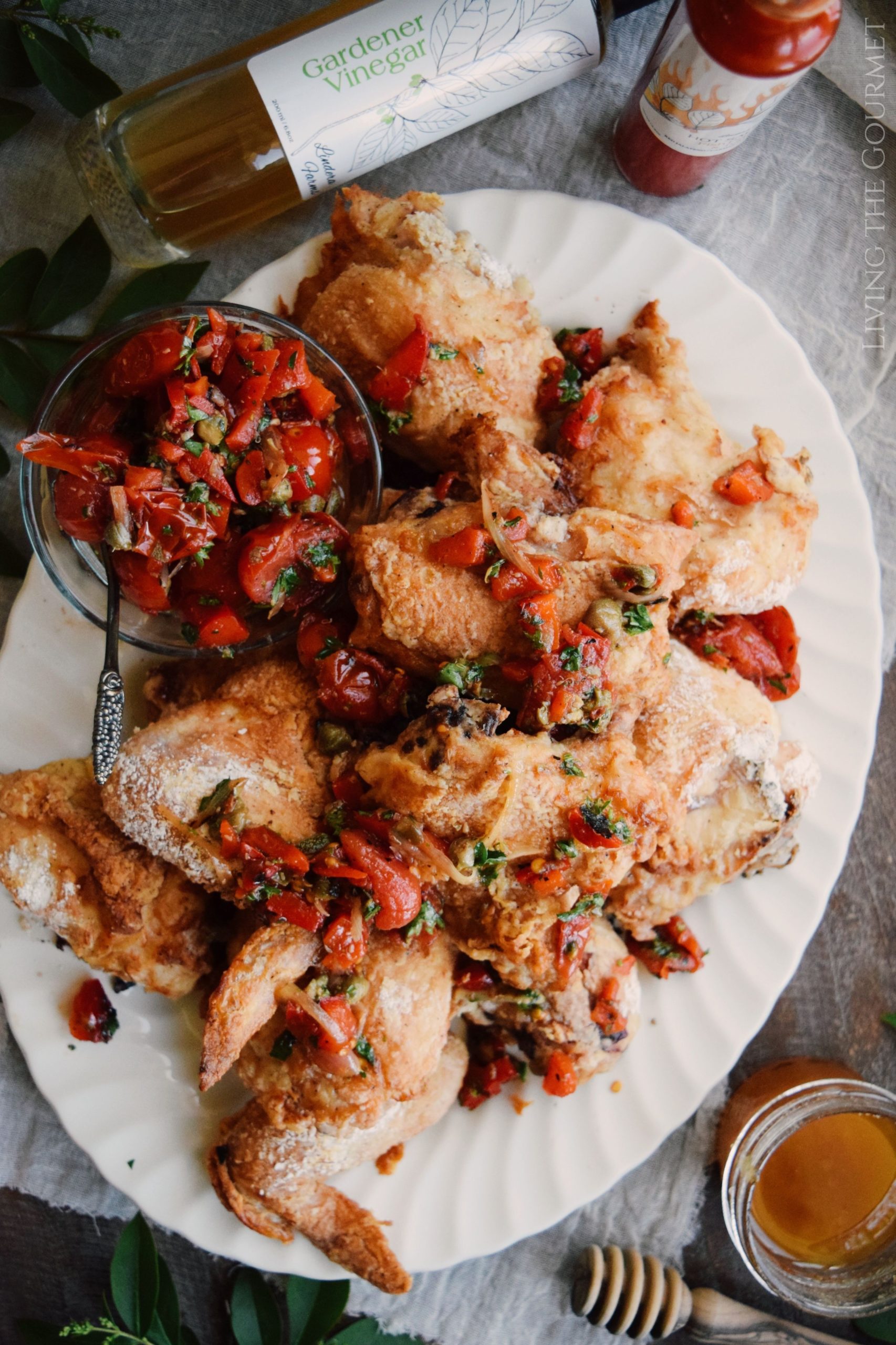 Living the Gourmet
Yields 4-6
Oven Fried Chicken with Tomato & Caper Chutney
15 minPrep Time
45 minCook Time
1 hrTotal Time
5 based on 12 review(s)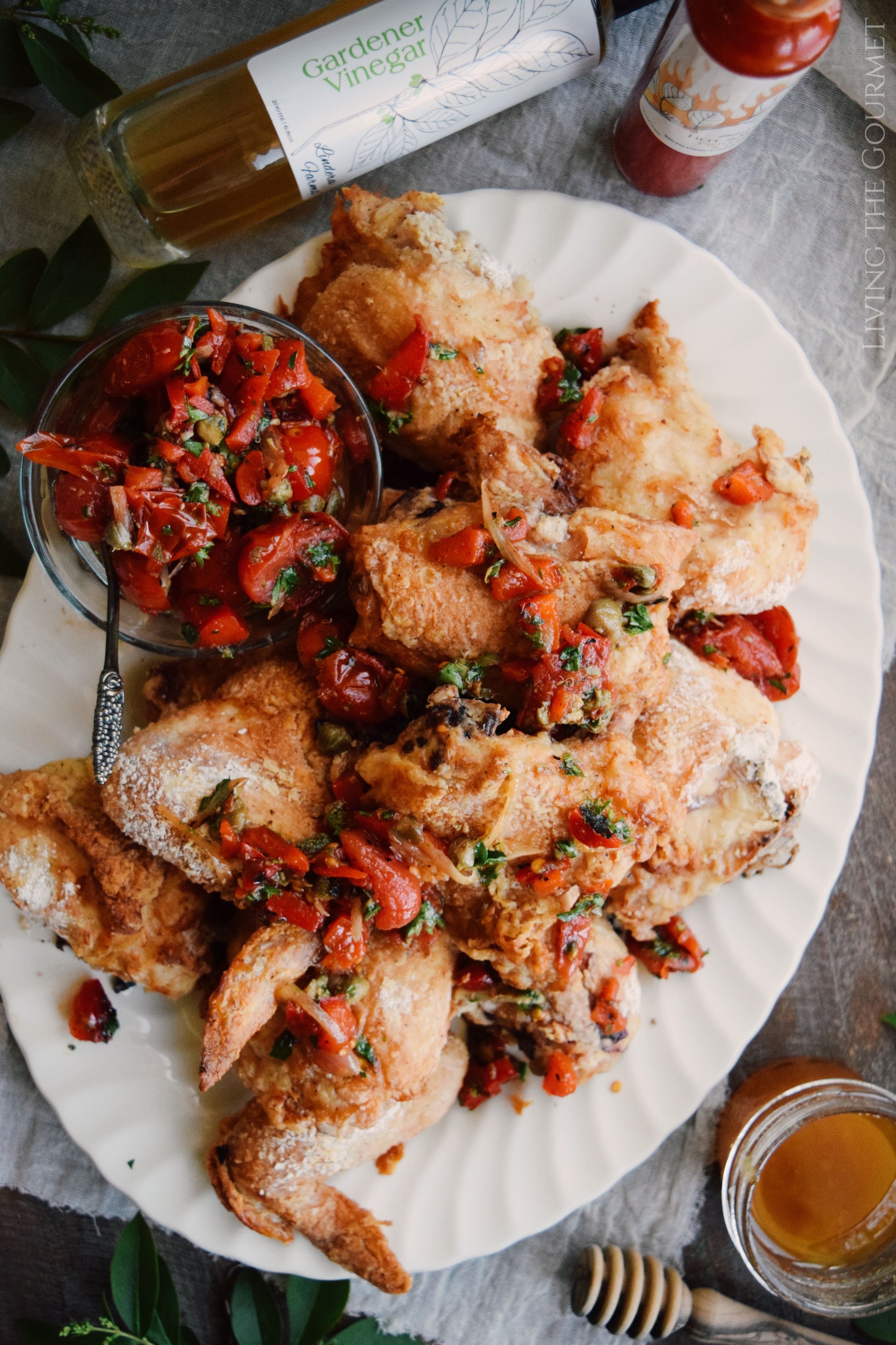 Ingredients
1 chicken – sectioned into pieces
1 cup flour
1 cup corn starch
1 tsp. salt
1 ½ tsp. fresh ground black pepper
1 tsp. ground coriander
Corn oil for drizzling

For Tomato and Red Pepper Chutney:

1 roasted red bell pepper – chopped
1 shallot – sliced thin
1 lb. grape tomatoes
4 heaping tablespoons of capers - chopped
4 tbs. honey
1 tsp. sea salt
½ tsp. red pepper flakes
½ tsp. black pepper
1 bunch of fresh parsley – chopped
Instructions
For the Chicken:

Preheat Oven 425 degrees F.
Combine the flour and all of the seasonings in a medium sized bowl.
Dredge the chicken into the flour. Place in a large cast iron frying pan and drizzle with a bit of vegetable oil.
Bake 45 – 50 minutes or until juice of chicken runs clear and the internal temperature reaches 160°F for white meat or 175°F for dark meat.

For Tomato and Red Pepper Chutney:

Roast the red bell pepper until nicely charred. Scrape the char off of the pepper, remove the seeds and chop.
In a large cast iron frying pan place the tomatoes and the sliced shallot and sprinkle with sea salt. Gently roast the tomatoes and the shallot until they are slightly charred. Allow to cool and slice the tomatoes in half.
In a medium sized bowl place, the halved tomatoes, grilled shallot, capers, chopped parsley and chopped red bell peppers.
Allow the mixture to sit for a minute or two, then place the mixture in a colander and drain the excess moisture.
Place the mixture back into a bowl and add the seasonings, vinegar and honey and toss. Taste for seasonings.
Serve alongside the chicken.
7.8.1.2
1437
https://livingthegourmet.com/2020/05/oven-fried-chicken-with-tomato-caper-chutney.html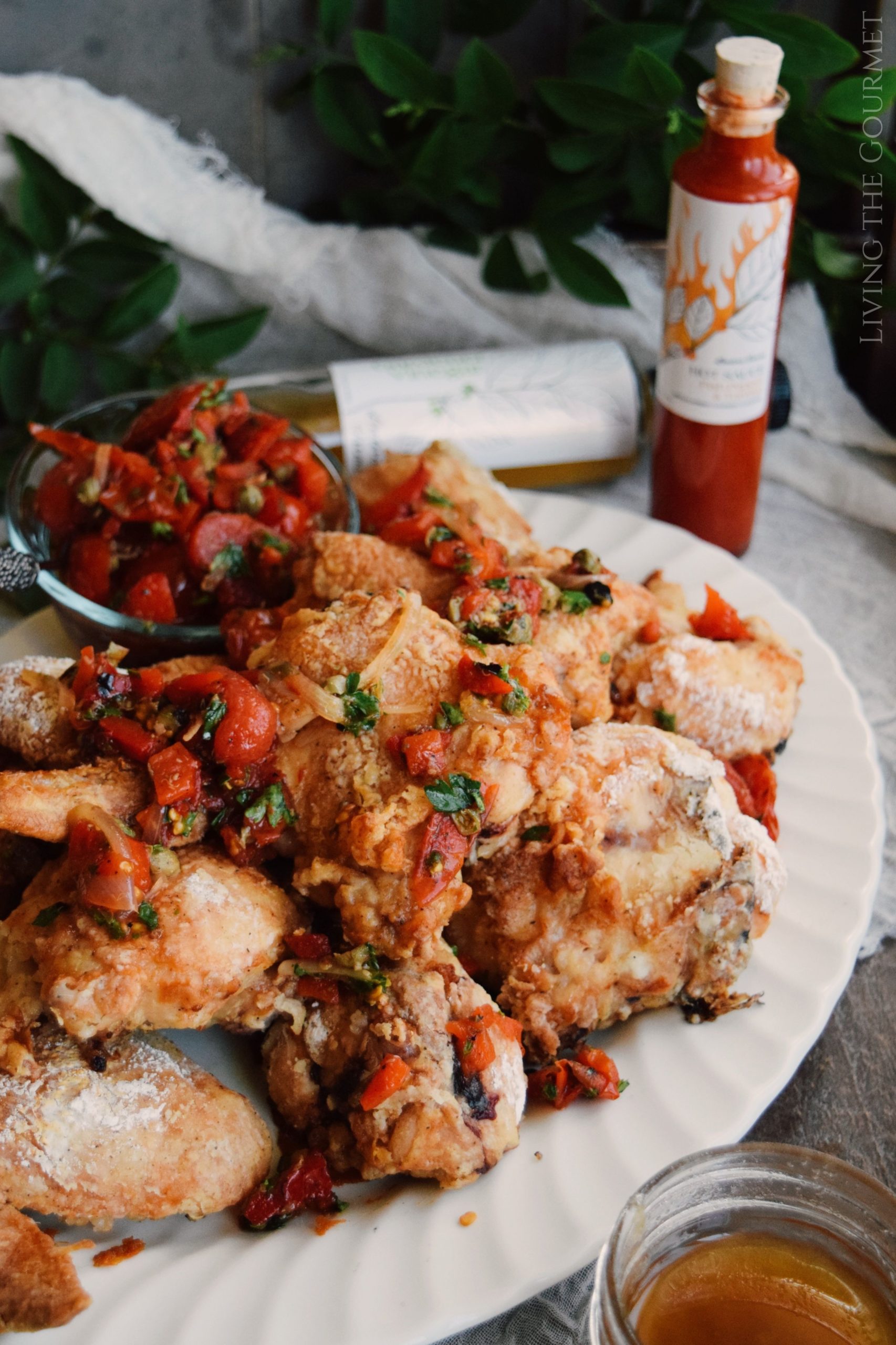 And that's a wrap. Once again, be sure to check out Lindera Farms, and start enjoying the wide world of quality vinegars. Plus LTG readers, take 10% off your first order when you use the code "LivingTheGourmet" at checkout!
If You Enjoyed Today's Recipe…
Be sure to follow us on Instagram to stay up to date with all things Living the Gourmet, and for more great recipes, tips and tricks.
Did you make this recipe?
If so, let me know in the comments down below, or post a picture to Instagram, or to Pinterest, and I'll give you a shoutout on Instagram, or post your pin to one of my Pinterest boards!
0