This shop has been compensated by Collective Bias, Inc. and its advertiser. All opinions are mine alone. #CollectiveBias #CrispyCreations #CrispiestChicken​
Today, we're preparing a recipe that's one of the ultimate crowd-pleasers – Spiced Crispy Fried Chicken.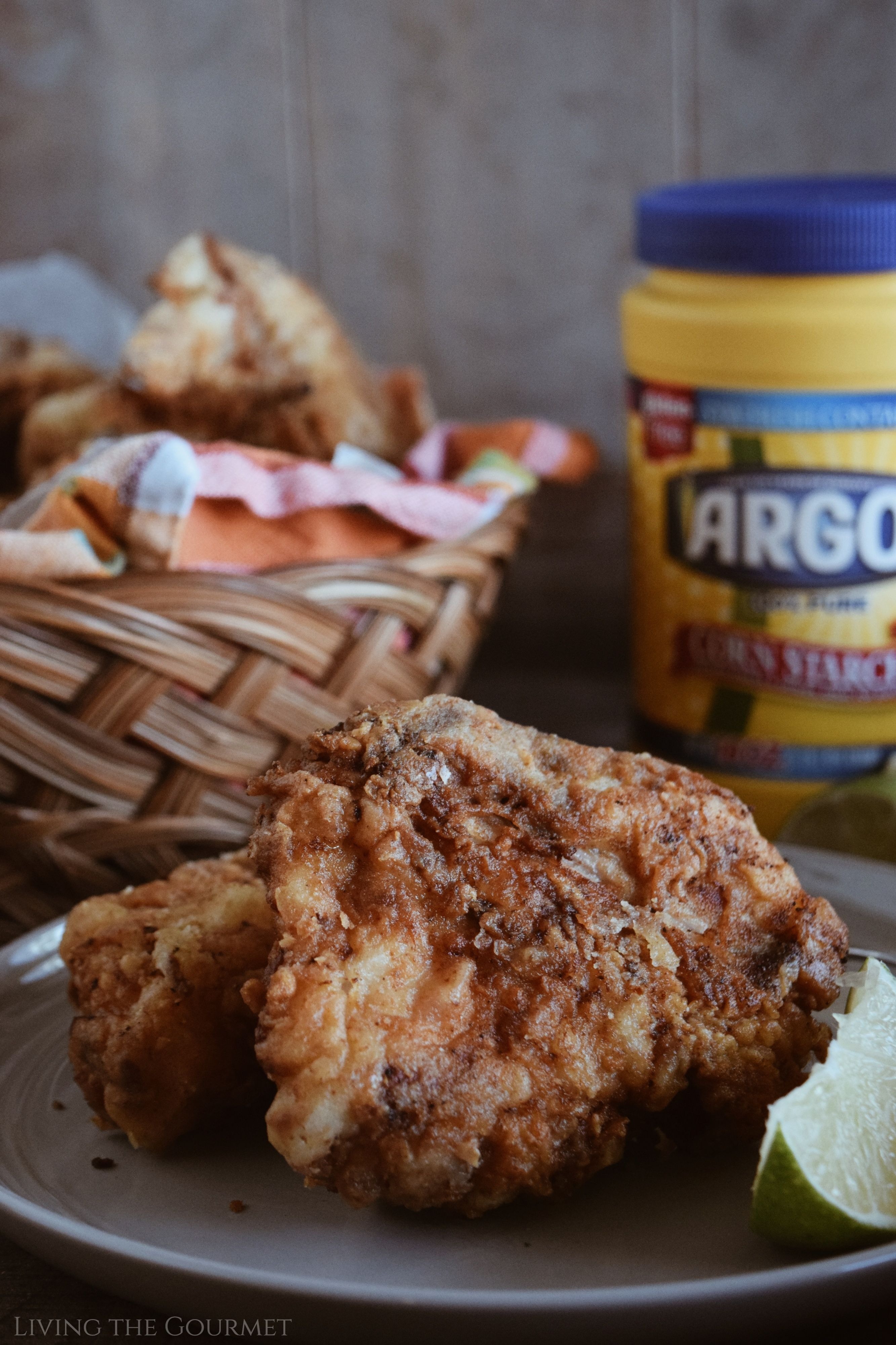 However, we're putting a couple of key twists on the perennial favorite. For starters, we'll be enhancing the crust with corn starch, which not only adds crispiness, but also helps to bind the crust to the chicken. We'll also be adding some heat to both the crust and the brine to give the chicken a little bit of a kick.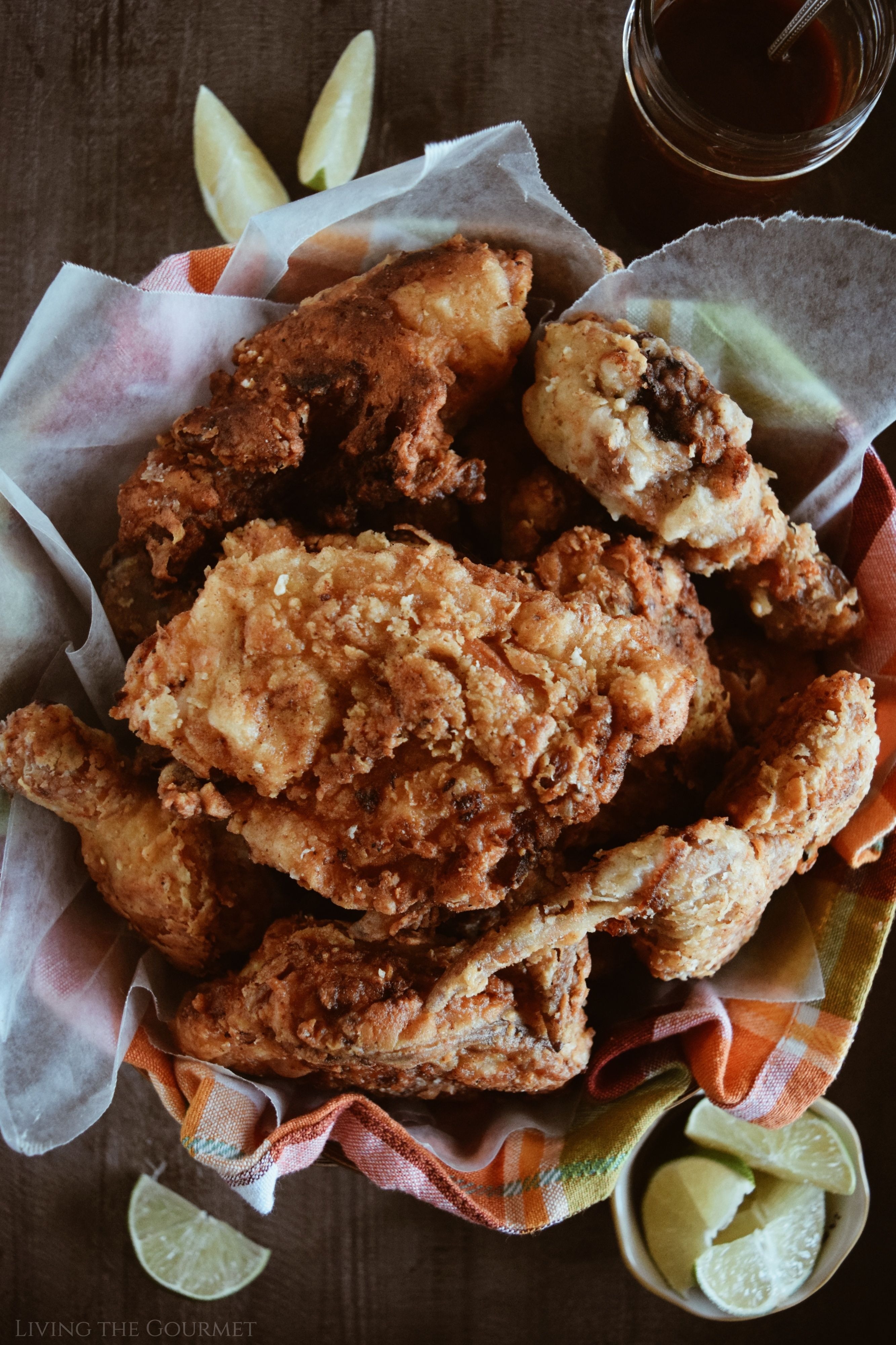 So whether you're looking for something you can serve at your next backyard get together or comfort food for a night in, today's Spiced Crispy Fried Chicken has got you covered.
Why You'll Love This Recipe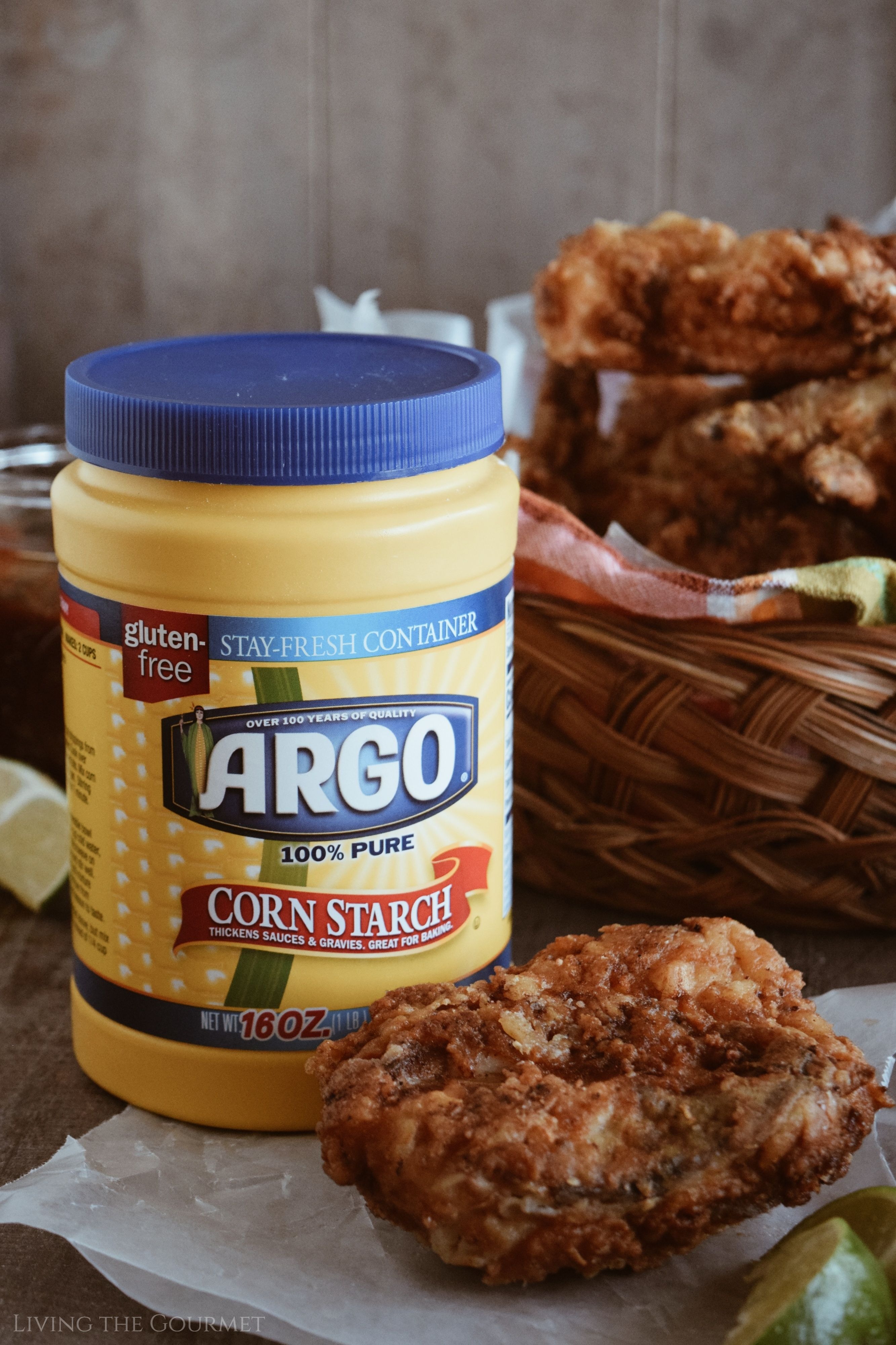 1) No deep fryer needed. Let's be honest, most of us don't have a deep fryer taking up space on the counter, as it's simply not an everyday item. Besides, for things like fried chicken, fried calamari, or fried eggplant, skillet frying works just as well and requires less cooking oil.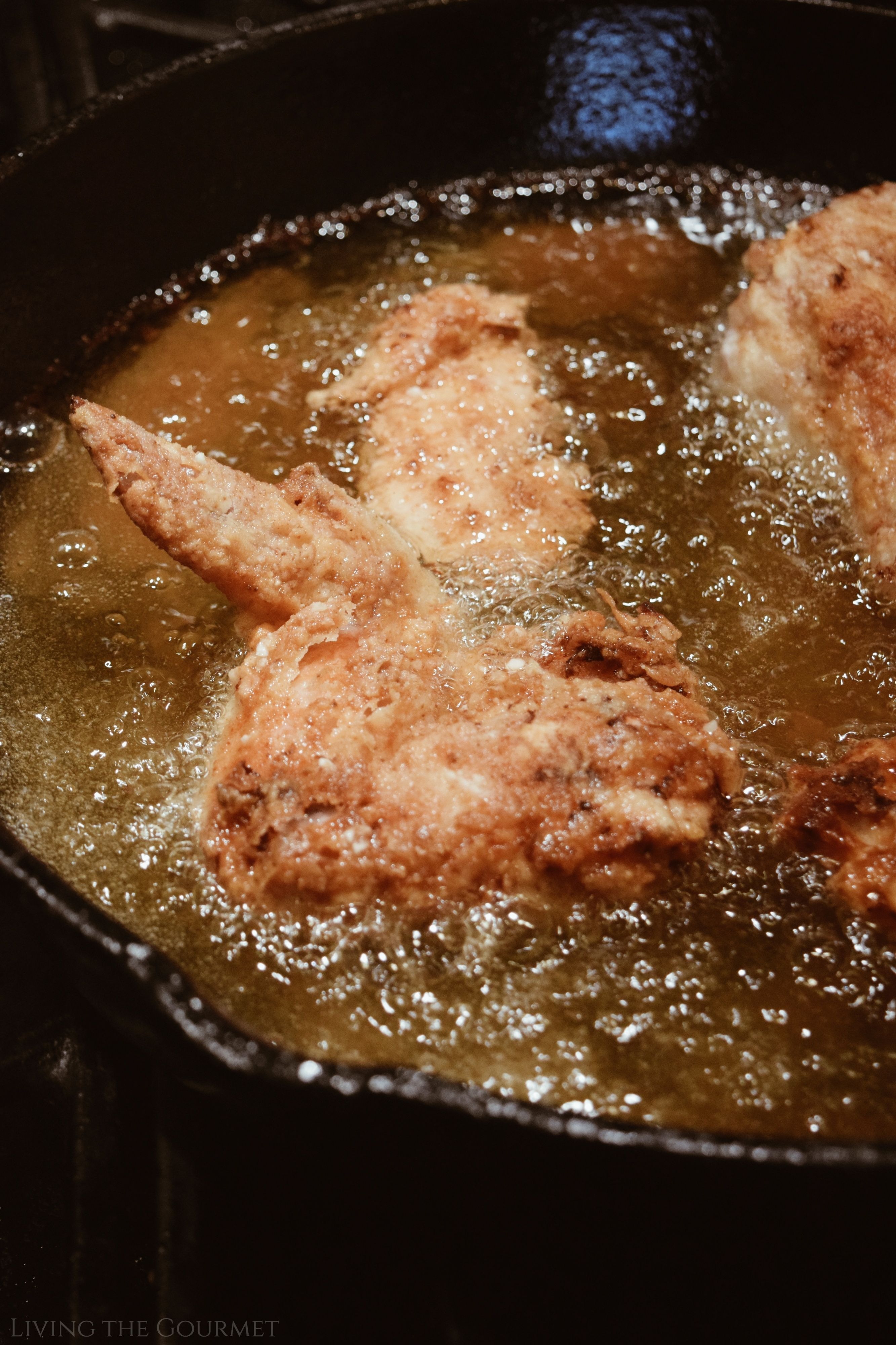 2) Crispiest Chicken Ever. Yes, that's a bit of hyperbole on my part, but I promise that after you try today's batter ratio of two parts flour and one part Argo® Corn Starch, you'll never go back. The crispiness and texture the corn starch gives to the coating is simply second to none.
Ingredient Tips and Explanations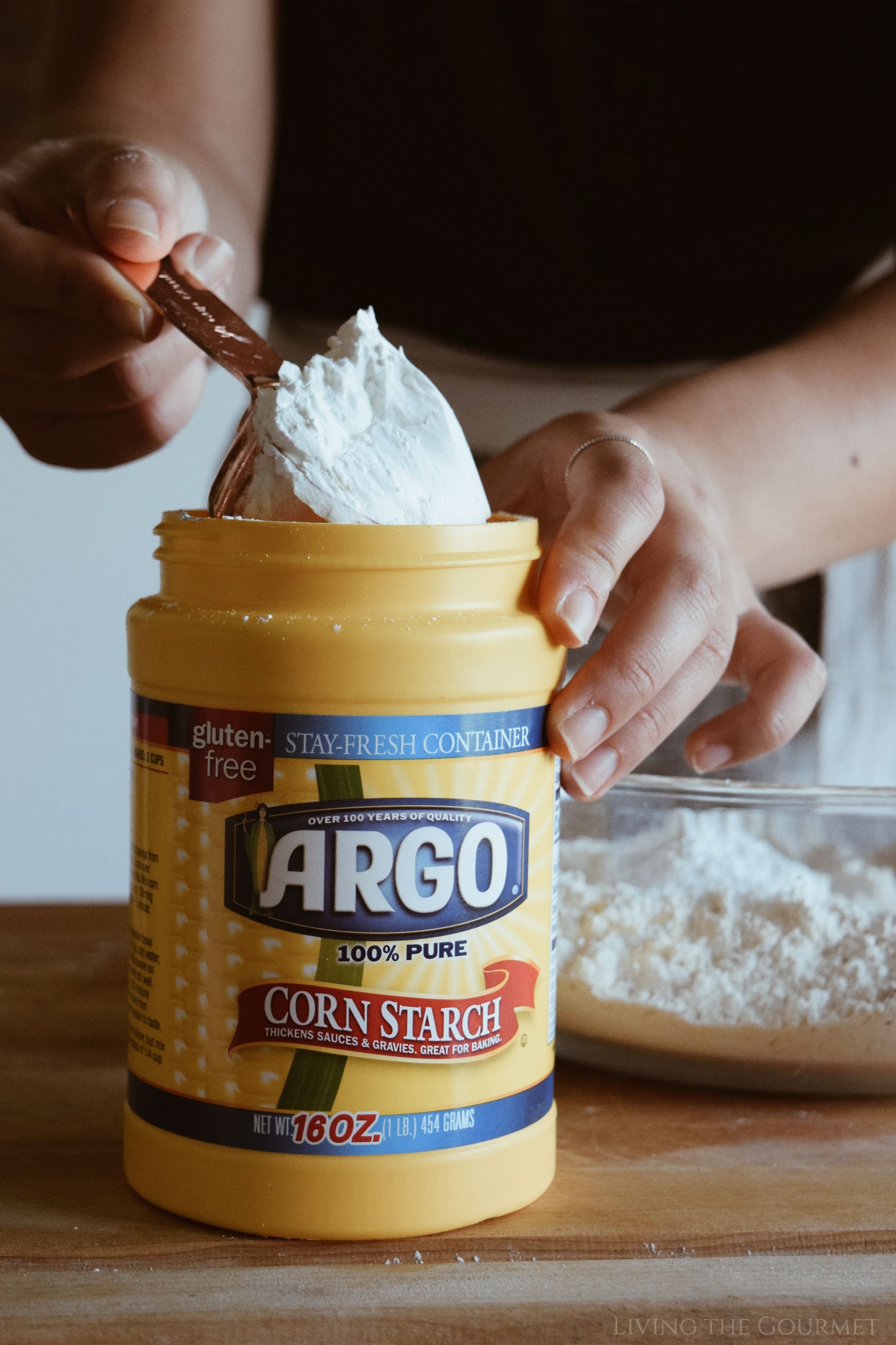 1) Argo® Corn Starch. Now, I know what you're going to ask: "Why put corn starch in the batter?" And you're not wrong for asking, since corn starch is usually simply a thickening agent for sauces, and is perhaps most commonly used in various Asian cuisines for stir-fries – and for those uses, it IS absolutely perfect. However, for today's recipe, corn starch is acting as our not-so-secret ingredient, since it's what ties the entire recipe together. First and foremost, it helps bind the batter to the chicken, ensuring that the coating doesn't fall off during frying. Second, it makes the coating much more 'crisp,' giving it a delicious, never-mushy texture that can easily stand up to your favorite gravies or sauces. Also, Argo® Corn Starch is simply great to have on hand, since it's such a versatile kitchen staple that goes well beyond today's chicken recipe, such as fluffy omelets or thickening soups. Argo® Corn Starch is the leading corn starch brand with over 100 years of quality and trust over multiple generations.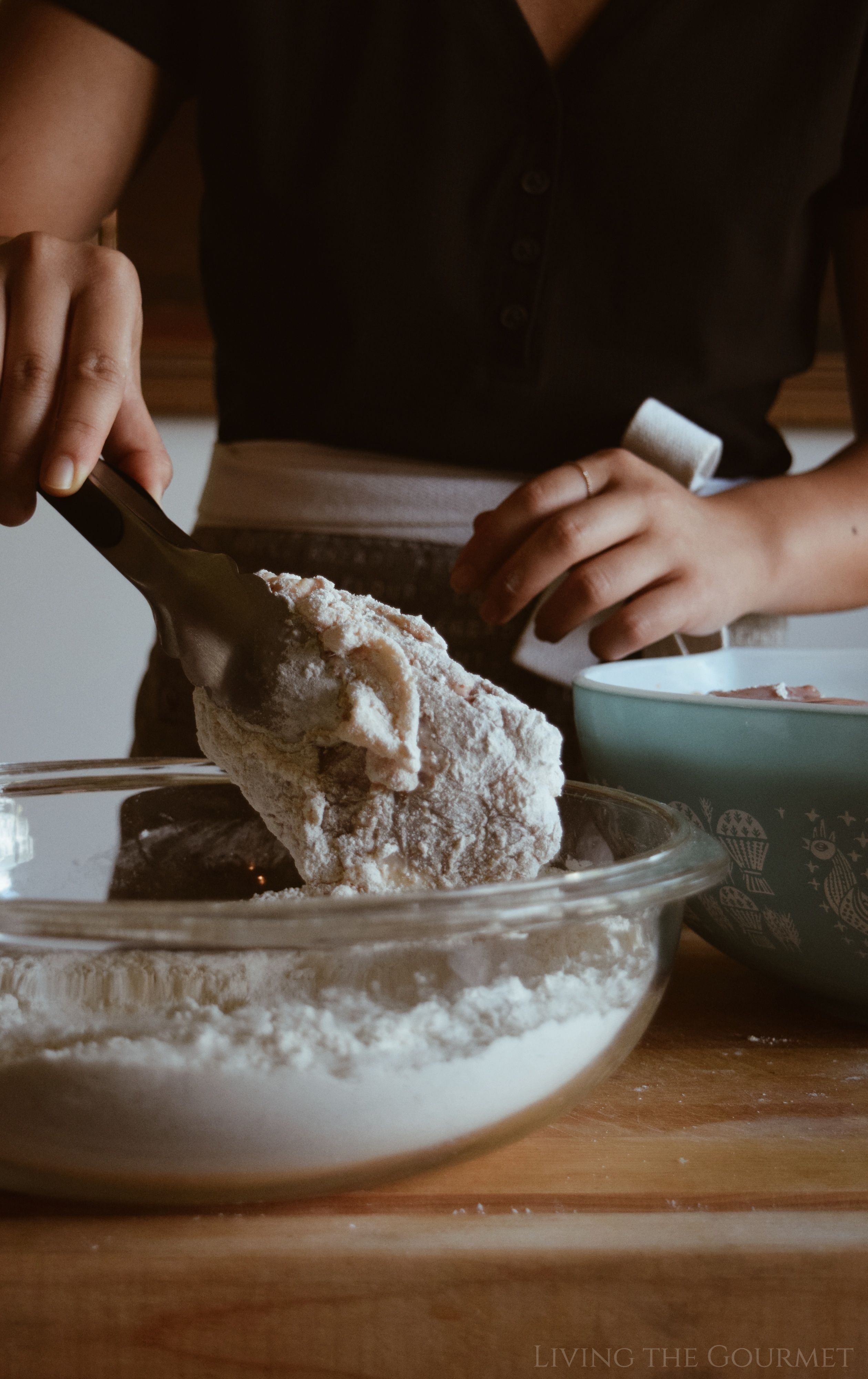 2) Homemade Sour Milk. A homemade alternative to buttermilk, this is a super simple mixture of whole milk, vinegar, and a bit of patience. Simply mix one cup of milk with one tablespoon of vinegar, and then let it stand and curdle for ten minutes. While you 'can' use your preferred variety of milk, for this recipe, I would recommend using whole milk, since you want the brine to be as creamy as possible to ensure the best possible adherence to the chicken, and a 'fuller' and 'fluffier' texture for the coating.

3) Bringing the Heat. In the batter, the heat comes solely from cayenne pepper and 'sweet' paprika. Naturally, while I'm only using a half-teaspoon of cayenne, feel free to adjust this amount to suit your palate. However, in the brine, we're using hot sauce, and you'll want to use one that's largely flavor neutral except for its heat, with as few ingredients as you can find. Any of the cayenne and vinegar based brands will perform admirably. If using a chili based hot sauce, opt for one with the seeds filtered out, since you don't want those sticking around in the crust later during frying.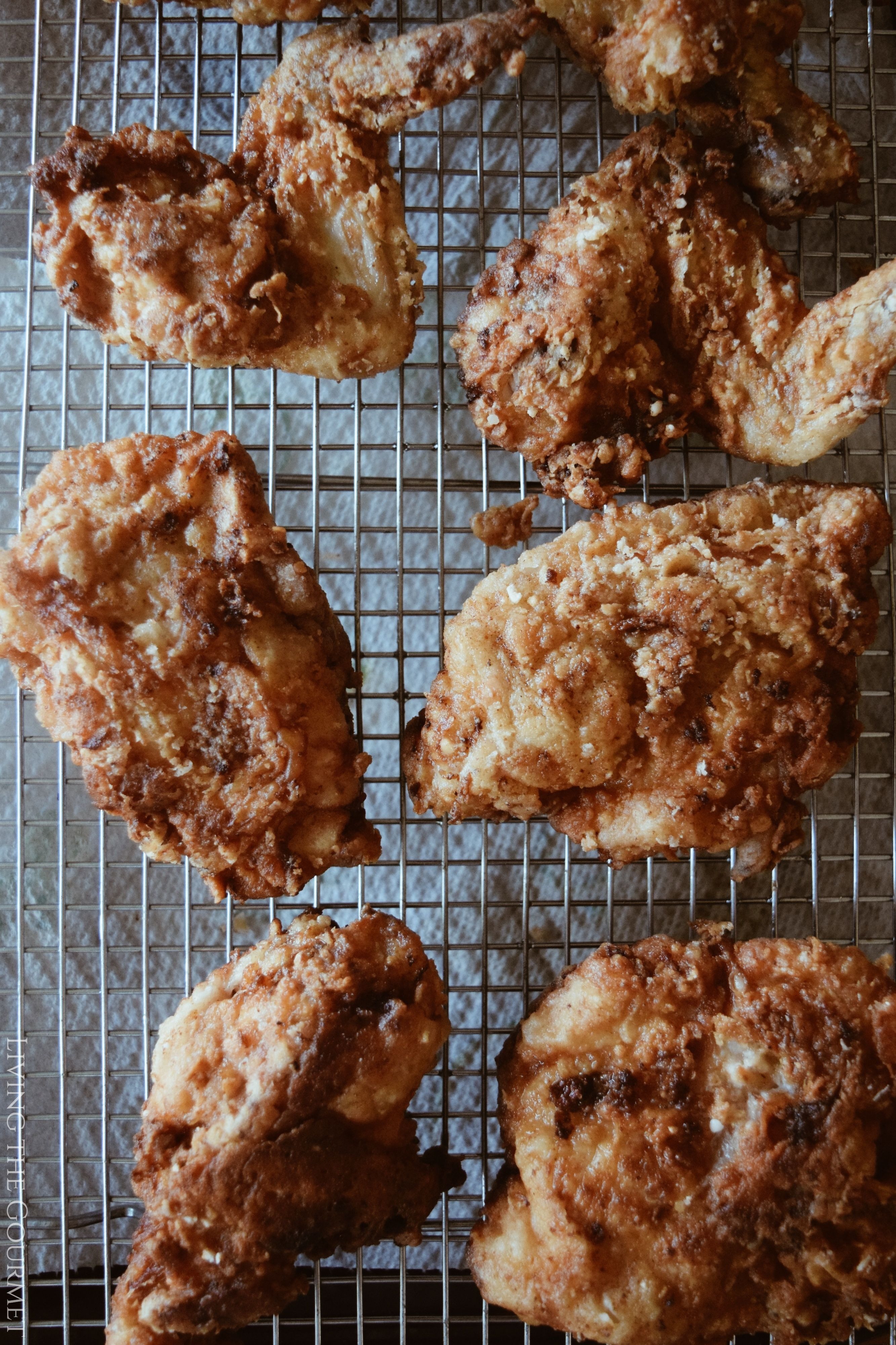 Prep Tips:
Equipment You Cannot Do Without: While you won't be needing a deep fryer for today's fried chicken, there are three items that you simply cannot do without – sort of. Frying Pan. Feel free to eye-roll at me being Captain Obvious. However, you'll need a frying pan that's at least three inches deep. No, a wok is not a proper substitute, since you want the chicken lying flat with an even distribution of the oil.– Kitchen Thermometer. You'll also want a kitchen thermometer that can gauge the temperature of the frying oil, as well as the temperature of the chicken, although experienced fryers can likely 'eyeball' both. You'll want to maintain the oil at 350 degrees Fahrenheit during frying, and you'll want the chicken to reach an internal temperature of 165 degrees Fahrenheit.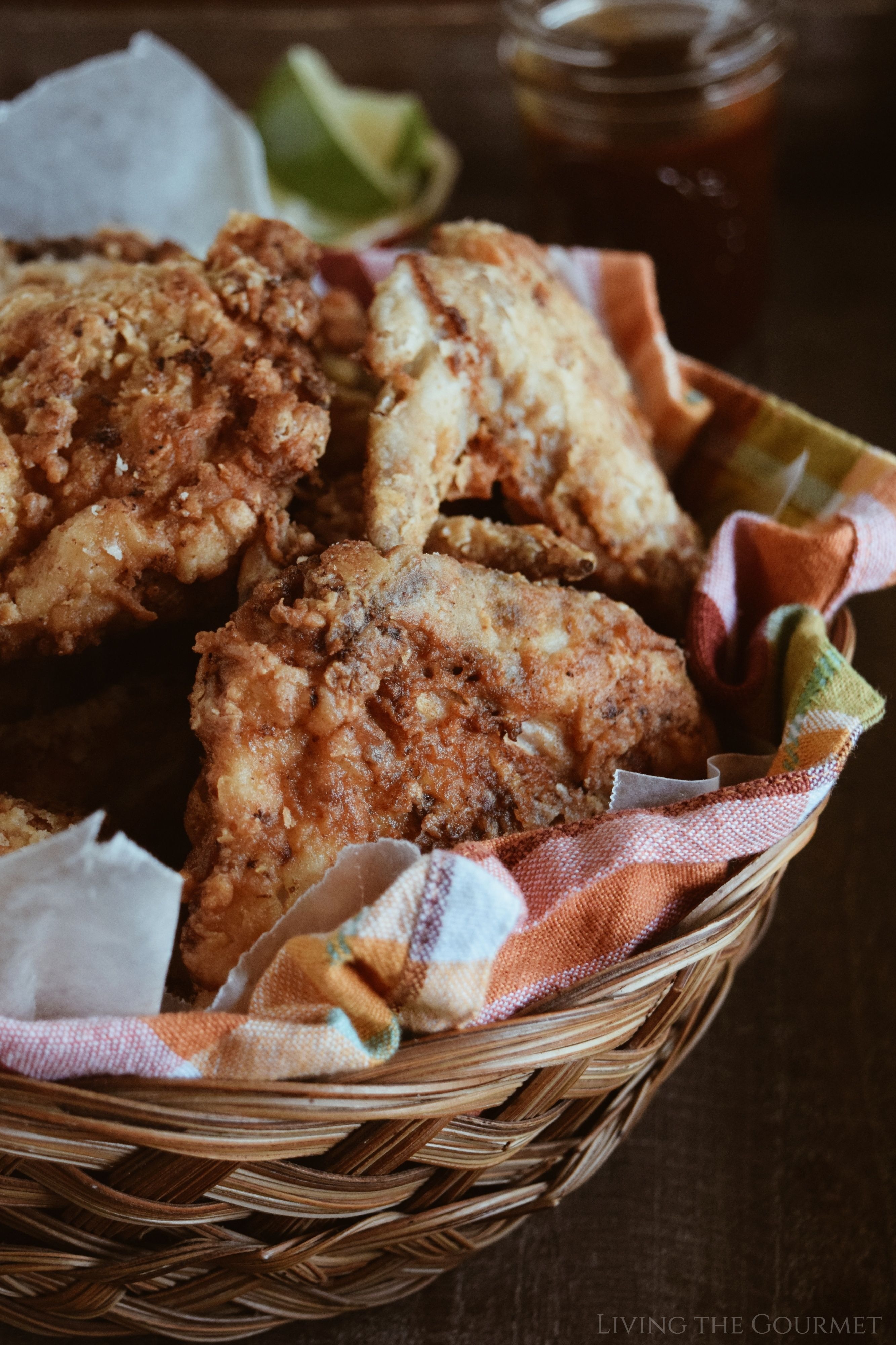 Fry Guard/Splatter Screen. Provided your frying pan is deep enough to cover with a fry guard or splatter screen without it touching the chicken, I wholeheartedly recommend covering the pan with one of these between turning the chicken to avoid splatter. However, do NOT cover the frying pan with a lid or another pan, as that will result in turning your chicken to mush.
Great Sides to Spiced Crispy Fried Chicken.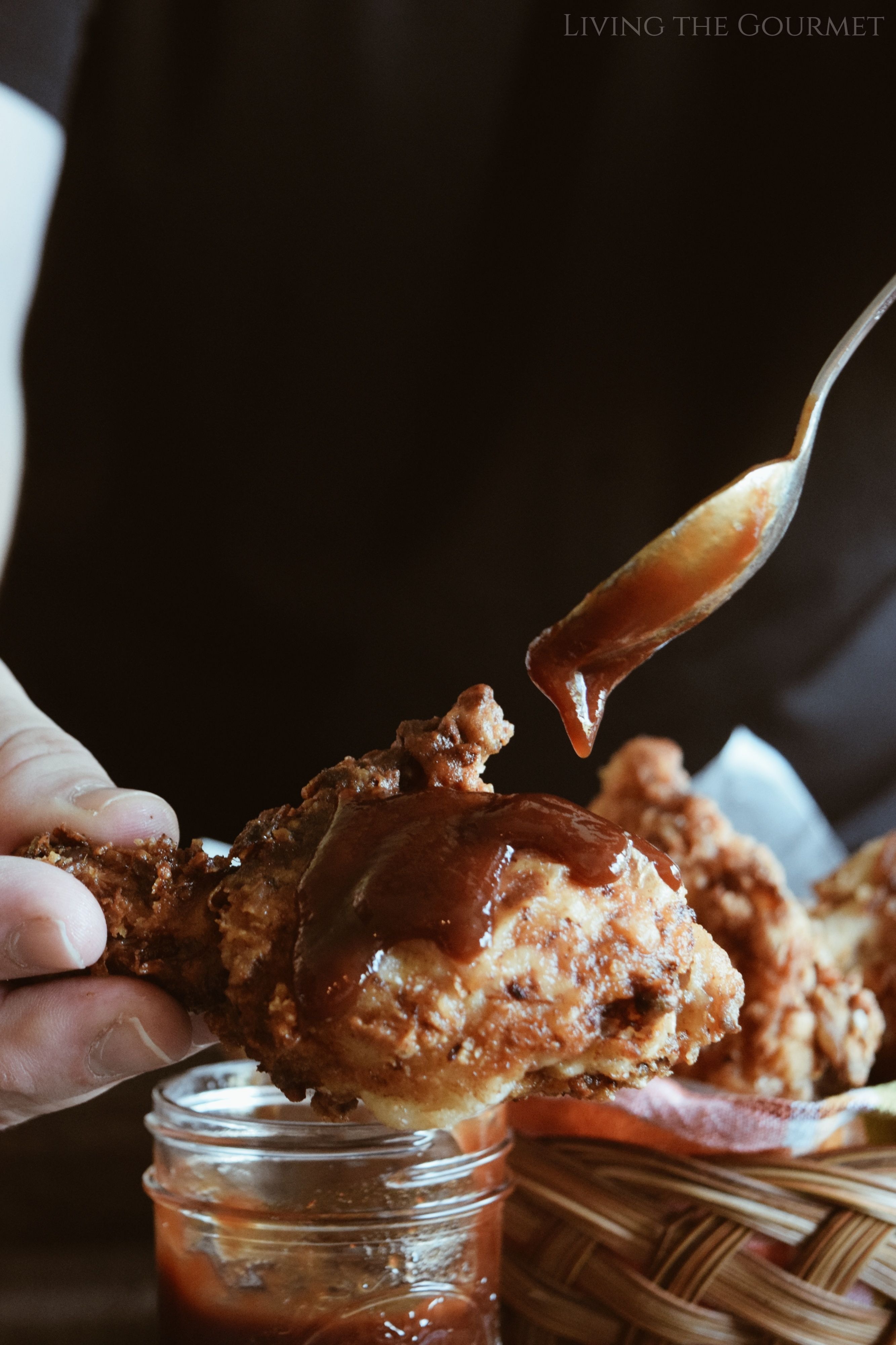 1) Pickled Sweet Potato Salad. I wasn't kidding when I said that this is one of my new favorite recipes. It goes with absolutely everything. It's sweet and spicy flavor and crisp texture are the perfect complement to today's chicken. You can grab the recipe right here.
2) Macaroni and Cheese. Honestly, what's fried chicken without a side of your favorite macaroni and cheese? To mix things up a little, consider our Italian Style Mac and Cheese. For a more traditional recipe, check out our Southwest Style Macaroni and Cheese.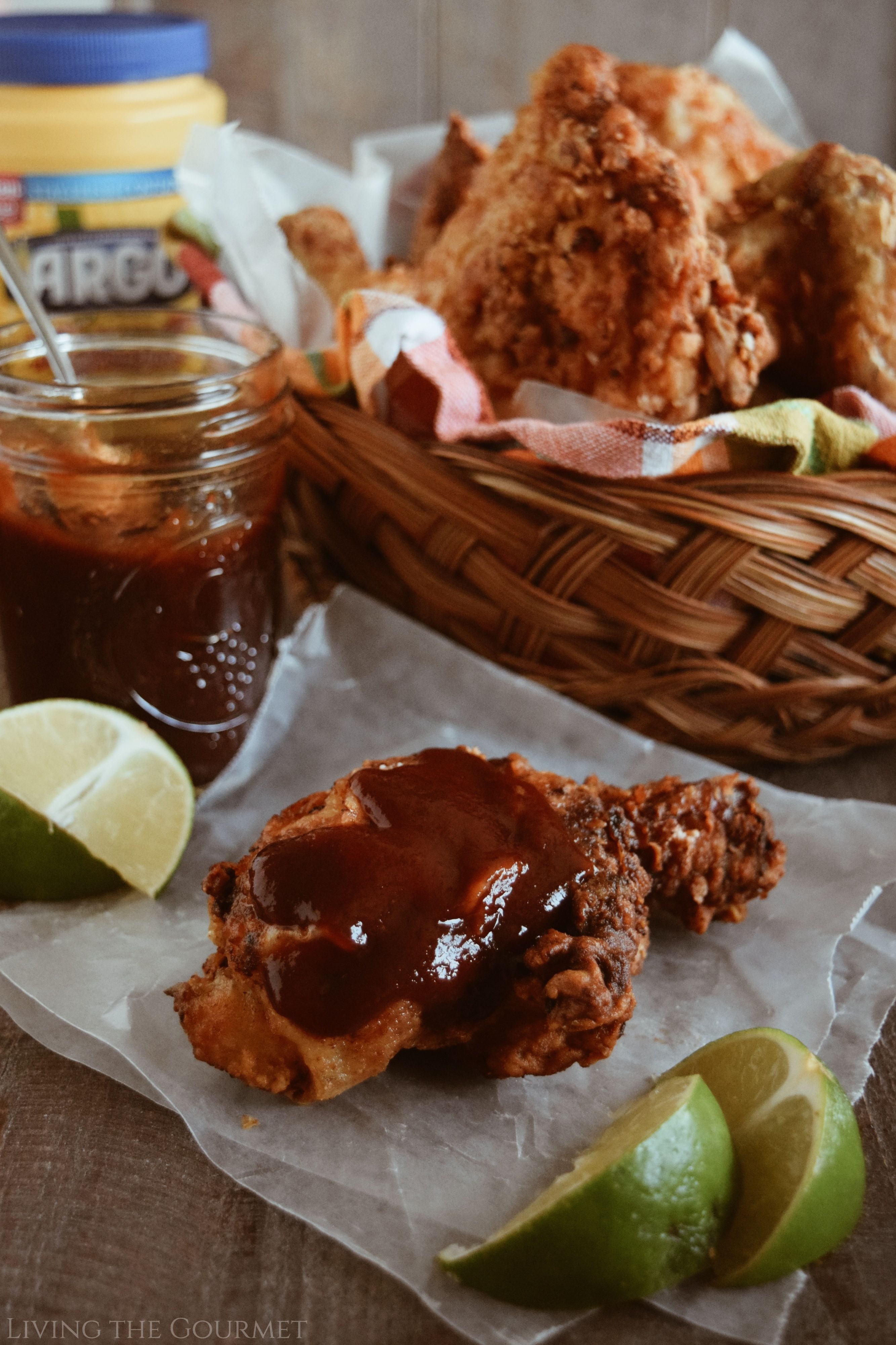 Print
Spiced Crispy Fried Chicken
Author:
Prep Time:

15 minutes

Cook Time:

20 minutes

Total Time:

35 minutes
For the chicken:
2

whole chickens, quartered

2

cups

AP flour

1

cup

Argo® Corn Starch

1 tablespoon

garlic powder

1/2 teaspoon

cayenne pepper

1 tablespoon

sweet paprika
Salt and Pepper to taste
Oil for frying, (I used vegetable oil)
For the Buttermilk Brine:
2

cups

buttermilk or homemade sour milk (recipe for sour milk included in notes – see bottom of recipe card)

2 tablespoons

favorite hot sauce
Salt and Pepper to taste
For the Asian-Style Dipping Sauce: 3/4 cup ketchup

2 tablespoons

fresh chili paste

1 tsp

. mustard powder

1 tsp

. ground ginger or

1

inch piece of fresh grated ginger

2 tablespoons

teriyaki sauce

1 tablespoon

soy sauce

1 tablespoon

molasses

1 tablespoon

brown sugar

2 teaspoons

balsamic vinegar
Instructions
In a large bowl, whisk together ingredients for buttermilk brine. Add the chicken parts to the brine and let sit for 3 hours or up to overnight.
In a large cast iron skillet, fill about 3/4-inch of the way with oil. Set over medium-high heat until the temperature reaches about 350 degrees F.
In the meantime, in a large bowl, whisk together flour, corn starch, garlic powder, cayenne pepper, paprika, salt, and pepper.
Dredge the chicken pieces in the flour mixture. Once the oil has reached 350 degrees F, place about 4 pieces of chicken into the oil, starting with the smaller parts first (legs, wings, and thighs). Do NOT overcrowd the pan.
Fry for about 10-12 minutes on each side or until the sides turn a deep golden. Turn over, fry the other side until the internal temperature of the chicken reaches 165 degrees F.
Carefully transfer the chicken pieces from the fry pan onto a wired rack set over a baking sheet lined with paper towels.
In a small bowl, whisk ingredients for dipping sauce. Taste for seasonings and serve alongside the fried chicken with fresh lime wedges.
Notes
*Prep time does not include inactive prep time.
For homemade sour milk: Add 1 tablespoon vinegar to 1 cup milk and let stand for 10-15 minutes until curdled.
Recipe Card powered by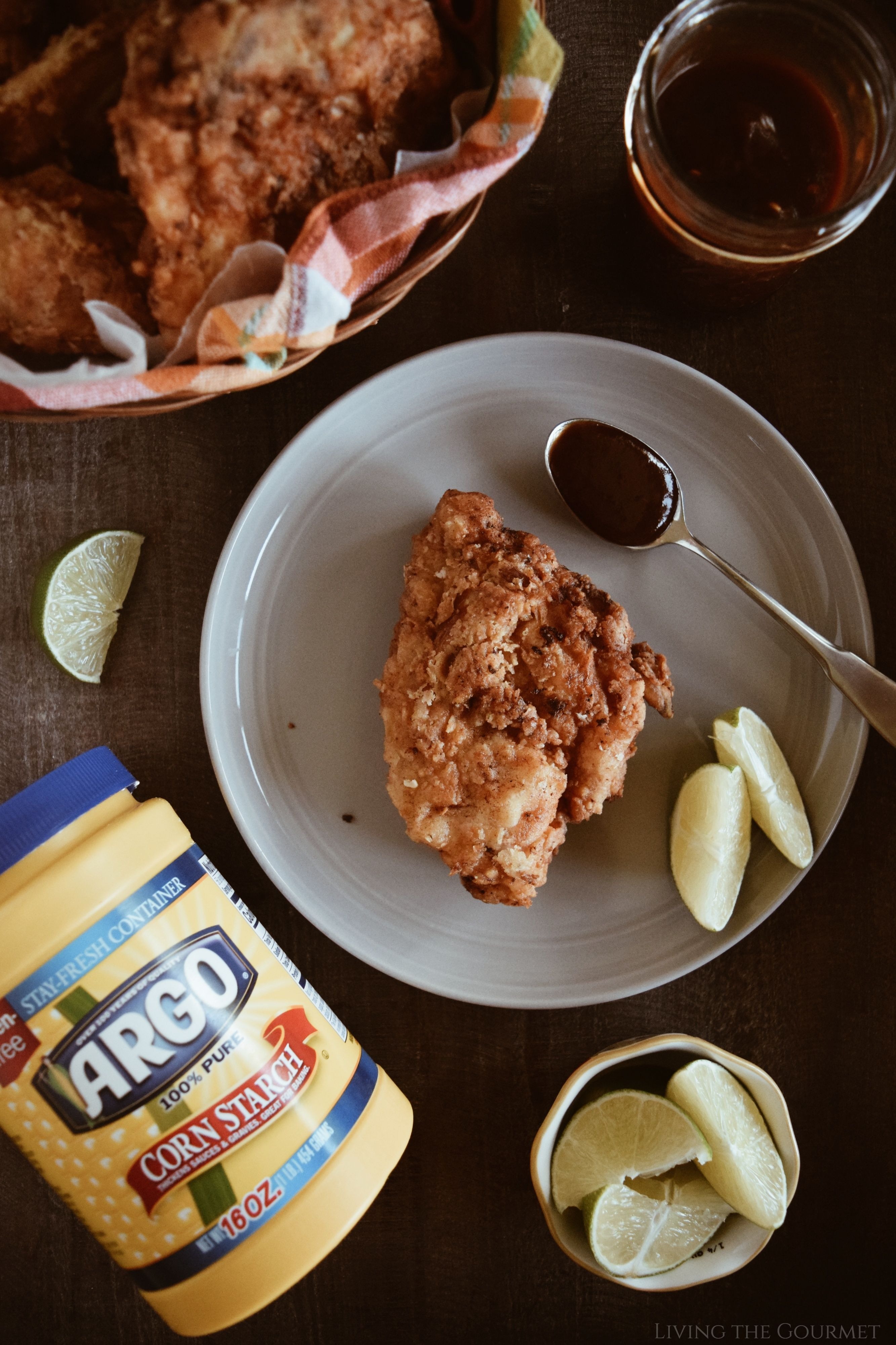 Did you make this recipe? If so, let me know in the comments down below, or post a picture to Instagram, or to Pinterest, and I'll give you a shoutout on Instagram, or post your pin to one of my Pinterest boards!
Be sure to visit Argo® Corn Starch for more inspiration.
Enjoy with love!
4