This salmon filet is marinated with dried figs and herbs for a sweet, savory meal the whole family will enjoy.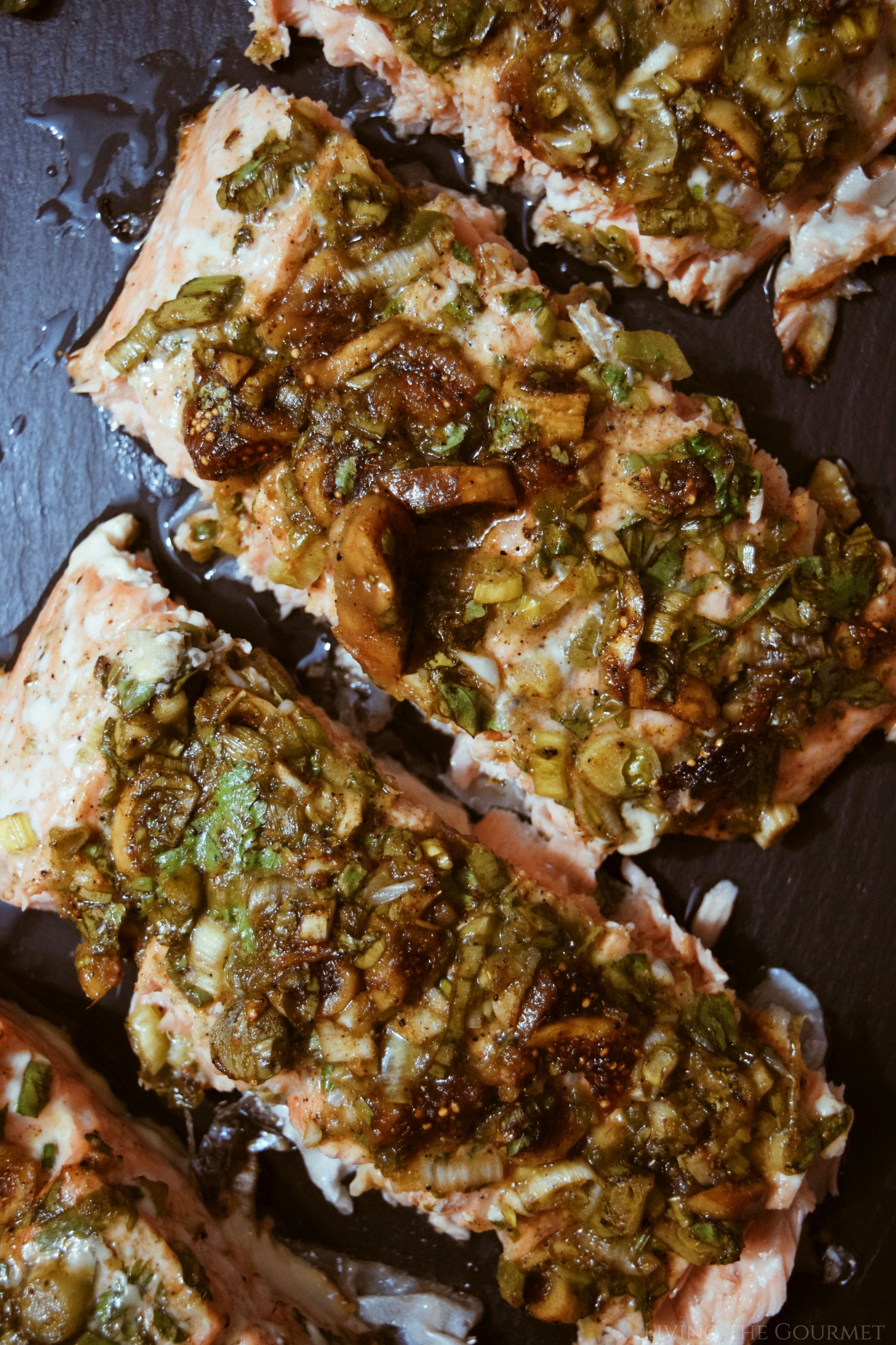 From chicken wings and pizza, to meatloaf and chili, parmigiana subs and cake, it's fairly safe to say that I've been having my fair share of fun so far this year on Living the Gourmet – and let's not forget the bubbly. While I have thoroughly enjoyed my recent focus on 'home-style' comfort food, I felt it was time to get to back to some more 'serious' bites, and to do so with something familiar and warming, but also multi-seasonal, as well as versatile.
Naturally, I'm talking about salmon.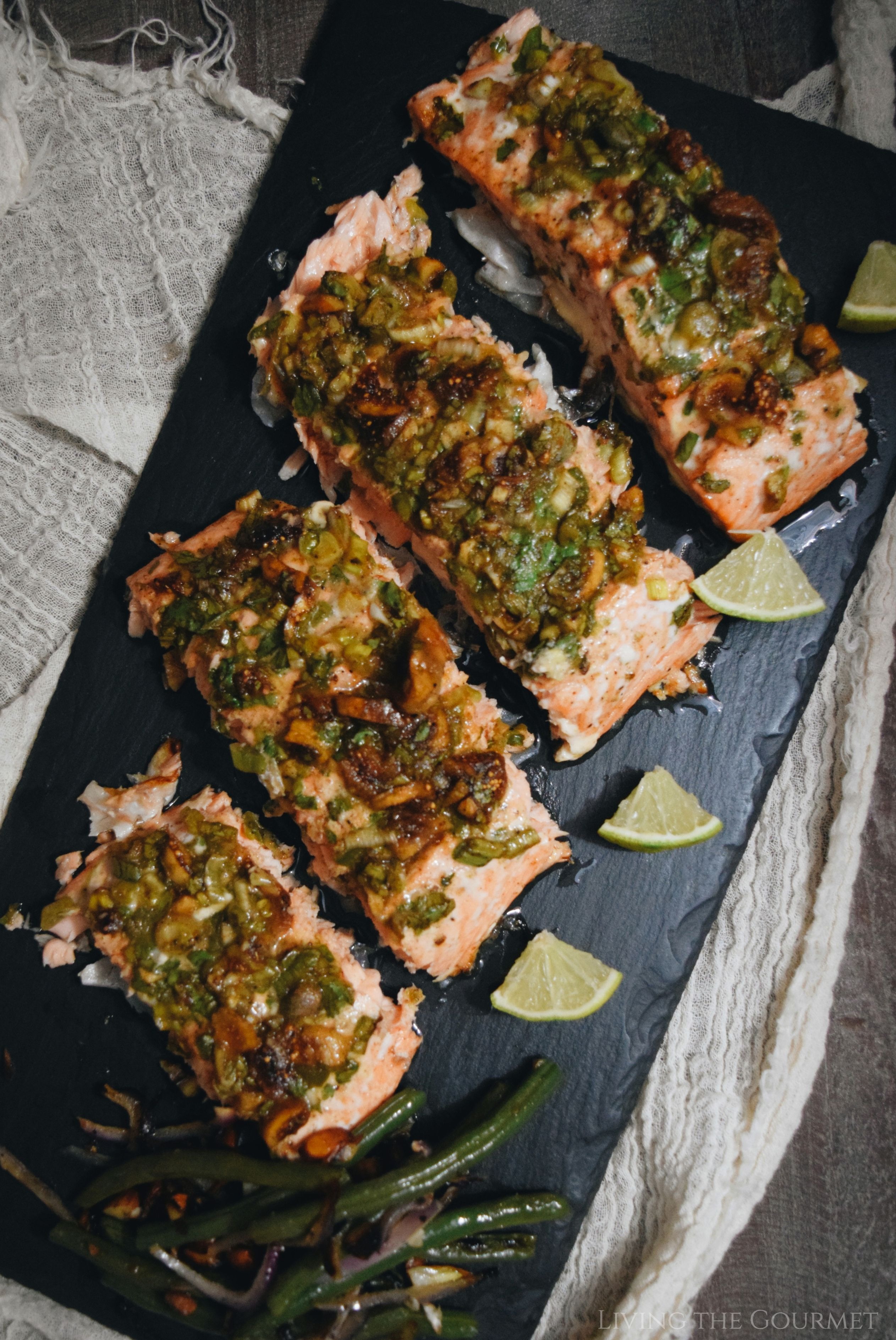 Now, while pan searing salmon is all the rage, and is widely considered the 'modern' way of prepping this particular fish, I am honestly in love with the simplicity, uniformity, and relative predictability offered by oven baking. With a vastly reduced margin for error, this is actually a great way of prepping salmon for busy weeknights, where you might be distracted or tired, or just plain busy, while still offering all the flare and flavor needed for a weekend dinner party. This is also a great way to take advantage of marinating the fish, since you'll be adding on a whole new layer of flavor complexity and texture control – which is precisely what we're doing here today.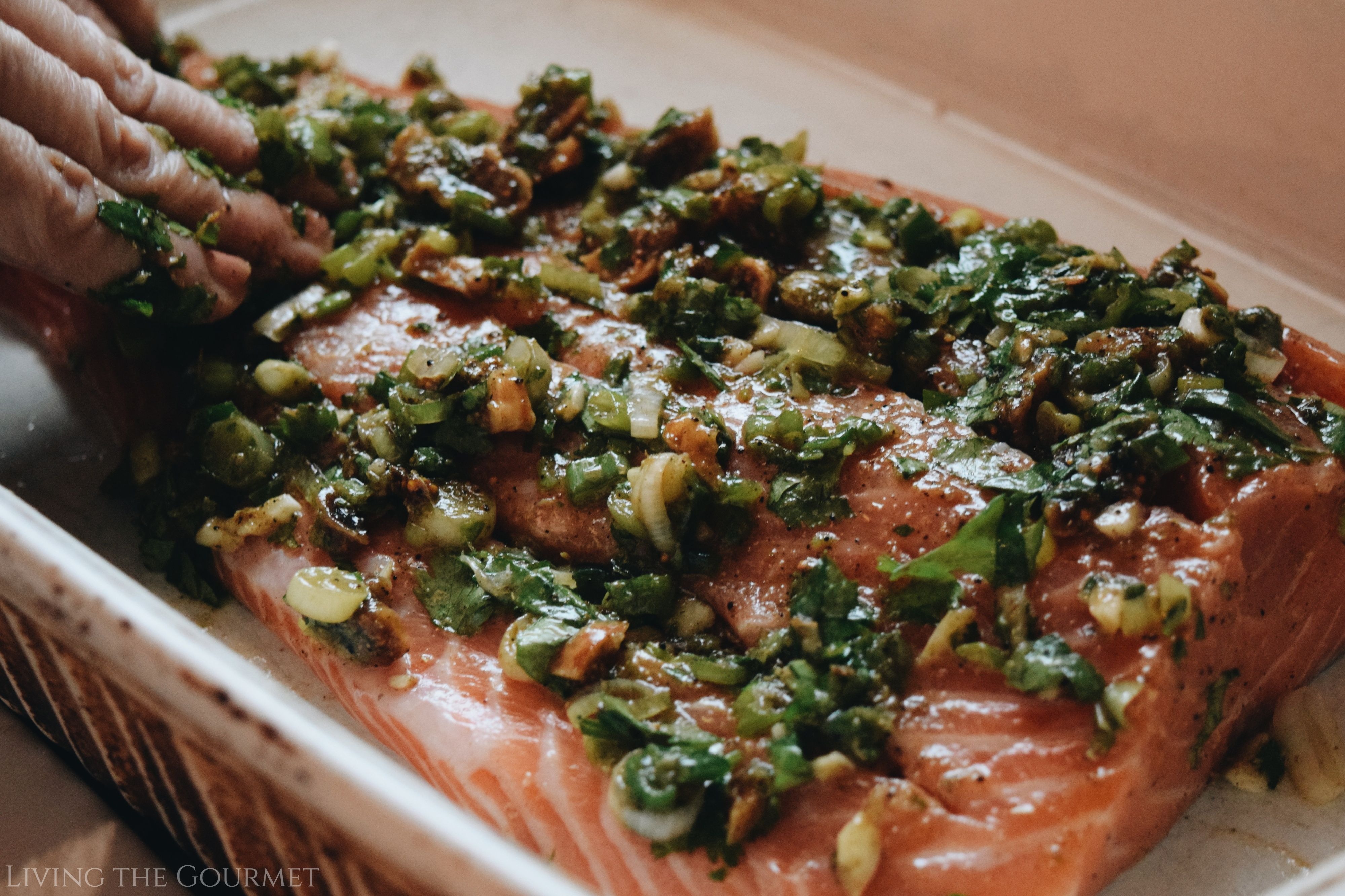 To start off, we begin with the marinade itself. Today, I'm opting for a sweet and spicy mixture that combines chopped figs and jalapenos, carried on a base of olive oil and fresh lemon juice. Add in the seasonings listed below, along with chopped garlic, scallions and cilantro, and you have a marinade that's far more than just heat or savory herbal flavors.
Once the marinade is prepared, you're going to want to cut small slits into the salmon filet about a quarter of an inch deep into the fish. You'll want about three of these slits spaced evenly along the filet. Then, taking the marinade, fill the slices, and then pouring the remaining marinade over the top of the fish. Cover the dish in aluminum foil, and let the salmon marinate in the fridge for one to three hours. Not only will this allow the flavors to permeate through the flesh of the fish, but will also heighten the 'juicy' and 'malleable' texture that makes salmon such a delight to eat.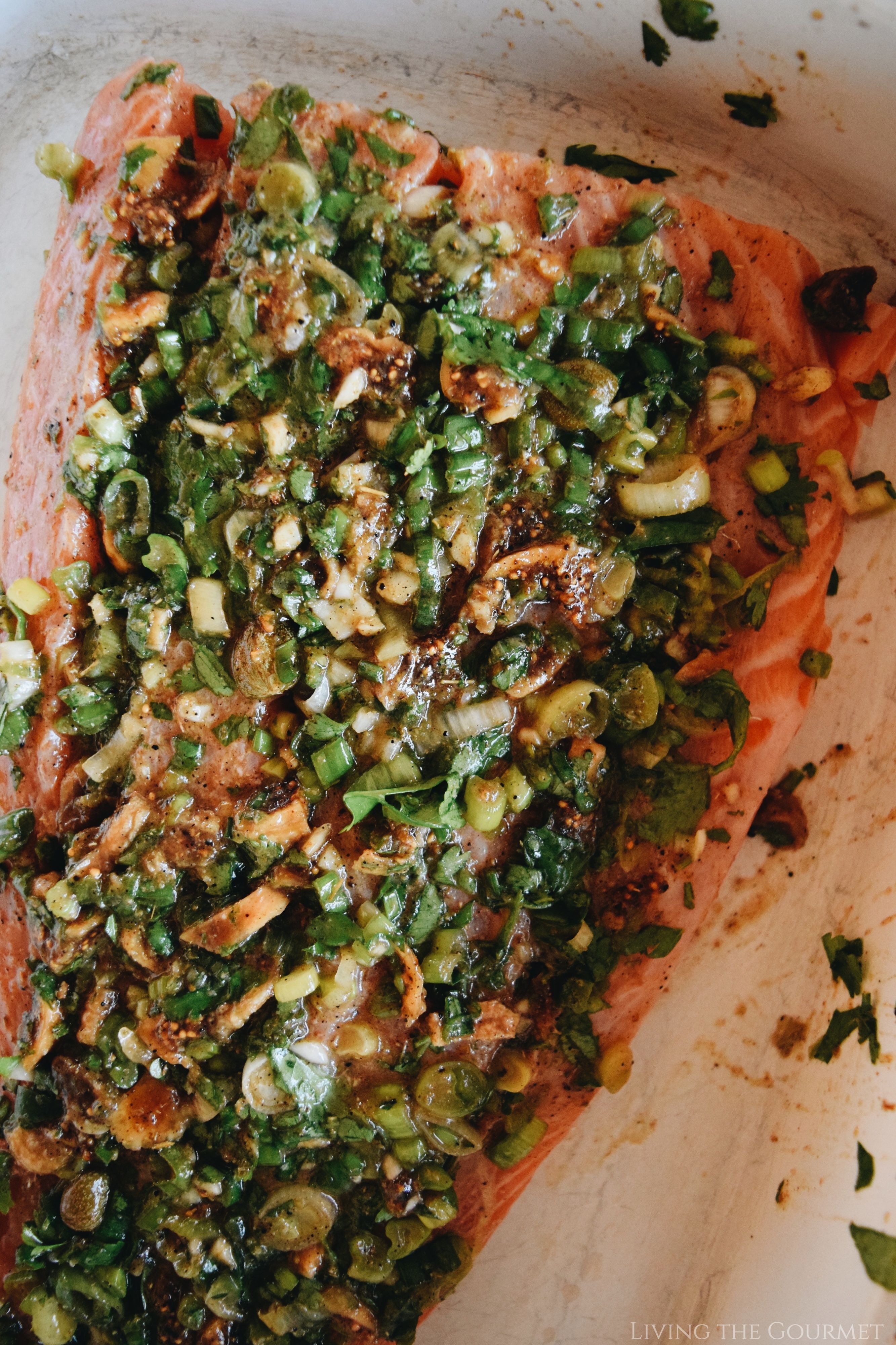 While the fish is marinating, preheat your oven to four-hundred and twenty-five degrees Fahrenheit. Then bake the salmon uncovered for about 16 – 18 minutes, and you're done.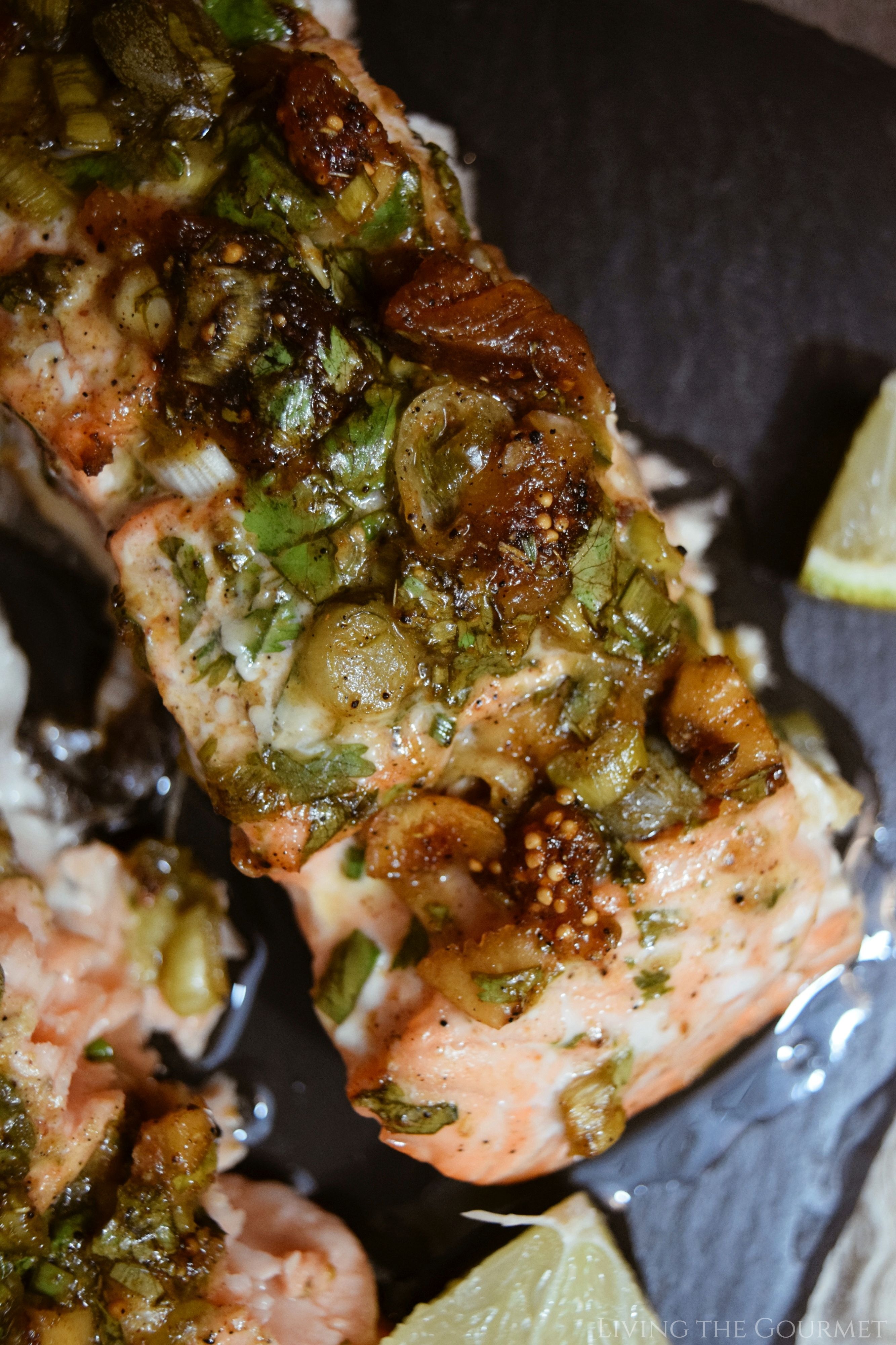 Print
Fresh Fig & Herb Marinated Salmon
Author:
Prep Time:

5 minutes

Cook Time:

15 minutes

Total Time:

20 minutes
For the Marinade:
About

6

scallions – sliced thin

3

garlic cloves – chopped fine

1

jalapeno – chopped fine – without seeds

6

dried figs – chopped

1/2

cup

fresh cilantro – chopped fine – (without stems)

1 tsp

. capers – chopped with 1 tsp. caper juice

1 tsp

. salt

1 tsp

. ground cumin

1 tsp

. ground coriander

1 tsp

. dried oregano

1/2 tsp

. garlic powder

1 tsp

. chili powder

1/2 tsp

. sugar

1/2 tsp

. black pepper
Juice of

1

lime

4

tbs. olive oil
Instructions
Combine all of the ingredients for the marinade in a medium sized bowl and toss.
Place the salmon filet in a baking dish.
Using a sharp knife, gently slice about three ¼ inch slices into the flesh of the salmon.
Take the marinade and fill the slices and cover the top of the salmon with the marinade.
Cover the dish with aluminum foil and place in the refrigerator for 1 – 3 hours.
Preheat Oven 425 degrees F.
Bake the salmon uncovered for 16 – 18 minutes or until the fish flakes nicely.
The USDA recommends a minimum internal temperature of 145°F, which should be measured at the thickest part of the fillet.
Recipe Card powered by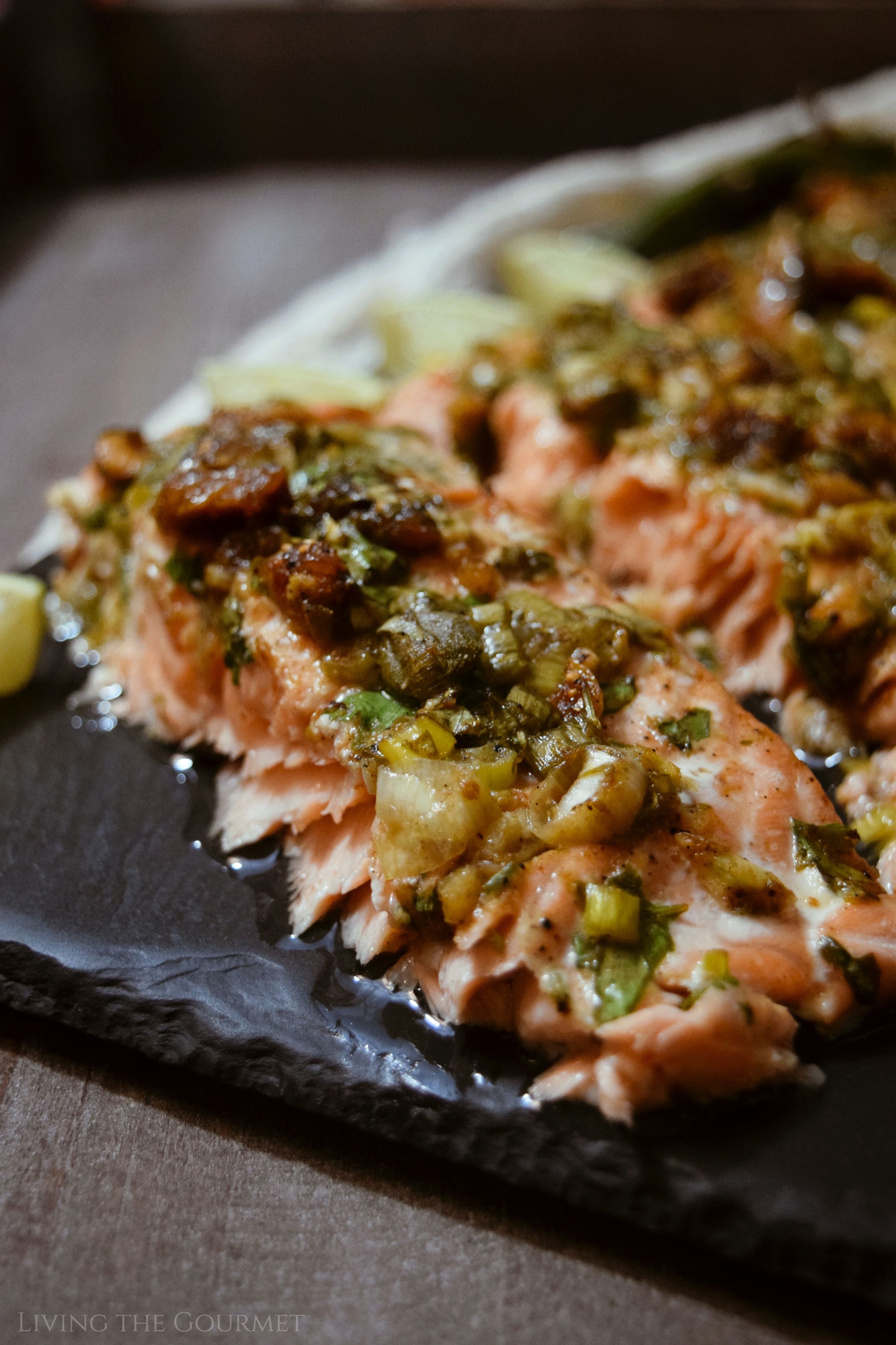 Enjoy with Love!
0