Thank you to Pereg Natural Foods for sponsoring this post. All opinions expressed are my own.
Give stuffed peppers a wholesome makeover with hearty quinoa sauteed with sweet raisins, olives and freshly grated cheese.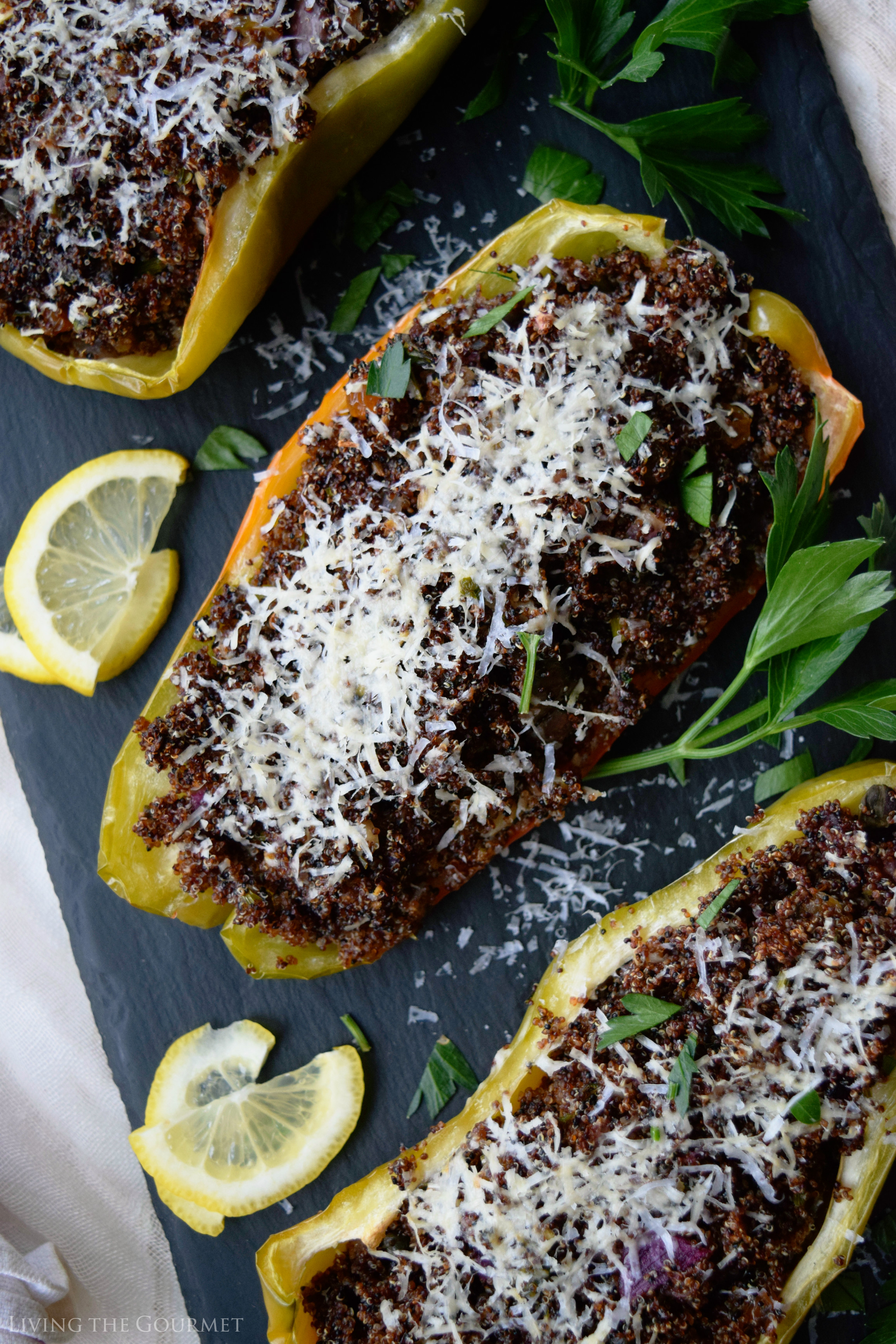 For a classicalist such as myself, 'Aversion towards the New' is a feature rather than a bug, it's built into my character by default through my study and enjoyment of the past's finer aspects – and fuels it. For example, when I find myself in need of new music for my playlist, well I'd better find some 'new' seventeenth century harpsichord pieces. In need of a quote or reference for an article on my site? Well, I'm sure my well-worn list of Dead Thinkers will provide me with some 'new' inspiration.
Such an outlook has served me quite, since I believe such a frame of reference proves 'unique' or perhaps 'refreshing' in an industry, and culture, obsessed with constantly standing on the 'bleeding edge.'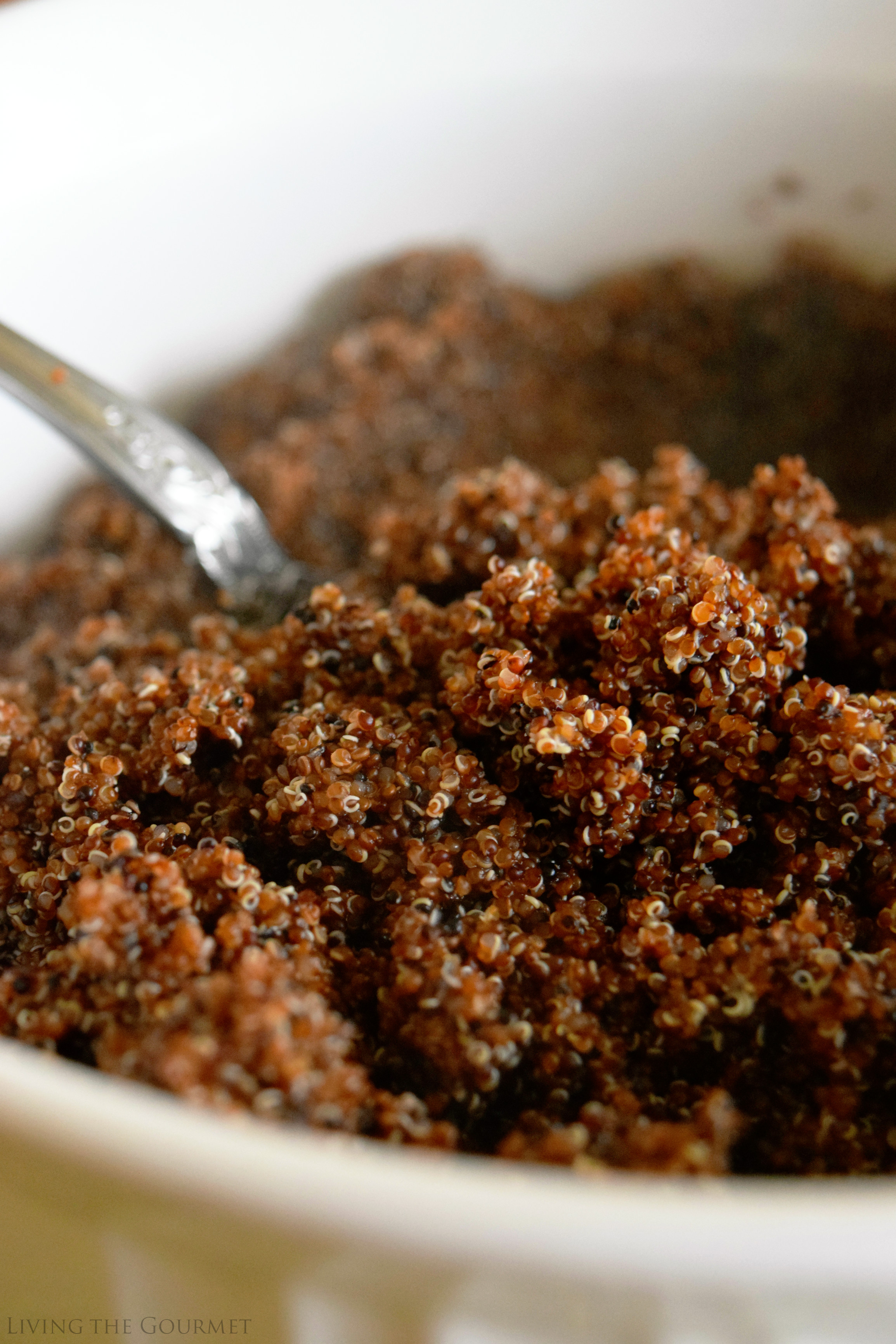 That said, when I approached by the representative of Pereg Natural Foods, asking if I would be interested in testing out their various 'Perfect Side Dish' products, which includes various flavors of Quinoa, such as Southern Smoked and FLAVOR, as well as Freekeh with Ginger Sesame, and with Vegetables, and finally Teff Ivory, and Teff Brown Porridge. Naturally, I will admit I was at first quite hesitant, having only cooked with quinoa perhaps several times in the past, and having never experimented with Teff or Freekeh.
Despite that, the 'classicalist' in me was in fact quite intrigued to these out, in particular to put a 'Quinoa Twist' on a very 'classical' favorite of mine – Stuffed Peppers. Of course, since Pereg produces a very high-quality product, all of which are Non-GMO verified, my decision to agree couldn't have been an easier one to make – Quinoa Stuffed Peppers it was.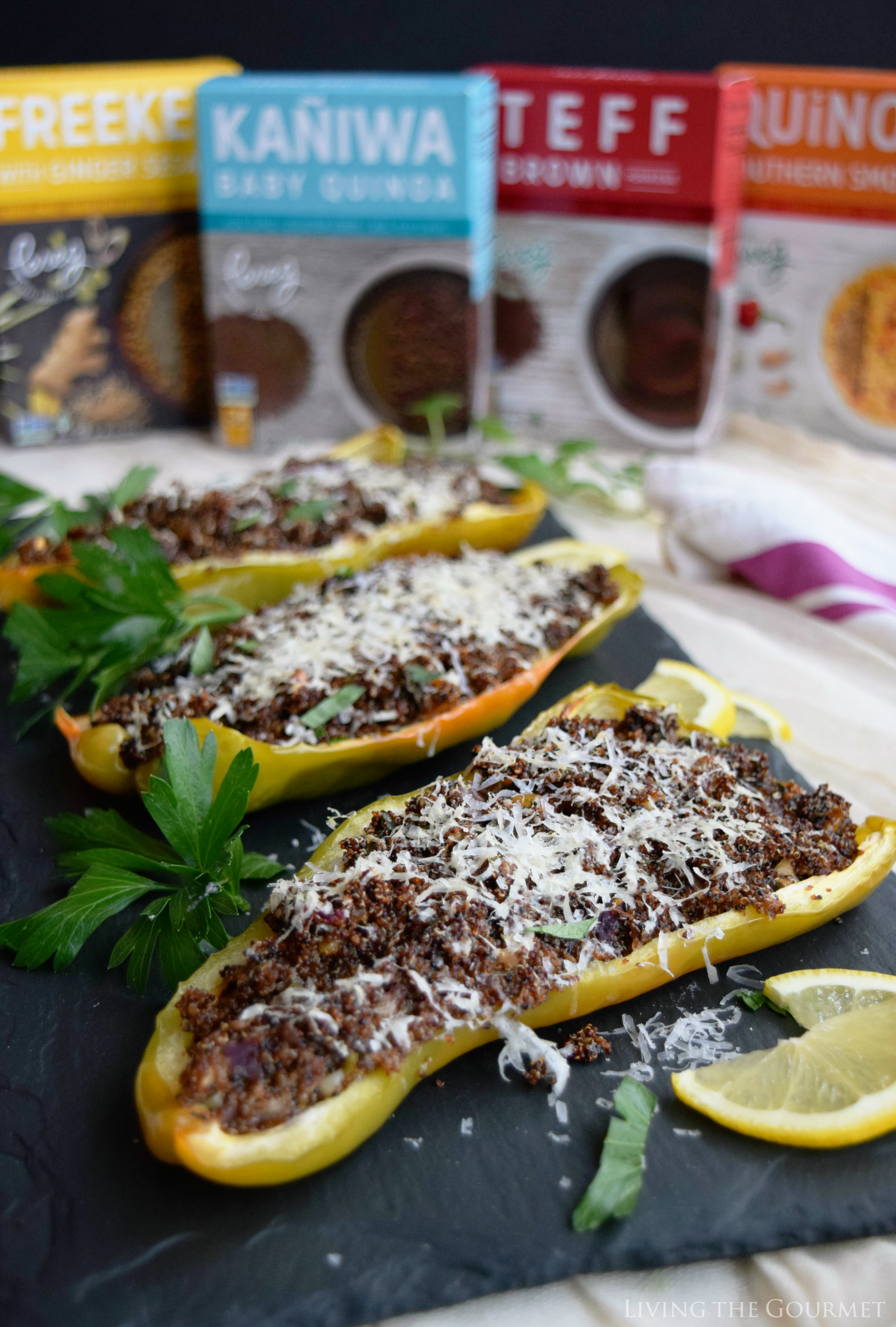 To start things off, simply prepare the quinoa as directed on the box, and then heat a large cast iron pan with olive oil. Into the frying pan with place a generous helping of chopped garlic, along with the classics such as parsley, olives, capers, sliced onions, and raisins. We then saute that mixture until fragrant, and add in the quinoa, along with fresh lemon juice and grated cheese. Then simply toss and remove from the heat.
Now, the peppers I chose for this recipe are Cubanelle, since they are a large, crisply texture pepper. Simply fill the peppers with the quinoa mixture, grate a bit more cheese over the peppers, and lash with a few drizzles of olive oil, and then bake for a about twenty-five minutes.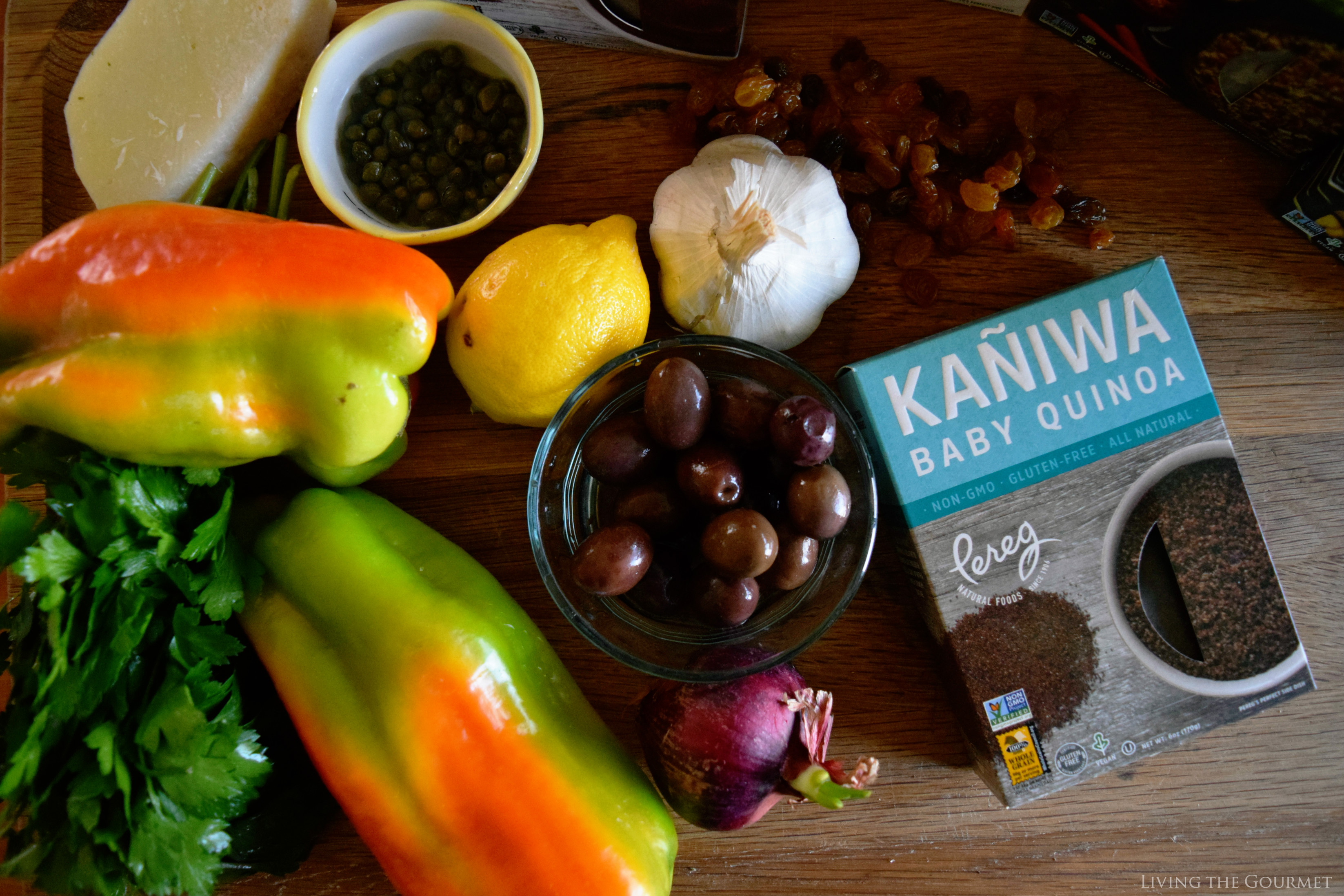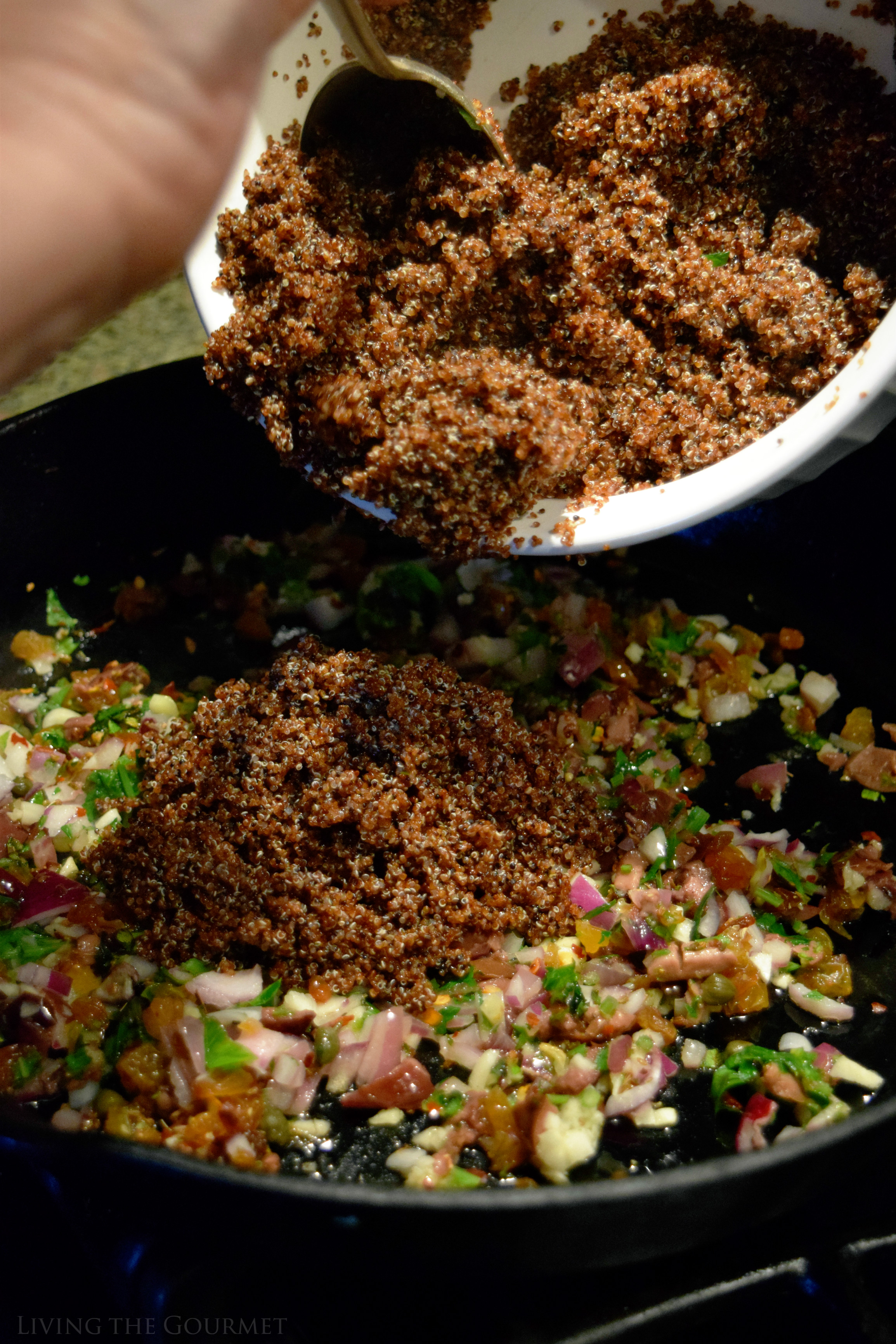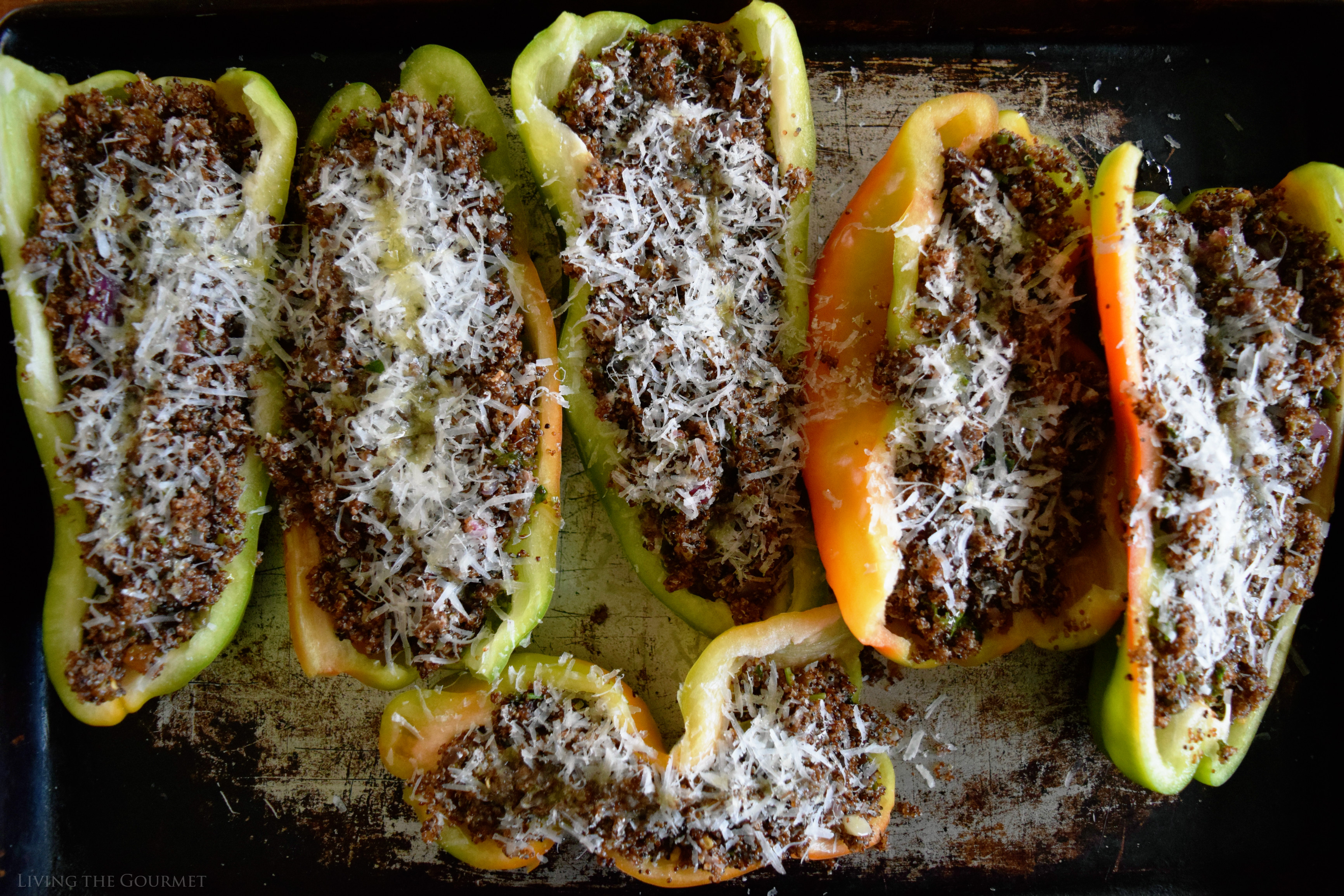 Print
Quinoa Stuffed Peppers
Author:
Prep Time:

5 minutes

Cook Time:

25 minutes

Total Time:

30 minutes
1

box of Pereg Kañiwa (Baby Quinoa) prepared as directed

4

–

5

Cubanelle peppers – or your choice of peppers – sliced open and seeds removed

3

–

4

cloves of garlic – chopped

1/4

cup

of fresh Italian parsley – chopped

1

small red onion – chopped

1/4

cup

golden raisins – chopped

3

tbs. capers plus a tbs. of caper juice – chopped

1/4

cup

of Greek olives – pitted and chopped
Juice of

1/2

lemon

4

tbs. grated Romano cheese

1/2 tsp

. salt

1/2 tsp

. black pepper

1/4 tsp

. red pepper flakes

1/2 tsp

. ground oregano

2

tbs. olive oil
Instructions
Prepare the quinoa as directed, drain and set aside.
Heat a large cast iron frying pan with the olive oil. Add the chopped garlic, parsley, olives, capers, onion and raisins. Saute until the garlic is fragrant then add the quinoa, lemon juice and grated cheese: toss and remove from heat.
Preheat Oven 350 degrees F.
Place the sliced pepper halves on a baking sheet. Stuff with the quinoa mixture. Grate Romano cheese over the top of each pepper halve and drizzle with olive oil.
Bake for 20 – 25 minutes.
Recipe Card powered by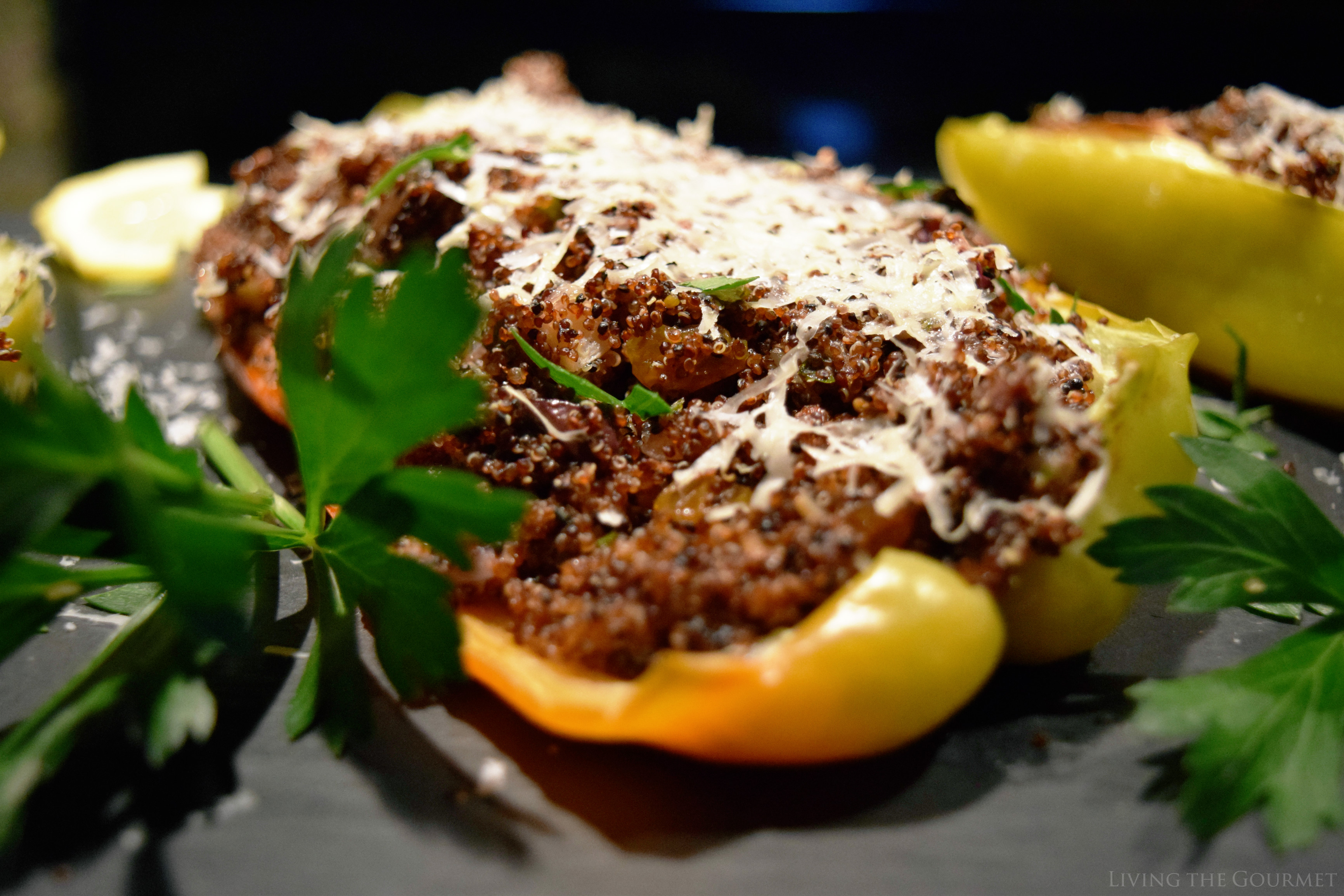 And just like that, you're done.
Enjoy with Love!
1