Are you looking for a zesty-yet-simple way to spice up your next fish dinner? Look no further than this marinated salmon recipe. Packed with herbs, spices, and a few citrusy ingredients, this recipe is sure to be a hit. Plus, it's easy to make and pairs well with a range of sides.
This marinated salmon recipe is perfect for weeknight dinners and special occasions alike. It's easy to whip up, and the marinade is blissfully simple to experiment with, meaning you can easily adjust the flavor to your liking. Prepared with an elegant combination of figs, lime juice, and garlic, this recipe is sure to please even the most discerning of seafood lovers.
The marinade is key here. It's equal parts savory, tangy, and citrusy, using an olive oil base mixed with fresh lime juice, figs, garlic, and a medley of herbs and spices. As a nice bonus, the marinade keeps the salmon moist and tender through cooking.
Today's recipe is incredibly versatile, and pairs deliciously alongside things like roasted vegetables, quinoa, couscous, grilled or roasted potatoes, or even a simple side salad. But we'll touch more on this below. Read on for a selection of perfect pairings.
Below, we're going to cover an ingredient checklist, in addition to suggested pairings. I'll also be providing you with tips for thawing frozen fish, and a few ways spot top quality salmon. Now, let's get to it.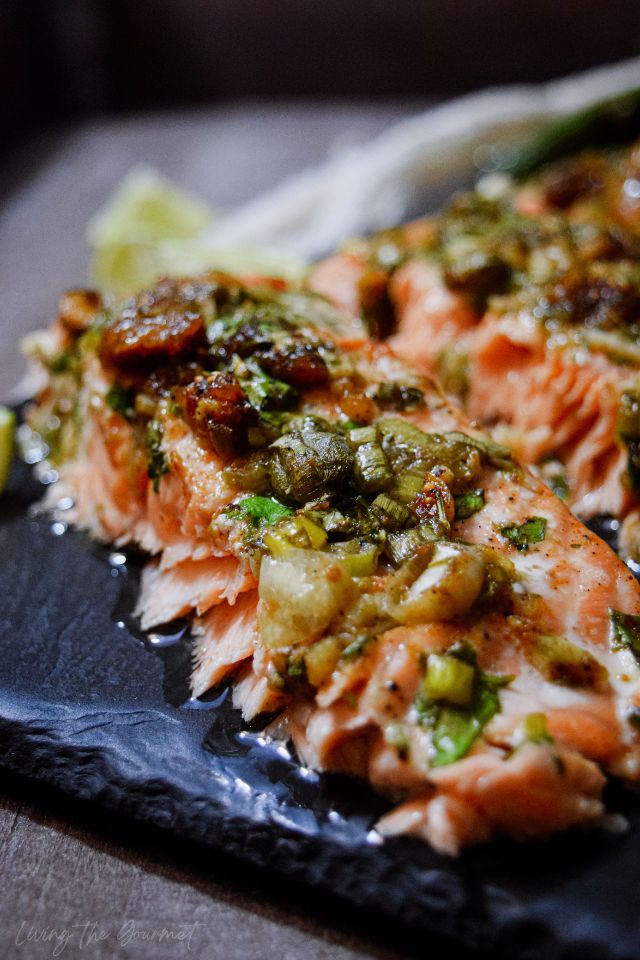 Ingredient Checklist for the Marinade
Salmon: The meat of today's recipe. Fresh or frozen works just fine. Tips for thawing frozen fish below.
Scallions: These provide a mild oniony flavor to the marinade and add a hint of crunch, along with a nice dash of color.
Garlic: This is a key ingredient, bringing pungency and robustness to the marinade, as well as a delicious background aroma.
Dried Figs: The sweetness of the dried figs helps to balance out the spiciness of the jalapenos, while adding a 'fruity essence' to the marinade, that plays beautifully with the salmon.
Cilantro: This brings a fresh, citrusy flavor to the recipe. It's one of my favorite herbs, bringing a bright and vibrant flavor to a variety of dishes, including salads, salsas, soups, and sauces. It also adds a bit of texture and crunch to dishes where it's used raw, making them more just a bit more interesting and complex overall. That said, it is a 'love it or hate it' herb, and if you hate it simply leave it out.
Capers: For saltiness and 'brine' flavor.
Salt: I would recommend sea salt, but basic table salt will do just fine.
Ground Cumin: Cumin adds an earthy, slightly smoky flavor to the marinade.
Ground Coriander: Another of my favorite ingredients. This brings an 'anise' or 'fennel-like' flavor, but with slightly more depth, and in an 'easier to use' form than whole fennel.
Dried Oregano: This brings an intense herbal aroma and flavor to the marinade, melding beautifully with the cilantro. This is one recipe where fresh oregano can possibly stand in for its dried counterpart – though it will be 'much' stronger.
Garlic Powder: For a bit of extra garlic flavor, and to help permeate that flavor throughout the recipe more completely. Garlic powder also works wonders with grilled proteins – including fatty fishes, such as salmon.
Chili Powder: This brings deep rustic and earthy notes to the marinade, and complements the jalapenos quite nicely.
Sugar: Helps to balance out the other flavors in the marinade, especially the acids.
Black Pepper: As always, pre-ground black pepper works fine, but fresh ground works better.
Lime Juice: The lime juice brings two things to the recipe. The first is citrusy flavor. The second is acid, which works to tenderize the salmon, which helps to ensure a moist and juicy fillet through cooking.
Olive Oil: The base of the marinade, it helps to bind the ingredients together and adds a buttery flavor. The fat of the oil also seeps into the fish while marinating, further enhancing the moisture and texture of the salmon.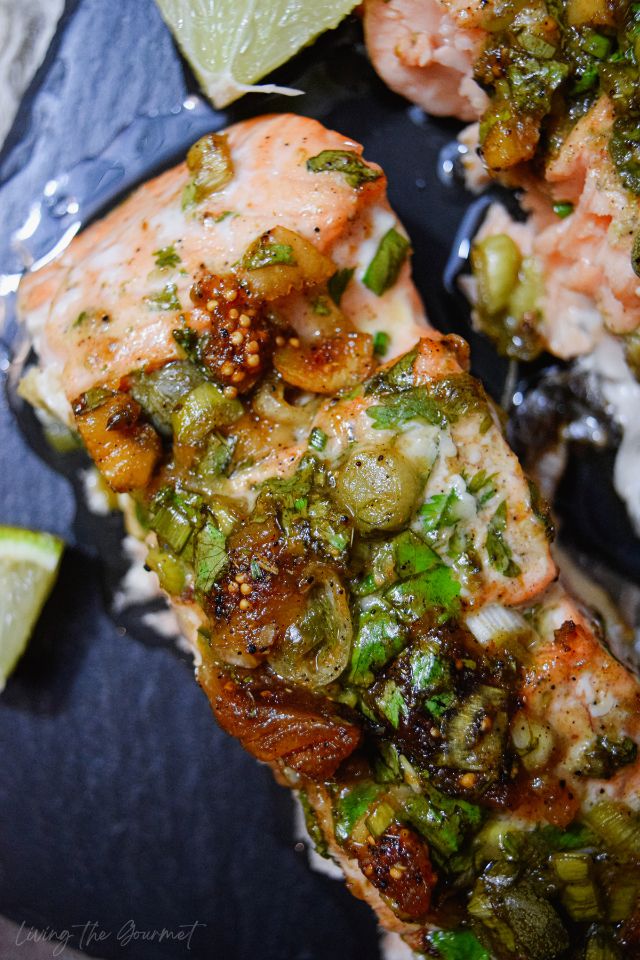 Suggested Pairings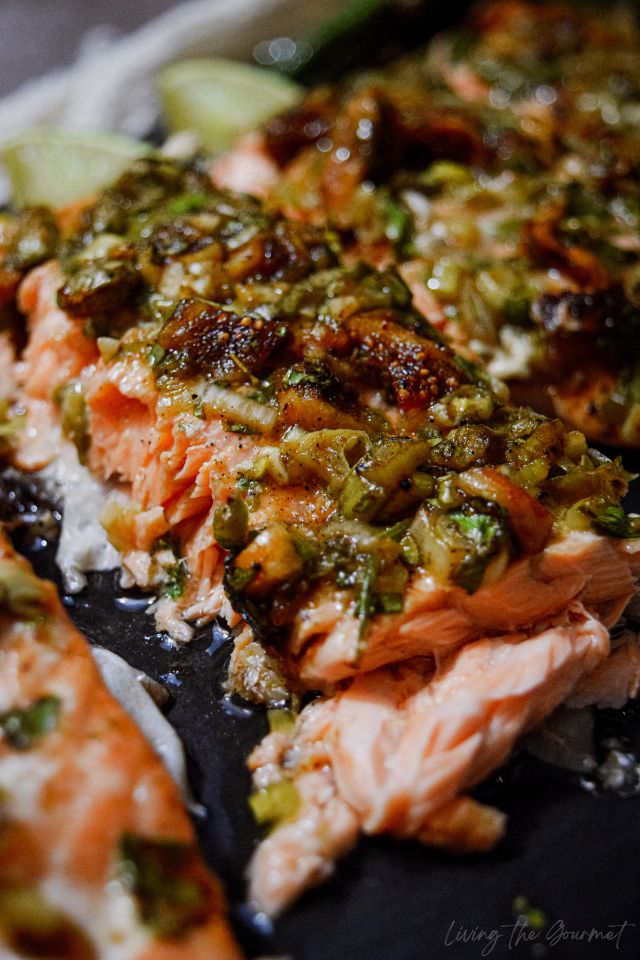 Tips for Selecting Quality Salmon
Check the Skin. Look for fresh, shiny skin with a tight texture. Loose, curling skin is a sign that the fish is either decaying, or was poorly handled.
Smell. Avoid any fish that has a strong fishy smell; fresh salmon will have a mild, ocean-like scent.
Firmness. Choose fish that is firm to the touch, plump and bright in color.
Color. Opt for salmon with a natural, bright-pink color. The deeper the pink, the better the salmon.
The Eyes. Check the eyes; they should be clear and bulging.
Freezer Fresh. If buying frozen salmon, make sure it is packaged in a way that prevents freezer burn. Do not buy fish that has crystals or 'frost' on the skin itself.
Bones. Look for salmon with pin bones still intact; this indicates that the fish is fresh. Broken bones indicate poor handling.
Opt For Wild-Caught. Wild-caught salmon is often considered to be of higher quality than farmed salmon. Thus, if you don't mind paying a few extra dollars, opt for wild-caught.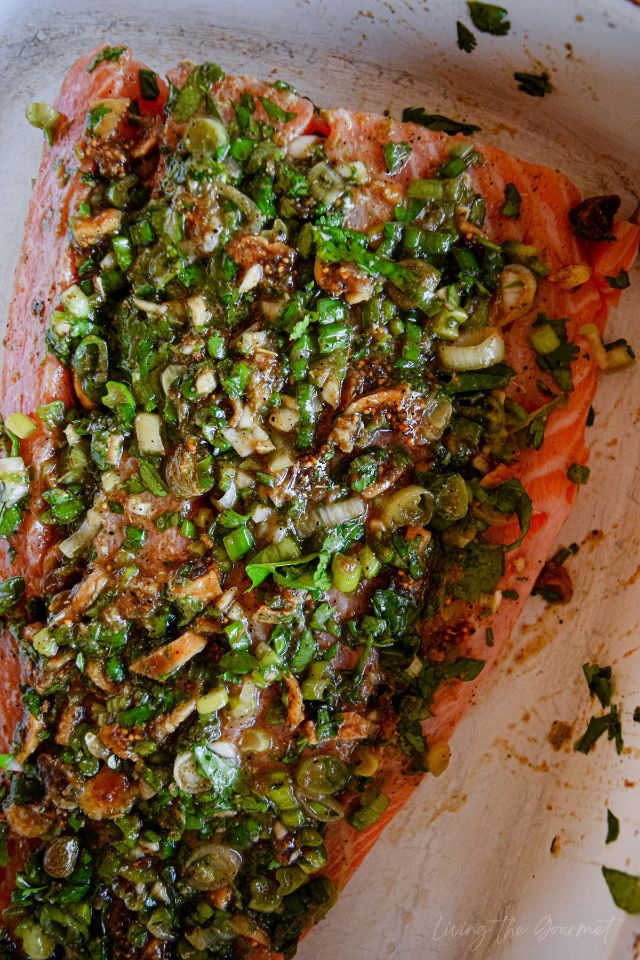 Tips for Thawing Frozen Fish
The Best Method. The slowest method is also the best. Simply place the frozen fish in the refrigerator and allow it to thaw overnight.
The Submersion Method. I personally don't have the patience for this. But if you do, a quicker method is to place the frozen fish in a sealed plastic bag and submerge it in cold water. Change the water every 30 minutes until the fish is thawed.
Submersion Method Two. Place the frozen fish in a shallow glass or ceramic bowl and cover it with cold water. Change the water every 15 minutes until the fish is thawed.
Print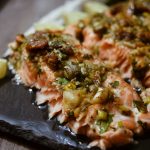 Fresh Fig & Herb Marinated Salmon
---
Author:

Total Time:

20 minutes
For the Marinade:
About

6

scallions - sliced thin

3

garlic cloves - chopped fine

1

jalapeno - chopped fine - without seeds

6

dried figs - chopped

1/2

cup

fresh cilantro - chopped fine - (without stems)

1 tsp

. capers - chopped with 1 tsp. caper juice

1 tsp

. salt

1 tsp

. ground cumin

1 tsp

. ground coriander

1 tsp

. dried oregano

1/2 tsp

. garlic powder

1 tsp

. chili powder

1/2 tsp

. sugar

1/2 tsp

. black pepper
Juice of

1

lime

4

tbs. olive oil
---
Instructions
Combine all of the ingredients for the marinade in a medium sized bowl and toss.
Place the salmon filet in a baking dish.
Using a sharp knife, gently slice about three ¼ inch slices into the flesh of the salmon.
Take the marinade and fill the slices and cover the top of the salmon with the marinade.
Cover the dish with aluminum foil and place in the refrigerator for 1 – 3 hours.
Preheat Oven 425 degrees F.
Bake the salmon uncovered for 12-14 minutes or until the fish flakes nicely.
The USDA recommends a minimum internal temperature of 145°F, which should be measured at the thickest part of the fillet.
Prep Time:

5 minutes

Cook Time:

15 minutes
Recipe Card powered by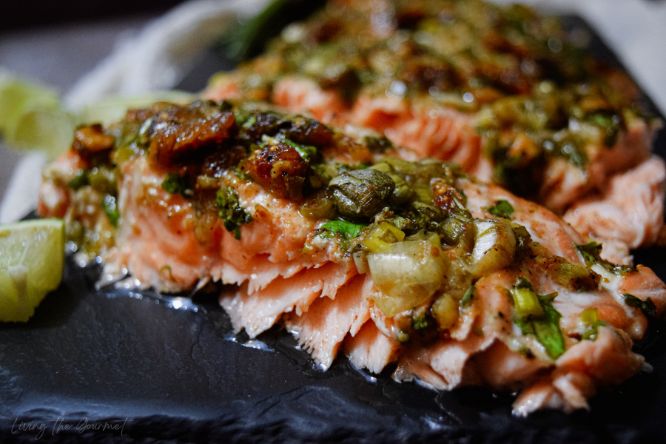 We hope you've enjoyed this marinated salmon recipe! With its delicious and light flavor, this dish is sure to be a hit at your next dinner gathering. For more delicious recipes and kitchen tips, be sure check out our social media pages.
We would love to hear about your experience with this dish, so please leave a comment and let us know how it turned out!
Thank you for reading and happy cooking!
0