This simple casserole recipe is the epitome of comfort food, and is perhaps my favorite way to enjoy zucchini. This recipe features crispy zucchini slices layered with bubbling mozzarella, a homemade marinara sauce, a medley of fresh herbs, and toasted bread.
What sets this easy recipe apart is its ability to transform simple ingredients, readily available at your local grocery store — zucchini, tomatoes, fresh herbs — into a hearty and flavorful comfort food delight. This is a perfect side dish for those looking for a hardy accompaniment to their favorite pasta to form a complete meal, or as a light main dish on its own.
Best of all, this Roasted Zucchini Parmesan Bake is surprisingly easy to make, while still delivering a wonderfully flavorful and comforting end result. If you can bread and fry zucchini, put together a quick homemade tomato sauce, and then layer the casserole, you can make this recipe. Combining simple ingredients and simple steps for preparation, this truly is a beginner-friendly dish, easily accessible to home cooks of various skill levels.
As a nice bonus, this dish is make-ahead friendly, allowing for you to spend less time in the kitchen and more time with your guests. Below, we'll list and discuss the main ingredients you'll need for this recipe, we'll also cover some key variations to help fuel your creativity, along with some serving suggestions. As always, we include a full recipe card at the bottom, along with step-by-step photos.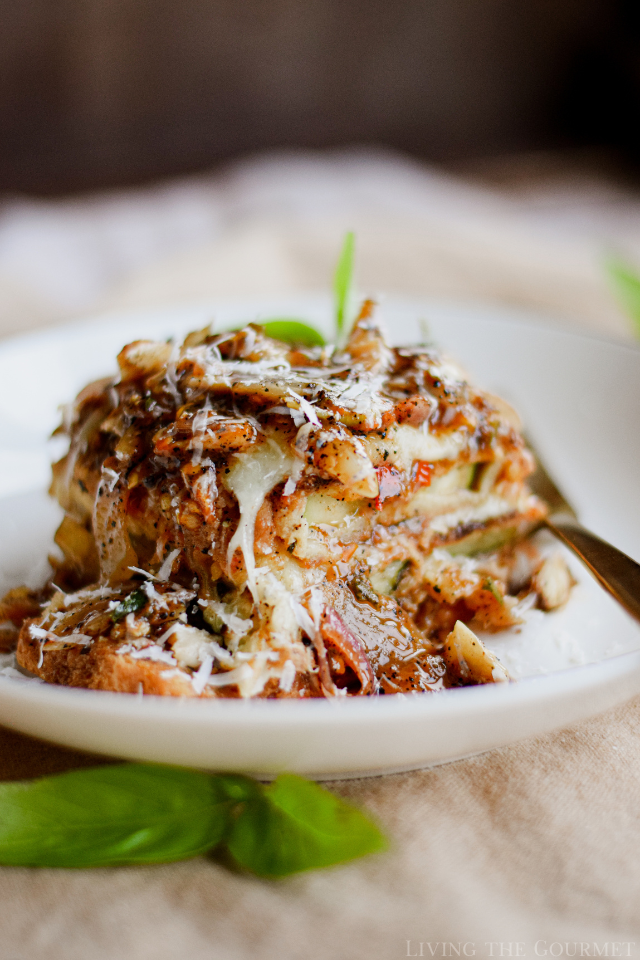 videos you make also like
Main Ingredients – What You'll Need
Fresh Zucchini: Roasted zucchini is the star of this recipe. Rather than zucchini fries or zucchini chips, we'll be slicing the zucchini into 1/4-inch thick strips for layering. You'll want to choose a large zucchini for this particular zucchini squash recipe.
Mozzarella Cheese: For melted cheesy goodness. If you really want to get fancy, use rounds of fresh mozzarella, otherwise packed is fine. I recommend 'against' pre-shredded, as pre-shredded tends to be dryer than its blocked alternative.
Parmesan Cheese: Your favorite grating cheese will work just fine in this recipe. I'm using parmesan, but the choice is yours.
Homemade Tomato Sauce: For me personally, the tomato sauce is the heart and soul of this dish. Made from vine-ripe tomatoes, fresh garlic, onions, fresh herbs, and seasonings, it provides the essential saucy goodness that permeates the zucchini slices and infuses them with rich, savory flavors. This is also the area where you can get the most creative, as I'll detail below.
Toasted Bread: This gives the parmesan structure and body. While I'm using plain white bread, feel free to use the bread of your choice, such as crusty Italian bread or even flatbreads, such as my 5-Ingredient Flatbreads.
Olive Oil: I'm of the mind that great recipes require great olive oil. In all seriousness, though, I do recommend a decent quality olive for sauce recipes, and for that reason I'm using a single-source evoo. We'll also be using the olive oil for drizzling, adding a touch of richness and helping to achieve that coveted golden brown crust on the zucchini and a glossy finish to the tomato sauce.
Italian Seasoning: Dried oregano, black pepper, salt, sugar, garlic, basil, and Italian parsley are the keys to the flavor profile for this recipe. While I'm using fresh garlic, you certainly can substitute in garlic powder if that's all you have on hand.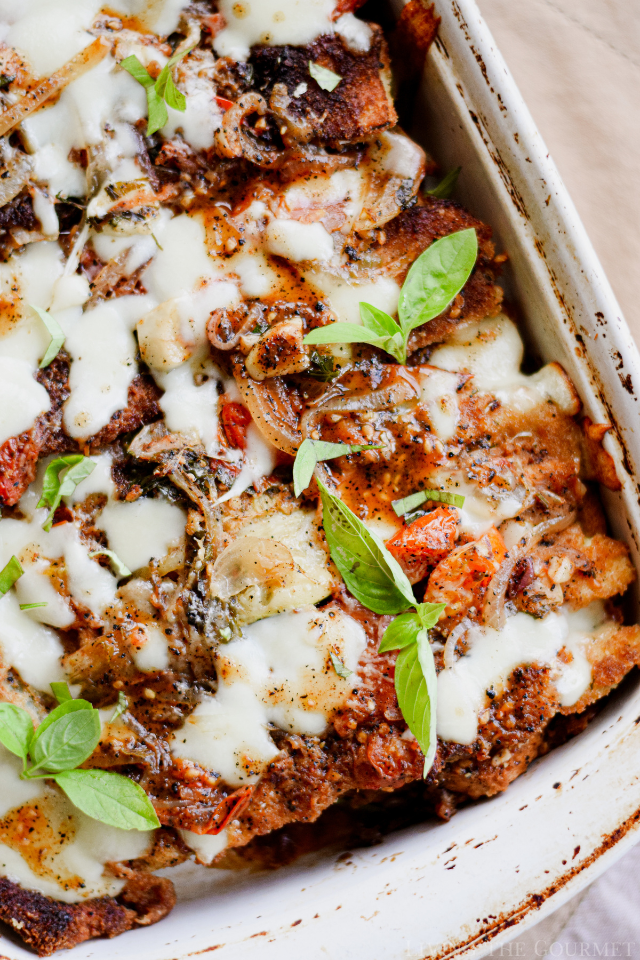 Key Variations – Getting Creative
One of the things I love most about this recipe is its versatility. Everything about it can be tweaked. Here's the rundown to get your creative juices flowing.
Sauce Variations:

Pesto Sauce: For a vibrant and herbaceous twist, replace the classic tomato sauce with pesto sauce. The mix of basil and garlic in pesto pair would beautifully with the zucchini and cheese.
Alfredo Sauce: If you prefer something creamier, use Alfredo sauce instead of tomato sauce. The creamy, garlicky Alfredo sauce will beautifully complement the mild flavor of the zucchini and mozzarella.
Bechamel Topping: Conversely, consider keeping the red sauce, but then topping the zucchini bake with a rich bechamel for a contrast in textures and flavors.

Cheese Variations:

Ricotta: Enhance the cheesy goodness by layering in ricotta between the sliced zucchini. This will add body and richness to the recipe.
Gruyère Cheese: Replace mozzarella with Gruyère for a slightly nutty and bold cheese flavor that pairs well with zucchini's natural sweetness.
Vegan Cheese: To accommodate a vegan or dairy-free diet, choose plant-based mozzarella or other vegan cheese alternatives. These options melt and provide the desired cheesy texture.
Any Melty Cheese: I used Jarlsberg for one of my Pasta Bake, and the result was simply delicious. The takeaway is to be creative, and let your palate be your guide. Remember, the best way to prepare any meal is the way that you will enjoy it most.

Vegetable Additions:

Spinach or Kale: Toss in some fresh or sautéed spinach or kale between the zucchini layers for added greens and a pop of color.
Eggplant: You might consider making a semi-eggplant parmesan by layering in thinly sliced, baked eggplant tomatoes with the zucchini for added texture and complexity.

Gluten-Free Variation:

Gluten-Free Breadcrumbs: If you're following a gluten-free diet, use gluten-free breadcrumbs to coat the zucchini for a crispy texture without compromising on flavor.

Herb and Spice Variations:

Red Pepper Flakes: Add a touch of heat with red pepper flakes, sprinkling them between the layers for a spicy kick.
Fresh Herbs: Experiment with fresh herbs like thyme, rosemary, or oregano for a different aromatic profile.

Your Favorite Protein:

Ground Sausage or Chorizo: Incorporate browned and crumbled sausage or chorizo between the layers for a heartier and meatier version.
Grilled Chicken: Include grilled chicken slices for added protein and a different flavor dimension.
Meatballs: Add in sliced fried meatballs for maximal deliciousness. The meatballs with baked zucchini, melted mozzarella, and red sauce. That's a match made in culinary heaven.
Tofu: Meatless alternatives, such as tofu, would also work beautifully in this recipe.

Different Bread Types:

Multigrain Bread: Swap the white bread with multigrain or whole-grain bread slices for extra fiber and nutty flavors.
Ciabatta or Baguette: Opt for crusty bread varieties like ciabatta or baguette for a rustic twist.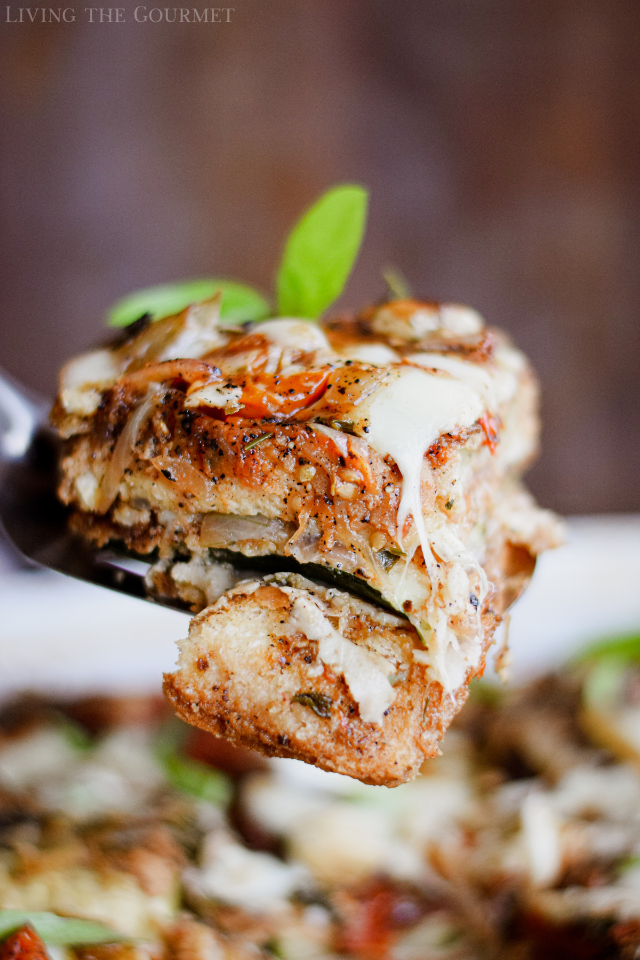 How to Prevent Soggy Zucchini
Zucchini are high water content vegetables. As such, if you don't prepare them right, they can be very soggy. Preventing soggy zucchini is essential for maintaining this recipe's texture.
Here's the easy way to do it:
Slice and Salt the Zucchini: Slice the zucchini into even, 1/4-inch thick pieces. Lay the slices on a paper towel-lined tray or cutting board. Sprinkle them lightly with salt and let them sit for about 15-20 minutes. The salt draws out excess moisture from the zucchini. You can do this right in the roasting pan.
Pat Dry: After the zucchini has released some of its extra moisture, use paper towels or a clean kitchen cloth to gently pat the slices dry. This helps remove the salt and excess moisture.
Pre-Cook or Pre-Fry: While it adds a few extra steps, you can choose to pre-cook or pre-fry the zucchini slices briefly before assembling the casserole. This helps to further reduce moisture. Pan-frying them for a few minutes on each side until they're lightly browned is a common approach.
Layer Properly: A single layer of this dish should include bread, zucchini, and cheese. Avoid placing the zucchini directly one on top of the other. In other words, when assembling the casserole, ensure that the zucchini slices are arranged in a single layer to avoid overcrowding. This allows for better air circulation and further reduces the chance of sogginess. Since zucchini is mostly water, they release a lot of water during baking. You want that water being absorbed into the bread and cheese, not the other zucchini slices.
Toast Bread Separately: You'll want to toast the bread separately before adding it to the casserole. This will prevent it from becoming too soft due to contact with the zucchini and sauce.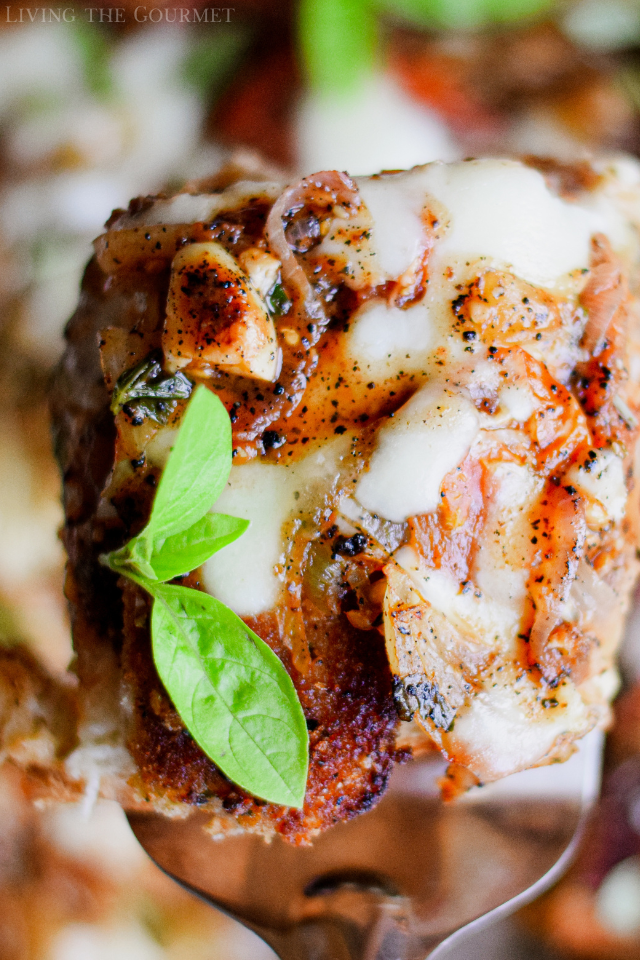 What Wine to Pair with Zucchini Parmesan
For the Zucchini Parmesan Bake, a light to medium-bodied white wine or a red wine with bright acidity would be an excellent choice.
Here are a couple of pairings that I think would be simply delicious:
Sauvignon Blanc: This crisp acidity and citrus notes of a decent sauvignon blanc would perfectly complement the zucchini's fresh and slightly earthy flavors, while providing contrast to the acidity of the marinara. In particular, a Sauvignon Blanc with herbal and grassy undertones will play beautifully with this recipe.
Chardonnay: A unoaked or lightly oaked Chardonnay would provide a balance of acidity and creaminess, making it a great partner for the dish. The wine's apple and pear notes would pair deliciously with the zucchini and cheese.
Pinot Grigio: This light and refreshing white wine with bright acidity pairs well with the dish's mild flavors. It won't overpower the zucchini but will cleanse the palate between bites.
Chianti: If you prefer red wine, Chianti is a good choice. Its bright acidity and red fruit notes, like cherry and raspberry, are always a welcome addition to red sauce recipes, and this zucchini bake is no exception.
Merlot: A fruit-forward, medium-bodied Merlot is always a versatile red wine option. Its soft tannins and plum notes can complement the dish's flavors without overwhelming them. As always, no one ever ruined a delicious meal with a quality merlot – and that holds true for this recipe.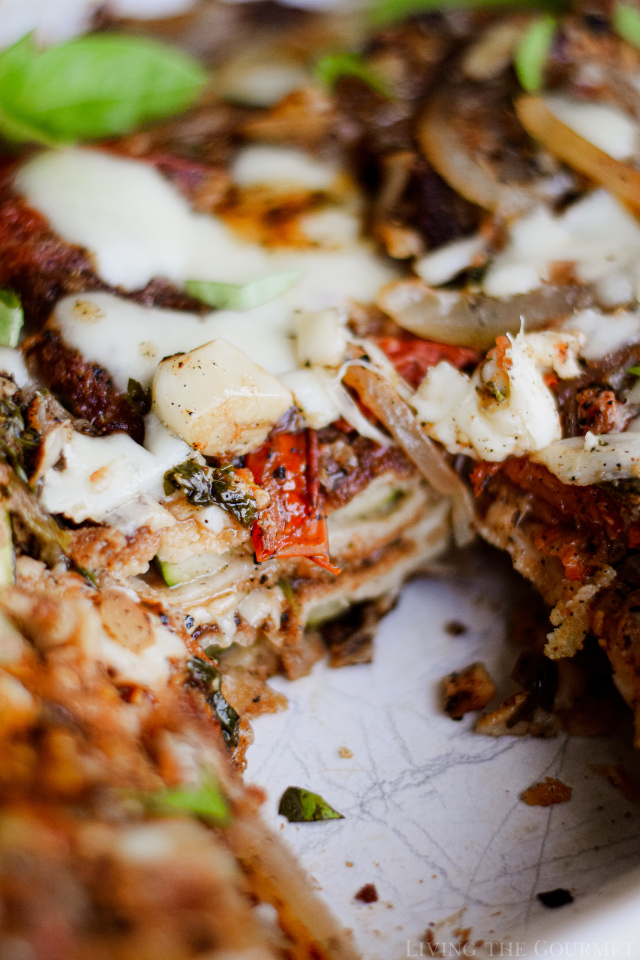 Print
Easy Roasted Zucchini Squash Recipe - Oven Baked
---
Author:

Total Time:

45 minutes

Yield:

6

-

8

servings

1

x
4

zucchini - cut lengthwise - about

1/4

inch thickness

6

-

7

slices of white bread - toasted

1 1/2

cups

of breadcrumbs

1 1/2

cups

of milk

2

eggs

1 1/2

cups

of flour

16

oz

. of mozzarella - cubes small
Fresh Romano or Parmesan cheese - for grating
Vegetable oil - for frying
Olive oil - drizzling
Tin foil
Paper towels
For the Sauce:
5

-

6

vine ripe tomatoes - cubed

5

-

6

cloves of garlic - rough chopped

1

large sweet onion - sliced
handful of fresh basil - ripped
handful of fresh Italian parsley - chopped

1 1/2 tsp

. salt

1 1/2 tsp

. black pepper

1 1/2 tsp

. dried oregano

1 1/2 tsp

. sugar
Olive oil - for drizzling
---
Instructions
Heat a large cast iron frying pan with about 3 tbs. of vegetable.
Make a station of, 1 shallow bowl for the flour, 1 shallow bowl with the milk and egg bath and 1 shallow bowl with the breadcrumbs.
Dredge the zucchini slices first in the flour, then the milk and egg wash and finally in the breadcrumbs.
Carefully place the slices in the heated oil and allow for each side to get a nice golden color.  Place the slices on a plate prepared with paper towels to drain any excess oil.
Continue this process until the zucchini are used up.
For the Sauce:
Heat a large cast iron frying pan and add the sliced onion and garlic.  Drizzle with a tablespoon of olive oil.
Cook on a gentle heat until the onion is slightly golden and the garlic is fragrant.  Add the tomatoes and all of the seasonings and continue to cook on a gentle heat until the tomatoes are softened.  Drizzle with another tablespoon of olive oil.
To Build the Zucchini Bake:
Preheat Oven 350 degrees F.
Drizzle olive oil at the bottom of a baking dish.
Place a layer of the toast at the bottom of the dish.
Top the toast with the fried zucchini slices followed by spooning the sauce over the zucchini, the grated cheese and finally the mozzarella.
Continue this process until the ingredients are used up.
Cover the dish with tin-foil, being sure not to touch the top with the foil so the mozzarella does not stick to the foil.
Bake for 25 - 30 minutes.
Let the dish rest for about 10 - 15 minutes before slicing into it.
Prep Time:

15 minutes

Cook Time:

30 minutes
Keywords: italian, zucchini, vegetarian, zucchini bake
Recipe Card powered by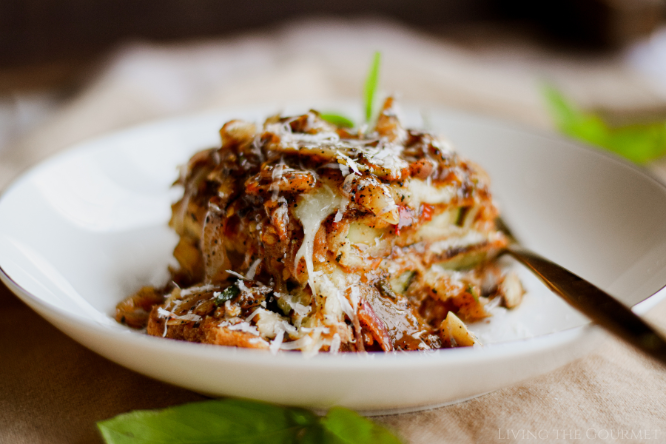 For more tips on pairing wines, see our White Wine Guide and our Red Wine Guide.
But, above all, remember that wine pairing is a matter of personal preference, and that means experimenting and exploring to see what best suits your palate. Don't be afraid of pairing wine in an unusual or new way, because who knows, you might just find your favorite combination.
0