If you're looking for a delicious and refreshing salad to enjoy this spring, look no further than this Carrot Apple Slaw with Spicy Sunflower Seeds and Honey Vinaigrette! This salad is the perfect combination of sweet, tangy and crunchy. As a nice bonus, it's incredibly easy to make, and can be made ahead of time.
With just a handful of ingredients and minimal prep time, this slaw can be served as a delightful side dish or light lunch. The star of this recipe, in my opinion, are the spicy sunflower seeds. They're simply delicious. Toasted until golden and crispy, the sunflower seeds provide an irresistible crunch, and a delightful kick, seasoned with a simple mix of black pepper and salt.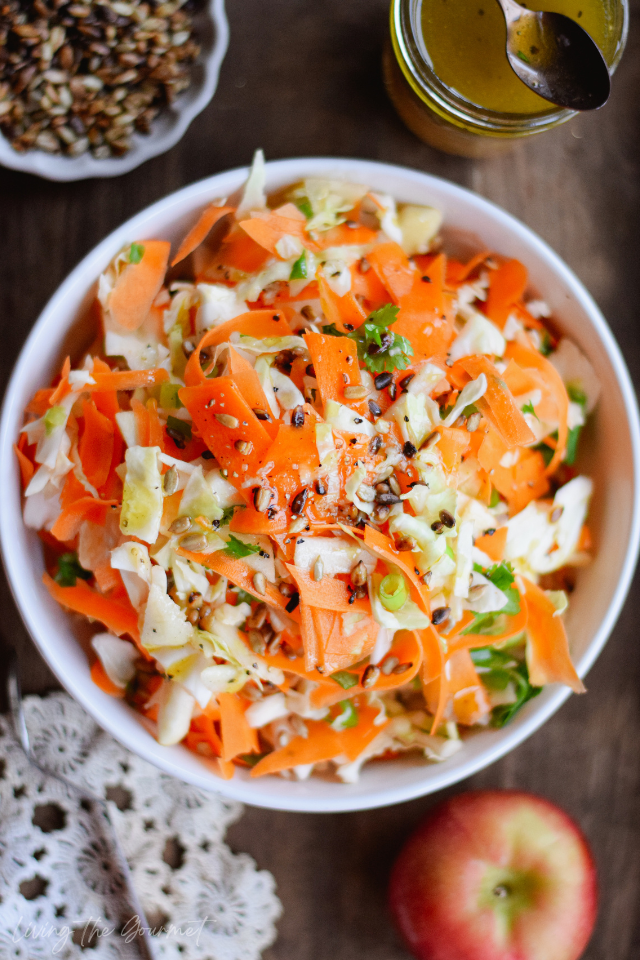 The spicy sunflower seeds are also super versatile. They're great mixed into savory recipes like hummus and pesto. They're also a great way to kick up savory granola recipes, or to add some crunch to things like seared steak.
The slaw itself is made with shredded carrot, cabbage, and apple, and is lightly dressed with a honey vinaigrette. The sweetness of the honey pairs perfectly with the tartness of the apple, while the carrots add a subtle crunch. As an added bonus, the slaw can be prepared ahead of time and stored in the refrigerator until you're ready to enjoy it.
Taken together, this Carrot Apple Slaw with Spicy Sunflower Seeds and Honey Vinaigrette is a flavor-packed dish that is sure to be a hit this Spring. It's simple to prepare, and the combination of flavors and textures make it truly unique. This is a recipe you'll definitely want to try!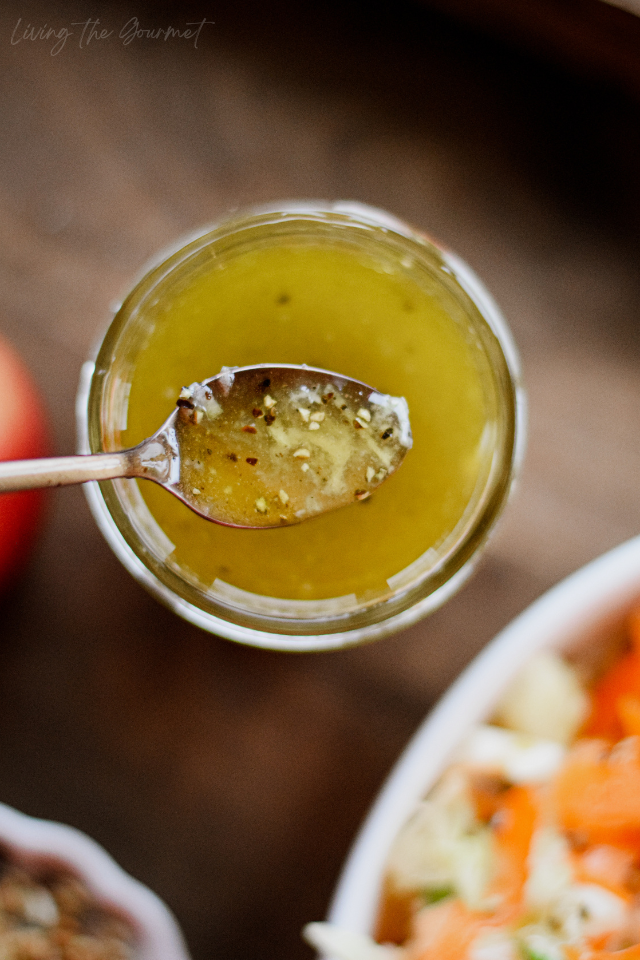 Ingredient Checklist
Cabbage. I recommend savoy cabbage, which has a mild, sweet flavor. Savoy cabbage also has a more delicate texture than other types of cabbage, which makes it perfect for slaw.
Apples. For today's slaw, I suggest tart apples, such as Granny Smith, Honeycrisp, or Pink Lady. These apples will provide a nice balance of tartness and sweetness to the slaw.
Carrots. Washed, skinned, and then julienned into ribbons.
Scallions. For garnish and a mild oniony flavor.
Cilantro. Destemmed, and then chopped up fine.
Olive Oil. Use a decent quality extra virgin olive oil, one whose flavor you enjoy on its own, as you 'will' taste the olive oil in this recipe.
Salt. If you have a favorite fancy salt, such as pink Himalayan or black Hawaiian sea salt, use it here. Otherwise, plain table salt will work just fine.
Black Pepper. I recommend using freshly ground pepper, or mortar ground pepper, for maximal aromatics.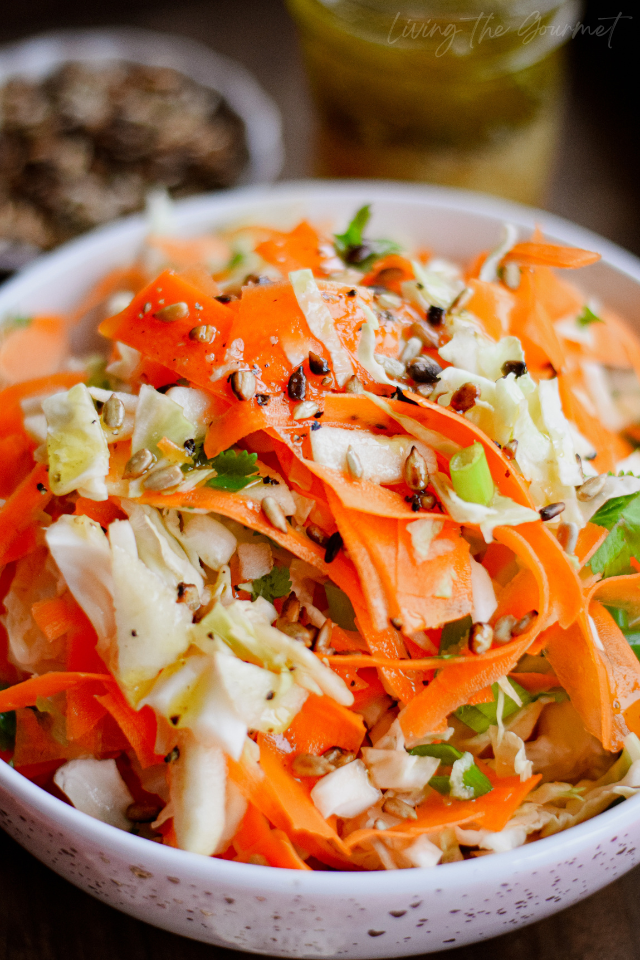 Pairing Today's Slaw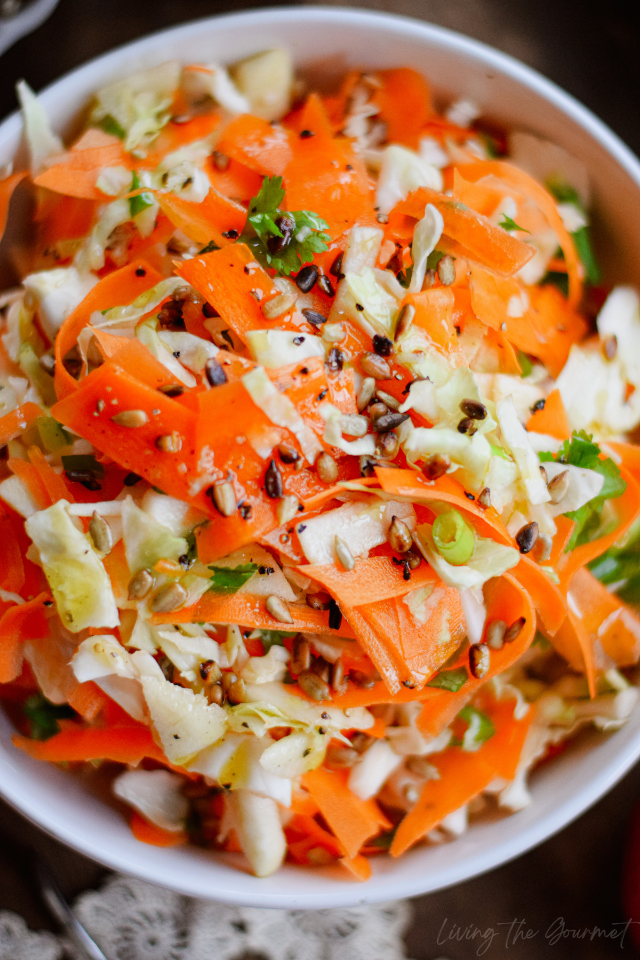 Kicking up your Spicy Sunflower Seeds
While I seasoned mine with just salt and pepper, here are a few suggestions for those who might prefer a bit more kick.
Garlic. You can crush a few cloves of garlic, and add that into the pan as you roast the seeds. Conversely, you can also dust the seeds with a half teaspoon of garlic powder.
Chili Powder. Simply dust the seeds with a half teaspoon of chili powder while toasting them.
Paprika. My go-to would be to add up to a teaspoon of paprika while the seeds are toasting.
Cumin. For added flair, and a bit of 'earthy' flavor, add a pinch of cumin while the seeds are roasting.
Cayenne. For maximal spice, add cayenne to taste.
All of the above. Or, add all of the above while the seeds are roasting for maximum flavor and spice.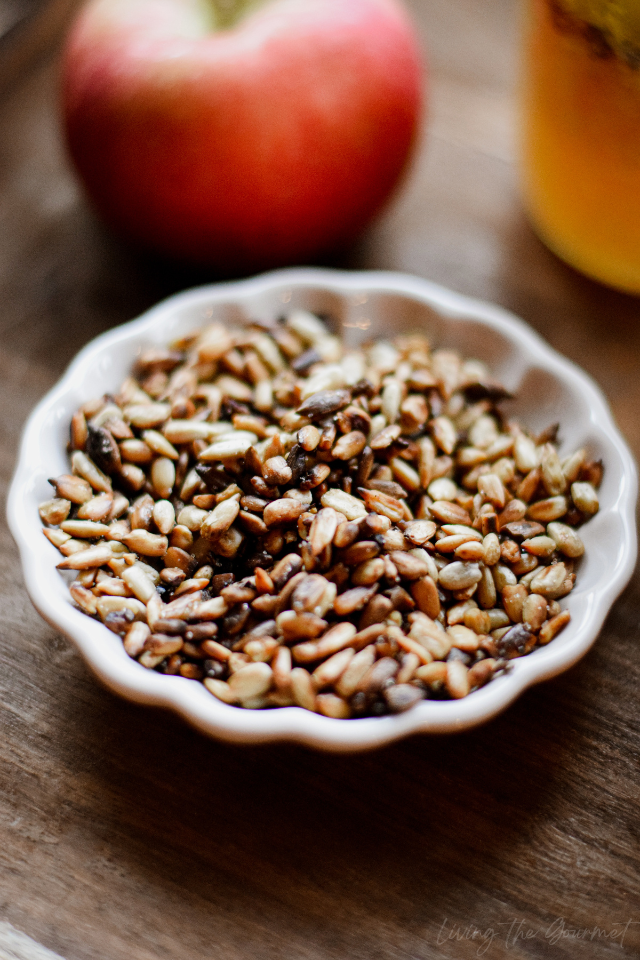 Uses for Spicy Sunflower Seeds
If you have any spicy sunflower seeds leftover, or just fell in love with them the way I did, here are a few ways to use them.
In Pesto: Blend the toasted sunflower seeds into a traditional pest basil and garlic-based pesto for added kick and a bit of nutty flavor.
Spicy Sunflower Seed Dip: Blend the sunflower seeds with yogurt, lime juice, basil, garlic, and olive oil to create a light and refreshing vegetable dip.
In Hummus: Perhaps my favorite for today's sunflower seeds, simply blend them into your favorite hummus recipe to kick things up a few notches. As an example, these toasted sunflower seeds would be a great addition to my Spicy Hummus.
Savory Granola: All the craze of late, add today's toasted sunflower seeds to your favorite savory granola recipe for a bit of spice and nutty goodness.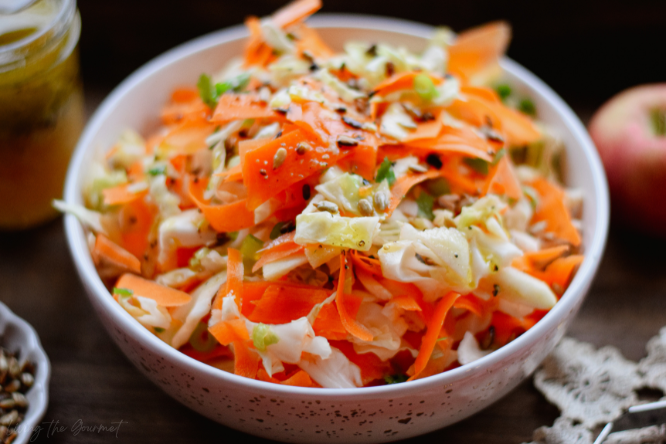 Print
Apple & Carrot Slaw 
Author:
Prep Time:

15 minutes

Cook Time:

5 minutes

Total Time:

20 minutes

Yield:

4

–

6

servings

1

x
Category:

Salad
For the Salad:
1/2

of small head of cabbage, sliced thin

4

medium sized apples, peeled and sliced thin

3

carrots, shaved

4

scallions, sliced thin

3

–

4

tbs. of fresh cilantro, stems removed and chopped

3/4

cup

of sunflower seeds, toasted

1

tbs. olive oil

1 1/4 tsp

. salt

1 1/4 tsp

. fresh ground black pepper
For the Dressing:
1/2

cup

of fresh lemon juice

1/2

cup

of olive oil

4

–

5

tsp. of apple cider vinegar

1/4

cup

water

1

tbs. of fresh grated ginger, grated

1

large clove of garlic, grated

3

–

4

tsps. of honey

2 tsp

. salt

2 tsp

. fresh ground black pepper
Instructions
For the Salad:
Combine all of the ingredients for the slaw and toss.
Heat a medium sized cast iron pan.
Place the olive oil in the heated pan and add the salt and ground black pepper.
Add the sunflower seeds and move the pan around, coating the seeds.
Toast for about 1 minute or so, until the seeds are golden.
Remove from the pan and let cool.
Add to the slaw and toss.
For the Dressing:
Combine all of the ingredients for the dressing in a small bowl and stir.  Serve over salad.
Keywords: salad, slaw, spicy sunflower seeds, seeds, healthy
Recipe Card powered by
And that's my Cabbage and Apple Slaw with Spicy Sunflower Seeds. If you enjoyed today's recipe, be sure to like, share, and subscribe, it helps more than you can know.
If you have and questions or suggestions about this or other content, be sure to let us know in the comments below. We love hearing from you! Happy Cooking!
0